In this guide, you'll find a list of things to do in Koh Lanta, Thailand. We'll also tell you how much you can spend, and give you some suggestions on the best beaches, resorts and hotels of different budget. Basically all you need to know about where to stay in Koh Lanta and how to spend an amazing holiday in Thailand.
There are plenty of activities to do in Koh Lanta, so if you love white sand beaches, outdoors, delicious local food, Thai massage, yoga, snorkeling, and getting your suntan fix, then you're going to love Koh Lanta. We spent here 10 days in the middle of March, which was the shoulder season, with very few tourists around.
If you are interested to know where to stay in Koh Lanta, we recommend some of the best hotels for different budgets.
When we travel in Asia, we book our hotels through Agoda and TripAdvisor where we usually find the best deals, and we check HotelsCombined to compare the prices, too.
We also use a lot AirBnB to book local apartments. If you have never used AirBnB before, you can have a $40 discount for your first booking through this link.
Always make sure you travel with travel insurance! Be adventurous, but not careless.
Check out some of the most reliable insurance companies out there: True Traveller if you're an European and World Nomads if you're from elsewhere.
If you love animals and you prefer going local during your travels, try housesitting, which is an amazing way to travel the world while taking care of the pets whose owners are on vacation. If you use TrustedHousesitters with this link you'll get $20 discount on annual membership.
Here's our Koh Lanta guide and tips on budget, mid-range and luxury hotels.
Like it? Pin it!
Things to do in Koh Lanta, Thailand
You'll find oodles of things to do in Koh Lanta. There are 11 beaches and the farther south you go, the more serene they are. Let's explore the island!
Have a walk on Klong Nin beach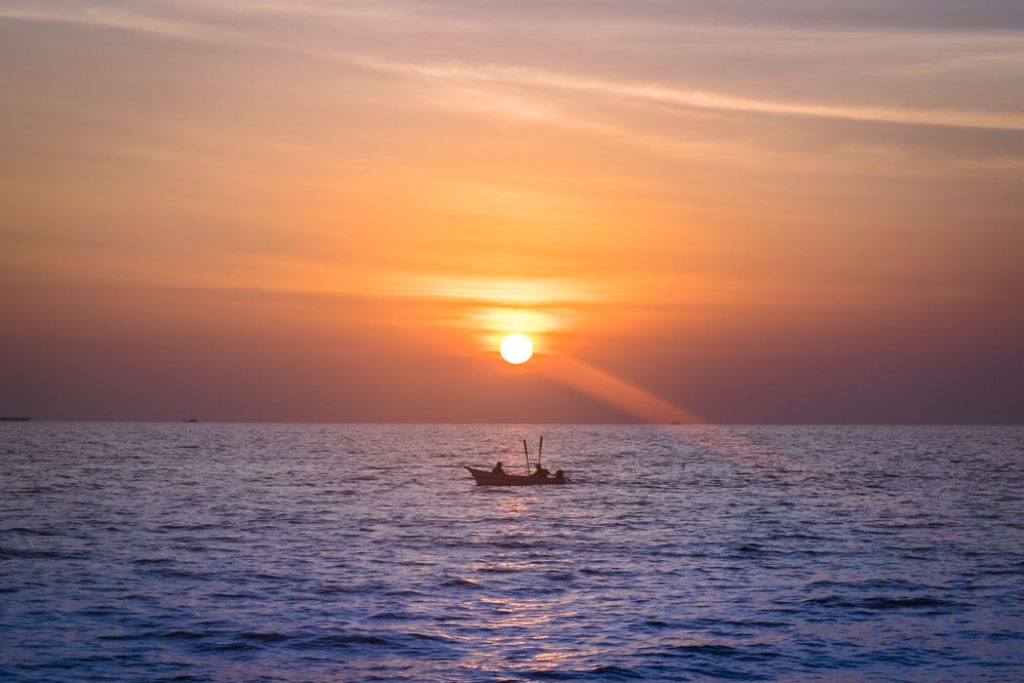 This was for us the best place to stay in Koh Lanta. Whether you decide to do it early in the morning, in the late afternoon or to catch a beautiful sunset, Klong Nin beach is a fantastic place for a stroll.
It is 1.5 km long, with a few rocks at both ends and soft sand throughout the whole area. No perpetual boat engine noise, no night or early morning karaoke. Just you, sea waves, and young coconut in your hand.
Where to stay on Klong Nin Beach
Our top pick > Andalay Boutique Resort
Beautiful rooms with an outdoor pool. Great beachfront area for stunning sunsets and cocktails on the beach. Check the latest prices on TripAdvisor, Agoda, or HotelsCombined.
Baan Rim Lay Hotel
Clean and well maintained rooms, breakfast served on the terrace, super comfortable beds, beach front resort. Check the latest prices on TripAdvisor, Agoda, or HotelsCombined.
Marina Hut Guest House
Simple, clean guest house with free wifi. Laundry service and bike rental available. Six minutes walking to the beach. Check the latest prices on TripAdvisor, Agoda, or HotelsCombined.
Visit the local Klong Nin food market
You can either walk there (about 10-15 minutes from the main junction in Klong Nin) or take a scooter (about 2-3 minutes) and ride south. You'll not only find fresh fruits and veggies, but also a variety of home made meals and snacks. The market is open on Tuesdays and Fridays.
Looking for more information about Thailand? Check out our comprehensive Thailand Travel Guide!
Rent a scooter
One of the best Koh Lanta activities you can do in the island. The roads are fine, only in the very south they are more hilly and curvy, but still manageable. The average price to rent a motorbike is 250 THB/$ 7.7 per day, but it can be negotiable if you rent it for more days.
We rented a scooter at a tour desk of the Pakgasri Guesthouse. Get ready to leave your passport with them.
Check more activities and tours to do in Koh Lanta with Viator
Relax on the beaches in the south
Hop on a scooter or pay a tuk-tuk for half-day trip (around 500 THB/$ 15) and visit beaches in the south of Koh Lanta. They are quieter, and the forest you drive through is also an awesome background for your road trip.
Ba Kantiang Bay Beach
A 1 km-long, white sand beach with a few beachfront restaurants and the famous Drunken Sailors coffee shop. Surrounded by beautiful, natural hills, a lush forest and cliffs.
Where to stay on Ba Kantiang Bay Beach
Our top pick > Pimalai Resort & Spa

Nested in a lush greenery, with a private white sand beach. Spa, swimming pool and beachfront restaurant. Check the latest prices on TripAdvisor, Agoda, or HotelsCombined.
Kantiang View Resort
Spacious rooms with a balcony to get a beautiful view on sunset. Swimming pool, free wi-fi and restaurant. Check the latest prices on TripAdvisor, Agoda, or HotelsCombined.
Klong Jark Bungalow
Simple bungalows with a beachfront restaurant. Good value for money.Check the latest prices on TripAdvisor, Agoda, or HotelsCombined.
Nui Bay Beach
One of our most favourite beaches in Koh Lanta. You'll need to take a steep footpath (about 100 m) down to the beach. Incredibly private feeling, nested between the forest and cliffs, with only one bar on the beach.
Ao Klong Jark Beach aka Waterfall Bay Beach
Located in the south from Nui Bay Beach. A calm beach with a few restaurants and resorts, but we didn't find it as charming as Nui Bay Beach.
Bamboo Bay Beach
After Waterfall Bay beach you will find a road that splits. To arrive to Bamboo Bay beach, take the steeper one on the right. Since this is the last beach in the south of Koh Lanta and not very developed for tourism, you will barely find anyone around.
Where to stay on Waterfall Bay and Bamboo Bay Beach
Our top pick > Anda Lanta Resort
Splendid resort on an untouched beach. The resort offers airport transfer, it has an outdoor pool, restaurant, wifi, massage and spa. Check the latest prices on TripAdvisor, Agoda, or HotelsCombined.
Baan Phu Lae
A unique guesthouse with a wide rage of activities to choose from (massage, water sports). Check the latest prices on TripAdvisor, Agoda, or HotelsCombined.
Bamboo Bay Resort
This is the place where you can chill out and enjoy the peace of the bay. Simple and clean rooms with hot shower and air-conditioning. Check the latest prices on TripAdvisor, Agoda, or HotelsCombined.
Read more articles about Thailand
Visit the National Park
If you go further south from Bamboo Bay Beach, or if you just turn left when heading south from Waterfall Bay Beach, you will arrive to a national park area. The entrance fee is 200 THB/$ 6 and the park is open till 6 pm.
If you enter later you don't pay anything, but if you go there only to see a stunning sunset with a lighthouse, you will most probably miss it. Watch out for curious, hungry, wild monkeys.
Visit Lanta Old Town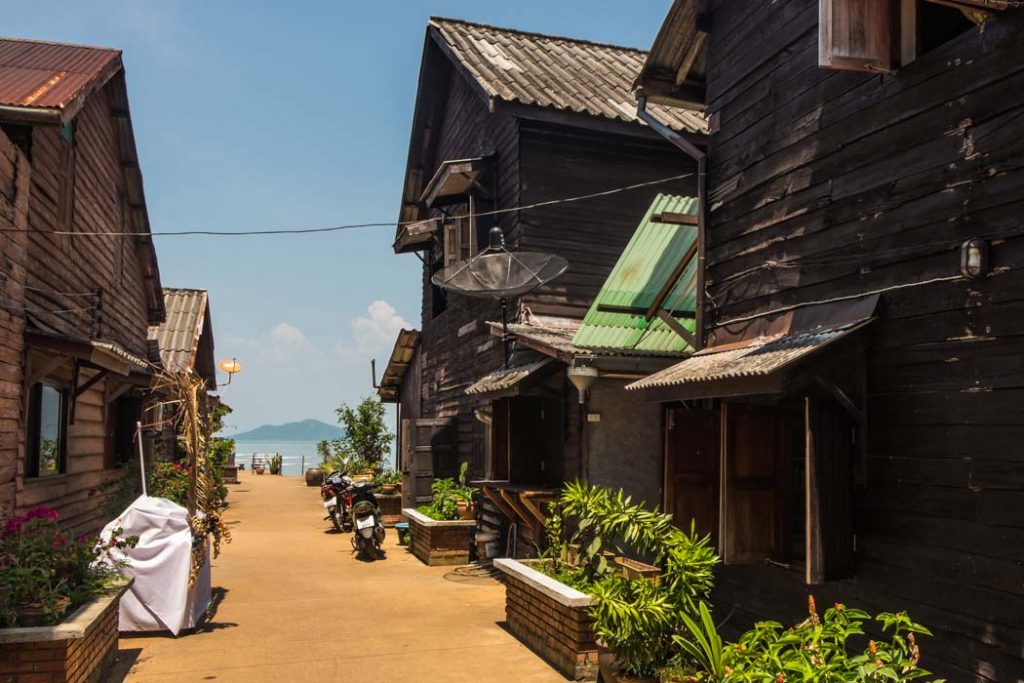 This town was a former business centre of the island until 50 years ago. Merchants trading in the area were mostly from China or Arabic countries and you can still witness their impact in this small, community-like town. The place is considered a cultural highlight of the whole island and features one Buddhist temple and a Chinese temple. Some of the big festivals in Koh Lanta take place here.
If you plan to explore eastern islands like Koh Nui, Koh Por, Koh Talabeng, Koh Kam or Koh Bubu, Old Town is the right place from which to take an organised tour or a private long tail boat.
Where to stay in Old Town Koh Lanta
Our top pick > Beautiful Guesthouse
Relaxing and peaceful area. Clean and cosy rooms, some of them with balcony. Check the latest prices on TripAdvisor, Agoda, or HotelsCombined.
Mango House Seafront Suites
Seafront suites furnished simply and tasty. Rooms with fan, a/c, with balcony/terrace, ideal relaxing place in Old Town. Check the latest prices on TripAdvisor, Agoda, or HotelsCombined.
Shine Talay Guesthouse Old Town
A simple guesthouse with rooms with private bathroom and wifi. Guests can also enjoy the on-site restaurant. Check the latest prices on TripAdvisor, Agoda, or HotelsCombined.
Spend some time at Lanta Animal Welfare
Lanta Animal Welfare is a nonprofit sanctuary that cares and sterilises stray dogs and cats in Koh Lanta and its suburb.
Here you can take a free, 45-minute educational tour every hour, walk a dog or two, cuddle with cats and kittens that will be happy to see you. And if you fall in love with any of these cuties, you can also adopt them.
Explore the beaches in the north
Northern beaches in Koh Lanta are busier compared to the south, but they are still worth the visit. The main road is full of guesthouses, local restaurants or food stalls, massage shops and hotels. They are all very close to each other so a half-day on a scooter is enough to see them all.
Klong Khong Beach
Nearly 3 km long, with beachfront bars, restaurants and bungalows. Since the beach is pretty long, you will definitely find your spot for tranquility.
Where to stay on Klong Khong Beach
Baan Thai Lanta Resort
Amazing comfortable rooms furnished with taste. Quiet and relaxing with swimming pool and restaurant. Check the latest prices on TripAdvisor, Agoda, or HotelsCombined.
Khum Laanta Resort
A beautiful resort with clean spacious rooms, swimming pool, spa, hot tub and free wi-fi. Check the latest prices on TripAdvisor, Agoda, or HotelsCombined.
Sonya Guesthouse
Tasty furnished, clean rooms with internet and laundry service. Check the latest prices on TripAdvisor, Agoda, or HotelsCombined.
Long Beach (Phra Ae)
As the name implies, this busy beach is stretched over a 4 km area with some relaxing spots on the sides.
Where to stay on Long Beach Koh Lanta
Lanta Casuarina Hotel
Clean and beautiful rooms on the beach. Outdoor swimming pool and great breakfast buffet. Check the latest prices on TripAdvisor, Agoda, or HotelsCombined.
Sayang Beach Bungalows
Lovely rooms with a wooden floor. According to the reviews, they serve scrumptious food there, too. Check the latest prices on TripAdvisor, Agoda, or HotelsCombined.
Funky Fish Hostel
Five minutes walking to the beach, for adventurous backpackers who can bear less soft mattress. Check the latest prices on TripAdvisor, Agoda, or HotelsCombined.
Klong Dao Beach
The most developed, the most crowded and most expensive beach of Koh Lanta. Its 3km stretch is full of restaurants, bungalows and resorts. Good choice for families, since the water is quite shallow.
Where to stay on Klong Dao Beach
Lanta Cha Da Resort
Big rooms, buffet breakfast, great place for families with children. Swimming pool, sauna, massage, hot tub and fitness. Check the latest prices on TripAdvisor, Agoda, or HotelsCombined.
Ananda Lanta Resort
Spacious rooms tastefully furnished with contemporary décor with fridge, garden, outdoor pool and massage. Quiet location. Check the latest prices on TripAdvisor, Agoda, or HotelsCombined.
Rim Khao Resort
Bungalows with spacious balconies overlooking a beautiful tropical garden and free wi-fi. Check the latest prices on TripAdvisor, Agoda, or HotelsCombined
If you continue north, you will arrive in Ban Saladan, the main pier of Koh Lanta.
If you prefer to explore untouched villages, lush, tropical nature, rubber and palm plantations, we suggest visiting Koh Lanta Noi in the north.
To get there, you drive from Ban Saladan to the north, direction to a car ferry port. The fee for a ferry is 3 THB/$ 0.09 per motorbike and 2 THB/$ 0.06 per person. It takes about 10 minutes to cross the river and arrive to an almost deserted area of the island!
Just follow the main road from the pier in Koh Lanta Noi (direction to Koh Lanta Noi Sub District Administration Organisation). After a few minutes you will see a seashore on your right behind a beautiful pine forest.
Park your motorbike on the path near the forest and then walk a hundred meters to the beach with clear, shallow water and a wonderful view.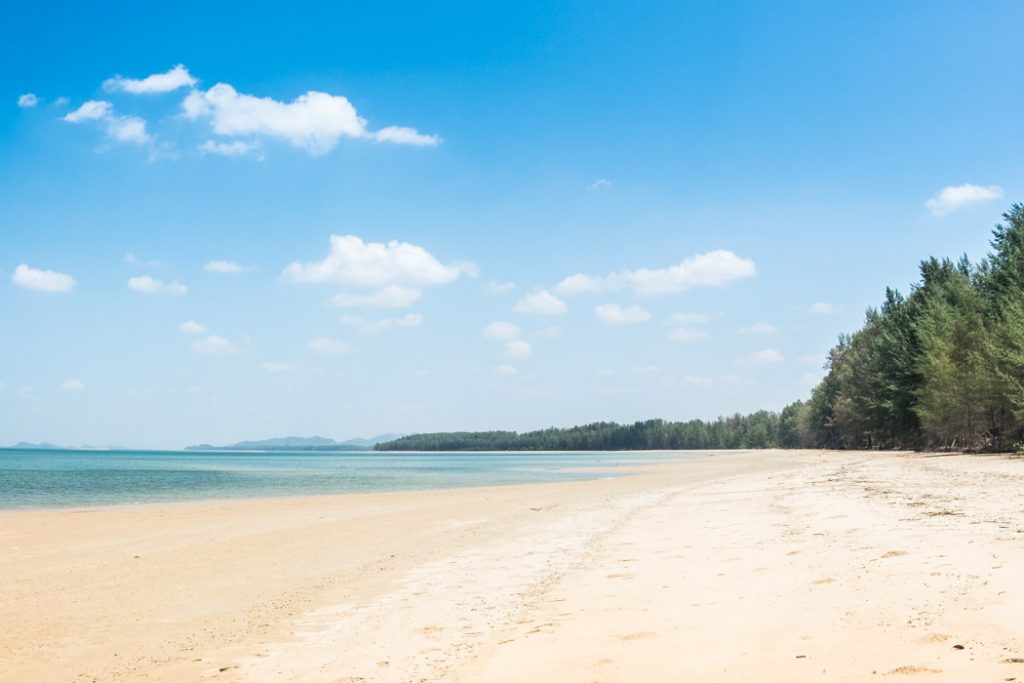 Visit the east coast
We went to the east coast twice for a half a day each and were very impressed by the simple, tiny villages with no tourist agencies and no big chain stores. Do not expect any bars, guesthouses or food stalls here.
Going more to the south from the Old Town, you will find the Sand Ga U village, where some Sea Gypsies still live.
Although the place is mentioned in a few guidebooks, do not take it for a tourist attraction. Unlike the long-neck hill tribes near Chiang Mai, there is nobody waiting for you to show you their disappearing culture and sell you an overpriced souvenir. The community is living their own life, they make a living mainly with fishing, and follow their rituals and ceremonies. Please, do respect this when visiting the village.
We went there by motorbike, but it is better if you leave your scooter on the top of the hill and walk down so you don't disturb their privacy.
Note: If you decide to visit the north beaches, there are plenty of stalls on the road selling gasoline, so no worries about having to push your bike back to town. For the eastern part of the island, make sure you have enough gasoline in the tank.
Snorkeling in Koh Lanta
Koh Lanta is a great place where you can book a day tour and visit some neighbouring islands like Kho Rok. The trip usually includes buffet lunch on the beach, drinking water, fresh fruits and the snorkeling equipment.
You can book the tour in your hotel or any local tour desk that is a part of any guesthouse. We booked ours at the same Pakgasri Guesthouse where we rented a scooter. Take a motion sickness pill, the speed boat ride can be bumpy.
Go jogging
Many beaches in Koh Lanta are long, soft, sandy shore that is perfect for practicing jogging. Watch out the stray dogs in the evening as during the day they are too sleepy.
Practice yoga
If you love yoga and if you enjoy practicing it outdoors, then Koh Lanta beaches are the right place for your morning asanas! Until 9am the beaches are almost empty .
For serious yoga classes, do visit Oasis Yoga, Mona Yoga in Klong Dao and Sanctuary Yoga in Long Beach and don't forget to bring your yoga mat.
Splurge with a dinner on the beach
You'll find good grilled fish at the Rickey's Place or Beach Side restaurant in Klong Nin beach. For more western food, go to Otto Bar & Grill on Klong Nin beach. Be ready to pay around 600-900 THB/ $ 18-27 for a dinner for two.
For original Italian pizza & pasta, go to the Pizzeria Caipi in Klong Nin.
Have a massage
Get yourself pampered in one of the beachfront massage shops. You'll pay 250 – 400 THB / $ 7.7 – 12 per one hour massage.
Go for street food!
Opposite the only 7/11 store in Klong Nin village, you will find a Muslim family's small stall selling sweet gyoza with peanuts, tamarind (5 THB/$ 0.15 per piece or fried bananas with sesame (10 THB/$ 0.30 per pack of 7-9 pieces). You'll find plenty of street food carts on the main road near the Long Beach, too.
How To Get To Koh Lanta, Thailand
Ferry from Krabi to Koh Lanta
It costs 400 THB/$ 12 per person and takes about two hours. In case you take a ferry from Krabi, a songthaew will take you from your guesthouse in Krabi to the pier. To get to Klong Nin, take a tuk-tuk for 100-150 THB/$ 3-4.6 per head.
Ferry from Phuket to Koh Lanta
The price for one way ticket depends a lot on the season. Expect to pay between $20-40 per person and it takes 3-4 hours. Bear in mind that a speedboat might be a faster option, yet not so friendly to your stomach.
Minivan from Phuket to Koh Lanta
The route takes about 5-6 hours and a one way ticket will cost you about $13.
Koh Lanta from Bangkok
Fly from Bangkok (or Kuala Lumpur) by AirAsia to Krabi, or from Singapore to Krabi by Tiger Airways and then continue with a passenger ferry Krabi – Koh Lanta that we mentioned above.
What is the budget?
We stayed in Klong Nin, for us the best beach in Koh Lanta, for 10 days and spent in total 17,401 THB/$ 539 / 2 persons which included:
Lodging: 3000 THB/$ 93 in the Caipi guest house
Transport:
tuk-tuk from Ban Saladan to Klong Nin: 200 THB/$ 6. We managed to bargain from a usual price of 150 THB/$ 4.6 per person to 100TBH/$ 3
ferry from Krabi to Koh Lanta: 700 THB/$ 21
ferry from Koh Lanta to Krabi: 800 THB/$ 24, with a discount of 100 THB/$ 3
Renting a scooter & gasoline for 2 days: 700 THB/$ 21
Food: 8048 THB/$ 250
Snorkeling: 2900 THB/$ 89. With a small discount of 100 THB/$ 3
Miscellaneous: 1053 THB/$ 32
Hope this ultimate guide to things to do in Koh Lanta, its best beaches and hotels will help you to plan your holiday in Thailand. If you have any other question, feel free to send us an email, or leave a comment below.
Need more tips on where to go in Thailand and what to do there?
Like it? Pin it!
Disclosure: Some of the links above are affiliate links, which at no extra cost to you, will earn us a small commission and reduce the costs of running this site.