Travel photography is a booming industry that generates roughly $1 trillion each year. Travel photography includes hotel and resorts photography, shooting tourist attractions and local events as well as capturing wildlife and scenery. And the best news is that being a photographer can be quite lucrative for you – an average professional makes from $3,000 to $4,000 per month.
Finally, it provides you with endless opportunities to unleash your creative side and visit any country and any city you want.
Maybe you are an experienced photographer who wants to try a new niche, or perhaps you are a new player and need firsthand tips on where to begin. What do you need to start your travel photography business? What are the first and foremost steps you need to take to achieve this goal?
Find Your Style
Travel photography has always been a highly competitive business, however, free access to modern technology and the internet made it even more ambitious. That is why in order to make it in this business you need to develop your own unique style. You need people to look at your shots and say "I know who it is!".
Even within the world of travel photography, there are many sub-niches like underwater photography, mountain views, landscape shots, portraiture, and many more. You just need to find your passion, something you are ready to invest many hours in, and put all your energy in learning and growing professionally.
Master the Art of Post-Processing
Being a professional photographer means working with editing software. Regardless of how good you are, images need to be post-processed to compete on the market. You can use Lightroom which is an Adobe program created for photographers and graphic designers.
It provides myriads of refined tools and extensive possibilities for post-processing and professional photo editing. Besides, you can create logos, promotional banners, and ads. Lightroom will help you enhance the quality of your pictures, adjust colors, and apply filters.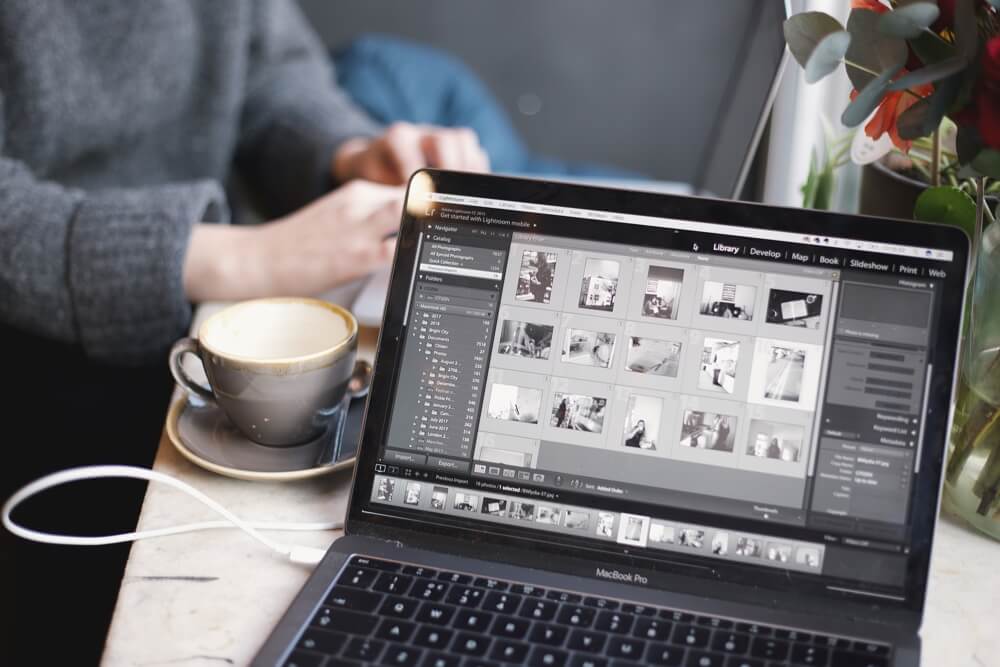 Besides Lightroom, give a chance to PhotoWorks – a program for photographers with an intuitive interface. With PhotoWorks you don't need to be an expert in post-processing because the program is very self-explanatory. Poor lighting? Overexposed shot? You can improve the colors, adjust contrast and shadows as well as enhance the quality of your pictures and remove unwanted objects.
Make a Portfolio
You need to highlight your best images, accentuate your unique vision, and compile it in a professional portfolio. Don't sit around and wait for your masterpiece, just go through your shots and pick the most appealing ones to constitute a portfolio that will convey your exceptional point of view.
You can choose your own format but it is recommended to put your portfolio online, ideally on your own website. Try to be as critical about your work as you can be. Select various pictures from different places of the world that highlight your original style. Additionally, have a printed copy of your work to show your future clients, so they can have a quick and easy overview.
Get inspired by more photography related articles!
Actively Offer Your Services
The first step in landing clients is simply going around with your portfolio and offering your services. Next time you are off for a new adventure, contact the local tourist board, and discuss your services with them. This way you can also save on accommodation since some tourist agents will be ready to offer you a room in a hotel in exchange for your work.
Another great way to monetize your photography passion is to get published. At first glimpse, it may seem impossible however getting your photo published is much easier than you think. Sometimes the only thing you need to do is simply contact an editor and offer them your best work. 
Promote Yourself on Social Media
The first social media platform you should get is an Instagram. However, it is quite important to make sure you post only high-quality images, don't publish every single photo you take. Research popular travel-related hashtags and tag brands and magazines. Engage in a conversation with your followers, ask them questions about their favorite travel stories and destinations.
Get used to criticism: the more popularity you gain, the more haters will come forward. Photography, like any other form of art, is a highly subjective affair, so don't take it too personally. Finally, learn how to present yourself and your brand in the best way. Be confident about your skills and your vision to bring your ideas across.
Becoming a self-employed travel photographer is a challenging and ambitious task. But if you are truly passionate about it and ready to channel your energy to work on your skills, you can make it. All you need is motivation, decent equipment, a dash of luck, and great software to accompany you through this journey.
Pack and Travel!