In this article, you'll find some amazing things to do in Taipei with practical information about transport, internet, and the best hotels in the capital of Taiwan.
Taiwan. A country many people feel perplexed about. To be honest with you, we were no less puzzled when we travelled to Taiwan than those who have done so before us. The questions many travellers ask before visiting Taiwan for the first time are different compared to a trip to some other popular Southeast Asian countries.
Is it going to be easy for a foreigner there? Is it similar or different from China? Do they welcome tourists? Are they independent? It's complicated… and the answer you'll get will always depend on the person you talk to in Taiwan.
Nevertheless, Taiwan is experiencing a discovery boom among travellers. Apart from regular Chinese, South Korean, Japanese, American, and tourists from Hong Kong, you'll find more Europeans there now. The word is spreading; Taiwan definitely won't stay a "cloaked" land living in the shade of China anymore.
Now, let's have a look what's in store for you in the capital. We've put together a list of the best things to do in Taipei with some pro tips on the best hotels, some tricks how to get around, and tips on a good 3G provider, too.
If you are looking for a place to stay in Taipei, we recommend booking it through Booking.com, Hotelscombined or TripAdvisor, one of the best websites to compare prices. In case you prefer more local stays, consider to book a room or an apartment via AirBnB to book local apartments. Never used AirBnB before? You can have a $60 discount for your first booking through this link.
Always make sure you travel with travel insurance! Be adventurous, but not careless. Check out some of the most reliable insurance companies out there: True Traveller if you're European and World Nomads if you're from elsewhere.
If you love animals and you prefer going local during your travels, try housesitting, which is an amazing way to travel the world while taking care of the pets whose owners are on vacation. If you use TrustedHousesitters with this link you'll get 25% off on annual membership.
The best things to do in Taipei, Taiwan
We spent almost two weeks in Taipei and if not rainy cold weather we got there, we'd stay even longer (if you have limited time check this guide for a short stay). Here are some of the top things to do in Taipei starting from the food (oh yes, the food scene in Taipei is just unbelievable!) to historical and cultural places not to miss. Let's start!
Get your stomach happy!
If Taipei is your very first destination in Asia, then you'll feel like you're in food heaven! Even if you are familiar with the street food scene in this corner of the world, you'll feel like you've reached a new level of incredible. The smell of grilled mushrooms, stinky tofu, roasted sesame, or crazy amazing noodle soups will stupefy you at the night markets, where steam from the prepared food in the street stalls is thicker than the air in your mum's kitchen on Christmas eve!
The prices are very affordable, and even if you won't always find a table or a seat during peak hour at the markets, you'll soon feel comfortable enough to mingle among hundreds of locals strolling around, savouring fresh snacks on the go.
Indulge into Taipei's street food on one of the tours:
Visit night markets in Taipei
Raohe Market
It's one of the oldest night markets in Taipei and also one of our most favourites. Don't miss out on a black pepper bun right behind the main entrance gate (a long queue will lead you to the stall) peanut and black sesame mochi and stinky tofu. Uff, I'm drooling just writing this!
Fortunetellers, tarot, "divine birds" (sparrows that fortune tellers use to predict the future), hand reading… yes, this is what you can expect in Raohe and other night markets in Taipei.
Address: Raohe St. and Sec. 4, Bade Rd and Fuyuan St.
Open hours: 5pm – midnight
Tonghua Night Market (Linjiang St. Night Market)
This market is located in the residential area of Daan district where there are lots of offices; that's why Tonghua is one of the busiest night markets in the town. Here you'll savour local snacks, soups, or Japanese and Malaysian specialties. Or, as our friend Dominika who lived in Taipei for five years told us, you might find here an Italian who sells some delicious tiramisu here!
Address: Lane 40, Linjiang St, Da'an District, Taipei City, Taiwan 106
Open hours: 6pm – 2am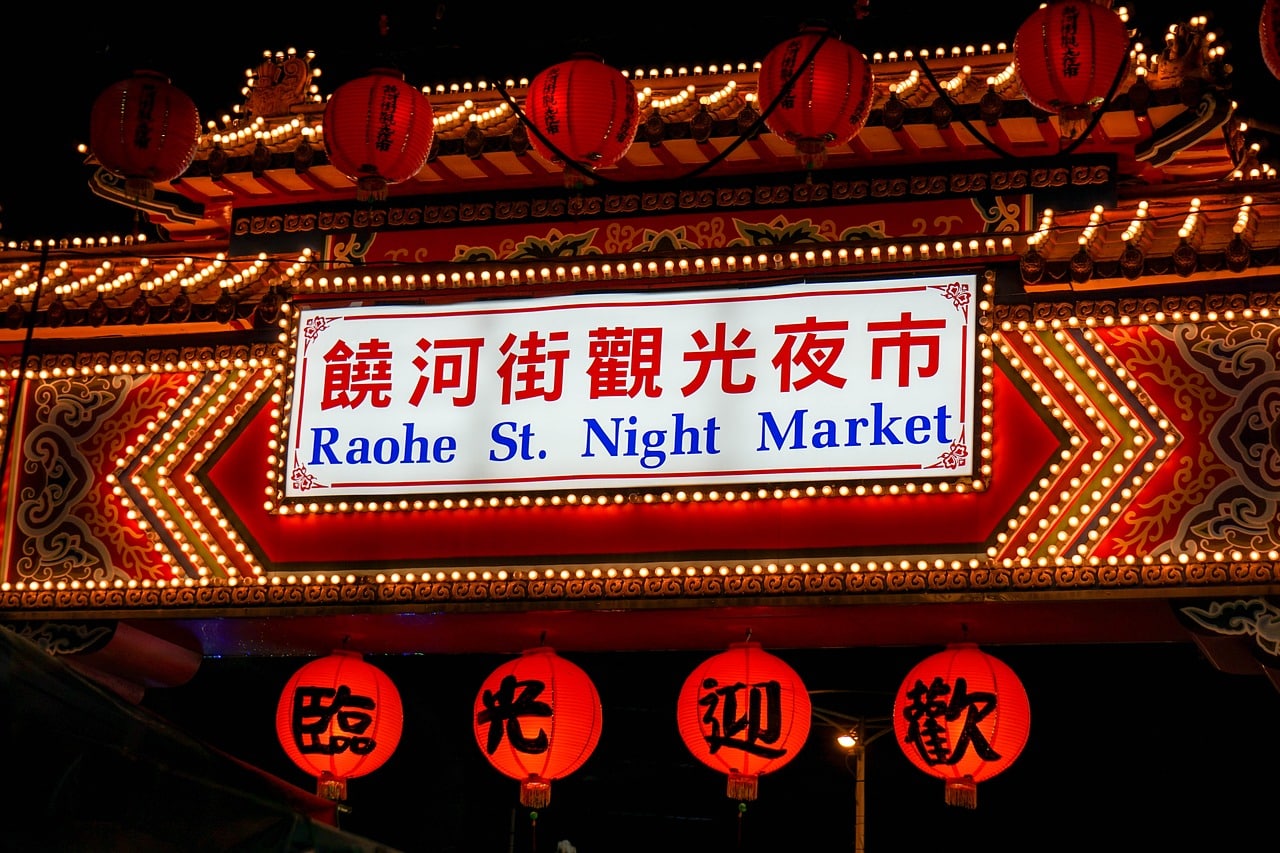 Shilin Market
With more than 500 vendors, this is the biggest night market in Taipei. It's famous for it's huge fried chicken cutlet, shaved ice, and oyster omelettes. Here you can come not only to get some street food, but also to do some clothes shopping. Come before 6pm when there are less people.
Address: the neighborhood of Wenin Rd, Dadong Rd., Danan Rd. and Jihe Rd.
Open hours: 5pm – midnight
Lehua Night market
Here you'll find a vast range of street food stalls, tea sellers, small local restaurants, and a few stalls with clothes.
It may get full during the weekend.
Address: Yongping Rd, Yonghe District, New Taipei City, Taiwan 234
Open hours: 3.30pm – 12.15am
Huaxi Night Market, a.k.a. Snake Alley
Labeled as the oldest international tourist night market in Taiwan, this place is popular for its nickname "snake alley." As you can guess, here you'll find restaurants where they serve snake and turtle dishes. (Honestly, the view of the animals captivated in glass prisons wasn't as exotic as it might sound.)
Apart from lots of seafood and souvenir options, the market is famous for the spas, manicure & pedicure parlours, and massage shops.
Address: Hwaxi Rd., Taipei
Open hours: 4pm – midnight
For more night markets in Taipei, visit this website.
Heading to Asia? Read on!
Get a cup of refreshing tea!
Despite the fact that there are only a couple of traditional tea houses in Taipei, and most of them have an overpriced menu made for tourists; you still will be able to drink as much various good quality tea as you want.
Just look around when having a walk in any district and look for a small shop or stall (usually with no seats or tables) and order your favourite tea with fresh fruits (green tea with with fresh red grapefruit is a top choice of ours) or jellies!
The prices vary from NT$40-70 ($1.30 – 2.20 USD) depending on the flavour.
Join one of the local tours in Taipei:
After visiting Taipei and sampling their tea, surely you would love to repeat this experience. You can do that by ordering some good quality tea online.
Cuddle some cats at Cat Cafe
Taipei teems with great cafes! There's a special one for those who love four-legged furry friends. The first ever cat cafe in the world still exists here, and you can come cuddle with some cats.
Established in 1998, it was called The Cat Flower Garden. Nowadays you'll find it under the name Cafe Dog and Cats.
The coffee is not the best one we had in Taiwan, but it's worth the visit if you travel and you miss some meowing pets from home. Keep in mind that children under 12 are not allowed inside, and if you want to pet the animals, you'll have to spend a minimum NT$100 ($3 USD) per head.
Address: No. 129, Fuhua Rd, Shilin District, Taipei City
Open hours: 12pm-10pm
Want to travel the world and take care of someone's pets while the owner is away? Become a house sitter!
Learn about history and culture in Taipei, Taiwan
If you're a history buff who loves digging into the history of countries while travelling, or if you'd like to see how the urban landscape has changed in big cities, and you can't wait to spend your mornings and late afternoons watching locals performing traditional rituals at the temples, Taipei won't disappoint you.
Bonus: the majority of signs at memorials, museums, and temples in Taipei are in English.
Sun Yat-sen Memorial
This is literally translated as the National "Father of the Nation" Memorial Hall. It was dedicated to Dr. Sun Yat-sen, a crucial Chinese revolutionary, first president, and founding father of the Republic of China.
Note: ROC or the Republic of China is the official name of Taiwan. China is officially called the People's Republic of China.
Every hour, there is a ceremonial changing of the guards in the hall that is packed with tourists, cameras, selfie sticks, and yet is still worth the watch.
On the ground floor, there are displays of Sun's life and the revolution he led. The building serves as a multi-purpose educational (a library with over 300,000 books!) and cultural center (the main Taiwanese film awards ceremony is held here yearly) too.
Address: No. 505, Section 4, Ren'ai Rd, Xinyi District, Taipei City, Taiwan 110
Open hours: 9am – 6pm
Official website: www.yatsen.gov.tw
Read more about Taipei: Best hotels in Taipei
National Palace Museum

Just the fact that the museum portrays over 10,000 years of Chinese history, presented through almost 700,000 pieces of ancient artifacts says so much.
Address: No. 221, Section 2, Zhishan Rd, Shilin District, Taipei City, Taiwan 111
Open hours: Mon-Thur: 8.30am-6.30pm, Fri-Sat: 8.30am – 9pm
Entrance: NTD $250 ($7.70 USD)/person
Official website: www.npm.gov.tw
Chiang Kai-Shek Memorial Hall
Dedicated to Chiang Kei-Shek, an authoritarian leader who ruled the country after Sun Yat-sen passed away.
The territory around the memorial includes the National Concert Hall and the National Theatre; there is a huge area to walk around, and you can take some photos of the neo-classical Chinese buildings.
It's nice to arrive there shortly before the blue hour to visually capture the monuments in a more interesting light. For a better view of the area, climb up the stairs of the memorial.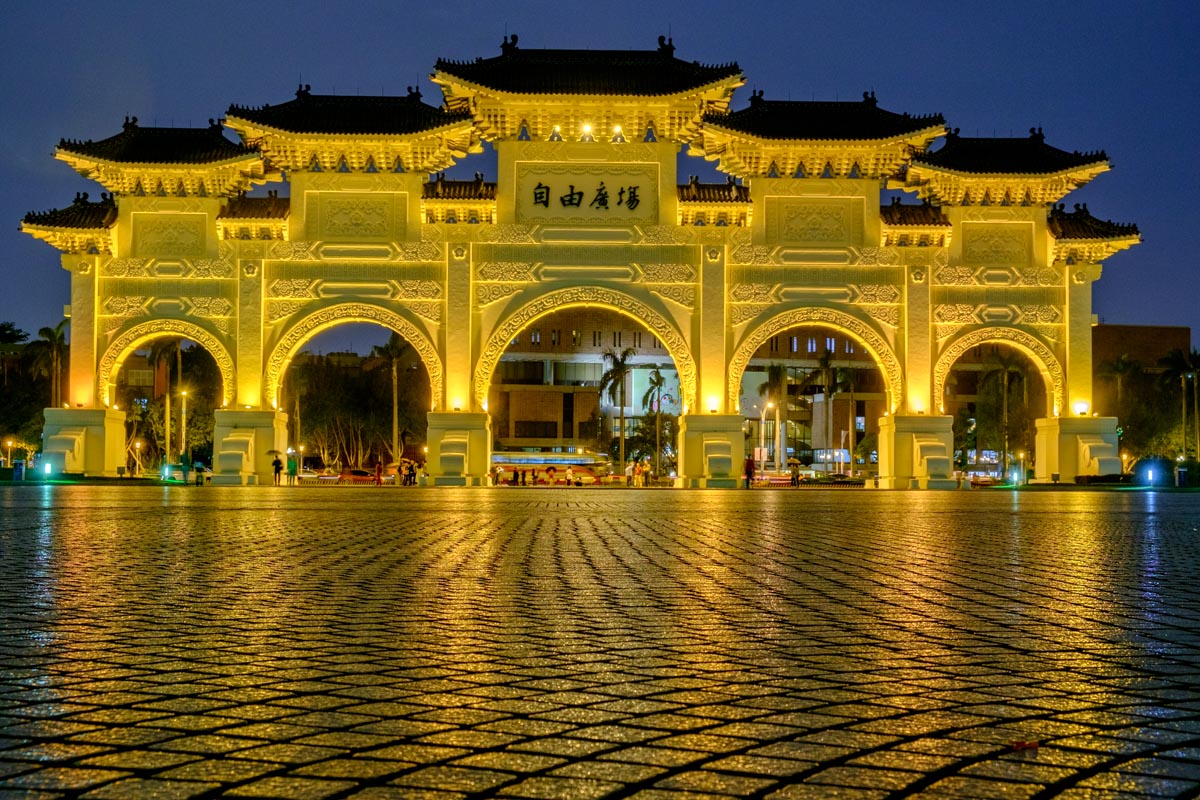 Address: No. 21, Zhongshan S Rd, Zhongzheng District, Taipei City, Taiwan 100
Join one of the local tours in Taipei: 
Visit temples in Taipei
Intensive smell of incense sticks, irregular sounds of wooden Jiaobei blocks hitting the marmour floor, and Kau Cim sticks shaking in a Cim bucket. Locals waiting patiently for the answer on the questions they've asked, those who know, baskets full of goodies for deities, people on their knees, people standing, people bowing…
In Taiwan, people practice Buddhism, Taoism, Confucianism and the Chinese traditional or folk religion, so you'll be able to observe different rituals all throughout the country.
Here are our personal picks of the "best" temples in Taipei, starting with the most impressive one:
Lungshan Temple of Manka
Address: No. 211, Guangzhou St, Wanhua District, Taipei City, Taiwan 10853
Open hours: 6am – 10pm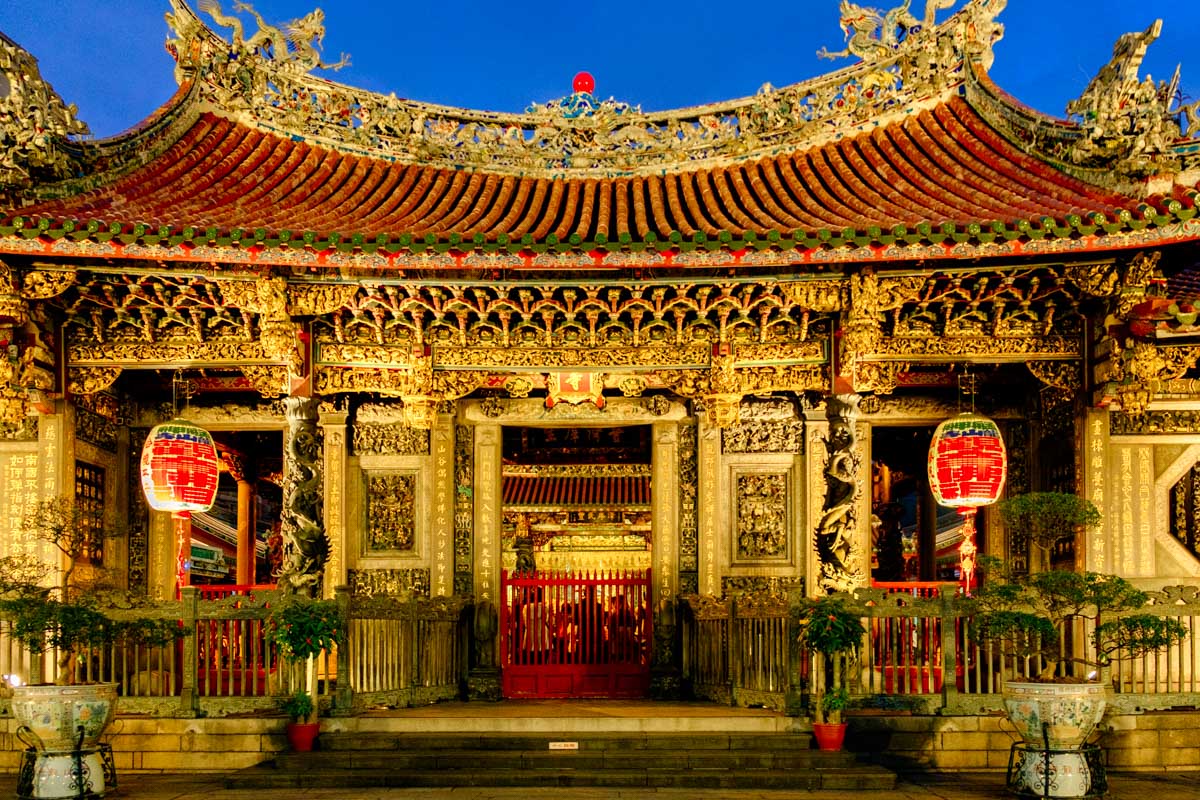 Songshan Ciyou Temple
Location: Only a few steps from the east end of the Raohe market.
No. 765, Section 4, Bade Rd, Songshan District, Taipei City, Taiwan 105
Open Hours: 6am – 10.30 pm
Confucius Temple
Address: No. 275, Dalong St, Datong District, Taipei City, Taiwan 103
Open Hours: Tues – Sat : 08:30am – 09:00pm. Sundays and public holidays : 08:30am – 05:00pm.
Xingtian (or Hsing Tian Kong) Temple
Address: No. 109, Section 2, Minquan E Rd, Zhongshan District, Taipei City, Taiwan 104
Open hours: 5am – 11pm
Plan your trip to Asia ahead: 
Have fun and enjoy urban culture in Taipei
While visiting Taipei, you'll notice that it's a super clean, modern, and developed city. We couldn't understand how the streets in Taipei (and in Taiwan in general) are without rubbish, if there are no rubbish bins!
Incredible 101 Tower in Taipei
We didn't get the best weather when visiting Taipei in December, so we preferred to watch the majestic landmark of the capital from the distance rather than having a 360 overcast view from the top, where everything was in the clouds anyway.
But, if you visit Taipei on a sunny day, to pay NT$500 ($16 USD) for the fastest lift in the world, and some great views, it's not a bad idea. By the way, in 2004, the observatory's high-speed pressurised elevators broke the Guinness Record with a speed of 1010 meters per minute!
For more details about the tower, observatory deck, and pricing, visit their main page.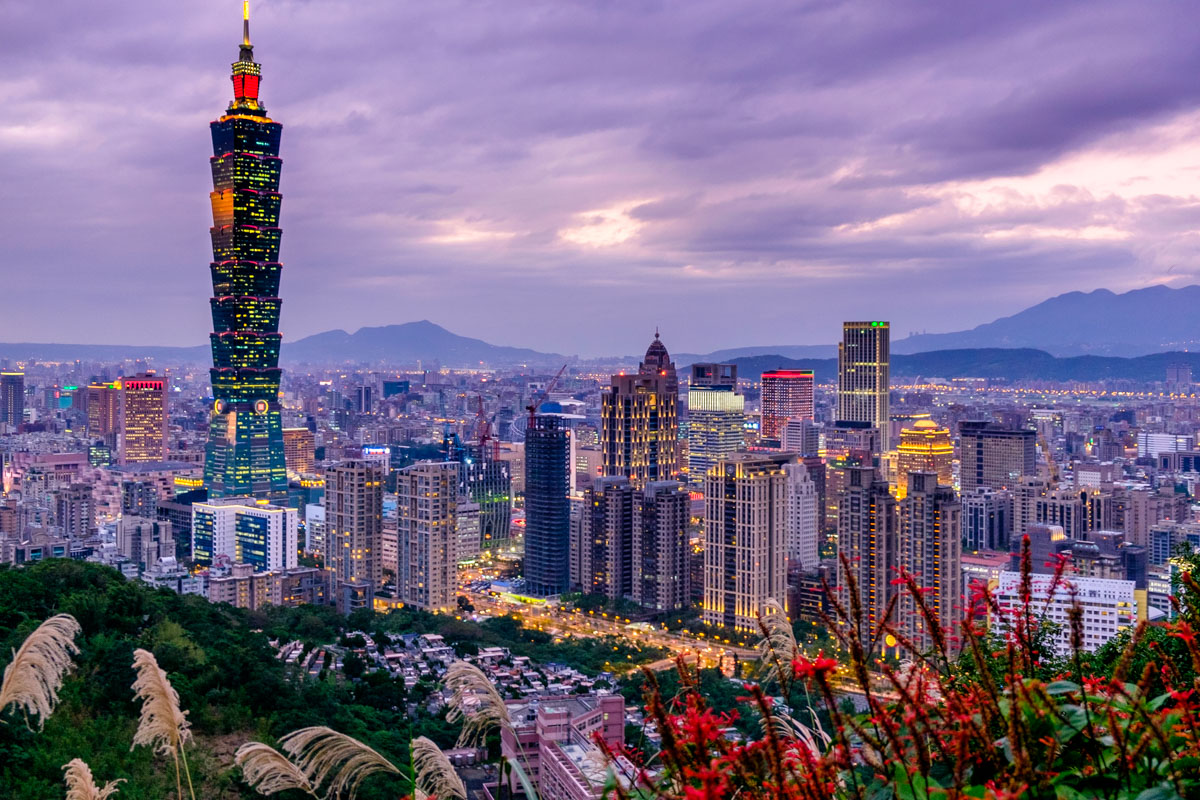 Rainbow Bridge over Keelung River
An S-shape 167m bridge only for pedestrians and cyclists. It is a cool place for a romantic stroll after or before your visit to Raohe market.
Secret tip: this is a great spot for watching the 101 Tower during the New Year's fireworks!
Huashan 1914 Creative Park
A Japanese winery in the past, Taipei's most significant creative arts center now. Check their website for more details.
Address: No.1, Sec. 1, Bade Rd., Zhongzheng Dist., Taipei City 100, Taiwan
Open hours: every day from 9.30am till 9pm
Admission: FREE
Songshan Cultural & Creative Park
Similarly to the previous one, this is a cultural hub of contemporary art and funky events.
Check out their official website for more information about current exhibitions.
Address: No.133, Guangfu S. Rd., Xinyi District, Taipei, Taiwan 10072
Open hours: every day from 9am till 6pm
Admission: FREE
Have a walk in city parks in Taipei
Taiwanese are super active. Crowded hiking paths at the weekends prove it. During the working days all generations keep fit in urban parks. Did we say ALL generations? We meant it! We saw every age frolicking in the public parks!
2-28 Peace Park
Established by the Japanese, it's one of the oldest parks in Taipei, named to commemorate an unfortunate incident of 228 in 1947.
Daan Forest Park
The biggest urban park inside the city. There are lovely walking paths, a jogging loop, a playground; you'll find many benches, two ponds, an amphitheatre, and a skating rink.
Chiang Kai-shek Memorial Hall Park
The park surrounds the memorial, and it's a public area with ponds with koi fish, pathways, and trees. It's also a space where martial arts like taekwondo and T'ai chi ch'uan are practiced.
Zhishan Cultural and Ecological Garden
It's less known among tourists, even though it's a part of the popular National Palace Museum (the entrance fee is included in the price of the museum ticket). The Zhishan park includes a lake, an ecological green house, Wild Bird Rehabilitation Center, and Archaeology Exhibition Room.
Insider tips on where to stay in Taipei, transport and the Internet
The best hotels in Taipei
Personally, we did lots of Couchsurfing in Taipei, and for the first couple of nights we booked a very cozy room near the center with Airbnb (not registered? Do it now and get $60 USD for your first stay)!
But, if you want to feel like you'll have more privacy, these are some of the best hotels in Taipei we researched for you. For all our hotel bookings in Asia we always use TripAdvisor. We've found that they have always the best rates in this area and in addition they have a reward programme and you can earn miles with their airline partners.
Caesar Park Hotel > START FROM $85 USD
This hotel, located in heart of Taipei near the main train station, features Jacuzzi and a rooftop garden.
Book your stay on TripAdvisor, Booking.com or Hotelscombined.
Pacific Business Hotel > STARTS FROM $60 USD
This hotels is only 1 km away from the city center. Free wi-fi in every room and fitness center.
Book your stay on TripAdvisor , Booking.com or Hotelscombined. 
Delight Hotel Taipei > STARTS FROM $47 USD
All rooms of this hotel include free wi-fi, television and air conditioning. The metro station is only a short walk away.
Book your stay on TripAdvisor , Booking.com or Hotelscombined.
Transport in Taipei
Easy peasy! Buy an Easycard! It costs NT$100 ($3 USD) and apart from that, it saves you time so you don't stress out when looking for the nearest ticket machine, you'll save a chunk of cash, too (20% discount over token fare).
Use it for MRT (the mass rapid transit system aka metro system) and buses in Taipei and Keelung.
You can purchase the Easycard at any convenience store like 7-11 or Family Mart, where they also accept the card for payment. If you can prove you're a student, opt for the student Easycard because you get a discount of NT$3 ($0.09 USD) on bus fares.
When leaving Taipei, you can ask for a refund at MRT stations. Just be smarter than me and don't carry your card in a pocket where it can easily break which means you'll lose the possibility to get your deposit back.
The metro system in Taipei is just perfect. Runs on time (hello London and Frankfurt trains!) the trains are super clean (food, drinks, and chewing gum are not allowed) and the five lines that operate in the capital will bring you to all major attractions and further districts, too.
Note: You'll need to validate your Easycard when GETTING OFF a bus, not other way around, as you might be used to from Europe.
Get on a bike in Taipei!
Explore Taipei city for free with YouBike (or uBike)! All rides that initiate in New Taipei City are for free for the first 30 minutes. You can park the bike at one of the YouBike stations and start another ride within New Taipei City again.
All you need is an Easycard, a local mobile number and registration at a kiosk. For one-time users and those without Easycard, YouBike charges only NT$10 ($0.15 USD) per 30 minutes which is dirty cheeeeaaaap! Interested? Read more information about how to use uBike sharing system.
Internet in Taiwan
Honestly, the Internet in Taiwan has been one of the fastest ones we've had in Southeast Asia! They have both 3G and Wi-Fi. We bought a FarEastone sim-card with 3G data (2GB) for NT$ 350 ($11 USD) for one month.
The signal was pretty strong even in the woods, but obviously a bit weaker in remote areas.
Travel insurance
If you travel to Taiwan from abroad and you'll continue your trip from Taipei to the mountains or more remote areas in the country, get your travel insurance in advance. We've been using True Traveller for four years which is the most affordable and reliable option for EU citizens and long trips.
If you're a non-European resident, then check World Nomads a travel insurance that is highly recommended by experienced travellers.
Pack & travel:
Like it? Pin it!