Over the past four years, we've tried to hike in each country we visited as we feel that together with the food adventures and interacting with locals, getting outdoor is one of the most rewarding ways how to explore a new place. Today, our friends and avid hikers are sharing their tips on the best hikes in the world. More precisely, in Europe!
Note: For other continents, keep an eye on this website, more awesome tips on the best hikes in Americas, Asia, and Australia coming up soon!
Best Hikes in The World: Europe
Like it? Pin it!

Andorra : Pessons Lakes
Duration: 4-6 hours
Best time to go: June – October
Andorra is a small country situated between France and Spain, and it's one of the best destinations for mountain lovers. Many people say that the most beautiful part of the Pyrenees Mountain chain is found in Andorra, and there are really hundreds of fantastic hiking routes there.
One of the most beautiful hikes in Andorra is the circular trail around the Pessons Lakes. The track has intermediate difficulty, and it takes about 4-6 hours to do the whole hike depending on your fitness level.
The scenery is marvelous, since you have the chance to see dozens of different lakes, which are all unique in some sense. The final part of the trail includes the climb up to the Pessons Mountain Pass, from which you can enjoy breathtaking views of all the lakes in the area.
Read more travel articles from Gábor Kovács on Surfing The Planet and follow him on Facebook and Instagram. 
Austria: Sunrise Hike at Kanisfluh, Vorarlberg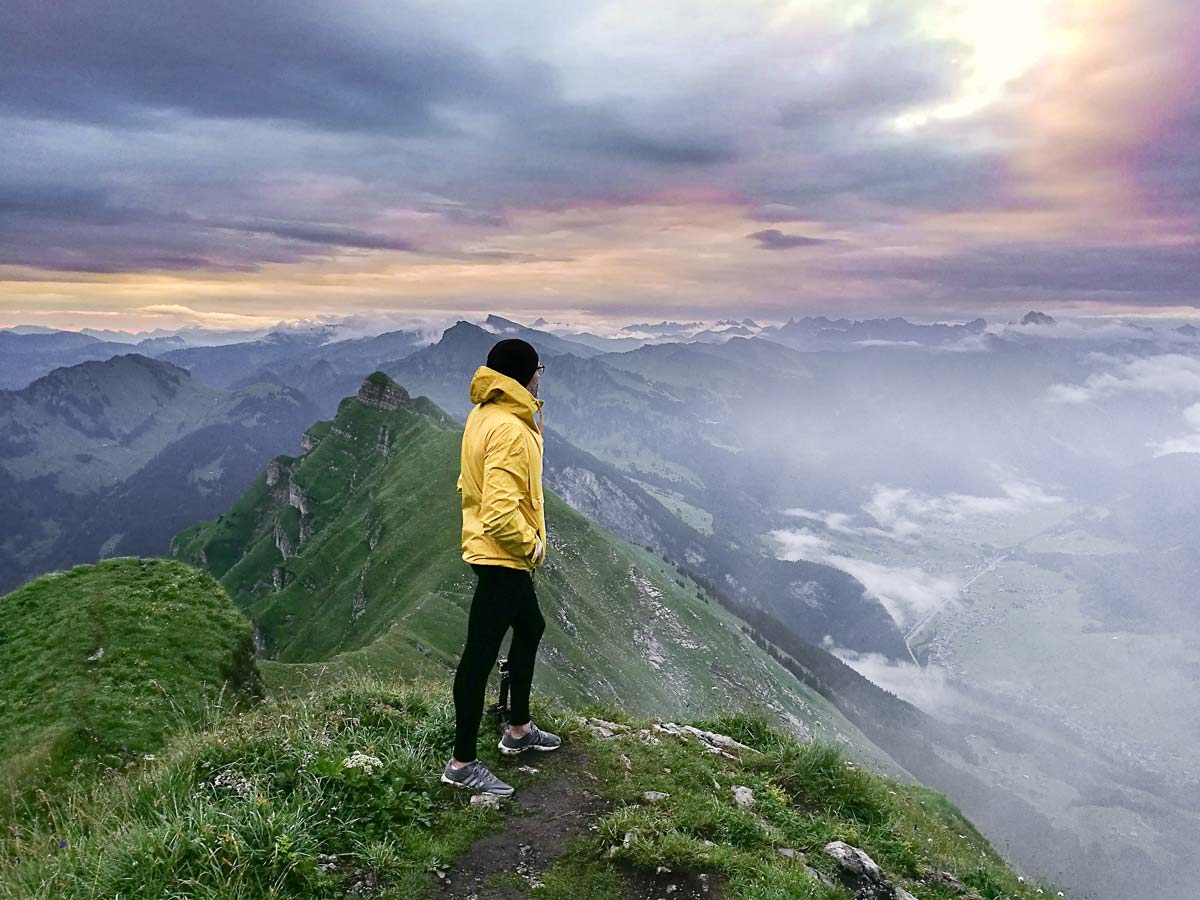 Duration: 3 hours
Best time: summer
The Austrian Alps are marvellous and during sunrise they look even more magical and impressive. We had the opportunity to do a Sunrise Hike at Kanisfluh Massif one of the highest peaks in Vorarlberg province in Austria.
Summer is the best time to do it, the temperatures and winds are not that cold and you can start hiking around 3:30 – 4 AM, depending on your fitness level. It's a short hike, only 5 Km, but the rocky and steep trail at dark night adds an extra challenge to the activity.
The round trip from the car park to the top of Kanisfluh took us 3 hours and 576 meters of altitude gain. All the effort is rewarded with stunning views and an amazing sunrise. At 2,044 meters above sea level you do feel like on the top of the world.
You can do the Sunrise Hike by yourself, the trail is marked and open to the public. But if you are not an experienced hiker I suggest that you book a private or group tour. The Sunrise Hike at Kanisfluh is only one of the amazing hikes and things to do in Vorarlberg, Austria.
Read more travel articles from Natalie Deduck on Love and Road and follow her on Facebook and Instagram.
Bulgaria: The 7 Lakes Hike of Rila
Duration: 5 hours
Best time: spring and summer
The 7 Lakes Hike of Rila, Bulgaria is just how it sounds—you'll spend a full day hiking a path that will lead you around 7 small but gorgeous lakes! All of the lakes actually originate from glaciers.
The hike is a medium difficulty path. You don't need any special equipment or gear to visit- just a good pair of shoes.
It's best to visit in the spring or summer. In the winter, the same area is actually used for skiing.
If you want to see all 7 lakes the hike will take about 5 hours. Make sure to pack a lunch or bring some snack foods, most trekkers take a break and stop to eat about halfway through the day on the shores of one of the larger lakes.
Read more travel articles from Nathan Aguilera on Foodie Flashpacker and follow him on Facebook and Instagram.
Heading to Europe? Get inspired by moe travel articles!
Visiting Lisbon: What to Do and See
Things to Do in Bulgaria
Train Travel in Europe with Interrail
Cycling in Costa Brava: All You Need to Know to Plan Your Trip
Things to Do in Barcelona, Spain
The Best Beaches and Hotels in Puglia, Italy
Croatia: Plitvice Lakes National Park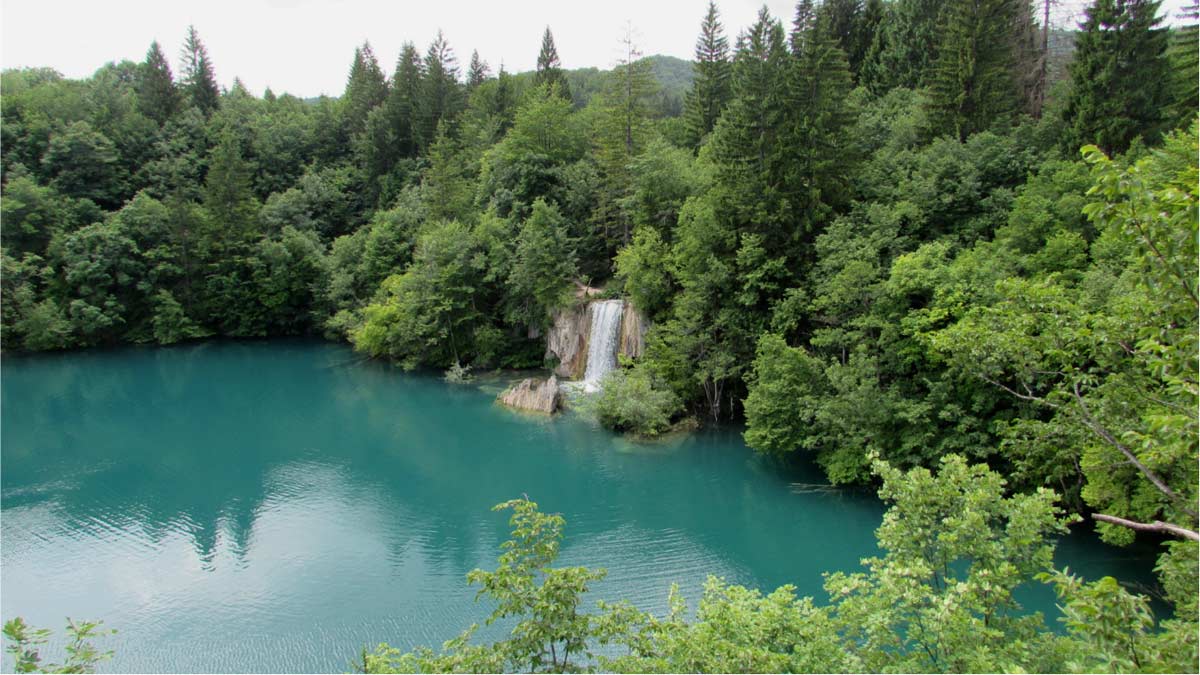 Duration: 1 day +
Best time: year round
Hiking around the 16 interconnected lakes at Plitvice Lakes National Park in Croatia is not only an invigorating way to get amazing views of the lakes, it's one of the best ways to make sure you have time at this crowded park to yourself.
There are two main areas of the park that are near the lakes: the upper lakes and lower lakes. Hiking takes roughly a day per section for moderately fit hikers, assuming you stop for plenty of snacks and photo breaks! These hikes are not difficult, though they can be longer than expected.
There are many small inlets in the lakes that you can't see until you're right up on them. Summer is the most popular time to hit the park, and the crowds are largest at that time as well. However, no time is a bad time to hit the park – the Plitvice Lakes are gorgeous year-round!
Read more travel articles from Kate Storm on Our Escape Clause, and follow her on Facebook and Instagram.
England: Kingley Vale National Nature Reserve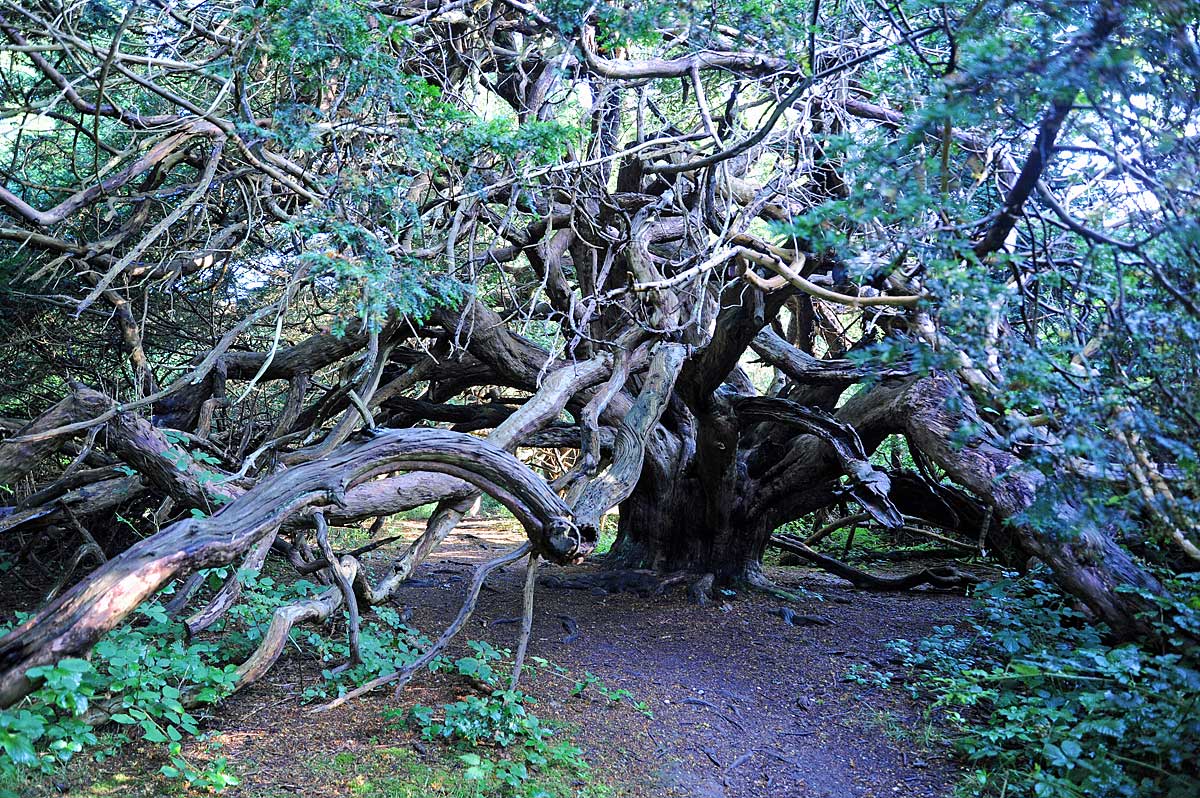 Duration: 4-5 hours
Best time: summer
This circular hike may only be 3 miles long but it is a magical nature trail that will lead you through ancient groves of twisted and gnarled yew trees, some over 1,000 years old, and quite possibly the oldest living things in Britain.
As the undergrowth clears step out into the sunshine into a beautiful valley. Look out for some of the 13 species of
orchids that can be found here. You'd never imagine it now, but beneath these lands, during the Second World War huge underground tunnels and bunkers were dug out.
Before the reserve could be opened to the public thousands of bombs had to be removed. Follow the route up to the top of the hill and you'll come to Bronze Age burial mounds. There's a stunning view across the South Downs and on a clear day, you can see as far as the Isle of Wight. The path then leads you down a gentle slope through more woodland back to the start.
Read more travel articles from Kathryn Burrington on Sussex Bloggers, and follow her on Facebook and Twitter.
Finland: Kevo Reserve, Lapland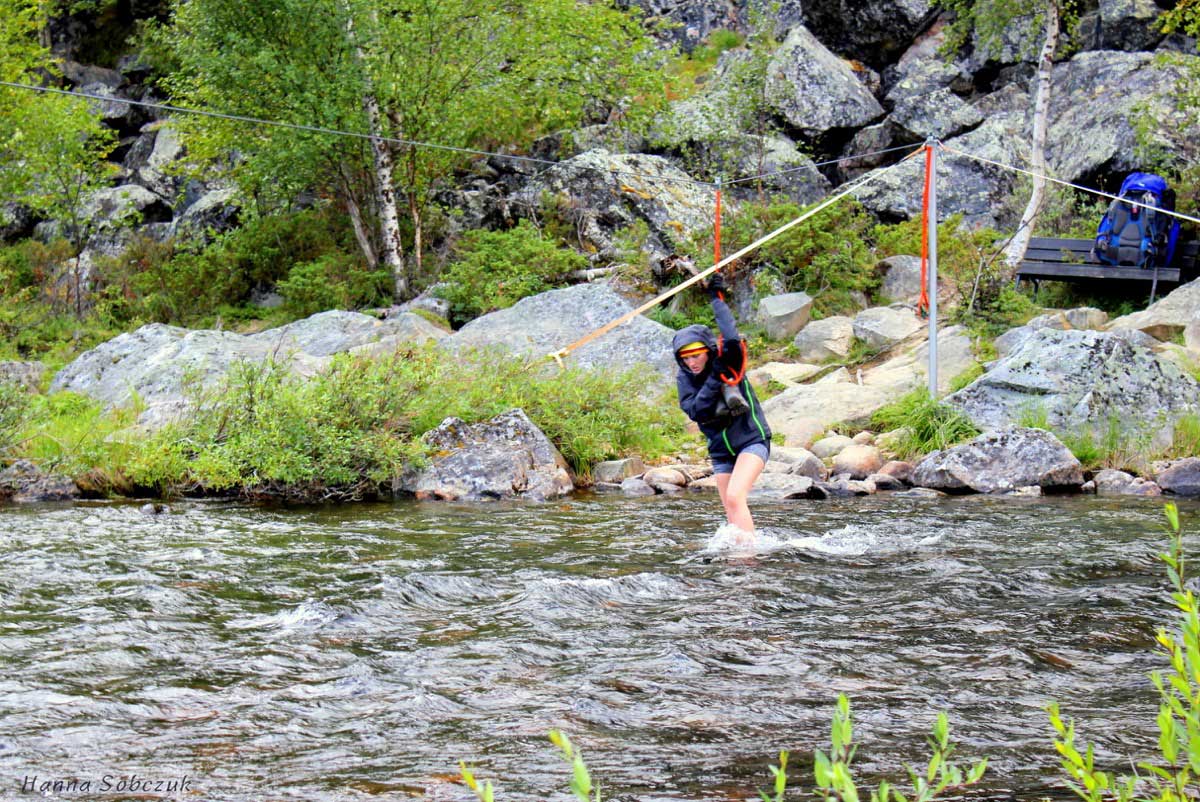 Duration: 4-5 days
Best time: summer
I recommend to everyone a long-distance hike in stunning, severe nature, like the one I did in Kevo Nature Reserve, in Lapland, Finland. The trail is around 60 km, and it takes 4-5 days. It's subpolar circle, so the best time to go is summer.
Days are warmer (yet, it's no more than 20-23*C during the day) and longer, but be prepared for mosquitos. The trail is not difficult – most of it goes on flat terrain. Some parts of it are adventurous, like when you have to cross the river holding a rope because there are no bridges.
Nordic countries are very well prepared for hiking in the wild because every few kilometres you can find a place to camp (you need to have your tent, a warm sleeping bag and food!) with a hut full of logs for a campfire. It was an amazing experience!
Read more travel articles from Hanna Sobczuk on Hanna Travels, and follow her on Facebook and Instagram.
France > Italy: Via Francigena
Duration: 5 days
Best time: spring and fall
This ancient road and pilgrim route running from France to Rome has its starting point further away, in the English cathedral city of Canterbury. As such, the route passes through England, France, Switzerland, and Italy.
The trail was known in Italy as the "Via Francigena" ("the road that comes from France") or the "Via Romea Francigena" ("the road to Rome that comes from France").
In medieval times it was an important road and pilgrimage route for those wishing to visit the Holy See and the tombs of the Apostles Peter and Paul and today it is a well-known hiking trail for pilgrims and hiking lovers that come from all corners of the globe to walk it.
Read more travel articles from Inma Gregorio on A World to Travel, and follow her on Facebook and Instagram.
France: Sentier Nature of Etretat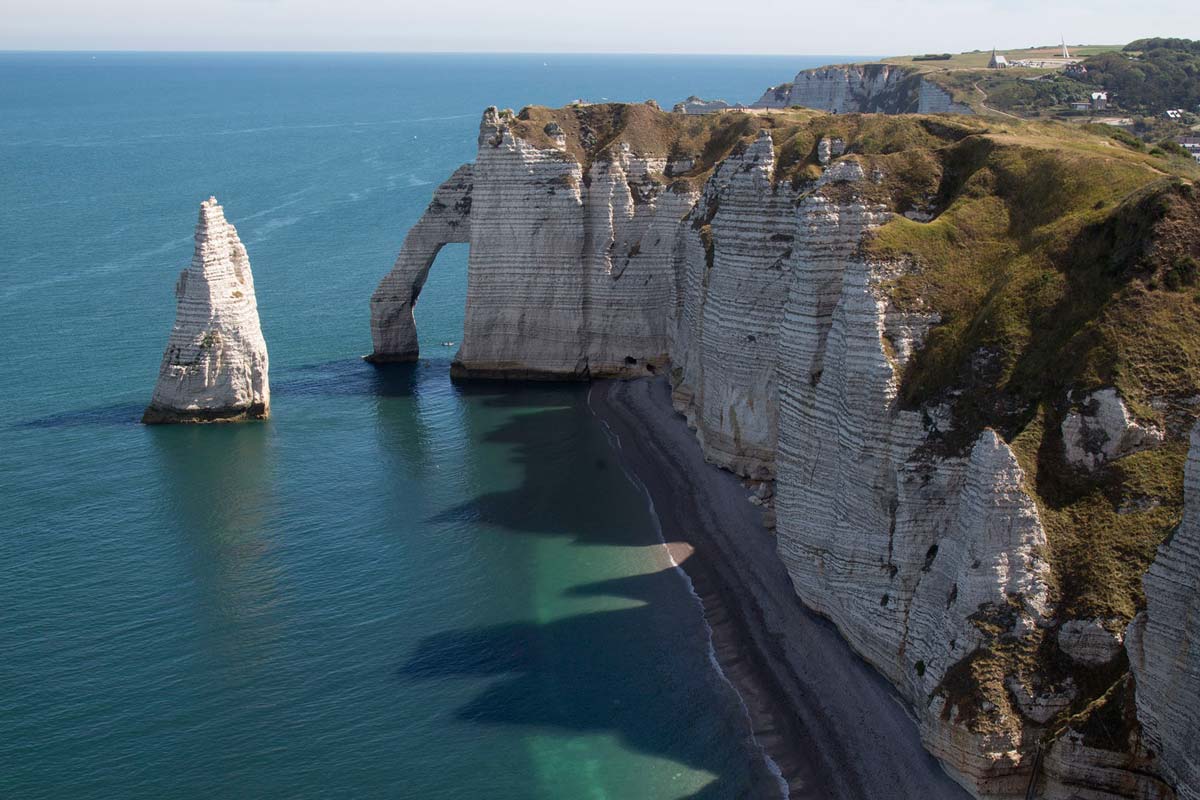 Duration: 3 hours – a full day
Best time: year round, summer
If you visit the town of Etretat in Normandy, France, there is a fairly easy hike that you should do and that is suitable for everyone. Called the "Sentier nature" of the cliffs of Etretat, it will take you along the coast and bring you back to town through some lovely fields.
The hardest part is the first climb up the first cliff, but once up, there is a beautiful path that is designed to direct everyone through some amazing views. The beauty of Etretat is better seen from above and that's exactly what this path allows you to do.
We'd strongly recommend doing the West side of the cliffs, as this is where the best views can be found. If you want to keep the best for the end then start by the small church on the East. While you can visit at anytime of the year, summer is probably best for this walk of about 10kms.
Read more travel articles from Marie-Carmen Infantes Hughes on The Orient Excess and follow her on Facebook and Instagram.  
Georgia: Kazbegi
Duration: 6-8 hours
Best time: July
Hiking to the Gergeti Glacier in Kazbegi is one of the best things you can do if you're traveling to Georgia. If you have more time and you're well prepared, you can even conquer the peak itself. Usually, the trail is ranking as very difficult but I would say that it is not that difficult but very exhausting.
You will need 4-5 hours to get there and about 2-3 hours to return, hiking 1600 meters up and down. I did the hike in late July, which I think is a perfect time to do it yourself as well. The hike was one of the most amazing things I've ever done alone and I've also had a very special moment on the way.
Read more travel articles from Bilyana Petrova on Owl Over The World, and follow her on Facebook and Instagram. 
Greece: Meteora
Duration: 2-4 hours
Best time: May-October
As people who seek balance in life and in travel, hiking in Meteora, Greece ranks high on our list of balanced experiences. This trek combines moderate physical activity, beautiful natural landscapes, an education in history, and breathtaking examples of a collaboration between man and nature.
Towering over the small town of Meteora are surreal imposing cliffs upon which are impossibly perched monasteries. Tourists arrive en masse by the bus load to view these wonders, but the far better option is to hike the ancient trails between the monasteries.
By hiking you avoid the crowds and also get to experience the full beauty and awe-inspiring spectacle that is Meteora. We recommend hiring a local guide as the trails are not all well marked.
Plus, since this is so much more than a nature hike, having a knowledgeable guide to explain the incredible feats of the monks and the history of the area will definitely enhance the experience.
Read more travel articles from Sarah Hughes on Live Dream Discover, and follow her on Facebook and Instagram.
Ireland: Mount Brandon
Duration: about 4 hours
Best time: June – early September
This mountain is located on the Dingle Peninsula (Co Kerry), just a 15 minute drive from the town of Dingle. It is the highest peak on the peninsula and the ninth highest in all of Ireland. A moderate climb for the fit, the less experienced will find it quite a challenge.
The climb is best in the summer months (June through early September) although it is accessible year round. Only very experienced hikers should attempt Mt Brandon in the winter months. No matter when you climb, it is best to avoid days when the wind off the ocean is strong.
The Pilgrim Path is the most popular path, deserted even in peak season. It is marked by white crosses and the peak itself is topped by a large metal cross and the remnants of an old stone building, believed to be the oratory of Saint Brendan. Climb through the clouds accompanied by painted sheep, surrounded by breathtaking views of the Atlantic and Ireland's emerald expanse.
Read more travel articles from Marie Lackey on Adventures in Family Travel, and follow her on Facebook and Instagram.
Italy: Vernazza to Monterosso al Mare, Cinque Terre
Duration: 2 hours
Best time: spring or fall
When I visited Cinque Terre I was happy to discover that I could visit these five pretty villages not only by train or boat, but also by walking its cliffs. I decided to take the hiking trail from Vernazza to Monterosso al Mare and I obtained one the most beautiful views I have ever had in Italy: Vernazza from above.
This is an amazing path, but may be tiresome in the Italian summer. It takes around 2 hours to complete it, even more if you take your time to photograph the breathtaking landscapes.
Spring or fall look like the ideal season for hiking there, but you can still do it in summer time – in that case I recommend you going early in the morning or right before sunset to avoid the hottest hours of the day.
PS: you'll have top pay a fee (7,50€).
Read more travel articles from Diana on DianaMiaus.com, and follow her on Facebook and Instagram.
Macedonia: Marko's Towers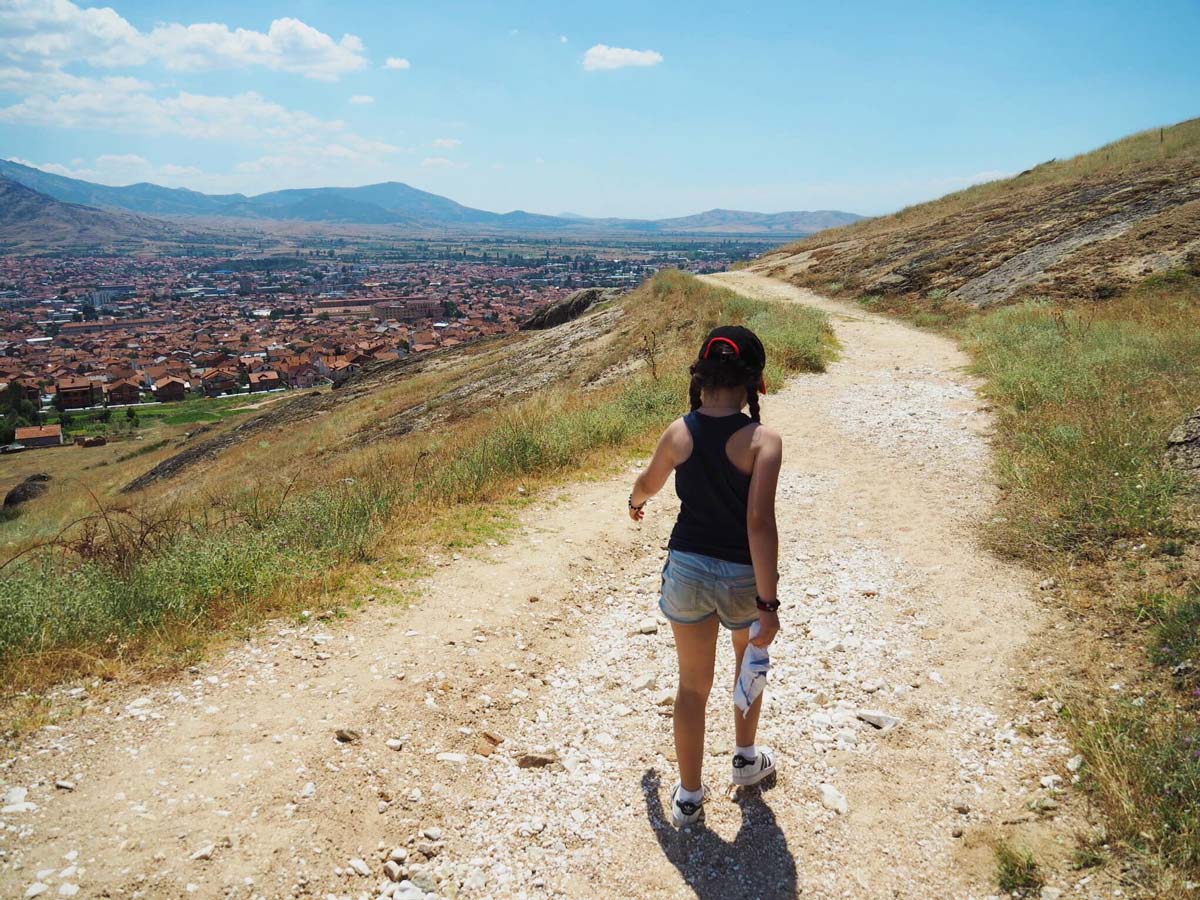 Duration: 40 minutes
Best time: early summer
Marko's Towers, called Markovi Kuli by locals, rises 180 meters above the city of Prilep in Macedonia. Currently on the tentative UNESCO list, this historic landmark beacons you to climb it as soon as you spot it.
A pathway up has been created with red/white dots and stripes marking where to go. It is a fairly easy climb, taking around 40 minutes at a medium pace. Be warned, we attempted it during summer which was extremely hot.
The view over Prilep from the summit is amazing but the most incredible find is Marko's Towers itself: 14th -15th century ruins which you can explore independently.
If the walk is too easy for you, the walk continues across the mountain range to the Treskavec Monastary seven kilometers to the north. The path is moderate but we abandoned the idea due to the heat which the kids were finding difficult.
Read more travel articles from Leah Smileski on The Kid Bucket List, and follow her on Facebook and Instagram.
Montenegro: City Walls of Kotor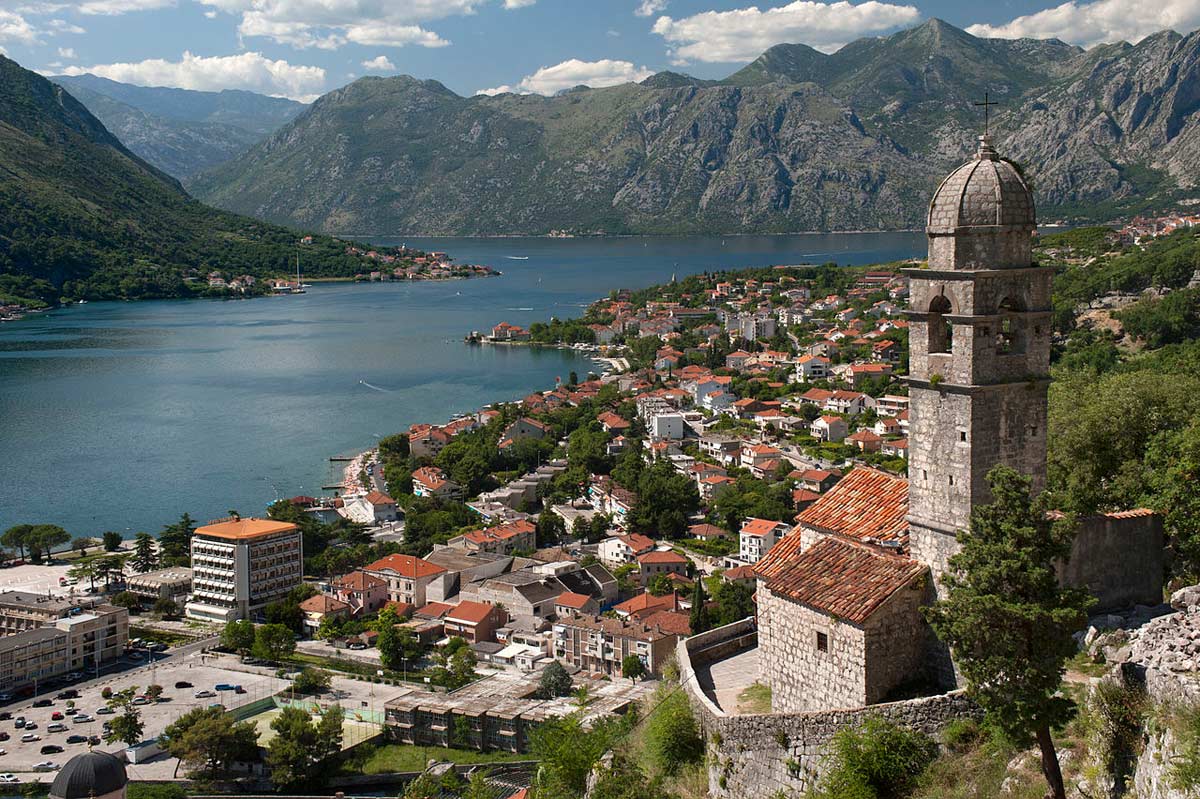 Duration: 1-1.5 hour
Best time: May-June
City walls of Kotor is super unusual and unique construction because they are not located in the city. They only start in the old town but end on top of the very steep mountain. You can take 3 different paths, get up there in around 1 – 1,5 hours and enjoy amazing views of city and beautiful Kotor bay.
The construction is more than 500 years old and 4,5 km long. It's not a difficult hike but it can be super exhausting in the summer. Therefore, best time to visit is May and June because it's not too hot, not rainy and city is not packed with tourists as in July and August.
Discovering downtown of Kotor, hiking the city walls and finishing on the beach are 3 must activities you can get done in around 6 hours when visiting Kotor, Montengro.
Read more travel articles from Viktor Vincej on Traveling Lifestyle, and follow him on Facebook and Instagram.
Portugal: The Seven Hanging Valleys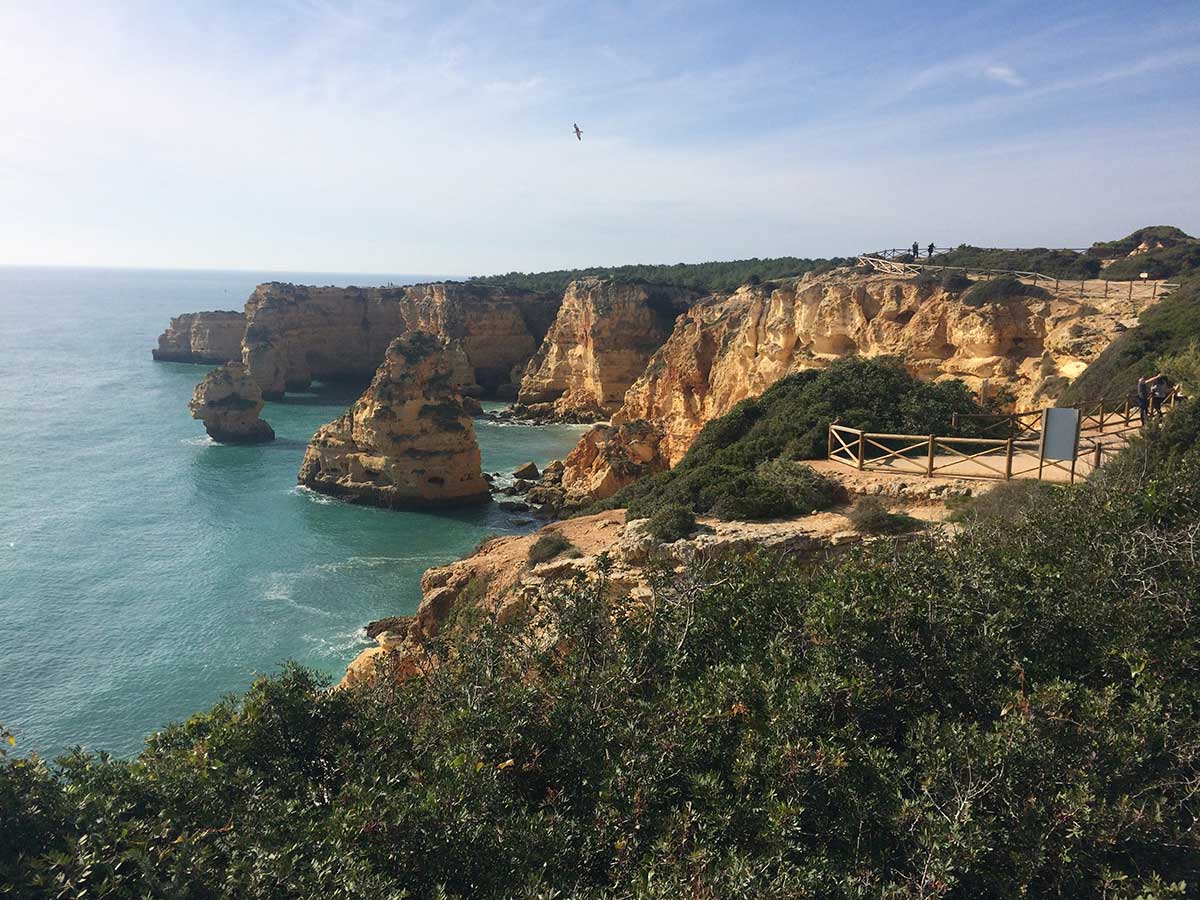 Duration: 4-6 hours
Best time: spring and autumn
The Seven Hanging Valleys is a moderately tough walk along the rugged Algarve coastline, best done in the mild spring and autumn months. It starts at Praia de Vale Centeanes in the west, and ends at Praia da Marinha in the east.
I've done this hike many times and love it for the breathtaking scenery, which includes forested sections with fragrant juniper bushes and sandstone sinkholes where you can hear the Atlantic gushing below.
As the name suggests there's quite a bit of going up and down, including some scrambling towards the end. The reward? Incredible views of the orange cliffs that characterise this stretch of coast, with stoney sea stacks and secluded coves offering the perfect backdrop for an Instagram snap.
I always hop in for a swim at Marinha before turning back, and treat myself to a laid-back lunch at Casa Lamy to celebrate nearing the finish line.
Read more travel articles from James Cave on Portugalist.com and follow him on Twitter and Facebook.
Romania: The Ceahlau Mountains
Duration: 1.5 day
Best time: spring, early summer, early autumn
Ceahlau national park in Neamt county, Romania, holds some of Europe's largest swathes of pristine, protected forest. Reached via the tiny but infinitely charming town of Durau, the thick forest lulls you into a false sense of security by starting you off with a gentle early morning stroll.
The hiking trails are not easy and will require at least a basic level of fitness and the ability to carry some supplies with you, but the chance to hike up into a hidden part of the Carpathian mountain range, passing hidden lakes and waterfalls, avoiding wild bears and an epic adventure culminating in an overnight stay in a basic lodge on top of Cealhau mountain with views across the entire mountain range should not be missed.
Read more travel articles from Michael Huxley on Bemused Backpacker, and follow him on Twitter and Facebook.
Bosnia and Herzegovina: Mount Trebević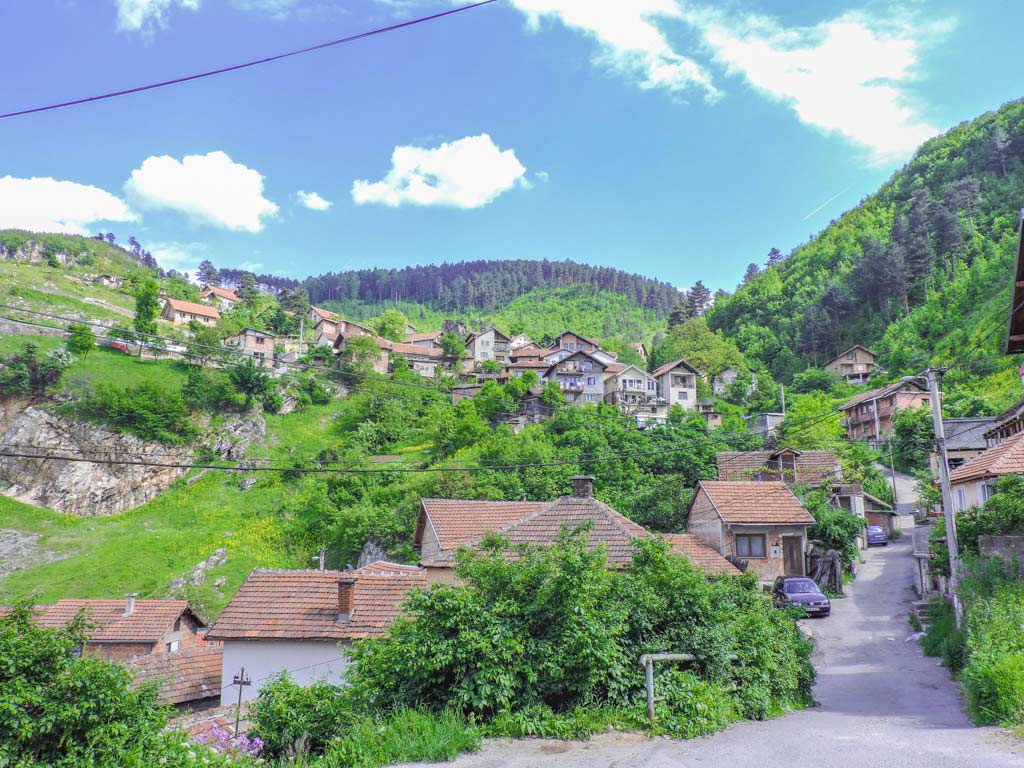 Duration: 3-4 hr
Best time: summer
Sarajevo is a city surrounded by mountains, engulfed by nature. One of the coolest hiking trails in Bosnia and Herzegovina's capital is the Mount Trebević trek which leads you uphill through neighbourhoods to a surprise at the top.
Nestled amongst the fields is the 1984 Winter Olympics bobsleigh track which is now covered in street art. The walk is moderate leaning towards difficult for the first half but well worth it for the views. For more information on this hike and other activities, read this guide on Sarajevo's things to do.
Read more travel articles from Gemma Armit on Two Scots Abroad, and follow her on Facebook and Instagram.
Spain: Camí de Ronda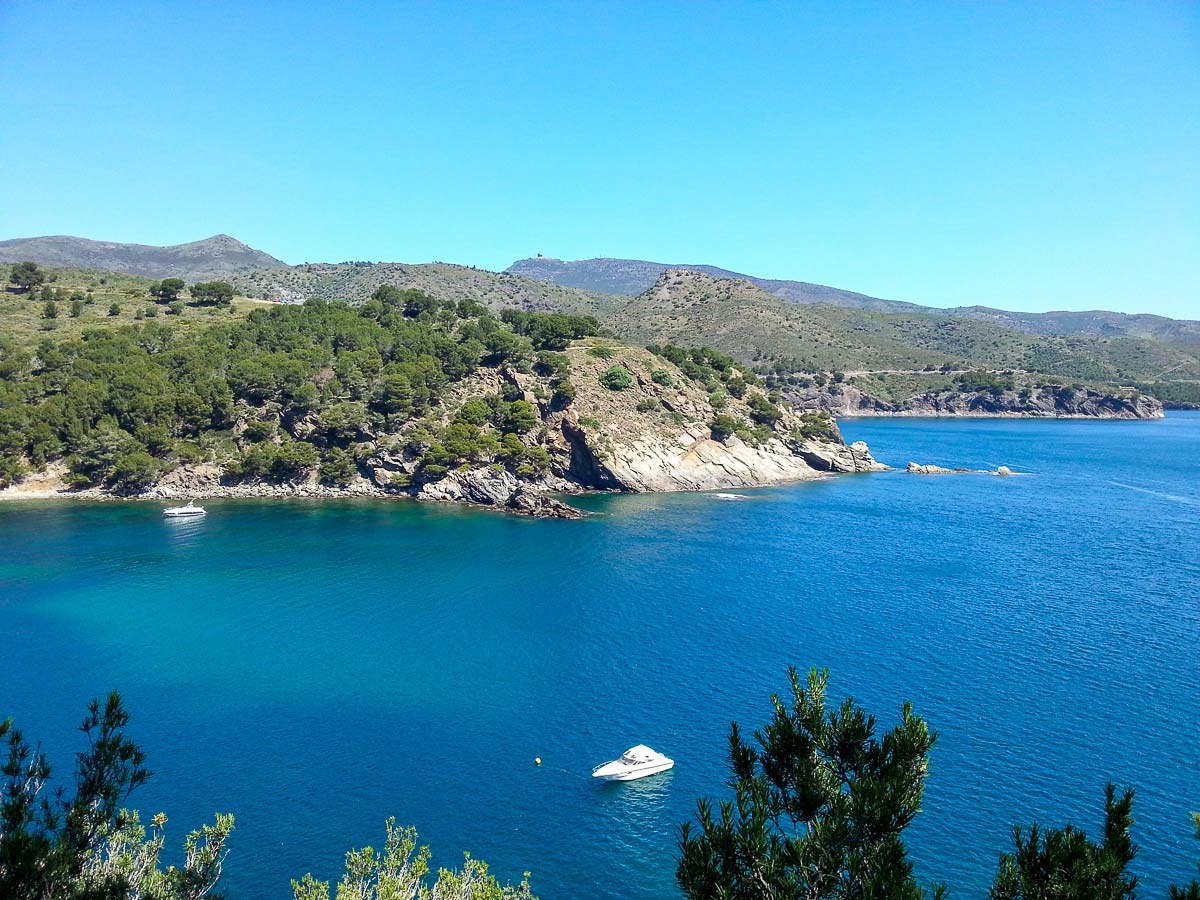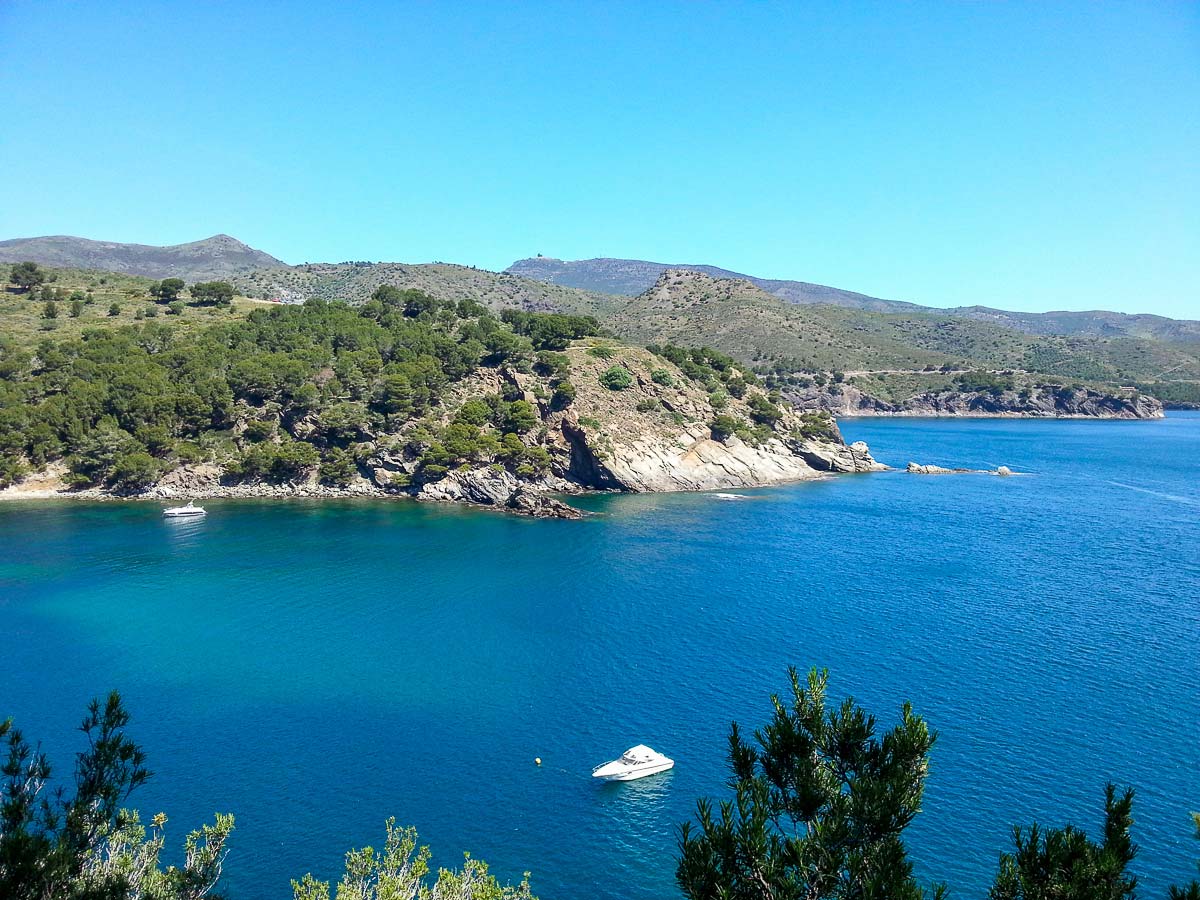 Duration: 3-7 days or short parts as day trips
Best time: year round
The Camí de Ronda is a footpath that was originally built in the 19th century for coastal patrols to prevent smuggling in the area. It stretches from Blanes, about 100km north of Barcelona, to Portbou just south of the French border.
Its route along the coastline of the rugged Costa Brava offers incredible views, and the hidden bays connected by this path make for perfect picnic stops. The Camí de Ronda offers fairly easy hiking and can be done partially as a day trip or as a multi day trip. It's also a great hike for foodies, with many restaurants along the way offering fresh Catalan and Mediterranean cuisine that is perfect for refueling after a long day of hiking.
Hiking is possible all year round, although August can get hot or crowded, so the best months would be May to Mid-July or September – October.
Read more travel articles from Edwina Dendler on Traveling German and follow her on Facebook and Instagram. 
Wales: Mt Snowdon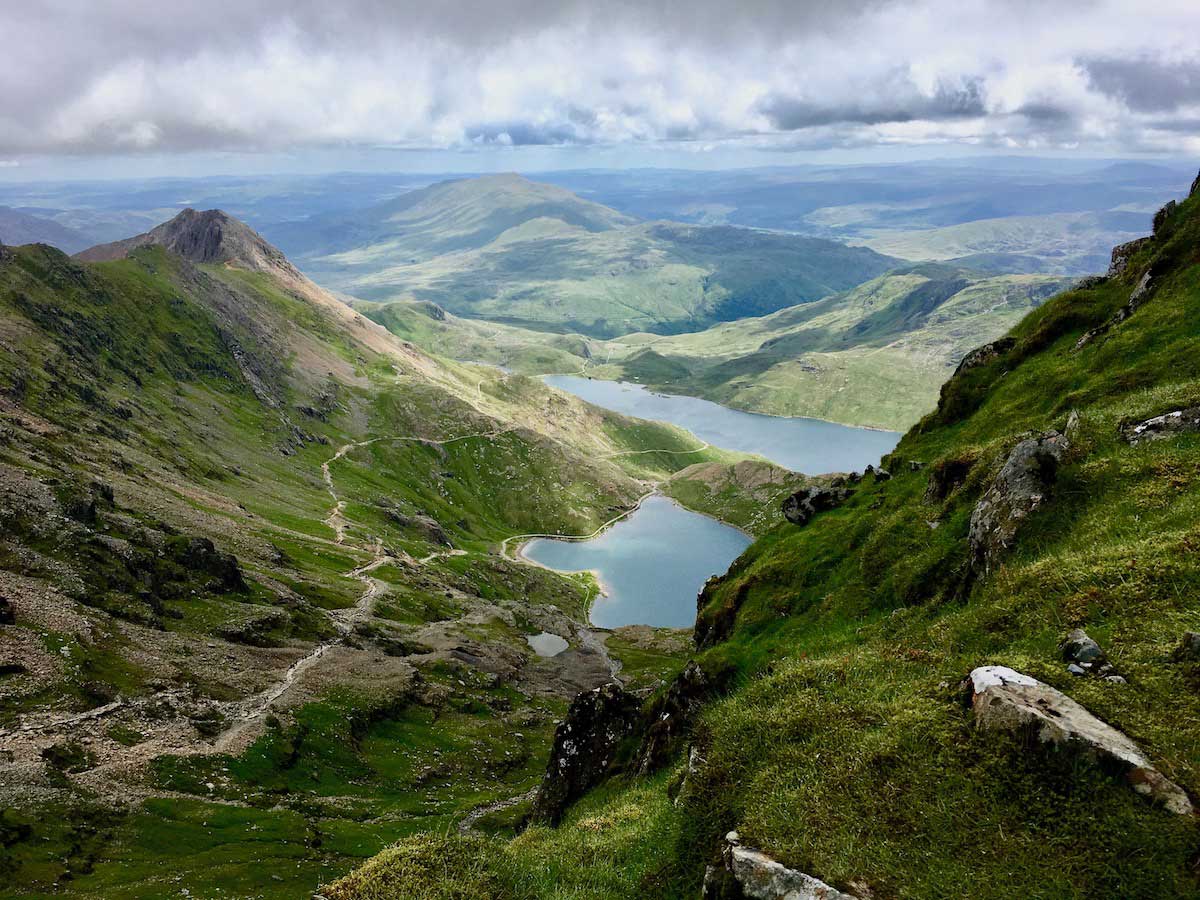 Duration: 6 hours
Best time: summer
Mt Snowdon is the highest mountain in Wales, but an achievable peak to summit, at just 1085m. Don't get me wrong: if you've got a medium level of fitness it'll still take around 6 hours and leave you feeling tired, but proud. For me it was extra tough as I climbed it with my Miniature Dachshund, Schnitzel, who needed carrying at times due to his short legs.
There are six main routes to choose from, all which offer up excellent views, particularly as you get to the final stretch (weather permitting). And because there's also a tourist train that climbs to the summit (no cheating!), there're a welcome café and toilets at the top.
It's best to climb Mt Snowdon during the UK summer, although keep an eye on the weather (it often rains, making sections quite dangerous), although hard-core types have been known to climb it year round.
Read more travel articles from Shandos Cleaver on Travelnuity.com and follow her on Facebook and Instagram.
Like it? Pin it!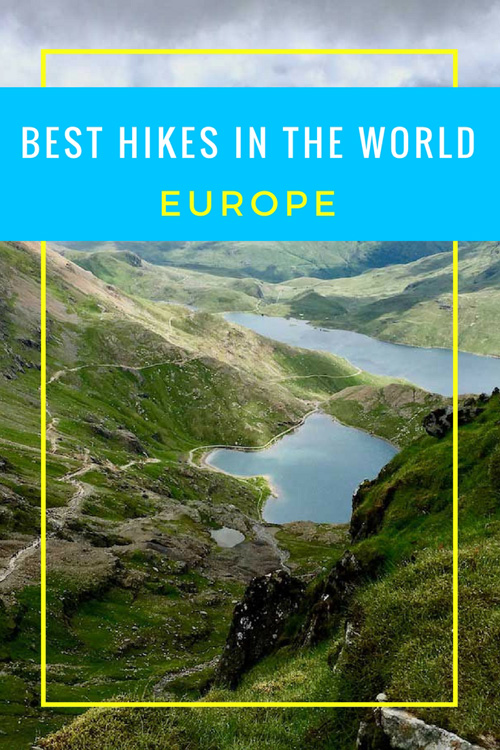 What about you? Which is your favourite hike you've done? Leave a comment below, we'll be happy to hear form you.
Want to share your travel experience or looking for travel advice? Join our Nomad is Beautiful Travel Community on Facebook!