Do you have a female friend whose life is all about planning her next trip, and you want to make her happy? Get inspired by these tips on the best travel gifts for her based on my own experience as a female traveler and a digital nomad.
Best travel gifts for her
Like it? Pin it!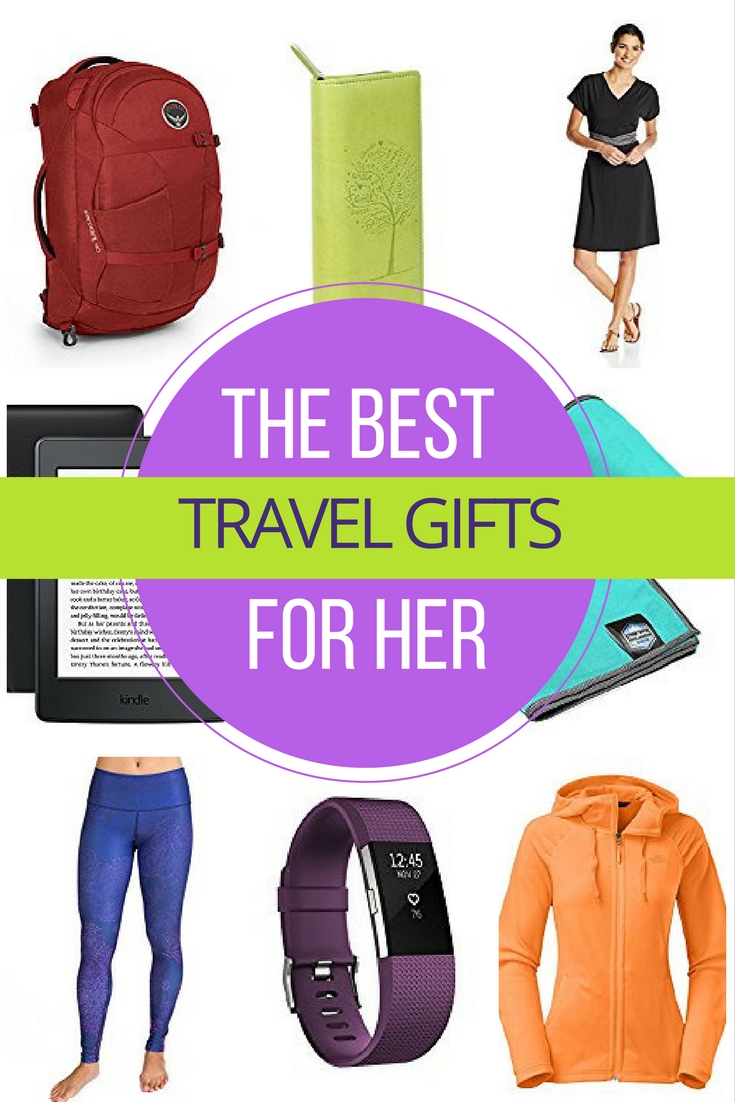 Let's get started with reliable luggage! Traveling with a carry-on backpack is great stuff. It'll help her reduce the amount of clothes, shoes, and assist in avoiding lengthy check-ins at most airports.
Choose the best travel backpack for her; a maximum of 40L, ideally with a side zipper opening so she doesn't have to turn all of her stuff upside down just to take out one t-shirt.
The Osprey Fairpoint 40L is one of the best carry-on backpacks on the market, and it comes in a nice jasper red and blue. Check the price on Amazon.
If she focuses on photography while traveling, this will be very handy. Make sure it has sturdy construction, and plenty of compartments for camera(s), lenses, and batteries. Opt for one with an adjustable interior. This cutie from Digiant features the tripod/monopod straps, a nylon waterproof cover, and side pockets. Check the price on Amazon.
Be generous, make her happy, and go big. A mirrorless camera is one of the best gifts for travelers! If you are not sure which brand or model to choose, read Gianni's article about the best camera for travel photography . Or go ahead and purchase a fantastic photographer's companion: The Fuji XT-2. Check the price on Amazon.
A fantastic tracker that will help her to understand the daily activities like steps, floors climbed, calories burned, or the quality of her sleep. Great for maximizing her workouts; possible to connect GPS during the run mode, too. Check the price on Amazon.
A unique travel gift for her if she loves reading, learning, and traveling light. Check the price on Amazon.
Make her life easier, and help her to pack efficiently. These packing cubes will allow her to roll her clothes, sort them accordingly, and save immense amounts of space. Check the price on Amazon.
Check more related articles
The more organized, the more relaxed a traveler is. If your female friend likes taking her make-up and cosmetics everywhere, this will be a very useful travel gift for her. Check the price on Amazon.
Personally, I can't imagine traveling without this piece in my backpack. I find a fleece hoodie the most comfortable thing ever while traveling with strong A/C, or while chilling out at cafés in the late evening. I love this model from The North Face! Been using it for a couple of years now and still feels like a new one. Check the price on Amazon.
In case she is going for a detox or yoga retreat, or she is an avid yogi, these will be some of the best travel gifts for her. These yoga leggings from Inner Fire have style; they are funky, and eco-friendly, too! Check the price on Amazon.
Talking about active vacations…if she's going on one, she'll need some high quality hiking pants. Opt for a convertible pair, so she can unzip and turn them into the shorts any time. The North Face offers some pretty female models in practical travel colors. Check the price on Amazon.
Related articles:
Unless she is traveling to more orthodox countries with a strict dress code, she will always need a comfortable, elegant, or sexy dress. Check out this black beautiful piece from ExOfficio. They know how to make a female traveler feel pretty, so make sure you pick a dress, skirt, or top for your female friend. Check the price on Amazon.
Absolutely gorgeous, animal cruelty free, personalised, and made with love. Gabriela is a Slovak artist, who loves traveling and she will be happy to create a scarf for your female friend, with a travel or non-travel related theme. Worldwide shipping. Check out her website or jump into her e-shop on Etsy.
If you know her travels will be about city walks, food sampling and ticking off the best cafés, museums, and jazz concerts in the towns, check out these chic and very practical TIEK ballerinas. They are durable, colorful, and some of the models are vegan. Check out their e-shop. 

Make her feel comfortable while she's exploring new towns or hiking to the hills to catch the sunrise views. Give her some of the best travel shoes for women: KEEN! I can swear by them after using them for years. Check the price on Amazon.
If she runs, these are a must! Vivobarefoot STEALTH II running shoes are ultra light, vegan, insanely comfortable, and she will feel as if she were flying. I've been using them personally for two years, and wouldn't go back. Now they have them available in the obsidian color. Check the price on their website.
She will thank you a lot for this one. It can serve as a towel, a beach blanket, a curtain in a hostel, or a head cover that she can wet and use during trekking in hot climates. Check the price on Amazon.
The Cabeau Evolution Pillow is very comfortable, ergonomic, and she'll be able to adjust it to 360-degree support, which means a stable head and neck position. Check the price on Amazon.

She WILL need it! Pick a simple, big enough to carry daily basic things. This one is also anti-theft model, which is quite practical when traveling. Check the price on Amazon.
Perfect for long-haul flights, bus rides, but also for the time she'll spend meditating, or listening to her own playlist while running or enjoying her gym workout. They are lightweight, come with a travel case, and are sweat proof too. Check the price on Amazon.
It's light. It's practical. She'll need it on a long-haul bus trip, or while trekking and using her GPS on the phone. Check the price on Amazon.
It's eco-friendly, and she will be able to re-fill the bottle without buying plastic water bottles every day. If she's not using it, she can simply fold it and keep it in her backpack. Vapur bottles are also freezable. Check the price on Amazon.
It's great for running and keeping her valuables safe while taking an overnight bus or train. Check the price on Amazon.
Neat, elegant, and helps organize documents, boarding passes, and credit cards. Check the price on Amazon.
Let her dream and contemplate, write notes, quotes, addresses, or draw. Check the price on Amazon.
Beautifully minimalistic and hand-drawn travel gifts designed by our dear friend Jodi, a great storyteller and charismatic young woman. Check out these original food maps in her online store.
In case she is on the road for longer period of time and she loves animals, this will be an original travel gift for her!
Buy her an annual membership on the Trusted Housesitters platform, so she can take care of the pets and households of other people while living local life anywhere in the world. We've been using the Trusted Housesitters website for years, and can absolutely recommend it!
Get her the Airbnb Gift Card so she can pick some cool rooms, apartments with a pool, a view she'll love, and amenities she'll prefer. This is an excellent platform we've been using for three years now and love it. Get the gift coupon here. 
Note: gift cards from Airbnb can only be purchased by US citizens.
BONUS: Flight ticket
What makes a female traveler more excited than holding a flight ticket with her name on it? Make her happy, make her feel special, and book her a flight to a destination she's been dreaming of for a long time.
Hope this list has inspired you and made your decision what would be the best travel gifts for your female friend easier. If you have any other suggestions, please leave a comment below!
Disclosure: Some of the links on this page are affiliates, which means by using any of the services or buying a product through our site we'll get some commission that will help us to run this website, at no extra cost for you.