In this article, you'll find practical tips on cycling around the medieval towns in Costa Brava and the Pyrenees, including suggestions for what to see, where to stay and where to grab some delish tapas along the cycling routes.
Skipping the medieval towns of Costa Brava while traveling through the coastal region would be the same as visiting Scandinavia and ignoring its lakes. Or avoiding Buddhist temples while traveling to Thailand. You've got my point.
Medieval towns in Costa Brava and the Pyrenees are a quintessential part of Catalonia, and they are probably the only memento of the peculiar past of the region. Get ready for a blend of Christian symbols, Jewish and Arabic heritage and pieces of noble and peasant history too.
If you are interested to know where to stay in Costa Brava And The Pyrenees, we recommend some of the best hotels for different budgets.
When we travel, we book our hotels through TripAdvisor, one of the best websites to compare prices.
We also use a lot AirBnB to book local apartments. If you have never used AirBnB before, you can have a $40 discount for your first booking through this link.
Always make sure you travel with travel insurance! Be adventurous, but not careless.
Check out some of the most reliable insurance companies out there: True Traveller if you're European and World Nomads if you're from elsewhere.
If you love animals and you prefer going local during your travels, try housesitting, which is an amazing way to travel the world while taking care of the pets whose owners are on vacation. If you use TrustedHousesitters with this link you'll get $20 discount on annual membership.
Like it? Pin it!

Cycling the medieval towns in Costa Brava and the Pyrenees
Here's our comprehensive overview of 12 medieval towns of Costa Brava you should not miss.
1. Girona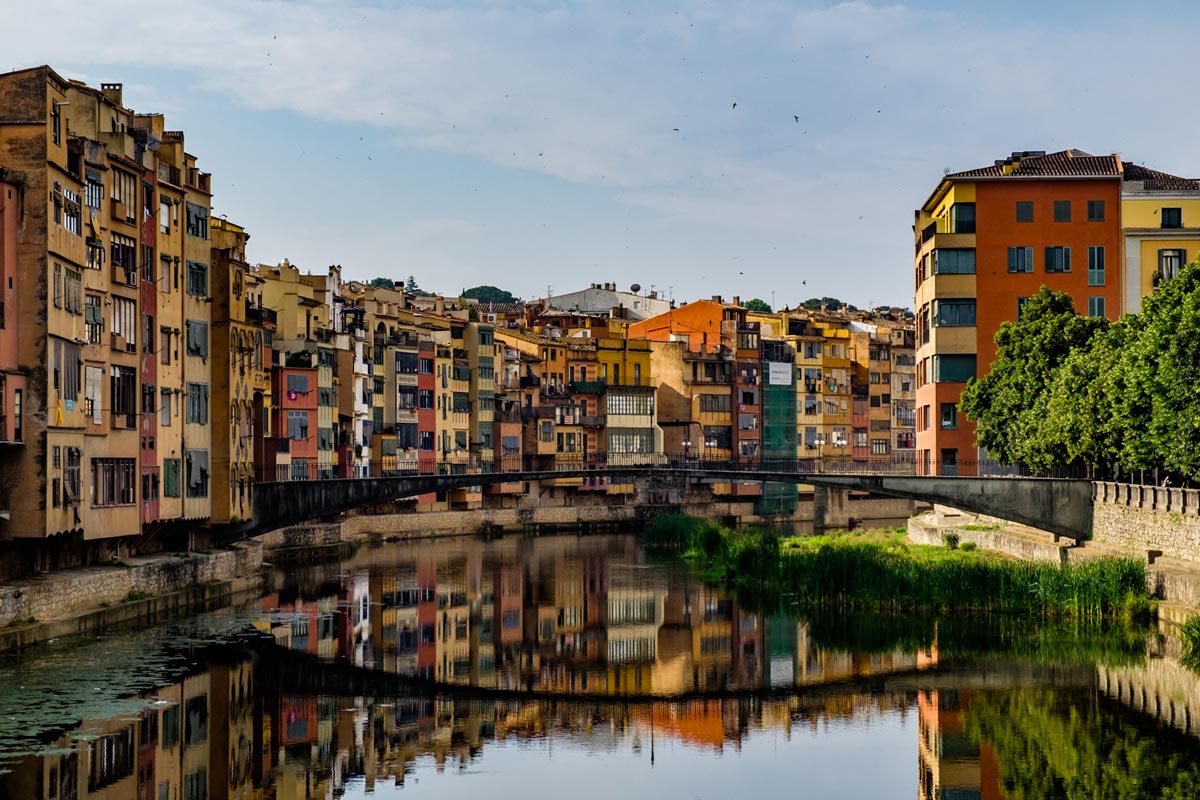 Once upon a time…
… There was a city that witnessed a lot.
Inhabited by Iberians, conquered by Moors, partially built by Romans and besieged countless times by the French. Yet Girona has evolved into a proud Catalan city visited by an increasing number of tourists. Home to a strong Jewish community throughout its history, Girona is recognized for the call – one of the most well-preserved Jewish quarters in Europe.
Bike friendly
Absolutely yes. Explore the city early in the morning, before the streets fill up with visitors, and shops display their tables and chairs in the alleys. We also highly recommend taking The Narrow-Gauge Railway Route from the Garrotxa Volcanic Zone Natural Park or joining EuroVelo 8 – the so-called Mediterranean route – at one of the towns near Girona.
For various flat and hilly routes, check out this useful site.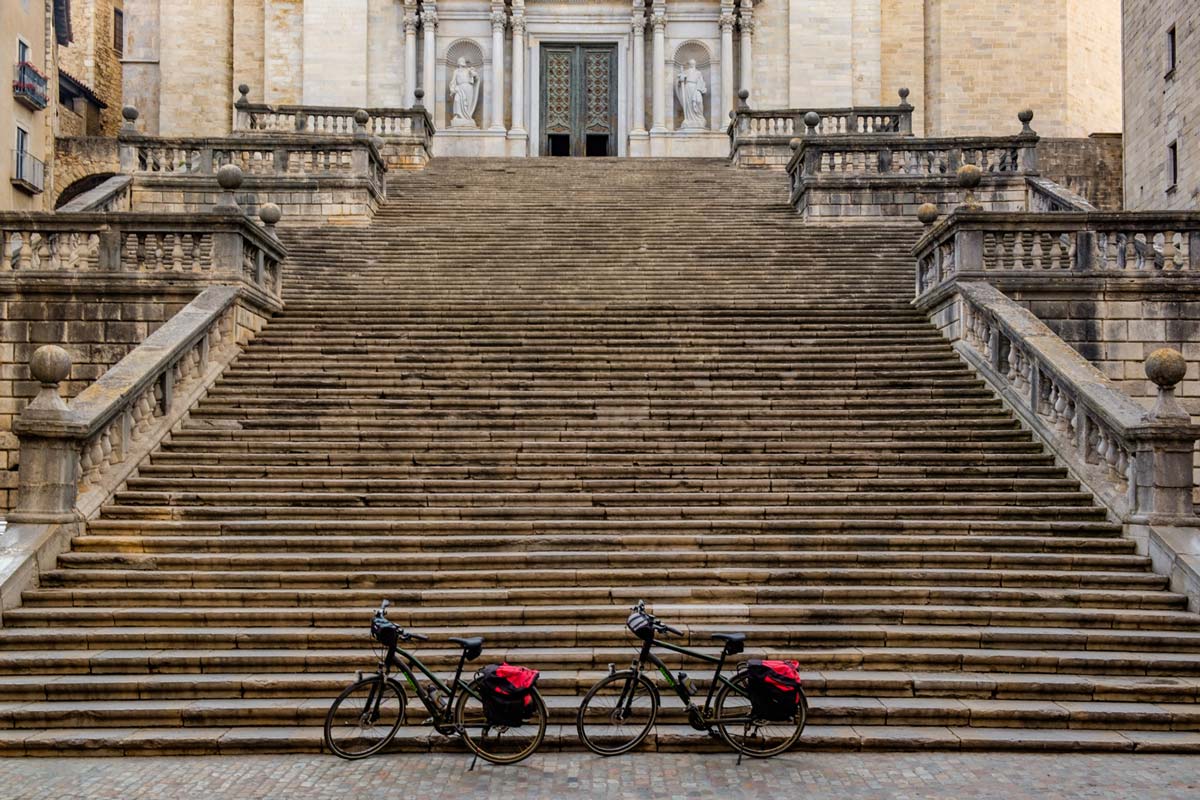 Where to eat in Girona
Grab some delicious tapas at the Xibarri on the Plaça de la Independència or dine at the Txalaka on the Carrer Bonastruc de Porta street. Or, explore the Girona suburbs and head to family restaurant Can Xifra, 10km away from the center. The meals we ate here were probably the best we had in Catalonia. Real, honest, homemade food!
Where to stay in Girona
Hotel Ultonia is centrally located with basic but clean rooms, good breakfast, and is bike friendly, too. We stayed here for a week, and can only recommend it.
2. Sant Feliu de Guíxols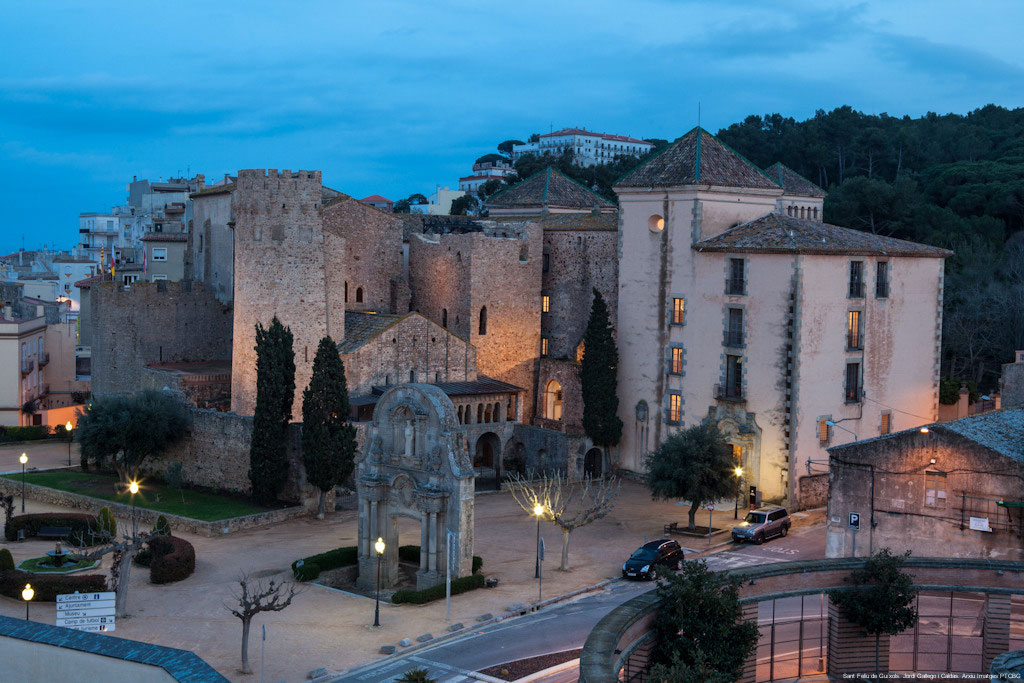 Once upon a time…
… There was a Benedictine monastery.
The available references from the 10th century suggest the monastery was dedicated to the African martyr Saint Felix. A few centuries later, local fishermen created the major settlement around the central market. Currently, the coastline is dotted with modern hotels and restaurants.
Bike friendly
Yes. Easy flat ride to/from Girona.
Where to stay in Sant Feliu de Guíxols
Hotel Sant Pol is a nice place to park your bikes and get some rest while viewing the seashore.
Where to eat in Sant Feliu de Guíxols
Try Can Pope for local cuisine, vegetarian and vegan options or local Taverna La Cava for tapas and wine.
Plan your trip to Costa Brava!
3. Pals
Once upon a time…
… There was a castle owned by nobles that was destroyed during the Civil War in the 15th century.
They used the remaining stones to restore the city walls and the Church of St Peter. The only construction that survived the attacks is the famous Clock Tower (Torre de les Hores). The restoration of post-war Pals happened only thanks to a local doctor.
Bike friendly
The historical center isn't ideal for biking during peak hours as the cobbled stone streets are narrow and steep, so you might end up bumping into tourists all the time.
But, there are plenty of biking paths on the secondary roads near Pals leading you to the beaches or wineries. We visited Pals twice during early morning, between 6 and 8am, and had the town to ourselves.
Where to eat in Pals
Es Portal Hotel Gastronòmic is a gastronomic leader in Catalonia thanks to the chef Joan Carles Sánchez. Joan is an incredibly energetic young man who cares a lot about using only local ingredients in the menu. Thumbs up!
Where to stay in Pals
No need to move far from good food. Stay at the same Es Portal Hotel Gastronòmic with an outdoor pool and stylish interior.
4. Palau-Sator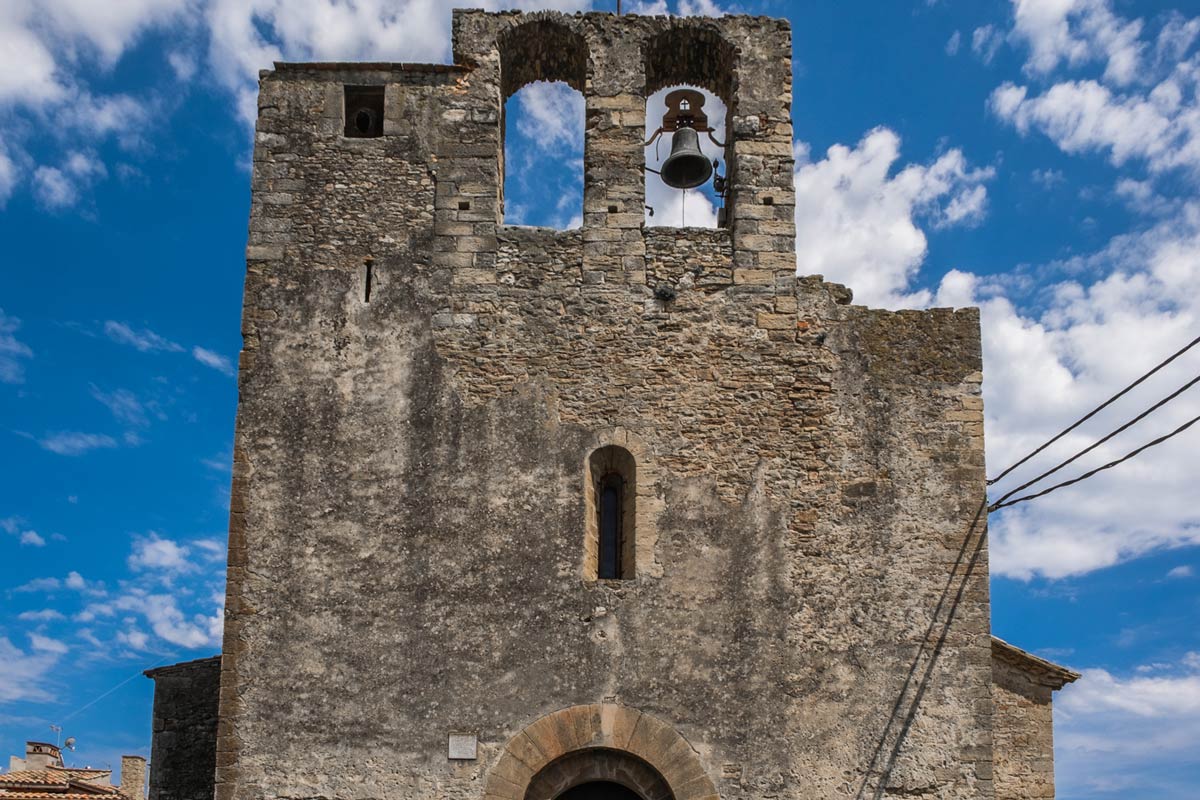 Once upon a time…
… There were medieval churches with a clock tower in the middle of the hill.
During some sanitation work in the town in 1970, they found a Roman necropolis with ceramics in the tombs. According to the official website of the municipality that provides scarce information in English, the remnants were later destroyed instead of being used for further studies. Nowadays, Palau-Sator is a lovely sleepy town you can visit on the way to/from Pals.
Bike friendly
Totally. The road is flat and safe, with minimal traffic. Watch this short video to see what you can expect from cycling via Palau-Sator.
Where to eat in Palau-Sator
We didn't stop for a meal here, but Restaurant El Racó de l'Era and Mas Pou are supposed to be pretty decent options for dining.
Where to stay in Palau-Sator
As there is no hotel in Palau-Sator, we recommend to stay at the Hotel Es Portal in Pals and bike about 5 km to Palau-Sator via lovely paths through the fields.
5. Peratallada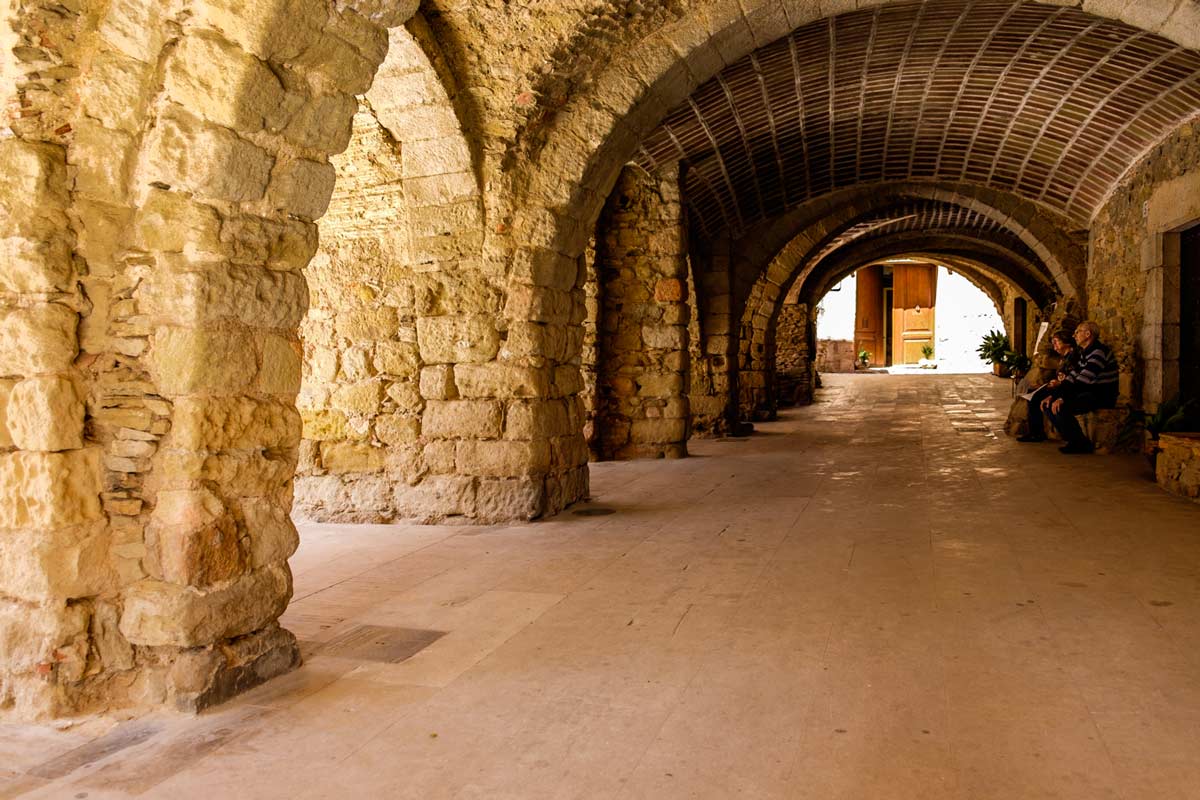 Once upon a time…
… There was a stone-carved fortified town surrounded by a moat.
Peratallada is one of the most picturesque medieval towns in Costa Brava with a maze of countless streets. The former fortress from the 11th century belongs to a private owner who turned it to a luxury hotel, bar & restaurant, all closed at the time of writing.
Bike friendly
Oh yes!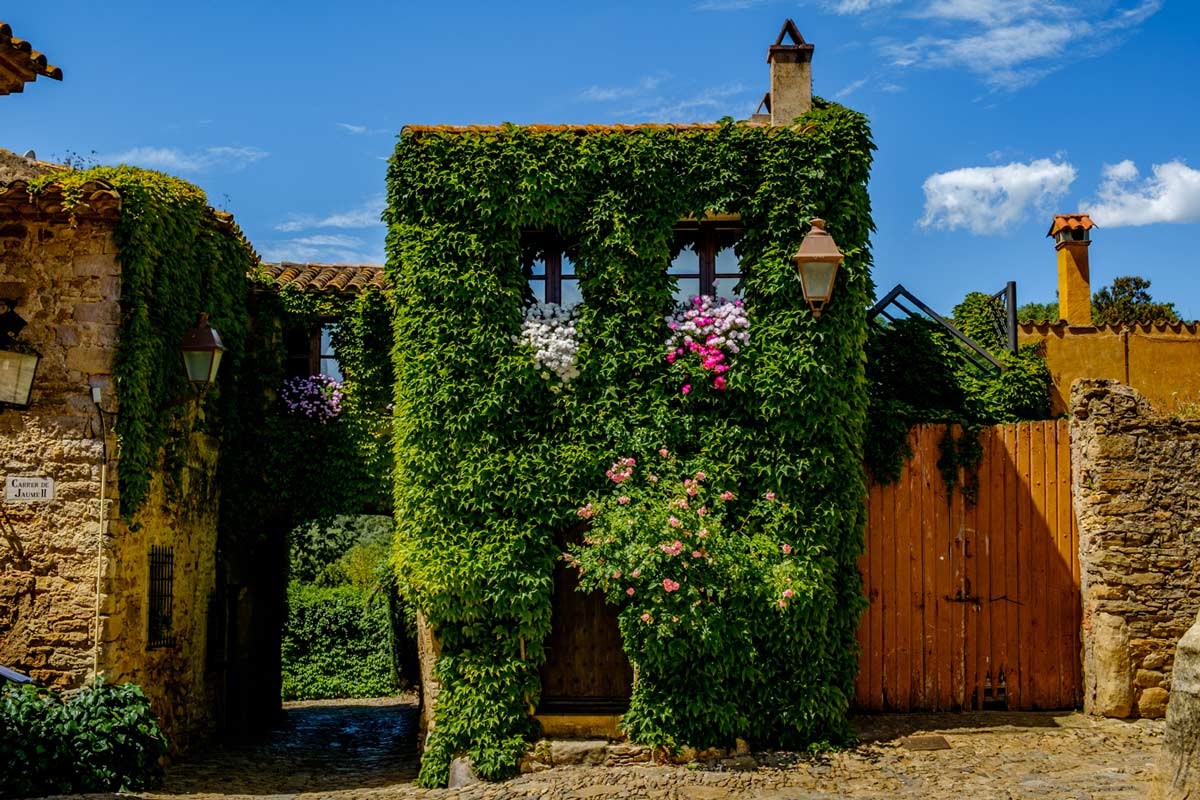 Where to eat in Peratallada
Grab some tapas and sandwich at the tourism office on Plaça del Castell that also hosts a café.
Where to stay in Peratallada
Hostal Blau is a rustic guest house from the 14th century with a stylish interior and scrumptious breakfast of local produce.
6. Madremanya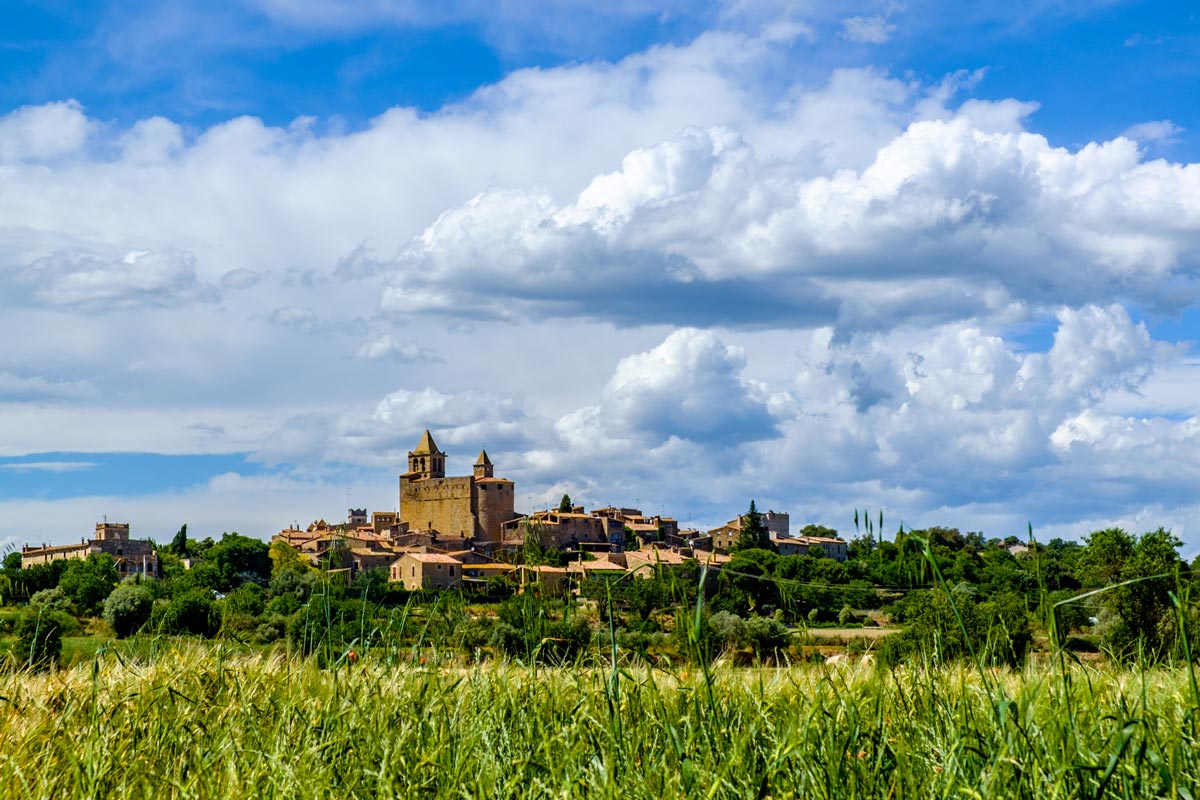 Once upon a time…
… There were findings of Roman pottery discovered in a small village of Madremanya.
When you cycle from Girona to the seaside, check out this quiet getaway on the way to the beach.
Bike friendly
Yes, although the village is so small that you can easily explore it on foot while leaving your bike parked at the square with a newly built playground.
Where to eat in Madremanya
For tapas, home-made dishes and beer, head to local eatery C.I.R. (Centro Intergeneracional Rural) on Carrer Quintar street. For upscale dining, go to La Plaça restaurant.
Where to stay in Madremanya
We stayed at the stone-built Hotel la Plaça de Madremanya which has a rustic feeling. Fantastic staff and superb location, with a natural outdoor pool in a small garden.
7. Cruïlles
Once upon a time…
… There was a residence of lords of Cruïlles.
The village was independent until 1973 when it merged together with Monells and Sant Sadurní de l'Heura to form one municipality.
Bike friendly
Yes, although the streets of the center are quite narrow. The secondary roads leading to/from Cruïlles don't have cycling paths, but they aren't very busy either.
Where to eat in Cruïles
We didn't find any open restaurants in Cruïlles, so you might find it easier to dine in Monells or Madremanya instead.
Where to stay in Cruïles
Turisme Rural Mas Masaller is a former farmhouse transformed into a family friendly rural hotel with an outdoor pool, ideal for a countryside vacation in Costa Brava. It is situated 2.5 km from Cruïlles.
If you are looking for a more budget-friendly option, check out the Espai de l'Harmonia lodging in the village.
Plan your trip to Costa Brava!
8. Monells
Once upon a time…
… There was a lively market in a central square where all village affairs took place. The square of Monells has kept its status as the busiest and most visited spot in the village.
There used to be a castle in Monells that didn't survive, so apart from the cute square and the church, the village has little to offer regarding sightseeing. Yet, it's a great pit stop en route to or from a beach vacation in Costa Brava.
Bike friendly
Absolutely.
Where to eat in Monells
Restaurant Bar Roura Blanch or Ca l'Arcadi
Where to stay in Monells
El Palauet de Monells has an absolutely gorgeous cozy and bucolic décor, located right in the main square and has a good breakfast included.
9. Sant Martí d'Empúries
Once upon a time…
… There was a coastal town founded by Greeks as an ideal trading place (Greek Emporion means trading place).
Because it was too vulnerable to pirate attacks due to its exposure to the open sea, the town was abandoned and it moved to Castelo D'Empuries. Currently, the village is a part of the town of L'Escala.
Bike friendly
Yes, yes, yes! Beautiful coastal path. Mostly flat and easy.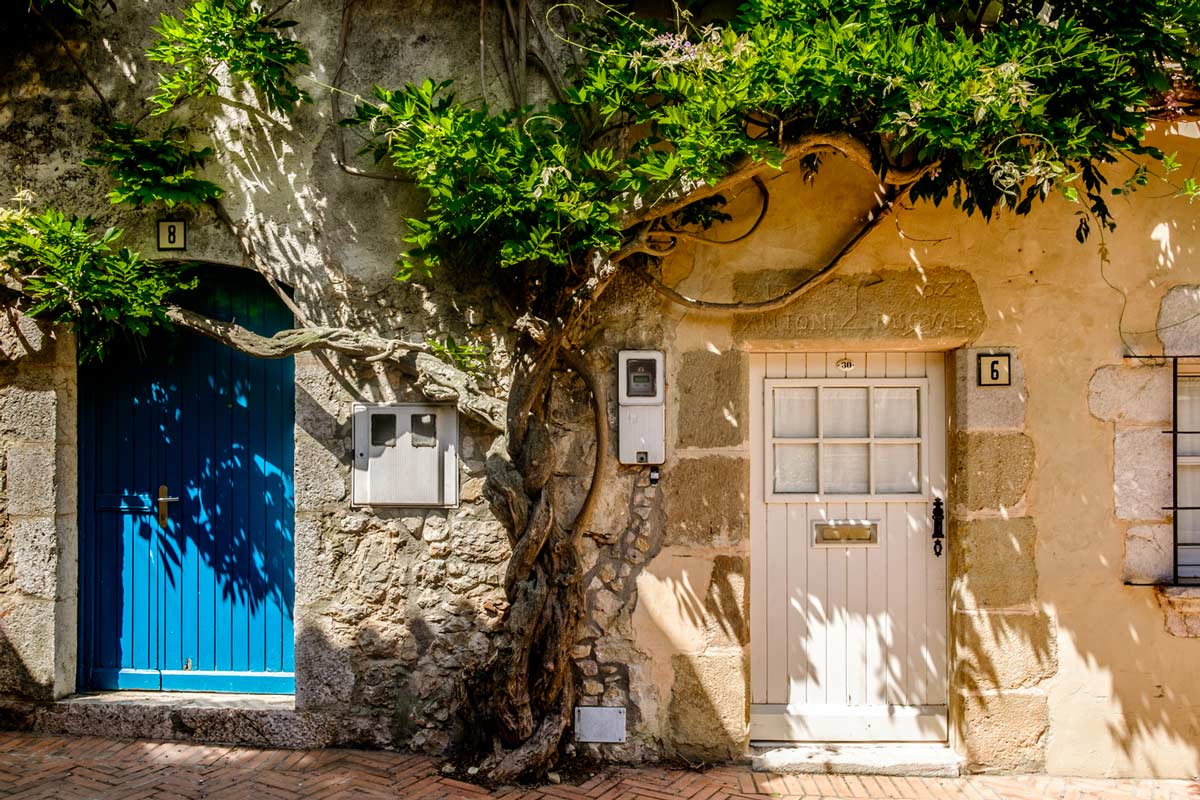 Where to eat & stay in Sant Martí d'Empúries
For both lodging and dining, we HIGHLY recommend Hostal Spa Empuries (L'Escala). The rooms and service are outstanding, and their food is exquisite. Tip: ask for a room with a sea view, the sunsets are unforgettable.
10. Castelló d'Empúries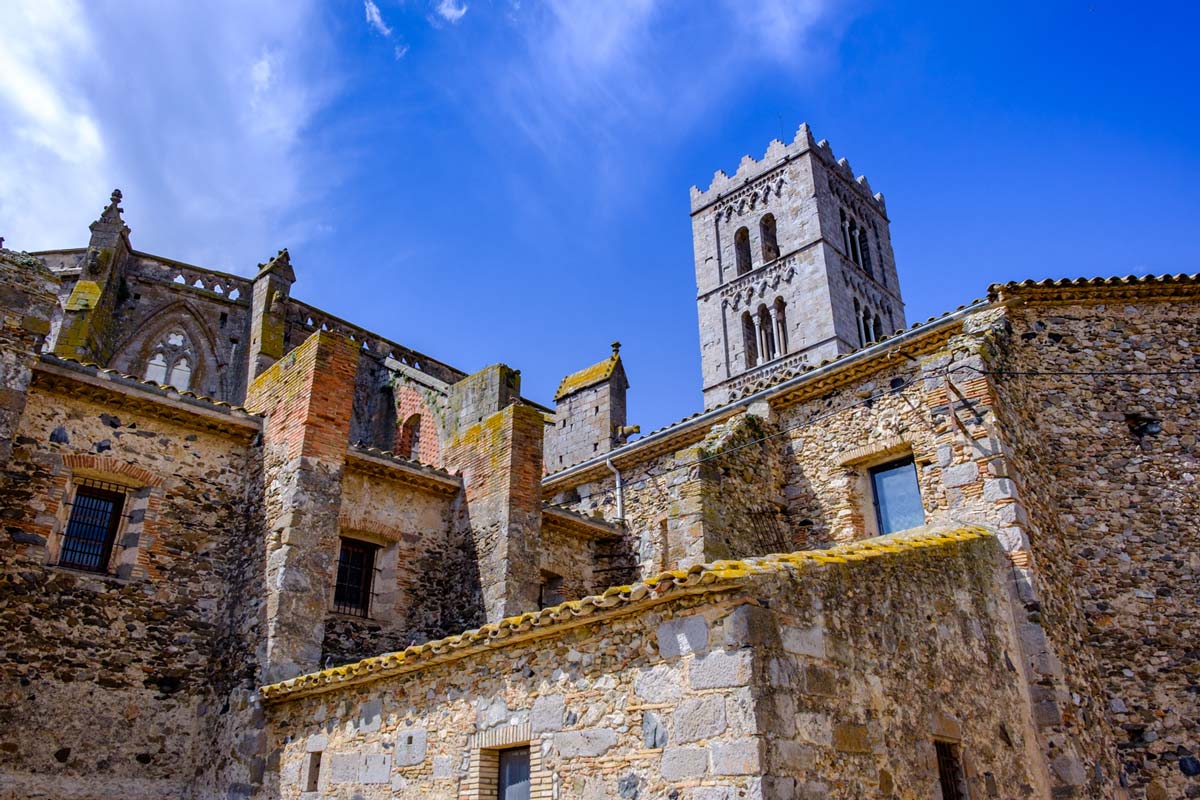 Once upon a time…
… There was the capital of the region of Empúries in the Middle Ages and a place where the Napoleon's army fought. Currently, Castelló d'Empúries is a popular pitstop on the way to the beaches and Aiguamolls de l'Empordà Natural Park with a few historical monuments to visit.
Bike friendly
Yes, you can bike both in the city and via secondary roads leading to Roses town and natural sites.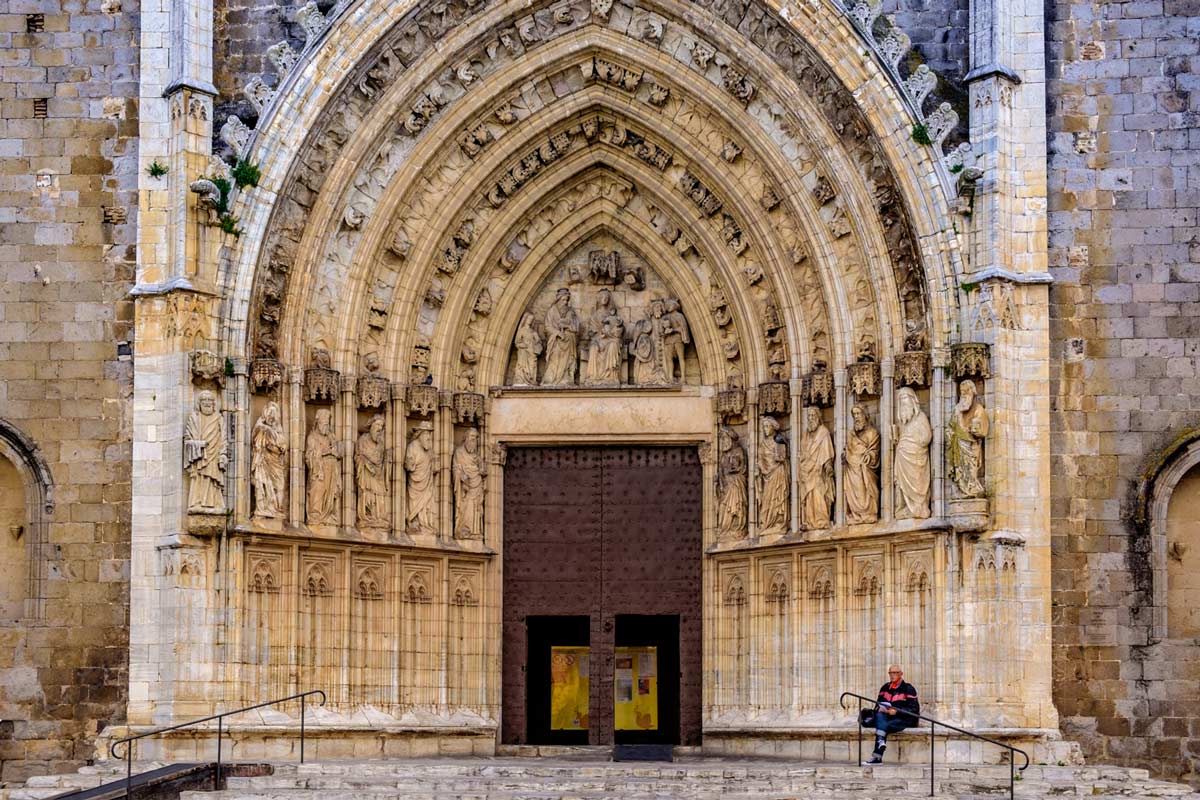 Where to eat in Castelló d'Empúries
Restaurant Cal Patufet for Catalan-Cuban fusion.
Where to stay in Castelló d'Empúries
Masia Ca La Caputxeta: a lovely rural hotel with an outdoor pool for a very reasonable price.
11. Besalú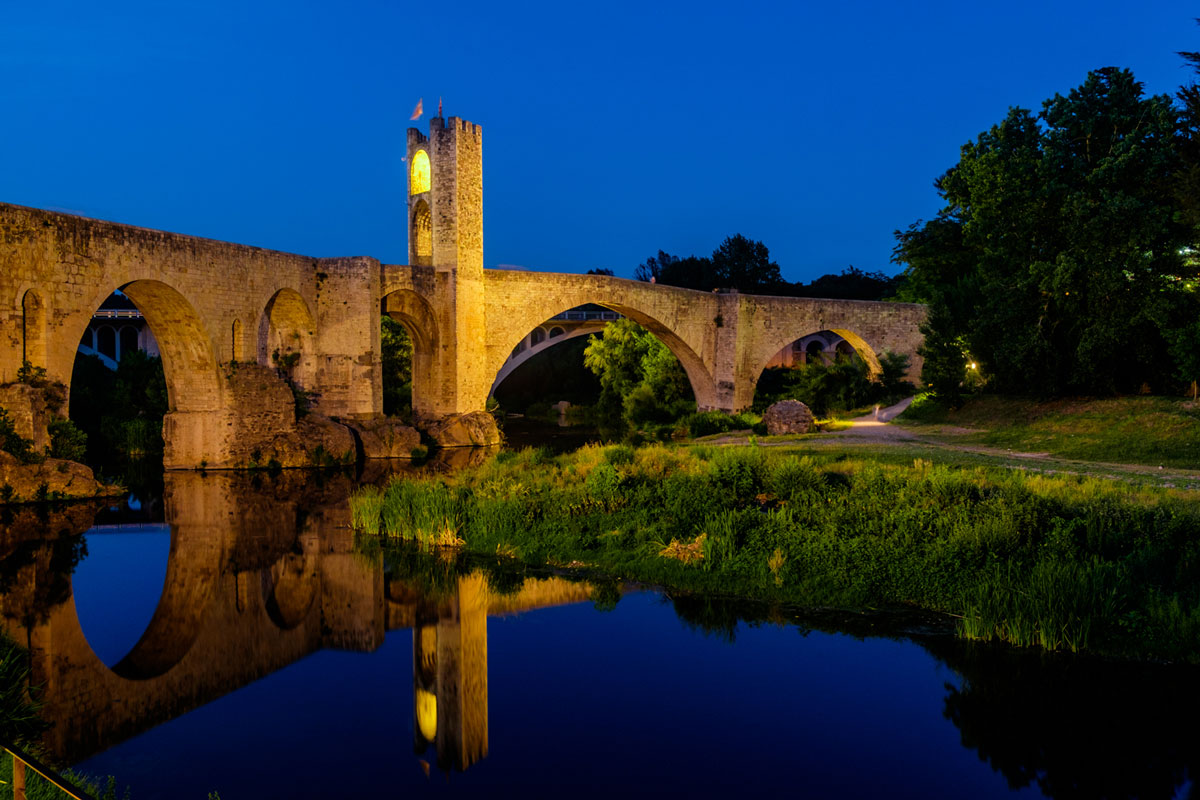 Once upon a time…
… There was a prosperous town settled by Romans and Moors, and a place where Jews and Christians lived in peace for a long time. Today it's one of the most photogenic and visited medieval towns in Catalonia.
Bike friendly
Definitely! Although, outside the town, the busy and steep road heading to La Garrotxa Volcanic Zone is pretty challenging as there are no cycling lanes.
Where to eat in Besalú
Amb els Cinc Sentits, NOXarrosseria or casual La BaRtiga.
Where to stay in Besalú
Els Jardins – right at the foot of the bridge Pont Vell. Simple rooms with local breakfast and very friendly staff.
12. Santa Pau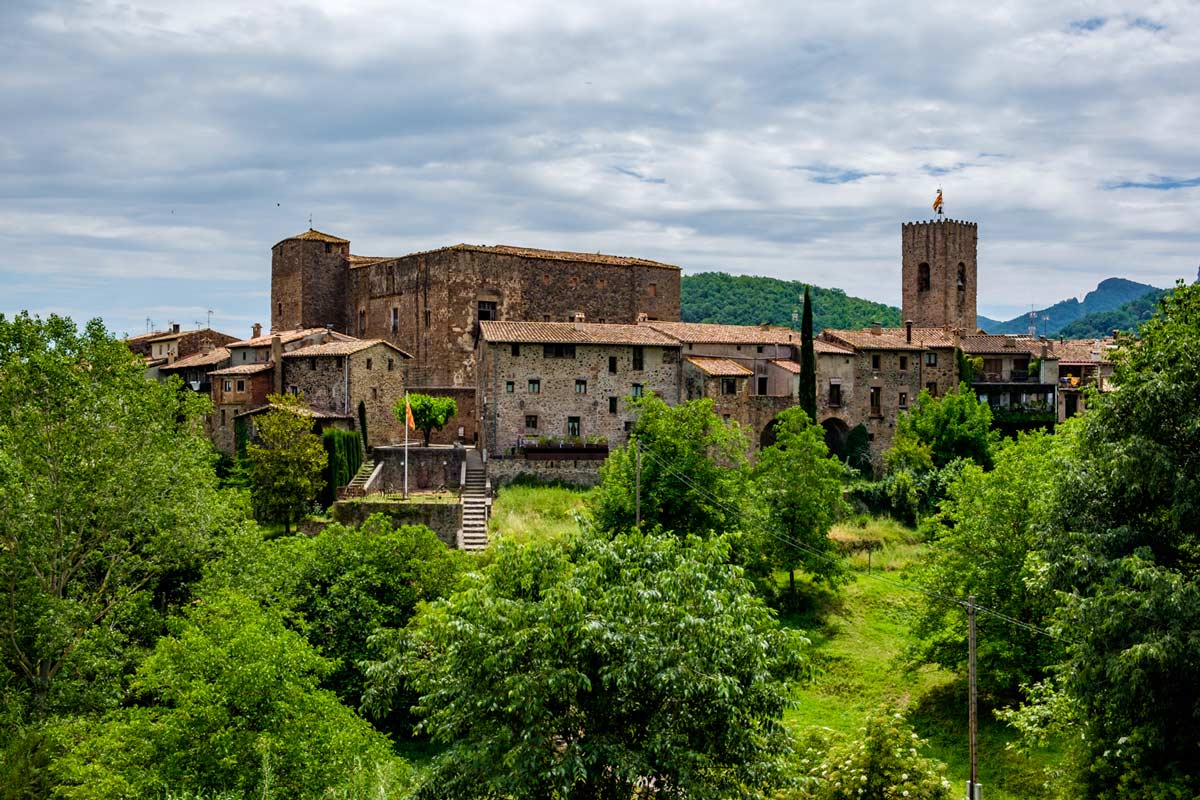 Once upon a time…
… There was a town invaded by Arabs, Romans and surrounded by dormant volcanoes.
A quintessential medieval gem with a castle, stone walls, a central square and a Gothic church embraced by vast valleys.
Bike friendly
We suggest exploring it on foot whilst parking the bike in the center as some alleys are steep and narrow.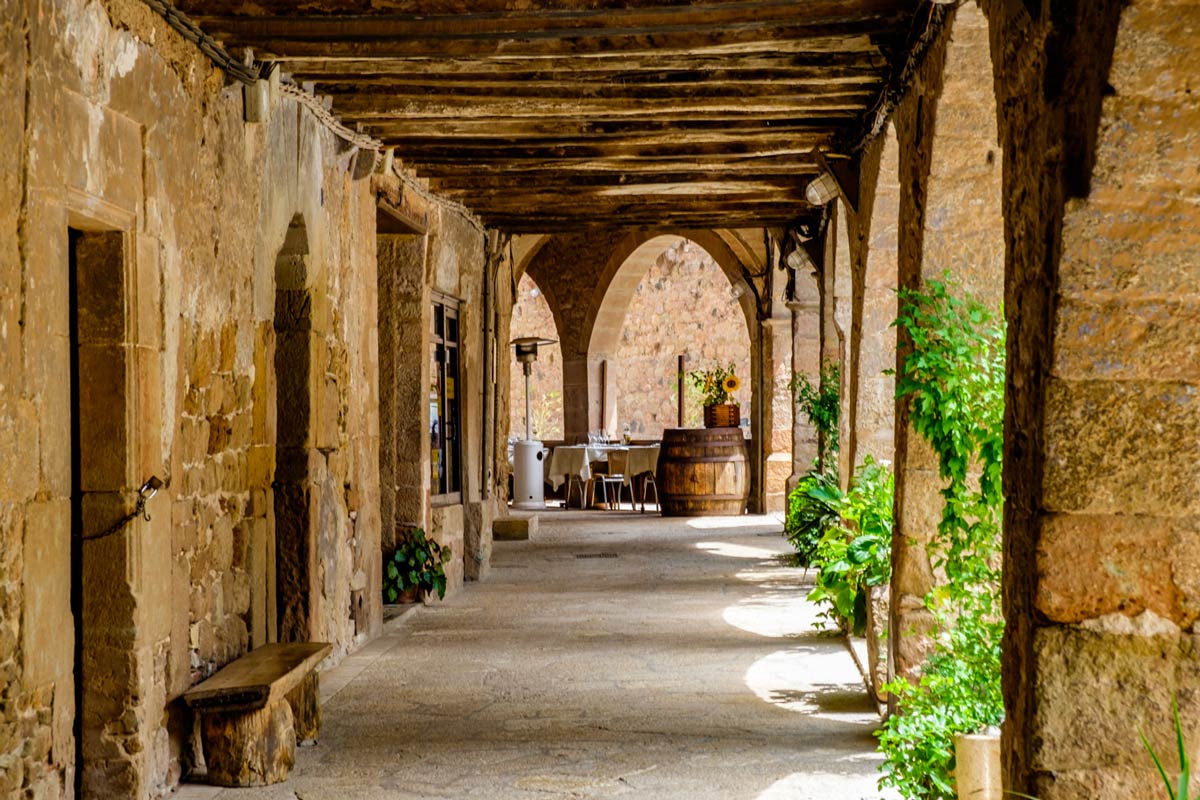 Where to eat in Santa Pau
Portal del Mar Can Daina or QUEDA BE further from the center.
Where to stay in Santa Pau
Pensión Can Menció – very basic lodging with panoramic views of La Garrotxa. The other option is to stay at the gorgeous Mas Garganta rural house a few kilometres from Olot.
These are our recommendations for cycling medieval towns in Costa Brava – 12 historical places that are trying to preserve their heritage so we can better understand the multicultural influences within the area.
And if we could pick a single pro tip on how to make the best of this trip, it would would be "wake up early" to beat the crowds and head to the towns and villages before you munch on Catalan hearty breakfast at some fabulous rural house.
Get inspired by more travel articles:
Do you have a burning travel question? Join our Nomad is Beautiful travel community on Facebook and ask experienced travelers!