When you are twelve, you don't really care about what an eco-adventure is. You just do what you enjoy doing.
Both Gianni and I loved climbing trees when we were kids and we were lucky to have plenty of trees behind our blocks where we used to run on secret adventures with friends.
There was always lot of adrenaline involved, even if we didn't know what adrenaline was: we often had to get over a fence or a wall to get to a garden or a park that was closed or private, so apart from having fun by going to climb to the highest branches, we always felt in the groove while hanging on branches and looking for the best spot to sit and spy on the neighbourhood from above.
"I'm going to live in a tree!"
To build a tree house was a must and we collected carton paper and wooden desks eagerly while on our way back home from school or on the weekend while shopping for groceries. All the effort was just to make sure we would be able to build our own "tree-room" that day. Our generations were completely mobile-free, which gave us almost ultimate freedom. We were basically unreachable by our parents and we could complete our secret, adventurous missions without being under any adult supervision.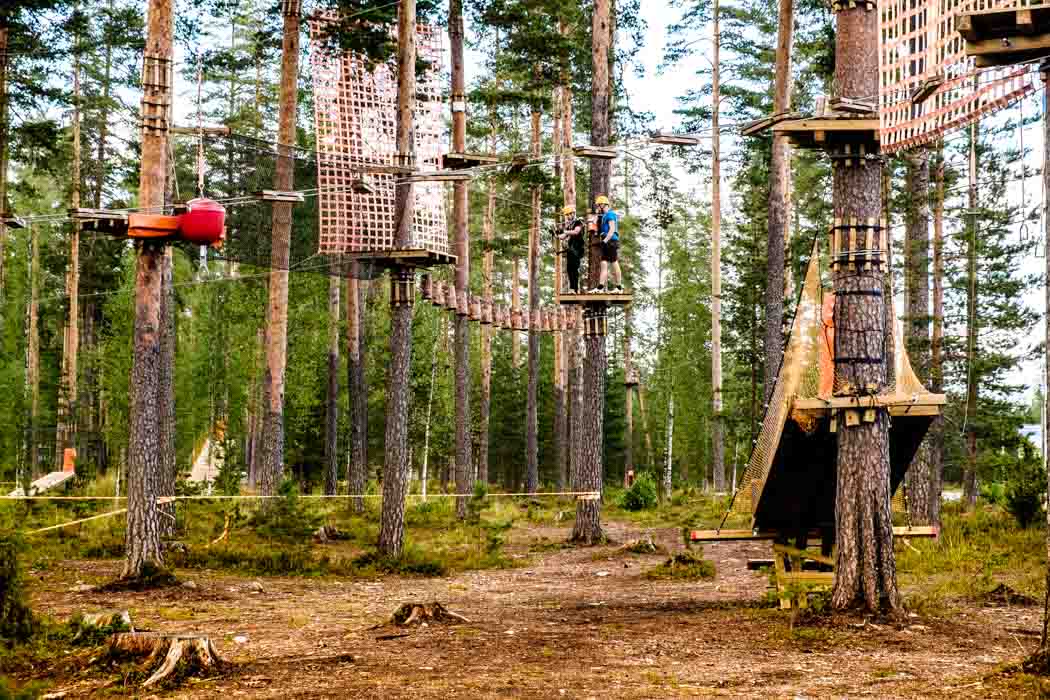 At that time, I was confident I was going to live in a tree and cook a dinner for my family on one branch and sleep on another one when I grew up. Sadly, my excitement wore off after my neighbour found my friends and me in a tree and warned us how dangerous it was to climb. Adults…honestly, they worry too much.
What is an eco-adventure park?
Speaking of adventures, it was interesting to see our physical reactions when we knew we were going to visit a forest adventure park in the small village of Vierumäki in southern Finland last August.
Our knees started to shake mildly, yet our bodies stayed alert, and the endorphins were activated in our brains. Curiosity jumbled with excitement bubbled to the surface as we planned our trip to Finland. We were ready for a steamy, smoky sauna, hiking, canoeing and kayaking in a lake, but we didn't really know what to expect from our first visit to an eco-adventure park.
If you've never been to a forest adventure park, it's a patch of a forest where you can find plenty of different obstacles and adventure courses on live trees created without doing any harm to the trees and all for the purpose of having fun. You will need to activate not only your muscles and check your fitness condition, but you'll have to use your wit, too.
Bear in mind that in an eco-adventure park, you are not going to jump or climb and hang out freely in a tree as you used to do when you were twelve. The main difference is that you'll be secured with ropes and use a helmet the whole time. In the Vierumäki Flowpark in Finland, similar to all forest adventure parks in the world, you'll be able to try zip lines, lianas, swings and swinging bridges built between and in the trees.
What to expect from a day in the Vierumäki Flowpark?
A daily pass for one visit costs $27 USD, which is a very reasonable price for the amount of activities you get in the park. After you buy a ticket, you get a wristband that will allow you to go for a snack or lunch during your experience in the park and come back to continue with the activities.
Before you start, you will be given brief safety instructions where they explain how to secure yourself on the ropes, how to behave on the platforms or what to do in case you get stuck in the middle of an obstacle and you aren't able to continue. Good news: staff at the flow park can always bring you down to the ground from any tree. We saw them in action, so we can assure you will not be left hanging on a tree till the park closes.
Insider tip: As seen in Vierumäki, for your own safety, do not shout "Help!" unreasonably. It could happen that the next time you call for help and you really mean it, people will not believe you and it might take some time until somebody comes to bring you down from the middle of the zip line.
Aerial experience
After the briefing, you will proceed to do a test level "0", where you try to use the equipment and see how you handle the obstacles. There are seven courses of different levels, and to complete all of them, it might take you up to three hours or more. We did first three courses in 2.5 hours, so it's all relative.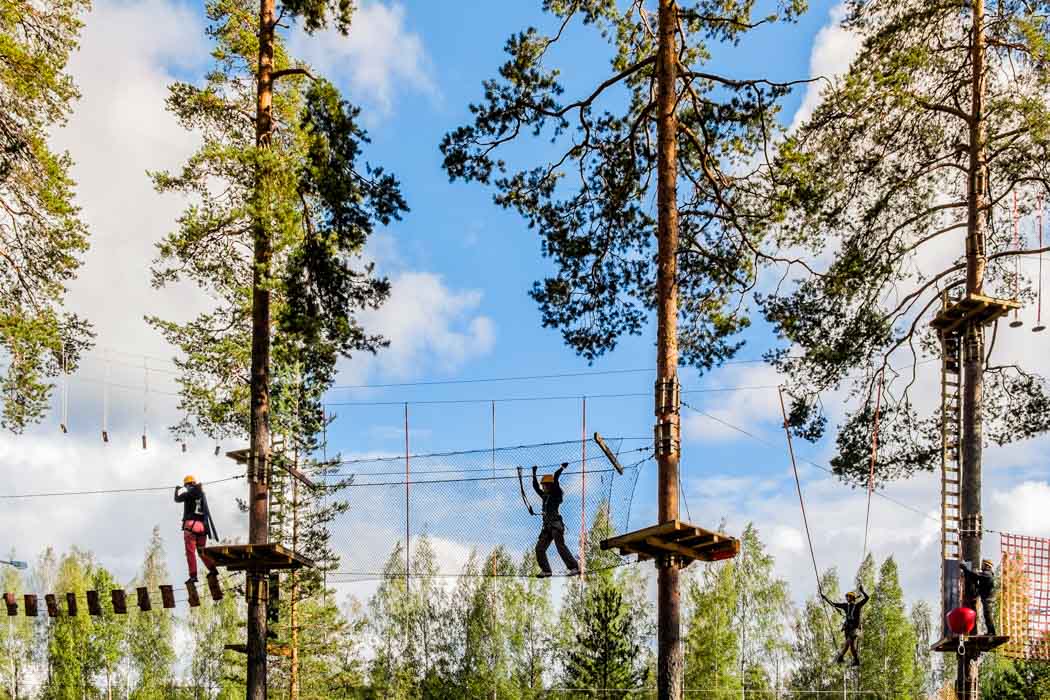 You don't need any previous experience with eco-adventure parks and high-rope courses, but you need to be aware that you are going on an adventure that will bring you to a treetop of up to 20 m at the higher levels of the obstacles.
You can finish the adventure course whenever you feel like it. There is always a staff member around to check if everything is okay and assist you in case you need any help.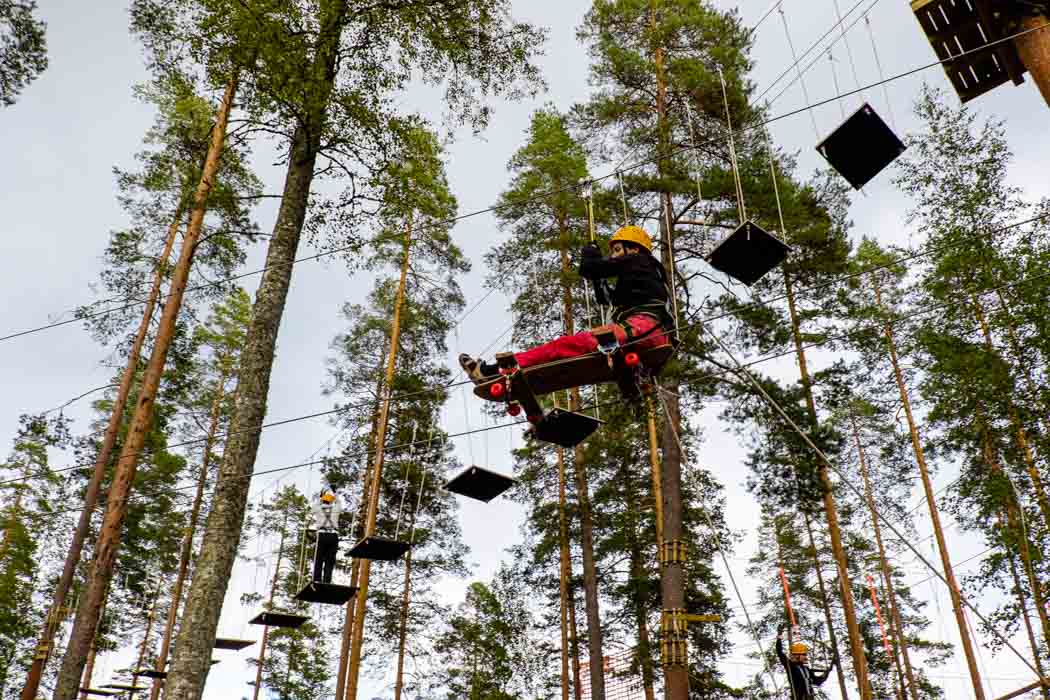 "Is it difficult?" or "Is it scary?", you might ask. Well, it depends. If you've never done any physical exercise or if you hiked or partied a lot the day before, then it's not the best kind of fun you can have. To keep yourself safe and enjoy the eco-adventure experience, just follow the instructions and revive the sense of adventure you used to have as a child.
What to bring with you to a forest adventure park
1. Comfortable outdoor outfit: not too loose so it doesn't snag on a tree or the equipment. Bring clothes that can get dirty, since you will touch tree bark a lot.
2. Reliable shoes: trainers or hiking shoes will do the trick. But, you will need to have your ankles and soles flexible, so it's better to bring hiking shoes with flat soles.
3. Gloves: we highly recommend either to bring your own, or you can buy a pair for $3.70 USD at the ticket office in the Vierumäki Flowpark.
4. Take off all your bracelets, necklaces and rings. Once you hold a rope with all your strength for a few seconds, you'll understand why.
More information about the flow park in Vierumäki, Finland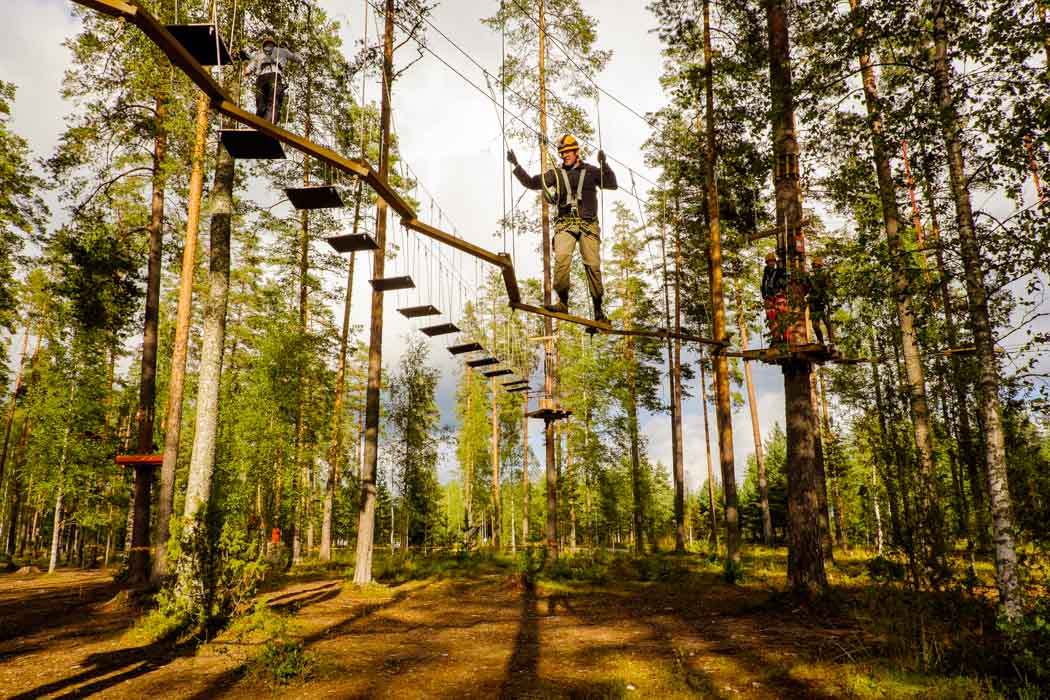 The entrance to the forest adventure park in Vierumäki is free, so in case you are going to do the obstacle courses and your friends/family fancy a walk in a park or a picnic instead, they are welcome to do it for free. You only have to pay if you want a ticket to the high-ropes courses.
You cannot bring your own equipment, apart from gloves and your outfit. All the equipment, including helmets, is provided by the Vierumäki Flowpark.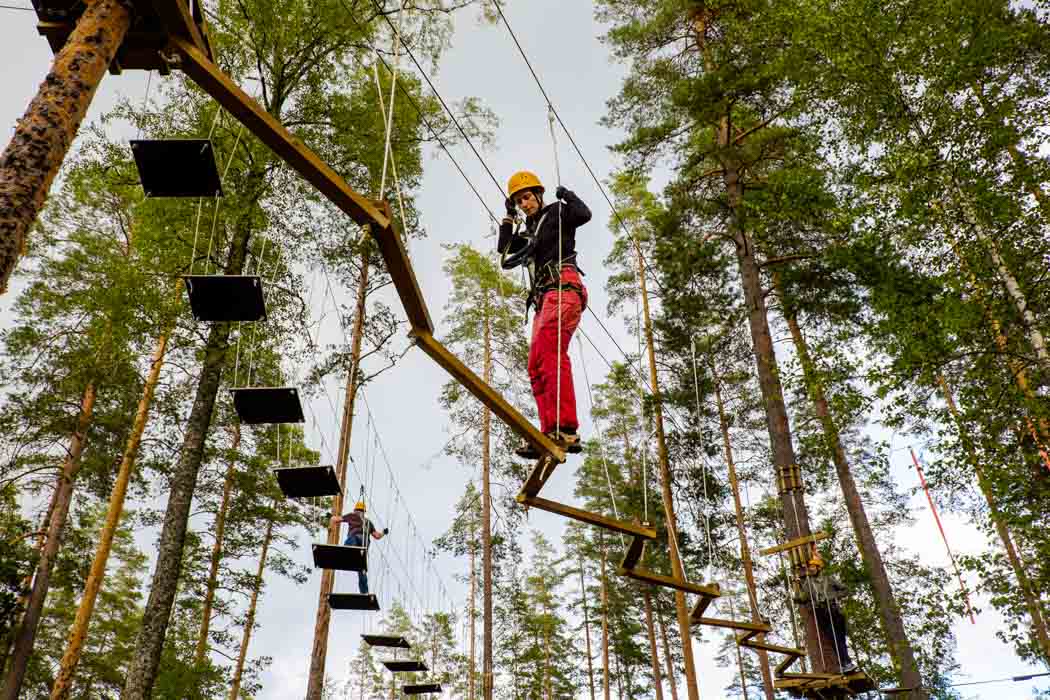 You can bring your own food, otherwise you can have a snack in the nearby FlowCafé.
Children under 7 and shorter than 120 cm can do a special course (adult supervision is required).
What else to do in Vierumäki
In case you stay in Vierumäki village for a few days, there is a plethora of outdoor and indoor activities to do. If you are into outdoor sports, you can enjoy hiking or skiing on special trails, hit a golf ball into one of 45 holes, go for a ride on a rollerblading route made of sustainable materials, or go swimming in nearby lakes (Valkjärvi, Saarijärvi, or Suurijärvi). If you are an indoor person or in case of bad weather, you can play tennis, floorball, go swimming or ice skating.
There is also a lovely trail behind the main sport hall in the Vierumäki sport centre with a lake in the middle, which is perfect for jogging and peaceful morning yoga, too.
After all the physical activities you can relax in a sauna or spa at the Vierumäki centre. We can highly recommend the Kammi smoke sauna near Lake Mustalampi, where you can have an awesome, medieval dinner at the Kalliokammi restaurant, located just next to the Kammi sauna. The cave interior is just marvelous and the dishes are purely traditional and local.
How to get to Vierumäki
If you travel from Helsinki, it's only a 1.5-hour drive. In case you prefer to use local transport, take a bus or train to Lahti for about $37USD, from which you'll change to a direct bus to Vierumäki that will stop in front of the main centre.
We haven't built a treehouse in Vierumäki, nor did we climb the highest branch, but we did realise how little you need to be thrown back into your childhood self and have a blast… even if decades have passed since we climbed our favourite trees in those hidden alleys and parks. There was no adult to tell us it was dangerous, but there were adults encouraging us! And this time, we believed them.
Read more about Finland:
Finland Beyond Northern Lights
Have you ever visited an eco-adventure park? How was your experience? If not, what is the most adventurous memory from your childhood? We'd be happy to hear from you!
Our adventure in the Vierumäki Flowpark wouldn't have been possible without the help of Visit Finland and OutdoorsFinland. All opinions, childhood memories, shaky legs and sweaty helmets are our own production.