I typed "Costa Brava" briskly and pressed the "search" button. "Aw, pretty!", I thought while looking at a turquoise sea with a reddish brown coast and a photogenic stone tower behind it. We were doing our research for our travel to Costa Brava, Spain from where we were going to commence our European adventure.
I scrolled down to see more photos and my eyebrows lifted up slightly. More bars and more people on the beach appeared. Hotels, resorts and more resorts filled the screen of my computer. "Oh, well, let's see".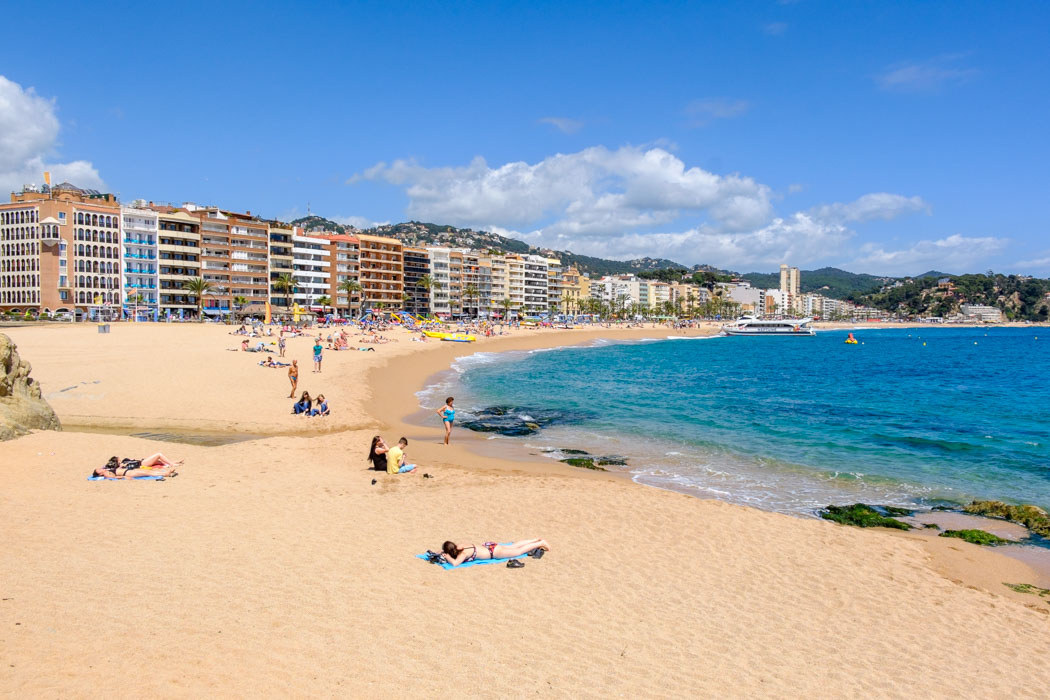 The reason why we travelled to Costa Brava from sunny and humid Thailand was for a travel blogger conference (TBEX) in Lloret de Mar. We didn't plan to visit the place because of its lively beach life. Although, to tell you the truth, we couldn't wait to spend some time dipping our toes in the sea.
Where is Costa Brava?
For those of you who have never been to Spain, to give you an idea which corner of the earth we are talking about, Costa Brava is a coastal region located in the northeast of the country. The name comes from its rough coastal landscape that stretches on 5,885 square kilometers (2,272 sq mi) in total. Just a short stroll along the coast will give you proof that the name of the region is absolutely accurate.
Costa Brava is definitely for active travelers who wish to spend their time in ways other than taking in the sun on a beach. Historical towns like Girona, hiking paths and a variety of sports you can do in Costa Brava is only a tiny part of activities you can pick from when visiting the region. You can find some great Costa Brava deals with Simply Holiday Deals.
Don't forget also that Spain is one of the warmest place you can visit in December, in Europe.
Places to visit in Costa Brava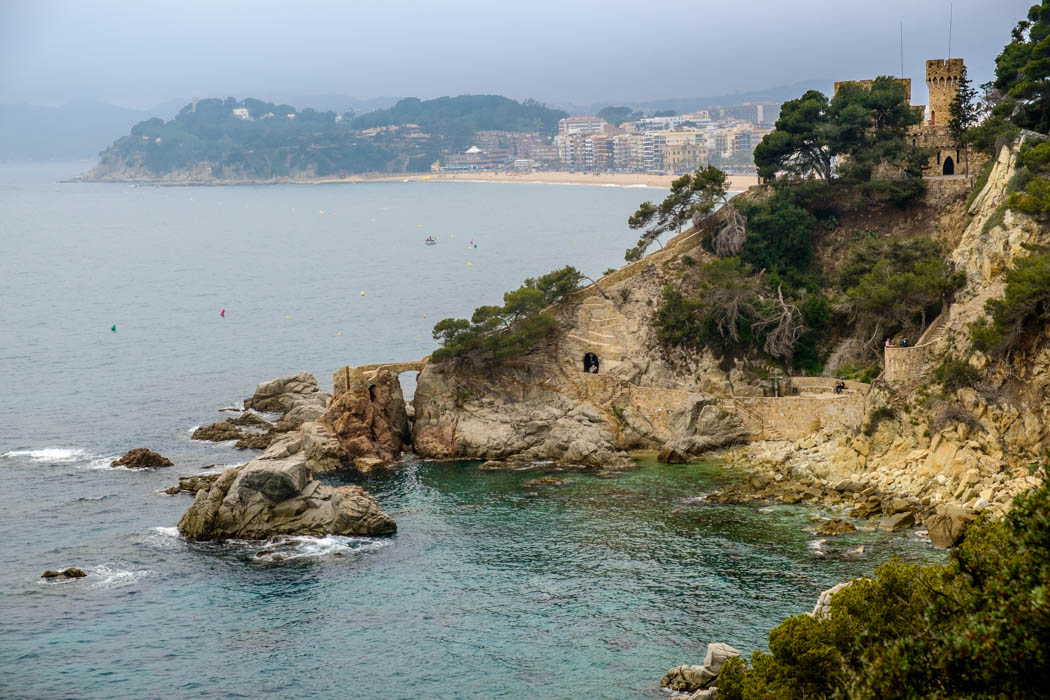 We're aware that we barely scratched the surface of Costa Brava, Spain. Nonetheless, let us share with you some tips of those few places we visited there:
Lloret del Mar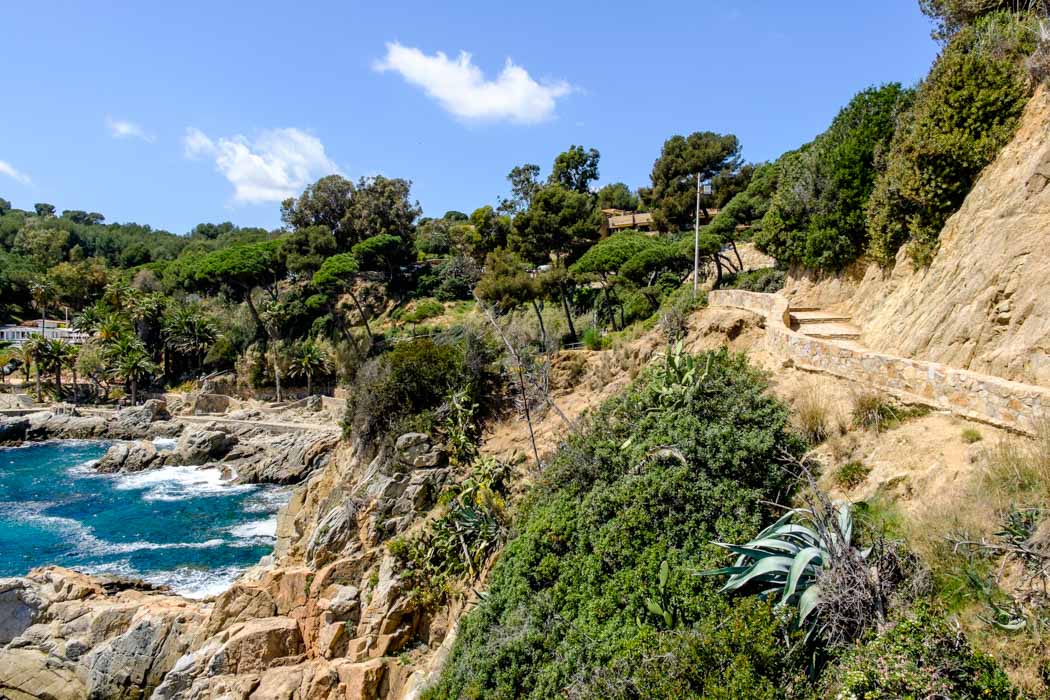 I guess you've experienced a holiday when a location and the people around you made your time more special. To be honest, after we got off the bus at the station and walked past the main street of Lloret de Mar, we were a bit puzzled.
The resorts we saw on the internet were accompanied with bars, refreshment stalls and shops full of beach gadgets starting from flip-flops, chic tops, shiny shorts, straw hats and swimming air mattresses. All ready for summer.
But once the street ended, all touristy glamour disappeared. The smell of salty water tickled our nostrils when we arrived to a calm and quite empty beach.
This picture of Lloret is what we remember of the town: busy center and calm beach coast, especially in the morning, when only a few runners had woken up way earlier than the rest of the town.
Talking about people who had a big impact on our trip to Lloret, we'll mention our dear friends and travel bloggers Dale & Franca from Anglo-Italian, Follow us! and Marghe & Nick from The Crowded Planet, who became our neighbors during our nine days in Lloret.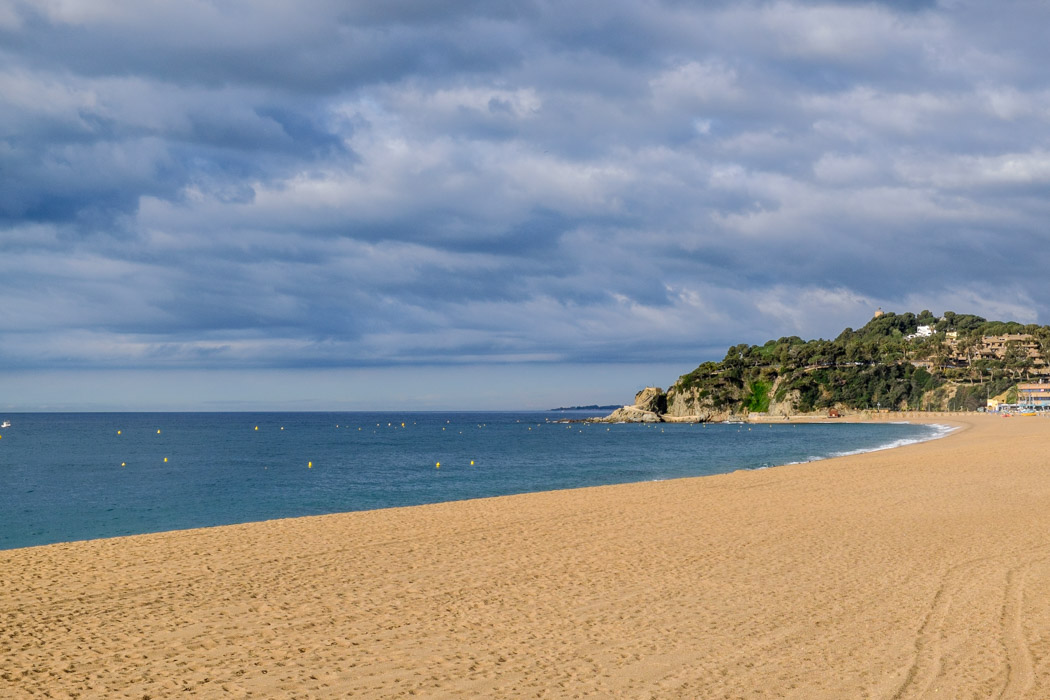 If you stay just in the center of the summer beach craziness, yes, Lloret can be overwhelming.
But if you do a small detour to quieter side streets and especially if you head to the east or west and visit other beaches in Lloret de Mar, you'll get a very different impression of Lloret.
Apart from roaming around the coast in Lloret de Mar, there's a plethora of outdoor activities you can do there, starting from kayaking, segway tours or nordic walking!
Where to stay in Lloret?
You won't have a problem when booking a hotel in Lloret de Mar. However, if you visit the town with the aim to take things easy and stay in a more family-like hotel instead of a gigantic anonymous resort, we highly recommend probably one of the best hotels in Lloret de Mar: Hotel Acacias Suites and Spa.
The hotel has only 49 rooms, it's located in a very quiet area, far from the night life and only a few minutes from the beach and walking trail that will take you to Tossa de Mar.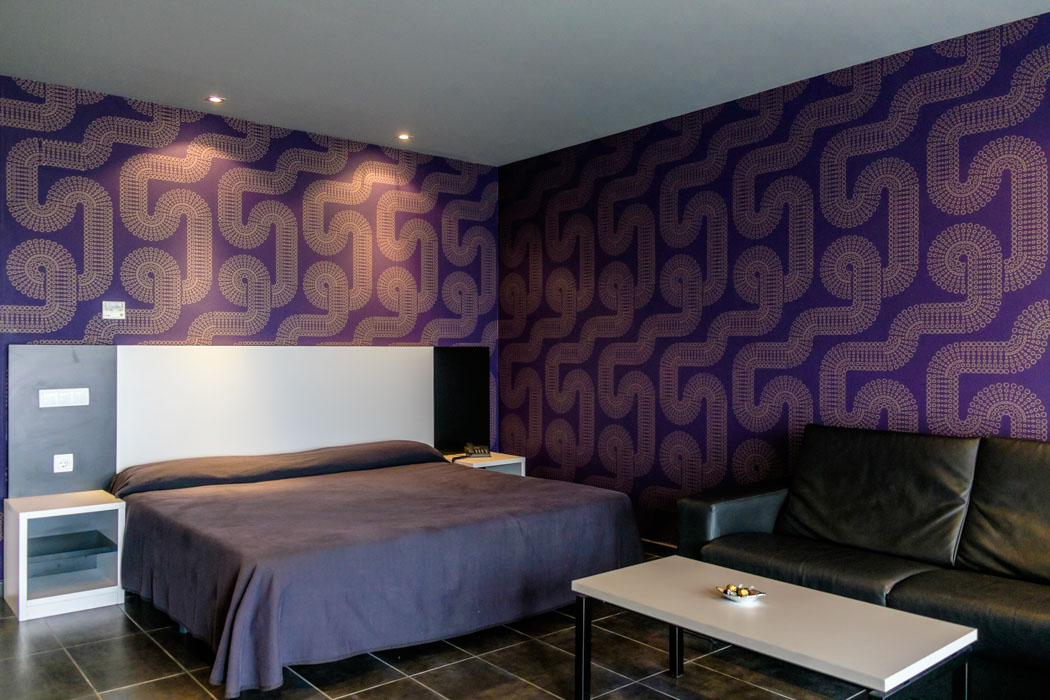 You can rest here in a chic and zen ambience with some extra perks like a swimming pool (indoor and outdoor), jacuzzi, dry sauna and Turkish bath, with an excellent local menu on site. If you are a vegetarian or a vegan, you'll definitely appreciate their profound effort to accommodate the menu to your vegan diet.
We stayed in a beautiful suite with a jacuzzi, small gym and our own kitchen. Interiors of Acacias are designed in a beautiful style, and we loved to have our online work done in that environment. The room was very bright and spacious (awesome for doing yoga) and came with a balcony and view of the sea!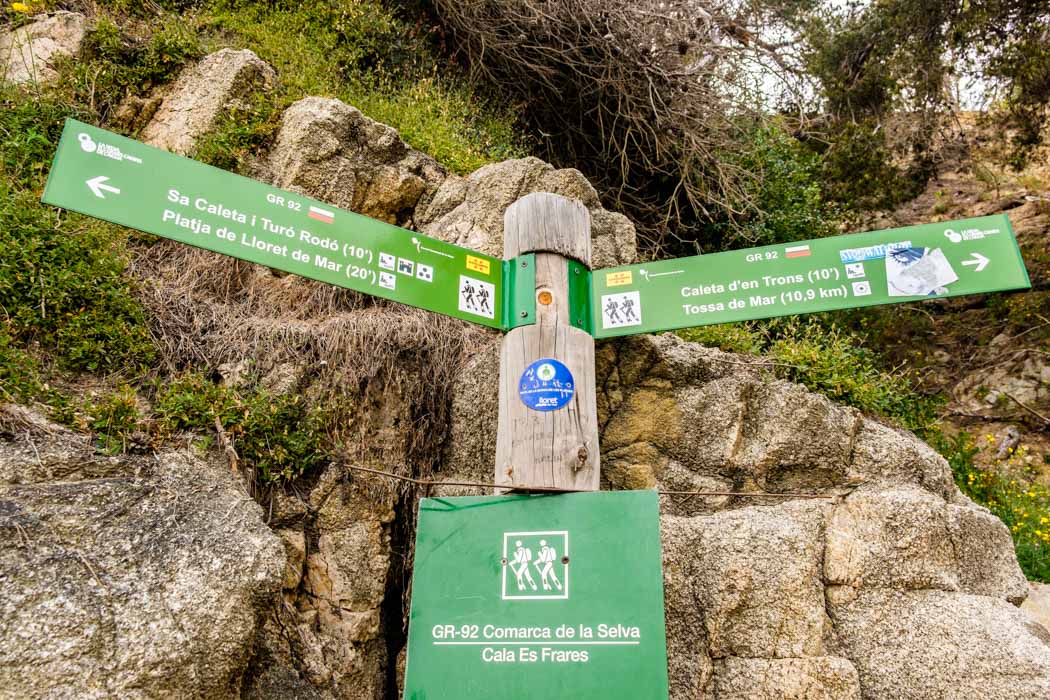 And then, there was the fantastic hotel team. Not only did they care about us and all of their guests with immense hospitality, but also showed us how a smaller business can survive among giant competitors thanks to their personal attitude and knowing their guests in person.
Girona
Having a base in Lloret and enjoying sunny beaches, you might want to escape and get some "city life" in the Girona town, which is only one hour by bus from Lloret.
When in Costa Brava, Spain you really shouldn't miss this photogenic place. We do recommend to walk to the center, do a few mini detours to side streets, visit the Jewish quarter, climb to the Cathedral of St. Mary and continue to the walls of Girona.
Pro tip: don't stop only at the main view point. Keep going and walk through the gardens of John Lennon to the northern part of the wall. There, you'll get some of the best views of Girona's Catherdal and part of the town.
Viladrau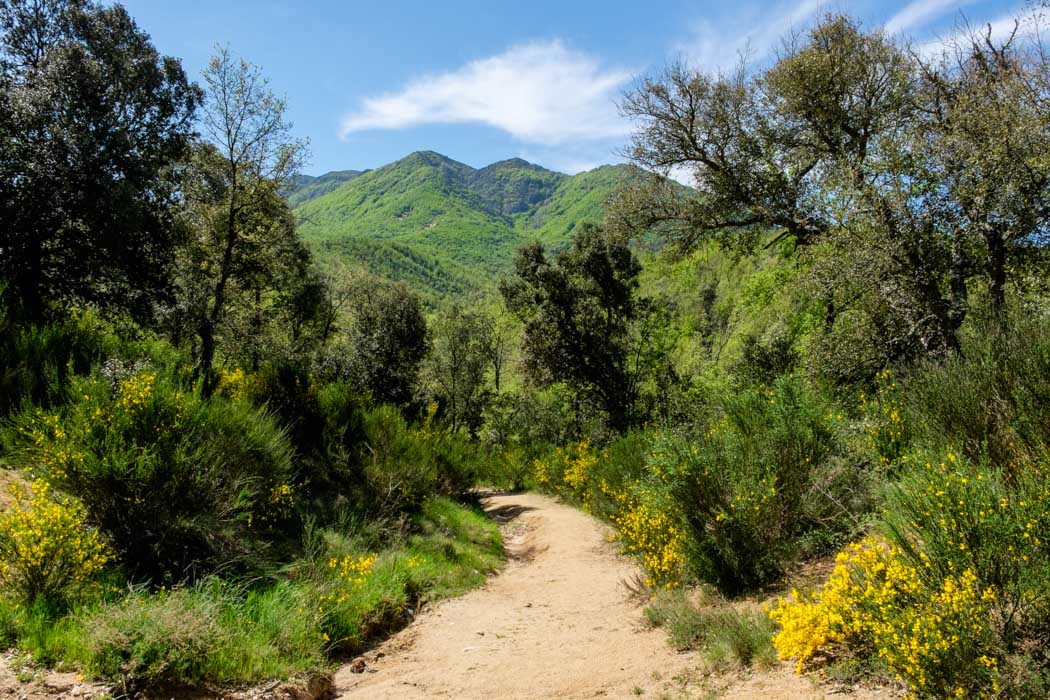 Costa Brava in Spain is more than beaches, but you already might know that. So, if you wish to spend more serene time in the woods, we recommend that you head to Viladrau.
Here you'll find over 200 fountains of spring water, old bandit paths in the forests and 300-400 year old wind-mills hidden between chestnut trees.
Talking about chestnuts, there's about 30,000 ha of abandoned chestnut trees (!!!). A few nature enthusiasts from a chestnut farm in Castanya de Viladrau together with their volunteers, aim to recollect those chestnuts and use them for their products (chestnut honey, cheese, flour, chocolate, jams, pasta, beer, brandy and liquor) and, naturally, to roast tons of chestnuts for daily eating (chestnuts used to be the main day dish due to the poverty in the area.)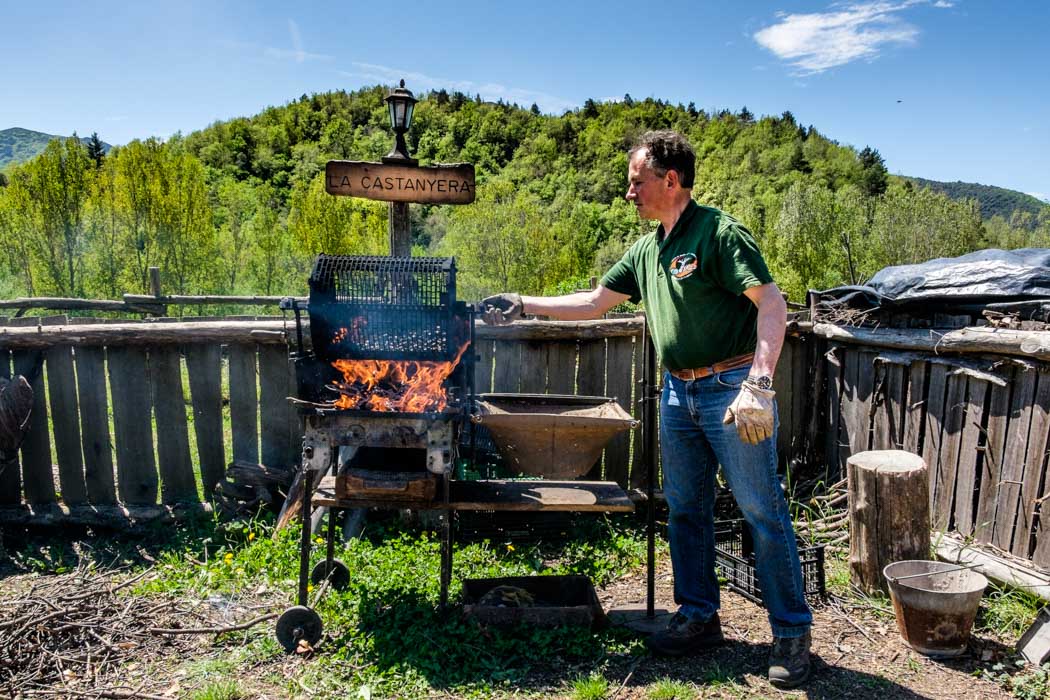 At the farm, you can see the original process of roasting chestnuts and get your palate satisfied with their organic products.
Castanya de Viladrau is located in the heart of the protected Montseny natural park that was listed by UNESCO as a biosphere reserve.
How to travel to Costa Brava?
You can arrive in Barcelona, from where you'll find quite frequent bus connections to Lloret de Mar and to Girona. From Lloret de Mar, you can take a bus to get in to Girona and a return ticket costs $12.40/pax.
If you fly to Girona, there are buses operating straight from the airport to Lloret for $10 one way.
To get to Viladrau, the best option is to rent a car. Otherwise you'll need to travel from Lloret de Mar by bus to Girona's airport, change to another bus going to the small town of Vic, and from there take a bus to Viladrau. Unfortunately, currently there's only one bus from Vic per day. Worth a visit though.
Have you ever been to Costa Brava? Which other places do you recommend to visit?
If you haven't been, which part of Costa Brava we mentioned would you like to see yourself?
Note: A big thanks to Costa Brava Pirineu de Girona, Hotel Acacias Suites & Spa, as well as Turismon agency for their kind hospitality and helping us to organize our travels in Costa Brava, Spain. All opinions, relaxed minds, tired feet from walking and tummies full of chestnuts are our own.