If the question "where can I experience authentic India?" is playing on your mind while planning a trip there, this post might help you to answer it.
During our two month travel adventure across India we saw only a fraction of the country. However, we confirmed once again that the stories of locals, their routines, approach to each other and relationship with their culture and nature is what teaches us far more about a destination than going out sightseeing.
Here are our 9 tips on how to get a feeling of real India without visiting any artificial touristy attractions.
9 ways to experience authentic India
1. Choose a local homestay
A homestay is a great icebreaker as Indians are born storytellers. They can connect any situation from everyday life to a Hindu legend. If the language barrier permits and you 'click' with your host, consider it a fortunate opportunity to ask questions about topics you haven't dared ask of random locals.
How to do it?
Check out I Like Local – a fabulous platform created by travelers that puts lots of effort into ensuring that hosts make their guests feel at home so that your experience will be more personal.
They operate in 18 countries in Asia & Africa with a mission to connect locals and travelers and create a social impact. They also encourage natives to establish a sustainable model of tourism.
The options of homestays at I Like Local are endless. You can book your accommodation in a local neighborhood in a city, at a farmhouse, at a 150-year-old tea estate, at a coffee farm, in an old fort – you name it. I Like Local doesn't charge any fees to the registered hosts so locals receive 100% of what you pay for a stay or an activity.
Our experience
In Jaipur, we had a fantastic time at Payal's homestay in a quiet neighborhood of Jaipur. Our room was cosy and clean. Plus, Payal loves socializing with foreigners and she was always happy to recommend interesting places in her hometown.
In Jodhpur we stayed at Bhavna & Chandrashekhar's family mansion that they have transformed into a homestay. We shared meals together and learned about homestay tourism in India.
The concept was launched in 1992 by the Rajasthan Tourism Development Corporation. Their goal was to provide a different, more local experience to foreign and Indian tourists.
2. Do a home cooking class with an Indian
Learn from the pros. Prepare your favorite Indian dishes and get know the benefits of Indian ingredients and how they match with each other (or not!). You will also find out some interesting facts about dining traditions.
How to do it?
See if you can arrange it with your homestay host – lots of them organize cooking classes at their homes.
Check out some great home cooking classes on I Like Local.
Our experience
We prepared a big Indian dinner with our host Payal, who is also a great cook. During her home cooking class in Jaipur we learnt how to cook our favorite dishes from scratch. She guided us through the process step by step and showed me how to shape my first ever chapati.
We were so excited and grateful for this extravagant foodie experience that we threw an impromptu cooking party the next day. Knowing she loves Italian cuisine, we invited Payal and her two schoolboy sons to cook Italian spaghetti together with us.
Traveling to Asia? Get inspired by more articles!
3. Go for a street food tour
Don't limit yourself with the street food you know. Release your inner foodie, surrender to an experienced guide, and venture through the alleys to discover hidden eateries you'd never find by yourself.
Moreover, a food tour often includes a cultural introduction to the city (or country) you're visiting, which is a priceless bonus.
How to do it?
Check with your hosts if they can organize a small group street food tour.
Look for a tour directly with I Like Local and pick the one that fits your dietary preferences and available time.
Our experience
With Payal, we ate our way through Jaipur, learning so much about how the city has changed since her childhood. We explored a few different neighborhoods which included zig-zagging in a rickshaw through the city streets at night. Check out this Heritage Food Tour in Jaipur.
In Delhi, we were very lucky to meet Anubhav, the founder of a food tour company we booked through I Like Local. Anubhav has worked with street kids for 8 years and is currently working as a tour guide.
The Delhi food walk with him turned into an incredibly thoughtful and open-minded discussion about Hindu culture and food habits. In addition to stuffing ourselves with various snacks, main dishes and masala chai, we also sampled about 7 flavors of homemade vegan ice cream and bumped into a wedding dance street party in a side alley!
4. Stop hunting the main sights and appreciate detours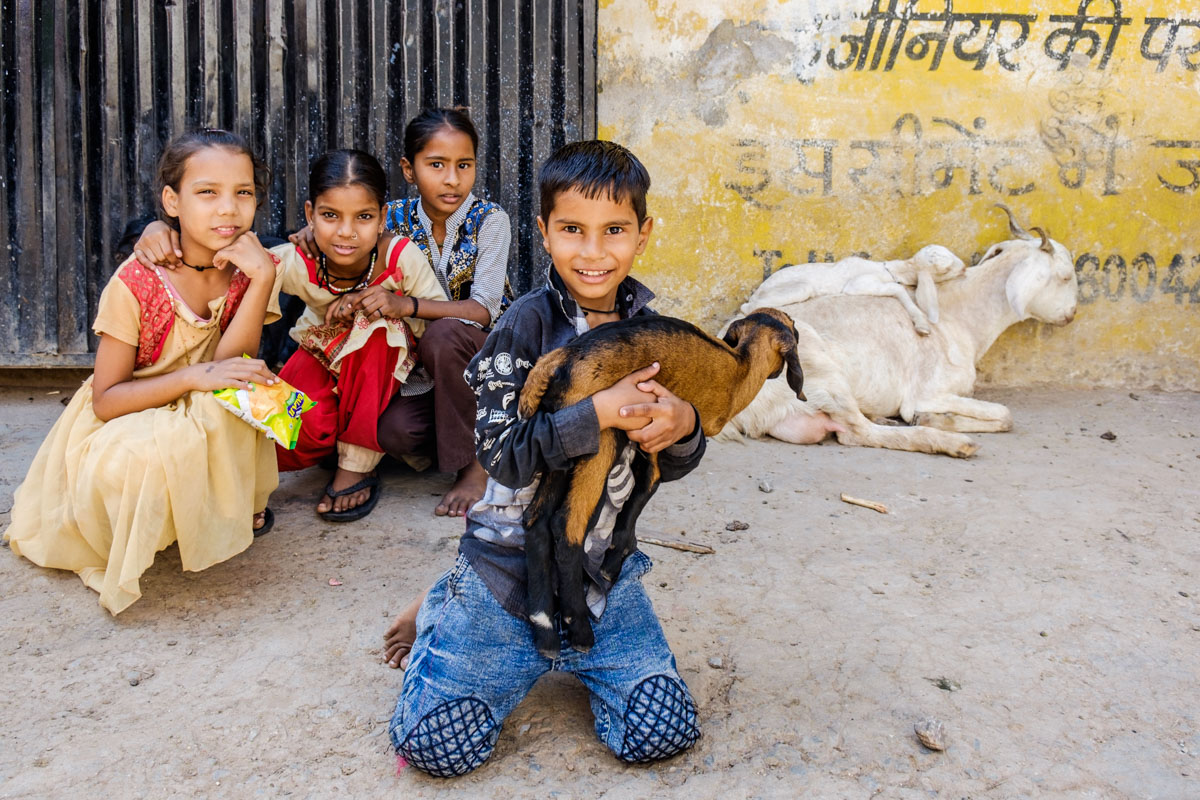 "Why would I skip the landmarks if I've traveled so far?", you might ask.
Well, ask yourself: do you want memories of hopping from one overcrowded (and not so well preserved) historical place to another? Or you could make memories of sharing a masala tea with generous locals, hiking to a secret waterfall with a new Indian friend, or people-watching whilst enjoying Indian snacks and coffee and chatting with the owner of a café, who might just introduce you to some new Indian social and cultural topics?
How to do it?
Detour into side alleys.
Engage with your waiter, or the owner of a café, street stall or a restaurant.
If you feel you would still like to see the major monuments anyway, try and visit them early in the morning or late afternoon, especially if you intend to take photos. Look for a higher viewpoint to get a better photograph.
Our experience:
We loved going our separate ways for a couple of hours so we could explore the cities alone. As a result, I was invited for a cup of chai with an older couple, to sing with local women in front of a Hindu temple, found neighbourhoods that were not on the "must visit" lists and tasted hot, freshly-made samosas while standing with a bunch of locals in Jodhpur.
All these memorable moments were a reward of improvising our itinerary in India.
5. Walking tours with locals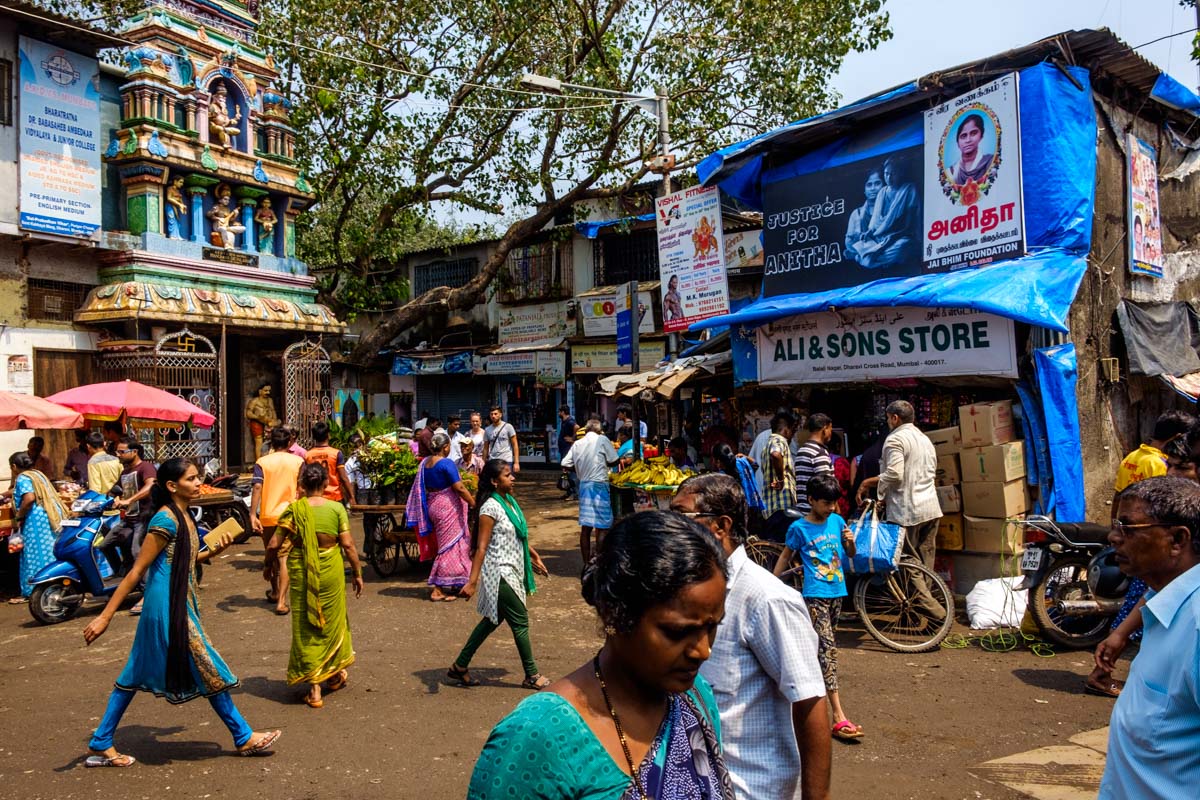 If you're not into the idea of a food tour, you can opt for a walking tour that isn't just limited to the major landmarks and where a guide can introduce you to some less visited places.
How to do it?
There are plenty of city tours on the I Like Local website, with different angles (e.g. photography, a slum tour). Some tours are run by former street kids or people who actually live in the slums. By choosing this kind of tour you'll also be encouraging the use of language and tour guide skills for making a living, which reduces the dependency on street begging.
Our experience
We'd heard a lot about Dharavi slum in Mumbai, but we were a little sceptical about the visit as we didn't want to participate in any kind of voyeuristic poverty tourism. However, Dharavi slum tour is about so much more than looking at how people live.
It's an eye-opening experience where you'll learn about the sustainable economy the slum has developed by itself over the years. Highly recommended. We did the tour with Dinesh, a young enthusiast who's originally from the slum.
6. Hop on a local bus or train
India is vast and you might get overwhelmed by the thought of moving from point A to B overland. But before giving up and booking a domestic flight, take at least one ride on a local train or bus.
Training patience at the station in Agra.A trip to India wouldn't be complete without a short- or long-distance overland journey. There are different classes of trains in India, so don't get discouraged by the idea you'd need to travel in a run-down wagon.
How to do it?
Book your ticket directly at the bus or train station. For some routes, the trains might be sold out, especially before weekends and major Indian festivals. Read our post for more details about transport in India.
Our experience
Within two months, we took only one flight in India. Otherwise we traveled by local buses, trains, minivans, rickshaws, and once we took a private car with our friend Mariellen from Breathe Dream Go.
Our experiences included bumpy winding roads, fast rides, delayed night sleeper trains, Bollywood music blasting out on the buses, hot breakfasts and big pots of tea served on board the trains, watching Rajasthan's shepherds through the windows, and often being the only foreigners on a bus.
This, and so much more is to be expected from an overland trip in India.
7. Meditate and practice yoga
Staying present on the road helps to keep your mind alert and your body flexible, which is necessary for long journeys and outdoor trips. India is a great place to improve your practice and learn to do it the right way.
How to do it?
Sign up for a week or month-long course, or drop in at a yoga school with a good reputation. Check the reviews on Google Maps and TripAdvisor before committing to a longer course. Or, sign up for a 10-days vipassana meditation course.
Our experience
I practiced some yoga in Jaipur, which was an optional experience at our homestay at Payal's. We loved strolling along the Ganga river in Rishikesh and meditating on the river bank. I also took some yoga classes at a small school there.
8. Attend festivals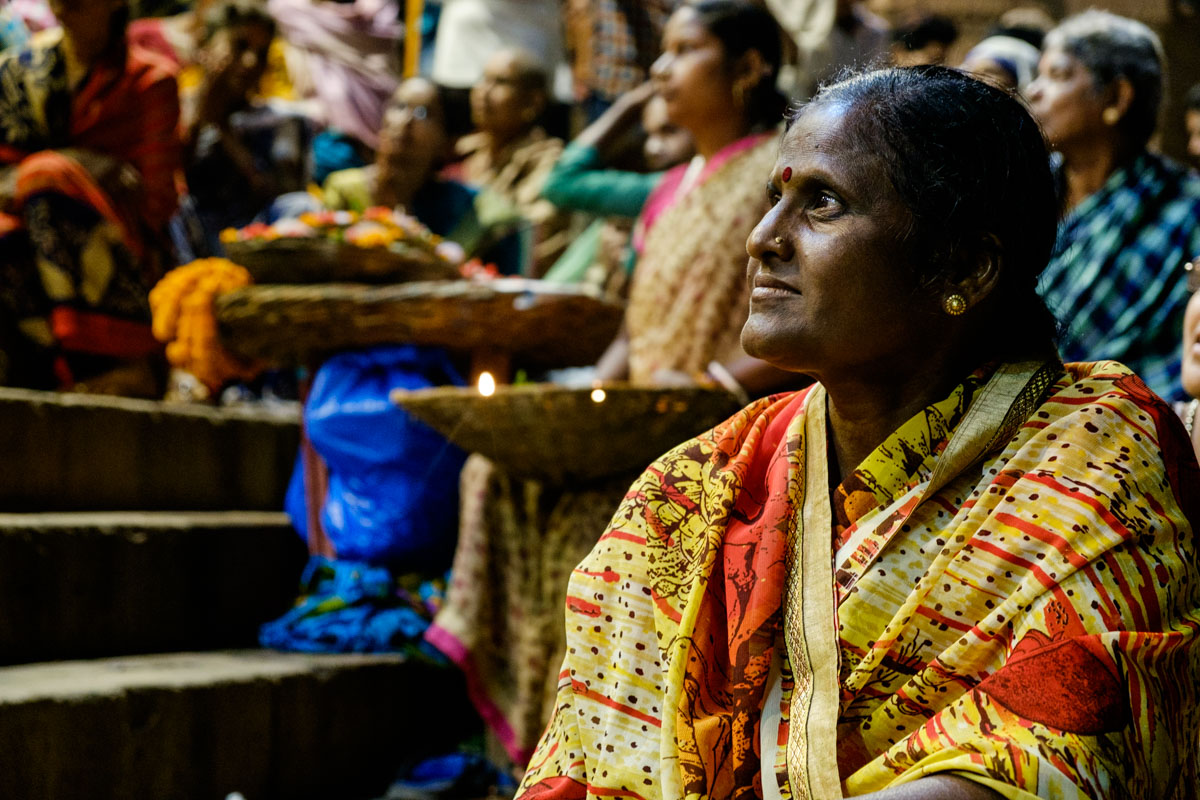 If you like attending festivals when you travel, then India is going to be an eventful paradise for you.
How to do it?
Check out this website to find out which festivals may be taking place during your visit. Bear in mind that during the Holi and Divali celebrations hotels are likely to be fully booked, along with domestic flights and some trains. Plan your visit in advance.
Note: be aware that some festivals in India tend to get overcrowded, so keep safe and watch the event from afar if you are not comfortable with throngs of people.
Our experience
In Udaipur, we saw fabulous lights and decorations being prepared for the Divali festival, which we celebrated in Rishikesh a few days later.
There, instead of watching the fireworks with hundreds of tourists, we walked further from the touristy spots. We witnessed a beautiful ceremony performed by locals, which felt very intimate without cameras clicking all around us.
Less pretty and less private was the night of Dev Deepawali in Varanasi where we accidentally ended up in a crowd of a few thousand people. All ended well and now it's a good story to tell, but next time we would avoid taking part in the festival.
9. Weddings
You think that if you have no relative or a friend in India, you cannot attend a wedding? Well, as our dear friend Zuzana who's married to an Indian says, "There's always a wedding in India." She is right.
How to do it?
If you stay in a more local neighborhood, the chances that you'll stumble upon a wedding party are high. Indians love inviting foreigners for their parties and weddings.
Don't shy away from a friendly invitation with the excuse you don't know the family. You would end up missing a fantastic cultural event that you'll remember for a long time.
Our experience
Whilst walking back from dinner in Udaipur, we heard some music behind a fence and Gianni's curiosity pushed us to have a peek at what was happening there.
Within a few seconds we were approached by an elegant Indian inviting us to join the festivities, enjoy some food and spend the evening with the other guests. That would be the other 800-900 guests, to be more precise.
These are our insider tips for how to experience authentic India, based on our two-month visit. Hopefully we have helped you to decide how to have your own authentic Indian experience.
Which activities do you think help get closer to locals and culture when traveling in a new country? Share with us in a comment below. We'd love to hear from you!
Liked it? Pin it!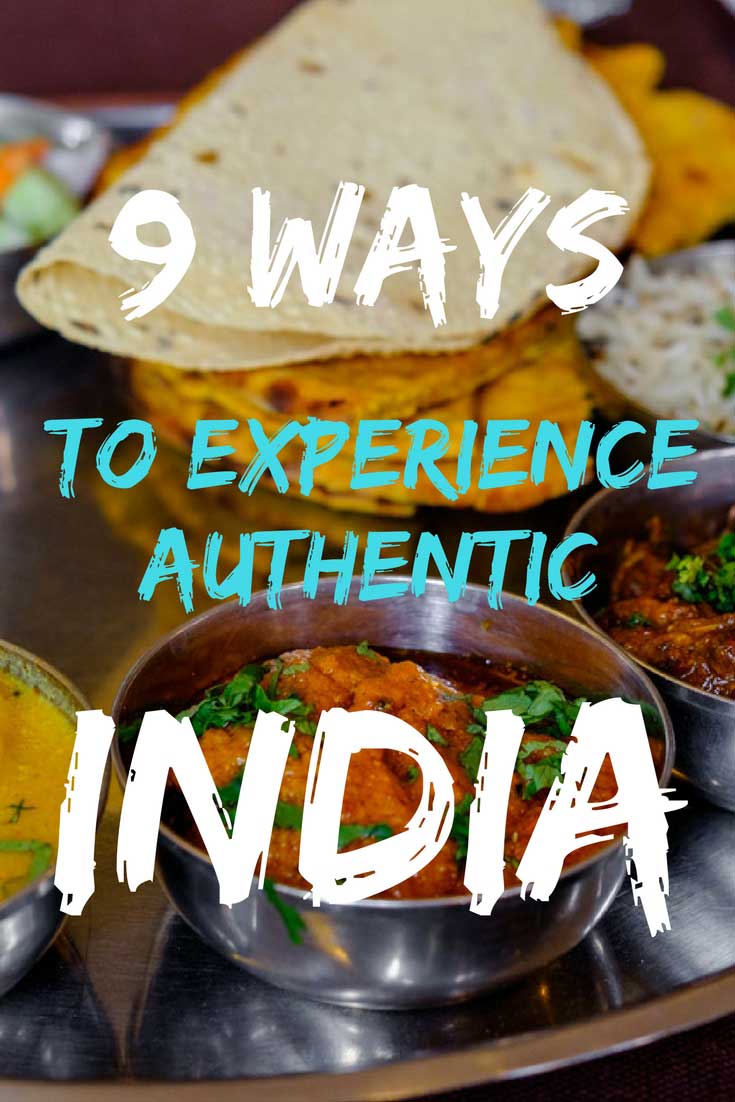 Disclosure: We were kindly invited by I Like Local to experience their homestays and food tours with locals. All opinions, new friendships and memories shared with our local hosts are our own.