The multicultural city-state of Singapore is an awesome place to spend a few days on holiday. Singapore does bring about some preconceived notions of an expensive holiday destination, but it doesn't have to be! There are plenty of free things to do in Singapore for those on a strict budget, including stunning parks and beautiful temples.
Follow this list of free activities in Singapore written by a frequent visitor to Singapore to get the most out of your holiday.
Free things to do in Singapore
If you are looking for a place to stay on your next trip, we recommend some of the best hotels for different budgets.
We researched our information on TripAdvisor, Booking.com and HotelsCombined where you can compare some of the best deals when booking a place in Europe.
We also use a lot AirBnB to book local apartments. If you have never used AirBnB before, you can have a $40 discount for your first booking through this link.
Always make sure you travel with travel insurance! Be adventurous, but not careless.
Check out some of the most reliable insurance companies out there: True Traveller if you're an European and World Nomads if you're from elsewhere.
If you love animals and you prefer going local during your travels, try housesitting, which is an amazing way to travel the world while taking care of the pets whose owners are on vacation. If you use TrustedHousesitters with this link you'll get 25 off on annual membership.
Like it? Pin it!
Gardens by the Bay
Gardens by the Bay is one of Singapore's top attractions. The park features purple and pink mechanical supertrees. The Supertree forest isn't just for show, these creations generate solar power, collect rainwater and act as venting ducts for the Cloud Forest and Flower Dome conservatories.
Time your visit in the late afternoon, so that you can watch the Gardens by the Bay light show, which is also free! Alternatively, head to Marina Bay for dinner and return for the show. Showtimes are at 7:45 pm and 8:45 pm daily.
When travelling on a budget on a short trip to Singapore, consider purchasing a Singapore tourist pass. Public transport in Singapore is the most efficient way to get around.
Sri Mariamman Temple
Singapore's oldest Hindu temple is located in the heart of Chinatown just by the outdoor market stalls. After shopping for souvenirs at the stalls, head to Sri Mariamman Temple for a visit.
The details in the temple's architecture are exquisite. The exterior of the temple share characteristics with Southern Indian Temples, featuring a gopuram, a monumental entrance tower. The interior showcases beautiful paintings of various shrines and deities.
Want to see more of Singapore? Check out these tours:
Macritchie TreeTop Walk
The Macritchie TreeTop Walk is a great nature walk providing amazing views of the Singapore jungle.
Funnily enough, I have visited Singapore three times in the past 18 months (and many times before this), and I had only recently discovered the Macritchie TreeTop Walk. I'm so glad I did find it! There's just something about being in nature.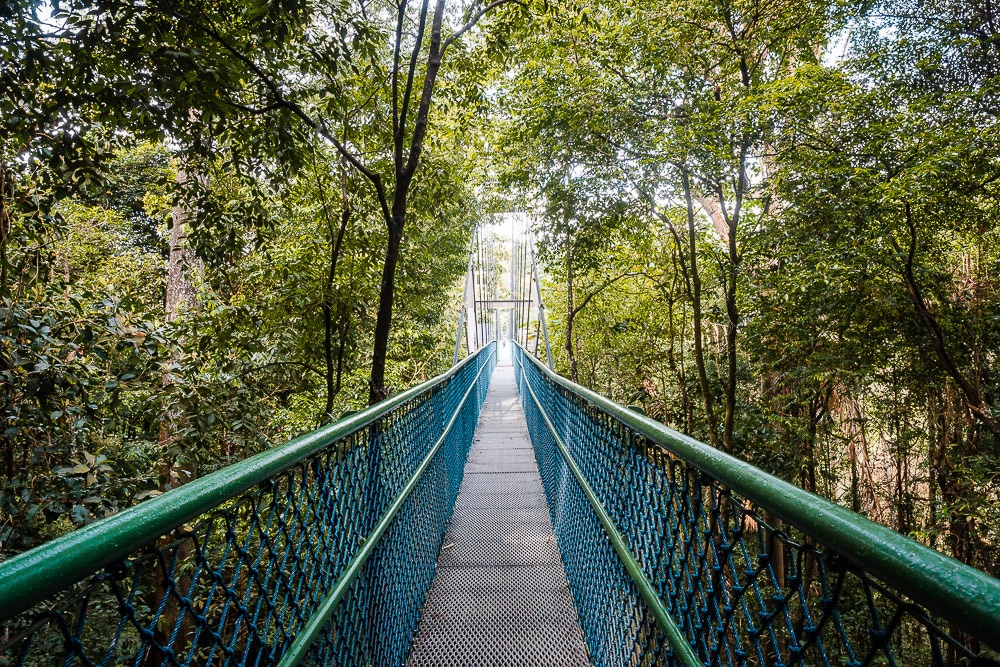 The walk will take around two to three hours from the Venus Drive Carpark, or longer from the Macritchie Reservoir. The piece de resistance is the suspension bridge over the canopy that spans 250 metres.
The walk is sheltered in some parts, but the humid and hot Singapore weather means the walk won't be so comfortable during the heat of the day. I'd recommend visiting first thing in the morning, and you'll get to see the sun peeking over and illuminating the trees.
Fort Canning Park
Fort Canning Park is a beautiful park and a historical landmark in Singapore. The park was the site of the 14th Century palaces and also contained the British Army Barracks.
The park features nine historical gardens, so give yourself a few hours to explore. When we last visited, we were lucky enough to watch the free Bicentennial Experience show, a multi-sensory experience explaining about Singapore's history from the 14th Century to the present.
Ther are a few Instagrammable spots at Fort Canning Park, including the Indonesian-style gates and the circular stairwell looking up into trees.
Get inspired by more articles:
Buddha Tooth Relic Temple
The Buddha Tooth Relic Temple is another temple found in Chinatown. This temple is very different from the Sri Mariamman Temple. As its name suggests, this temple is a Buddhist temple. It is also a museum complex to house what is thought to be the left canine tooth of Buddha which was recovered from India.
The exterior of the building is a vibrant red with an imperial Chinese style featuring slanting bamboo roofing. The stupa inside is made of hundreds of kilograms of gold.
Marina Bay Light & Water Show
Singaporeans sure do love their light shows. They're definitely more spectacular than ones I've seen in my hometown and in other countries.
Come by the Event Plaza right by the waterfront to view the light show. Watch the jets of water dance to the music and colourful lasers light up the night sky.
Alternatively, you could also view the light show from a rooftop bar. My top pick is Smoke & Mirrors Bar which gives you a full view of Marina Bay Sands in the distance.
The light show runs at 8 pm and 9 pm daily, with an additional 10 pm show on Friday and Saturday.
Check out some interesting tours in Singapore:
Sentosa Beaches
Singapore has some great man-made beaches located on Sentosa Island. Sentosa Island is a great place to visit as a tropical escape from the cityscapes of Singapore.
To get to Sentosa, you can take a Gondola, but you can easily walk there for free! Just take the MRT to Harbourfront, then follow the signs in Vivocity Mall leading you to the boardwalk. The walk will only take you 10 minutes.
The trams on the island are free, bringing you to all the best attractions. There are three beaches on Sentosa; Palawan, Siloso and Tanjong beaches. My favourite is Tanjong Beach, as it's the furthest away and therefore the least busy.
Sultan Mosque
The Sultan Mosque or Masjid Sultan is a grand structure in Kampong Glam, Singapore's Arabic Quarter. Its elegant white exterior with characteristic golden domes makes this mosque so impressive. The interior features greens and golds.
Instead (or as well as) taking a photo of the entrance of the mosque, one creative way to photograph the Sultan Mosque is framed by the archway on a nearby street.
Please bring with you (or wear) the appropriate clothing if you intend on entering the mosque. Keep your shoulders and knees covered, and remove your shoes at the door.
Singapore Botanical Gardens
Being such a small island, it's surprising how many gardens you'll find in Singapore. The Botanical Gardens is one of them. Walk around the tranquil gardens and enjoy seeing their huge variety of flora.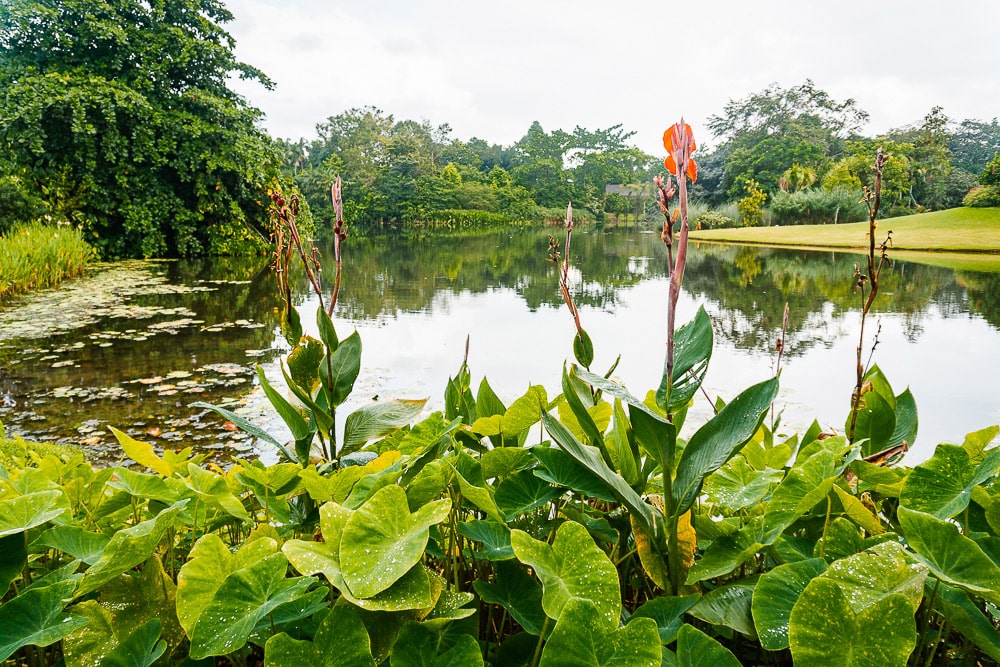 Take it one step further and bring a picnic along with you to enjoy down by the lake.
To get there, get off at the Botanical Gardens MRT station (which is super convenient).
Southern Ridges
Southern Ridges provides great views of Singapore's greenery through a network of bridges over 10 kilometres long. It's a great place to go for some exercise and to appreciate nature.
One of the bridges in the Henderson Waves which connects Mount Faber Park and Telok Blangah Hill Park. This wave-shaped bridge is the highest pedestrian bridge in Singapore at 36 metres above the ground.
A great starting point for the Southern Ridges from the Harbourfront MRT station at the base of Mt Faber.
Haw Par Villa
Haw Par Villa is definitely an interesting experience in Singapore. There are hundreds of statues portraying Chinese mythology, with influence from Buddhism, Confucianism and Taoism.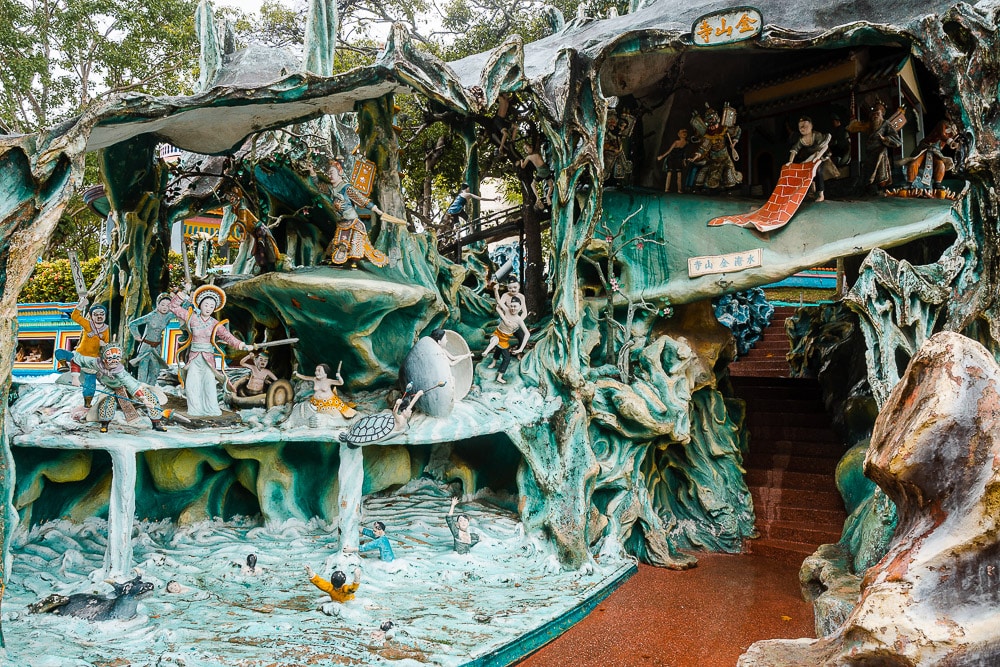 Many of the statues depict the punishments for all crimes at the main attraction names the Ten Courts of Hell. Once a theme park, walking through the grounds will leave you with an eerie yet bewildered feeling.
There's a Haw Par Villa MRT Station, which makes it a convenient way to get to Haw Par Villa.
Pack & travel: