The fruits of Thailand are undoubtedly some of the most delicious and healthy Thai food you might indulge in during your trip in the country. Well, there is no secret that wherever in the world you are, you can find the freshest and best quality produce at the local markets. And if you are up for it, you can even bargain for the best price.
Where to buy fruits in Bangkok?
Practically anywhere. You'll find street vendors selling sliced pineapple, nicely packed durian, watermelon or longan fruit everywhere you go.
If you fancy going local, then head to the popular fruit market in Bangkok – Or Tor Kor, or Klong Toey Fresh Market, Pak Klong Talat Flower Market, Train Market (Dalat Roi Fai), Bon Marche farmers market, Talat Aw Taw Kaw market.
Heading to Bangkok and Asia? Get inspired by more articles:
Where to buy fruits in Chiang Mai?
Our favourite is the Chiang Mai Gate Market or Talat Pratu Chiang Mai.
If you get there in the afternoon or evening, you will find a great variety of street food, but if you go in the early morning, you will be able to find a small fruit paradise. Call it a walk-in natural pharmacy.
You'll find lots of fresh vegs & fruits at the popular Chiang Mai fruit markets – Muang Mai Market, Warorot Market, Kamthieng Farmers Market, Sompet Market, or Tohn Payorm Market where you'll find oodles of Thai fruits.
Remarkable fruits of Thailand
Mango
One of the most popular fruits from Thailand. Sweet, with a hint of sour taste, incredibly aromatic and refreshing. You'll find it freshly sliced, or in many variations of smoothies, or as a main ingredient of a famous Thai dish – Mango Sticky Rice.
It improves digestion, clears skin, lowers cholesterol, and prevents cancer.
Tastes like: mix of lemon, cantaloupe and avocado
How to eat it: peel off the skin and slice it around the nut. Or, cut in half, remove the nut and scoop the pulp out with a spoon.
Price: Depending on season and variety, the price ranges from 40 to 80 ฿ (1.20 – 2.40 USD) / kg
Mango season in Thailand: March – June, but we were lucky to find some good mangos in Chiang Mai also in January and February.
Rambutan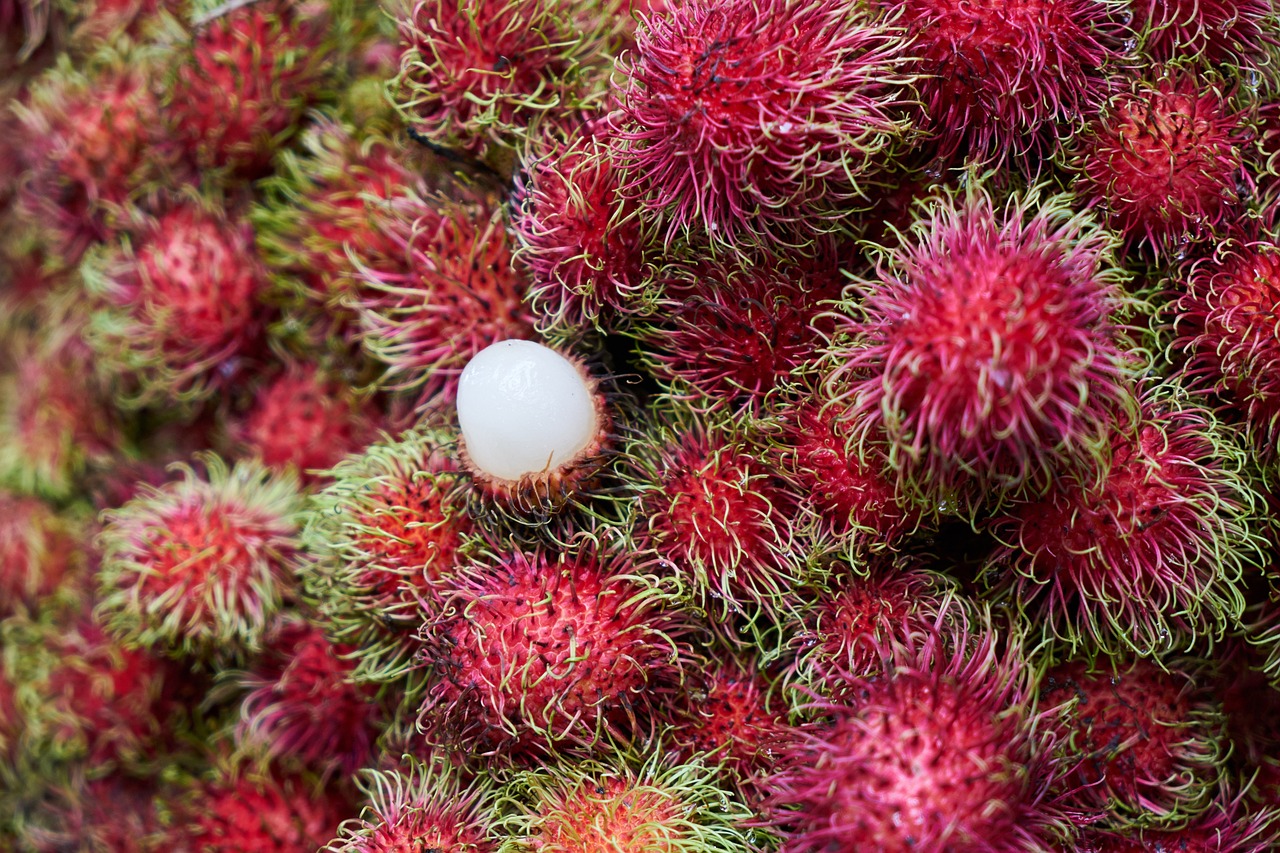 Light, mildly sweet, juicy with a chewy texture. Rich in vitamin C, calcium, iron, phosphorus, magnesium, copper, and fibre. Cures high fever, bad stomach, prevents diarrhea, smoothes your skin, treats diabetes and works as an energy booster.
Tastes similar to: lychee
How to eat: once the leather skin of the fruit is soft, you will be able to open the shell with your nails and take out the white, egg-shaped fruit.
Price: 30-60 ฿ (0.9-1.9 USD)/kg.
Check some great activities and tours to do in Thailand:
Durian
Spiky from outside, creamy, soft, and ultimately delicious fruit in Thailand! Yes, we do confess, we are durian lovers, and we recommend giving it a try when in Southeast Asia.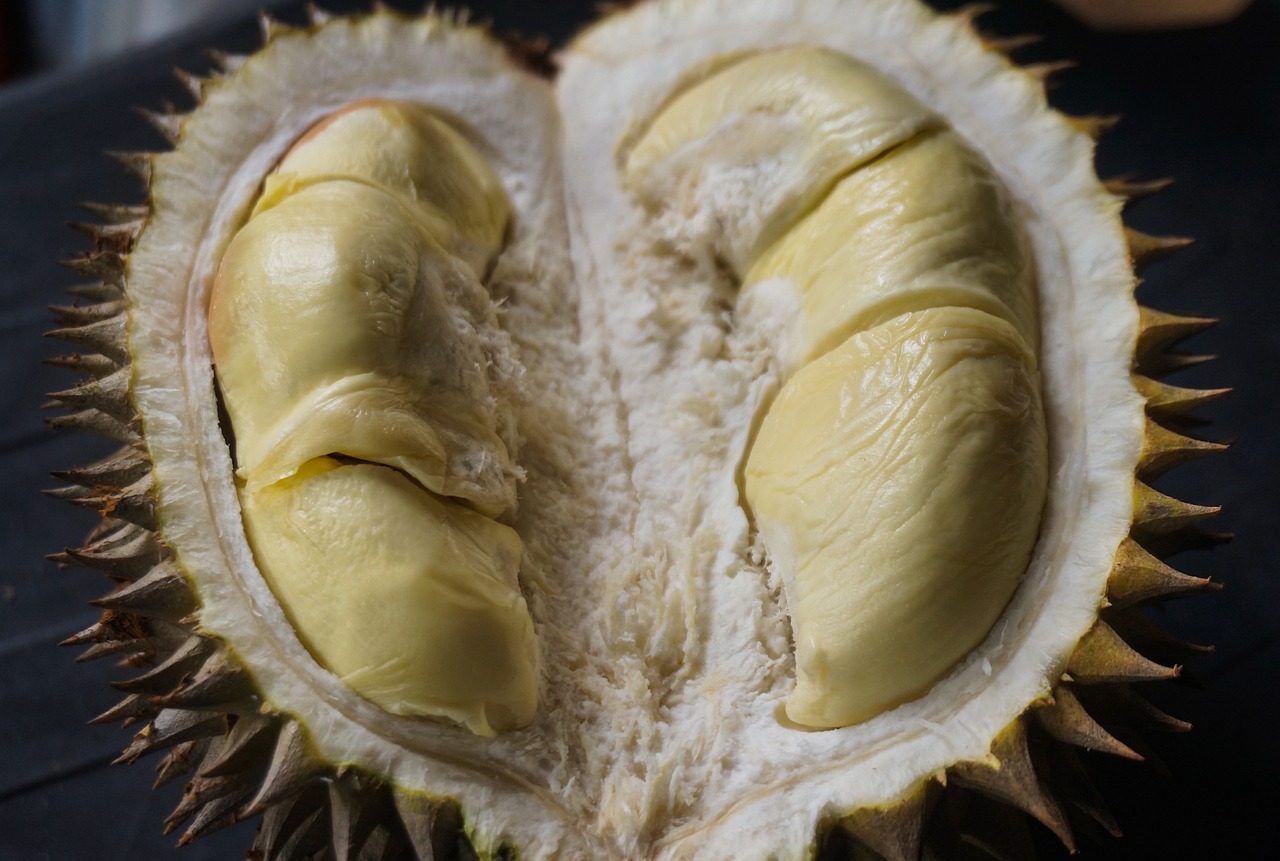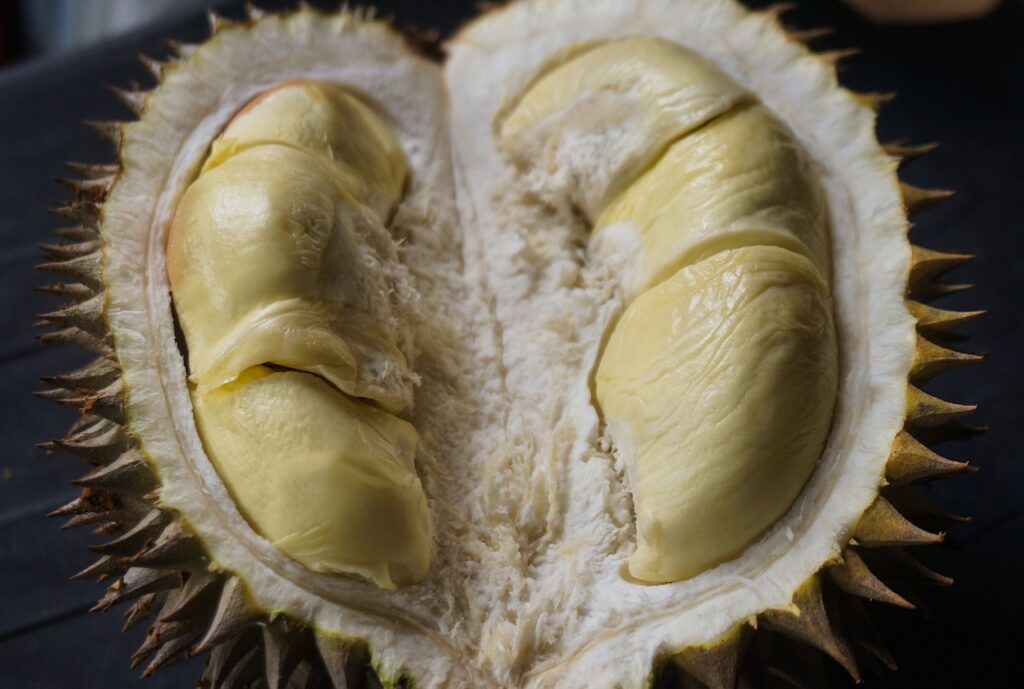 Durian is very sweet, with a very particular custard-like texture. Yes, and the smell that might put you off. It's full of fiber, vitamin C, and B-vitamins. It lowers blood sugar, reduce cancer risk, and has some antibacterial properties, too.
Tastes similar to: there's nothing like durian in this world, trust us.
How to eat it: buy a package of one or two pieces of peeled off durian. Watch out for the big hard nut inside. You'll be able to find chips, ice-cream, candies, cookies with durian flavour, but that's not the way to experience real durian.
Price: for a bigger piece r two smaller ones you'll pay minimum 120 ฿ (3.6 USD)
Note: If you're in Thailand in July, check out Chanthaburi Durian Festival that is the world most famous durian festival. 
Durian season in Thailand: April – August, in Bangkok you'll find it all year round.
Sapodilla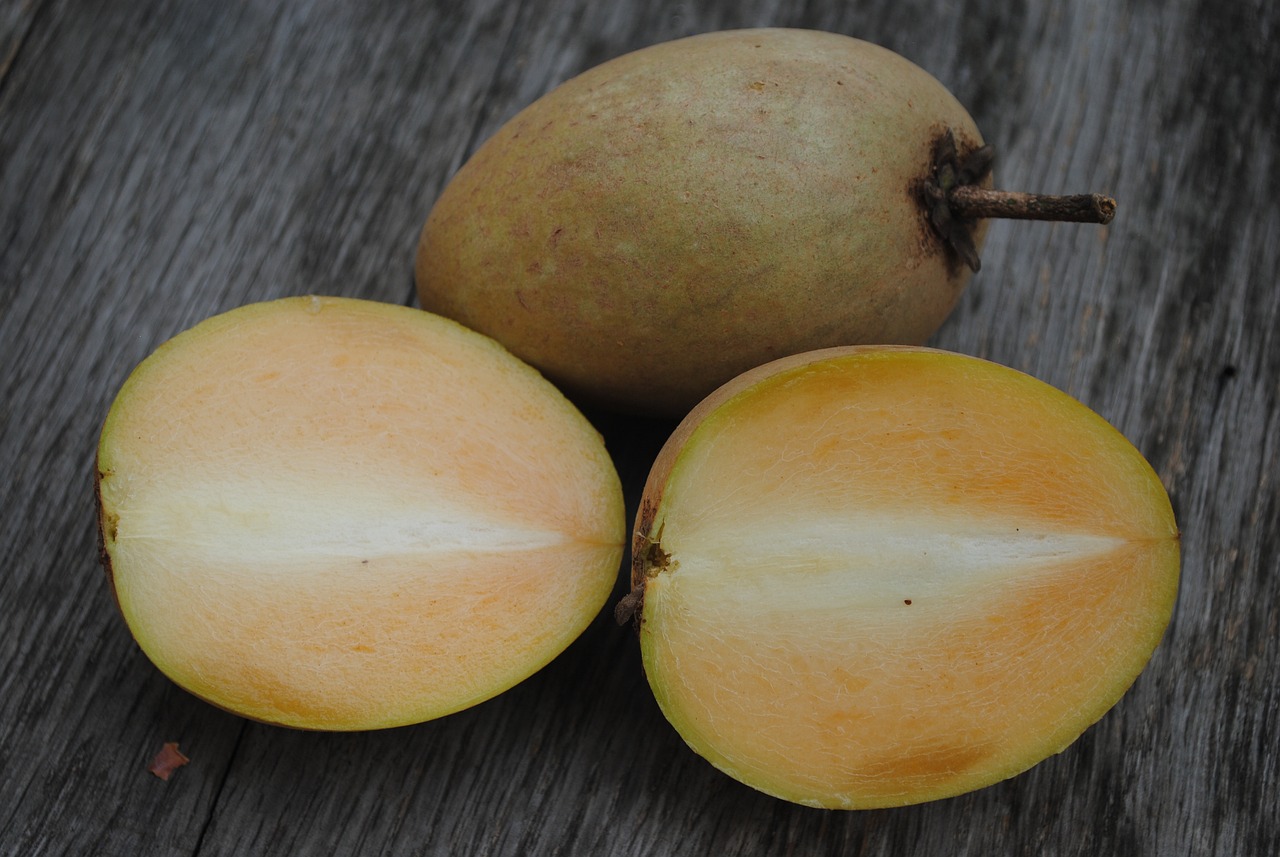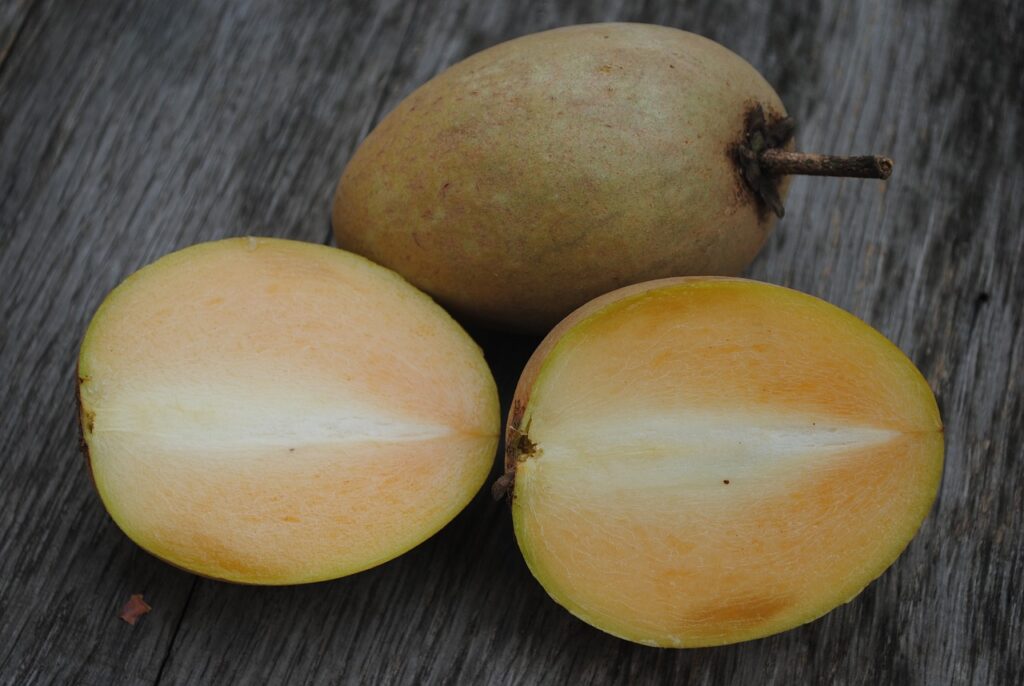 Very sweet, full of fructose and glucose. An absolute energiser, full of vitamin A that keeps your eyes healthy; an anti-oxidant, anti-bacterial and anti-inflammatory fruit that also helps with constipation.
Reduces nausea and dizziness, moisturises your skin, calms your mood and treats insomnia due to its mildly sedative properties. Advised to use when curing cold or cough.
Tastes similar to: a pear with honey or brown sugar
How to eat: either you peal it off and then cut it, or just cut vertically and scoop out the pulp.
Price: 40 ฿ (1.3 USD)/kg.
Rose apple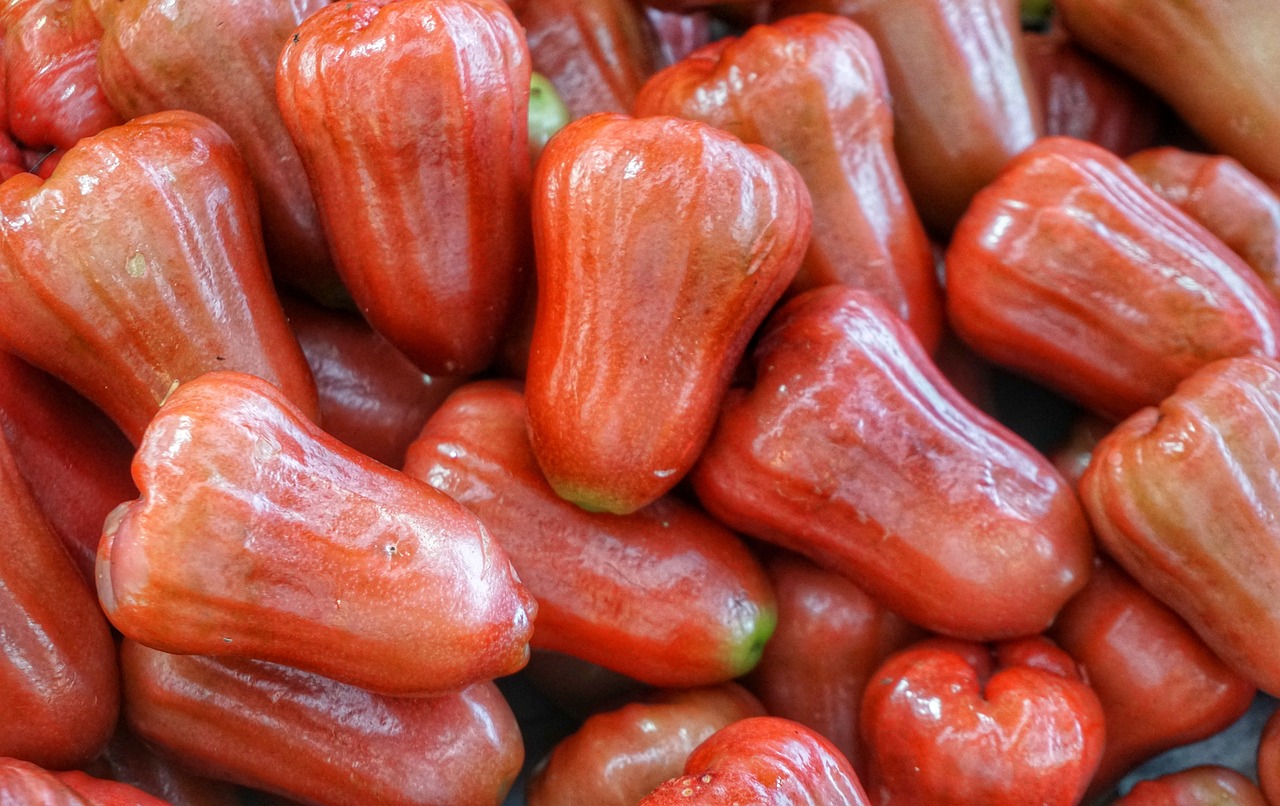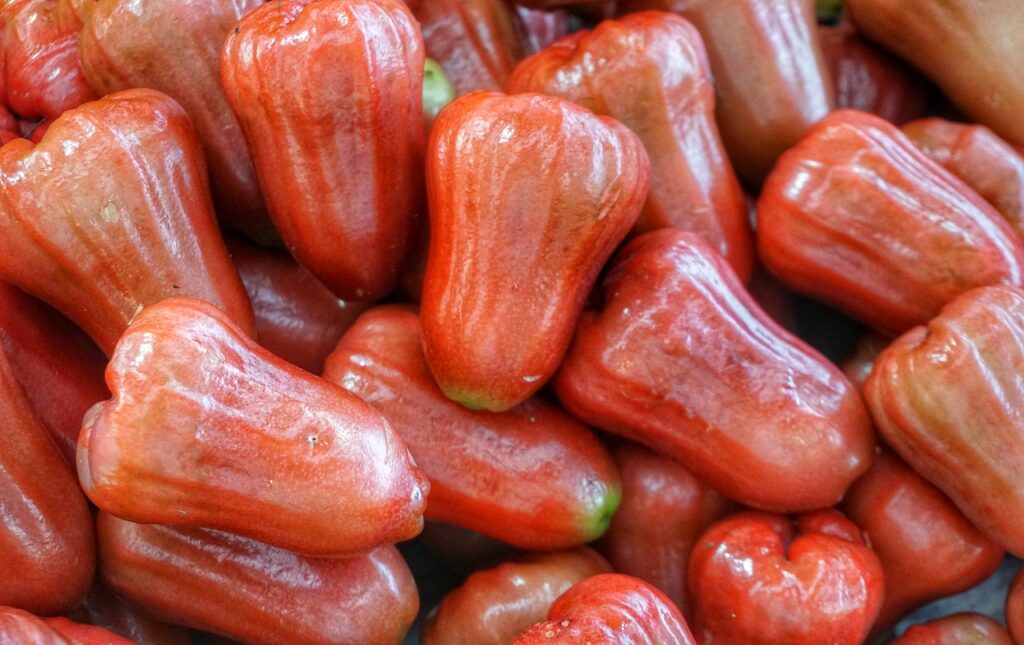 Tender, crunchy fruit with sensitive skin and a slightly bitter aftertaste. Good for diabetics, as it lowers sugar level in the body. Juice made of rose apple can be mildly laxative, however the seeds stop diarrhea. Contains vitamin C, iron, calcium, protein and fibre. A very tasty alternative of an apple in Thailand.
Tastes similar to: apple and cucumber
How to eat: like an apple.
Price: 30 ฿ (0.9 USD)/kg.
Young coconut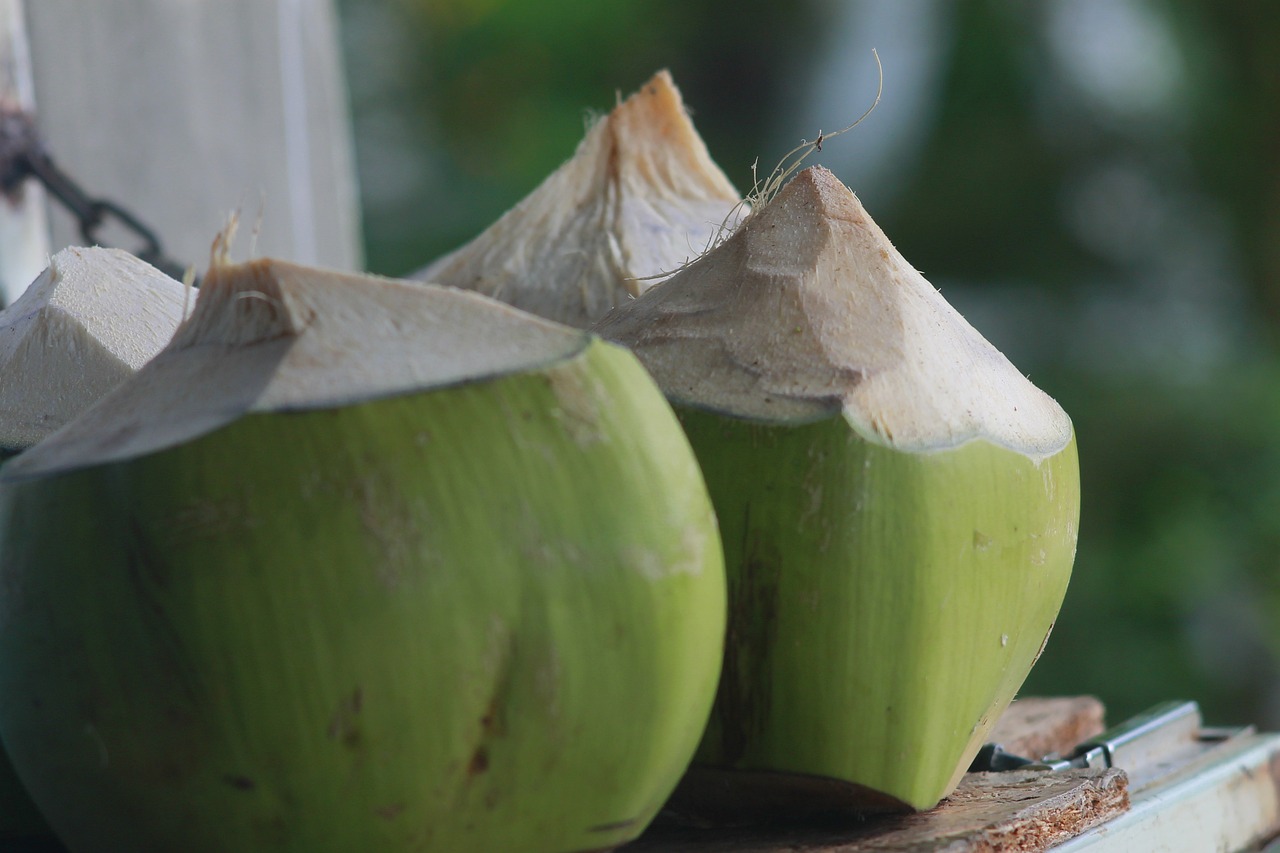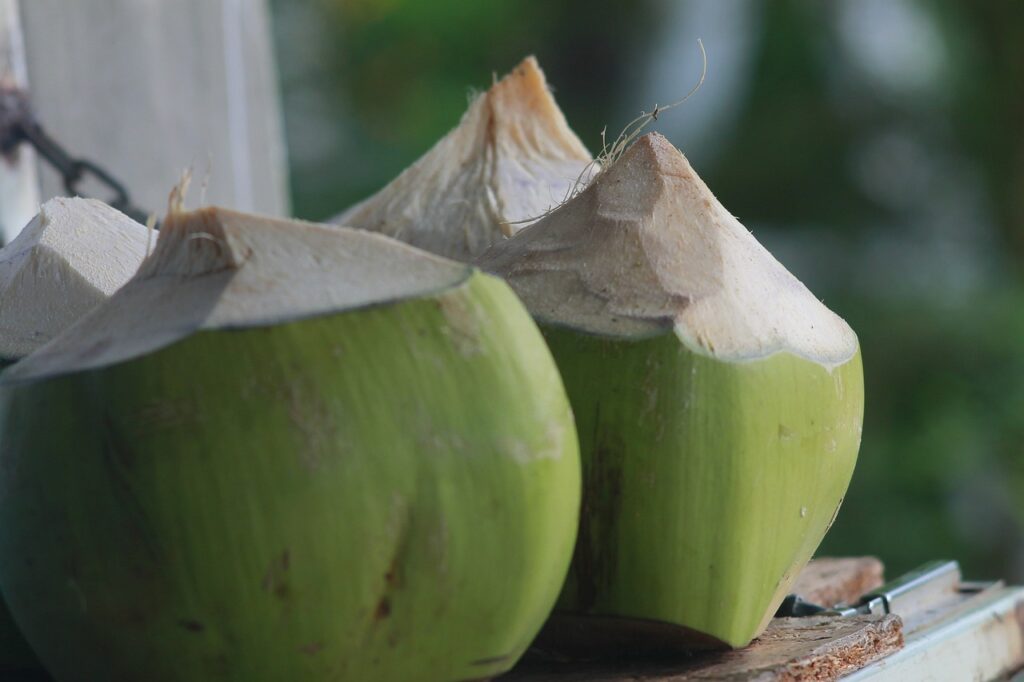 A top health bomb that boosts your metabolism, lowers cholesterol, stabilises blood sugar, kills bacteria, fights infections and hydrates your body.
Moreover, thanks to its blood-like consistency, pure and filtered water, it can save your life, as it was used for plasma transfusions during WWII in the Pacific. Mildly sweet, nutty and refreshing fruit with high antibiotic properties.
How to eat: either you have a machete to open it or you ask the seller to do it for you and then just use a straw and a spoon to scoop out the pulp at the end.
Price: from 15 to 60 ฿ (0.5 – 1.9 USD) per piece.
Check some great activities and tours to do in Thailand:
Jack fruit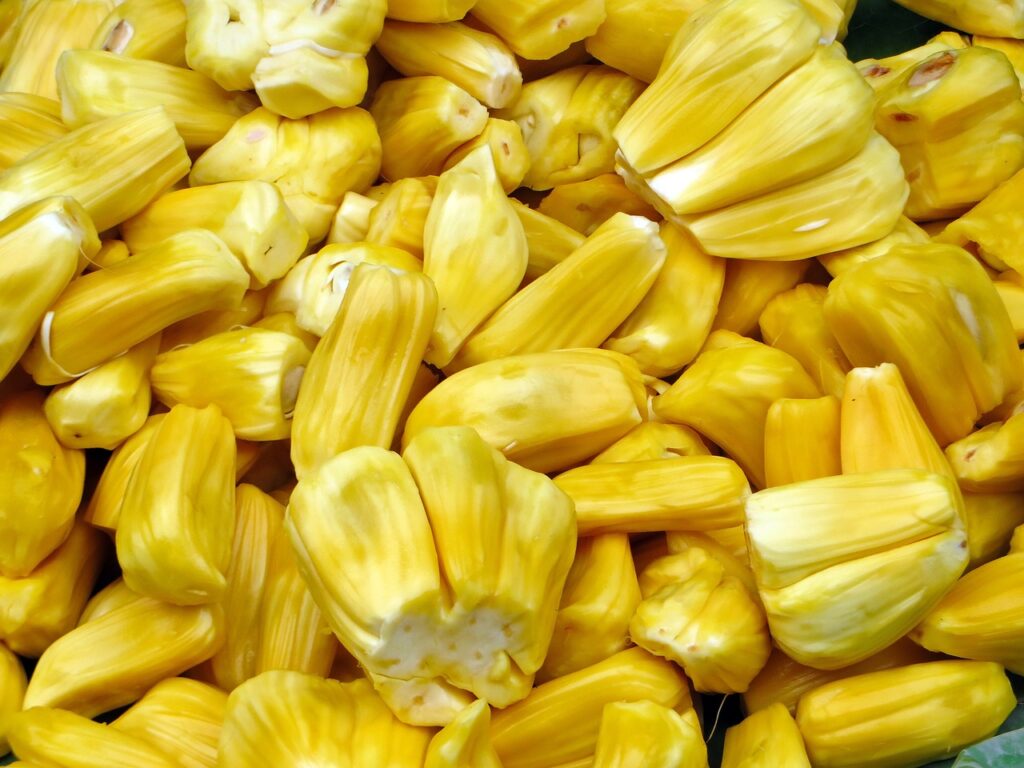 One of our most favourite Thai fruits. Its flesh is "hidden" inside a big shell covered with blunt thorns. Sweet, very aromatic, chewy. Full of vitamins A, C, B-complex and folic acid, which all together prevent anemia. Thanks to its rich amount of fibre, it prevents colon diseases.
It is one of the biggest fruits in the world, since one jackfruit can grow to a length of 90 cm, a width of 50 cm and a weight of 35 kg. It is defined as the largest fruit, borne on the Earth with 250 fruits on one tree during the season.
Tastes similar to: banana with peach and honey
How to eat: to buy a whole fruit might be a bit unpractical. In any case, they sell it already cut and pitted. If it is ripe, you eat it raw. Seeds can be dried in the sun and used roasted as a snack or as an ingredient for Indian curry.
Price: 60 ฿ (1,9 USD)/kg or 20 ฿ (0.6 USD) per package of 6-7 pieces.
Passion fruit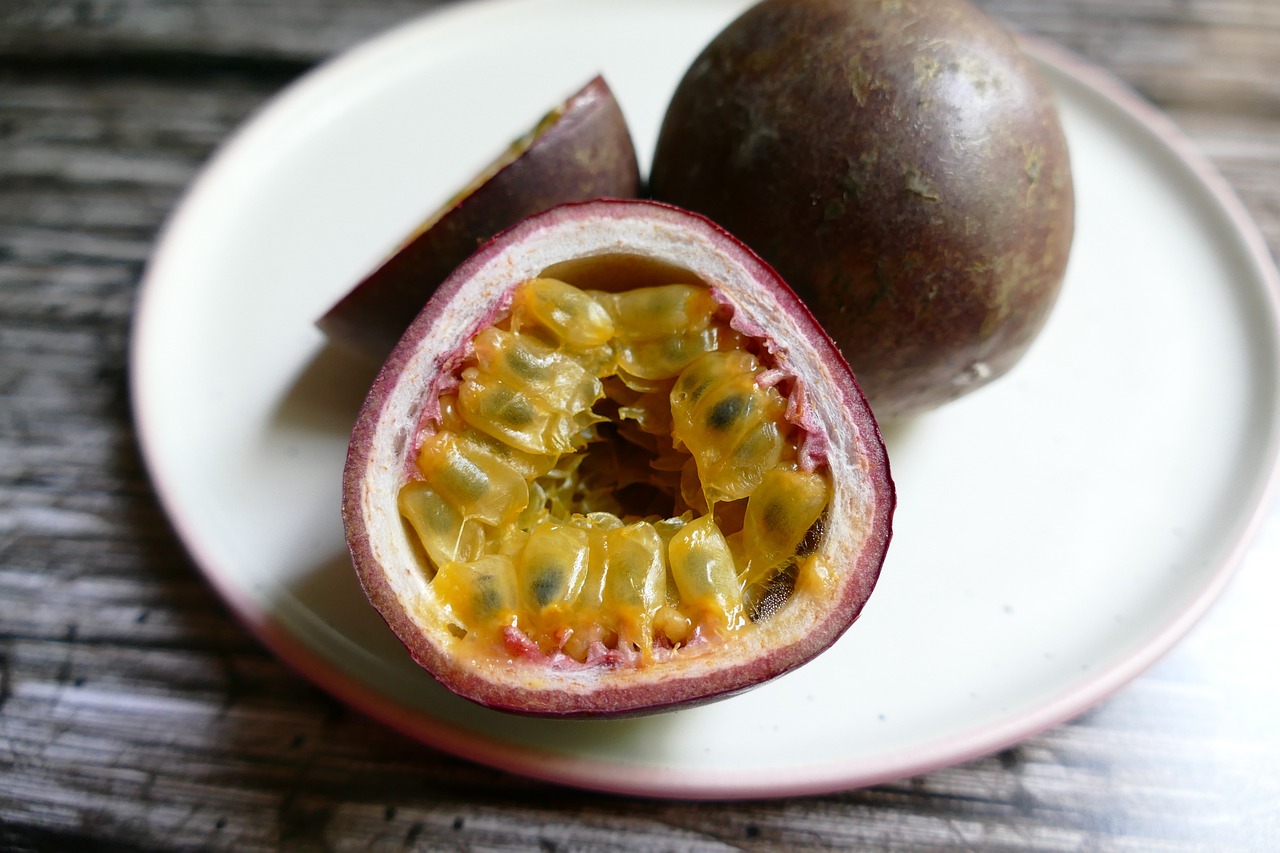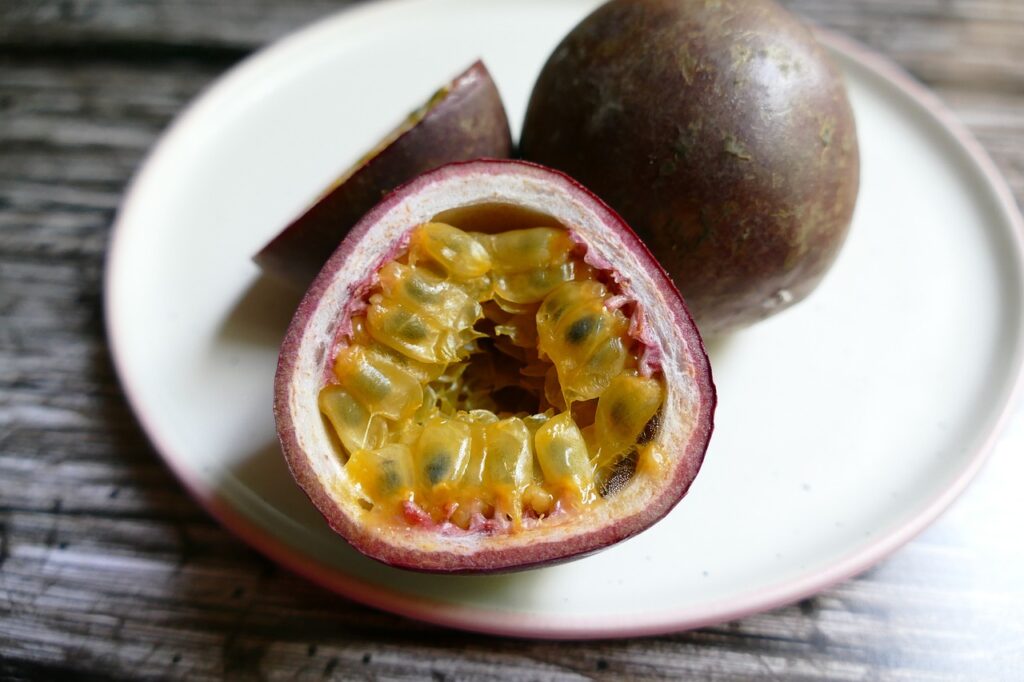 Sweet and tart at the same time, highly aromatic source of vitamins C and A, iron, magnesium. Strengthens the immune system, prevents premature ageing, treats eyesight, protects the colon from toxic substances, and maintains the nervous system, too.
Furthermore, thanks to potassium, it helps to regulate blood pressure. Helpful with menstrual problems, headache, insomnia, chronic fatigue, and anxiety. For good sleep, it is recommended to have a glass of fresh juice of passion fruit. Since it contains high amount of dietary fibre, it is suggested to include passion fruit in your diet to lose weight, as it can fill you up without craving another meal. The skin of the fruit treats asthma and is a natural source of antihistamines.
The first Spanish missionaries gave this fruit its name, as the structure of its flowers symbolised Jesus on the cross. You can find spiky thorns, which represent a crown, five anthers as a symbol of the five wounds and three stigmata for the three nails.
Tastes similar to: lemon, gooseberry and grapefruit.
How to eat it: cut into half and scoop out the pulp.
Price: 40 ฿ (1.3 USD)/kg.
Dragon fruit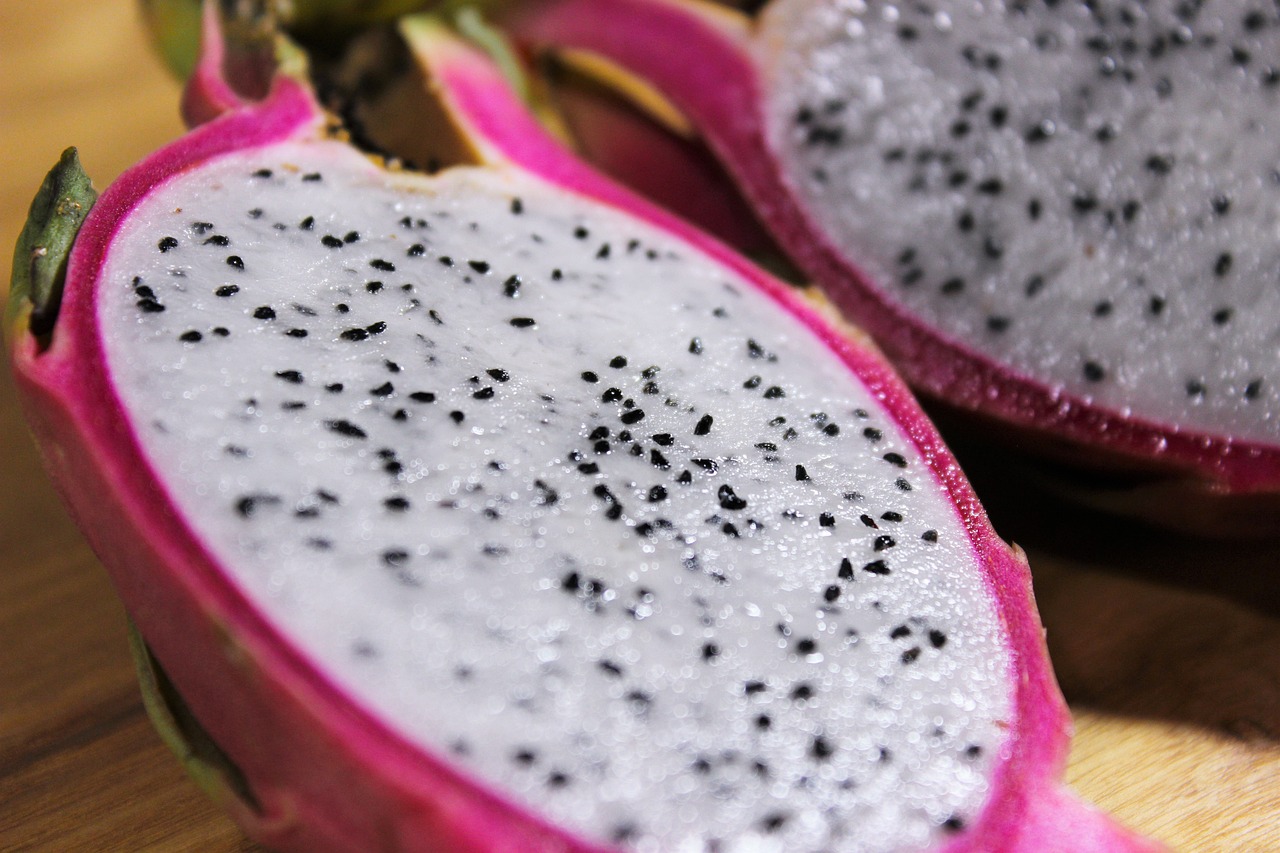 Beautifully coloured outside and inside, refreshing, slightly sweet and juicy cactus plant rich of fibre, antioxidants, omega 3-fats. Prevents memory loss, raises growth of probiotics, supports your digestive system, controls cholesterol level, soothes cough.
Works as a toxin purifier and prevents cancer. Contains phosphorus and calcium and therefore strengthens bones, tissue formation and keeps your teeth healthy. Excellent for reducing the sugar level in your body. Not recommended for those suffering from kidney diseases, vulva pain and rheumatoid arthritis.
Tastes similar to: kiwi with melon
How to eat it: either you peel off the thin skin and then cut it into slices, or cut it into halves and scoop out the flesh.
Price: 40- 60 ฿ (1.3 – 1,9 USD)/kg.
Mangosteen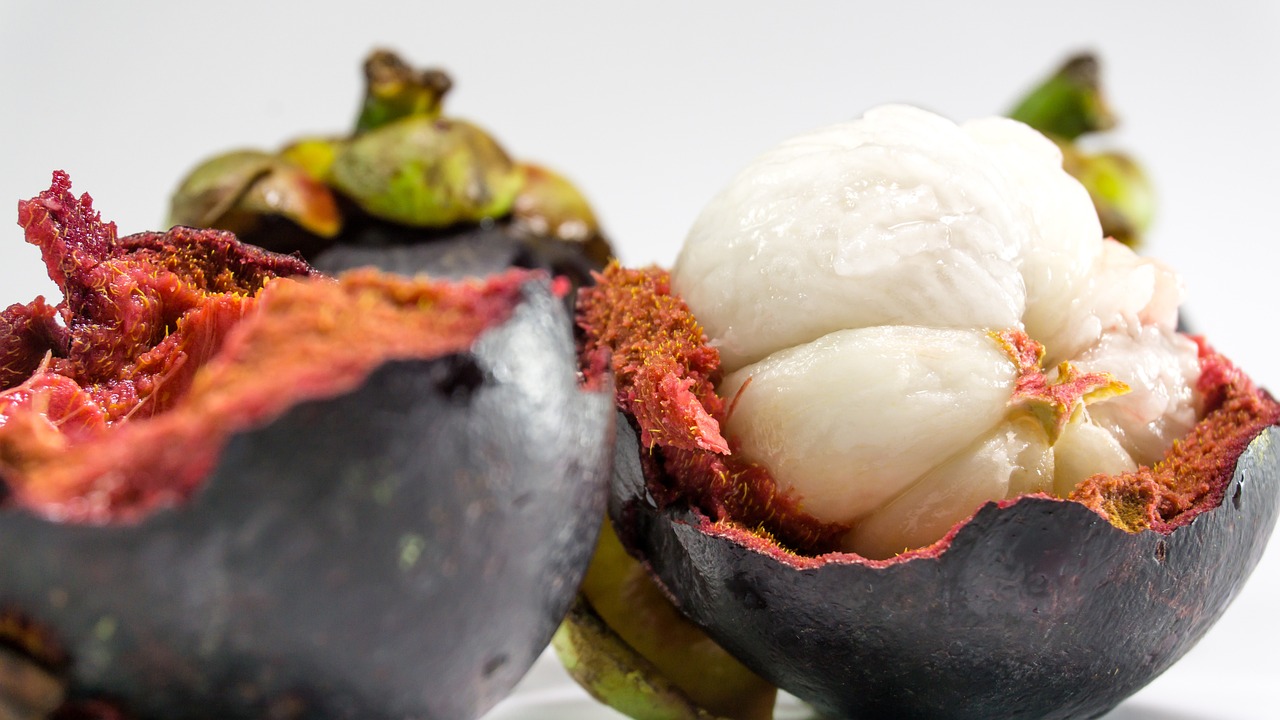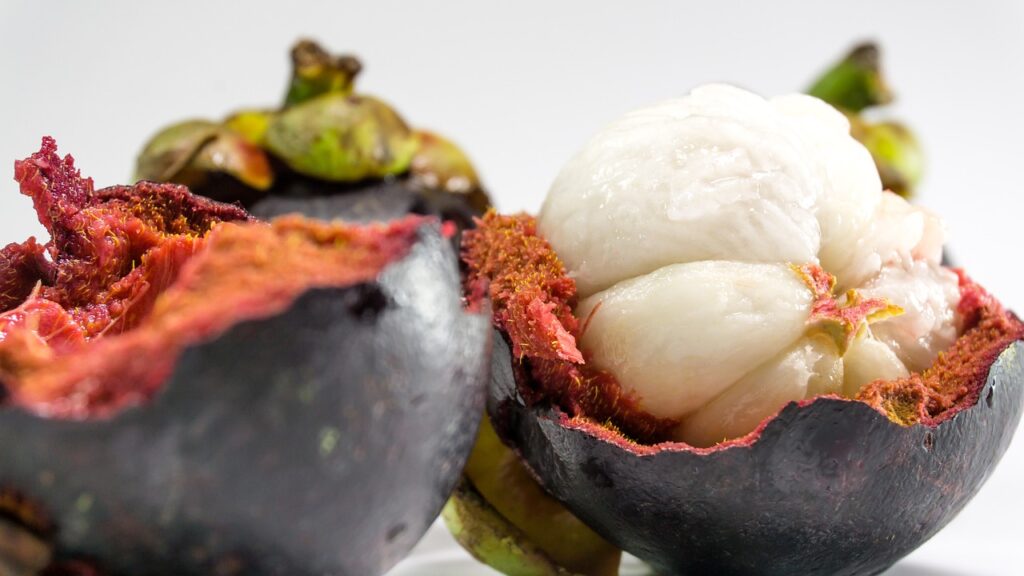 Don't confuse it with classic mango fruit. Mangosteen in Thailand is an elegant fruit with juicy, sweet & sour taste, very refreshing.
Very low in calories, heart-boosting, rich of vitamin C. Known for its properties to improve acne, boost your immune system, and to fight cancers.
Tastes like: very similar to lychee, longan and peach.
How to eat it: cut the thick skin in the middle without cutting the fruit in half. Or peel off the skin completely and divide the fruit into small slices.
Price: from 30 ฿ (0.9 USD) / kg
Like it? Pin it!