When I was 14, there was this travel documentary series showing culture and cuisine from all around the world; my family and I watched it every Sunday before lunch. I would sit on a sofa, wrapped in a blanket, staring at a TV screen, and was totally hypnotized by the different environments, where people sell veggies on the ground, kids would run barefoot on dusty roads with naked bellies, and women wore heavy traditional folk costumes while trekking with loaded bags on their backs up to their hill tribe villages.
Vietnam déjà vu
One Sunday, there was an episode featuring Vietnam that I remember very clearly… I was watching people biking in their flip flops with conical hats on their head and motorbikes honking with insanely huge loads behind drivers' backs; I was so attracted by the street scenes, that ever since then I wanted to stand in the middle of one of those streets where all exotic mess happens and just watch it, or maybe take a ride through the vibrant Vietnamese madness myself!
Fast-forward over 20 years…I was actually there. Standing amidst a busy evening street in Hoi An, adjusting my helmet, ready to hop on an old chic Vespa with an experienced local driver. On my left, I could see a street vendor switching on bulbs hanging over her food stall where pots and pans were steaming with some unknown aromas that I was going to discover in a few minutes.
If you've been following us for some time, you might know we're big fans of food tours. Apart from the fact it's one of the best ways to discover some hidden gems that only locals know about, you also learn about the diet, eating habits of the country, and also some cultural and historical facts. It's even more fun when you share a food adventure with a person who knows the area well.
So, after our first food tour with Detour Sevilla, which was epic, by the way, Portuguese culture adventure through food in Lisbon l we did the same with cuisine of Central Vietnam when we went for a food tour in Hue.
Night Food Tour with Vespa Adventures in Hoi An
While staying a couple of weeks in Hoi An, we found a company who offered something very different from the other tours in the town. Vespa Adventures was established in 2007 in Saigon. After Steve Mueller, the owner of the company, moved to Vietnam in 1998, he decided to turn his love for the country and cool vintage Vespa from the 1960's, into something bigger.
Currently they have 150 Vespas in Saigon, 50 of them in Hoi An, and some of them also in Hanoi and Hue. They have a branch in Siam Reap, Cambodia, where there are 30 Vespas, and they opened a new branch in Phnom Phen, too.
In Hoi An, you can experience four different paths with Vespa Adventures. You can go for a full day tour from Hoi An to Hue or vice versa (Hai Van Pass & Coastal Adventure experience), a half day tour through rural villages; you also can explore the countryside and nearby island, or you can pick a food tour and splurge on some delicious Vietnamese food, as we did.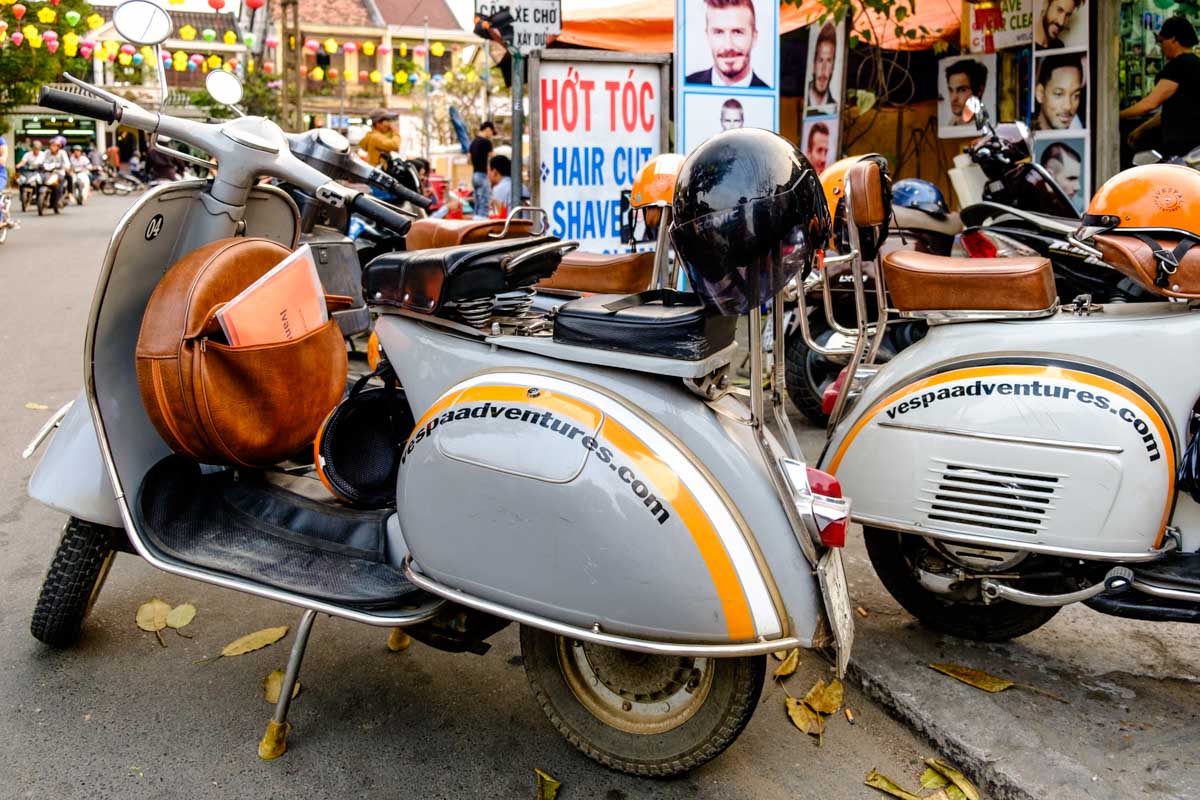 We ventured around Hoi An on a night tour called Streets and Eats and honestly, it was one of the most memorable experiences we had in Hoi An! Truly, how many times in your life can you go for a motorbike trip where a local manages to drive you safely through Vietnamese streets, brings you to eat at authentic places, you learn why there is always a heap of beer cans under the table in a restaurant, and you taste freshly cooked food served with a sincere local smile without being treated as a tourist?
What to expect from a Hoi An Motorbike Tour?
* LOTS of FUN!
The drivers & guides are a bunch of funny folks who know how to make a food tour more than just a boring sampling of food and moving from one place to another. Our guide Ben & Huy proved it!
* Safe driving.
You won't drive a Vespa yourself. You'll enjoy the street scenes from behind the back of experienced drivers.
* Perfect English of the guides
* Visiting ONLY local places, no fake eateries made up for tourists. On our night food tour in Hoi An, each place we ate was literally packed with locals, which is always a good sign when you eat out in a foreign country
* Learning a lot about Vietnamese cuisine
* Supporting locals
* All drinks included
* CLEAN, FRESH, DELICIOUS FOOD!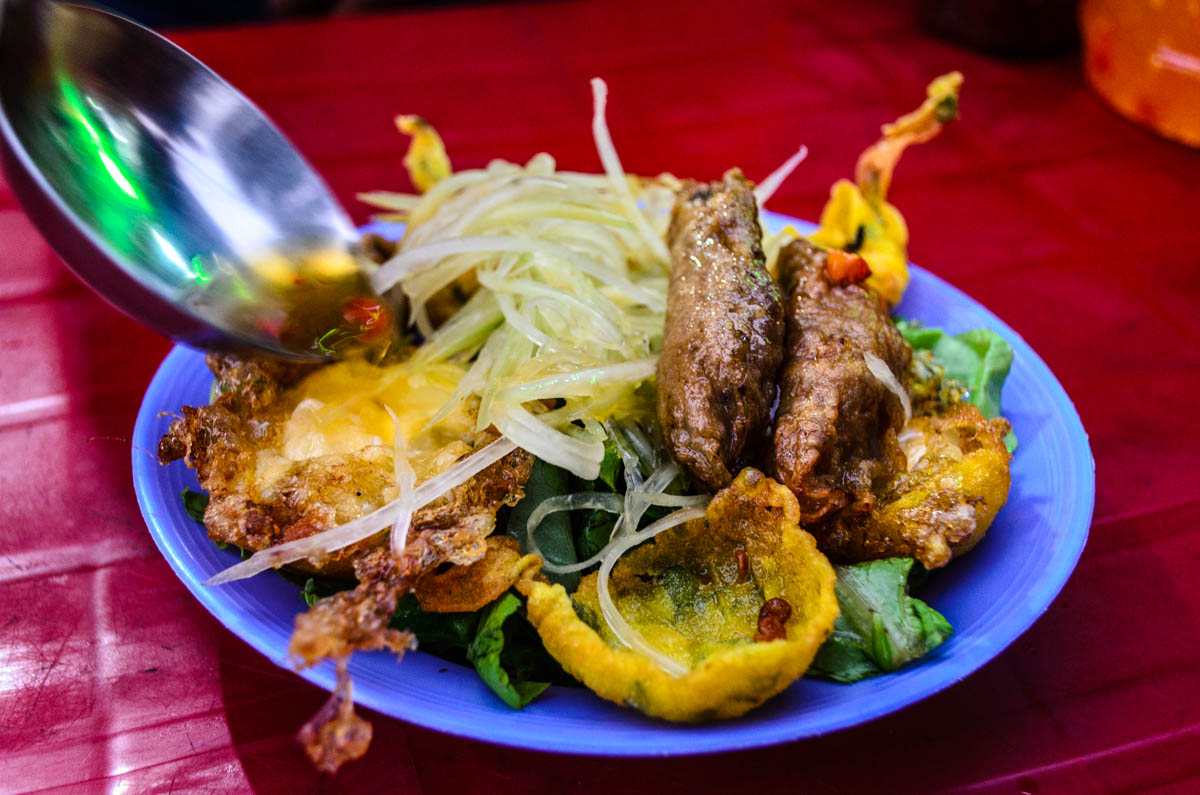 Ready to venture on Vespa through Hoi An and stuff your face with some traditional Vietnamese food? Hop on, the ride has just begun!
Street food in Hoi An
Street food in Hoi An can't be reduced to traditional banh mi sandwiches. If you venture through the town in the evening, your taste buds might discover some new tastes!
The stall of Mrs. Dung
This was the first stop and a great intro into Vietnamese street food right in the heart of Hoi An old town. Mrs. Dung has been selling hot food for almost fifteen years from 2pm until 8-9 pm.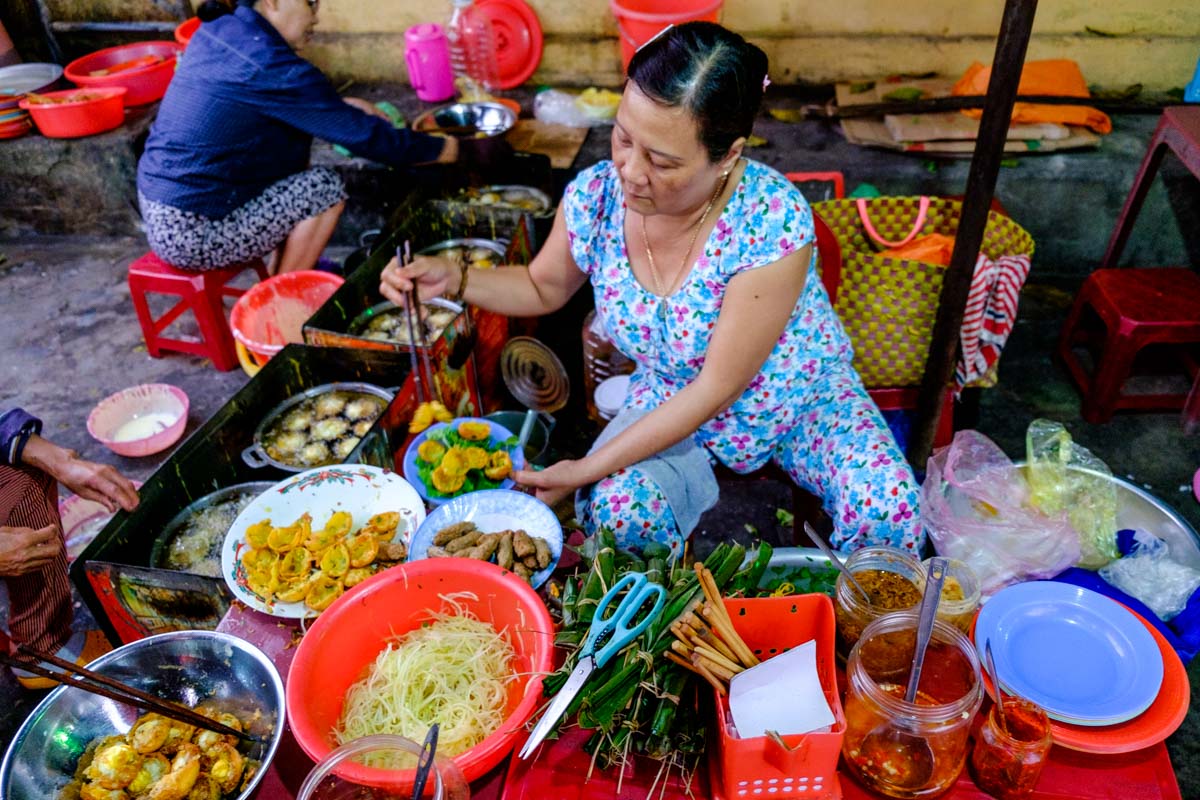 What to eat here?
Dánh can is a Hoi An specialty. It's a crispy wonton made from rice paper, and fried in peanut oil with a quail egg and turmeric inside. Try also sausage chap steamed in a banana leaf. As our guide Ben said, "In Vietnam, sauce is a hero!" And you'll find out why when eating local dishes. Sauces give meals a nice kick of sour, spicy, sweet or exotic taste, and they are not as fatty as in the other countries of Southeast Asia. To make a sauce light, Vietnamese use hot water with fish sauce, chili, garlic, kumquat, and bit of sugar.
Eating traditionally—The beautiful white roses of Hoi An
Bông Hông Trang
There will be a few places in Hoi An where they will claim their mastery over the other shops that also prepare wild roses dish. Well, apparently there is one that leads the pack for great craft and a scrumptious result!
In Bông Hông Trang restaurant, it's the third generation of a Chinese family that produces 4000-5000 wild roses per day. They supply all the restaurants in town with the handmade wild roses. You'll find their workshop at the back of the restaurant. The hands of women move briskly and with soft touch to the dough from which the white roses are made. They work in a few shifts in a workshop, toiling 12-14 hours daily. When we entered the restaurant, it was packed with young locals and families, so you can tell demand is really high.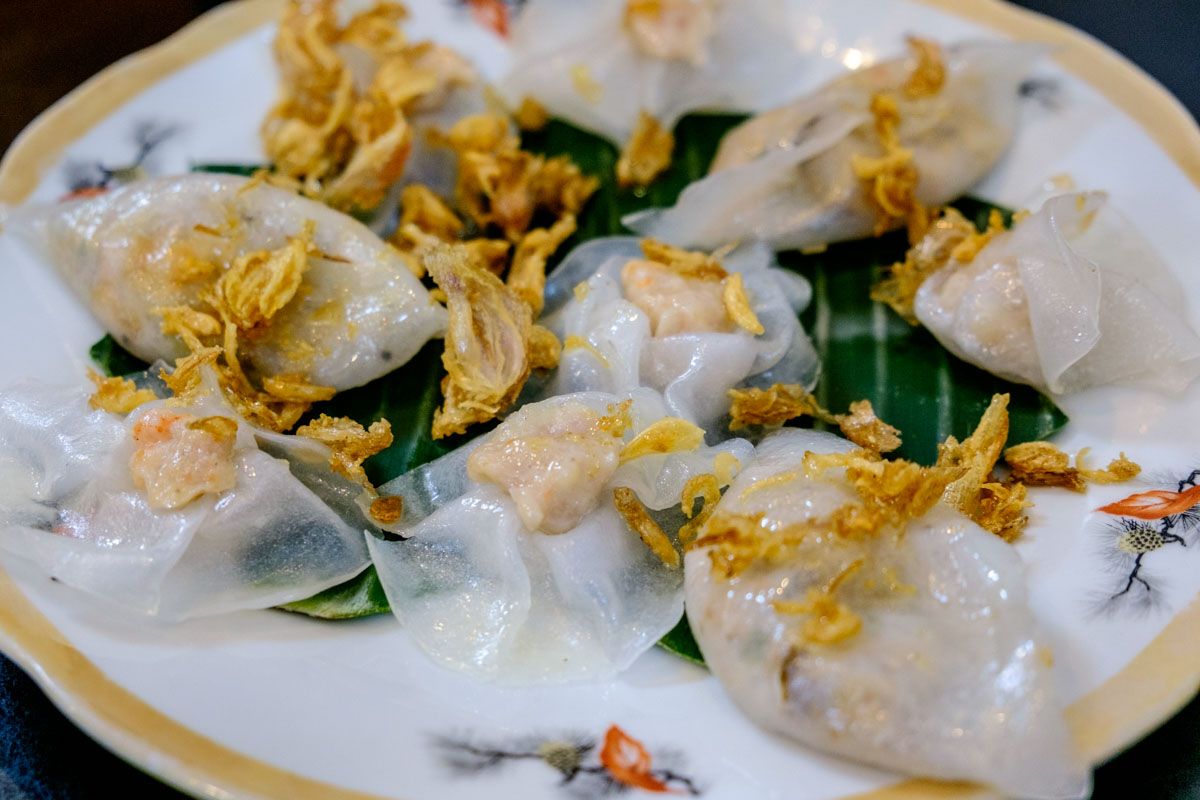 What to eat here?
Naturally, white rose aka banh bao banh vac. They are traditional dumplings made from rice flour, filled typically with shrimp, mushrooms, bean sprouts, spring onion, topped with fried garlic, served with chili & fish sauce, and made into a beautiful rose shape. By the way, the French gave the dish such a poetic name. (In some restaurants, a vegetarian option is possible.)
Read more articles about Vietnam:
What about the beer cans?
In Vietnam, if you go out with your friend who drinks Tiger beer, you and everybody else should drink a Tiger beer. If he drinks rice whisky, everybody drinks rice whisky. To get the same drink as your friend is a tradition in Vietnam. That's why when the first person orders a beer; a waiter brings a box of 20 cans or bottles of one brand with in a big bucket of ice so he/she doesn't go back and forth.
Then when you pay the bill, your waiter can just count how many bottles are left. If you have a can of beer, you just throw a can under the table. That's why you'll see a pile of empty cans under or next to the tables in many street restaurants in Vietnam.
Another thing to know about drinks in Vietnam… If a person comes to a party and two of his friends have already finished two beers, he must catch up and drink two bottles himself, so everybody leaves having consumed the same amount of alcohol. That explains the rule that you cannot leave the party if you're sober.
Also, while drinking, when somebody finishes a bottle or a can – everybody has to finish.
If somebody has difficulty catching up drinking, his friends will mock him and ask if he is wearing pants, or if he is a woman.
Oh, by the way, don't be surprised if you see girls only sitting quietly or checking their smartphones at parties in Vietnam. They usually only help serving and making sure there is enough food on the table. As Ben noted, "Drinking is a male thing here in Vietnam."
Trust your guide… and your guts
When a waiter at Truc Xanh Cafe brought us our plates, it looked like a green salad, yet the dish was called baby clams with onion & basil, hen xuc banh trang. We almost couldn't see the clams, but we followed Ben's instructions and scooped a bite of the salad on a rice cracker flavoured with sesame, garlic and onion. The food was very particular as it didn't smell or taste like seafood until we chewed the bite with a cracker. Very recommended!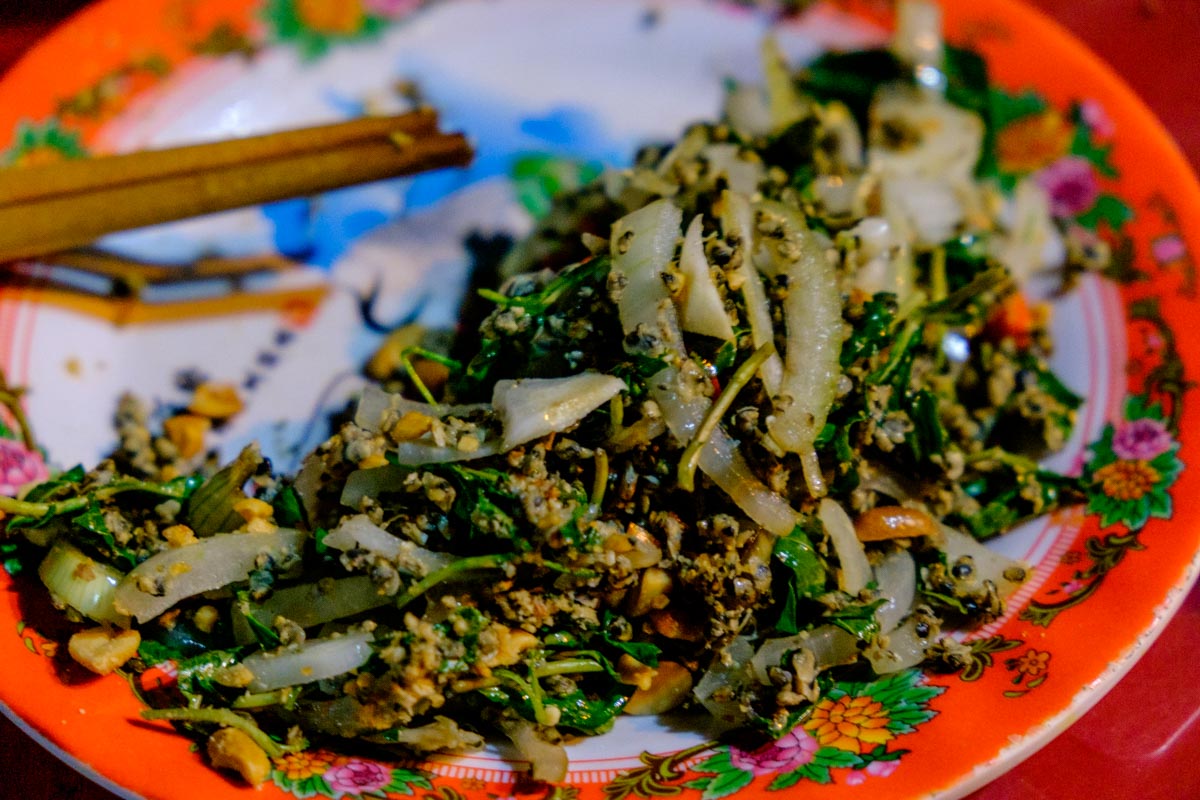 Once again, we saw that the food in Vietnam is served very fresh, and even the seafood dishes can be a delightful food adventure here.
Go local, go hot pot
We had been passing by Song Thu restaurant for five days on the way to our hotel without realizing what we were missing by not entering. We assumed it was just another hot pot place until we dined there with Vespa Adventures, and our guide introduced us to the craft of a proper Vietnamese hot pot and showed us how to roll our own spring rolls!
What to eat here?
Try a snakehead fish with turmeric, green chili, and spring onion sauce. Only after we saw what was inside the pot, we understood why the place was full of hungry Vietnamese locals and a few foreigners. The broth of the beef hot pot was flavoured with sweet and sour sauce, pineapple, onion, water, rice wine, vinegar, tomato, and cooked with delicate thin slices of beef.
I'm not a meat eater anymore, but I remember the extraordinary taste of the hot pot very distinctly.
Interesting fact
Did you know that car drivers, motorbike riders, or fishermen never flip a grilled fish, because it brings bad luck, and means that a car or a boat could flip over as well? As our guide Ben told us, when they finish eating one side of a fish, they take the spine out and continue eating the other side.
Splurge in a secluded modern Vietnamese restaurant
Hidden in the rice fields, far from busy the nightlife of the old town in Hoi An, Lua restaurant is a perfect place for a romantic dinner or a family gathering.
What to eat here?
I'm sure there is much more on the menu, but since this was our last stop after almost four hours of sampling street food and other delicious meals in Hoi An, we were able to try "only" the grilled venison rolled in a leaf, and we nailed it with a flan dessert.
Getting hungry? I bet you are! We feel that Vietnamese food is the best one so far in Southeast Asia. We love the lightness of the meals, the abundance of fresh herbs, rice flour as the main ingredient of many dishes, and the food is not overly sweet or full of fish sauce, as it is for example in the Philippines or Malaysia. You'll notice a healthier diet in Vietnam on the streets – there aren't many obese people here.
If you want to experience Hoi An and its incredible food scene, (even locals from Saigon come here for a long weekend only to get some good food!) then check the Night Food Tour with Vespa Adventures in Hoi An. Head over to read more details about Streets & Eats night food tour in Hoi An, or see what they have on the list here.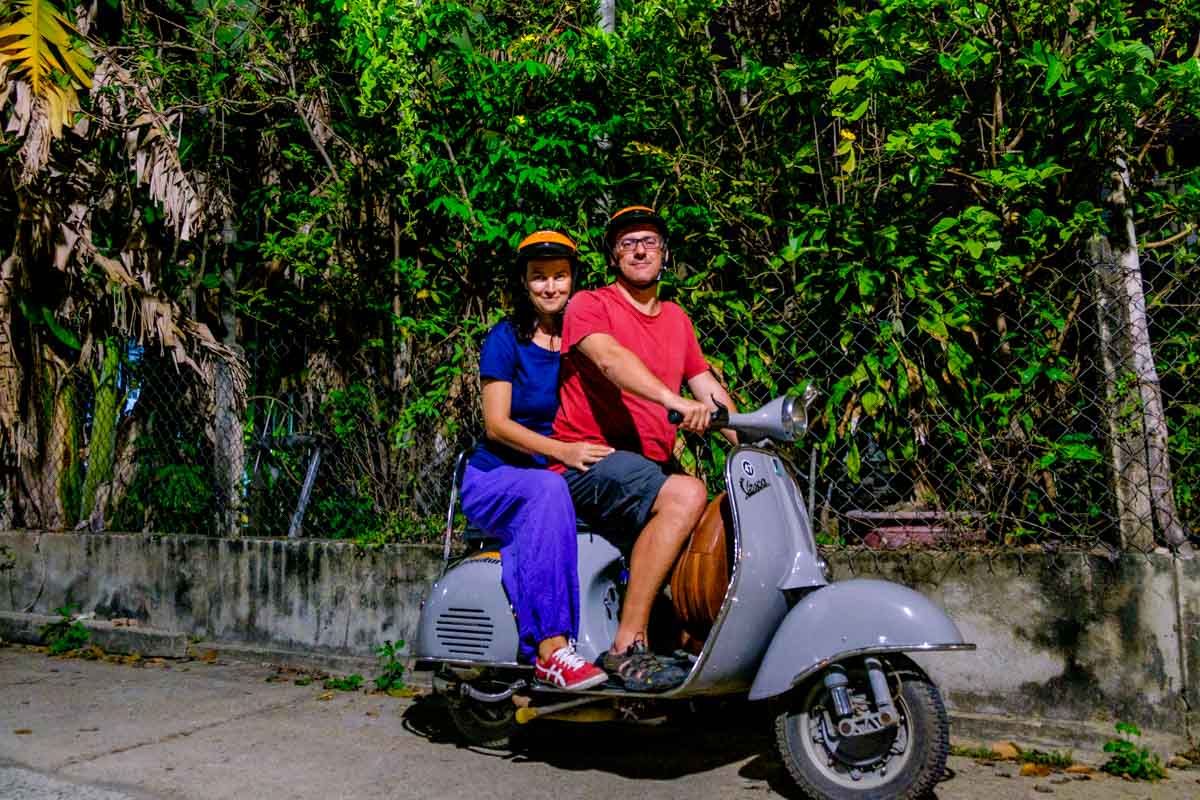 Dreams do come true. And as they say, be careful what you wish for, because you might get it.
If you would have told me at that time when I was watching the documentary about Vietnam, that I would see those conical hats and ride through busy streets myself, I would probably have laughed very, very loudly—as I actually did during the Vespa tour we took in Hoi An—because I realized, I was playing a dream role in a documentary that eventually turned from fiction, into real life.
If you are trying to reach Hoi An from Danang, read more on this mini-guide.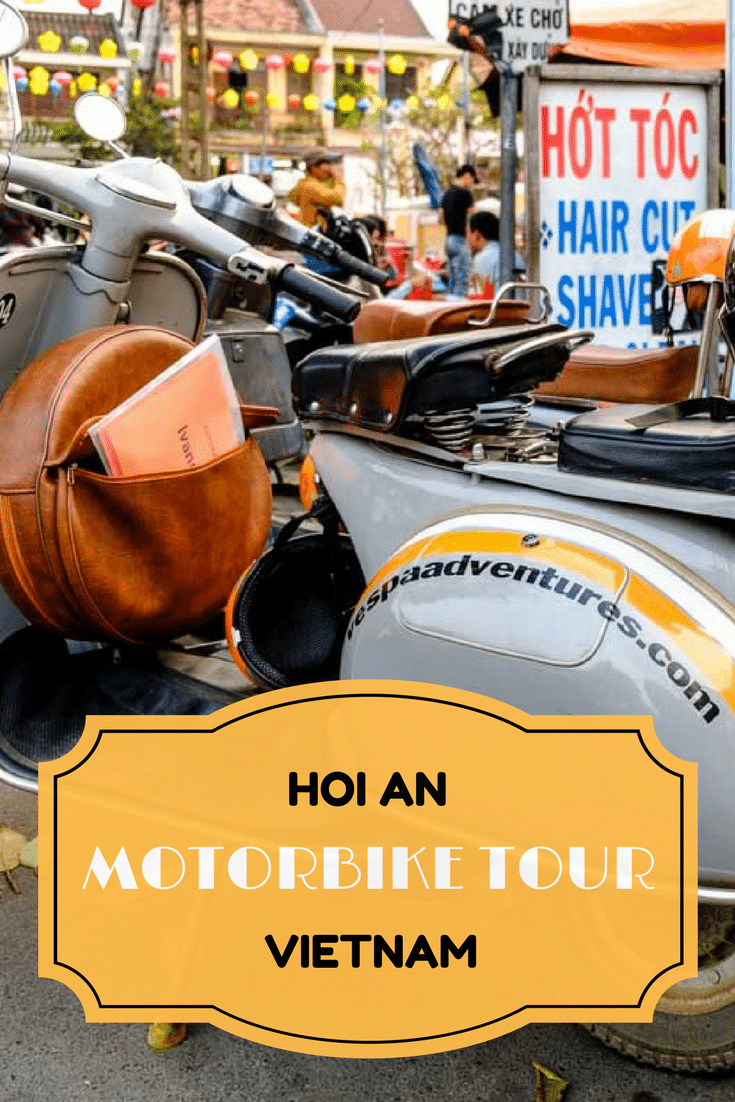 Disclaimer: A big thank you to Vespa Adventures for making dreams come true! As always, our opinions, words, and happy stomachs are our own.