If you would have asked us for a suggestion on things to do in Kota Kinabalu, Malaysia, four months ago, we would have probably raised our eyebrows and replied, "Sorry, Kota-what?"
And this is the moment that we love about travelling so much: when we start to do research on Google, or TripAdvisor, read, check out the options for eco-friendly activities, and talk to other travellers about places we've never heard before. And that's what boosts our journey: the unknown, the distant and the unpredictable.
While staying in Koh Lanta after our great experience with the elephants near Kanchanaburi and plotting our next destinations, I had only one wish: to escape the heat without going back to Europe. The temperature in Thailand hit 34C at the end of March, some days it went up to 39C, which means a state very close to delirium tremens for me.
Luckily, thanks to his strong resistance to the heat, Gianni was able to research countries in Southeast Asia with bearable temperatures. We dug into the activities we could do there, and our plan for the next stops was pretty much clear: Philippines, Borneo and Bali. And that's how we discovered Kota Kinabalu, or KK, if you want.
We chose Kota Kinabalu because we found out that it's one of the best places to see wild orangutans, and our trip to Sabah only proved we had made a good decision.
We spent two weeks in Kota Kinabalu in total and went for a week trip to Sandakan and Sukau to see the orangutans and climb half of Kinabalu mountain.
So if you're on the same mission to explore the wildlife in Borneo and find best beaches near Kota Kinabalu, the main hub for your eco adventures, here are some suggestions on what to do in Kota Kinabalu, where to stay, where to eat and how much you'll pay for it all. Now check our Kota Kinabalu travel guide
Best seafood in KK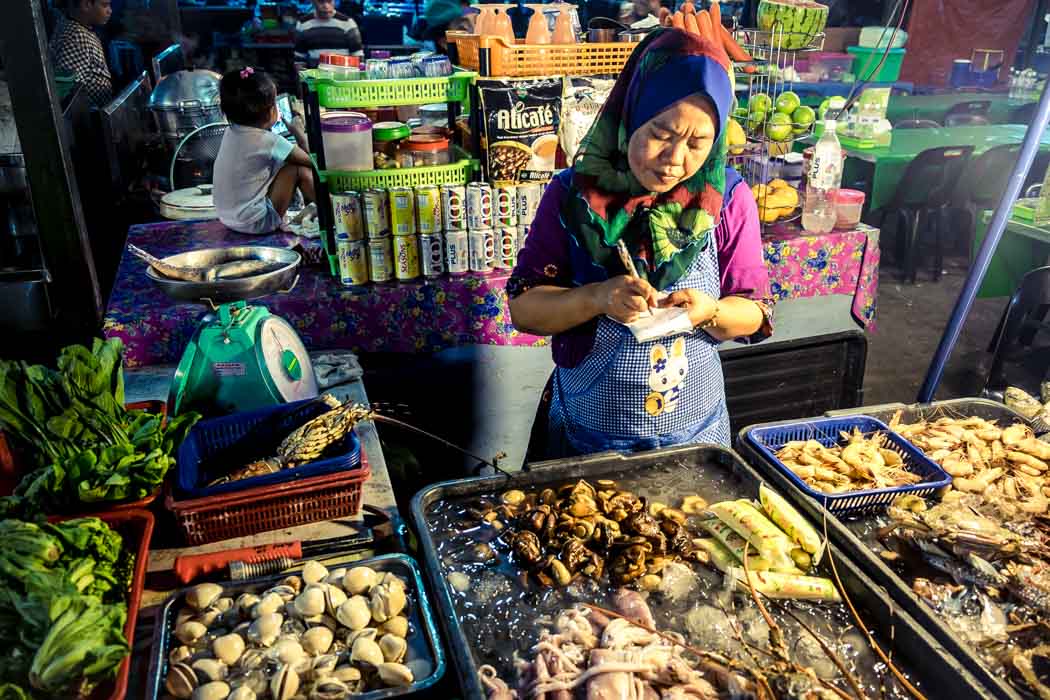 A woman taking orders at a seafood stall.
Kota Kinabalu is heaven for those who love seafood. If you are here, don't miss the night market with fresh fish, prawns, squid, crabs, lobsters and more seafood that you can imagine. If it weren't for the fact that I only eat seafood every now and then, Gianni would probably dine there every day.
The seafood night market is located beside the handicraft (or Filipino) market, between Jalan Tun Fuad Stephens Street and Lrg. Gomantong Street.
The market is open from 5:30 pm to 11 pm. For a fish for two people, rice, a salad and two soft drinks you'll pay about 40 – 80 MYR/$12.50-$25 (depends on the fish you choose).
Best beaches near Kota Kinabalu
Gaya Island at the sunset.
Looking for the beaches near Kota Kinabalu is one of the best things to do in KK. Although you cannot jump to the sea straight from the shore of the city, the best beaches in Kota Kinabalu are on the islands of Tunku Abdul Rahman National Park around the city are only 10-15 minutes away by speedboat. The best thing is that you can do it all independently, without booking an overpriced tour.
However, you will need to buy your ticket and pay for your snorkeling mask and vest at a counter at the ferry terminal called Jesselton Point (at the end of Jalan Haji Saman). There are eleven counters and all you need to do here is to check if an operator goes to the island(s) you want to go, and then just bargain, bargain, bargain!
Ivana snorkelling in the water of the Sapi Island.
We can recommend #11, since the owner offered us a good deal even without asking and the staff of the boat was friendly compared to the other operator we booked a speedboat with another day.
We paid 87,4 MYR/ $27.40 for a 2-island trip, one vest and one snorkeling mask at the counter, and 10 MYR/$3 per person for an entrance fee to the park on the island (not included in the price you pay at the counter). Once you pay on the first island, there is no need to do it on the other one(s).
If you are into diving, from Kota Kinabalu there are several flights daily to Layang Layang considered one of best diving in the world.
Pro tips when exploring the beaches near Kota Kinabalu
• In case you tend to get seasick, make sure you take a motion sickness pill before the trip.
• Check your vest and mask for snorkeling at the harbour, NOT on the island. Go to the islands during the workday if you don't want to become a part of dozens picnics had by locals there.
• Once you are on Manukan Island and you are tired of the beach, the sun or the crowds, a great activity is to go for a hike to the jungle. There is a rough path or a concrete one to choose from.
We climbed up through the jungle and went back via a 'civilized' path. You'll walk about 40 minutes to reach a viewpoint where trees are growing wildly, so expect the view of the landscape to still be quite limited. Regardless, it's worth the visit.
Sunset at the Tanjung Aru beach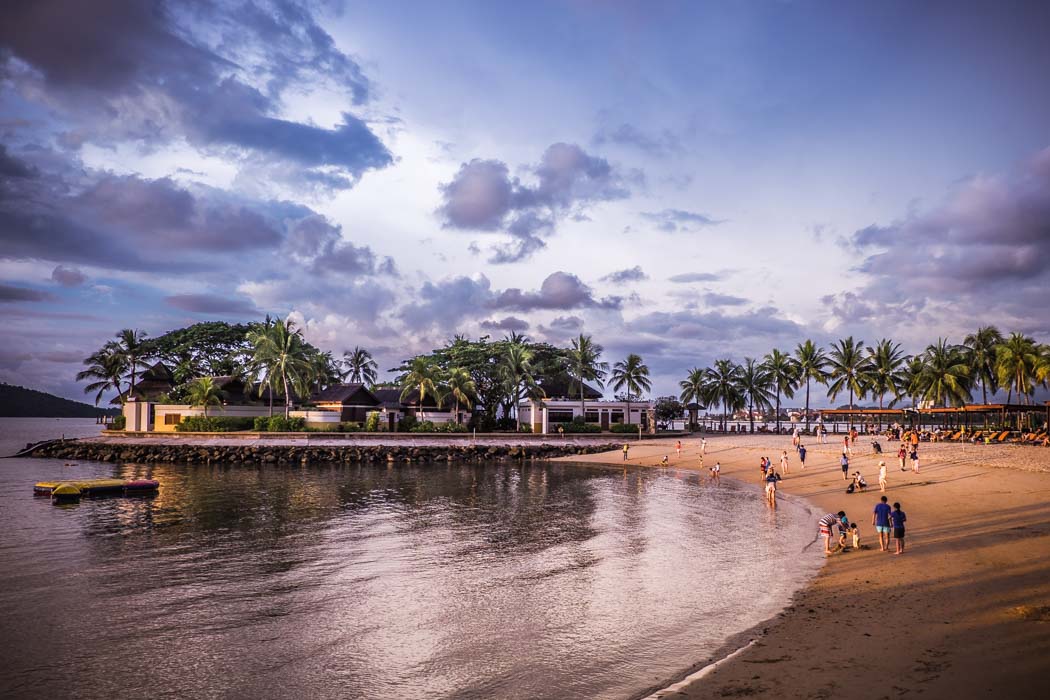 Tanjung Aru Beach before the sunset.
If you're looking for a stunning sunset spot in Kota Kinabalu, then you should pay a visit to Tanjung Aru beach. Bear in mind that you will not be the only one who wants to get the best photograph.
When we arrived to the beach around 5 pm, it was still full of families that came to play with their children or have a picnic with friends.
You can enter Tanjung Aru beach for free. A few open air restaurants and cafes are available, too.
Very recommended if you look for some romantic places to visit near Kota Kinabalu.
To get there, take the #16 bus from the bus station in front of City Hall or Wawasan Plaza. The ticket costs 4 MYR / $1.25 per person. The journey takes about 15 minutes and the last bus from Tanjung Aru leaves at 6:30 pm, so if you don't want to stay for dinner on a beach, you better catch the last bus. Otherwise you'll need to take a taxi, which is about 60 MYR/$19.
Street art in Kota Kinabalu
Graffiti wall on the ruins of the Old Welfare building.
If art is your thing, then don't miss the graffiti wall opposite the Suria Sabah shopping mall at the end of Jalan Haji Saman. This piece of art is actually made on the ruins of the Old Welfare building, which survived bombing during WWII and was destroyed by fire in 1992.
The graffiti is made mostly by Cracko Art Group of North Borneo, but practically anyone sprays over the current paintings.
Walk up to the Signal Hill Observatory Platform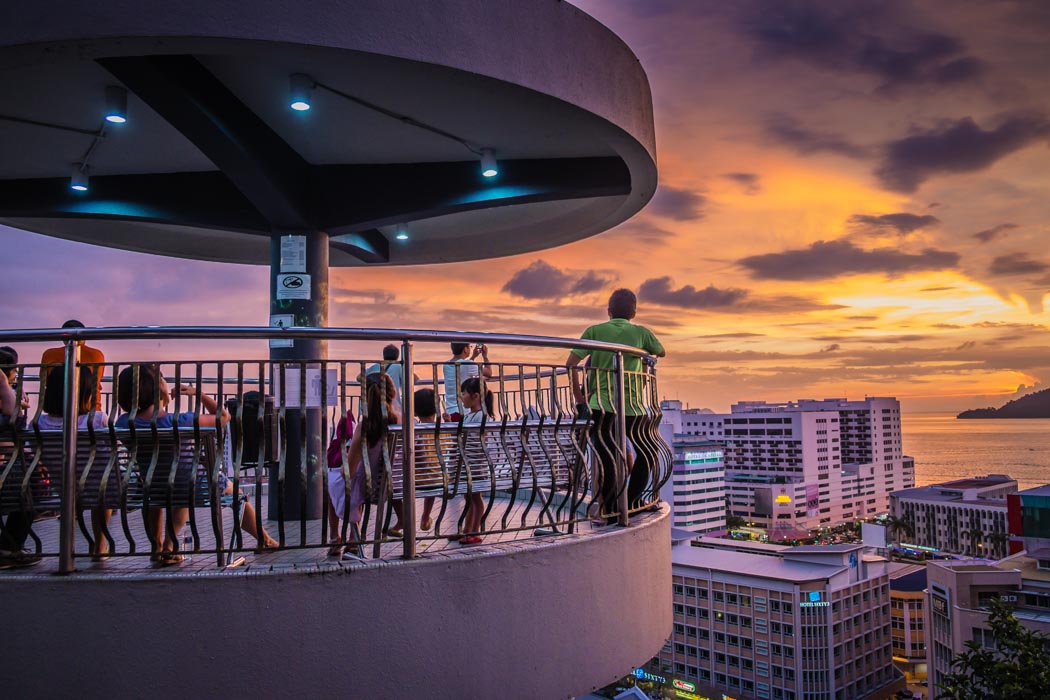 Sunset from the Signal Hill Observatory Platform.
One of the things we love to do in each place we visit is hike to the highest point. We did the same in KK and visited the Observatory Platform.
To get there you'll climb up the wooden stairs for about 10 minutes. Although they recommend taking a taxi, it's really not necessary unless you have serious health problems. You can reach the Signal Hill by walking up from behind Travellers' Light Backpackers Lodge at No. 19 Lowong Dewan Street.
We believe the view must have been spectacular some years ago, when there were no tall buildings that covered the beautiful landscape and the view of Gaya Island and the sea.
If you are a first time visitor in Kota Kinabalu, it's not a bad view and you can get a bit of exercise at the same time.
Marlin statue in KK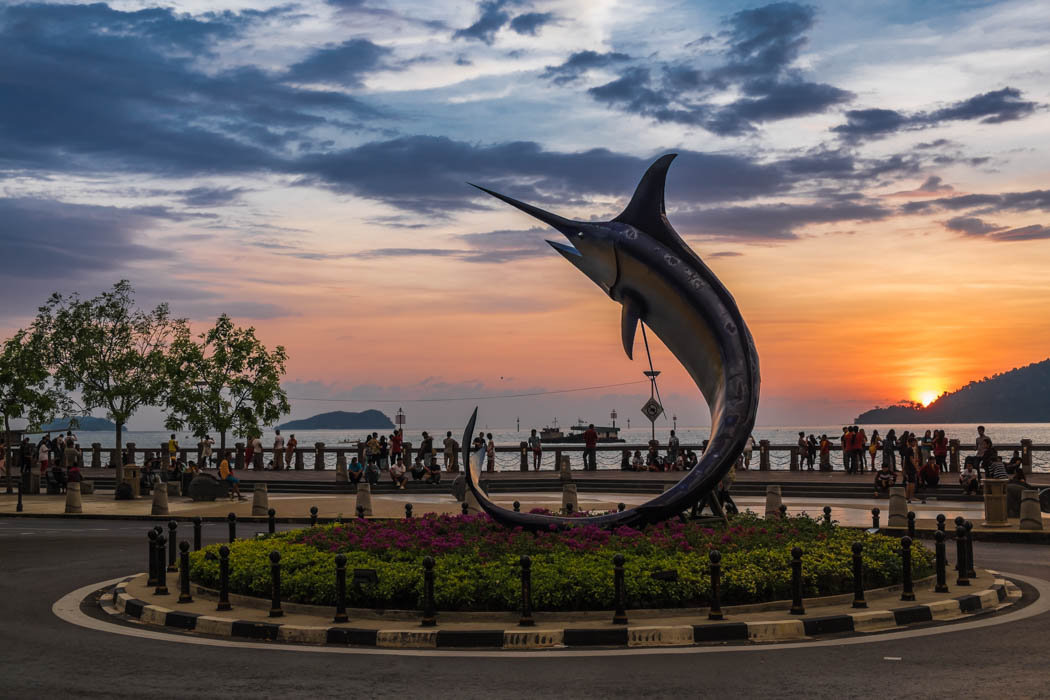 Marlin Statue at the sunset.
Another thing to do in Kota Kinabalu that we can suggest is a visit to the Marlin Statue.
In the middle of the roundabout on Jalan Tun Fuad Stephens Street, you can take a great picture of this giant fish with the background of Gaya Island. The statue was inaugurated in February 2000, when Kota Kinabalu obtained city status. Recommended time of visit: sunset!
Go shopping at the Sunday market on Gaya Street
Souvenir time! Sarongs, hats, hand-made soaps, fruits, cakes, footwear, dresses and some animals too. If this is your first time in Asia, it will be a nice walk for you through all the stalls.
It opens at 6:30 am and closes already at 1 pm.
City Mosque near Kota Kinabalu
This majestic mosque is also the largest in Kota Kinabalu, located about 4 km from the city. Unfortunately, we saw it only from a car on our way from the Mt. Kinabalu trip. You can get there either by taxi (which everybody will suggest), or by walking along the beach, about 40 minutes from the end of Jalan Gaya. We recommend starting your walk either very early in the morning or going there for sunset.
According to the information of the Sabah tourism board, there is bus #5 (direction to UMS) departing from Wawasan Plaza, but a receptionist in our hotel couldn't confirm it.
Klias River cruise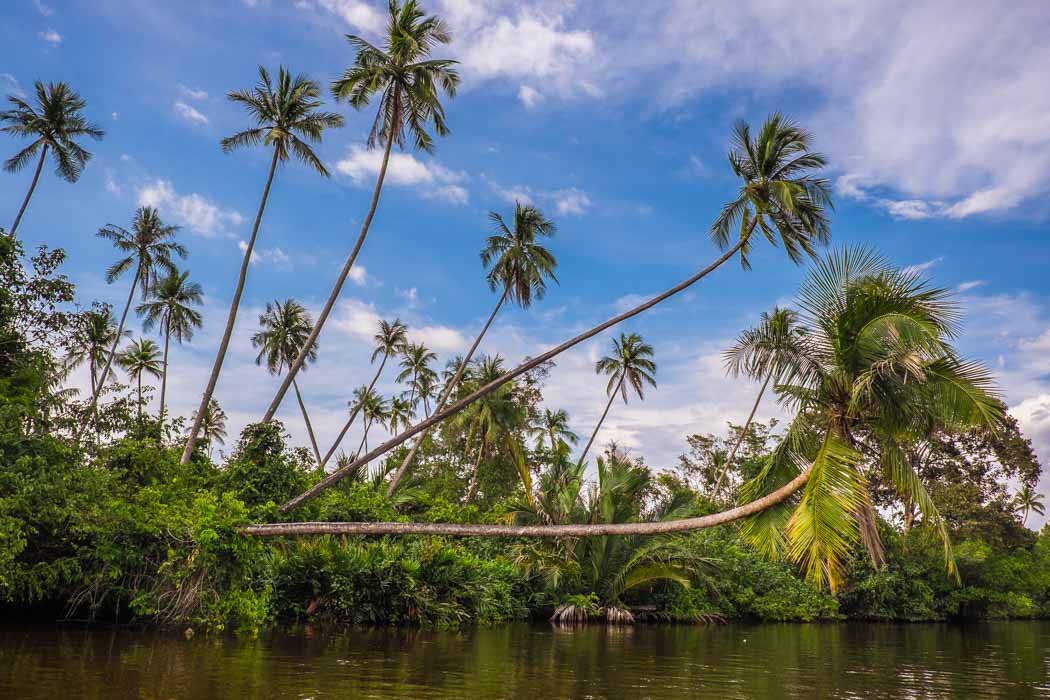 Coconut trees on the Klias river.
Our first river cruise ever and we couldn't have been more satisfied! We took a tour (apparently the only option to see wildlife on the Klias River) through our hotel. We managed to negotiate a payment of 160 MYR/$50 per person instead of 180 MYR/$56.
The whole tour takes about seven hours. You will be picked up at your hotel with a minivan in the early afternoon (around 2-2:30 pm), drive for about 2.5 hours to a restaurant on the Klias river bank, and have a snack when you arrive (sweets, tea, coffee).
At around 5 pm you hop on a boat (max. 16 people) and the adventure begins! We encountered many silver leaf monkeys, long-tailed macaque, proboscis monkey and a lot of birds.
Needless to say, the sunset on the river was spectacular! After about two hours on the river we had dinner at the same restaurant and off we went for another twenty-minute ride on the boat in the dark. This time we were looking for fireflies and what we saw was indeed beautiful.
Imagine a huge Christmas tree twinkling in the dark and you will get a better picture of what you can expect to see over the Klias River.
Where to Eat in KK
Ivana happy to find her favourite fruit in Kota Kinabalu.
Need to have a bite or dine nicely in Kota Kinabalu? Here are our tips on where to eat in Kota Kinabalu
Fong ip Cafe
This place serves a great 'fish laksa' (a traditional Malaysian soup) and durian toast with durian coffee for breakfast. You can also choose from their buffet (rice, noodles, chicken, tofu, fried veggies).
Free wifi. Located on Gaya Steet. Average price per plate: 5 MYR/$1.50 – 12 MYR/ $3.70
Other popular places in the center where you can eat local food for about the same price as in Fong ip Cafe: Yee Fung on Gaya Street or Kedai Kopi Fook Yuen.
Check out the food court on the first floor of the Central market too, where the prices are unbeatable: for about 3 MYR/$0.90 you'll get a plate full of local goodies.
The Royal Coconut
In this very tiny cafe with three tables we found one of the best fresh coconuts in Asia! Also, if you have a sweet tooth then you might like their refreshing coconut shake with a scoop of ice cream on the top! All for just 6 MYR/$1.90.
You can enjoy your coconut water with nice music at 44 Jalan Pantai, 88800 Kota Kinabalu. Open hours are from 10:30 am to 10:30 pm.
Best durian in Kota Kinabalu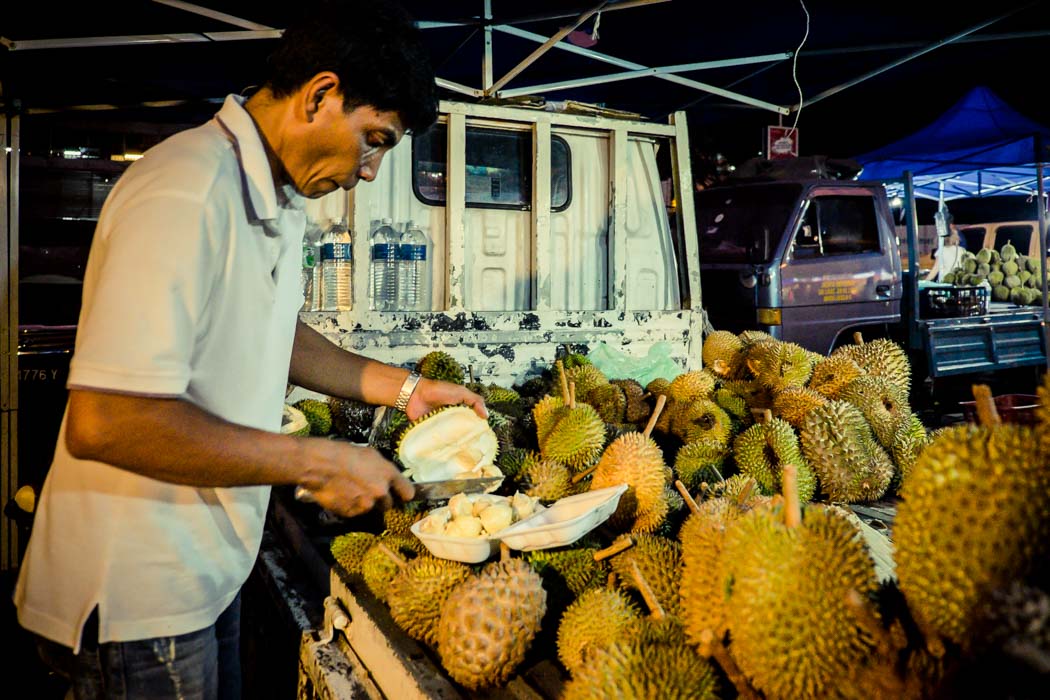 A street vendor cutting a durian.
Yes, it's official. We are durian lovers and in case you've never tried this fruit with its heavenly, soft texture and old-socks-banana-vanilla-blue cheese smell, we invite you to try it in Kota Kinabalu!
There are many carts with freshly cut durian and a few small tables to indulge in this special fruit near the hypermarket Plaza opposite Central Market near the sea. You'll spend around 10 MYR/$3 for a single portion for two people.
Chinese Noodle Soup
This is not just a simple soup; this is an explosion of scrumptious, homemade noodles that a chef makes in front of your eyes. You can even choose the type and size of noodles you want to add to your soup. They serve simple, rich tasting meals and for a lunch you'll only pay between 6-12 MYR/ $1.90-3.70 here.
The name of the shop is written in Chinese, but on TripAdvisor is called Kungfu Ramen. You'll find it on Jalan Laiman Diki near the Lavender Lodge. You cannot miss it. You'll recognize it from the street thanks to a cook working at the an outdoor countertop desk, surrounded by steam from the pots and random, loud noise of dough being smashed over onto the table.
Best Pizza in KK
When you stay in an Asian city for a longer period of time, you might want to taste something more familiar. We stumbled upon Little Italy and we were definitely not disappointed!
The owners are Italians and they make all kinds of pasta themselves along with their own sauces and pesto, the ingredients for which they grow themselves on their own farm! Make sure you try their pizza and homemade tiramisu, too.
The best time to eat there is around lunchtime so you can take advantage of the lunch specials. Come before noon or after 2 pm so you avoid the crowd of businessmen who come here to have lunch.
To have dinner here it's better to arrive around 7 pm, otherwise it's full and you might wait a while for a table. You'll spend around 20-30 MYR/$6-$10 per pizza and pasta and about 17 MYR/$5.30 for a very nice, fresh vegetable salad.[/vc_column_text][/vc_column][/vc_row][vc_row][vc_column][vc_column_text]
Where to Stay in Kota Kinabalu, Malaysia
If you plan a visit to Kota Kinabalu, you will have plenty of choices for where to sleep. From budget to luxury, there is something for every pocket. You can find really great deals on Agoda. We use this website a lot during our travels. These are our personal suggestions; we have checked them one by one.
Hyatt Regency
A 5-star accommodation with view of the sea. Rooms have mini-bar, refrigerator and kitchenette.
The Palace Hotel
The hotel provides a sauna, jacuzzi and a swimming pool. Rooms with refrigerator and satellite channels
Sabah Oriental Hotel
A 4 stars accommodation with swimming pool and sauna. The rooms have bathtub and wifi.
Some Practical Information
You'll get your free visa on arrival, valid for 90 days.
To buy a SIM card you will need to provide an ORIGINAL copy of your passport. The photocopies are not accepted.
You can walk from one end of the city to the other, and that's why there are only a few motorbikes on the road and no tuk-tuks as you might be used to from other countries in Southeast Asia.
This city has no stray dogs, but you can find cats everywhere.
Get ready to pay additional taxes when eating out.
You cannot easily negotiate the price for long-term stays in a hotel.
We figure that 5-7 days is enough time to spend in this city. For all the other attractions like climbing Mt. Kinabalu, visiting the orangutan sanctuary or doing a 2-day trip to a jungle, you will need to move to other towns anyway.
The best way you can enjoy your experience in Kota Kinabalu is to splurge on seafood, sample durian all around and do activities like swimming, snorkeling or challenge yourself while climbing.
Would we go back again? I'd say once is enough for KK, but this city has inspired us to explore more of Malaysia and that's saying a lot!
Have you ever been to Kota Kinabalu or Malaysia? What are the memorable things you've done there or the best dishes you've tried? Please, leave a comment – we would love to hear from you!
Disclosure: Some of the links in this article are affiliate links, which at no extra cost to you, will earn us a small commission and reduce the costs of running this site.