The longer we faced daily bustle of Hanoi and its crowded streets with motorbikes, the more we dreamt of nothing but a green patch of landscape and silence. Sigh. A place where we could recharge for the next leg of travel before leaving Vietnam after an intensive two months there… Somewhere our ears could rest from the perpetual noise of traffic, our lungs could inhale some fresh air, and … where we could have a refreshing dip during the overwhelming heat striking in Vietnam.
Among a few green places around Hanoi, Mai Chau valley became a winner. We kept hearing how it was much quieter than Sapa (and actually is) and the number of hotels that are chock-full of visitors is considerably lower in the valley.
Mai Chau is only about 150 km northwest from Hanoi, which makes it relatively easy to reach.
Watch our video from Mai Chau and Sol Bungalows we stayed at:
Only a few hours of driving and you're in a peaceful valley with a scenic vista of the mountains on both sides. Mai Chau certainly isn't an unknown place considering that local tourists tend to spend their long weekends and national holidays here.
Moreover, thanks to homestay lodging that has started developing in the valley, Mai Chau is becoming a fitting destination for backpackers who seek a very local experience. Travellers with any budget will find satisfaction here.
If you are interested to know where to stay in Mai Chau Valley, we recommend some of the best hotels for different budgets.
When we travel, we book our hotels through TripAdvisor, one of the best websites to compare prices.
We also use a lot AirBnB to book local apartments. If you have never used AirBnB before, you can have a $40 discount for your first booking through this link.
Always make sure you travel with travel insurance! Be adventurous, but not careless.
Check out some of the most reliable insurance companies out there: True Traveller if you're European and World Nomads if you're from elsewhere.
If you love animals and you prefer going local during your travels, try housesitting, which is an amazing way to travel the world while taking care of the pets whose owners are on vacation. If you use TrustedHousesitters with this link you'll get $20 discount on annual membership.
Like it? Pin it!

Rural Vibes of Mai Chau District
Nested among the mountain ranges and the rice fields where agriculture still strives, the villages of Mai Chau valley are an example of the well-preserved traditions of their ancestors – the White and Black Thai tribes. Their origins come from Thailand and China and they presently make up the major ethnic population in Mai Chau.
The main characteristics of the tribes are embedded in their architecture, particularly in typical stilt houses made of bamboo or timber material. The special construction of the houses protects locals from flooding, and the empty space below the main floor of the house serves as a shelter for domesticated animals.
The traditional craft of the White Thai people is weaving, and you'll see their products hanging on the poles along the streets in the Lac village in the valley. Apart from the White and Black Thai people, there are other tribal minorities living in the area: H'Mong, Viet, Zao, Hoa, Tay and Muong, some of which you'll also be able to encounter in the Sapa mountains.
The Mai Chau valley is brimming with local rural life and you can watch farmers cultivating their rice fields, women hand washing in a stream, or a vivacious elder lady making homemade rice wine in her courtyard near a green lake, where washed tablecloths and dresses are drying in the wind. You couldn't ask for a more quintessential picture of village life than the daily scenes in the Mai Chau valley.
Things to do in Mai Chau valley
Tired of a pool life at your resort, spa treatments, and staring at serene views from your private terrace? Here are some things to do in Mai Chau that will keep you more active:
* Biking
Mai Chau is only 150 meters above sea level, which means it's ideal for some easy bike rides where you can indulge in local life, ride along the rice fields, visit villages, or watch the farmers knee deep in mud, weeding out the rice.
For more adventurous fun, there is the option of mountain biking. We rented bikes from our resort and went to the villages with a local guide (arranged at the resort), which made a big difference, since we could communicate with local farmers and learn about the traditional life in the valley.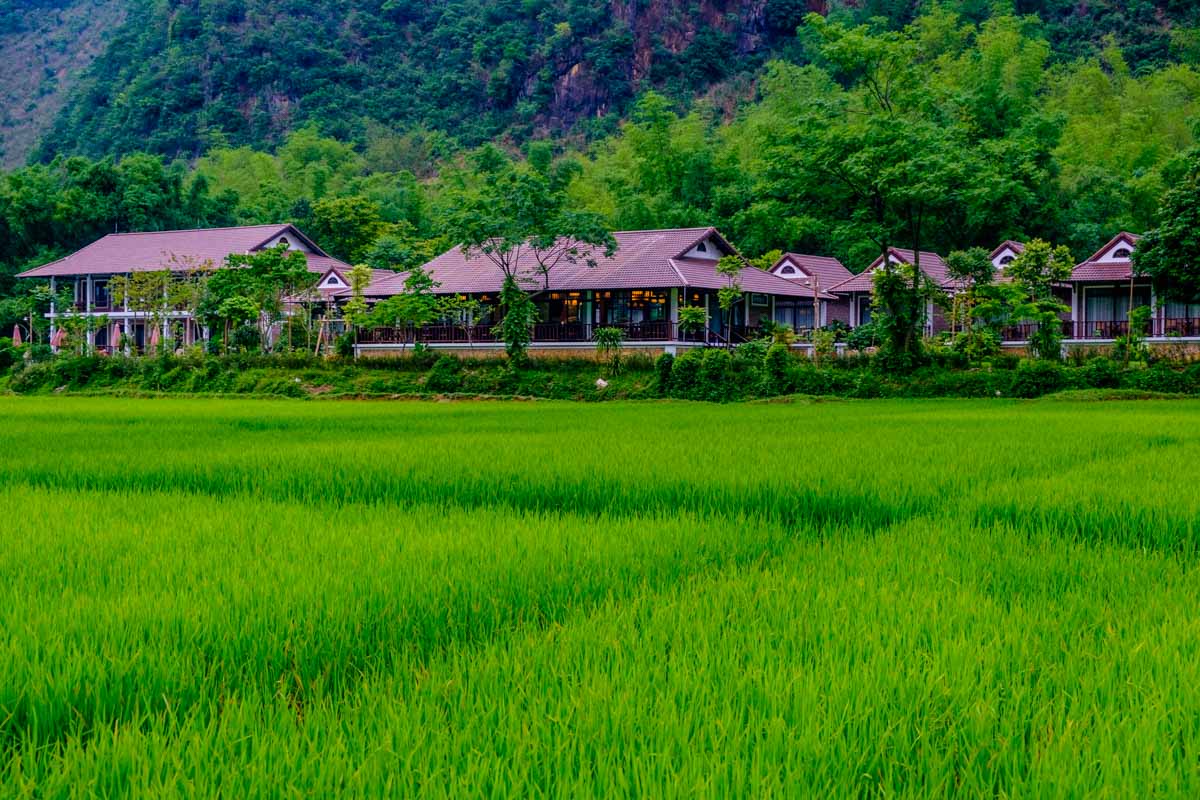 * Hiking
There are some hiking paths in Mai Chau that will bring you up to the rice terraces or the mountains around. To enjoy both the active and relaxing activities in Mai Chau, we highly recommend staying in the valley at least three days. It's really not worth travelling to the valley only for a day trip without exploring the nature and more villages around.
* Visit a local market
Only 25 km from the Mai Chau valley, there is the Pa Co open-air market of the H'Mong people, which happens every Sunday. We skipped it since we had already visited the Bac Ha local market near Sapa, but if you are in Mai Chau during the weekend, don't miss out on this opportunity to see tribal people wearing incredibly beautiful costumes, and negotiating to get the best deals. Come as early as possible, because around 11am vendors start packing up.
* Watch and join locals at Xoe dance
Sounds of gongs, big drums, lutes and cymbals — all this is a part of a particular ancient Thai dance. The performance is a very special way to welcome new visitors in the region of Mai Chau. Dancers and musicians are locals who work in their fields during the day, and entertain visitors in the evening to bring in extra income.
Xoe dance reflects daily routines and traditions that locals have been following for many years here. Spoiler: joining the last part of the performance & tasting strong rice wine at the end included! If you want to learn more about Xoe dance, head over to this website.
* Others
We went to Mai Chau to get some rest so we didn't do much hiking or exploring the area further than a few miles away from our accommodation. If you fancy visiting some natural sights, there is a Chieu cave only a few kilometres from Mai Chau Valley, Hoa Binh Lake or Pu Luong Nature Reserve, where you can go for bird watching.
Where to stay in Mai Chau Valley
Our mission in Mai Chau was clear: to soak in tranquility and worry about nothing for a couple of days. As much as we love staying in local accommodation, this time we opted for an eco-friendly resort, Sol Bungalows, so we could enjoy the peace of the valley with comfort and a bit of luxury.
The place is hidden literally between a mountain range and rice fields, with additional mountains visible in the distance. Living for four days in a bungalow with our own terrace and all-inclusive service was … bliss. An open-air huge pool with a majestic view was spoiling us, and if not for a cloudy day when we decided to go for a bike ride, I'd have spent the entirety of our stay on a sun lounger.
The interior of the facility is decorated in White Thai style, combined with some contemporary Thai handicraft. Rooms are very spacious, with a private or shared terrace. The views are facing the pool and the mountains or the peaceful garden of the resort.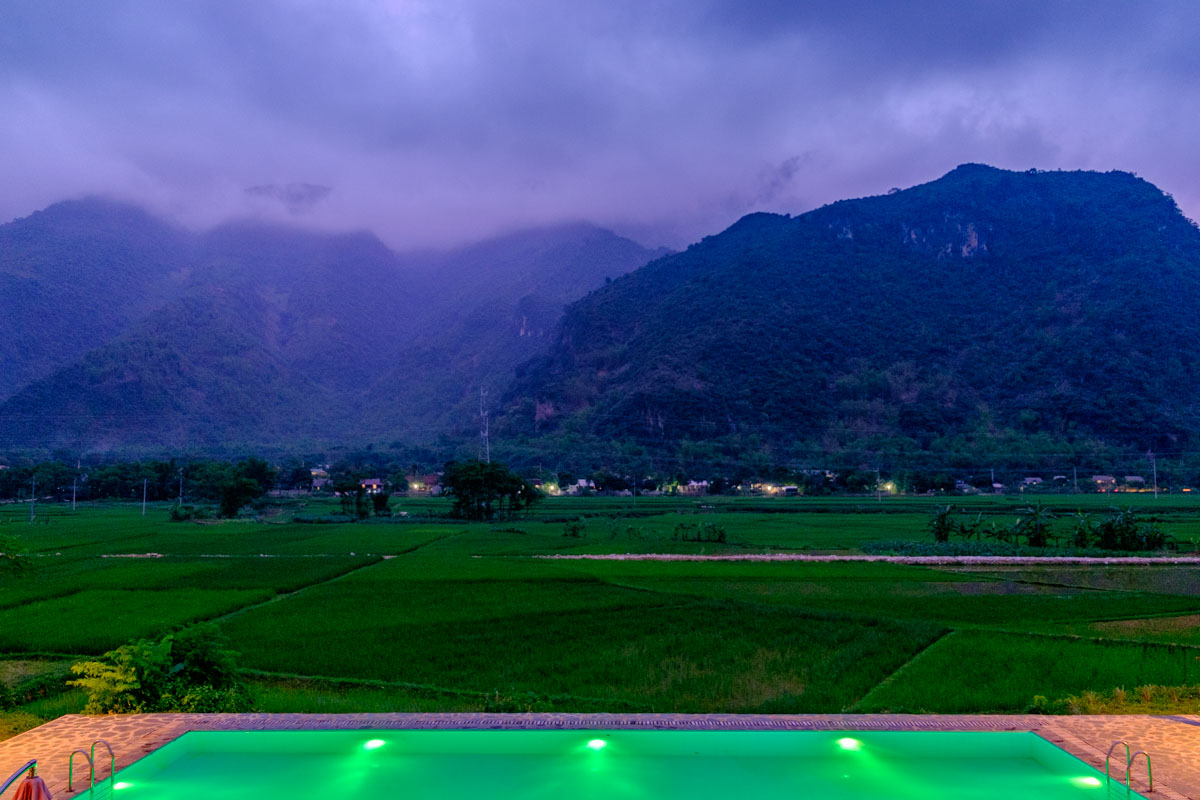 All activities like cooking, weaving class or hiking and biking can be easily arranged here. Bikes and a professional guide are provided by Sol Bungalows, too.
The fact that Sol Bungalows are secluded from the main streets of Mai Chau town is a big win. Moreover, there is no need to move from the resort at all if this is what you're looking for in the valley. Delicious local food is served here together with some good wine and fruit shakes.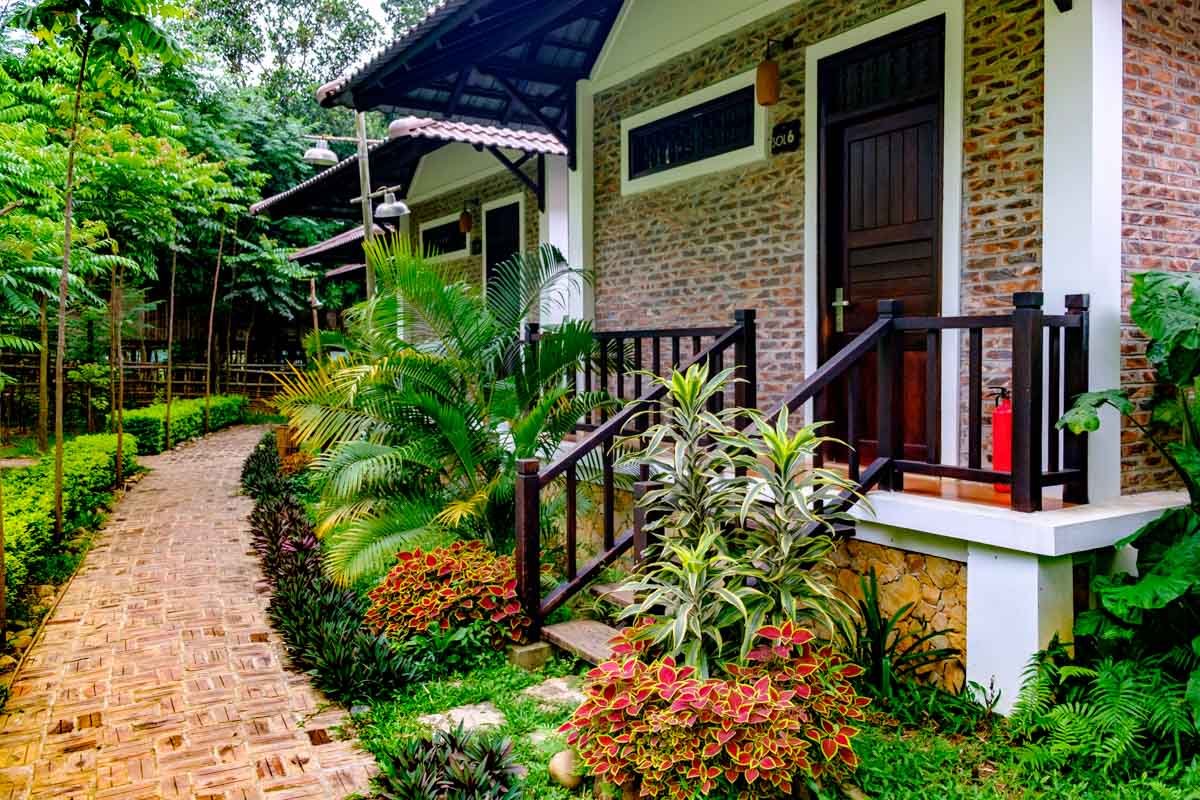 There is also a group of local dancers and musicians performing Xoe dance at the resort upon your arrival.
Hanoi city can become overwhelming after a while, and if you fancy spending a couple of days somewhere quiet and surrounded by nature without getting too far from the capital, then consider the Mai Chau valley. You might not get the same views of rice terraces like in Sapa or Lao Chai villages, but you'll find here tranquility and comfort in the middle of the lush green nature. That's guaranteed.
Liked it? Pin it!
Disclosure: We were hosted by Sol Bungalows for four days. As always, all opinions and words remain our own.