Whether you are a nomad who prefers to move with a step-by-step itinerary or a traveller who goes with the flow, your trip to Sabah in Malaysian Borneo would most likely include a wish to climb Mount Kinabalu.
This majestic mountain in the National Park of Sabah welcomes both beginners and advanced hikers and climbers, and the only things that determine which route to climb are your physical conditioning, mental stamina and your travel budget.
Speaking of the latter, as we calculated in our post about seeing orangutans in Borneo independently, the eco-adventures in Malaysia can reach astronomical prices and climbing Mount Kinabalu in Sabah is not an exception.
Climbing Mount Kinabalu, Borneo
Mount Kinabalu is one of the natural wonders you won't want to miss in Malaysian Borneo, especially if you are into trekking and you don't mind pushing the boundaries of your physical fitness.
The Kinabalu Park covers 754 square kilometers with Mount Kinabalu in the middle. You can either take it easy in the well-marked paths or opt for a challenge to climb to the summit (Low's Peak) of Mount Kinabalu. Not enough adrenaline? Then you can choose the via ferrata route, which requires at least some basic climbing skills.
How much does it cost to climb Mount Kinabalu? 
Officially, it is recommended that you climb Mount Kinabalu in two days so you can acclimatize yourself and rest before reaching the peak, which you will climb in time for the sunrise. A 2D1N package of climbing to the summit costs 900 MYR/$283 per person. What does that include, you ask?
The package for one person:
15 MYR/ $4.66 – entrance fee
100 MYR/ $31 – climbing permit
7 MYR/ $2.17 – climbing insurance
33 MYR/ $10.27 – return transport Park HQ – Timpohon Gate
128 MYR/ $39.83 – guide for 1-3 people (for climbing the summit from the Timpohon Gate)
400 MYR/ $124.50 – 1 night (actually, just a few hours of sleep on a bunk bed in a dormitory, since you start the climb to the summit shortly after midnight)
The rest of the price covers meals: a packed lunch for the first day, dinner, early supper, breakfast and lunch back at the Park HQ.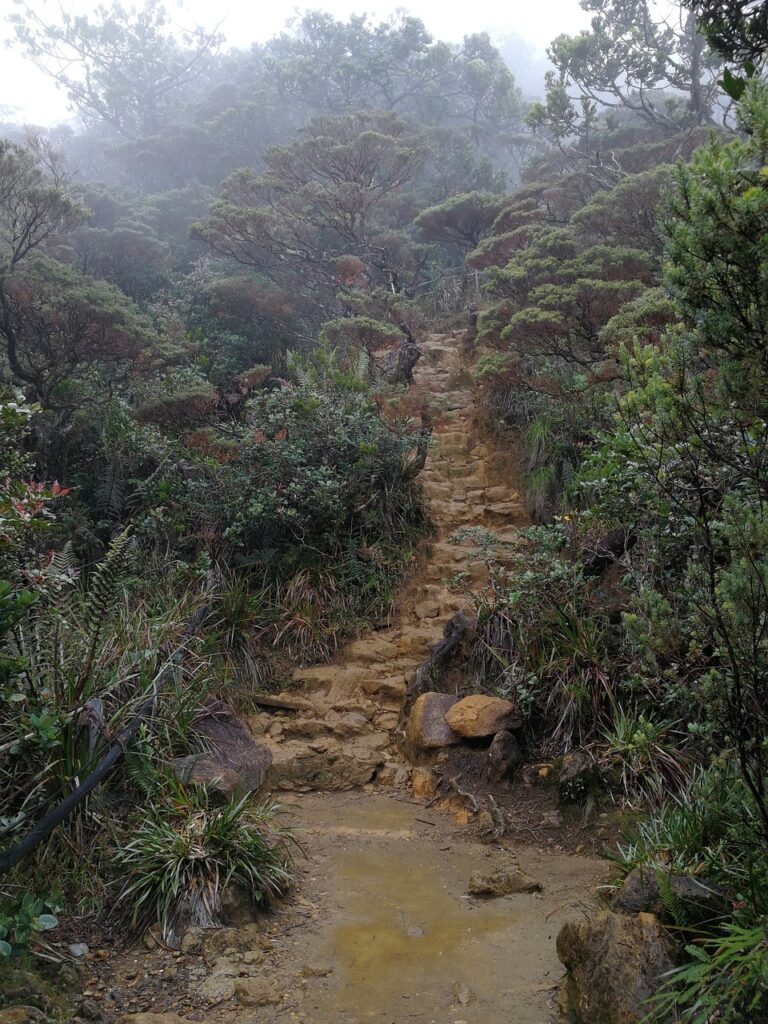 Read this post from fellow travellers who got a cheaper option from a tour operator in Kota Kinabalu and it cost them 672.50 MYR/ $209.30 per person.
When you arrive to Kota Kinabalu during the high season, it will play a role in the pricing.
But fear not, there is a cheaper option/ A one-day climb adventure is also available. Although the price is much affordable (202.50 MYR/ $63), as you don't pay the night and the food, you need to be in excellent physical condition.
What to wear when climbing Mount Kinabalu

The temperature at Low's Peak can drop to 6°C/42°F, so apart from a sturdy pair of shoes, you'll need to get your warm and windproof and rainproof outfit ready as the weather on the mountain can change unexpectedly. A simple fleece jumper won't be enough as it gets very chilly up on the top. It will be quite humid and hot down in the park, so short will suffice, but bring long trekking pants or warm leggings for climbing the upper parts of the peak.
Ready to climb Mount Kinabalu?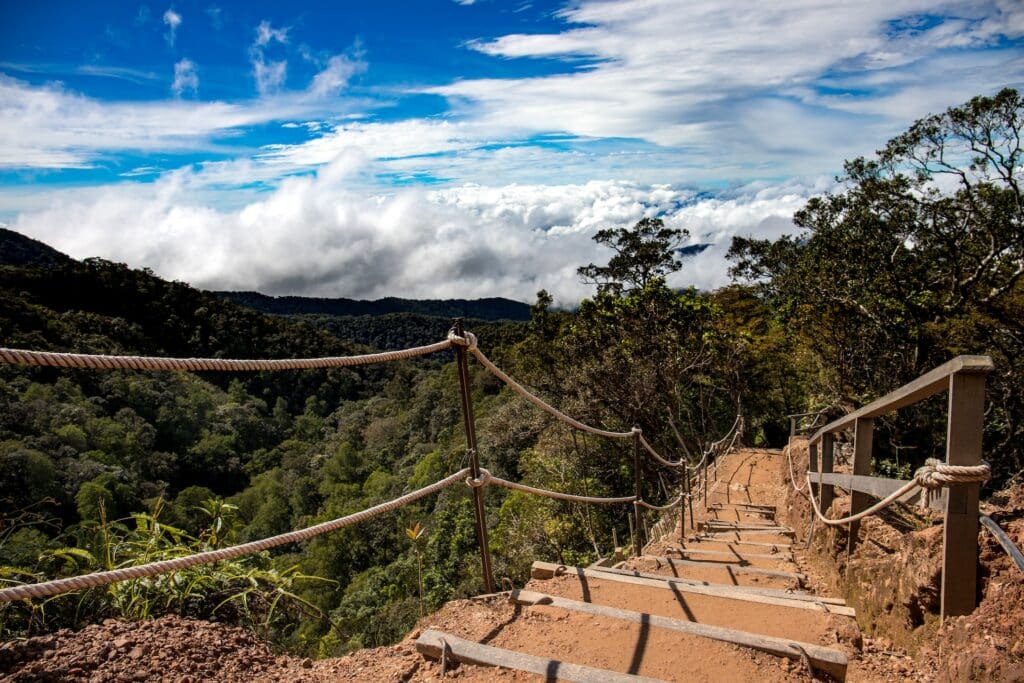 If you are fit enough, you can plan your climbing trip to Mount Kinabalu with morning call at 6 am, a shuttle to the Timpohon Gate (1866.4 m) from the Park HQ (1563.8 m) at 7 am, arrival at Laban Rata (3272.7 m) around 10 am, and at Low's Peak (4095.2 m) by 1 pm. All hikers must be back at the HQ by 5 pm.
The whole climb takes around 8-8.5 hours, which requires coping with the altitude change much more quickly than if you would climb the mountain in two days.
Plan your trip to Asia:
Easier alternative to one day climbing of Mount Kinabalu
Instead of climbing up to the peak in one day, (or 2 days like most of the people do), you can climb only halfway up to to the Layang Layang shelter. This can be done easily without a guide, at your own pace, have breaks when you feel like it, and go back whenever you want.
On this easy hike, halfway to Mount Kinabalu, you'll walk up through a lush, humid rainforest for about eight hours. Amazing thing is to observe how the climate zones change with the nature around, which transitions from a tropical to a coniferous forest.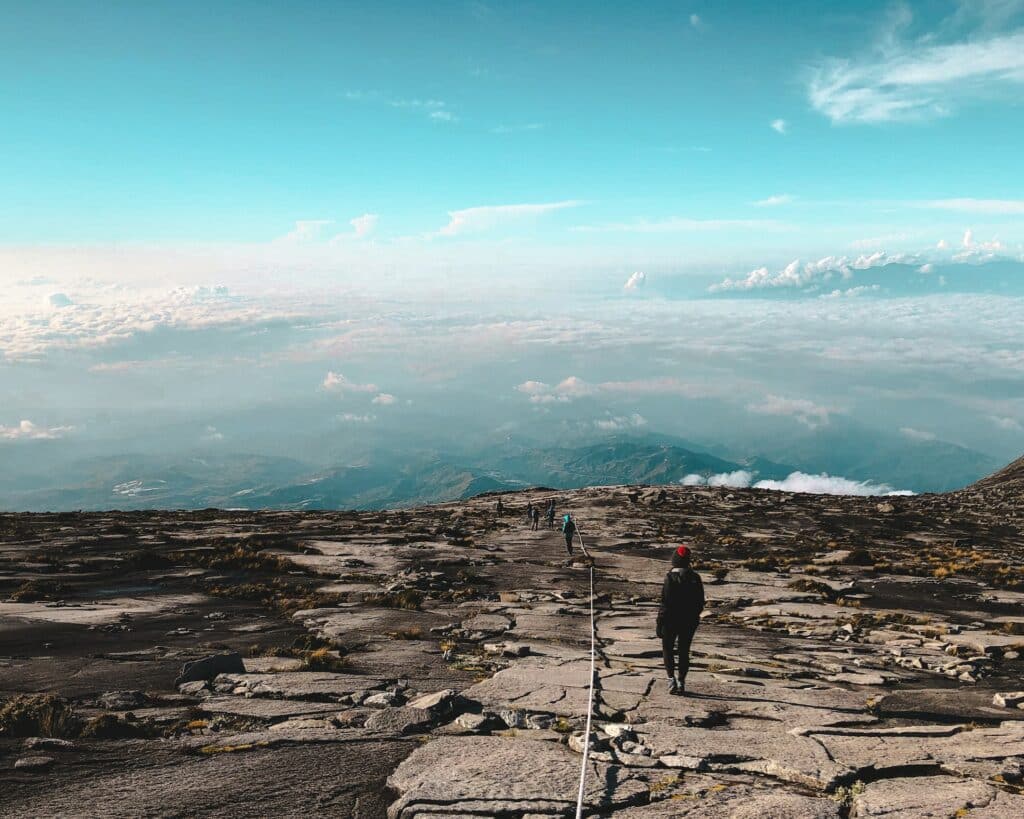 The steps made from stone and wood are quite steep, but all the way up you will be able to hold onto a rail, which helps a lot!
If you stop a lot on your hikes to take the photos, it might take you about five and a half hours to hike from the Timpohon Gate to the Layang Layang shelter (2612 m). There the weather will most probably change rapidly. Get ready for absolutely stunning views and beautiful butterflies, bonsais, flowers. Keep your eyes open, because you might get lucky to encounter a few red leaf monkeys or a very special species of a mouse that was discovered just a few years ago.
We did not pay for the one-day package, which was tempting but not doable for us at that time, and we do not regret what we decided to do instead. For the two of us we paid only 63 MYR$19.60 to hike in Kinabalu National Park: 30 MYR/ $9.33 for the entrance fee and 33 MYR/ $10.26 for return transport from the Park HQ to the Timpohon Gate.
Don't be surprised when you meet porters running briskly up the hills, even while carrying 40 kg of beers and coke cans for the tourists, and with dozens of cartons filled with fresh eggs while you are catching up with your breath while climbing Mount Kinabalu.
Pack & travel:
Insider tips on how to climb Mount Kinabalu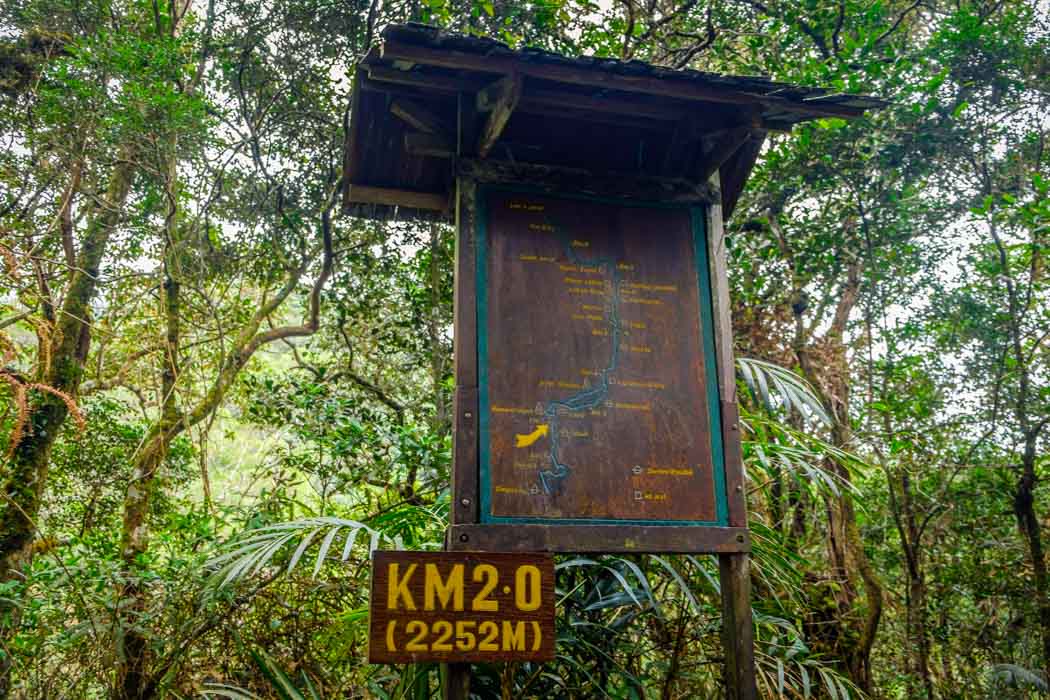 • Don't overestimate your fitness, but don't be discouraged from a walk in one of the oldest rainforests in the world, either.
• Bring enough water with you as there are no refreshment stalls on the way up to Laban Rata and you don't want to pay a fortune for half a liter of bottled water once you arrive.
• Energy bars and chocolate are very helpful during and after the climb.
• There are shelters every half-kilometer on the way up to the peak where you catch your breath or use a bathroom.
• You can have breakfast at the small restaurant located near the parking lot before entering the National Park. They serve hot meals for reasonable prices and you can supply yourself with some energy bars and water.
• To arrive to Kinabalu National Park from Kota Kinabalu, take a small shuttle from Pedang Merdeka Terminal in the direction of Ranau (costs 25 MYR/ $7.77/pax) or any bus heading to Sandakan. The journey takes about 2-3 hours, depending on traffic.
Where to stay near the Kinabalu National Park
We suggest staying in a guesthouse outside the Kinabalu National Park to save lots of money. We stayed two nights at the Bayu Kinabalu Lodge in a dormitory room with two other friends for 25 MYR/ $7.77 per night per person. The room was clean and beds were comfortable.
To arrive there you'll need to walk from the parking lot where the restaurant is down the road (back towards Kota Kinabalu) for about five minutes until you see the sign of the lodge on your left.
More accommodation options when climbing Mount Kinabalu:
Luxury > Sabah Tea Garden
Perfect choice if you're travelling with kids. Sabah Tea House features a picturesque view of Kinabalu Mountain. Their cottages are air-conditioned, with a seating sofa area, satellite TV, kettle and fan. Each cottage also includes a hot/cold shower facility and free Wi-Fi. Check the latest price on Booking.com.
Mid-range > Celyn Resort Kinabalu
The resort offers rooms with a private balcony. Their ensuite bathroom has hot shower and free toiletries. The property has an inhouse restaurant that serves local and international dishes. They also have a bar that offers refreshing cocktails and light snacks. Check the latest price on Booking. com.
Budget > Mile 36 Lodge
Offers a peaceful and serene atmosphere as it is surrounded by greenery. Perfect choice if you're a travelling with family. Their rooms are comfortable with a balcony, work desk, and an ensuite bathroom. Their front desk is available 24-hours for storage or other facilities you need to request. The property has an inhouse restaurant that serves local, Asian, and Western choices. Check the latest price on Booking.com.
Like it? Pin it!