In this article you'll find tips on some of the best hiking trails in Portugal. It's a shortlist of some scenic, mostly easy paths that will allow you to experience local culture. Make hiking in Portugal your next adventure when exploring  Europe!
Hiking in Portugal: tips on the best trails
Are you that kind of person who checks hiking trails of a country you're planning to visit before even booking a flight? Then we have some good news if you're looking for some of the best hiking trails in Portugal, where the forest grows year after year, rather than disappearing.
Lousã Mountain trail in Portugal
Thick milky mist was covering the sleepy forest that morning, when we headed up to Serra da Lousã (Lousã Mountain). Starting our hiking in Portugal with trekking path was like entering a mysterious realm where you don't really know what is hidden under the white layers of fog.
These secretive feelings disappeared once we hiked up to the forest, with a bright sun peeking from behind high pine and eucalyptus trees. The path to the top of Lousã Mountain is not dramatically steep, but there are some parts in the forest where you'll start to breathe faster, and your muscles will be challenged, too.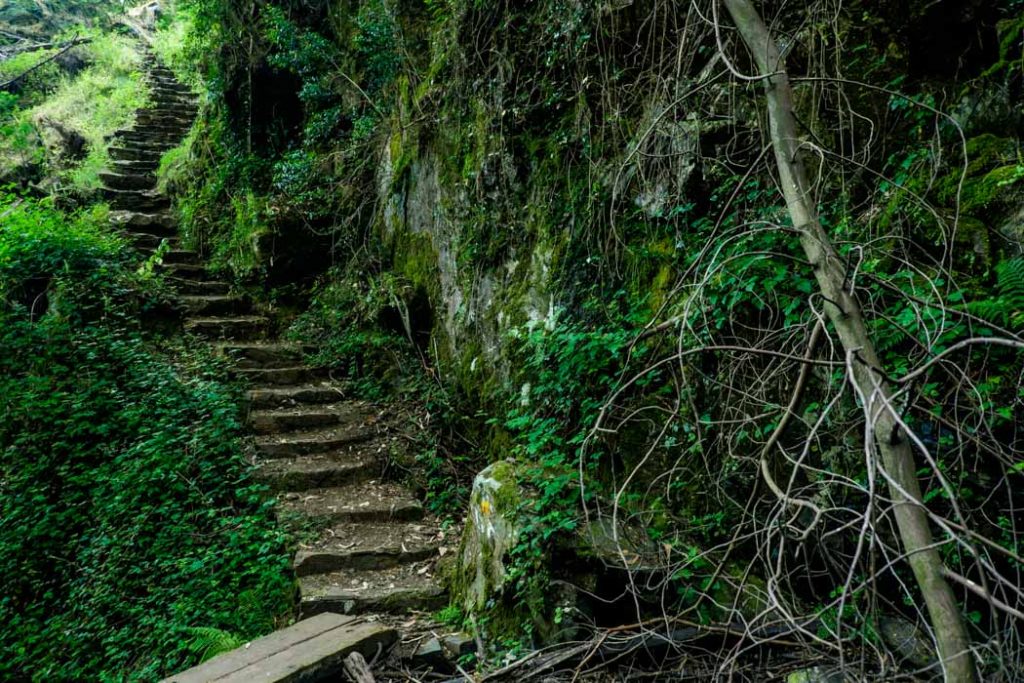 Most of the walking trail goes through a forest, which is a big relief especially in hot summer, and a couple of fountains with spring water can literally save you when you need some refreshment along the way.
Interesting places around Lousã Mountain
Apart from the beautiful views you get while following the path, you can find a few special spots where not so many hikers arrive. Our favourite was Santuário de Nossa Senhora da Piedade, a shrine above river pools with a quirky statue of Jesus in one of the chapels. You don't see a holy person twisted into painful position carrying the cross with a smile on His face every day.
Here you can find more interesting itineraries in Portugal.
Join some of the tours in Portugal:
Watch this video to get inspired. Credit: Portugal Tourism
The Lousã Mountain path is worth taking mainly for the ancient schist villages scattered among the hills in the forest, as they are almost invisible from below the mountain. Schist is an ancient building material, that has recently become very popular to make trendy thin plates made of layers of rocks.
The most famous, but also the most heavily reconstructed schist village, is Talasnal. It was abandoned in the 1950s during a mass exodus from the countryside, but it is coming back to life thanks to wealthy locals and foreigners who renovated some of the houses and started renting them out.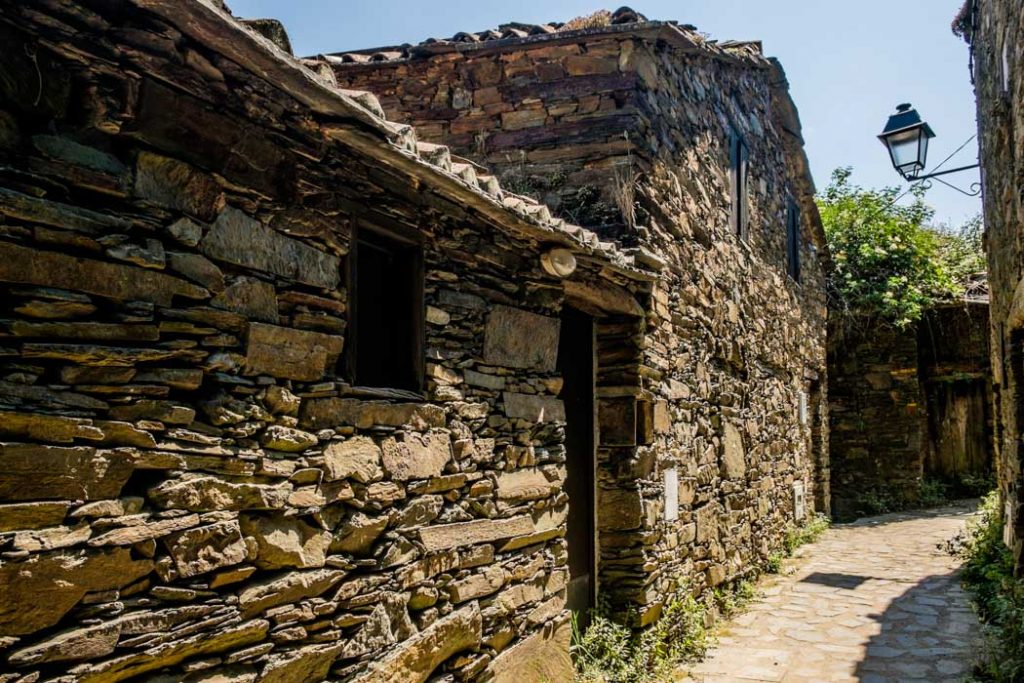 A quiet alley in Talasnal.
Most of the schist houses attached to the renovated ones are still empty. Walking between the rocky walls, heavy wooden doors and windows that won't allow you to look inside will make you wonder what lies beyond. In the village, you'll find a "bar" with souvenirs; a very modest shop with local home made delicacies and handcrafted goods.
To experience an immensely quiet atmosphere, where the past triumphs over the present, make sure to visit the villages of Casal Novo, Catarredor or Vaqueirinho and Chiqueiro, where local shepherds still live. Definitely a must when hiking in Portugal!
More info for Lousa hiking trail
The hike we did was 11.53 km / 0.6 mi long and it took us 5.5 hours to complete it.
Maximum altitude: 538 m / 0.33 mi
Download the full map of hiking in Lousã.
Insider tips:
1. Bring sturdy hiking shoes with you. There are a few parts where the trail gets really rocky.
2. In summer, snakes love to sunbath on hot stones near trails, so be aware of your steps when hiking there.
3. If you want to cool down, bring swimwear. You can take a dip in one of the river pools you'll pass on your way around the Lousã Mountains.
How to get to Lousã
Take a train from Lisbon (Santa Apolonia station) to Coimbra B (station for high-speed trains). From there take a regional train to Coimbra A (station for regional trains in the center of town). When you exit the Coimbra A train station, cross the road on your right (direction of the river) and take a bus to Lousã. The whole journey from Lisbon to Lousã takes about 2.5 hours.
Where to stay in Lousã, Portugal
If you want to immerse yourself in local history, you can do so at the  Octant Lousã boutique hotel. It's an 18th-century palace with stylish décor, spacious rooms, outdoor swimming pool and international cuisine served in an impressive dining room.
The hotel holds a remarkable place in history. Here Marechal Massena, a commander of the Napoleonic troops, was getting ready for his dinner when he found out they were being attacked. He fled immediately, leaving his dinner for his enemy, Duke of Wellington.
 In Palácio da Lousã, the first local newspaper was also published.
The hotel serves special honey produced from local pollen. You can buy it together with other natural products (teas, bee pollen) at the reception.
Best hotels in Lousa, Portugal
Quintal del Alem
A 4-star accommodation with kids pool, terrace and garden. The hotels has also restaurant and bar.
Talasnal Montanhas de Amor
If you want to sleep in the schist village of Talasnal, this is your best choice. A rustic property surrounded by nature.
Pousada de Juventude da Lousa
If you travel on a budget this hostel has dormitories, twin rooms, kitchen and lounge with free wifi.
Plan your trip to Portugal :
Borba: hiking trail in Serra d'Ossa
The colour 'sky blue' must have been invented in the Alentejo region of Portugal. When we got off the car near the bridge before starting our hike in Serra d'Ossa, we would have stared at that blue for hours, was it not for the bright sun.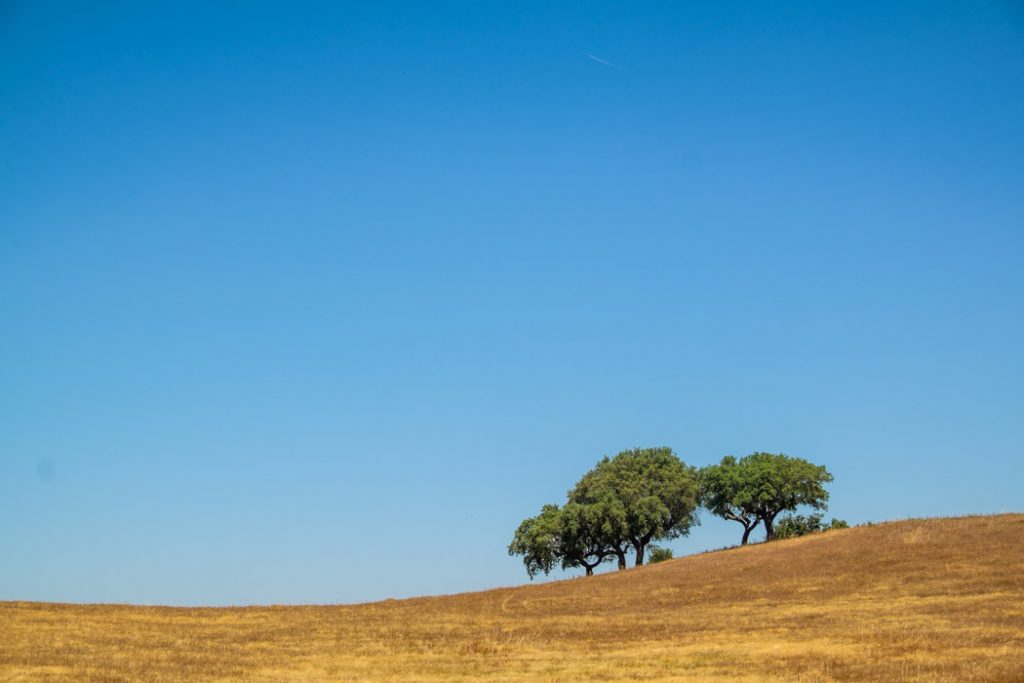 Blue sky of Alentejo.
The excitement of setting off for a hike that had been created only a few weeks before our arrival was quite overwhelming. We had no idea what scenery to expect, how difficult the path would be and we were quite thrilled that we couldn't see any previous reviews of the hike. We followed the brand new yellow/red sign feeling truly challenged and delighted when we realised that we were probably two of the first hikers there (if not the very first ones.)
We walked below an enchanting, motionless blue sky with no clouds, we passed curious cows taking their daily "dose" of fresh grass, while tiny flowers and leaves that created a beautiful alleyway tickled our ankles. That's how our hike in Serra d'Ossa near Borba commenced.
Dry trees mingled with their younger brothers and sisters, creating shade for thousands of fern bushes that contrasted with the dry soil we walked on later.
 Once you arrive at the top of the mountain range, you get a view of scattered villages and cork trees farms, lakes and private pools. Both equally tempting. Elegant eucalyptus trees and thyme bushes offering free aromatherapy, lazy introvert snails swinging on wild chestnut flowers; a summer yellow landscape, with solemn cork trees growing apart from one another. That's Alentejo.
Interesting places to stop around Serra d'Ossa

A unique São Gregório's chapel.São Gregório village.
Don't miss this place when hiking in Portugal. What looks like a chapel with a single house from afar, is in fact a hidden village where up to 40 people used to live.
São Gregório village was abandoned in the 1980s, but things have changed since then immensely, and now you can even rent the whole village for yourself! The houses have been renovated and welcome tourists, check the latest deals of the rooms. Check the latest price on Booking.com . In any case, this tiny village on the top of the vineyards and below the mountains is definitely worth a visit!
More info for Borba hiking trail
The hike is 11.95 km / 7.4 mi long and we did it in 4 hours.
Maximum altitude: 548 m / 0.34 mi
Download the full map of hiking in Borba.
Insider tips:
1. Bring enough water with you. There's no source of water on the way.
2. Don't forget sunscreen or coconut oil. You'll walk half of the way under the sun, with no shade.
3. If you need to grab a map of the area or pick the best hiking trail/outdoor activity for you, please visit the new multimedia local tourism office in Borba.
New technologies make the office more interactive and interesting as you can see directly how the trail looks like or whether a historical tour around nearby villages would be attractive enough for you.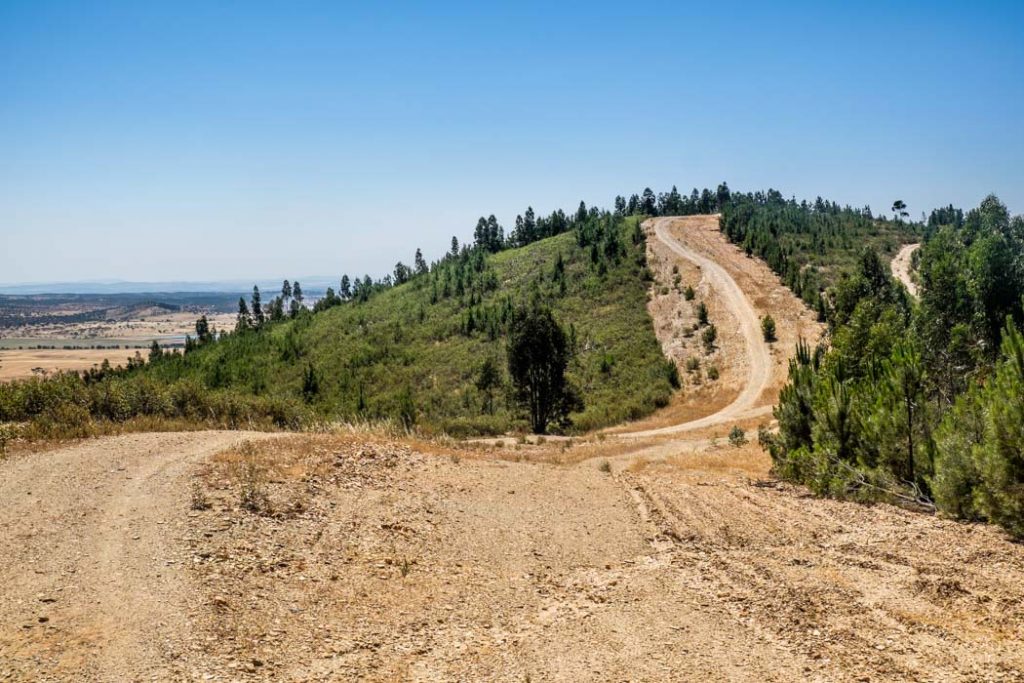 Now you see why you need a lot of water and sun protection.
How to get to Serra d'Ossa
One of the best options for a hike in Serra d'Ossa in the Alentejo region is to have a base in Borba municipality. You can take a train from Lisbon to Evora (1.5 hour) where you can have a break in the historical center and then continue with a bus to Borba (1 hour 10 minutes).
Where to stay in Borba, Portugal
Borba is a quintessential small Alentejo town, where you can get a perfect glimpse of local life in Portugal. You'll walk tiny streets with lots of small cafes on squares that are never empty, visit unique churches with no tourist queues, and you'll be able to have tasty local meals in small taskas.
Monastery of the Saviour of Paço de Sousa: one of those Romanesque churches where you wish you could stay longer. There are ancient stone pillars that lived through a millennium of history, as they seemingly haven't been restored at all.
The monastery origin dates back to the 10th century and it used to serve as a Benedictine Monastery later in the 11 th century.
The impressive portal is just the beginning of a series of architectural treasures the monastery offers (three interconnected chapels, the tomb of Egas Moniz, the diaphragms-arches.) The monastery of the Saviour of Paco de Sousa is also one of 21 monuments on the Romanesque Route.
Castro de Monte Mozinho or Cidade Morta de Penfield (Penafiel Dead City) is an important Celtic hill fort that used to be a three wall lines strategic defensive spot. On an area of 22 ha, you can walk among round-shaped (Celtic tradition) and rectangular or square (Roman tradition) ruins of houses. The first bricks were put into the basement in the 1st century AD!
Join some of the tours in Portugal:
More info for the Penafiel hiking trail
The hike we did was 14.4 km / 8.9 mi long and it took us 4.5 hours to complete it.
Maximum altitude: 416 m / 0.25 mi
Download the full map of hiking in Penafiel.
Insider tips:
1. The path is not marked currently, so make sure to get a handheld GPS navigator or a smartphone with offline navigation with you. We carry for hiking also TEP – a portable Wi-Fi hotspot for travelers.
2. There is about 800 m / 0.5 mi of the path, where you'll need to walk along a road with no pavement. Watch the cars while walking here.
3. There are no water springs on the path, so make sure to bring enough water with you or buy your supplies in one of the villages on the way.
How to get to Penafiel
There's a direct train from Porto. The journey takes around 45 minutes.
Where to stay in Penafiel
, Portugal
To start your rural landscape experience right from the heart of Penafiel, we suggest staying overnight with the fabulous Vinha family of Solar Egas Moniz hotel.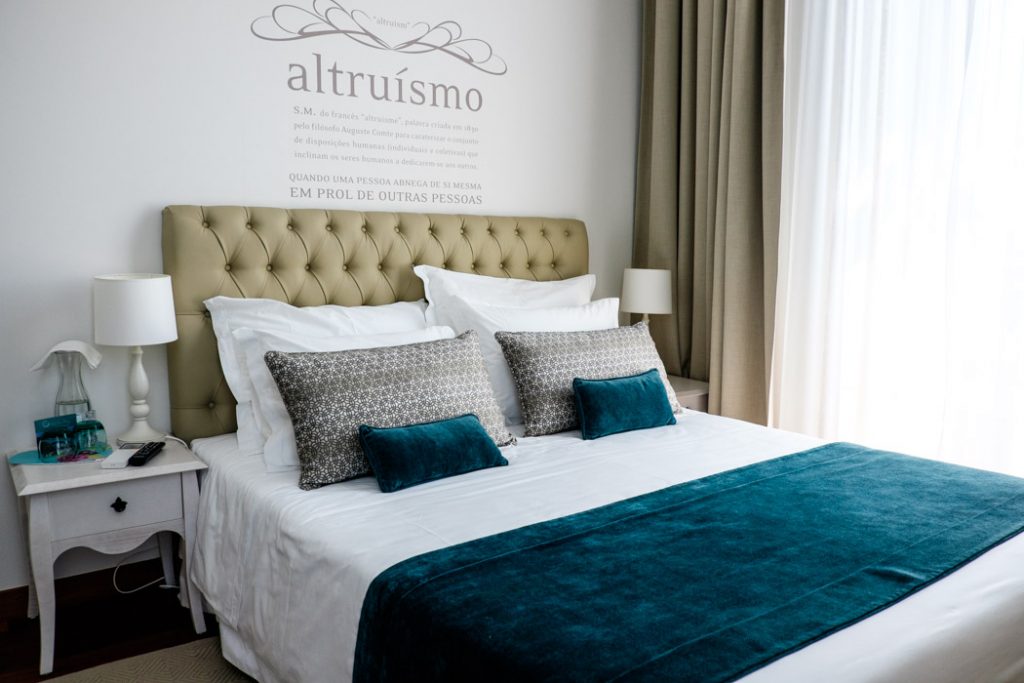 The rooms are very bright and stylish, with a cozy lounge and fireplace. There's an outdoor swimming pool with comfortable blankets and sitting bags outside. Check the latest price on Booking.com.
The hotel is a family run business in true sense. The Vinhas care about their guests with love and respect everyone's needs. Do you need some advice about transport or local shops? Ask them. Do you have a travel story to share? Talk to enthusiastic Iva.
Do you fancy having some local wine? The owner of the hotel will be glad to join you. And if you wonder where all these fresh ingredients for your breakfast/dinner come from, say thanks to Iva's mother.
Best Hotels for Penafiel, Portugal
Casa de Ventozella
This country house offers rooms with equipped kitchen with dishwasher, oven, coffee machine and kettle. All units have a private bathroom.
Penafiel Park Hotel & Spa
This 4-star hotel features jacuzzi, indoor pool, sauna and mineral bath. There are also several rooms specifically designated for families.
How to organize hiking in Portugal
Some of you might be avid independent hikers, but some of you, as you told us, prefer to have things nicely scheduled and get some local assistance. There's no way to tell who is right. If you belong to the second group, we suggest considering We Love Small Hotels (WLSH) as your choice when planning hiking in Portugal.
WLSH is an aspiring initiative of locals who love nature, history and genuine local life, and decided to combine it with friendly, cozy and stylish hotels which will eventually become your base when indulging in the hiking tours.
The concept of the company is to help you to choose the best tour in Portugal as well as to help you to pick the best accommodation (with choices of charm, history, country categories).
Once you choose a hotel (or more of them if you stay in Portugal for some time), you will be able to match it with tours that will suit you best (walking, biking, bird watching, food & wine, romance or family).
The whole package also includes a pick-up from the airport, where a representative of WLSH will provide you all necessary information and GPS devices with installed Wikiloc application (this app also works offline on your mobiles.)
The tours are self-guided (apart from bird watching). We did all these three hikes in Portugal with the app as we found it pretty easy to follow. Bonus of the app: there's no rush to follow a group or your guide and you can have a break whenever you like.
You'll be able to pick the length of a tour depending on your needs and fitness level, as there are shorter and longer variations of some tours.
All the tours have been designed by the team of We Love Small Hotels and they are constantly working to make them even better and more interesting. Well, seeing the joy and dedication to their work in the hotel in Penafiel, which is part of the company, we're confident they'll keep following their ambitions.
Pack and travel:
Disclosure: Our hiking in Portugal experience was possible with the help of We Love Small Hotels who kindly hosted us in Lousã and Penafiel and of João and Rita who invited us to spend a couple of nights at their family hotel in Borba. A big thanks goes also to Interrail.eu, who generously provided Interrail train passes for us.
Our opinions, sweaty backs, foreheads and arms, caught trains and a missed stop are our own.
Like it? Pin it!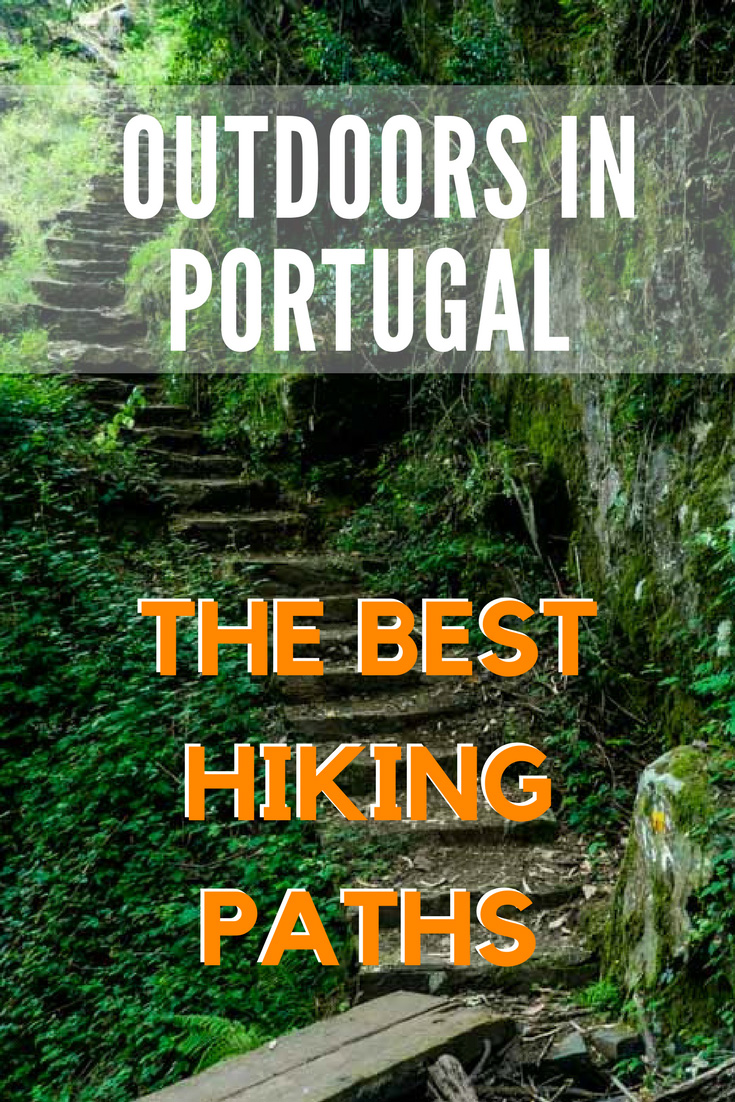 Disclosure: Some of the links above are affiliate links, which at no extra cost to you, will earn us a small commission and reduce the costs of running this site.