A comprehensive list of things to do in Matera for outdoors, food and culture lovers, and those who like exploring off the beaten path places.
The city of Matera and its Sassi are extraordinary. They are mysterious and carry a rare story. After Jerusalem and Alepo, Matera is the third oldest town in the world and was listed as a UNESCO World Heritage Site in 1993. Moreover, on the 17th of October 2014, Matera was not without reason declared the Italian host of The European Capital of Culture for 2019!
If you are interested to know where to stay in Matera, we recommend some of the best hotels for different budgets.
When we travel, we book our hotels through TripAdvisor, one of the best websites to compare prices.
Always make sure you travel with travel insurance! Be adventurous, but not careless.
Check out some of the most reliable insurance companies out there: True Traveller if you're European and World Nomads if you're from elsewhere.
If you love animals and you prefer going local during your travels, try TrustedHousesitters, which is an amazing way to travel the world while taking care of the pets whose owners are on vacation.
Like it? Pin it!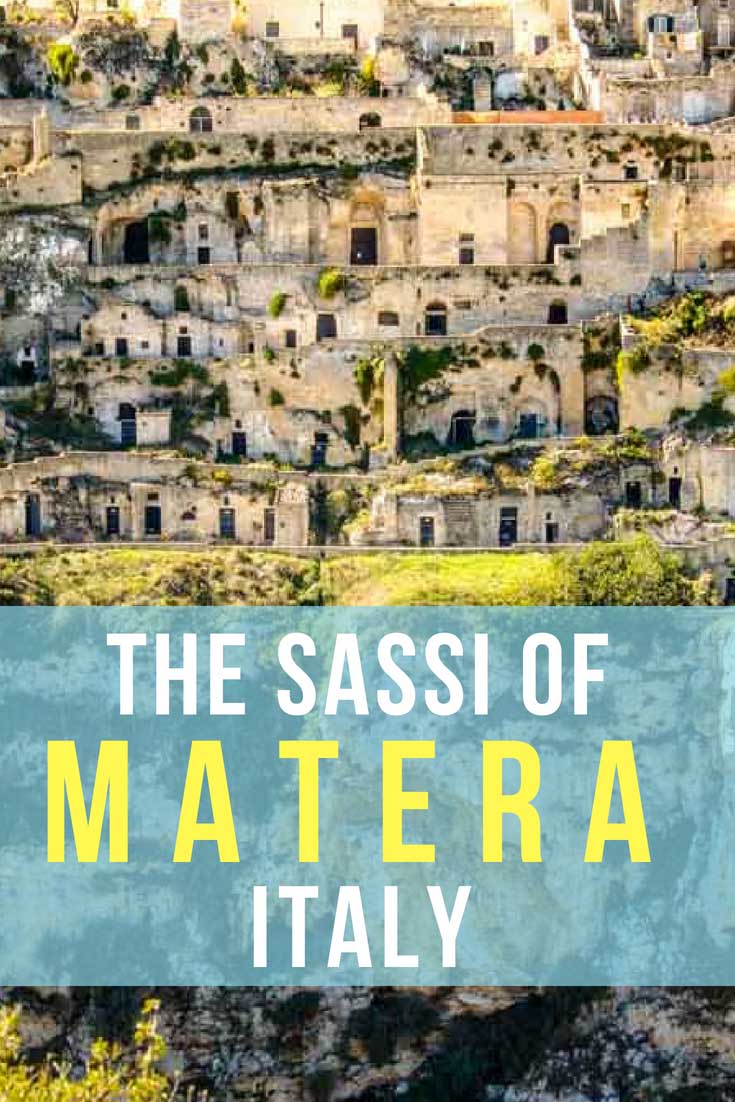 Things to do in Matera
Matera isn't on top of the list of tourist destinations in Italy. But we believe it should be.
You can easily spend three or more days in Matera having a stroll amidst cobblestone streets, hiking to the national park, visiting museums, or simply enjoying some Italian delicacies. To help you to create your itinerary, here are our travel tips on things to do in Matera, Italy.
Explore unique Sassi of Matera
The history of the Sassi of Matera (the Stones of Matera) is more than intriguing. The area was inhabited in the Paleolithic age and since then, naturally, lot of transformations have occurred.
The Sassi of Matera is comprised of various ancient dwellings (about 1,500 of them!) carved out of the steep honey-coloured tufa stone slopes.
There are two Sassi districts in Matera: Sasso Barisano (more developed one) and Sasso Caveoso (with "wilder" atmosphere). In the past they surrounded the Civita (today's centre of the town and the oldest part of Matera) and thus created a "ghetto", where artisans and farmers used to live… and suffer.
The area of Civita used to be a national shame of Italy, and suffered from poverty, malaria, people were living with no running water and electricity; Civita was separated from the nobility that lived on the top of the fortified hills of Sassi, and was perfectly hidden behind the walls so random visitors never saw the "poor, dirty and unwanted" part of the town.
Join one of the local tours in  Matera: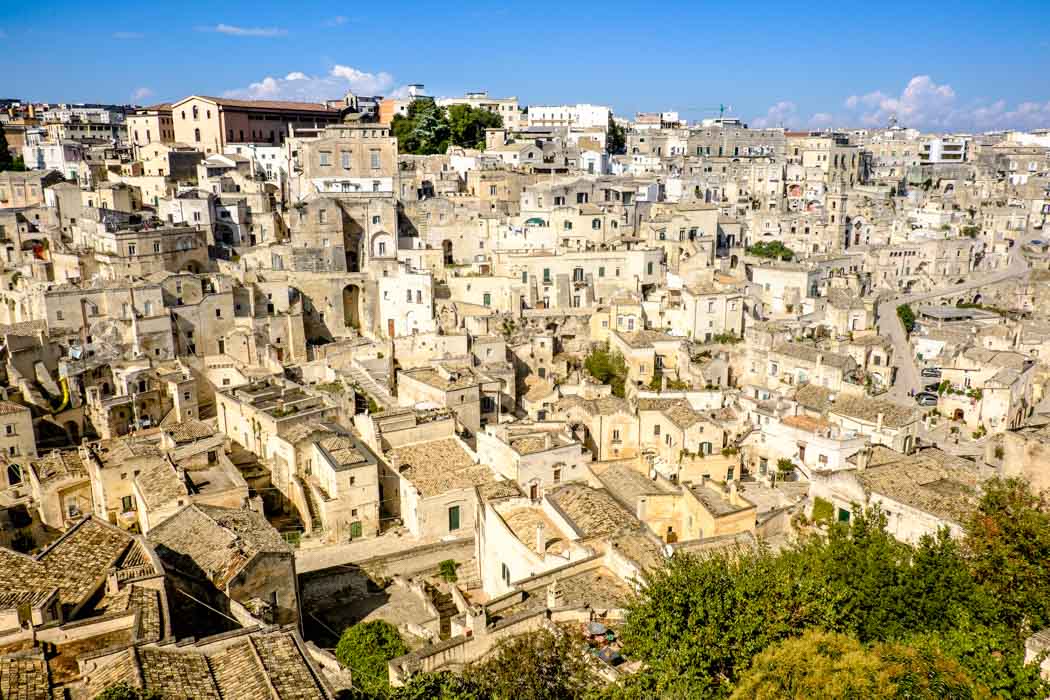 What is not generally mentioned in guidebooks is that Carlo Levi's memoir "Christ Stopped at Eboli," published in 1945, depicts Matera as a "tragic beauty," and thanks to him outsiders (including the Italian government) learned of the daily hell in Civita and took action.
Consequently, in 1950, after the visit of the Italian Prime Minister Alcide De Gasperi, about 16,000 peasants and artisans were relocated to more modern neighbourhoods, and cave dwellings were left abandoned.
That was the moment when the old town became known as I Sassi di Matera, "the Stones of Matera".
Hike to the Murgia Materana Park
The Murgia Materana nature reserve covers nearly 8000 hc and you can get an idea about the nature diversity and discover abandoned caves and churches with faded frescoes in one or two days of hiking in the park.
Just get your camera ready for beautiful violet bellflowers, fast lizards, loud Praying mantises and lazy snails hidden in the rocks and if you're lucky, you'll spot a falcon naumani, too. Intensive smell of thyme, fennel and mint guaranteed.
We highly recommend taking a guide with you hiking in the Murgia. Not because you could get lost, but because going for a trek with a local who tells you more about the biodiversity of the area, stories of the town, and its present conditions is a great way to know the place better.
Join one of the local tours in  Matera:
We went for a tour with a very cool and enthusiastic Uccio, who made sure we wouldn't leave Matera without having seen the best views on the Sassi and the canyon below.
The tour costs $20 and takes 4-5 hours. You can contact Uccio directly via phone (+39/388 300 4553) or via email ([email protected]). Also ask him also about outdoor activities like kayaking, mountain biking or bird watching. He'll be happy to organize also these.
Learn the story of Matera at Casa Noha
We bumped into this new center while hiding from the hot sun in the shade of narrow streets.
The center is funded by two families, whose ancestors used to live on the premises. The documentary and special video projection they screen in Casa Noha is a very unique way to tell you the story of the town.
Actually, during 45 minutes in the centre we learned more than we had from the internet thanks to the information from unpublished documents that the movies included.
Entrance: on donation.
Get lost in the Sassi of Matera
You can start to explore the town from lively Piazza Vittorio Veneto and any direction you choose, will lead you either to the heart of the Sassi of Matera, or you'll simply find a stunning view.
You can also start walking from Piazza San Pietro Caveoso up to the Sassi on your right, through the tiny streets and steep stairs with random dead ends.
This incredible masterpiece of hydraulic engineering was created by hand in the 16th-century and was discovered only in 1991. You can take a guided 30 minutes tour for $3.5 and see where five million of water can be stored underground. This cistern complex was a key point for enlisting Matera to UNESCO World Heritage.
Have a spectacular sunset with THE view
Check when the blue hour starts and head out for an awesome view of the town. We can suggest a spot where we went twice and is totally worth the climb up and will take you a bit farther from the main streets of Matera.
Start from Piazza San Pietro Caveoso and turn left to have a stroll on Via Bruno Buozzi. Continue to Via Casalnuovo until you see a yellow sign on the left, with direction to Chiese Rupestri and Cavea Resort.
Climb up the stairs and explore the area to see which spot works the best for you to take the pictures of the town with hundreds of shining street lamps. You will pass many private small gardens, sleepy cats and playful kittens, terraces wafting with strong Italian herbs planted there. 
Join one of the local tours in  Matera:
Visit MUSMA in Matera
If contemporary sculpture art is your thing, then pay a visit to the Museum of Contemporary Sculpture in Matera, where you'll find not only a permanent collection of works, but also different changing exhibitions.
The ticket costs $5.5 and you can check hours of operation on their website.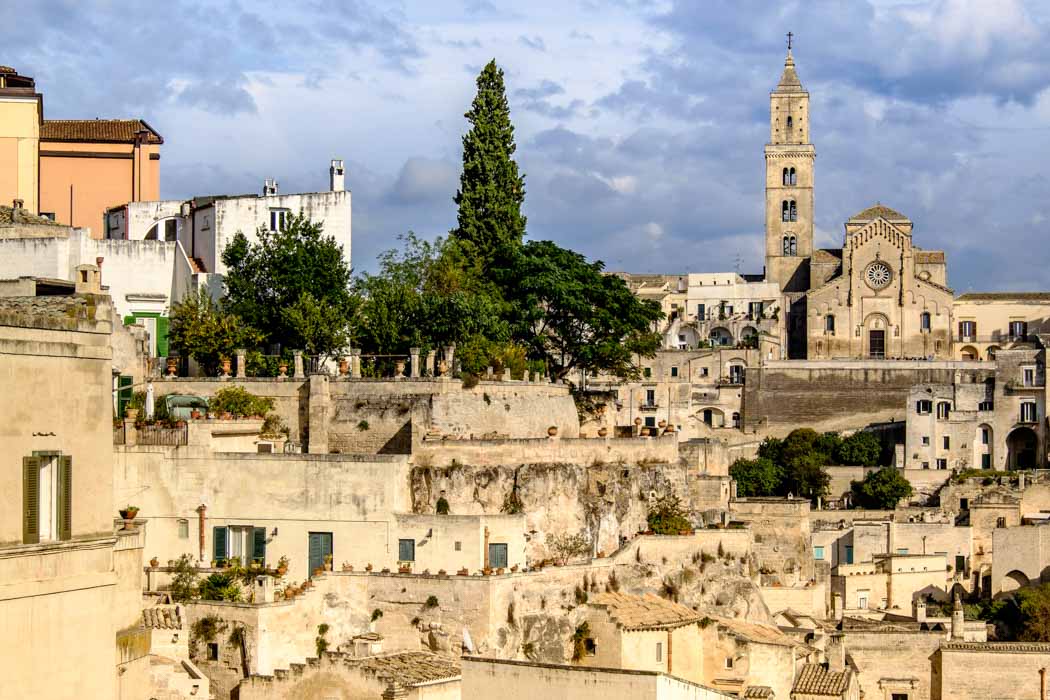 Traveling to Italy? Get inspired by more articles:
Cave hotels and B&B in Matera
While wandering around the streets of Matera, you'll see that tourism in Italy is exponentially growing. A lot of small restaurants, B&Bs, cafes and tour agents have appeared there almost overnight.
Hopefully, it will help to decrease the high rate of unemployment and support sustainable tourism in the region.
Many of the cave hotels in Matera try to attract the customers by renovating former caves and preserving the ancient walls and arches, and honestly, who wouldn't fancy sleeping in a cave that was inhabited 9,000 years ago?
We stayed at the La Corte dei Pastori for three nights and we would absolutely come here again: for the view, the incredible room with a reconstructed and preserved interior, and the lovely hosts Mimmo and Tiziana, who served us a delicious (and HUGE!) breakfast that we enjoyed every day on a sunny terrace with magnificent view. Not to mention ringing bells of Mother Church of St. Peter and Paul at the background.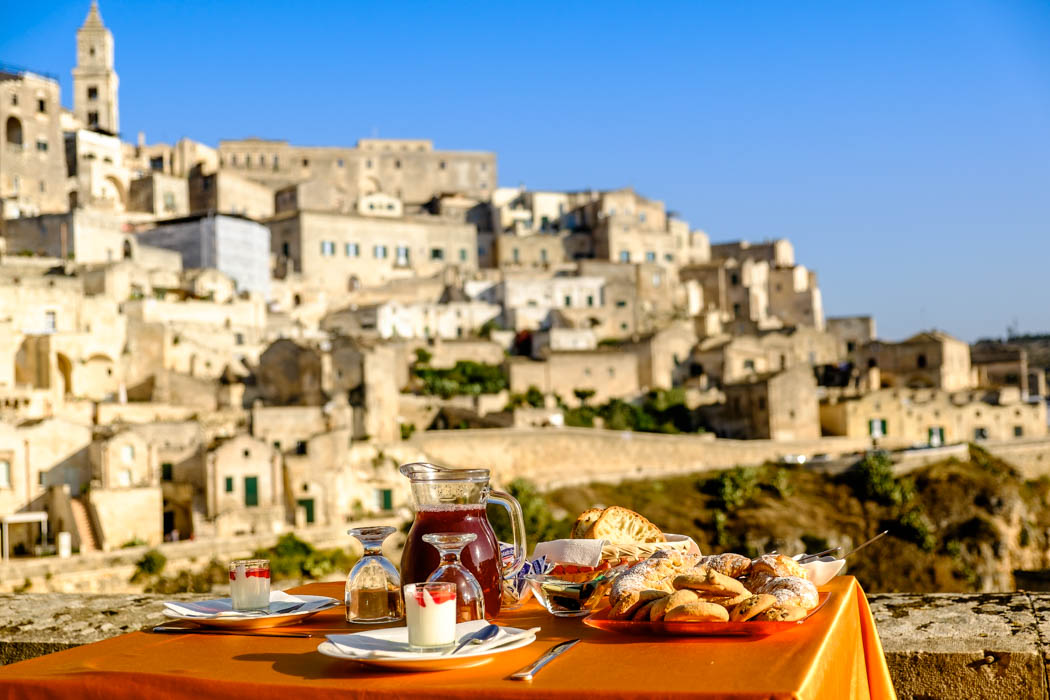 All the rooms are decorated in style and there is special ventilation installed so the walls don't get moldy. Strong wi-fi provided. There is also a small equipped kitchenette in case you want to stay in the town for a longer time and prepare some meals by yourself.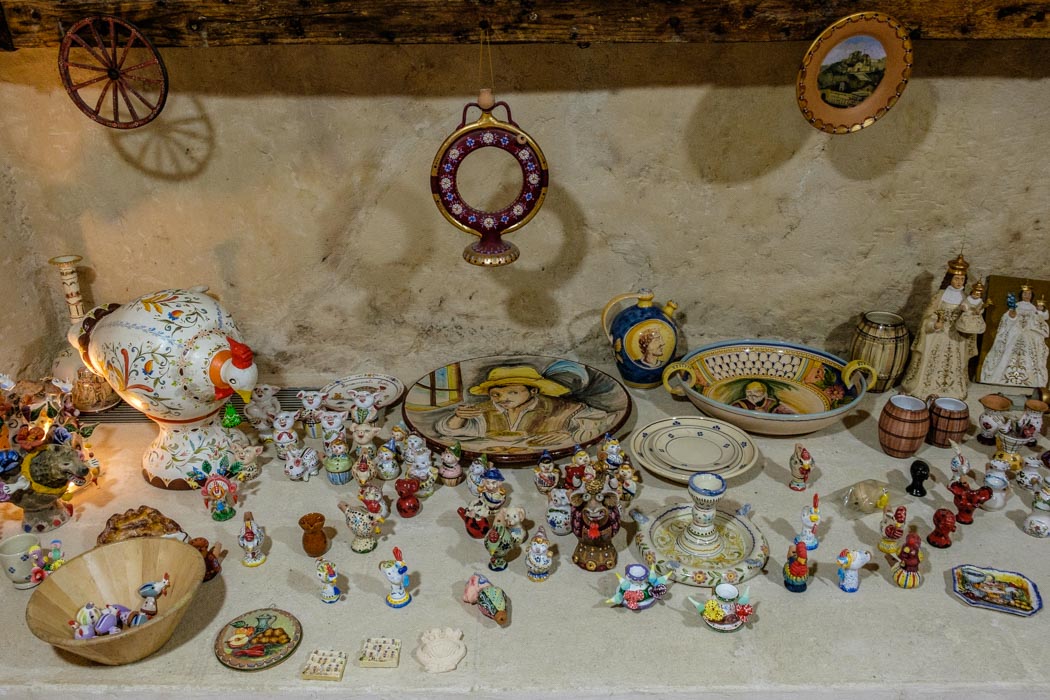 Once you stay at the La Corte dei Pastori, make sure to visit a small shop at the basement, in a tiny cave behind the reception of the b&b. You'll find there special local souvenirs made by Mimmo's father, a true craftsman of Matera. They are pieces of art ceramic inspired by the neolithic ceramics of "Serra d'Alto", e.g. a "cucù", which is a characteristic materan whistle made in the form of a rooster with bright colours.
Price range for a double room: from $57 to $135 with breakfast. Check the latest price
This family run rustic style B&B will offer you a view on the Chiesa della Madonna dell'Idris church. It's located near the Sassi of Matera. Simple, clean and stylish rooms with wi-fi, small fridge and private bathroom.
Double room with breakfast: $70. Check the latest price on TripAdvisor, Booking.com or HotelsCombined.
B&B Fiorentini is located only 200 metres from Piazza Vittorio Veneto in the center and you can get easily everywhere on foot. Rooms carved out of the rocks, free wi-fi, continental breakfast and private bathroom.
Double room: start from $50. Check the latest price on TripAdvisor, Booking.com or HotelsCombined.
Where and what to eat in Matera
Forget pizza and pasta. There is nothing like the bread of Matera with mortadella and provolone cheese. You can grab a sandwich at a local grocery where they make it for you FRESH.
You'll need to go to the deli where they sell fresh cheese and salami and ask them to prepare it for you there. I'm afraid that without basic Italian or a pocket dictionary you can forget this scrumptious pleasure.
Protip: There is a nice grocery where we had a sandwich (okay, few of them), on the road leading from the railway station to the main square of the town.
Here are a few places in Matera where we ate and that we recommend:
Osteria Malatesta, Via S. Biagio 45
Awesome local dishes for very reasonable price.
Lounge Cafe, Via del Corso 60
Go for lunch buffet upstairs and grab an ice-cream or a bar of raw chocolate downstairs.
Bar Sottozero, Via XX settembre 51
Delicious hot & fried panzerotto!
Pietra Viva Tisaneria, Via Fiorentini 48
When looking for a relaxing place to have a cup of pu-erh, rooibos or herbal infusion, this is the right place to stop!
How to get to Matera
One of the easiest ways is to arrive by train from Bari by Ferrovie Appulo Lucane (FAL) company. The ride takes 1,5 hour, and a one-way ticket costs $5.50. Be aware that trains to Matera from Bari depart from FAL train station that is just across the road from the main railway station.
Best time to visit Italy and Matera
You might want to travel there during the sunny season, i.e. April-October, but if you want to combine your trip to the Sassi of Matera with beach time in Puglia, then consider the period of June-September.
Day trips from Matera
If you walk from north of Matera to the south, you'll find about 150 churches within 20km and if you decide to spend a week in the town, then you might find the following tips useful:
San Nicola dell'Ofra
A village carved out of the rock, 2km south from Matera. Look for an ancient monastery with cells where monks used to live and pray.
The Natural Reserve of San Giuliano Lake
Located about 20 km from Matera this WWF zone is also a migration zone of various birds and is a site of the RAMSAR Convention.
The Crypt of the Original Sin
One of the most important sights near the Sassi of Matera, with frescoes from the 9th century. It's located about 10 km from the town and you'll need to pre-book your visit which will cost you $9. Check this thread on Trip Advisor for more info how to get there.
Accettura
Accettura is a town 70-80 km far from Matera, in the heart of Basilicata, where a unique megalithic complex Petre de la Mola, a sanctuary of the bronze age can be found. According to Prof. Polcaro, who comes to Basilicata to study the Sun yearly, some cult rituals were performed there.
If it happens you are near Accettura forty days after Easter, make sure to attend a famous ceremony of Maggio di Accettura!
Murgia Timone
This is an interesting circle shaped neollitical tomb located about 350m from Area Camper Masseria Radogna to the west.
We were in Matera the same day when a EU commission and judges arrived to evaluate Matera for the European Capital of Culture.
We saw Matera as we'll probably never see it again: every single house, every hotel, every cafe and every gelateria hung a flag with Matera's logo of the European capital nomination.
The streets were full of locals, tourists, judges, TV cameras, and to describe the town as excited would be an understatement. In the end, Matera won it all.
We can only assume how world famous photographers like David Seymour, Henri Cartier-Bresson and Bruno Barbey, who discovered this city's peculiarity long time ago would just nod now and hopefully agree with us: Matera and the Sassi are photogenic, they're spectacular, and everybody should visit them and ask them for their special (hi)story.
Pack and travel!
Note: Our stay at the La Corte dei Pastori was complimentary and as always, our opinions and words are our own.
Check out this video of Matera to get inspired!