This article will bring you to Tam Coc, a natural site in Vietnam, which is part of the Trang An Complex that you can explore by boat.
We won't be saying anything new if we said how much a single movie can transform a place, make it famous, improve its infrastructure, bring more job opportunities for locals, and… herds of tourists who want to see the film locations of their favourite scenes from popular movies.
It's hard to say whether Tam Coc and its spectacular canals, karstic rock formations, rice fields stretching along the Ngo Dong River, limestone grottoes that you carefully pass through so you don't bump your head into the wall above, became popular after Indochine won the Oscar in 1993, and word spread that some scenes were shot in Tam Coc, or the fact that travellers were tired of Halong Bay and therefore decided to opt for a less known natural site.
In any case, Tam Coc, which means three caves in Vietnamese, and is located only 90 km from Hanoi, has become one of the top tourist attractions in Vietnam. The area is part of the famous Trang An Landscape Complex UNESCO World Heritage site.
Tam Coc is more popular compared to Trang An, which means you'll find here more foreign tourists. Yet, the place has some charm and it's worth the visit.
Visiting Tam Coc: what's all the fuss about?
The landscape
Tam Coc looks indeed like a movie scene. Rice fields and karstic rocks surround the Ngo Dong River. When you're sailing through it, the feeling of passing through a special natural kingdom is very real. Vietnamese call Tam Coc the Green Sea, and you'll understand why once your eyes witness the scenery of the paddy fields.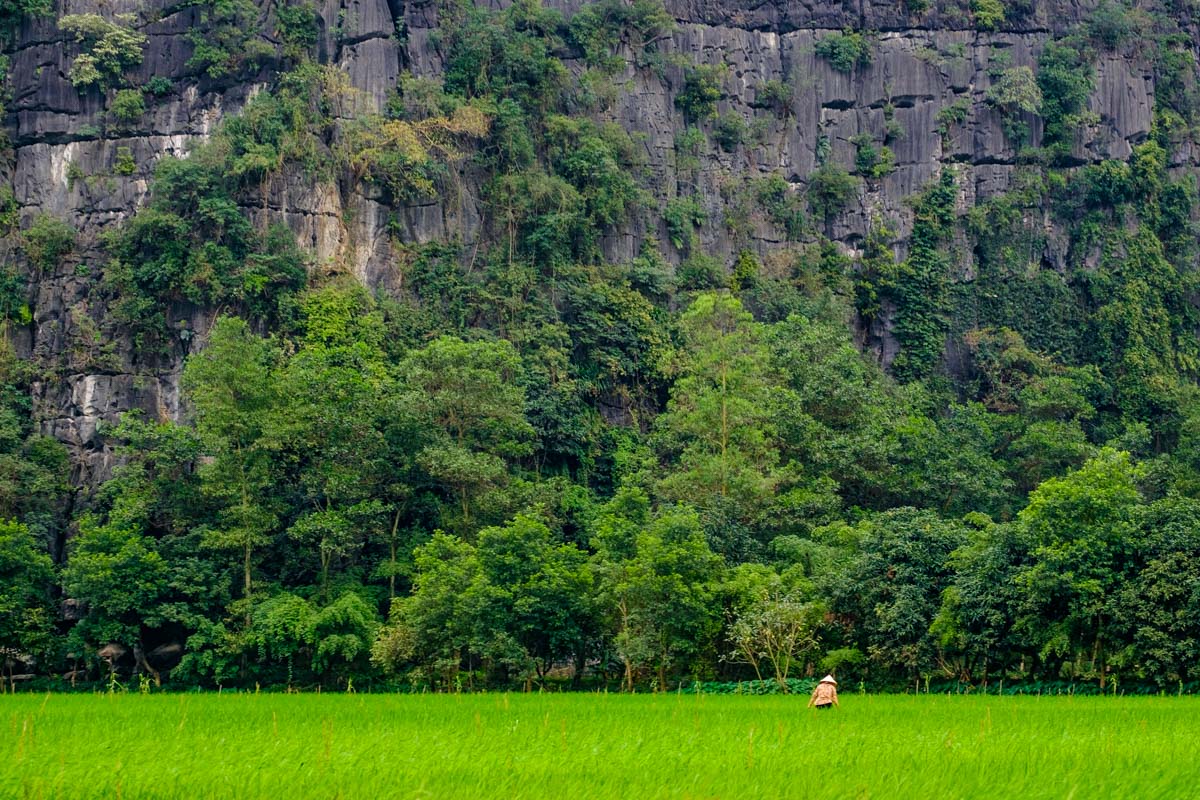 The caves
There are three of them (Hang Cam, Hang Giaua and Hang Chateau) and they were created by erosion of rocks.
The grottoes
There is a river that runs through them, and you might need to bow your head while passing through the tunnels, because the passage is only 2 meters (6.5 ft.) high. To see more natural grottoes, head to Trang An Complex which is only a few miles away from Tam Coc.
Rowing the sampan boat with your feet
Yes, that's right. The local women and men row the wooden paddles of the boat with their feet so skilfully that it looks they've been doing it all their life. Well, some of them actually have. This special technique eases the pressure on their backs and arms, and it also helps them face a forward position while paddling.
Your Tam Coc boat adventure starts from the Van Lam pier, the route is about three kilometres long and takes up to two hours.
Join some of the local tours in Tam Coc:
Where to stay in Tam Coc, Vietnam
If you decide to stay around Tam Coc for more than one day, there a few options of accommodation.
Tam Coc Rice Fields Resort > STARTS FROM $36 USD
A beautiful resort with bungalows where you'll be surrounded by mountains and rice fields. You'll get a private bathroom, free toiletries, and there is a small fridge in the room & a kettle, too. If tired after a long day, get on a serene patio to relax. Very close to Tam Coc Wharf.
Tam Coc Bungalow > STARTS FROM $19 USD
Wonderful setting near the river, very clean rooms, breakfast included. Panorama views of Tam Coc. It's possible to book a bunk bed in a dormitory, a private room with different views or a family room.
Heading to Vietnam? Read more related articles:
Other attractions and things to do near Tam Coc
Hoa Lu ancient capital
The site is located near the Ninh Binh city, and you'll have a chance to visit it prior to a boat ride through Tam Coc, which is 7 km (4.3 miles).
Hoa Lu used to be a capital of Dai Co Viet, a Vietnamese Kingdom, during the 10th-11th centuries. Sadly, there are only two temples from the 17th century, which are actually only models of the original buildings: King Dinh Temple and King Le Temple.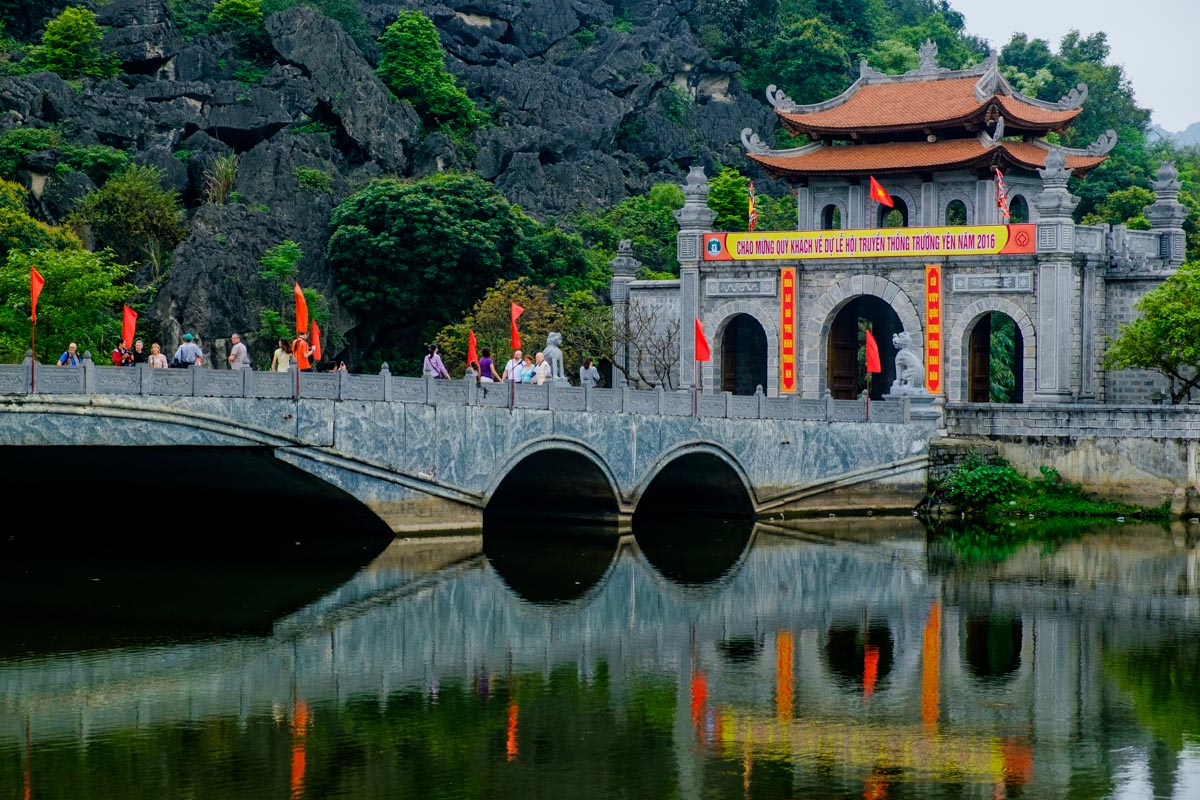 If you've visited some temples in Hanoi, Hue or in Taipei in Taiwan, these two in Hoa Lu might look a bit mediocre, but they're still worth the visit if you're interested in the history and architecture.
Biking via remote rice fields near the Van Lam village
If you visit Tam Coc with a tour, you'll be provided a simple city bike, which is fine for the flat landscape of the area. Apparently, not all tour operators offer a bike ride, because when we went for a 40-minute bike trip during peak hours during which all tours visit the site of Tam Coc, we were completely alone in the paddy fields.
That being said, if biking is something you'd love to do in Tam Coc, make sure you pick the right tour operator. We opted for Go Asia Travel agency based in Hanoi.
Visiting a local market in Van Lam
This is a small, yet very authentic local food market; you'll need a guide, or your smart phone with a translator if you wish to purchase something since vendors aren't used to tourists here.
Visit Bich Dong pagoda
The site dates back to the 15th century and is located near the Ngu Nhac Mountain.
Go trekking
Go Asia Travel offers an alternative to the traditional visit of Tam Coc. If you book their 2D 1N tour, you can trek into the jungle of Cuc Phuong National Park, stay in the village overnight, and go for a rowboat ride. For more details, read the itinerary on Go Asia Travel website.
Practical tips when visiting Tam Coc
If possible, only get on a boat without boxes. These are loaded souvenirs, mostly embroidered stuff the locals make their living on. Once you start sailing, you'll probably be pushed to buy something, no matter how hard you explain that you don't need anything.
If you go for a ride with a tour, the chances you'll embark on a loaded boat are very low, as the tour companies do care about your comfort and try to avoid the "souvenir boats".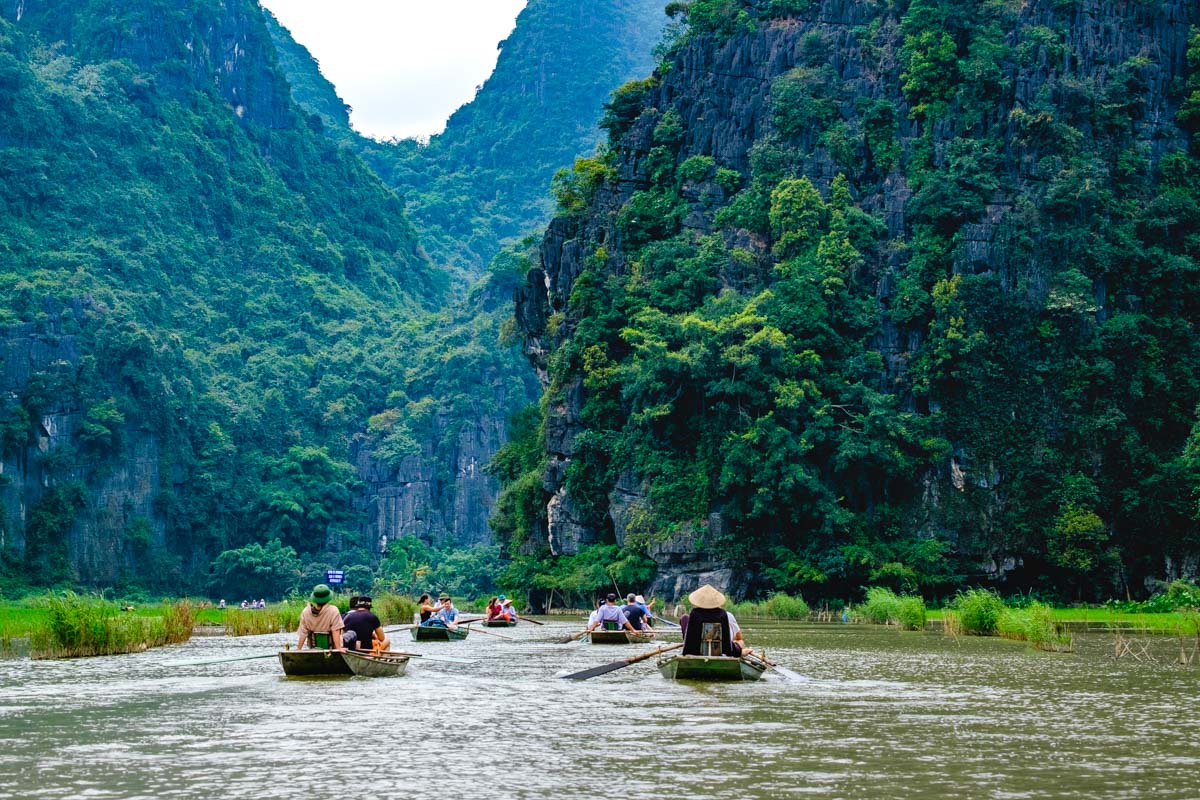 We read some crazy stories of tourists "threatened" by a sailor who stopped in the middle of the river, and didn't want to bring the tourists back to the pier until they would buy something.
Buy some small snacks (fruits, crackers, water) before a ride. The skiff ride takes only two hours, but when hawkers sailing on boats along the river see you have your own food, they won't insist you buy something from them.
Don't buy anything for your sailor. The hawkers push tourists to buy some refreshment for their guide/sailor, but he/she will sell it back to the hawker for the half price instantly.
Check more activities and tours to do in Tam Coc
Stay overnight if you can
The sailing route in Tam Coc gets pretty busy around lunchtime, but if you stay in the Ninh Binh villlage overnight, you'll be able to go for a morning ride on a boat with hardly any other tourists around. Or, you can take the route after 4pm, when all the tourists visiting Tam Coc with tours will be gone. See the tips on where to stay in Tam Coc above.
Entrance fees for Tam Coc boat ride
If you visit Tam Coc with a tour, the entrance ticket is included. Otherwise you'll pay 120.000 vnd ($5 USD) / route for an adult and 60.000/route for a child (under 1.40 m high). You'll need to buy an extra ticket for a boat, which is 150.000 vnd ($6.5 USD) / boat, and no more than two tourists are allowed per boat.
Food
Water, snacks and a buffet lunch of Vietnamese cuisine is provided by a tour operator. If you visit Tam Coc independently, your options might be limited at the pier since there are only some stalls selling snacks. You might get some food at the local market though.
How to get to Tam Coc
If you prefer to have everything prepared and included (transport, entrance, lunch, boat trip, bike trip), then opt for a reliable tour operator. We travelled to Tam Coc with Go Asia Travel and can highly recommend them. Transport by a minivan from Hanoi and back is included, as well as a bottle of water, entrance to the temples, lunch, a boat ride and a bike rental.
If you are more of an independent traveller, you can travel to Ninh Binh:
By train
A journey takes 2.5-3 hours and the train stops at the new station, which is about 1km from the old one that is closer to the Tam Coc site. You can book your tickets online through the official website of Vietnamese railways. A one-way ticket from Hanoi to Ninh Binh costs about $2.25 USD. From Ninh Binh you'll need to take a taxi to Tam Coc wharf or rent a bike.
By taxi
The price for a ride from Hanoi to Ninh Binh costs around $70 USD and it'll take about three hours.
By bus
You can take a regular bus from the Hanoi bus terminal Giao Bat. The buses leaves quite often, a ticket costs about $3.15 USD, and the journey takes about three hours. You can purchase the tickets in the hall of the station.
Similarly to the train, the bus will stop in Ninh Binh, and from there, you'll need to arrange your own transport (taxi, bike) to Tam Coc pier. That being said, if you are in a time crunch or you prefer more comfort, booking a tour would save you a lot of hassle, especially if you plan to visit Tam Coc only for a half-day.
So, would you feel like you were in a movie in Tam Coc? Well, the views from the boat and from the mountains above are beautiful, and if you dare to detour from touristy paths and go and explore a local market, you will certainly find some interesting characters, too; just like in a movie.
Pack & travel:
Like it? Pin it!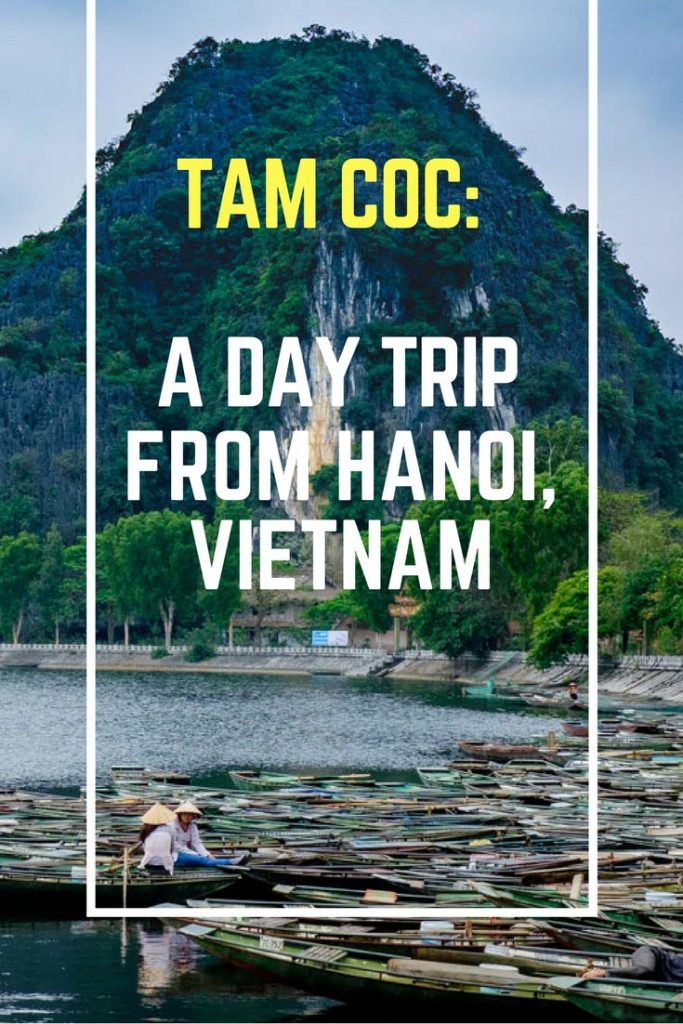 Disclaimer: Our trip to Tam Coc happened thanks to Go Asia Travel. All opinions and words remain our own – Some of the links above are affiliate links, which at no extra cost to you, will earn us a small commission and reduce the costs of running this site.