Welcome to the capital of Texas; the list of things to do in Austin is truly unending, and the nature, food, and culture of this city can keep you busy for weeks!
Ranked as the best place to live in the United States for the second year in a row by US News and World Report, Austin has become a thriving oasis not only for the locals that stay there year round, but also for the influx of visitors looking to discover the secrets of the "Keep Austin Weird," movement.
When you find yourself in Texas, be sure to spend time in this incredibly unique city, and follow our guide below to find a range of explorative activities beyond compare.
If you are interested to know where to stay in Austin, we recommend some of the best hotels for different budgets. Check TripAdvisor, one of the best websites to compare prices. 
Always make sure you travel with travel insurance! Be adventurous, but not careless. Check out some of the most reliable insurance companies out there: True Traveller if you're European and World Nomads if you're from elsewhere.
If you love animals and you prefer going local during your travels, try housesitting, which is an amazing way to travel the world while taking care of the pets whose owners are on vacation. If you use TrustedHousesitters with this link you'll get $25% off  the annual membership.
Like it? Pin it!

The best things to do in Austin
Exploring Austin's nature
Rent a kayak and cruise the river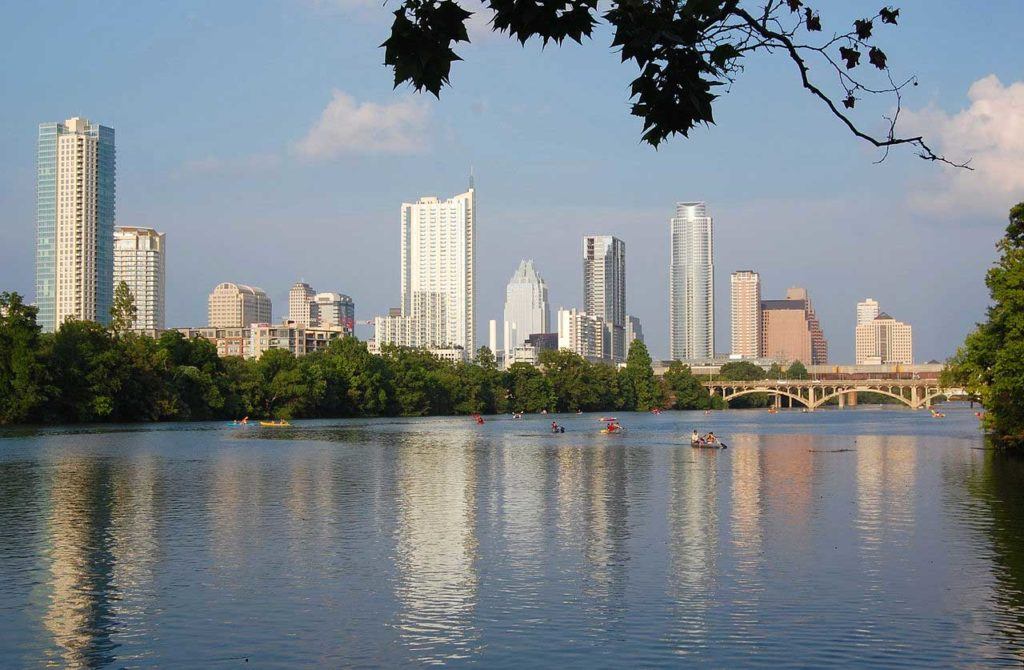 Someone once said, "Through every great city runs a river," and that is absolutely true for Austin. The Colorado River cruises through this city, and along its shores are stationed an array of rental shops for kayaks and stand-up paddle boards (SUP).
Head to Zilker Park and make your way down to the river's edge to hire an hourly or daily kayak or SUP to enjoy. The river is virtually rapidless in the city, so feel free to bring a cooler of beverages, a pup, or just a crew of friends looking to relax in the water.
Always use your own discretion, and wear a life jacket if you are not comfortable swimming in the water.
Watch the city bats at night under the Congress bridge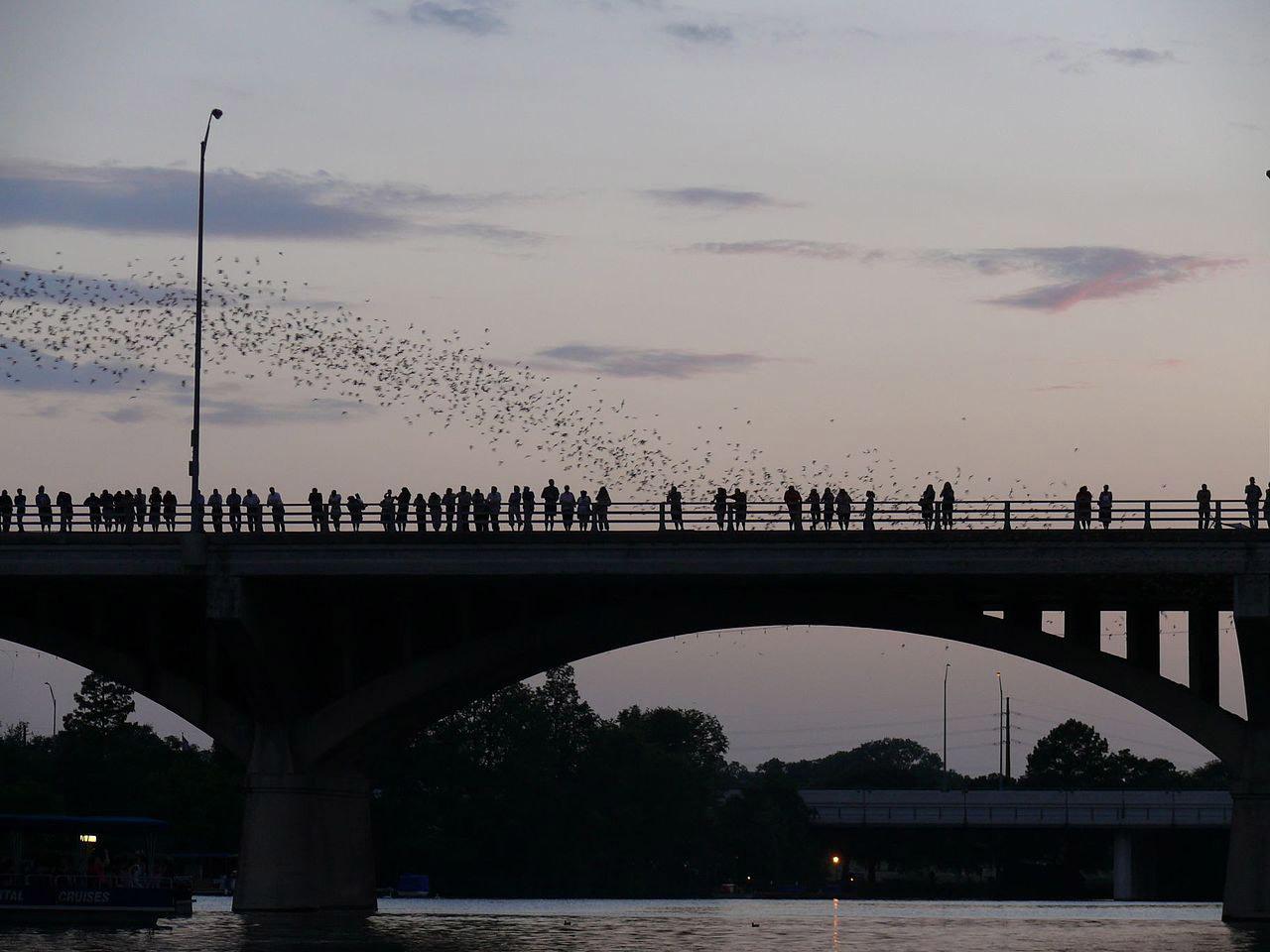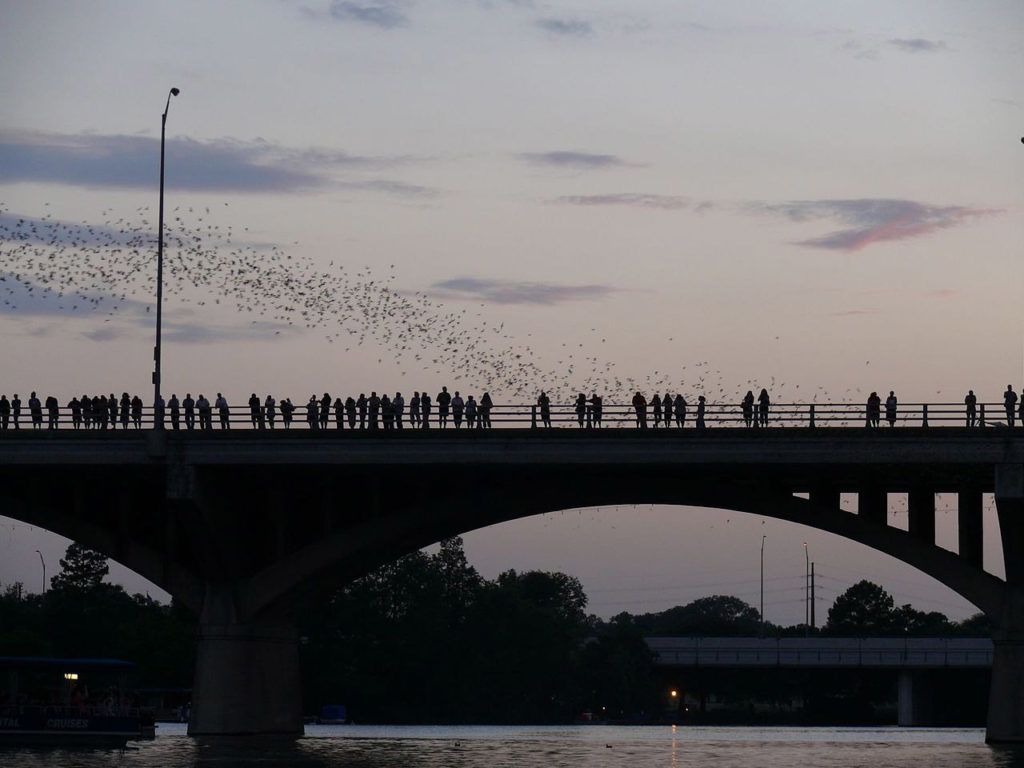 Along Congress Avenue right before sundown, you can almost always expect to see a massive display of bats charging through the sunset. It's an absolutely incredible spectacle, and a very unique thing to do in Austin.
You can see the bats from March-October—June through August being peak season. The best way to experience this is from the undersides of the Congress bridge, in a paddle boat or kayak, but you can also enjoy from the water's edge near Congress Ave.
Always exercise extreme caution when observing animals in the wild, and remember to never touch or disturb any bats, especially during June-August when many young bats are getting ready-to-fly.
For an in-depth look at all the specifics for seeing the bats click here.
Get inspired by more articles:
Head out for a hike
The city of Austin absolutely prides itself in its brilliant combination of chrome and greenery. There is a massive range of options, from simple strolls around Lady Bird Lake, to more rigorous loops in the surrounding Hill Country.
Hiking in town is a great way to enjoy time outdoors, get a workout in, or an easy option if you're looking for things to do in Austin with kids. Make sure to always carry plenty of water, as summer temps in Texas can get out of control, even in the shade.
Some of the best hikes in town are: Mount Bonnell, for its incredible hill views, Barton Creek Greenbelt, for a leisurely stroll, and Turkey Creek Trail, for a brisk morning jog.
For a complete list of the best hikes in Austin, as well as their corresponding levels of difficulty and locations check this out.
Food and drink in Austin
Sip on a Texas brew inside an old train car at Don's Depot
If you're searching for incredibly unique things to do in Austin, (or places to dance and drink) Don's Depot is a offbeat Austin attraction crafted from a few old train cars. Head out to the dance floor, enjoy some live music, or just explore the museum like feel of this favorite local watering hole.
This place is consistently rated one of Austin's top bars, and you'd be hard pressed to find a more one of a kind spot with great deals on drinks and snacks. Also, if you're not an avid two-stepper, this is a great place to try out your new dance floor moves in a relaxed and non judgemental crowd.
Eat Tacos! (Local ones!)
Austin is absolutely famous for their incredible array of tacos, one might even say there is a taco truck on every corner. Varieties range from classic Mexican tacos de lengua, to new surprising fried avocado tacos. There are honestly options ready to satisfy every diet and desire.
Try a range of styles, and be open to new a creative varieties. You'll also be lucky to find tacos around the city at almost any hour of the day (or night)!
Some of the best in town include: the famous Torchy's Tacos, Cool Beans vegan taqueria, and Juana Taco, which serves up south Texas classics like the pirata and sincronizada stuffed with avocado, queso fresco, and sizzled fajita bits.
Pack and travel:
Experience the Alamo Drafthouse
An absolute gem of a movie theater, pub, and eatery. The Alamo Drafthouse was created for avid cinema goers who also enjoy a drink and creative food selection during their experience. It's also a prized Austin attraction and worth a special trip.
The original Alamo Drafthouse was created in Austin in 1997 and has grown and spread its locations throughout Texas and a handful of other southern cities. It is famous for pairing food/movie options together, showing one of a kind films, and hosting their own small film festivals.
The Drafthouse also heavily encourages its patrons to follow strict movie-going etiquette i.e absolutely no phones, no talking during movies, and unaccompanied minors must submit an application in advance (yeah, seriously).
Don't worry though, the rules and suggestions make for an incredible movie experience, and with snacks and beer readily available, you're sure to be back for part II.
Cultural activities
Explore the University of Texas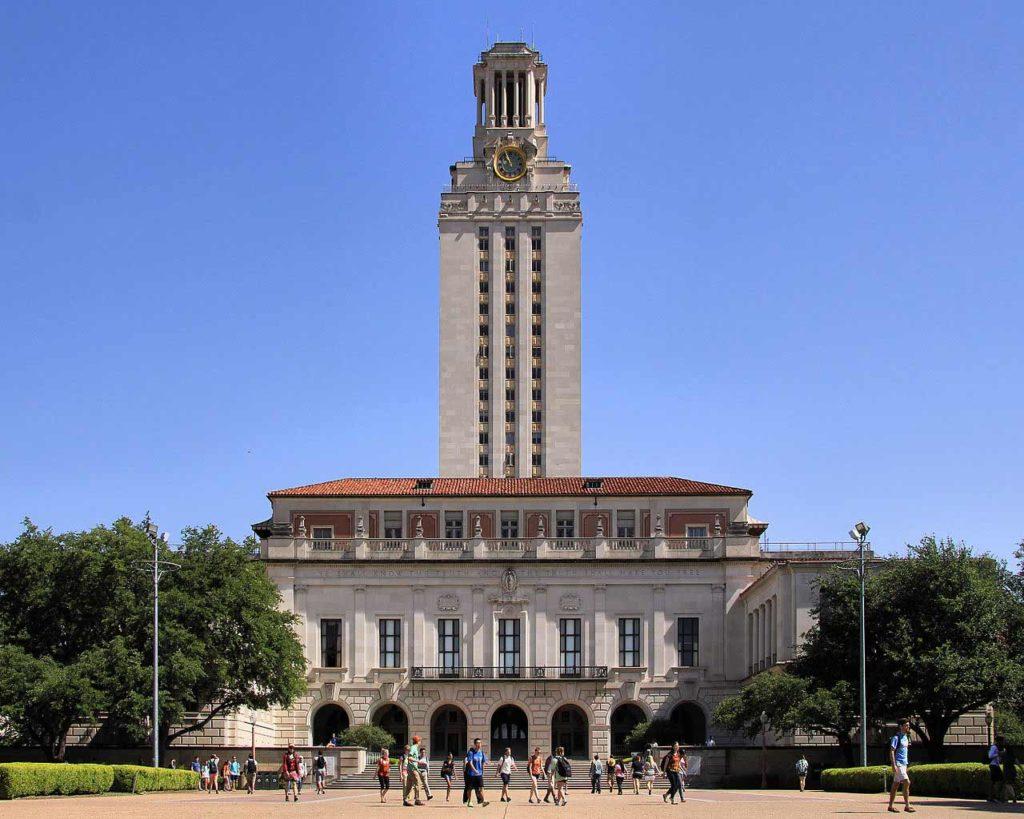 The Texas Longhorns are as much a symbol of the University of Texas as they are for the entire state of Texas, and the burnt orange streaks of pride throughout the city will constantly remind you of this.
The campus itself is a destination; spreading throughout downtown Austin, you can easily pop into a university coffee shop, browse the library stacks, or throw down a blanket and relax on the grounds.
If you're in Austin during football season, absolutely do not miss a Longhorns' game. Even if you're not an avid football fan, you can delight in massive pep bands, cheerleaders, excellent halftime shows, and some of the most dedicated supporters of the university all in the same place.
For a complete list of all University of Texas sports, and how to watch click here.
Listen to live music… anywhere and everywhere
Austin is sometimes known as the live music capital of the world, and you'll realize this as soon as you set foot on the ground in this vibrant capital.
From buskers in the airport, to packed dive bars on Dirty Sixth Street, you can truly find music anywhere you look.
It's best to pick a place to start: even a solid record store can be a great place to begin exploring your way through the musical facets of the city. If you're looking for a more structured path through the rhythmic chaos, check out Austin Detours who can guide you through the best spots in town and help you discover more backdoor bars, as well as the best main stages in the city.
For a complete list of Austin musical events, attractions, and schedules, check out this musical venue guide.
Hunt down the best graffiti artwork in town
Much like Austin's music scene, rouge paintings are spread all over town and offer brilliant pieces to ponder on every corner of the capital. Downtown offers an excellent spread of graffiti pieces hidden between streets (Congress and Guadalupe having some of the best).
You can also join a guided walking tour in order to not miss any pieces, as well as get a bit more of a local's insight to the works of art all over town.
Tipster offers a walking tour every Sunday at 1:00pm and takes you through one of the most unique things to do in Austin.
Welcome to one of the most extraordinary capital cities in the United States, with truly something for every type of traveler. Whether you're hiking through shaded tree tunnels along the river's edge, slurping fresh pico de gallo off your fingers, or throwing your head back at an outdoor music festival, Austin is a place with space for everyone.
Get inspired by more travel articles: