There are so many things to do in Cancún that most of them are unknown to many tourists. Truth is, the so popular city is one of the most demanded tourist destinations mainly for the beautiful turquoise sea, the pristine 26 km white sand beach, and the exciting nightlife.
However, there are so many places to visit in Cancún and many more reasons why you will love vacationing here.
If you are interested to know where to stay in Cancún, we recommend some of the best hotels for different budgets.
When we travel, we book our hotels through TripAdvisor, one of the best websites to compare prices.
We also use a lot AirBnB to book local apartments. If you have never used AirBnB before, you can have a $40 discount for your first booking through this link.
Always make sure you travel with travel insurance! Be adventurous, but not careless.
Check out some of the most reliable insurance companies out there: True Traveller if you're European and World Nomads if you're from elsewhere.
If you love animals and you prefer going local during your travels, try housesitting, which is an amazing way to travel the world while taking care of the pets whose owners are on vacation. If you use TrustedHousesitters with this link you'll get $20 discount on annual membership.
Like it? Pin it!

Things to do in Cancún
I have lived in Cancún for about seven years and I wanted to experience pretty much everything, even the nightlife, although I am not really fond of the party madness.
In this post, I am going to reveal to you not only the most popular Cancún activities but all the things to see in Cancún, including the more underrated ones, which I actually like the most.
What to see in Cancún
Isla Bianca
As we mentioned before, the number one tourist attraction in Cancún is the beach and Isla Bianca is my favorite one. It's actually not an island, as the name might suggest, but a beach, the last stretch of beach on the Caribbean side of Mexico, north of Cancún.
It's a paradise for kite surfers but everybody loves it. It's the locals' favorite place to hang out on Sundays. So, if you seek peace and tranquility make sure you avoid going on weekend days.
Mercado 23
Among the fun things to do in Cancún, I need to mention a visit to Mercado 23. There are two markets in downtown, one is Mercado 28, more touristic, where you find lots of potteries and local art and craft.
However, where I would go, if I were a tourist, is Mercado 23, where local life happens. That's where I used to go and buy my fruits and veggies.
They are a little more expensive but their products come fresh from the nearby fields, somewhere in Mexico, and I was happy to contribute to the local economies instead of buying imported products from the big Supermarket chains.
At Mercado 23 you can find also "weird" shops for special products such as worshipping objects, special candles, scents and "sacred" items that are used for rituals and good omens.
If you are not vegan or vegetarian, nor picky you can also try some savory local food. It's a fun place to hang out if you like to explore the real thing.
Get inspired by more articles:
Malecon Tajamar
It'is a beautiful area that has been recently built around the Nichuptè Lagoon on the Downtown side, opposite to the hotel zone.
It's a place where people mingle, where lovers take romantic walks, friends meet up and sports addicted exercise. Sometimes the area hosts some yoga events or other occasional group activities. Sunrises are gorgeous from there.
Mayan Museum
A relatively recent opening, the Mayan Museum offers a comprehensive synopsis of the history of Mexico during the pre-colonization period, in the times of the Mayan Civilization.
The museum is located in the Hotel Zone. Within the premises, hiding in the lush vegetation, you can also admire a few Mayan buildings, or what remains of them. It's a good break from your hot beach time.
Archeological sites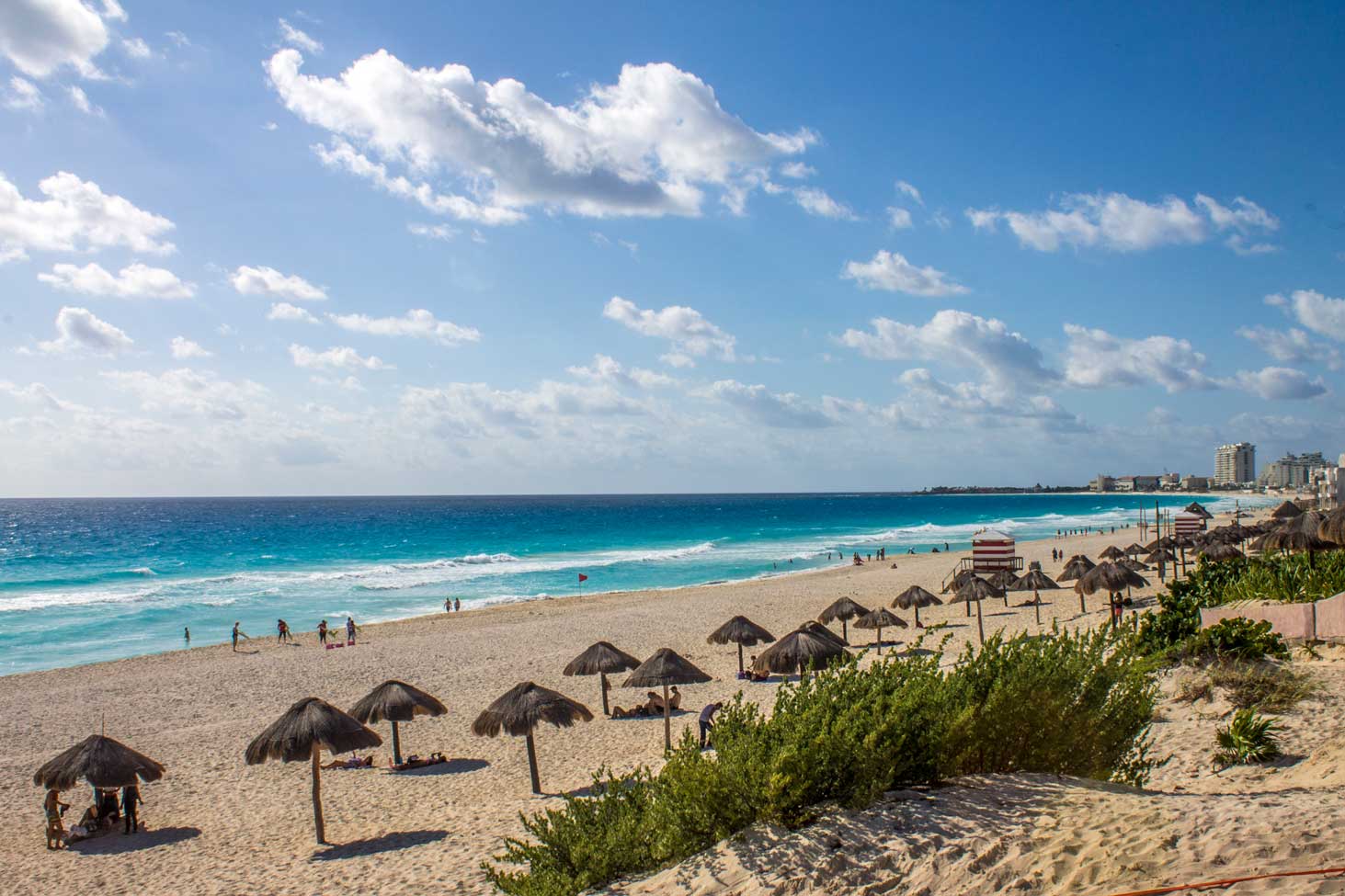 Believe it or not, there are two archeological sites within the city. Nothing compared to Chichen-Itza or Uxmal of course. However, I always enjoyed visiting them.
One is El Rey, at an easy reach, right close to Playa Delfines, a beautiful public beach, located around Km 16 of the Hotel Zone.
The other one, El Meco, to me even more charming, is located in Puerto Juarez, on the way to Isla Bianca, a couple of km after the ferry terminal to go to Isla Mujeres. El Meco is often used to replicate ancient Mayan rituals, the most common one takes place every year for the March equinox.
An interesting heartfelt show if you happen to be there during that time. The entrance is about 60 pesos ($3 USD).
Pack and travel:
Cancún tours
I normally prefer do-it-yourself tours. I always love to rent a car and find my way around. And in the Yucatan Peninsula is totally doable if you follow some important precautions. In this article, I explain how to drive safe in Mexico, for more details.
However, I understand that sometimes you just want to enjoy your short vacation without putting too much effort into the organization part. You just want to sit back and let the others do the job. I get it and I am totally with you.
In Cancún, there is a huge variety of tours organized by trustworthy agencies that you can join. Here I am listing my three favorites Cancún excursions:
Swimming with the whale sharks
This is my number one absolute favorite. The first couple of things to know, the whale sharks are absolutely harmless and they are free in the ocean, not raised in captivity.
They are actually migrating to the north seas and summertime is when they are hanging out between Holbox Island and Isla Mujeres in search of food.
The tours are done by "Lanchas", fisherman boats, and the knowledgeable fisherman/captains know where to take you so that you can see them. When is your turn, in full respect of the environment and the big water giants' habits, you will be allowed to swim close by (without touching them).
It's a very emotional experience and as long as it's done with respect for the environment, I always encourage my readers to try at least once in a lifetime.
Catamaran tour to Isla Mujeres
Although I always suggest visiting Isla Mujeres on your own, just because you are free to do whatever you want at your own pace and in tranquility, I admit that the tour could be fun.
It's done in a catamaran with an open bar and music. Alcoholic drinks are available only after the snorkeling, for security reasons. You will be left speechless by the intense turquoise of the water, so much that the views during the boat crossing alone make the trip all worth it.
Chichèn-itza
Hands down to that. If you have never been to Chichen-Itza, you cannot say you have been to Mexico. Well, maybe I am a little exaggerating. However, although it wasn't actually the most important city during the Mayan Civilization, its magnificence and fame made it the most popular one, attracting visitors from all over the world.
I am sure you don't want to miss that. There are different kinds of tours, some of them include also a visit to the quaint colonial town of Valladolid, and/or a visit to the cenote Kin-ha, also quite remarkable.
What to do in Cancún
Kayaking and Paddleboarding
Among my favorite activities to do in Cancún, that not many people know about, are kayaking and paddle boarding in the Nichupté lagoon. There you will be fully immersed in nature listening only to the sound of silence and the birds chirping.
I normally discourage motor watersports which contaminate the environment and disturb the life of the local fauna.
A tour on your paddleboard or kayak, instead, allows you to enjoy a little exercising while discovering the biodiversity of the lagoon hiding through the mangroves roots.
If you are a paddleboard pro you can do it also in the sea which can be a little bit more challenging sometimes because of the waves, depending on the weather conditions.
Watch the sunrise
Every morning there is another miracle rising from the turquoise water of the Caribbean sea, painting the sky in all nuances of pink and yellow.
Even if you are not an early bird, I suggest you should make the effort, at least once, and open your blinders around 6 am in summer and 7 am in winter if you are staying in one of the high-end resorts of the Hotel Zone.
If you are not right on the beach you can get to the closest beach, Playa Las Perlas at about 3 km from Downtown. It's my promise to you, your early rise will be highly rewarded.
Watch the sunset from La Isla Mall
Located in the Hotel zone on the Lagoon side, La Isla is a luxury mall with shops of all sorts, from clothing to accessory, elegant restaurants and coffee' shops.
A visit is totally worth it, especially by sunset hours when you can admire the sun going down on the Lagoon. Three very elegant, high-end restaurants worth mentioning located at La Isla are the thai restaurant "THAI", the Indian "Elefanta", located right on the lagoon, and the ultra chic Italian Restaurant "La Madonna".
Best things to do in Cancún at night
As I mentioned before I am not really a nightlife person but there is one place I really recommend to experience at least once and that's COCO BONGO. You might have heard of it.
It's like a discotheque, but a special one. In fact, from midnight a group of professional dancers performs in spectacular jaw-dropping shows. Every show is a tribute to a world-famous artist such as Madonna, Michael Jackson, Freddy Mercury, you name it.
It's really fun and beautiful to watch, if you are not claustrophobic, though. In fact, every single night the place is packed with people dancing and drinking the night away.
In the same area, there are many other different bars and nightclubs where you can dance and drink or eat all night long.
Those were my highlights among the best things to do in Cancún. I hope you will find it useful and you will enjoy my "other" home.
Get inspired by more travel articles:
Do you have a burning travel question? Join our Nomad is Beautiful travel community on Facebook and ask experienced travelers!