This article will take you to Sweden, and you'll learn about a few things to do in Dalarna – a place where it's easy to become a Swede.
Homey.
That's how we felt while visiting the Dalarna province in central Sweden last summer.
There are places that are described as quintessential examples of the culture of a nation. Places they recommend visiting so you can experience the authentic rhythm of the streets without being overwhelmed by tacky souvenirs and selfie sticks; they promise you'll be able to eat the same food as locals do, or maybe learn how some curious traditions began. …Places, where one might find the essence of a country.
Well, if you seek such a place in Sweden… the Dalarna province is the right destination to discover all of the above.
There is no doubt that there are oodles of other places in Sweden where one can discover local customs and immerse themselves in the culture. We were invited by the local tourism board of Dalarna to learn about the Swedish way of life right in this part of the country. Hopefully, you'll be able to experience the feeling of Sweden through our experience, too.
Things to do in Dalarna
Apparently, Dalarna is one of the finest places where you can become a Swede, even if only for a week. So, what are these quintessential traits that will help you to embrace Swedish culture?
Discover folk power
Sweden's folklore tradition is very rich, particularly in the area around Lake Siljan, and towns of Rättvik, Mora, and Leksand in Dalarna province. So if you picture Swedish folk culture as colorful costumes, people dancing and celebrating Midsummer, remember Dalarna is where all this fun happens.
If you are in the area at the end of June, you'll be able to experience one of the biggest festivities in the country while officially welcoming summer.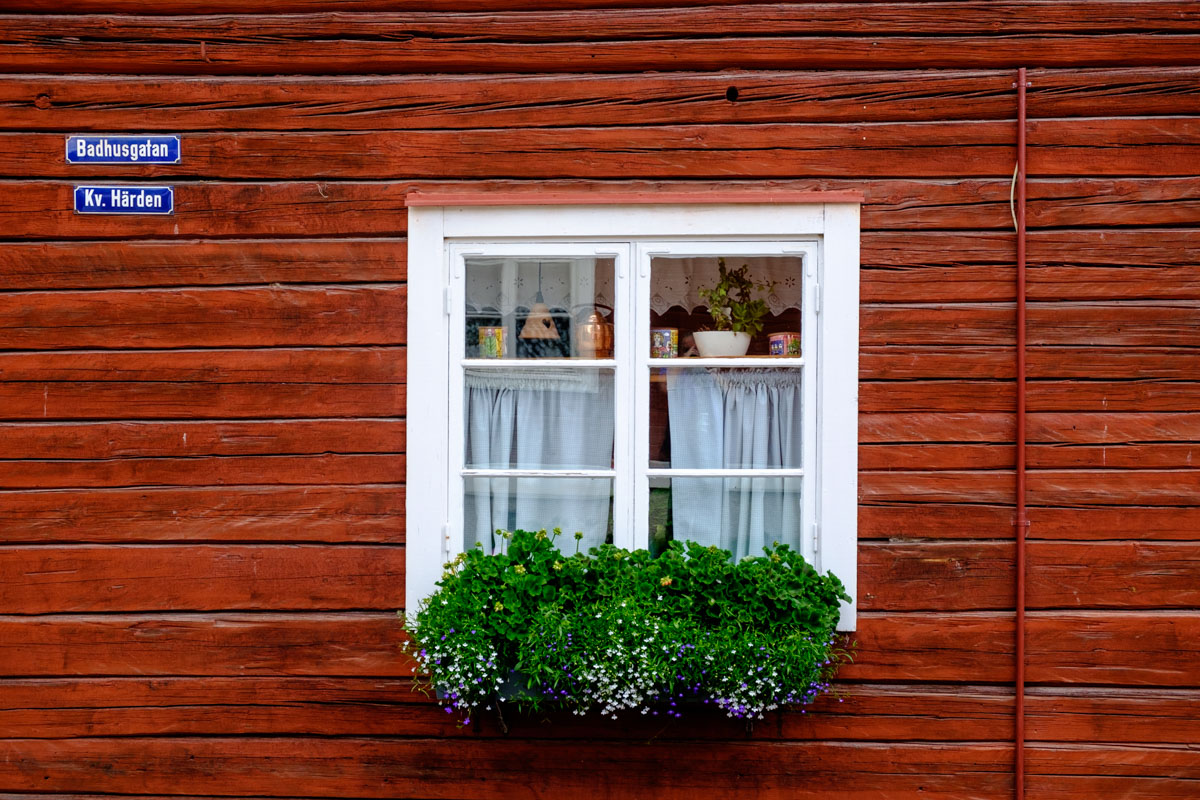 Folk art in Dalarna, similarly to other parts of the country, is not a hipster thing. It's a natural part of daily life starting from interior design, house facades to fashion. Folk rocks in Sweden.
You can start your Swedish cultural adventure by staying in one of the cozy inns or a bed & breakfast. Swedes casually call it lantstället, which is a country house where locals, and currently also tourists, come to enjoy their vacations. You'll know you've found one when you come across the simple red painted wooden house with a classic rustic interior. It's a perfect example of the countryside life in Sweden.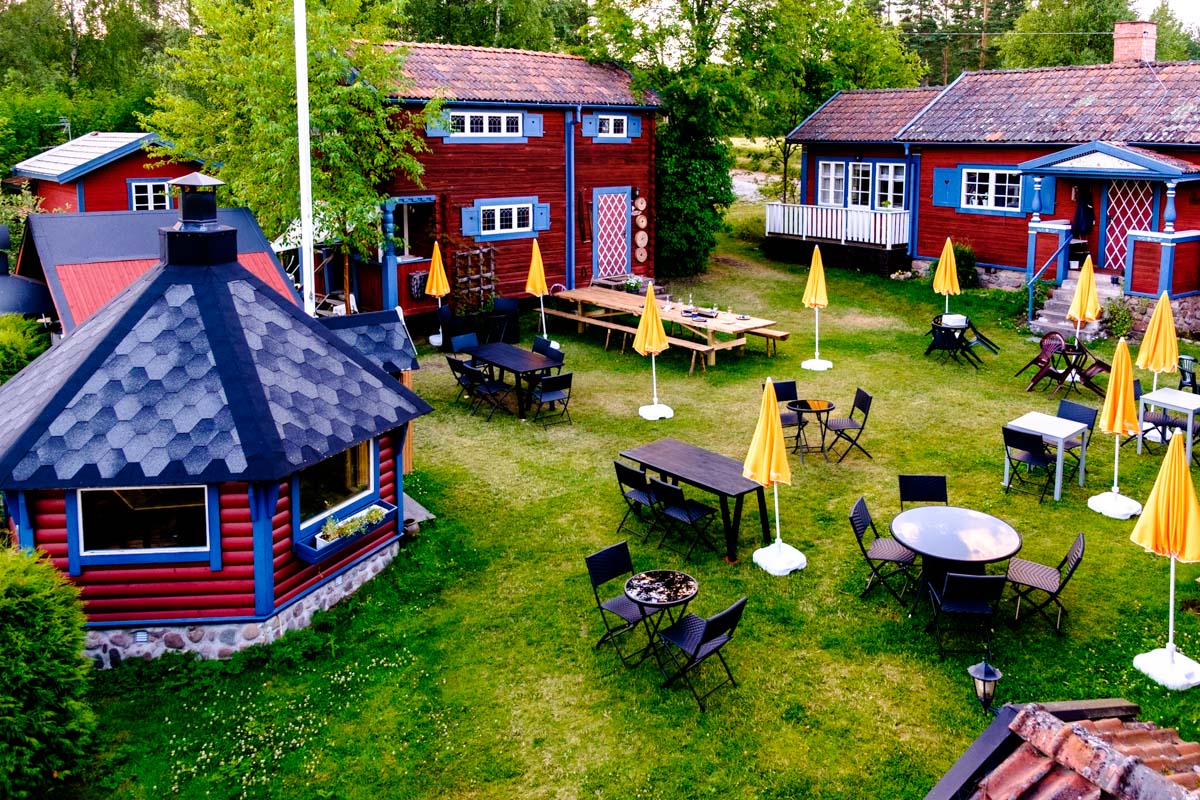 We stayed in Solgårdskrogen (The Sun Garden), which is an example of Dalagård, a typical estate of Dalarna region.
Solgårdskrogen is a small family run B&B in a village of Nittsjö close to Rättvik town. The owner, Jonathan Bjurenstedt, created a place where modern design mingles with the history. Literally. One of six buildings of the property is a härbre – a small-reconstructed house on stilts that was built in the 1600s. The other buildings on the property are new, but following the old tradition of the local architecture: wooden base, red paint, with corners of the buildings with light blue decorations on the windows.
The mission of the Solgårdskrogen is not only to offer you a unique accommodation in one of the green valleys of Dalarna, but also to evolve the collaboration with local producers, which would also enhance sustainable business in the area. Jonathan and his son are great cooks, so make sure you stop by to have a meal here, no need to be their B&B customer to enjoy their amazing service!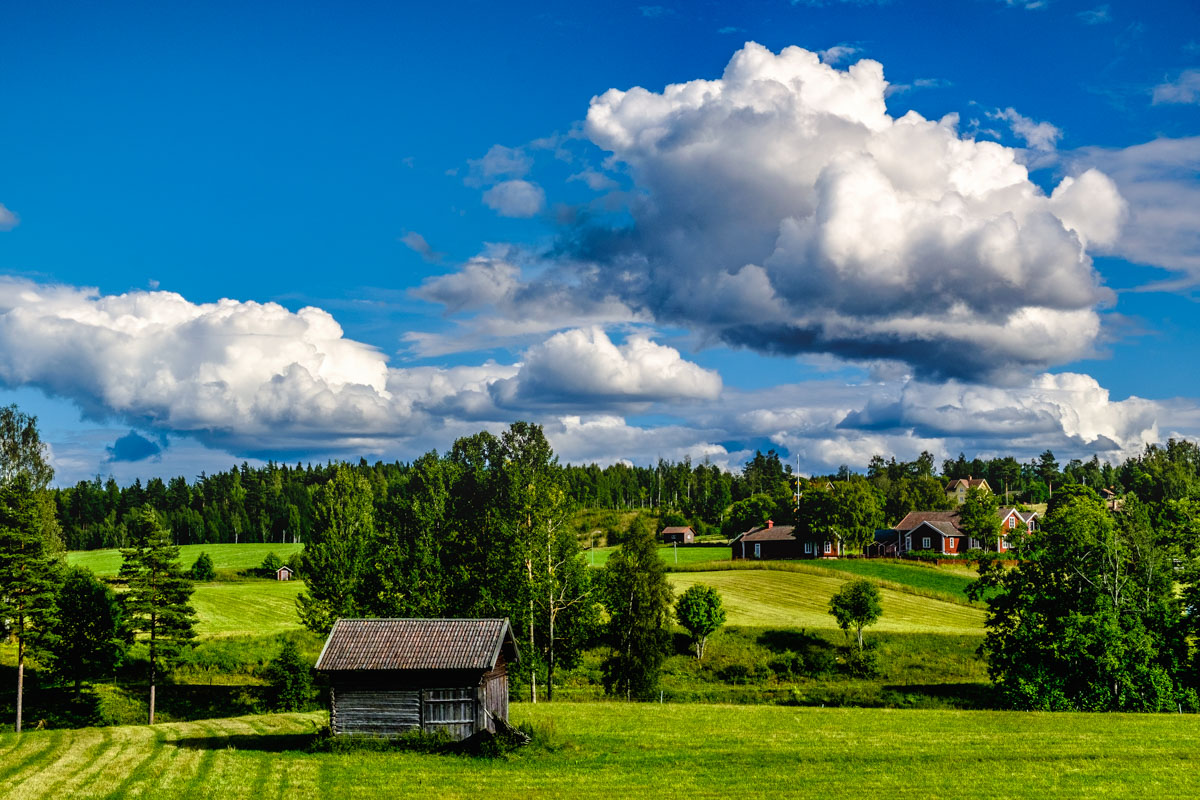 Warning: tranquility of space, cozy interior of the rooms, breakfast served from local products, sauna, a fire place for cold evenings, and neat patches of forests and meadows is merely a slice of the experience.
Oh, and can you believe the Swedes invented an expression for waking up early to hear birds singing and to appreciate nature? Well, they did! So remember the word gökotta in case someone proposes that you gökotta, say yes!
Look closer at their red
"Yes, but the red here in Sweden is different. The red shade of our houses originates in Dalarna, and there is also a name for it: falu rödfärg or falu red," explained our guide, Helena Kvarnström, when we asked about similarity of red houses in Sweden and the other Scandinavian countries.
Iconic red painted houses certainly make landscape of this part of the world very distinct. Tiny red dots pop out from Nordic scenery in every season, and the red color in the Scandinavian lands varies only slightly.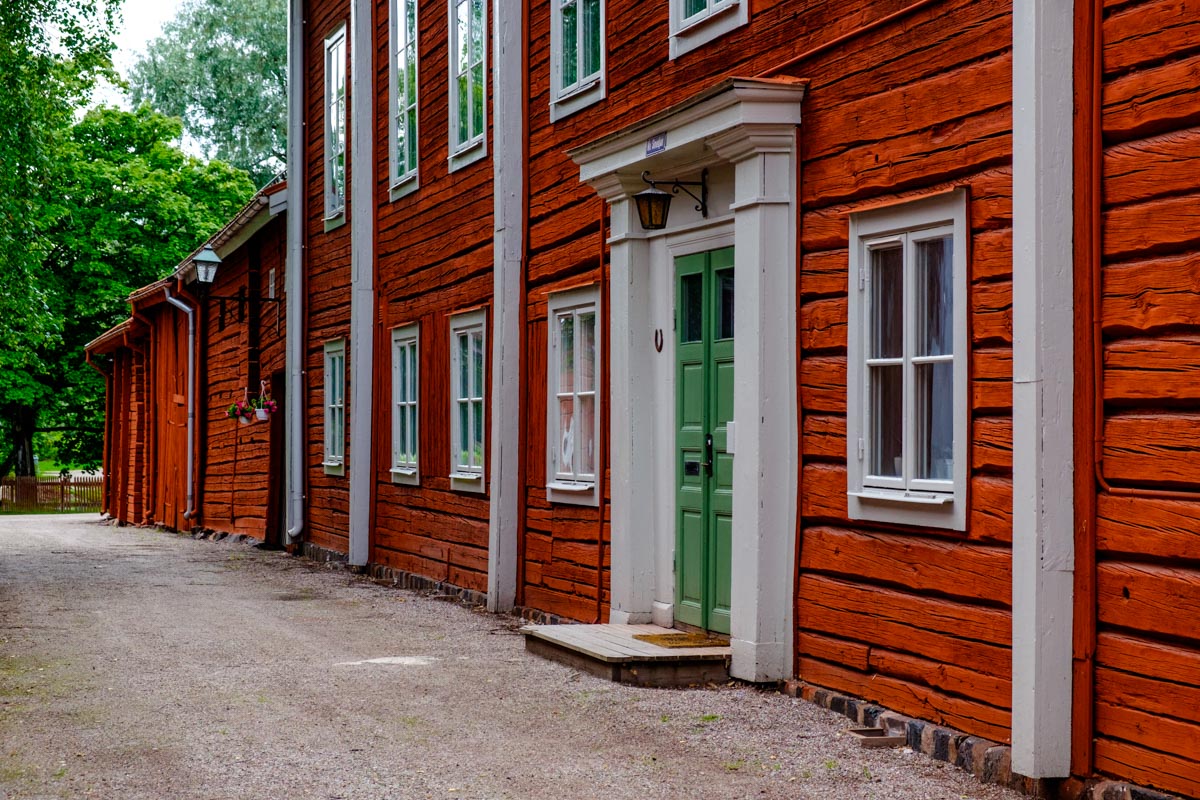 Swedish falu red, an eco-friendly house paint from Dalarna is a special mixture that contains boiled linseed oil, water, rye flour, zinc, iron ochre, silica and natural copper preservatives. The latest serves as protection from the weather elements in harsh Nordic climate.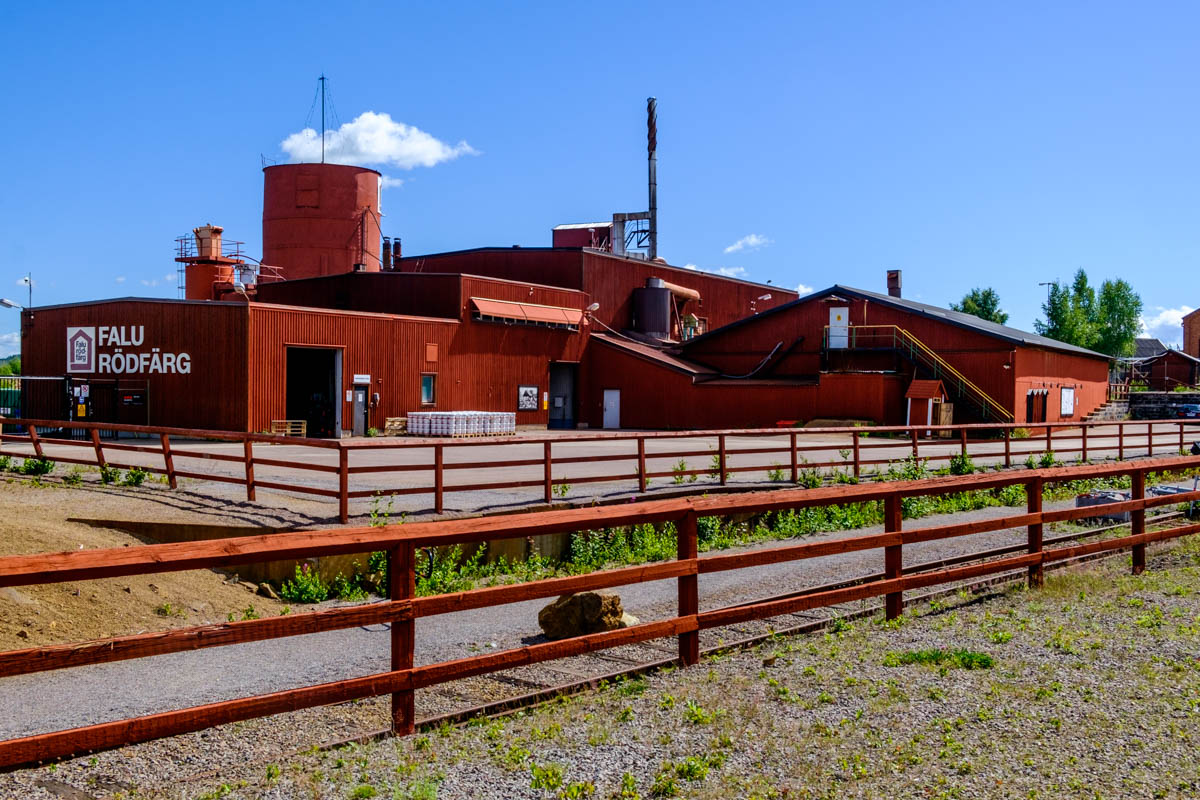 If you want to see where exactly the deep red color comes from, then we suggest paying a visit to the Falun Coppermine, which is also a UNESCO World Heritage Site.
They organise a couple of different guided tours that will take you down to the mine. There you'll learn about its history, including the story how the mine in Falun helped to gain the country's power in Europe in the past.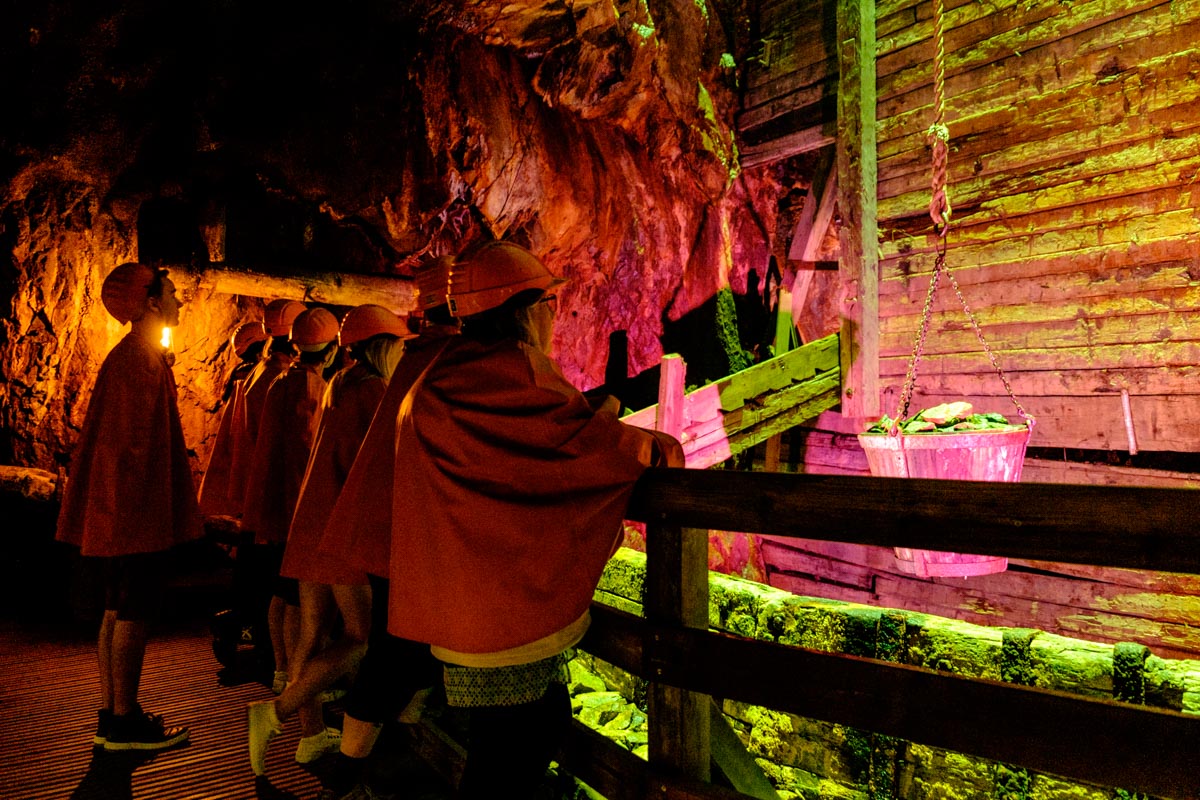 Underground the copper mine in Falun is just beyond impressive. It used to be the biggest copper mine in the world in the 1500s and started operating already in the 11th century! The mining excavation is known as the Great Pit. It's 400 metres wide and 95 metres deep due to a mine collapse that happened in 1687 on Midsummer Day, which means nobody was hurt, as all miners were celebrating!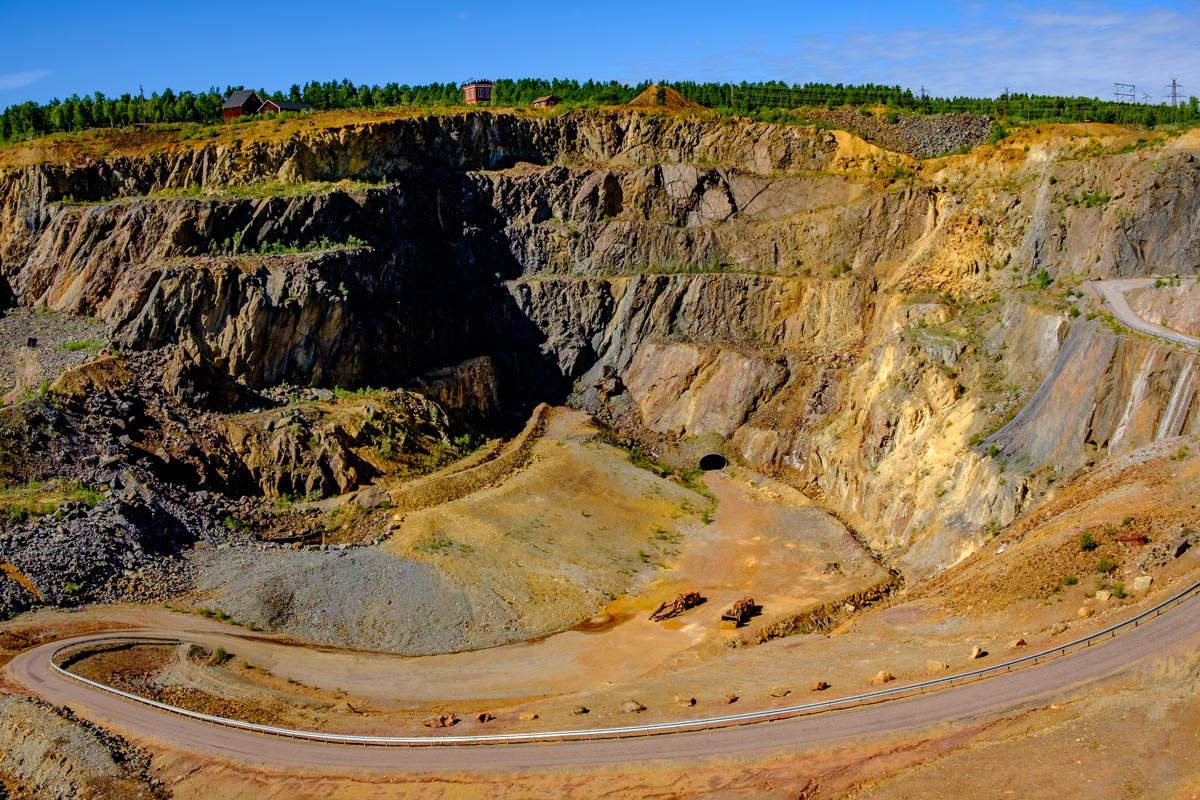 For more details about the Falun mine and its attractions as well opening hours, please head over to their official website.
Read more articles about Europe:
Get your Dala horse
Dalahästar – a bright red coloured wooden horse painted with green, white, blue and yellow ornaments. You'll be surrounded by this colorful symbol of Sweden no matter which part of the country you visit. A few centuries ago it used to be a simple toy, now it has become an iconic reminder of Swedish culture.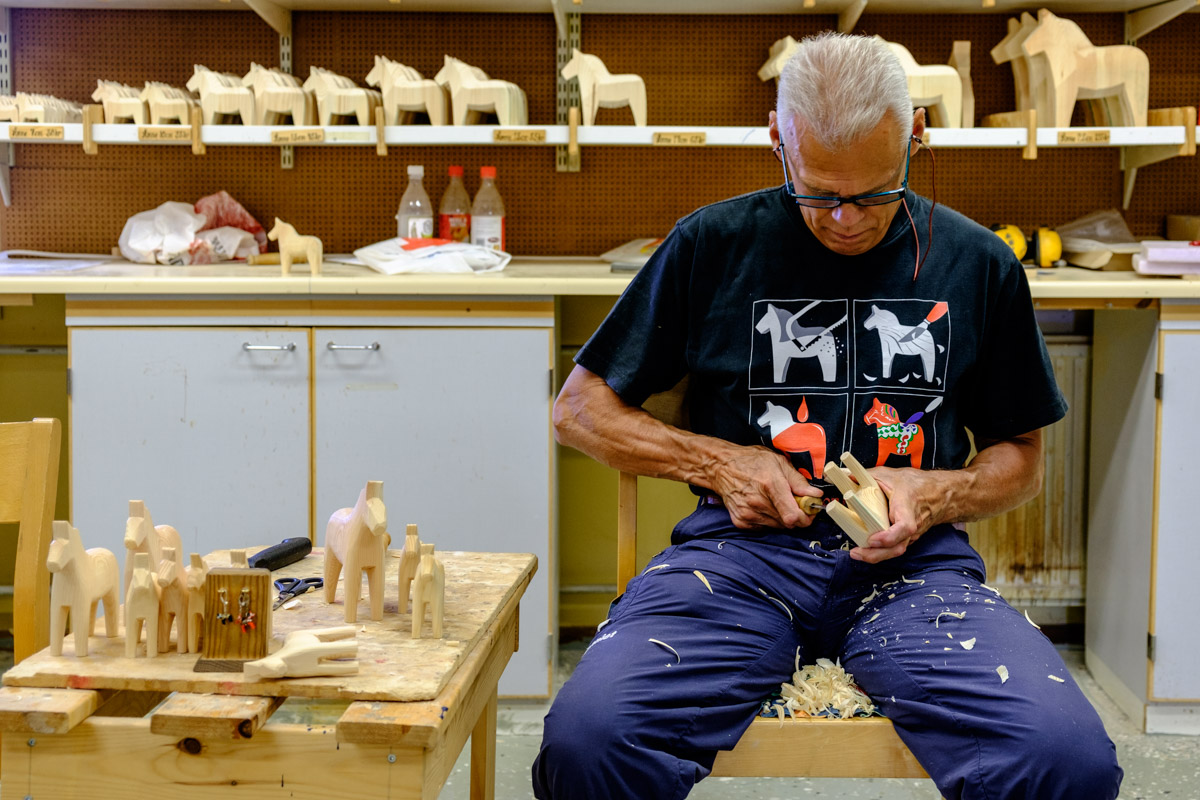 How exactly a Dala horse was invented remains a mystery, although there are a few versions you might take as facts… or not. One says, the first Dala horse toys were carved already in the 17th century, another local tale tells a story about an artist who painted a wooden horse with the same motifs as the building of the farm he was designing at that time, and another version says there were two brothers, Nills and Jannes, who started carving the horses when they were teenagers.
We'll probably never know exactly who and why the first Dala horses were carved and painted in kurbits style, but you can see the whole process of creating these wooden beauties in one of the workshops in Dalarna province yourself. We had a chance to visit Nils Olsson manufactory in a small town of Nusnäs, founded in 1928.
Although carving out a horse shape is not done manually anymore, they still paint every single toy by hand, and you can watch the masters of gourd (horse floral patterns) in action at the workshop. Moreover, if you dare, you can paint your own Dala horse!
Note: to replicate the original decoration of a Dala horse, remember the Swedish golden word lagom, which means 'not too little, not too much, just right.'
Live the tradition at a pasture cottage aka fäbodar
Swedish long traditions of agriculture go back 4000 years ago, when the climate change helped the land to rise out from the sea. Currently, the Dalarna province is facing the situation when traditional pasture cottages known as fäbodar have reason to be worried about their existence.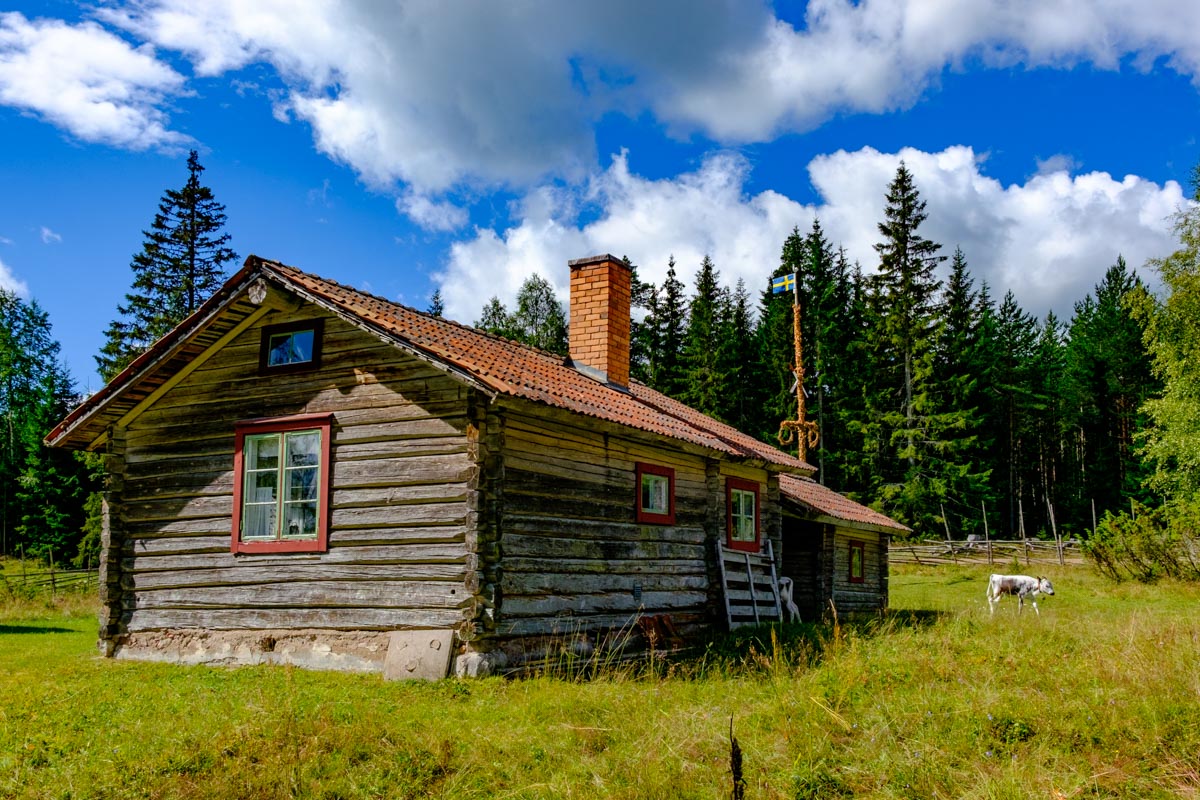 Farmers and shepherds have used the temporary settlements since the 15th century. They used them in summertime as a living base while cattle were grazing on the pastures. Farmers have been producing traditional products like tunnbröd (flat bread), messmör (a special type of goat cheese), following the old recipes.
Recently, pasture cottages opened their doors to outsiders, and you can learn about their old traditions, drink authentic boiled coffee, taste some home cooked meals, and most importantly, buy some of their products made with love.
Because, even if the idea of living in nature and making the homemade goods might sound romantic, fäbodar is really about the life of real people. It's not a touristy attraction that random tourists visit so they can watch a "made-up rural show."
Locals devote all their energy creating a sustainable business running the pasture cottages. Tin Gumuns from Karl-Tövåsens fäbod in Rättvik explained it very well in this article published on Nordstjernan.com: "As a tourist you want to see a woman with long braids, walking and singing in the sunset, and you want to see the right sort of native breed among the animals. But biodiversity doesn't care about breeds… I can't afford just sitting here in the forest, I need people to come and buy things from me."
Tin is right. Fäbod is not a museum; it's a living place, where people work daily from 5 am till late evening, so our support in the form of buying some local products they make is the least we as visitors can do. Needless to say, our actions can help to preserve a unique tradition.
Restore your energy in the wild
Similarly to Finland, also in Sweden they treat silence like gold. One of the places where you can indulge in the tranquility of nothingness is nature. Swedes even have a noun for a special place where you return to relax, and a place to get rid of gloomy mood. Take a note of the word smultronställe, which literally means, a place of wild strawberries.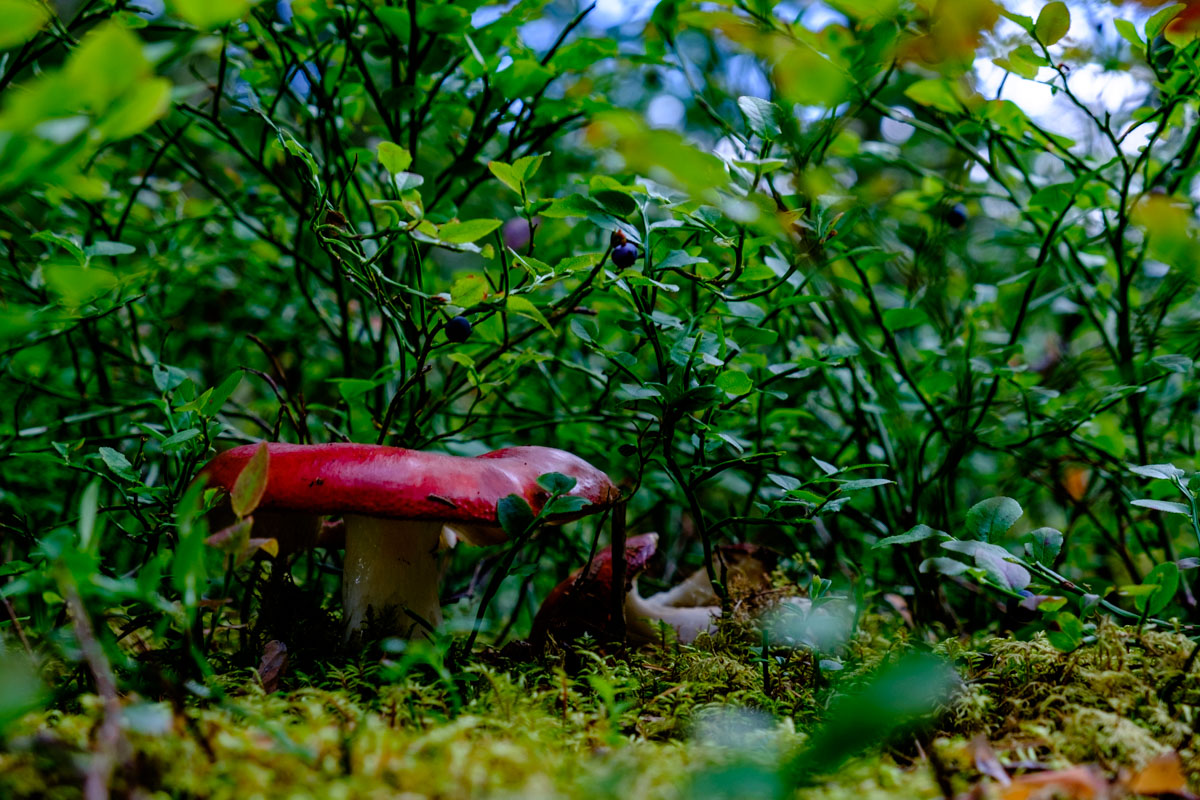 In Sweden, similarly to Finland, the Every Man's Right law (Allemansrätten) allows you to forage wild berries and mushroom in forests, parks, and also in the private land. Of course, all with respect to the property and nature.
The awesomeness of nature in Dalarna inspired many. The woods of the neighbour country impressed Danish writer Hans Christian Andersen, and the result of it was a volume of travel sketches, In Sweden.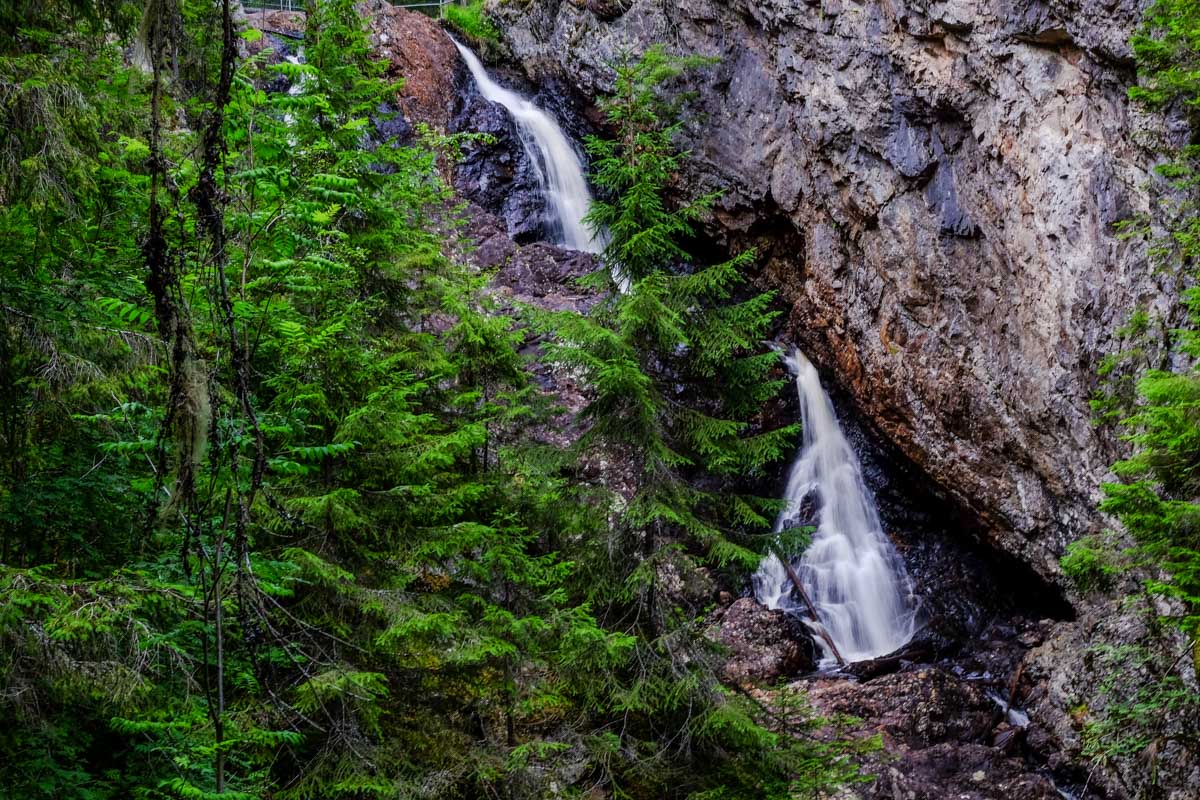 Ingmar Bergman's movie The Virgin Spring (Jungfrukällan) was shot in the woods of Styggforsen Nature Reserve. Well, having seen the mystical forests of the area, the director's pick seems very reasonable.
Styggforsen Nature Reserve in Dalarna province is worth the visit for more than just its visual charm. As our guide Lotta Backlund from Green Owl Travel said with a mysterious smile, "If you are quiet enough, you might see an elf or a troll here."
You'll be able to hike in the reserve thanks to the marked paths, see the traces of the Ice Age in the form of deep canyons that were created thanks to a meteorite that blasted into the area about 370 million years ago.
Speaking of the past, you can find 9,550 years old Norway spruces on the Mt. Fulufjälletin in northern part of Dalarna, which are some of the oldest living trees in the world.
In case you prefer something more relaxing than hiking, you can also set off for a canoe trip through wild taiga in Dalarna. Eco-tourism company, Wild Sweden organises various trips through the nature with very dedicated guides, who know the best places to spot beavers in the wild and more!
And if biking is your thing, the province has over 1300km of marked trails that make Dalarna a paradise for your passion. For more details, visit this page dedicated to biking in Dalarna.
Fix it all with fika
Fika is a must. Because fika is the core of Swedish social life, a ritual with rules you will be happy to follow. Who wouldn't like to have a coffee break where sweet pastries like cinnamon buns are obligatory? You have fika at work, at cafes, at home, or in the woods. Because fika is social, fika is sexy.
Borta bra men hemma bäst.
Away is good but home is best.
That's what the Swedish proverb says and you understand why these wise words come from this land after you visit countryside and small towns of Dalarna. They fan out some cozy & familiar vibes that make you feel snug instantly.
Exteriors and interiors of the buildings, campfires, clean green vast valleys and well preserved old forests, sweet coffee breaks and gracious locals… All this invites you to stay longer, to take your time, and to feel comfortable.
Because this is how home feels. This is Sweden.
Disclaimer: Our experience in Dalarna was organised by Visit Dalarna and Visit Sweden. All attempts to become a Swede, as well as our opinions and words remain our own. 
Like it? pin it!