Nepal's popularity has quickly rebounded since a pair of 2015 earthquakes shook the nation, but many people bypass its capital en route to the Himalayas and beyond.
In spite of all the things to do in Kathmandu, from culture, to cuisine, to nature, the city is but a stopover for far too many visitors to Nepal.
The good news is that Kathmandu is such a treasure for travelers, you won't need to wait very long after landing to feel delighted.
In fact, this begins the moment your plane lands at Kathmandu airport, the rolling hills around you carpeted in its colorful cityscape.
Kathmandu Temples and Holy Sights
It's not surprising that many of Nepal's most important sacred sights are in Kathmandu, given that it's the most densely populated city in this country of devout Hindus and Buddhists.
On the contrary, what surprises many visitors is the sheer quantity of temples in Kathmandu, to say nothing of how enchanting they are once you get a closer look inside.
Thamel District in Kathmandu
Starting in Thamel, which is the densely-populated district where most foreign visitors sleep in Kathmandu city, the most conspicuous attraction is Durbar Square.
Durbar Square appears to be a collection of temples, but is actually the former residence of the former Royal Family (who was brutally murdered in 2001 – read more about that here).
As you walk through the narrow streets of Thamel you'll also see smaller and less dramatic temples, such as the pigeon-covered stupa of Kaathe Swyambhu Shee and the picturesque Ganesh Temple.
Beyond this, a lot of the sightseeing in Kathmandu requires you to get out of Thamel—and, yes, to discover Kathmandu's least-enjoyable feature, its traffic.
The journey is more than worth it, however, when you arrive at massive Boudhanath, a huge Buddhist stupa (one of the world's largest) about 10 km northeast of Thamel. You can easily spend an entire evening here, enjoying some hot Nepalese tea at a rooftop café as you look out onto the lit-up monument.
Read more articles on our blog:
Bagmati River District
Kathmandu attractions extent even further outside of Thamel, specifically to the banks of the Bagmati River, which is where you find Pashupatinath.
This Hindu temple—and important part of the Kathmandu Valley UNESCO World Heritage Site – is a place of many cremations, which travelers are welcome to watch as long as they remain respectful.
Natural Things to Do in Kathmandu
More than two million people call Nepal's relatively compact capital home, which can leave some visitors to wonder if there are any natural places to visit in Kathmandu, aside from buying the marigolds you see at local markets.
The general answer to this question is "yes," although a couple of caveats do exist.
Monkey Temple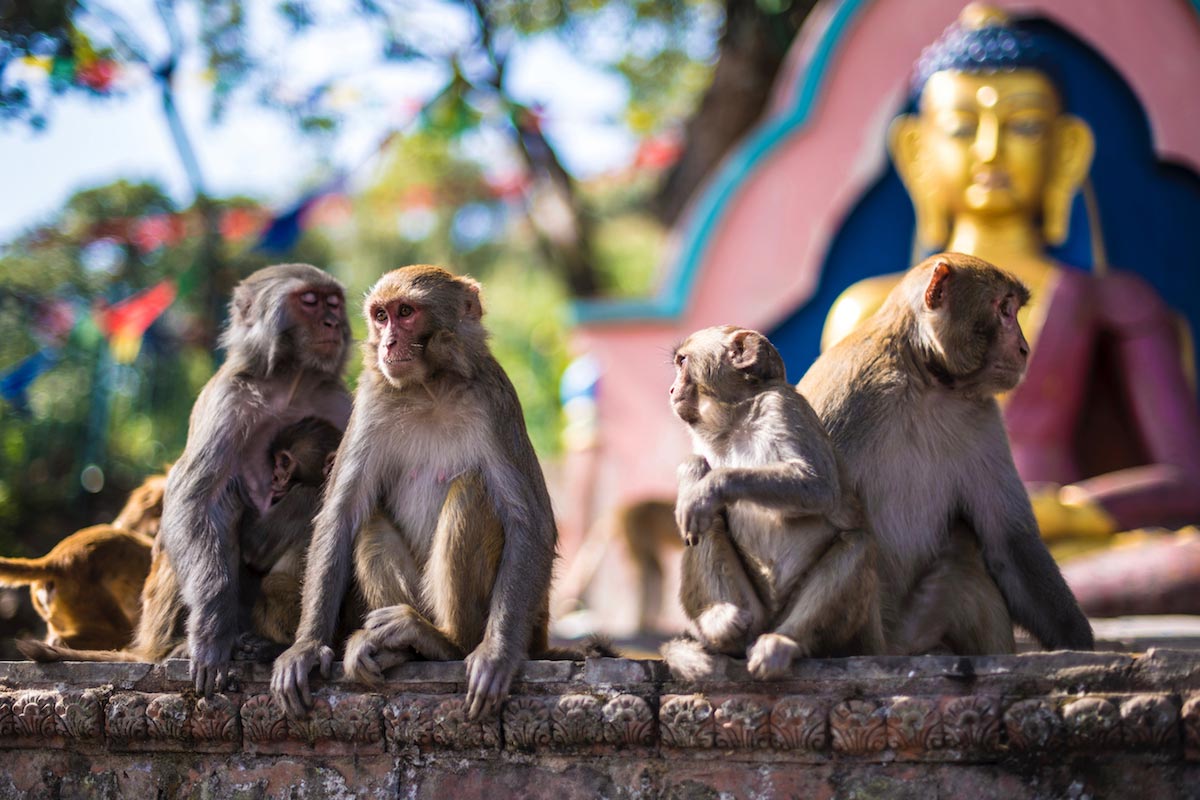 For example, the so-called "Monkey Temple" of Swayambhunath technically answers the question of what to do in Kathmandu if you're looking for nature, given the quantity of the animals that hang out here.
On the other hand, while you can see the Himalayas (on a clear day) after hiking up to the summit of this hilltop temple, the experience is still as urban as it is natural.
Garden of Dreams
Another natural stop on any Kathmandu tour is the Garden of Dreams, located just north of Thamel.
One of the only dedicated green spaces in Kathmandu, it's a far cry from the parks you've seen in North America, Europe or even elsewhere in Asia, and only provides a short respite from the chaotic cityscape you seem to leave behind when you enter.
The simple fact is that only a few Kathmandu points of interest are the least bit natural, and those that are don't remove you from the chaos of the city in any substantial way.
They're still worth a visit, however, if only to see a balanced picture of this diverse destination.
Discovering Nepalese Food
One thing that surprises travelers to Nepal is how much the Kathmandu temperature drops at night. The best way to overcome this, at least before you crawl into your warm bed, is to discover delicious—and underrated—Nepalese cuisine.
The most popular Nepalese food you'll see as you peer into restaurants during your Kathmandu sightseeing is the "Thali" set, a platter featuring a variety of vegetarian meat-based Nepalese curries around a generous helping of rice, with delicious roti bread to pick it all up.
The taste of these curries is not entirely dissimilar to Indian ones you've tasted, although it's less intense for sure.
Another warming Nepalese food to combat the sometimes chilly weather in Kathmandu is the "momo."
A dumpling filled with meat or potatoes that's even more popular in the Himalayas (Tibetans claim this as their own food, for example) that it is in Kathmandu, it's as much about savory, satisfying flavor as it is the power of the steam to warm your soul.
The best part about Nepalese food, no matter what you eat, is that it's pretty fast. This means you won't have to take much time out of discovering tourist attractions in Nepal and Kathmandu if you wish to discover the local culinary scene.
Day Trips from Kathmandu
Visiting places in Kathmandu can take up at least a few days of your time, but one of the most exciting aspects of spending time in Nepal's capital is the various day trips you can take.
If you're adventurous you can access most of these via bus or minibus from Kathmandu's central bus station, although private taxis are affordable enough here that they're a great option as well—arrange these through your hotel.
Bhaktapur
First up in this round up of Kathmandu day trips is Bhaktapur. This former medieval city-state is technically only 15 km outside of Kathmandu's city limits, but thanks to traffic feels much further away.
It was also damaged even worse than central Kathmandu in the earthquake, a fact you should keep in mind so as to temper your expectations before you arrive—there's still a lot of damage.
Durbar
Like Kathmandu, Durbar is home to its own Durbar Square (Durbar means "Royal Palace"), which is where its own royal family used to live.
The key attractions here, such as Nyatapola Pagoda and Changu Narayan Temple, are some of the most satisfying places to visit near Kathmandu, although they're only the beginning, not the end.
Nagarkot
To be sure, if you don't plan to take a longer hike into the Everest or Annapurna ranges of the Himalayas, you can still experience the majesty of the mountains within leaving the tourist places in Kathmandu far behind you.
Towns like Nagarkot are only a couple hours further outside Kathmandu than Bhaktapur, but offer a feeling of true escape as you enjoy a view of the Himalayas less dependent on the smog in the air than inside the city limits.
Everest base camp helicopter Tour
This 4 hours helicopter ride to Everest base camp is an excellent option for those who want to see Mount Everest. The trip starts from Kathmandu early in the morning. There are 3 stops: Luka for refueling, Everest View hotel for breakfast and a panoramic view of Everest and Kalapatha (5644m/ 18517 ft) for the view of Mount everest. Magical Nepal operates Everest base camp helicopter tour on a sharing basis for just $1000 per person
The Bottom Line
If you truly want to discover Nepal in all its glory, you need to spend at least a couple of days in its capital.
The sheer wealth of things to do in Kathmandu makes it as least as worthy of a visit as the Himalayas, the smaller (and more-loved) city of Pokhara and any of the other acclaimed destinations within this mountain nation. Adding this to all the places near Kathmandu you can visit on a day trip makes it a world-class tourist destination, even if it's the only city you have a chance to visit in Nepal.
Like it? Pin it!