Is Colombia in your list of your next travel destination? We would recommend it, especially with the variety of interesting things to do in Medellín (pronounced med-e-jean).
This is a city that is undergoing massive change. With the recent signing of the historic peace treaty in Colombia in the late 2016, accessibility, safety, and optimism now make Medellin, as well as the province of Antioquia, an attractive for many reasons
As soon as you arrive at the Medellin airport and as you take a taxi down the winding roads into the Aburrá Valley, you know this place is different. The city is surrounded by mountains, which not only makes it beautiful, but it also results into a favorable climate, with temperature averaging between 27 to 28°C in the day while in the evening, it lowers from 16.5 to 17.4°C.
This is the feature of the place that gives it the name of The City of Eternal Spring. It is best to visit Medellin in the months of December through March, since these are the months with the least amount of rainfall.
Although Medellin Tourism is growing, it is still in its infancy. So, the time to visit is now before this place is discovered by the masses!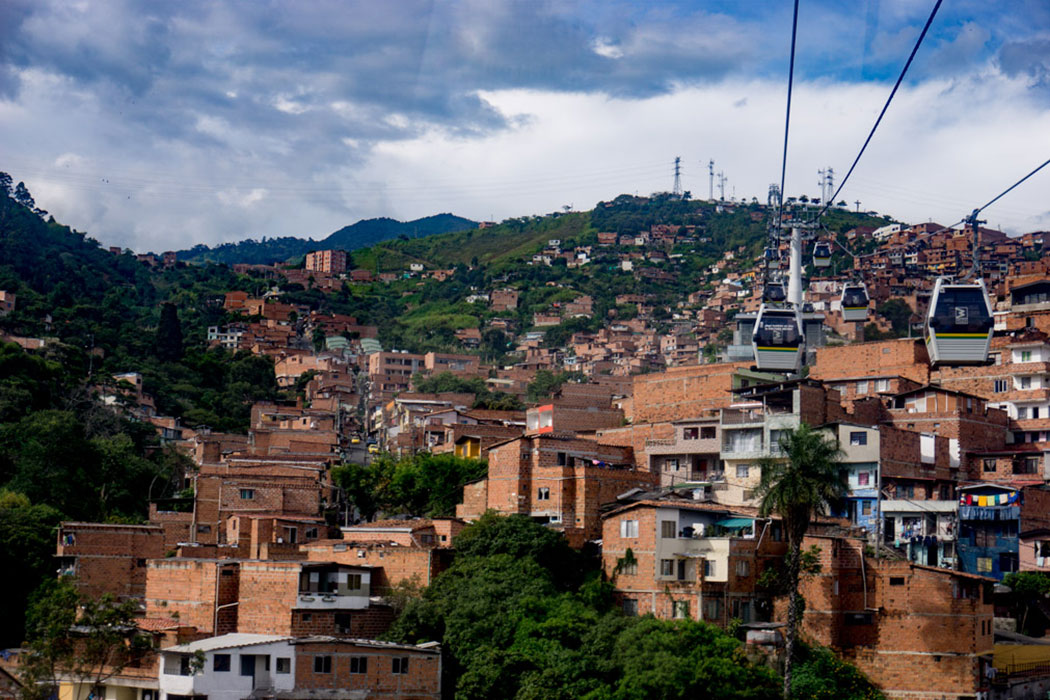 Things to do in Medellin
Learn what this city's transformation is all about
It's hard to imagine that this city was considered as one of the most dangerous cities in the world, considering it is now one of the most popular tourist attractions in Colombia.
That is why Medellin's tours about its revitalization are so interesting. The keys to such change are the social projects that help improve accessibility, creativity, and community.
We recommend visiting Comuna 13, as it is one of the best things to do in Medellin. It is a neighborhood (barrio) in this city.  A tour around the place will allow you to understand its recent history and learn about it through photographs, music, graffiti and the social projects that use creativity as the best form of non-violent expression.
Along with the incredible graffiti stories, you will also see a somewhat perplexing thing on this tour – an enormous 384m orange-roofed outdoor escalator, uniting Comuna 13 (located high on the hillside) to the rest of Medellin. A journey that once took residents into a strenuous 35-minute hike up the hill is now a six-minute trip.
Read more related articles:
Experience the ultimate Colombian Cultural Pastime: A Football Game
There is nothing that shows the passion of Colombians more than watching a Colombian Football (soccer). Watching a game is one of the top things to do in Medellin. There are two rival teams in the city: Atlético Nacional and Deportivo Independiente Medellin.
The atmosphere is incredible – smoke canisters streaming the team colors, cheerleaders parading in the field and large groups of fans with banners, drums and trumpets playing team songs, as the locals blast out their lungs at high volumes. From late afternoon in the beating sun to early evening under the stadium lights, this is a game and spectacle that you don't want to miss.
Wander through the fruit and food markets
Not only is fruit an essential part of the diet here, but it is also reasonably priced, especially if you visit the markets. You will have an opportunity to taste some of the unique and incredible fruits of Colombia.
Be prepared to enjoy such delights, especially our favorites like Guanábana, Lulo, La uchuva, Granadillas, Maracuyá (Passion Fruit), Tomate de árbol (Tree tomato), and Pitahayas (Dragon fruit).
Two of the best markets in Medellin include Minorista market, which is closer to El Centro, in the city, and Mayorista Central, which is in the south part of the town near the neighboring cities of Itagüe and Envigado. These markets also sell an array of meats and vegetables.
Take a walk-through Plaza Botero, to see the works of Medellín's beloved artist
Viewing Fernando Botero's works is one of the top attractions in Medellin, Colombia. Plaza Botero is a park that is proudly displaying 23 large bronze statue creations by Botero. His paintings are also exhibited at the nearby Museum of Antioquia.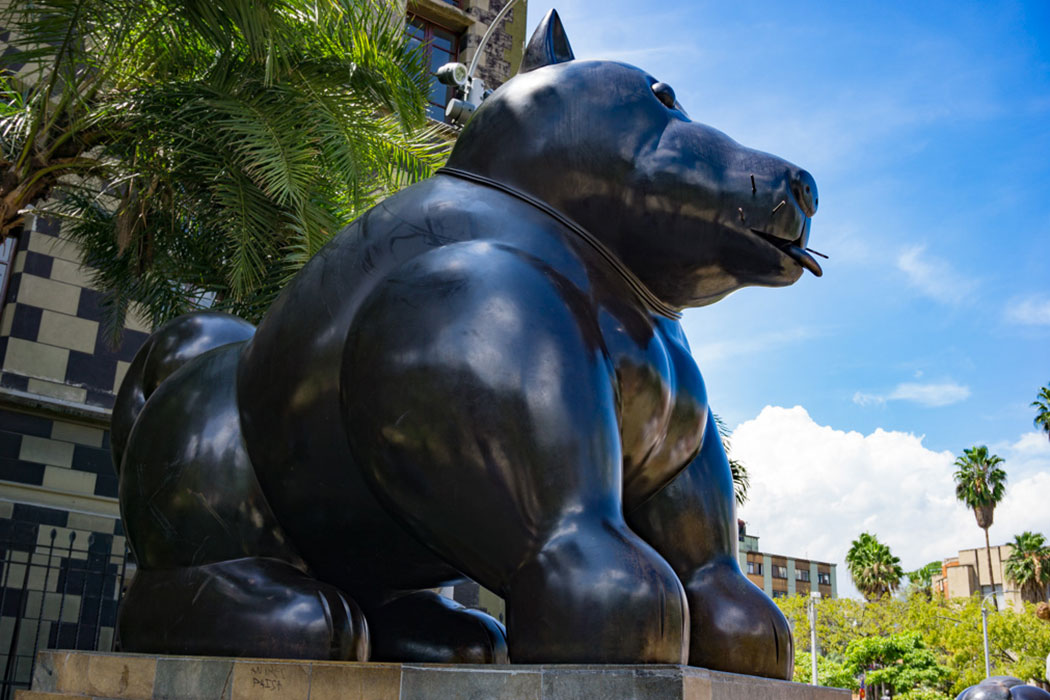 Several walking tours can take you there, or you can discover this on your own by taking the very efficient Metro system and stopping at Cisneros station. While you are there, you can see the interesting Park of Lights near the government buildings which is part sculpture, part functional lights that bring an interesting artistic perspective to the downtown area.
Learn Spanish While Immersing in the Culture
Spanish language learning has become a popular pastime in Medellin. What makes language learning so appealing is the comfortable environment to learn the language. Colombians are incredibly patient with foreigners learning their language, and happy that travelers make an effort to speak Spanish.
Also, in Colombia, there is very little English spoken, making it more immersive. Colombia Immersion Spanish School (temporarily closed) offer classes and an immersive cultural experience to live and study in local neighborhoods, local homes, attend language exchange events and tours with locals.
Take a day trip to see the Colonial Town of Guatapé and Hike up La Piedra for incredible views of Antioquia.
This is among the top attractions in Medellin, which is out of the city but a short 1.5-hour bus trip.
La Piedra or 'the rock' is an enormous granite rock towering 200 meters high beside the Guatapé Reservoir. The 700-step brick staircase takes you to the top where you can see magnificent views of the area or take an ample daydreaming time to view all the quaint lakeside homes from above. Entrance fee is 15,000 Colombian pesos (or 5USD).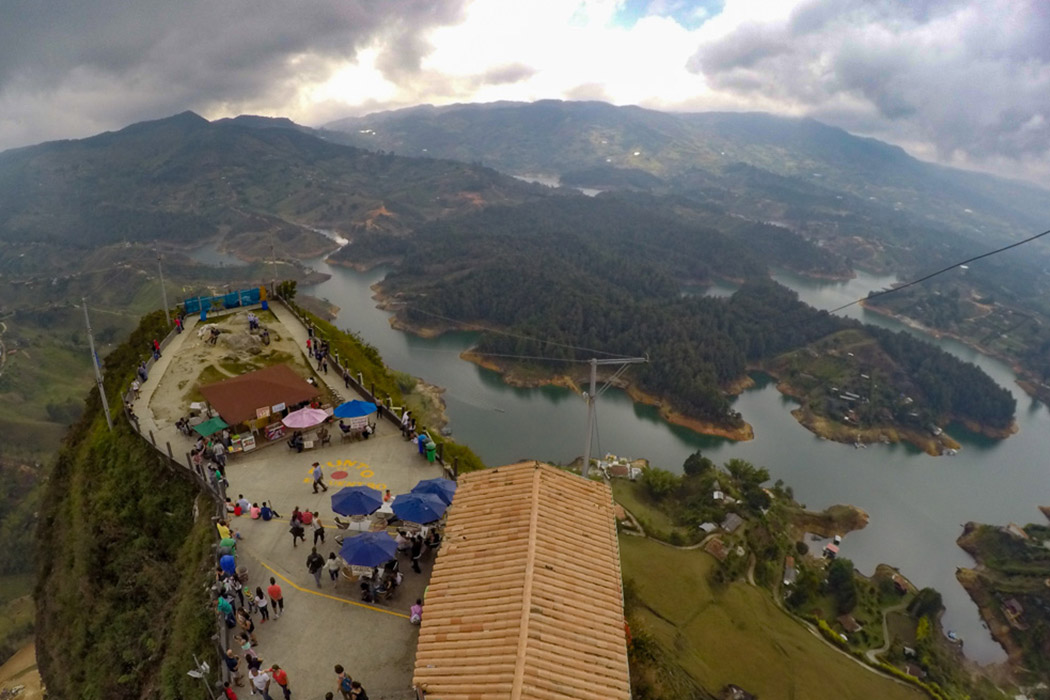 A short tuk-tuk ride takes you to the town of Guatapé, a colorful colonial town where you can spend hours sauntering through the many picturesque streets, or take a boat ride or zip line beside the lake.
Get exhilarated with incredible rafting through jungles
In the past, roads around Medellin were impassable during the 52-year war. As a result, some of the most pristine, untouched rivers and jungles were discovered and opened for tourism only recently. Before, only areas of the country in San Gil were open for rafting, but that is not the case anymore.
Adventure travel in Medellin is now open, with some of the best class three and four rafting only a couple hours out of the city that offer incredible views of canyons, waterfalls, and wildlife as you travel down the rivers.
Expedition Colombia runs rafting tours as well as adventurous trekking activities in Medellin, Colombia.
Gorge on Colombian Street Food
Although Colombia food isn't at the top of the world cuisine, it can best be described as a hearty, comfort food. It is worth a try and Paisa's are incredibly passionate about it. Small trends all over Medellin offer various delicacies and favorite foods, like Arepas with Cheese, Empanadas, and Buñelos (balls of dough with cheese, deep fried) and Meringue desserts.
One of our favorites is Sanchoco – a chicken stew with yucca, corn, and green plantains. Paisas will all say you need to try Bandeja Paisa during your time in Medellin, Colombia. It is the most famous dish here, but be prepared for an enormous feast! La Mesa tours run an excellent Street Food tour in the Medellin area.
This guide from Colombia Tourism is a great resource for more things to do in Colombia.
We hope you enjoy your travels to Medellin as much as we have!
All photos by: Travel Life Experience
LIKE IT? PIN IT!