Georgia is an ancient country housing one of Europe's most intriguing capital cities. Tbilisi is a rare hidden gem near the Asian-European border. The city has managed to stay off the well-beaten tourist track, meaning a visit here is a special, genuine cultural experience. There's plenty things to do in Tbilisi, including learning about its long history, touring the sites, experiencing a wine tradition cultivated over 8000 years, and discovering a culture unlike any other.
Things to Do in Tbilisi, Georgia
We have come up with our top 5 compelling tips that will convince you to visit Tbilisi, Georgia while it remains relatively unspoiled and unknown.
Surrender to Georgian cuisine
Georgian's are all about comfort food. Slow cooked stews, fresh baked bread and lots and lots of cheese are on the top of every Georgian menu. There is actually a saying in Georgia: "if you don't have cheese in your house, you are surely dead." – a sentiment that certainly resonates with many of us.
It's impossible to visit Tbilisi without sampling Khachapuri, which is Georgia's answer to pizza. There are several varieties of this freshly baked bread and cheese dish, but take our advice and try Adjurian Khachapuri, which is fresh bread stuffed with cheese and baked to golden brown perfection.
There is a fresh egg added for the last few minutes of cooking. It is absolutely addicting. Dig in by tearing chucks of bread off the sides and dipping them in the center.
Another favorite traditional Georgian food is Khinkali, a delicious dumpling stuffed with various types of filling such as mushrooms, cheese, lamb, beef or pork. The dumplings come out in large steaming platters and are meant to be shared. Read a detailed article about how to prepare Khinkali dumplings yourself!
No matter what is on the menu, the meal is almost accompanied by another Georgian favorite delicacy, their famous wine!
Like it? Pin it!
Heading to Europe? Get inspired by more articles!
Taste Georgian wine
You can trust Georgians when it comes to wine. They have been cultivating their grapes and producing wine since the 6000 BC. Their ancient technique for making wine, which involved pressing the grapes, including the stems and skins, and putting the mash together in large red clay vessels to ferment for several months, is still in use today.
The resulting wine can have a more intense flavor with strong mineral notes. There are several shops located throughout Tbilisi that offer wine tasting. As a tribute to how much Georgian's love their wine, some notable establishment are open for tasting 24 hours a day.
Learn about fascinating history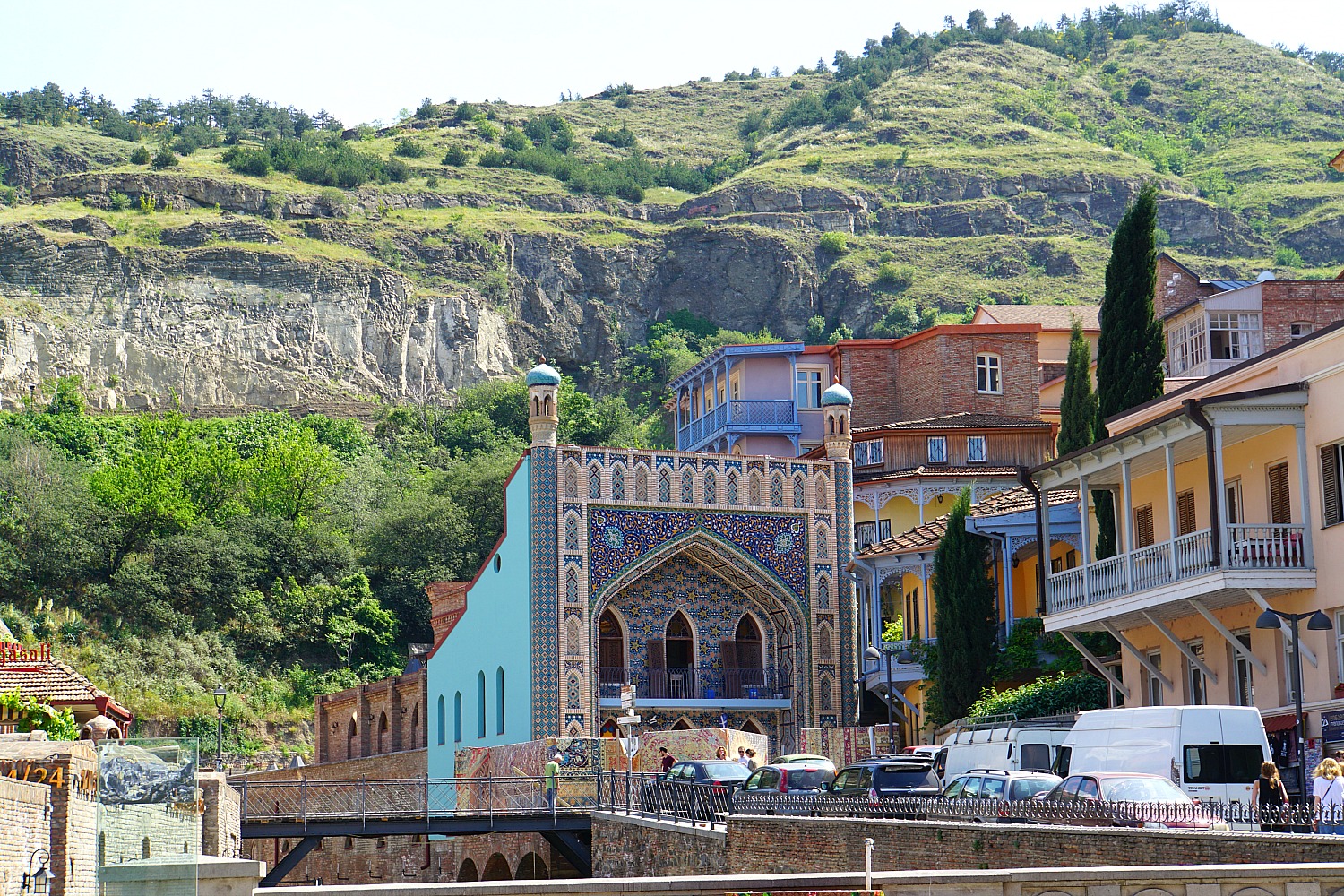 Tbilisi has seen the rise and fall of many different empires and republics since the 5th century AD. The country of Georgia is very valuable due to its location on the border of Asia and Europe. Control of this country historically meant control of trade in the east, thereby making Tbilisi an extremely pivotal and critical city.
The Persian, Mongols, and finally Russians have all had their chances with Tbilisi. Georgia finally managed to declare its independence from Russia in through a treaty with Moscow 1918. This was short lived, however, and conflicts were renewed, largely under the influence of Georgian-born Soviet Russian, Joseph Stalin, in 1921.
Final independence was realized after the collapse of the Soviet Union in 1991. Despite this, conflict with Russia continues to this day. The most recent example was the invasion of by Russia in 2008.
There are also complaints of "border creep," which is the practice of Russian soldiers moving barriers along the border. A Georgian farmer can go to sleep at night only to find that their farm has been relocated to the Russian side of the border the next morning.
Georgia has had it's own internal struggles as well. Between 2004 – 2006 Georgia's newly elected president, Mikheil Saakashvili, vowed to stamp out corruption in Georgia's KGB style law-enforcement.
To that end, 30,000 of the country's 42,000 police officers were fired and replaced. The new recruits were retrained in an effort sponsored by the United States. The results of this bold and decisive action are generally viewed to be a stunning success.
The mark of the city's constant political turmoil and mix of foreign cultures has a strong presence throughout Tbilisi. Additional evidence of the blending of east and west, along with a nod to history combined with an eye to the future (and even the possibility or membership in the European Union) can be easily recognized during visit to the city.
Places to visit in Tbilisi:
Narikala Fortress
A 4th century Persian citadel that has been altered, modified, and built upon by almost every empire in Georgian history. A true symbol of the city's ability to adapt to change.
Kartlis Deda
A statue erected to celebrate the city's 1500th anniversary. The imposing figure is perched on top of a hill, looming over the city. In one hand, she holds a sword, in the other, a jug of wine. It is as if she is saying, "Those who enter here, we can do this the hard way, or the easy way. Drink and enjoy, but understand that our days of being trampled, are over."
Holy Trinity Cathedral of Tbilisi
This cathedral represents Georgia's faith in Orthodox Christianity, the backbone of the country's strength. Georgia's most iconic site is the third tallest Eastern Orthodox cathedral in the world and the largest religious building in the world based on total area. Church goers are expected to spend their time in the church during a traditional Sunday service, on their feet, for 4 hours.
The Bridge of Peace
A bow-shaped bridge made of glass and steel bridge that is supposed to evoke images of a marine animal. It sits over the Mtkvari River and was officially opened for pedestrian use in 2010. The bridge, which was named one of the top 14 unusual bridges in the world, is one of the city's most modern elements.
David Gareja Monastery
A cave monastery complex built into the stone hillside near the border of Georgia and Azerbaijan in the 6th century. It lies outside the city but it's an easy day trip from Tbilisi. While there, pick up a bottle of wine which is still produced by the monks who practice their faith and reside in the cave structure.
Explore The Old Town and salt baths
Visiting Tbilis's Old Town is the most authentic and raw way to experience Georgia's capital. While parts of the neighborhood has been built-up and renovated, there are just as many parts that remain in their original state.
The meeting of old and new can appear to clash, but s somehow aesthetically pleasing. Interesting architecture aside, there are plenty of other things to do in Old Town other than take in the historic charm of the buildings.
No jaunt around Old Town can be considered successful without a visit to the famous Sulfur Baths. A natural hot spring bubbles beneath Tbilisi has been known for its skin and health benefits since the 5th century. Keep your eyes upward as you stroll through Old Town.
When you see the tell-tale dome-shaped brick roofs, you've found your final destination. Once you step through the door just keep an open mind and go with the flow! Word to the wise – some of the bathing pool ranges from tepid to unbelievably scalding. Definitely one of the top things to do in Tbilisi.
Also, if you agree to a massage, understand that these former soviet Russian-speaking natives can deliver a deep tissue massage and a loofa skin scrubbing from which it can take a few days to recover. We have heard that the vinegar rub, if you can endure it, is fantastic. Good luck!
Be curious about unique Georgian culture
Georgian people can initially appear stern. That is partially due to the practice of frequently clothing themselves from head to toe in black. There are apparel stores in Tbilisi filled with nothing but black clothing.
A closer look reveals that this is a tradition meant to honor those who have passed. In a place with very large families, wearing of black for a full year to honor a deceased cousin, uncle, grandparent, can overcome a wardrobe. This deep caring for others permeates the culture. Georgian's consider guests to be a gift from God, and they are treated accordingly.
Georgian warmth and hospitality becomes immediately obvious during a dinner toast. If you're lucky enough to be part of a traditional Georgian dinner (supra), expect a lengthy, heart-felt speech.
It's definitely not as simple as clinking glasses; it's more like a story that's started by one person and is continuously added to by the other guests. By the end of the whole thing, you'll feel like part of the family.
After having lavish feasts punctuated by lengthy toasts, another charming tradition in Tbilisi is singing traditional Georgian songs, or more accurately, chanting. Often heard in churches, this beautiful polymorphic chanting can also break out as friends wander down the street or during large gatherings in restaurants.
Before you travel to Tbilisi, Georgia
Looking for the hotels in Tbilisi, Georgia? Check the latest rates here.
Most older Georgian's speak Russian. Younger people are now taught English in school, and many restaurants also have English menus. Be prepared for some language barriers.
Since Georgia is not part of the European Union, you can expect smoking in many of the restaurants, and even inside cabs.
Georgian currency is called the Lari, abbreviated GEL. The cost of living index in Tbilisi is 30.62, compared to 90.10 in London and 83.69 in Philadelphia. Your money, if you are from the US or the EU, should take you a long way.
Yes, the water in Tbilisi is safe to drink!
The crime rate in Tbilisi is considered to be quite low – so go and enjoy!
A final note, in Tbilisi, parties linger long into the night. If you go, embrace the tradition, you'll find that nothing starts early, and neither should you.