Read about some of the most interesting things to do in Vienna, Austria
Vienna is a wonderful city, filled with incredibly rich history, of which anybody would know at least part of. The best of classical music was born here. The croissant was born here too, and Arnny himself called this city home! Exploring the streets of this great city, I felt privileged.
The grandeur of the buildings and pristine nature of its streets left me wanting to stay so much longer! With so many things to do in Vienna, here are the best sights, activities and quirks that you need to check out on your next visit to the Austrian capital.
LIKE IT? PIN IT!
Things To Do In Vienna
In this incredible square you will find dozens of museums! It's amazing how many you have to choose from! Here you'll also find bars, cafes and restaurants to quench your adventure induced thirst! Checkout out MQ Daily for amazing food and drinks!
Have a stroll at the Sigmund Freud Park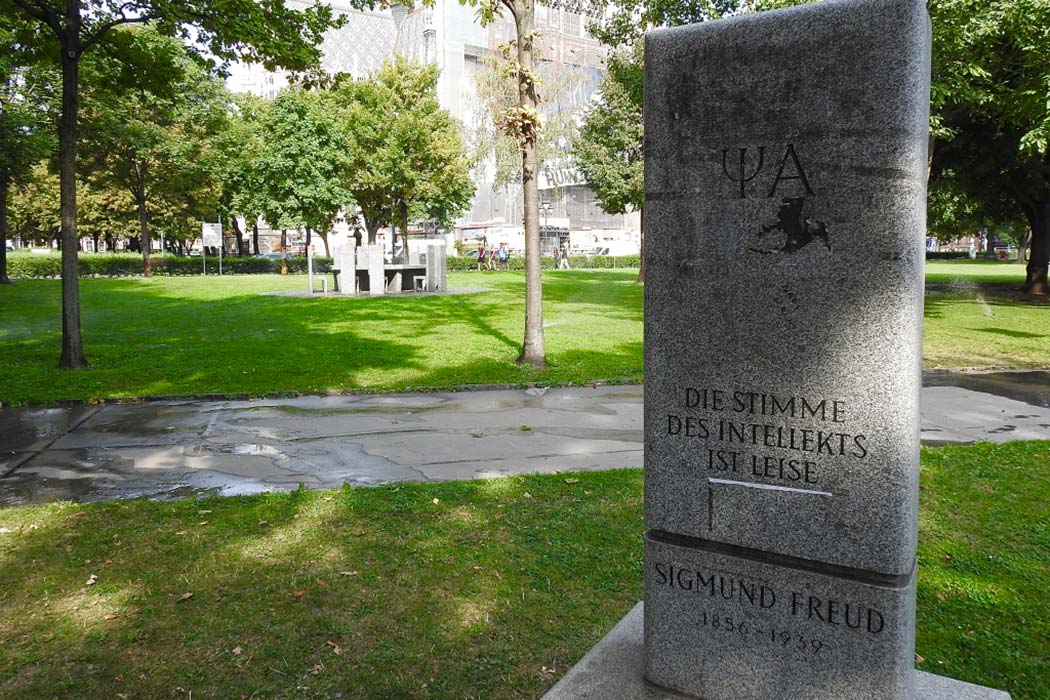 Curtis was totally geeking out as we ventured through the shade. It is a small park, tucked in among the hustle and bustle of the surrounding cathedral and university. Not a major tourist attraction in Vienna, with it appealing more so to locals, but it's a nice little place to relax during the day.
A symbol of gratitude to the incredible 'father of psychoanalysis'. Each tree in the park represents a nation within the EU. The tables and chairs represent all the nations that have since joined the Eu. In the summer 100 comfortable sun loungers are delivered each morning on a daily basis (and removed again at 9:00 p.m.) and are available for free chill out there.
Traveling in Europe? Get inspired by more travel articles
Check out Maria Theresa Statue & Surrounding Museums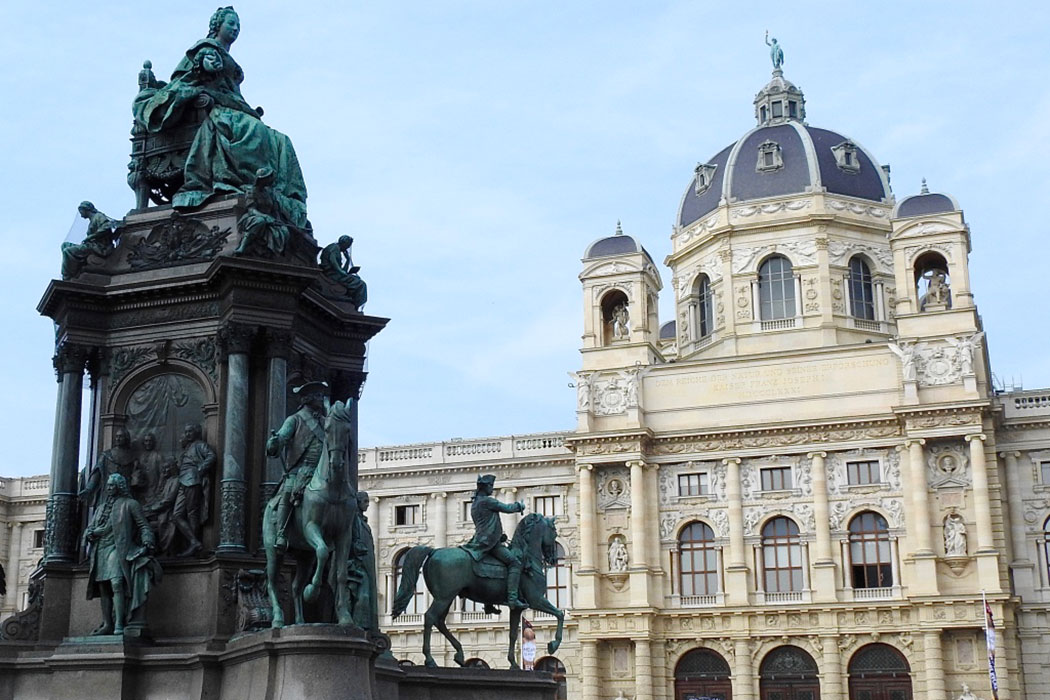 This entire square is impressive at first glance, and upon further inspection it becomes even more intriguing and significant. Maria Theresa was the only female ruler of the Habsburg dominions and the last of the House of Habsburg.
The statue of Maria shows her holding the requisition which made her Empress after her fathers passing. Her life was a major milestone in not only Austrian history but women's role in human history.
With over 20 million items inside, this museum is beyond impressive! Just the building itself is a masterpiece. I could've wandered the halls completely empty and still have been gobsmacked.
Entry is 10 Euros.
Its 39 galleries are visited by over half a million visitors each year. It is also one of the largest non-university research institutions in Austria with 60 scientists performing research at the facility.
Get impressed by the Rat House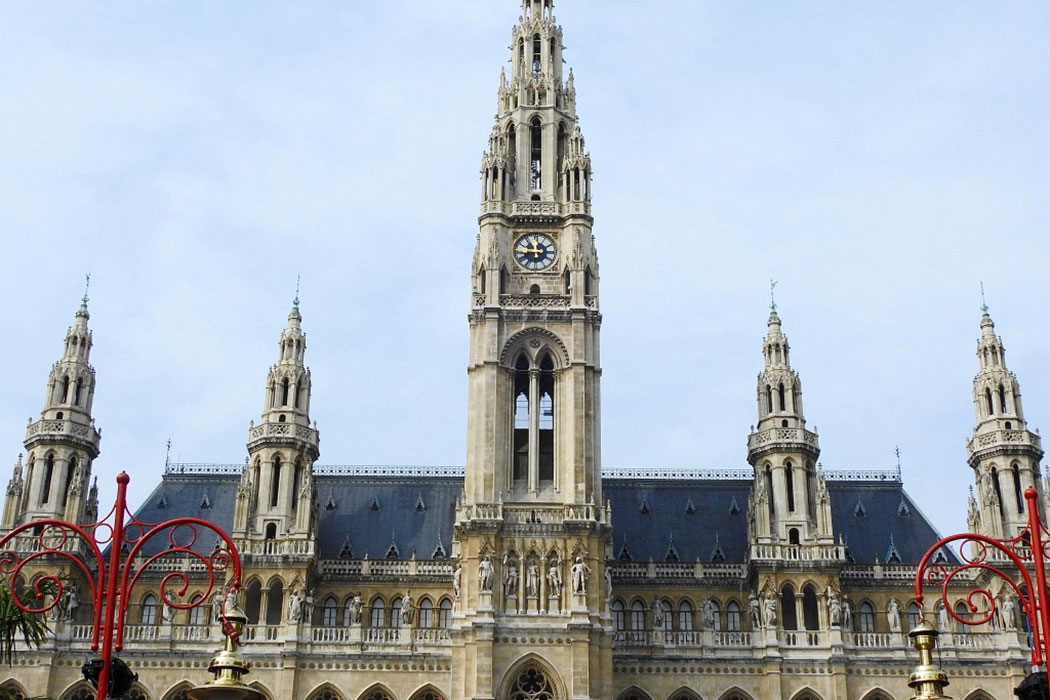 Wiener Rathaus is the city hall of Vienna. An impressive Neo-Gothic style building, nearly 150 years old. There's slight controversy surrounding its construction, making the building that much more interesting to look at! The builders and architects had strict guidelines, ensuring the building was no higher than the cities Cathedrals at the time.
They obeyed this law, though sneakily managed to be just that little bit taller by adding the RatHaus Man Statue on the tallest spire. So technically the building itself is only 98 metres high, with the RatHaus man being 5 metres on top of that. By the way, he takes a size 66 shoe, just incase you were wondering 😉
Splurge on traditional treats
You may have been surprised by the intro with my reference to the humble croissant. 
'But Mikayla, these are french pastries?' Oh but they weren't always. Wienners created the pastry, originally called The Kipferl, and the french took this recipe, adapting it to the half-moon 'crescent' shape we see today.
If your stuck looking for what to do in Vienna, try a traditional pastry for breakfast or as a snack on your city adventures! More tasty Wien treats include the Apple Strudel, The Manner Wafer, the classic Schnitzel and A Mozartkugel – Mozart ball.
Explore Vienna's cathedrals
There's 2 main Cathedrals I would recommend seeing – St Stephen's Cathedral and Votive Church (Votivkirche). Both are architecturally incredible and a wonder to marvel at with St Stephen's Cathedral considered to be one of the top attractions in Vienna. Both churches are free to enter and explore most of the inside.
At St Stephens Cathedral you can pay 5.50 Euros and take a lift to the top of the bell tower. Go On! Splash out a bit and enjoy the incredible view that awaits you.
Wander along the Ring Road
This Boulevard follows the path of the original old walls of Vienna. Many major landmarks and attractions run along this road, making it a great route to follow when sightseeing in Vienna. If you love wandering without a map, or you're not sure where to go in Vienna, this is a great way to explore the city!
Stop by the Schönbrunn Palace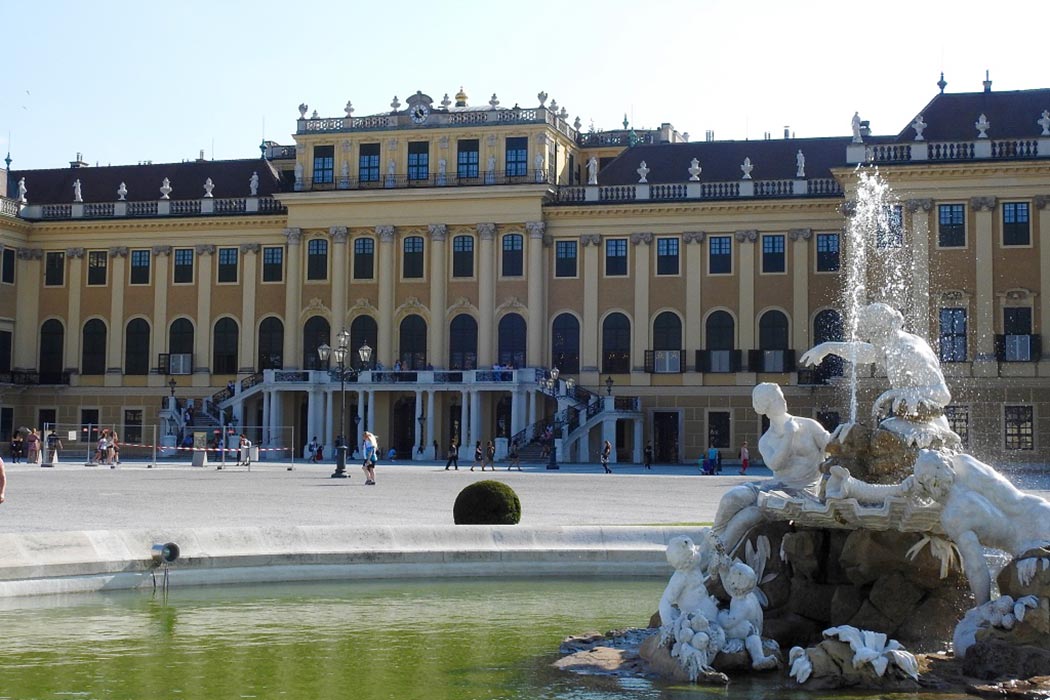 When looking for things to do in Vienna, you cannot go passed the old summer residence of the Habsburg family. These successors were not shy in showing off the wealth and power they had, after all, this palace is only a 'summer getaway'.
Check the architecture of the Hofburg
At the heart of Vienna's city centre, you'll find the main palace for the Habsburg rulers, and now for today's leader, the President of Austria. There was a lot of construction work / renovations happening here when I visited, and it was a bit disappointing for photos.
Though this work is necessary to ensure such incredible architectural feats and footprints in history are preserved for future generations to gawk at. Impressive in size, design and flawless up-keep, these palaces are at the top of my 'best attractions in Vienna' list.
See the Roman influence of the Vienna Parliament Building
Wow! The Instagram aesthetic of this complex is phenomenal! Every corner of this building is dripping in beautiful statues and gold plated figures. A massive expanse of ramps and stairs leading up to the front entrance, give the building a pedestal effect, booming up over the common ground below. With its Roman influence, you could easily forget where you are and flashback to a time in the Italian sun.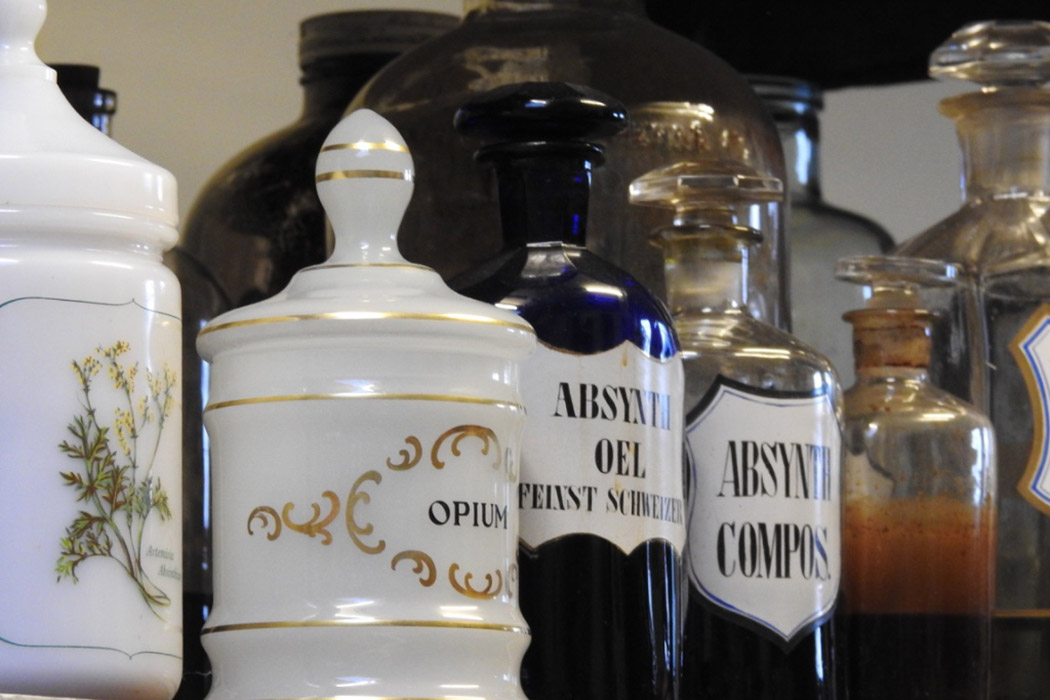 Friedrich was the first man to mass produce raspberry juice back in 1875. He was a self-taught business man who pursued his passions, becoming a well-known name in Austria. His families lines of Schnapps, Brandy and Liqueurs are now being exported to other countries! The process behind the traditional recipes for real Brandy & Schnapps are a major highlight of the tour through the museum.
Though a major disappointment, is that you cannot buy any of the real stuff, once out in the gift shop. They only sell Liqueurs. Not being an alcohol connoisseur, I never realised the difference. But once explained, the quality of Brandy & Schnapps is obvious. The tour and museum are fantastic, I would highly recommend it. But just don't expect to purchase any of the quality product discussed. A real blunder to end such a great tour….
Go To A Live Orchestra Performance
In my opinion, this is the best thing to do in Vienna! The birthplace of classical music and exceptional musicians, this tops the list of things to do in Vienna, to ensure an authentic experience. We attended the Sound Of Vienna – Johann Strauss & Mozart Concerts at the Kursalon Wien.
Built from 1865 – 1867 in Renaissance style, the building really sets the scene for the performance. There are plenty of regular orchestras throughout Vienna, which you can attend but I would recommend this particular one for 2 reasons – 1) it runs everyday at 8:15pm 2) the performance incorporated dance, drama and comedy with the music. It went that little bit extra in terms of value for money and a fantastic night out!
We loved every second in Vienna! With so much beautiful, positive history and architecture all around, it was hard not to fall in love.
What should we check out next time we're in Vienna? Let us know in the comments!