This is a guide for your vacation in Puglia, Italy. This beautiful region also known as 'Italy's bootheel' is famous for its delicious food, amazing culture, wonderful people with high sense of hospitality and a crystalline sea with some of the most beautiful beaches in Italy. Let's explore the best beaches in Puglia!
Why you should visit Puglia beaches?
Without biases, we can truly say that apart from turquoise water, fine white sand, cozy small towns with white buildings and colourful markets, areas covered with macchia mediterranea, hundreds of olive tree fields, ancient stone towers along the coast— Puglia is a place where you'll have a chance to fully live the Italian lifestyle.
You'll see all pleasures that this culture can offer you: unbeatable cuisine, both the modern and ancient culture of the incredibly vital and energizing southern coast.
In this article, you will find a list of the best beaches in Puglia with a short description of each beach. There are also our suggestions on where to stay in Puglia,  the best hotels and accommodations in the area and some useful tips on when to travel to Puglia and how to move around.
Pro tip: the best way to visit Puglia and its beaches is by renting a car.
Get inspired by this video:

Puglia outline from Thibaut de Rosny on Vimeo.
Best beaches in Puglia
The best beaches in Puglia are listed in a clockwise direction following the coast of Puglia from the north to the south.
Baia delle Zagare beach, Gargano
Starting from the North of the region is the Baia delle Zagare beach. It lies in the Gargano subregion between Vieste and Mattinata. Its name is derived from the fragrant flowers called 'zagare' that are typical in the area.
The beach of soft white sand is 1 km long and surrounded by the National Park of Gargano. The two big white rocky faraglioni rising from the turquoise waters are one of the most popular trademarks in the region.
Pro tip: You can reach the Zagare Bay by land either by passing through two seafront hotels or via a steep path, about 500 meters after the entrance of the hotels. You can park your car under the bridge of the SP53 and then walk for about twenty minutes down the trail through the pine forest, until you reach the beach.
Best Hotels for Baia delle Zagare beach, Puglia
Our top pick > Hotel Baia dei Faraglioni
Elegant andclean rooms. There is an outdoor pool, free wi-fi and a private beach. The wellness centre in the property has a sauna and hydromassage shower.
Garden Hotel Ripa
This hotel is located in Vieste, not far from Zagare Bay. It has a private beach, swimming pools and free wi-fi.
Hotel delle More
Jacuzzi, sauna, swimming pool, playground, private beach and free shuttle service. Breakfast with local products, Pet friendly.
Lido Bosco Verde beach, Ostuni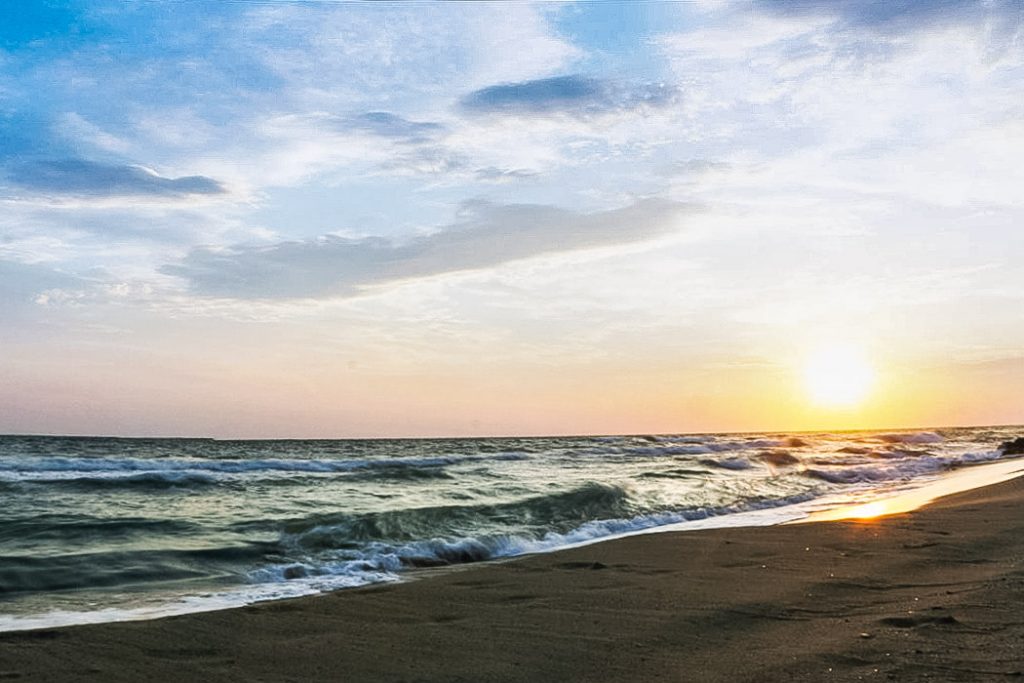 This sandy beach with dunes and crystalline water is located near the Parco Naturale Regionale Dune Costiere. The beach is equipped and free. The nearest bigger city is Ostuni, which offers a spectacular view of the city on the horizon, towering on the hill with shining with white rooftops far away.
Check out some of the great tours in Puglia:
Best Hotels for Lido Bosco Verde beach, Puglia
Our top pick > Masseria Salinola
Located in Ostuni not far from Lido Bosco Verde. This rustic 'masseria' provides luxury 3-star accommodation, a jacuzzi and free bike rental. There is also a restaurant and a bar.
Rosa Marina Resort
Tastefully furnished room with a/c, 500 m from its private beach, free sun umbrellas and deck chairs. Two outdoor pools, tennis courts and Junior club for kids. Only 8 minutes driving to Lido Bosco Verde.
Masseria Ancella
Beautiful country house with typical Apulian 'trulli' furnished in antique style. Rooms with private bathrooms, garden, outdoor pool, spa and wi-fi. Only 15 minutes drive to Lido Bosco Verde beach.
Torre Guaceto beach, Brindisi
The beach is covered with fine sand and green vegetation. The water is also shallow and gorgeously clean! Last time we visited Torre Guaceto, it was mid October and the beach was almost empty and fairly hot, which is quite common in Puglia.
Mediterranean scrub, marshes, sand dunes, sea grass and olive trees are untouched on the Torre Guaceto beach and you'll love walking through Mediterranean landscape there.
The Nature Reserve of Torre Guaceto (stretch of 6 km long coast) is a WWF protected area, which guarantees a lack of tourists. You won't find any resorts or bars here, so if you prefer a more serene place for your beach experience, this place is for you.
There is also a Torreguaceto sailing school where you can learn the basics or take an advanced course on windsurfing and sailing a catamaran. To find more information about other facilities and activities (hiking, cycling, diving), visit this website or walk straight to the visitor's centre in Serranova that organises hiking tours and provides bikes and snorkelling equipment.
There are no restaurants on this beach, only a small snack bar where they sell soft drinks, snacks and sandwiches in high season—so you might want to pack your own lunch, unless you don't mind taking a car and go to Specchiolla town that is 10 km away from Torre Guaceto.
Best Hotels for Torre Guaceto beach, Puglia
Our top pick > Relais Masseria Caselli
Spacious chic rooms with a/c, outdoor pool and free wi-fi. Some of the rooms feature a terrace or sea view. The beach is only 15 minutes driving.
Riva Marina Resort
Basic rooms, outdoor pool, sauna, Turkish bath, a big playground and a private beach. Each rooms comes with a hydromassage shower and a private balcony and free wi-fi.
Villa Torre Guaceto
Comfortable,  simply designed villa with an equipped kitchen, private pool and big outdoor terrace. Only 2.1 km from the Torre Guaceto beach.
San Foca beach, San Foca
San Foca is an old fisherman's village where you'll find beautiful coves of clean white sand surrounded by white outcroppings, and a series of little islets that can be easily reached swimming. The waters are pristine and full of fish. A few caves can be visited via boat, the most beautiful being the Grotta della Poesia (Cave of the Poem).
There you'll find beaches equipped with everything you need and a newly renovated promenade, perfect for a stroll along the coast.
San Foca beach is one of the best beaches in Puglia and very popular among Italian vacationers. We highly recommend booking your vacation here in a shoulder season.
Explore Puglia through some awesome local tours: 
Best Hotels for San Foca beach, Puglia
Our top pick: Residence Puntacassano
This residence offers rooms with free Wi-Fi, en suite bathroom and a kitchenette. Also a wide range of outdoor activities, including scuba diving and horse riding. You can pick from a studio, one or two-bedroom apartment.
Hotel Blue Sky
The hotel features air-conditioned rooms with minibar, garden and balcony with garden or street view and you'll reach the beach within four minutes!
Hotel Côte D'Est
Modest, but comfortable rooms. This hotel provides a wide range of outdoor activities, such as scuba diving and fishing. Room service, luggage storage and a safe are also offered at the hotel.
Going to Italy? Read more articles about this beautiful country
Torre dell'Orso beach, Melendugno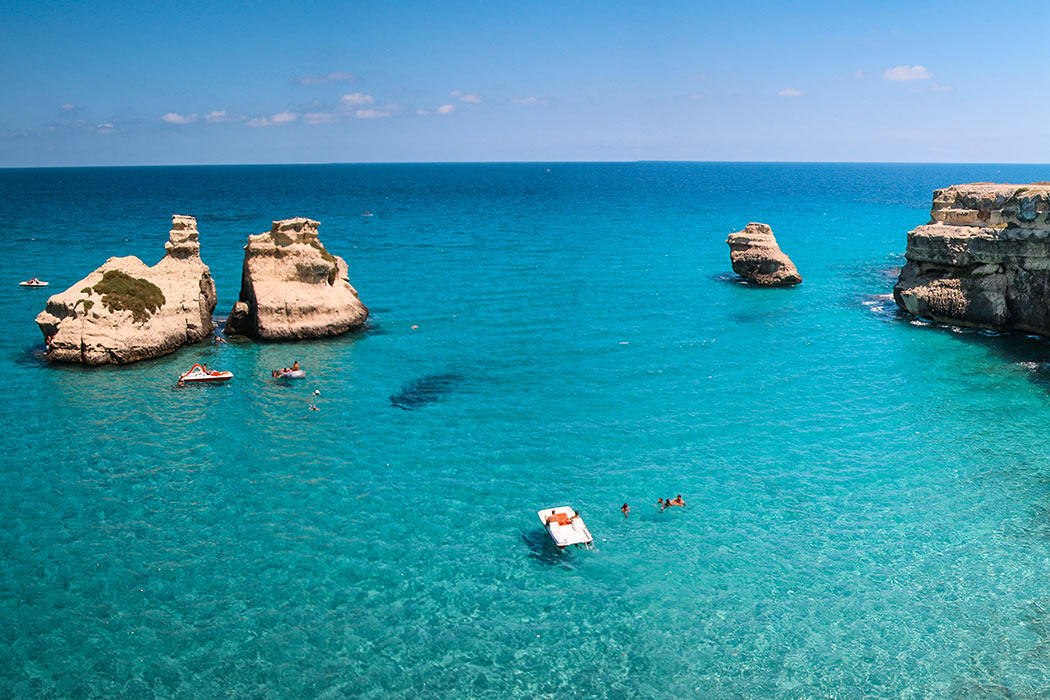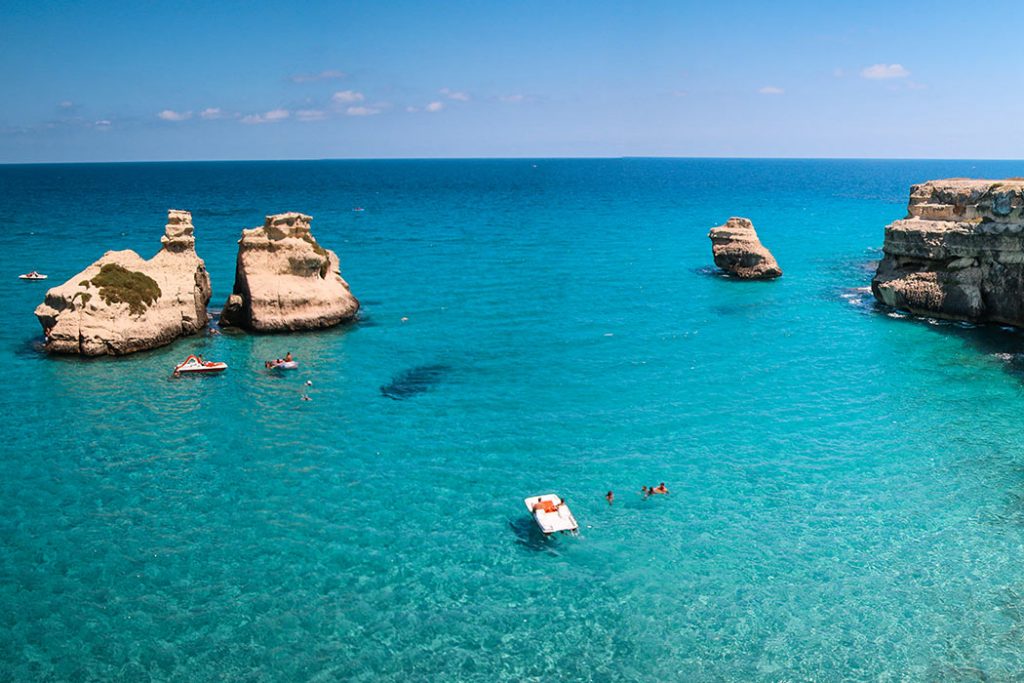 One of Gianni's favourites! No doubts a special place, Torre dell'Orso is a thin 1.5 km stretch of white sand with crystal clear waters surrounded by calcareous rocks creating interesting caves and the impressive 'Two Sisters' faraglioni rocks. Tired of hot sunbeams? Then you'll appreciate a pine forest (Pineta di Torre dell'Orso) right behind the beach.
Best Hotels for Torre dell'Orso beach, Puglia
Our top pick > Alba Azzurra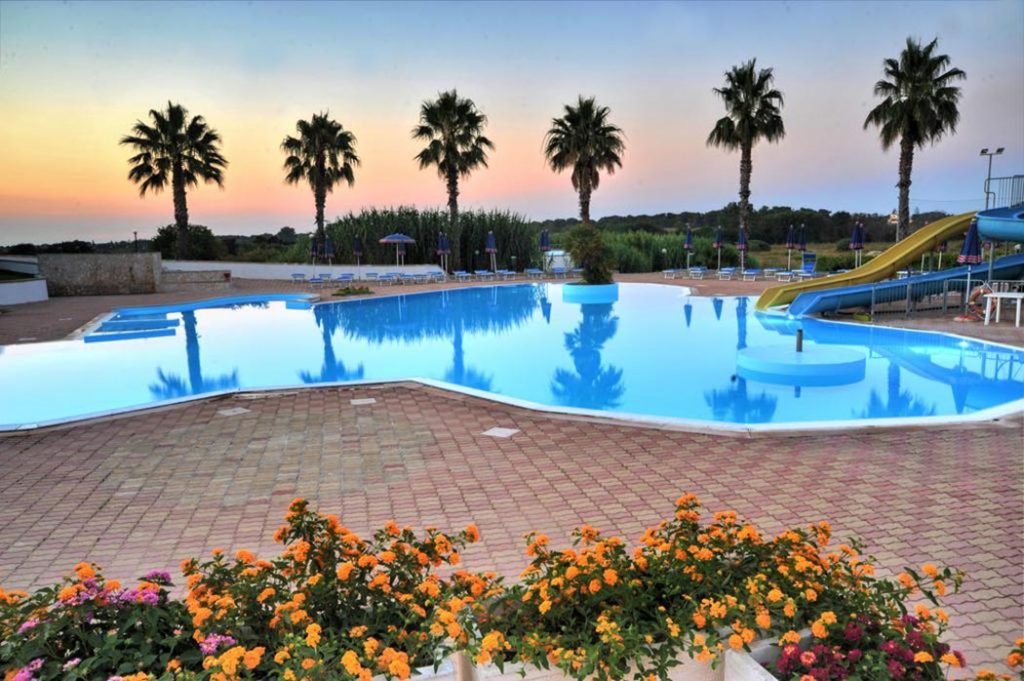 Simply furnished apartments with kitchenette and all the essentials for a comfortable stay. It features two swimming pools, a restaurant, free parking and free beach shuttle. Excellent option for families with kids since the hotel provides a playground and water slides.
Hotel Belvedere
The hotel is located three minutes walking to the beach. Spacious clean rooms, outdoor pool and good wi-fi. Breakfast included.
Oasis Park Hotel
This hotel provides a garden to relax, outdoor swimming pool and free private parking. All rooms have free wi-fi, a mini bar and a private bathroom.
Baia Dei Turchi beach, Otranto
Not far away from the white ancient city of Otranto is Baia Dei Turchi. This is a bay where the Turkish soldiers landed during the Otranto battle and which is a part of the Natural Reserve of the Alimini Lakes. This quiet beach is a heavenly place bordered by lush Mediterranean vegetation. You'll find beaches equipped with everything you need.
Great spot for scuba diving!
To get to the beach, you'll need to walk down the hill through a pine forest, so if you intend to spend a day on the beach with small children or someone with limited mobility, you might prefer going to the more accessible Alimini Lakes.
Read more about things to do in Italy
Best Hotels for Baia dei Turchi beach, Puglia
Our top pick > Relais Valle dell'Idro
Only 5 minutes walk from the beach, the hotel features a roof terrace with a hot tub and panoramic view of Otranto.
Camere Sul Lungomare
Furnished in modern style, rooms come with a private patio and a kitchenette (in a room or in the patio). Only 1 minute walk from the beach.
La Casa Del Gelso Bianco
New air conditioned bright rooms with private bathrooms. Scrumptious breakfast served in outdoor dining area.
Pescoluse beach, Santa Maria di Leuca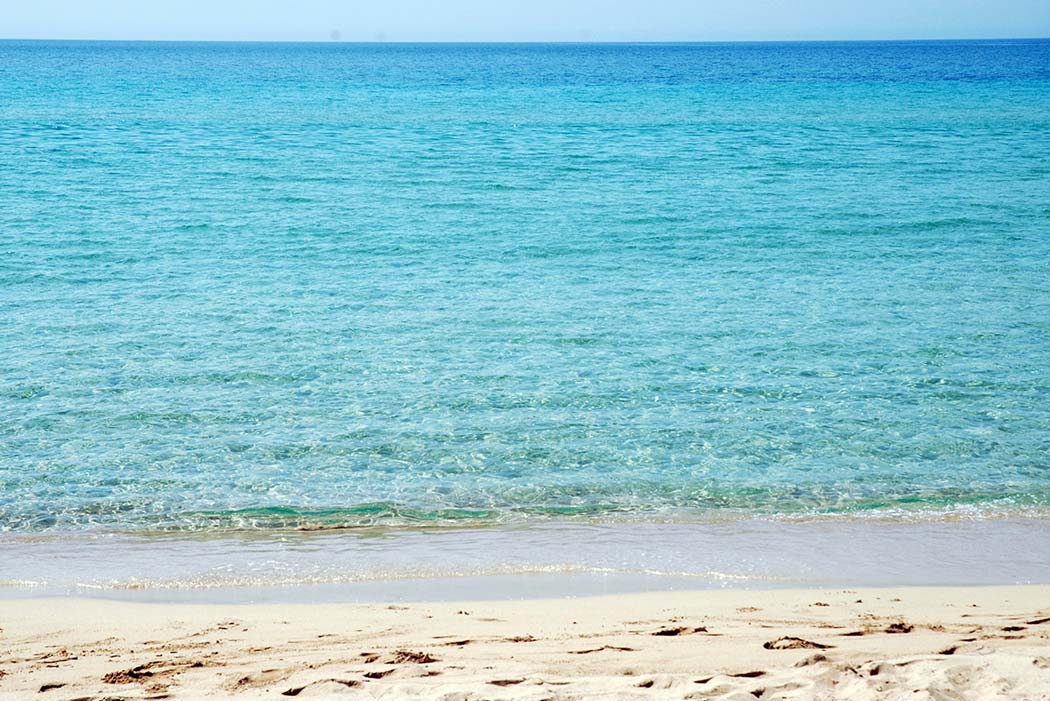 This incredible white sand beach near Santa Maria di Leuca, is also nicknamed the 'Maldives of Puglia'. It sits on the southernmost tip of the Salento peninsula, where the waters of the Adriatic Sea merge with those of the Ionian. The stretch of 2 km long beach includes various sandy coves, rocky cliffs, plenty of Karstic caves and an impressive lighthouse built in the XIX century.
You'll find a lot of Italian families here, as well as young people in high season, but the Caribbean-style shallow water and beach are terrific and worth the visit.
Best Hotels for Pescoluse beach, Puglia
Our top pick > Villa Ala Bianca
Totally gorgeous villa that can accommodate nine people. It has four bedrooms, an equipped kitchen and outdoor grill with a big terrace.  The property is 2.6 km from the beach, but with a private feeling, far from hotels, with a pool among the greenery.
Capperi !!   Holiday Rentals
Beautiful elegant rooms with original tuff stone, provided with a/c, free wi-fi, private bathrooms and kitchenette. Capperi B&B is located in Morciano di Leuca, only 8 minutes drive from the beach.
Carmelina
Spacious, simply furnished two bedroom apartment with a bathroom, a/c, garden and barbecue facilities. Only 500 m from the beach.
Pack and travel:
Punta Prosciutto beach, Porto Cesareo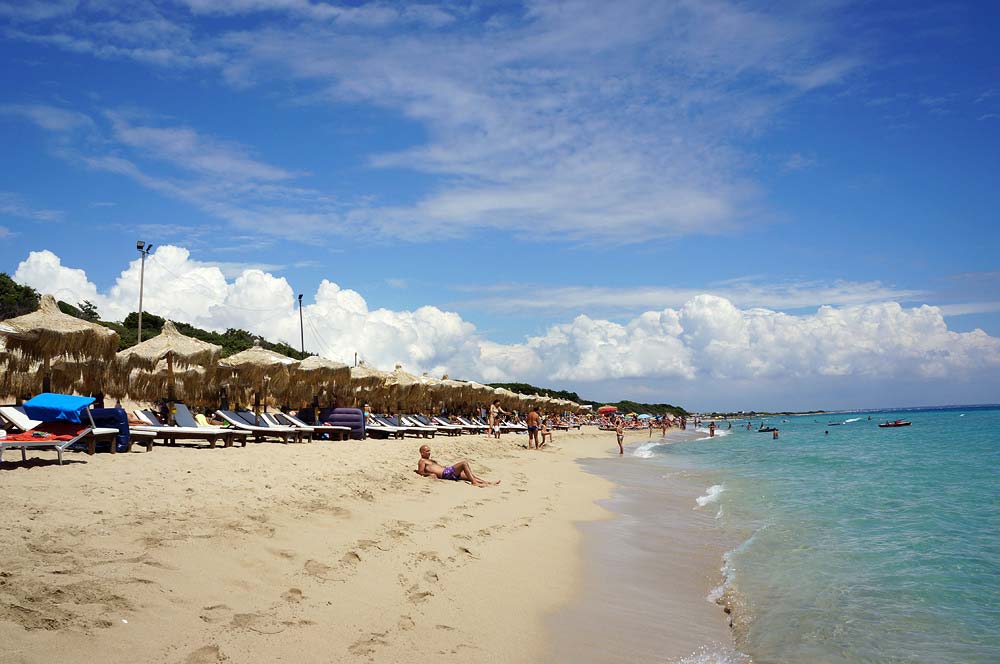 If you're looking for beach perfection in Puglia, this is the place to go. Punta Prosciutto is as stunning as it sounds. It has uncontaminated sandy beaches with clear turquoise shallow water good visibility, sand dunes and a wide variety of  Mediterranean flora.
It is also one of twenty protected Marine areas in Italy. It's located near the town of Porto Cesareo and the area is defined by Torre Colimena to the north and by Torre Lapillo in the south. It's easily one of must visited top beaches in Puglia.
Best Hotels for Punta Prosciutto beach, Puglia
Our top pick > Le Dune Suite Hotel

This hotel is in Porto Cesareo, only 9 km from Punta Prosciutto. It features a spa, a sun terrace with hydromassage swimming pool and 2 restaurants. Private beach.
Samanà Bed
If you travel with a group of friends or a big family, this B&B is perfect for you. Spacious minimalist rooms are only 10 minutes walking from the beach.
B&B La Colimena
Located 1.9 km from Punta Porsciutto, but only 300 m from Torre Colimena Beach. Gorgeous green yard is an ideal spot to have your morning coffee, or relax in the evening. They offer double rooms of different budget and size. All with private bathrooms and bidet.
San Pietro in Bevagna beach, Maruggio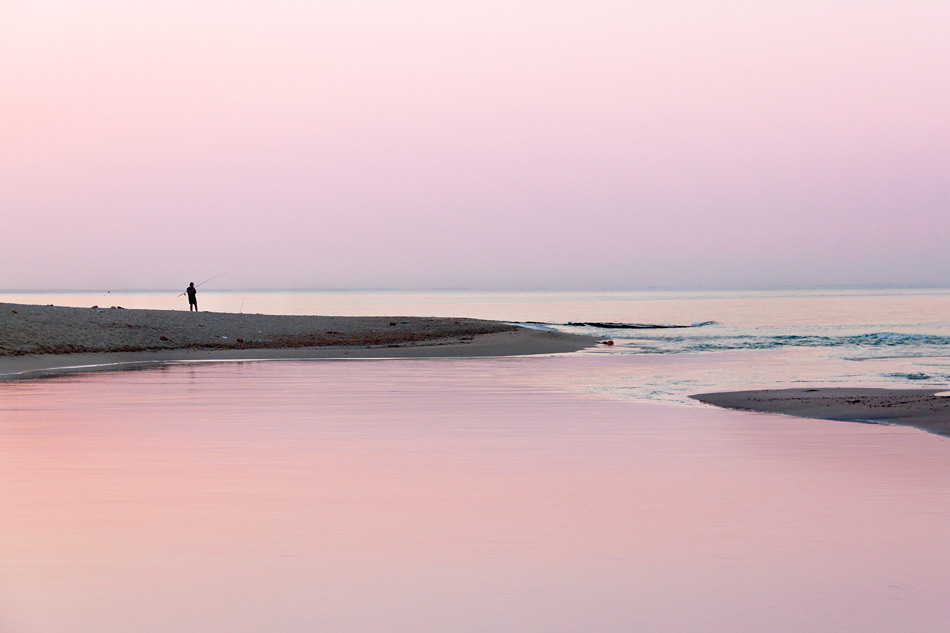 Only you, blue horizon, soft sand, azure sea with white sand dunes and green Mediterranean maquis. This is a beach lover's dream of paradise. You can experience it yourself on the San Pietro in Bevagna beach.
The legend says, the apostle St Peter landed in San Pietro in Bevagna after a shipwreck and washed up on the Ioanian coast, where he performed a miracle when a statue of Zeus fell down and he made the sign of cross to the statue.
The majority of the beach is free, although you'll find equipped area there, too.
Best Hotels for San Pietro in Bevagna beach, Puglia
Our top pick > Relais Reggia Domizia

A 19th century villa with rooms and suites with air conditioning. Immersed in its private park, it includes a gourmet restaurant, pool and tennis court.
Santorini house
Excellent renovated 2 bedroom house right at the beachfront. Super clean, modestly designed, with a kitchen ad a washing machine. The place is pet friendly.
Villa Elvira
Impeccable B&B with three different kind of rooms: double, triple quadruple or king  bedrooms are decorated in homey style. You will love their beautiful bright rooms and Italian style breakfast, especially the pastry!
Dune di Campomarino beach, Maruggio
This beach is free, with 12 m / 39 ft high sand dunes and lush vegetation. You won't find any rows of sun umbrellas or a beach bar here, but only shrubs of juniper, thyme, lavender, white sand and crystalline water, so if you look for a tranquil and beautiful place to get some rest and enjoy the sea, le Dune di Campomarino should be on your list.
Best Hotels for Dune di Campomarino beach, Puglia
Our top pick > Villa Bruno
A beautiful guest house with a garden. You can pick from a double or a quadruple room. Both have private showers, a balcony and a/c.
Corte Borromeo
Located in the centre of Manduria, Corte Borromeo features elegantly furnished rooms and suites, free parking and a bar.
When to travel to the best beaches in Puglia?
As we mentioned in our article about Matera, the best period to visit Italy if you want to avoid crowds (especially in the south) is to travel there either late May, early June, or in September and October when Italians are back at work from their holiday.
The weather in September is still hot in Puglia and last September and October when we stayed there the temperature reached 35C/95F. That said, try to avoid weekends on the beaches in Puglia in low seasons, since locals do love to bask in the sun before rainy autumn arrives.
Apart from emptier beaches in May or September, you'll save a big chunk of money when booking your accommodation in Puglia.
Check out some of the great tours in Puglia:
How to arrive to Puglia?
The easiest and cheap way is to fly to Bari or Brindisi with low-cost companies Ryanair or EasyJet. In case you are already exploring Rome, Milan or other places in the north of the country, you'll find cheap flights from these cities to Puglia, too.
You can also take a night bus from the capital to Lecce, where you can spend a couple of days. If you have more time to explore the south, we suggest renting a car in Lecce, Taranto, Bari or Brindisi so you'll be more flexible and able to reach remote beaches as well as neighbouring towns and villages.
You can also travel by train to Puglia. Here is a list of resources for trains in Italy. When in Puglia you can move from one town to the other with local trains, check the Ferrovie del Sud-Est website.
Whether you are a beach person or you need to get a proper rest after trekking in the mountains, we hope this post will help you to pick some of the best beaches in Puglia. Summer is coming dear friends, and hopefully you'll get to Puglia for your next beach vacation!
Liked it? Pin it!
Disclosure: Some of the links above are affiliate links, which at no extra cost to you, will earn us a small commission and reduce the costs of running this site.