Let's be honest: leaving for a Rwanda gorilla safaris is not one of those activities that happen very often in our daily routine.
I can't really imagine myself opening my Google Calendar and think: "all right, I have the dentist on Monday, I am tracking mountain gorillas on Tuesday, so yes, I can schedule my yoga class on Friday".
Gorillas are big animals and tracking them is a big deal. Having a face-to-face encounter with these creatures is an exciting and unforgettable experience and we want you to make the most out of it.
Keep reading this article filled with tips on how to get prepared for a wild Rwanda safaris in order to make sure to be ready to experience the best out one of the most extraordinary encounters you can have in Africa.
Top Tips for Tracking Mountain Gorillas
1. When to go: choosing the right time of the year
When it comes to planning a Rwanda gorilla safaris, it is important to make sure to leave during the right time of the year.
Although Rwanda can be visited all year long for going on a gorilla safaris, there are some specific months when your experience is likely to become more challenging due to the muddy conditions of the rainier months.
The best time to go on a wild Rwanda safaris goes from mid May to mid October. During the dry season, indeed, there are the ideal conditions for animal sightseeing, tracking gorillas, and wildlife in general. The average temperature across the country is about 30°.
This is also the peak season in Rwanda, so bare in mind that prices can be higher.
Another good time for tracking gorillas in Rwanda is the short dry season that goes from December to February.
2. Where to go: choose the right spot
Known as 'The Land of a Thousand Hills', Rwanda is a landlocked country located in Central Africa, just above the equator.
The best place where to track mountain gorillas in Rwanda is the Volcanoes National Park, a natural reserve located in the northwest of the country, which is home to half the world's remaining population of mountain gorillas.
The park became famous thanks to the work carried by the American primatologist Dian Fossey, who set up her base and research center in the park and fought for the preservation of mountain gorillas with her own life.
The Volcanoes Natural Park is home to seven groups of habituated mountain gorillas as well as to other wildlife such as elephant and buffalo, giant forest hog, bush pig, bushbuck, black-fronted duiker, Colobus monkeys, spotted hyena and more than 200 colorful bird species.
3. What to wear: bring the right clothing
Wearing the right clothes is essential to go on a Rwanda gorilla safaris, as you will be walking over slippery and muddy terrain, possibly in rainy conditions.
It is very important to have a good pair of walking boots to protect you from barbed vines, bamboo thickets, nettles, and other insects.
We recommend to wear the right clothing for wet weather, and remember that it gets cold at that altitude, so bring some warm clothes too.
Bring a light backpack, a rain jacket, a top with a hood, a pair of thick socks, and gardening gloves to help you with the vegetation. The sun is very hot also when it is cloudy, so never forget to wear a hat and sunscreen.
If you have the opportunity, try to exercise before your departure, as you will have to walk long distances at a high altitude of 5,200 feet on slippery paths with thick foliage; having a reasonable level of fitness will definitely be handy.
4. Get ready to click: bring the right gear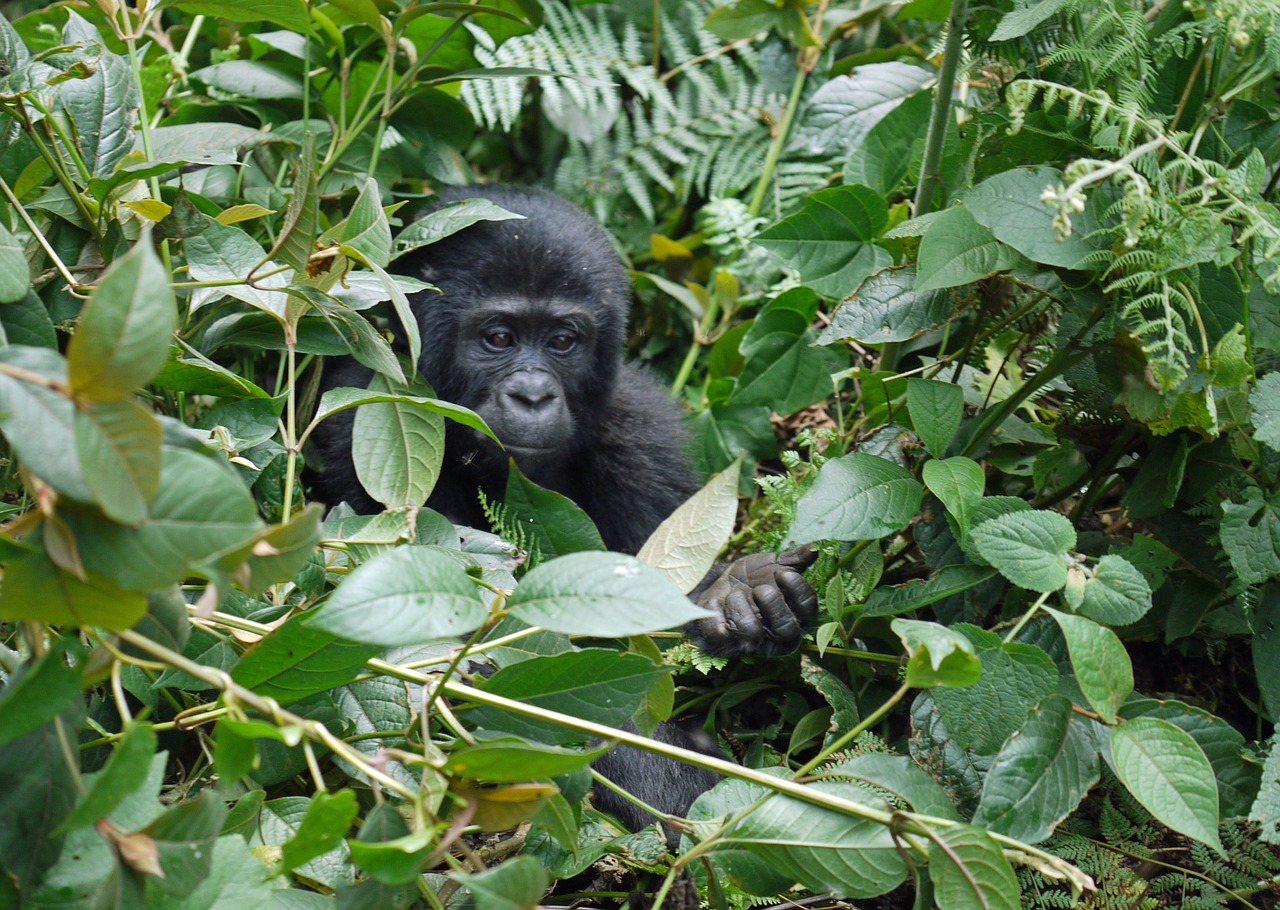 Having the chance to experience a face-to-face encounter with a mountain gorilla is an extraordinary opportunity that you will never forget.
A touching moment that will always be part of your best lifetime memories. Make sure to capture it at the very best conditions.
Photographing gorillas for the first time may be a little bit more challenging than you expected, due to light conditions and the proximity with the gorillas.
Don't forget that you are not allowed to use the flash, so use a camera that allows you to shoot at high ISO. Tripods or monopods are not permitted.
Also, don't forget to bring some plastic bags to protect your gear, as it may rain and you need to make sure to keep your equipment safe and dry.
Read more interesting articles:
5. Get your Gorilla Tracking Permit
In order to attend a wild Rwanda safaris and have the opportunity to track mountain gorillas, you need a permit.
A percentage of the price of the permit goes back into the local community and park structure. Only a specific number of gorilla permits are allowed on a daily basis, so it is recommendable to book yours in advance.
The gorilla tracking permit in Rwanda costs 1500$ year round.
6. Learn more about the rules
Mountain gorillas are wild animals; although they may be familiar with seeing humans, it is important to make sure to follow all the necessary rules to avoid unpleasant experiences.
Always remember to follow the instructions of your guide. Avoid using the flash on your camera and taking too many pictures.
Keep a distance of minimum 7 meters from the gorillas and avoid eating or drinking in front of them. Smoking is not allowed, too.
Always remain in the group, and if a gorilla approaches you, follow the instructions given by your guide and do not make any attempt to touch it.
Visitors are strictly given one hour to stay with the gorillas. Keep your voice low and do not join the trek if you have a cold or flu, as gorillas have no immunity.
Also, you must carry your own litter and avoid destroying the flora and fauna of the park.
7. Learn more about the gorillas
Did you know that these species are our closest mammal relatives? This is also what makes this encounter such a touching and extraordinary experience.
There is a population of about 880 mountain gorillas left in the wild, all around the world, and they are divided into four species: mountain gorillas, western lowland gorillas, eastern lowland gorillas as well as cross river gorillas.
Having the opportunity to seeing mountain gorillas in the Volcanoes National Park in Rwanda while they are busy in their natural environment taking a nap, eating, playing, grunting or simply hanging out, it is a priceless lifetime experience.
A silver back male gorilla may weigh about 200 kg, or even 3 times the overall weight of an average man. Each gorilla family can be visited by only one group of visitors everyday.
These species are in danger, and by purchasing a gorilla permit you are supporting the Gorilla Doctors, a group of experts who work under very hard conditions in order to safeguard and increase the gorilla population.
8. Know what to expect from your experience
Going on a wild Rwanda safaris may be one of the most incredible experiences of your life but it can be a little bit challenging, too.
Tracking groups can be up to 8 people. In order to track the mountain gorillas you will have to wake up very early and spend from 4 to 8 hours in the lavish vegetation of the Volcanoes National Park.
Being wild creatures, mountain gorillas tend to move around a lot, and there are no guarantees to be able to encounter them, although chances are very high.
The guide knows their habits, however it is impossible to predict the level of length, success, and difficulty of each single excursion.
We hope that this article filled with our top tips on how to track mountain gorillas in Rwanda will help you getting ready to make the most out of one of the most incredible encounters you can experience in Africa.