When we travelled to Slovenia for the first time and were landing at the Ljubljana airport we actually thought there was some kind of emergency. From the airplane we could only see dense forests, lakes, and meadows; which was far from the view of a capital city we were used to. We were still far from our planned destinations of the Logar and Jezersko valleys, but we were already amazed to see the landscape below us.
Why Logar and Jezersko?
Europe has been rapidly changing. Its capitals and big cities are converting into uniformed, globalized zones where everyone is looking for the comfort of something well known, yet still yearns to stand in awe of new discoveries. Fortunately, there are countries that have kept their unique sparkle, and Slovenia is certainly one of them.
While putting together our itinerary for Slovenia, we knew we wanted to visit Ljubljana and few other places, but at the same time we wished to shun well-known "postcard places," like those of the famous lake and castle.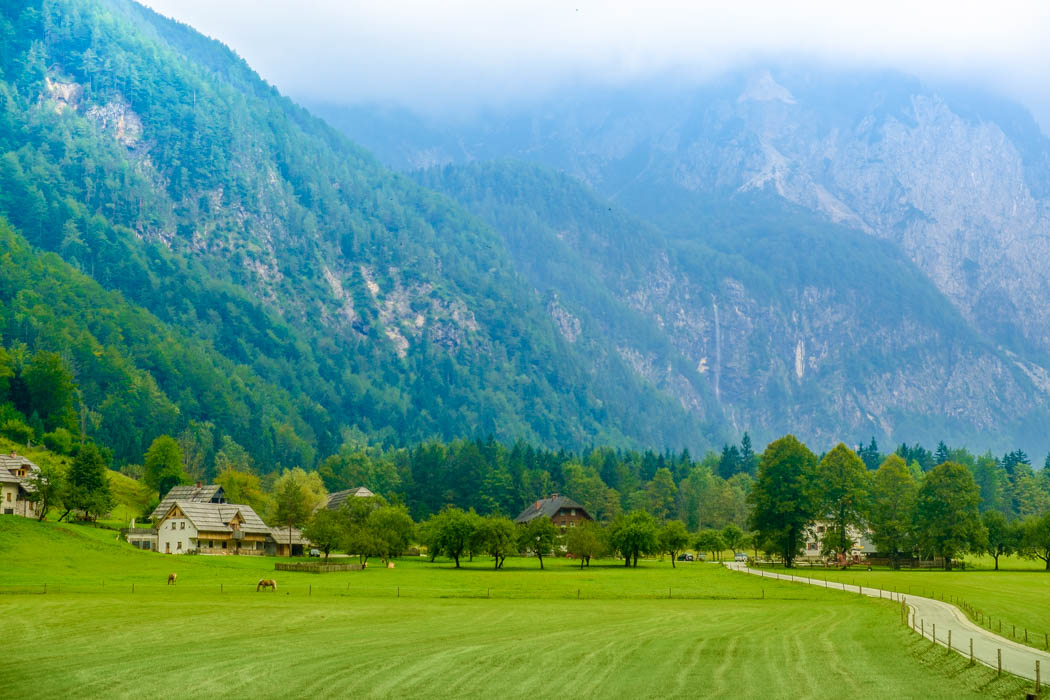 After some personal suggestions, we headed to the Logar and Jezersko valleys places less popular, yet very inviting (at least in terms of natural treasures). Sadly, the weather during our trip was more suitable for staying in a cottage, sipping hot herbal tea with a blanket over your knees, and watching raindrops water empty meadows. In the end we managed to see a tiny part of what we had planned to see, but this was enough to be inspired to repeat our travels to Slovenia.
Time in the Logar Valley
If we say that time here has stopped; that wouldn't be completely accurate. The Logar Valley (or Logarska Dolina in Slovenian) will take you back into the past, thanks to scattered abandoned farmsteads on steep green meadows, and lonely beehives along the road. It will also show you how much the present can benefit from the past while still developing sustainable tourism in the area.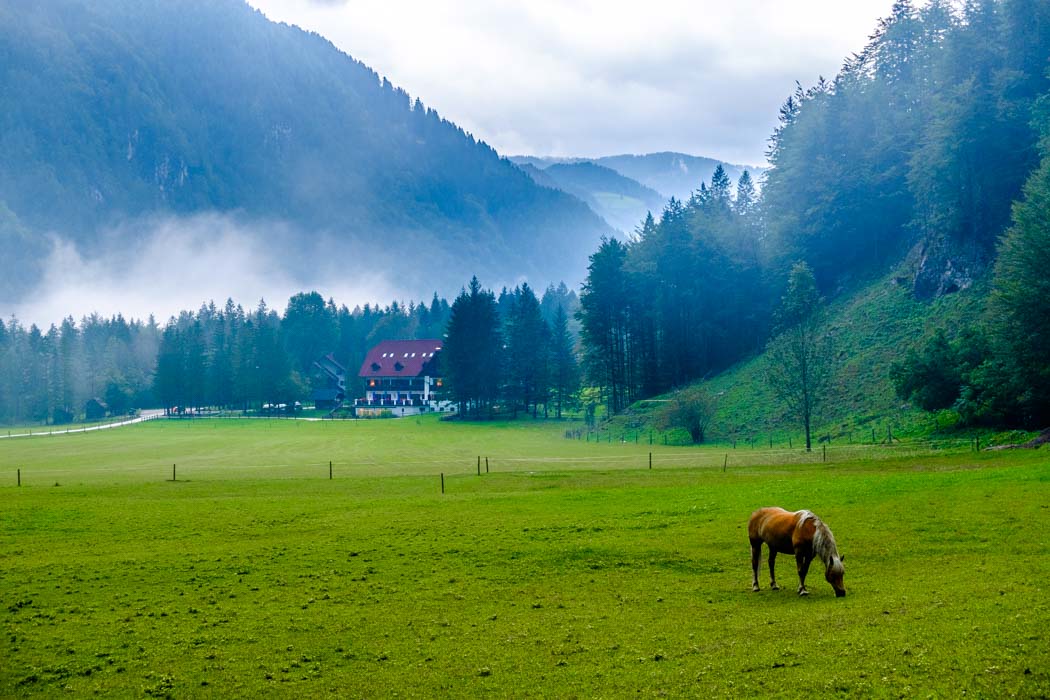 The first settlement in Solčavsko dates back to the 11th−14th centuries, and since then the area has changed its character a lot. Indigenous communities coping with harsh Alpine conditions in the mountains comprise the history and inhabitants found in the valleys nowadays. The Second World War affected the region as well, when almost all houses were burned down and many males died in the war front.
Currently there are 530 locals living in Solčava village, the majority of them working as farmers (wool and wood production) or in the tourism industry which was initiated one hundred of years ago, when a few locals started to offer overnight stays for Slovenian visitors.
Three valleys, many legends
Solčava District or Solčavsko is an area of three unspoiled valleys: Logar, Robanov Kot and Matkov Kot (which is said to be the wildest one.) All of them were formed by glaciers and streams; needless to say the area is interlaced with legends of wild men, witches, dragons, and other creatures with fantastic powers. Each tree, mountain, stream, and cave has its own spirit.
The Logar Valley is a U-shape valley embraced by the Kamnik-Savinja Alps, and is very close to the border with Austria. Together, the Logar and Robanov Kot Valley are both protected nature reserves. In 1987 the Logar Valley was officially declared as the Logarska Dolina Landscape Park. This persuaded locals to established a non-profit organisation in 1992, so they could build the necessary infrastructure to start a sustainable tourism industry. At the moment they are running several sustainable projects (felt production, development of wooden and marble products, and food based on traditions) and they aim to preserve the famous pure breed of Jezersko-Solčava sheep.
Green paths & fairy tales
Almost 80% of 102 km2 of Solčavsko is covered by spruce forests and around 85 % of that area is protected.
There are 104 natural features in Solčavsko and you'll need a week minimum to pick through and explore some of its vast array.
Solčavsko Panoramic Road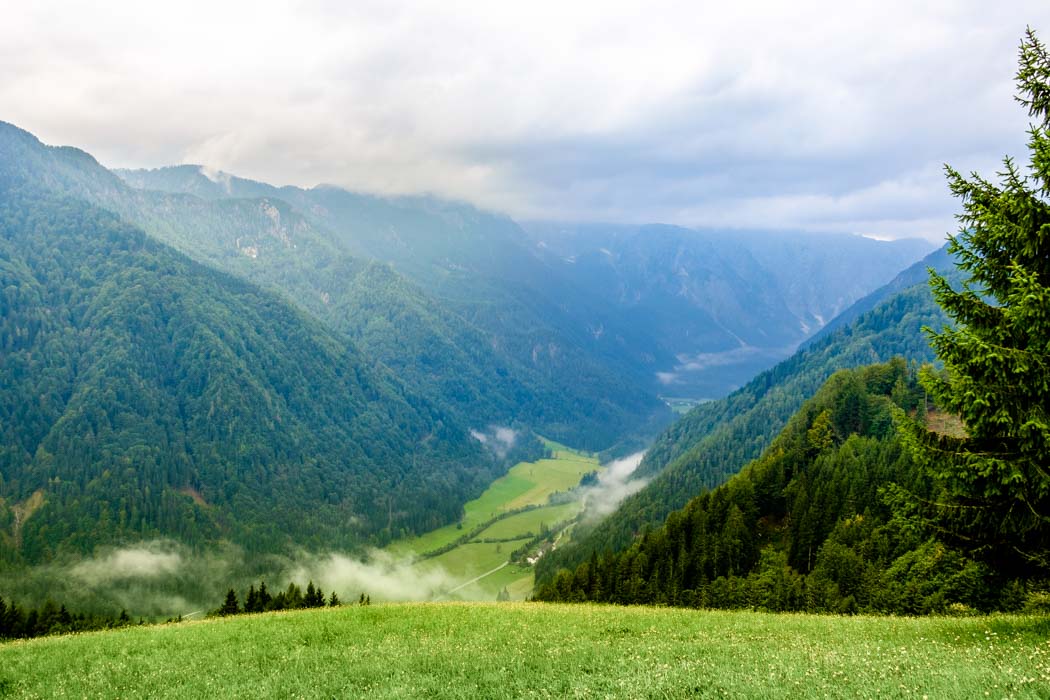 This route connects the farms in the Matkov Kot and farms in Podolševa hamlet. We were unlucky and unable to take the longer tour because of the pouring rain, but we did however get a chance to go to the top of the route where the view was still very rewarding. The misty silent slopes of hills and sheep bells jingling in the distance were an incredible part of the experience.
Waterfalls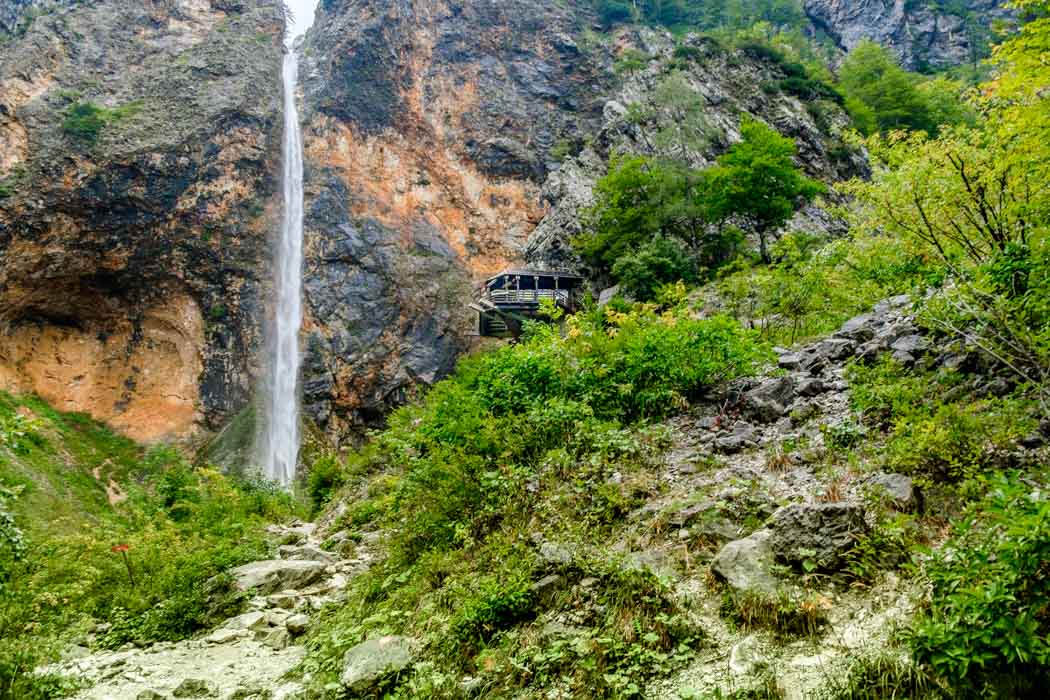 There are twenty of them but only two are permanent: Rinka (90m high and the highest in Slovenia) and the Palenk waterfall.
Caves
The nature is wild and almost sacrosanct in this part of Slovenia. The stories hidden in between the mossy fallen tree trunks and in caves are often told by locals, guides, and grannies. The local legend Vid Strgar (locals called him Fida) lived in a cave for nine years. Now you can do the same heritage trail and visit the cave yourself!
One of the most famous caves in Solčavsko is the Potok Cave (Potočka zijalka.) It is on the slope of Olševa mountain. It's 25,000 years old and a place where the world's oldest sewing needle was found.
Churches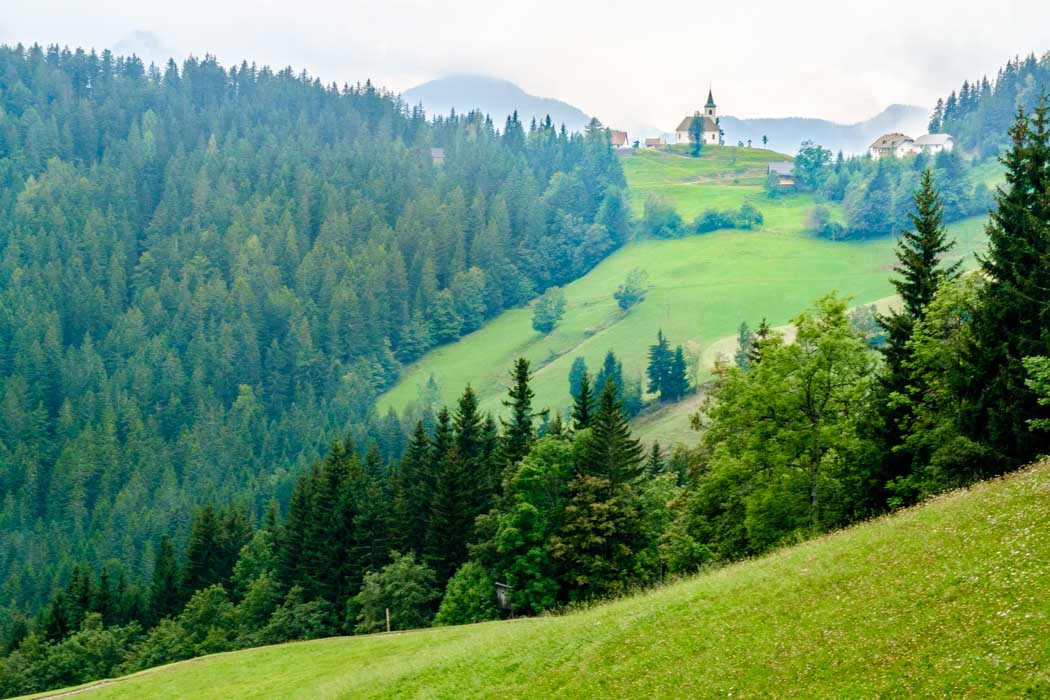 Each small village in the district has one, and usually it towers calmly on a high slope with a scenic view of the Alps and the inhabited valley below.
Fairy-tale forest
In case you travel with kids, this will be the perfect option for all the family.
Mineral spring of iron sour water
A few of the healing springs are marked in tourist maps, but there are more that only locals know about.
Nature-ethnographic trail
The walk of about two hours is 7 km long, and will take you along the Logar Valley and its scenic views up to Rinka waterfall. You'll travel via flat countryside, and later will ascend into the forest and pass a few meadows. You can also take the longer way to Mount Planjava, which can take up to 11 hours (this requires a two-day trip).
Spring Črna or "Black Spring"
Why black? The water flows over black clay sediments so it leaves a black residue in the water. The hiking path near the spring is very easy, with mossy stones and wild forest all around.
More adventures in the Logar Valley
Now for those of you who can't wait to get that adrenaline rush, there are plenty of outdoor activities like mountaineering, Via Ferrata , Alpine and free climbing with professional mountain guides, canyoneering, or even try the tandem parachute. You might want to contact Adventure Valley in Luče village or Alpguide for more information.
Another inspiring hiking trail near the Logar Valley is the Velika Planina. It is one of the Slovenia's largest plateaus and takes about four hours one way.
Good to know before you travel to the Logar Valley:
Entrance fee
If you come by car, be ready to pay $6.20/car. Bikers and hikers enter for free.
Information centre
Rinka Center for Sustainable Tourism in Solčava village, is probably the best place to grab some brochures, maps, books, or have a cup of tea in an Alpine style restaurant. (We bought a homemade sausage and some herbal tea that was really delicious!) They also recently opened a small exhibition of 240 million-year-old fossils that were discovered in the Kamnik-Savinja Alps.
Renting electric bikes
Check the info point near Hotel Plesnik in the Logar Valley.
Food
There is a small local restaurant opposite Rinka centre called "Zadružnik, where you can find an ATM machine. Lunch costs $5-10 and it's open from 7am till 10 pm and until 11 pm at weekends.
"Ojstrica Country House" (opposite tourist farm Lenar) serves seasonal homemade dishes and grilled specialties.
"Dom Planincev" in the Logar Valley offers local dishes with vegetarian options available.
"Bar Orlovo gnezdo" (up in the Rinka waterfall) opens from May till the end of October from 10 am till 6 pm. (Other season – open after arrangement.)
Gasoline
You'll find a petrol station in Solčava village.
How to get to the Logar Valley from Ljubljana
The easiest way to arrive and to move around is to rent a car in Ljubljana, but you can also take a bus from Ljubljana Bus Station do Gornji Grad. An one way ticket costs $7.50/per person and takes two hours. You'll need to arrange a pick up with Rinka centre during summer months. This is the only challenge you'll need to cope with while planning your travels in this part of Slovenia. All the rest, accommodation, food and trails are very well maintained and affordable.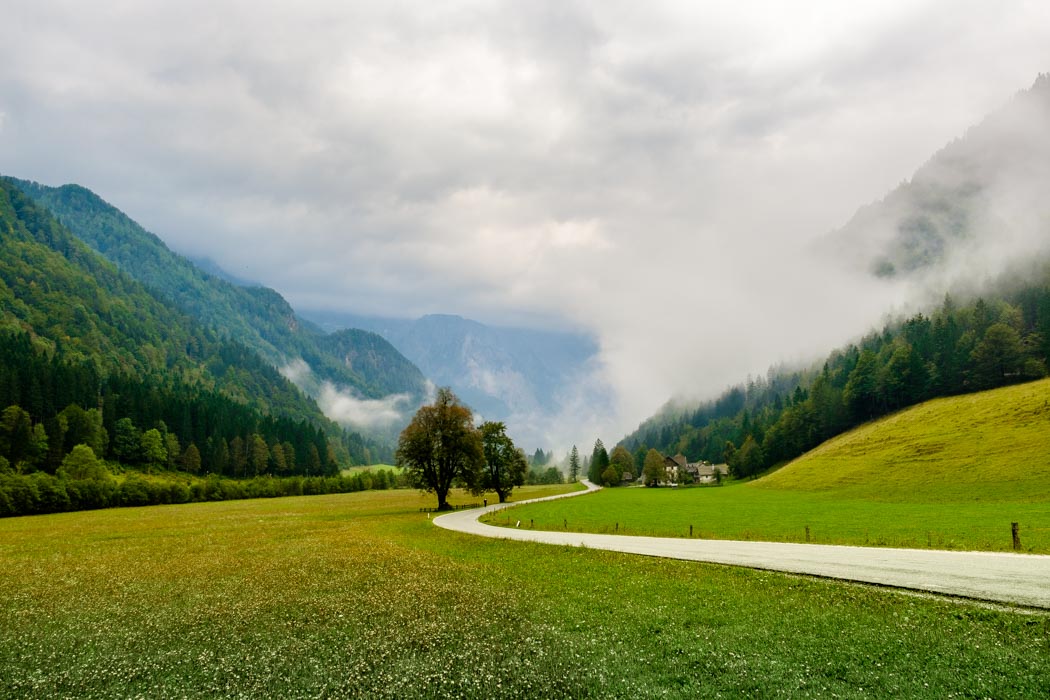 There is free transport in the Logar valley, Solčava and Luče in summer months if you are staying in one of the places in the area. If you are not, you pay about $ 3.70 for the transportation and get free tea/coffee in some of the touristic spots in the area. If you want to arrange a taxi from Ljubljana airport directly to the Logar Valley, be ready to pay $112 per taxi.
When to go
Hot summers & freezing winters are what you can expect here. Officially, the summer high season starts along with school summer holiday, 1st of July and finishes on the 30th of September. Easter and Christmas vacation are when you can expect the most visitors here so you might want to choose a different period to visit the valley.
Where to stay in the Logar Valley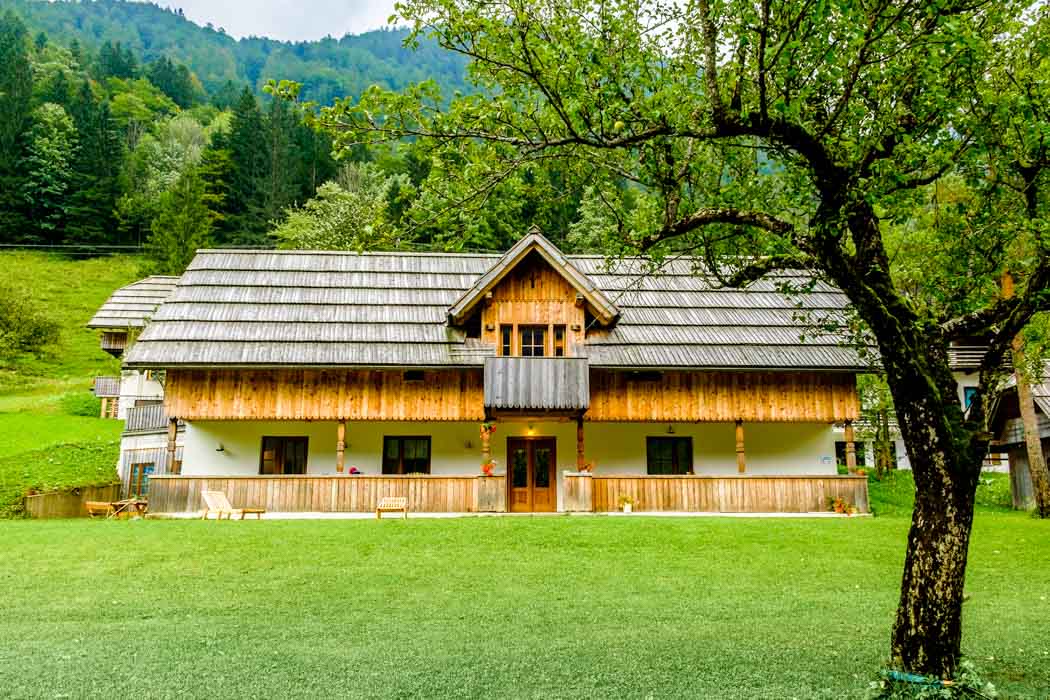 If we tell you there is only one hotel in the Logar Valley – it would be true, but we should also mention that there are plenty of B&Bs, tourist farms, and huts where you can stay overnight. The average price for a B&B in high season is $31/per person, including breakfast. Although, you can sleep in a hay barn for less than half that price.
We stayed in an eco-tourist farm called "Lenar", which had one of the cosiest rooms furnished with tasteful Alpine style.
Where else to travel in Slovenia
For other top places in Slovenia, have a look at this mobile application (Slovenia's Top 50) that will give you more suggestions and navigations.
Jezersko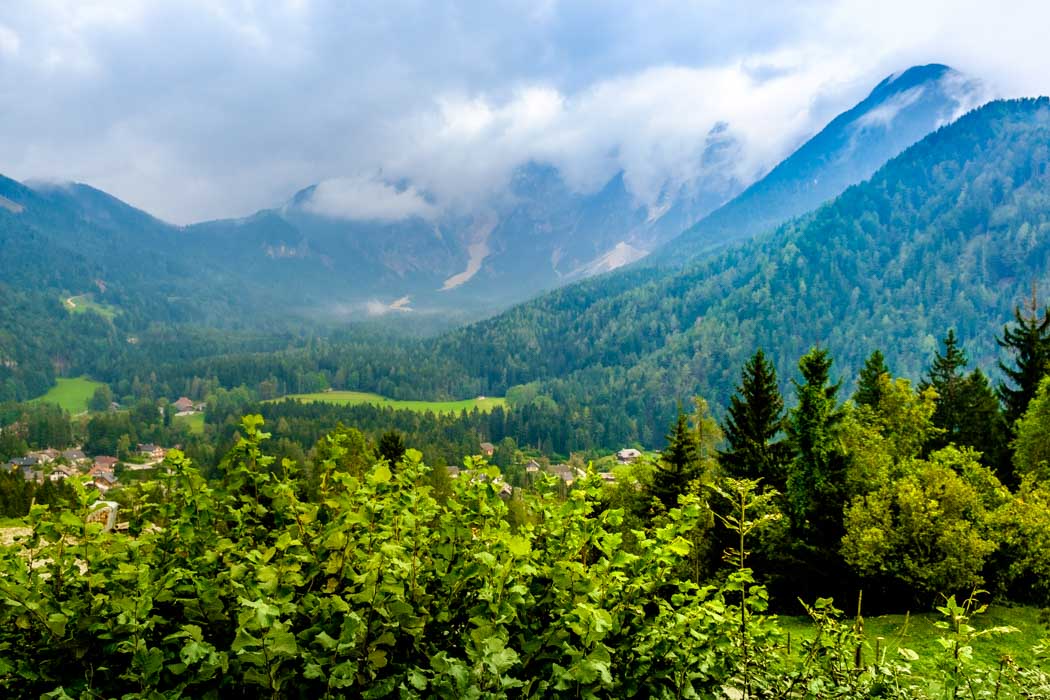 If we said we were unlucky with the weather in the Logar Valley; in the Jezersko Valley we felt even more hopeless and cancelled trekking and biking due to bad weather. Nevertheless, the valley definitely showed us its charm for a short time when we went up to the Old Church of St Oswald where the oldest fresco in Slovenia can be found.
Similarly to the Logar Valley, locals in the Jezersko Valley do their best to preserve the area and to develop sustainable way of tourism. For example, the Šenk's Homestead is home to the Jenk's barracks and the ethnographic museum is located in a 16th century old house.
We arrived in Jezersko in the beginning of September and missed some great summer events like storytelling gatherings, herb picking walking tours, and festivals. We did however, visit a local herbalist Matej and learned about the local traditions of herbalism.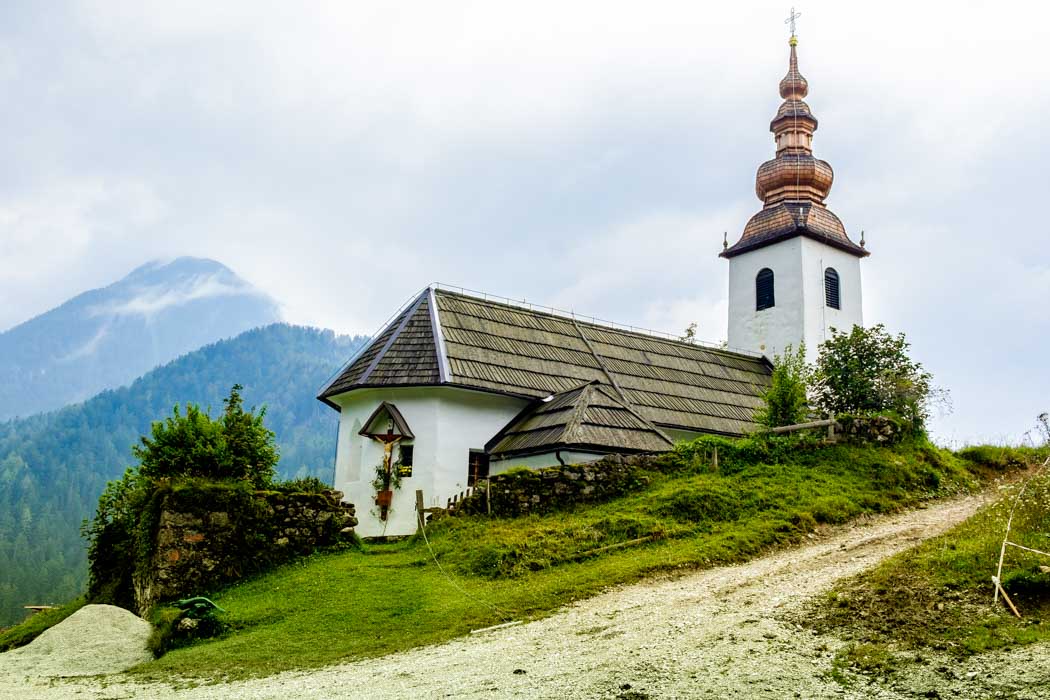 There are 60km of hiking trails in Jezersko, and the area is very well maintained. There are also 15 professional guides available that speak fluent English and German in case you'd like even more local guidance.
Where to stay and eat in the Jezersko Valley
We recommend Hostel & Camp Stara Pošta, where they cook Slovenian specialties. You can choose a dormitory bed, double room, camp, or hut. The food is amazing, filling, and all done with local products. Also, Tanja the owner of the camp makes you feel extremely welcome.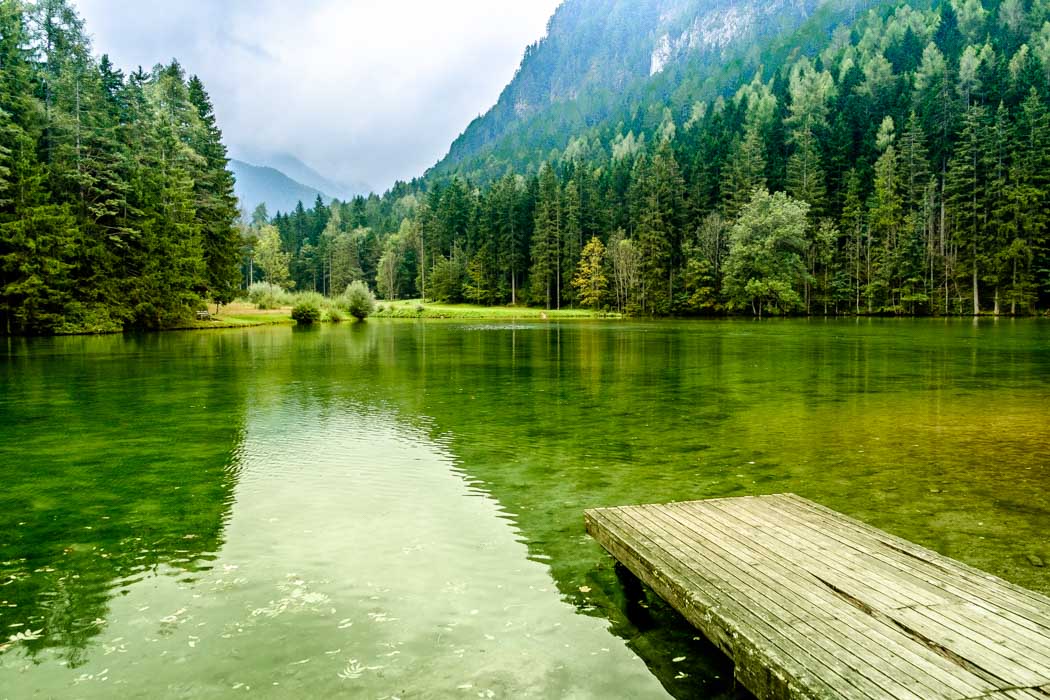 For more suggestions and updates about accommodations and activities in Jezersko, visit their official website.
Pro tip: If you travel in Slovenia for an extended period of time, you might want to get the Green Card to get some benefits for eating out, accommodation, and activities in Slovenia.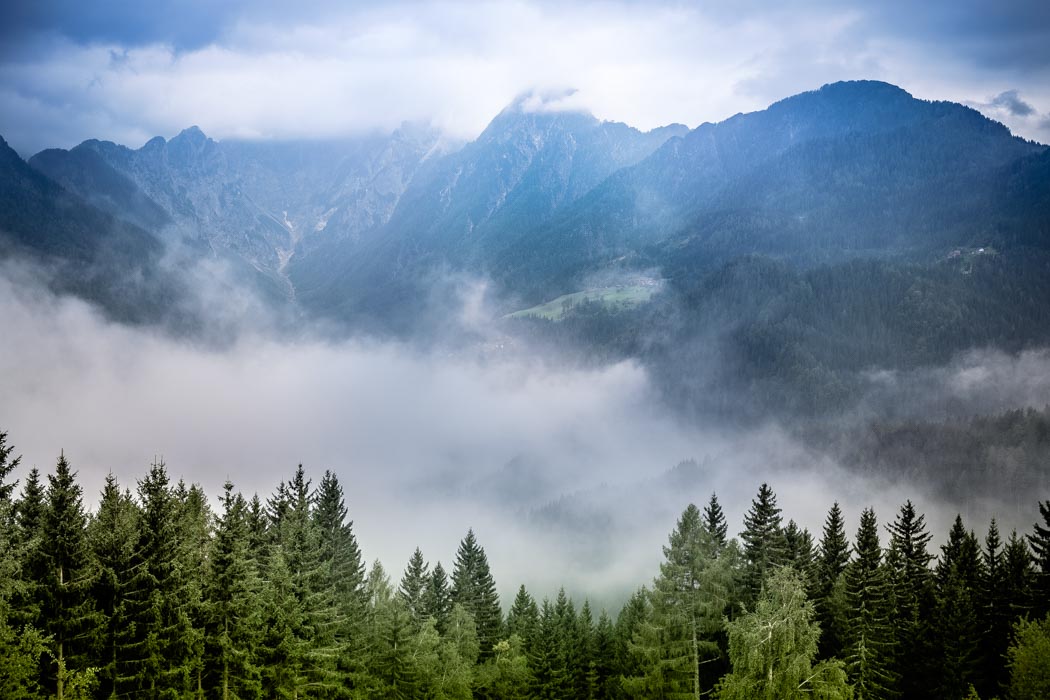 We left the Logar and Jezersko valleys thrilled and upset at the same time. We could see the places were wild, unaffected by masses, and yet vibrated with their own preserved culture. We were however quite disappointed in the weather during our time there. Well, we suppose that's just part of the cycle of nature, and we could only respect it. We made a promise to ourselves, and our friend Mojca from Solčava village that we would be back. We will, indeed.
Thanks to Spirit Slovenia for covering a part of our trip to the valleys. The opinions and suggestions for beautiful views, soft beds and scrumptious meals are our own.