Travel Photo Roulette 79: People Sleeping
This week we are hosting Travel Photo Roulette round 79!
We've been chosen by Leckie and Laura from Quit Job Travel World as the winners of the previous round with a photo of an upside-down statue that can be found in Prague.
It is hanging from the ceiling and it is mocking the real statue of King Venceslas (found elsewhere in Prague). The 'The Dead Horse' is a statue by the Czech artist David Cerny.
 Now as the winners we have the honour to host Round 79. So the theme of this week is:
PEOPLE SLEEPING
As you can see in our blog, we love taking pictures of people. People working, reading, in meditation, walking, eating or any other daily activity that attracts our attention while travelling. Through the simple gestures of people we can understand other cultures, observing that at the end we are all humans with the same feelings, dreams and passions.
One of the simple actions that we like the most is the one of sleeping. This is more a state then an action and it reminds us about dreaming and resting. People are more vulnerable and we (the observers) become more compassionate.
Here are some photos that can hopefully help you as inspiration.
So check your archive and submit your entry, we are sure you can show us some amazing photos taken during your travels. The contest will run from 12 May to 19 May, 2014.
and the winners are…
An excellent photograph! The angle and the composition of this photo, the 'grunge' colours, the unnatural position of the man between the chairs who is still sleeping like in the most comfortable bed on the planet. These are our reasons why we have chosen this great shot as a winner. Well done!
Congratulation to Zara and Ashray who will host Travel Photo Roulette Round 80!
ENTRIES
Entry #1
Tom Bartel from Travel Past 50
It was siesta time, and this guy was slumped over, sleeping, on his stool. I worried for him just a bit, because the enormous crates of chilis he was selling seem awful precarious. Guanajuato, Mexico.
Entry #2
Franca from Angloitalian, Follow Us!
I couldn't help but smile seeing the Thai lady next to Dale making herself comfortable on a long 3rd class train journey through Thailand.
Entry #3
Zara from Backpack ME
Whenever life doesn't give you a bed… put two chairs together! That's exactly what this guy did, in Incredible India.
Entry #4
Donny from Turtles Travel
While searching for a peaceful place to sit and reflect after a long bike ride around Koh Trong island in Cambodia, we came upon this young boy. He was fast asleep with the Mekong flowing behind him. We imagined he had taken a few minutes to escape his chores. We shared his tranquil lookout for a bit and left him to enjoy his nap!
Entry #5
Johanna from TravelEater
I know New Yorkers have small apartments and tend to make the city their living room, but I'm still surprised every time I see something like this. Such a great city for street photography.
Entry #6
Jennifer from Jennywise Arcade
A local woman sleeping on the Zocalo in Oaxaca, Mexico
Entry #7
Claire from ZigZag on Earth
The Namibian Siesta. Our guide was taking a break while we were wandering in Deadvlei.
Entry #8
Dyanne from TravelnLass
This Moroccan lass, blissfully snoozing amid the cobbled lanes of perhaps my most favorite corner of the entire world: Chefchaouen (a.k.a. "The City of Blue").
Entry #9
Marta from In a Faraway Land
I always thought of local markets as the liveliest places in the cities, and yet I was so wrong. San Pedro market in Cuzco, Peru was one of the dreamiest places I have visited. I snapped so many pics of vendors taking naps that I could easily put a collage altogether. There is so many labels, colours and distractions in all the things around the woman in that stand and yet she looks so calm and relaxed whilst taking her nap
Entry #10
Ross from Free Your Mind Travel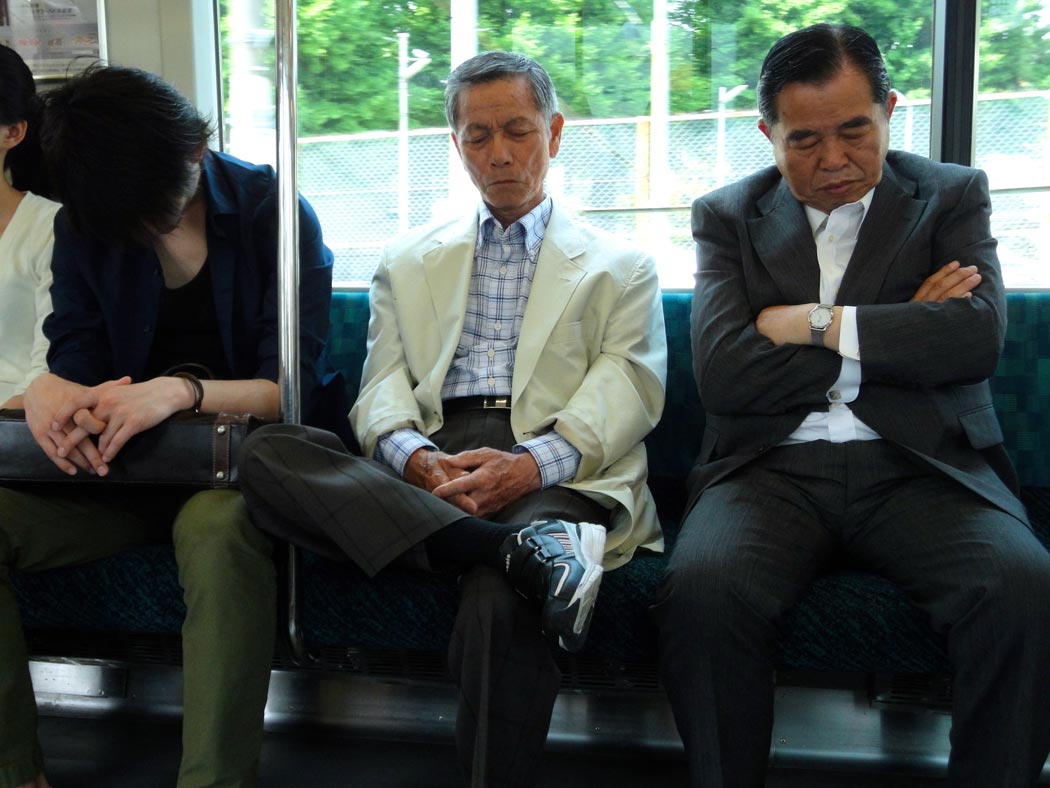 Alyse snapped this photo while we were riding the subway in Tokyo. While in this city we marvelled at how Japanese people could and would fall asleep pretty much anywhere!
Entry #11
Jeremy from Living the Dream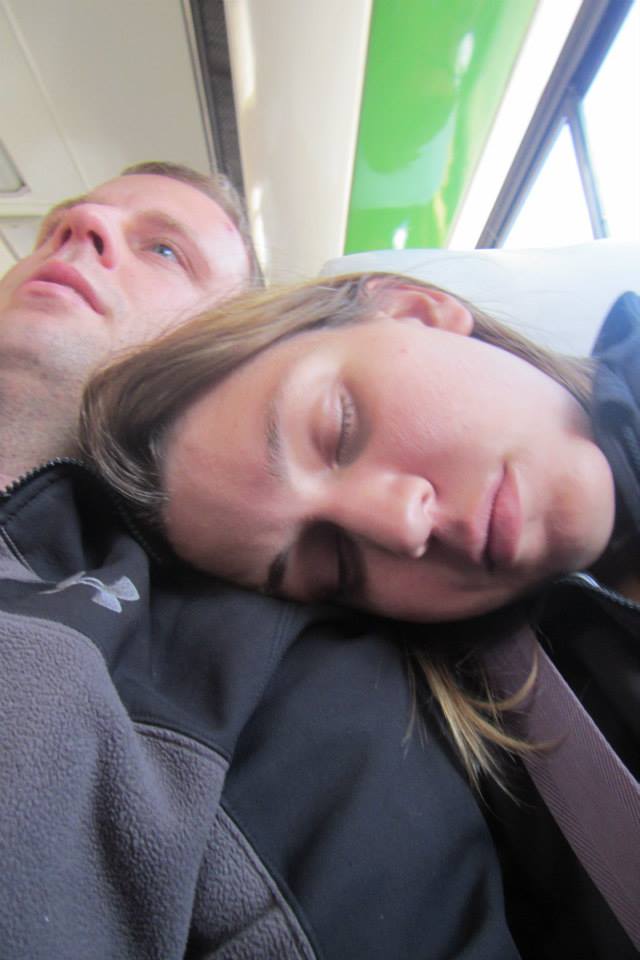 My wife and I are having a competition on our current long-term trip to see who can get more napping photos of the other. The loser has to buy the winner a puppy when (and if) we ever go home.
Contest Overview
The contest rotates through travel/photography blogs, so the winner of the previous round of Travel Photo Roulette hosts the subsequent round on their own blog. The new host then chooses the next theme (a generic keyword or phrase) and people submit their interpretations of the theme over the course of the week of the contest.
At the end of the week, the hosting blogger chooses their favourite photo from the submissions and displays it as the week's winning entry. They then include direction to the new host for the next round. Readers can attempt to sway the author into picking a certain photo via comments, but the author can ignore comments as they see fit. The game is repeated with the winner hosting the following week's game and choosing a phrase for new photo submissions.
Feel free to share this article on Facebook, Twitter, G+ and StumbleUpon so more people can join the contest. The more the merrier!

Guidelines
One submission per blog, so sites that have 2+ authors only get one entry.
Post processing is permitted, but photo altering (ie. using Photoshop) is not.
Abstract submissions welcomed as long as it fits within the interpretation of the chosen phrase. Remember, the hosting blogger chooses the winner, so if they cannot understand the submission, you might not win!
Please try and keep your images medium-sized and web-optimized.

*Note* We like to display large photos on our blog. If possible please submit your entry with a width of 1050 px.

If you win, keep these in mind when choosing a new theme:
Keep phrases general so that all bloggers can participate. Specific items like "Eiffel Tower" should be avoided but rather made open-ended like "monuments." For variety, it is okay to say focused things such as "monuments at night" which most of us have pictures of. Phrases can be generic 'signs', or abstract 'religion'.
Abstract thoughts are appreciated, but keep it within the realm that all readers will understand. No "Kafka-esque", or "Overlooking Creation". Use something that is able to be interpreted by all.
After 1 year, phrases can be reused, however new photos must be submitted.
No obscene pictures or phrases allowed. Suggestive phrases and photography can be accepted, but please keep it within reason.
Keep the ideas and photos fresh!
Pictures from your entire portfolio are fair to submit. You do not have to take the photo within the week of the contest period to submit it.
Most importantly, all photographs must be your own.
One last rule, since this is a competition for travel and photography bloggers, you must have a travel/photography blog to enter. Sorry!
How to Enter
Travel Photo Roulette #79:

People Sleeping



To enter in the Photo Roulette competition simply leave a comment below with a link to the image (whether Flickr, Picasa or your own site) and we will upload it to this post. Don't forget to provide a brief description or caption for the photo so the viewers can get a little background as to what's happening.
Check back here through the week to see all the entries as they come in – feel free to comment on them. The contest runs for 7 days from now, with the submission date being May 12-May 19, 2014 (Monday through Monday). We will announce the winner within the next few days after the deadline, and they will host round 80.
Previous Winners
This is a list of all the previous winners and themes. Click the host's link to go directly to that entry to see some fab photographs.
1. Nov 2010 Living the Dream Animals
2. Nov 2010 Skinny Backpacker Road Signs
3. Nov 2010 Dream a Little Dream Street Art
4. Dec 2010 Flashpacker HQ Festival
5. Dec 2010 Over Yonderlust Landmarks
6. Dec 2010 Don't Ever Look Back Beaches
7. Jan 2011 ThePlanetD Portraits
8. Jan 2011 Travel with a Mate Motion
9. Jan 2011 Johnny Vagabond Water
10. Feb 2011 Ken Kaminesky Urban
11. Feb 2011 Travels of Adam Friday Night
12. Mar 2011 Itchy Feet Chronicles The Journey
13. Mar 2011 Brendan's Adventures Changing Seasons
14. Apr 2011 Shutterfeet Storytelling
15. Apr 2011 10 Times One Piousness
16. Apr 2011 Beached Eskimo Learning
17. May 2011 Travel Junkies Architecture
18. Jun 2011 Destination World Transportation
19. Jun 2011 Living the Dream Paradise
20. Jun 2011 Vagabond Quest Clothes
21. Jul 2011 The Unframed World Symmetry
22. Jul 2011 Beached Eskimo Home
23. Jul 2011 BackPackerBanter Inspiration
24. Aug 2011 WanderingTrader Darkness
25. Aug 2011 Finding the Universe Tranquillity
26. Sep 2011 Fearful Adventurer Food
27. Sep 2011 Adventures of a GoodMan City
28. Oct 2011 Globe-Trekking.com Reflections
29. Oct 2011 Scene With A Hart Framing
30. Nov 2011 Vagabond Quest Silhouettes
31. Nov 2011 Hecktic Travels Music
32. Dec 2011 Globetrotter Girls Love
33. Dec 2011 Man on the lam Humor
34. Jan 2012 My Walkabout Winter
35. Jan 2012 The Art of Slow Travel Blue
36. Feb 2012 Ten times One Depth of the Field
38. Mar 2012 Nomadbiba Sunshine
39. Mar 2012 Travel With Kat Local Character
40. Apr 2012 The Travel Bunny Street Scene
41. Apr 2012 Adventure Crow Spirit of the Country
42. May 2012 Food Travel Bliss Evening
43. May 2012 Matt Gibson Adventure
44. May 2012 Flashpacker HQ Once In A Lifetime
45. Jul 2012 Skinny Backpacker Surreal
46. Aug 2012 2away Smile
47. Aug 2012 Bridges and Balloons Excellent Splendour of the Universe
48. Sep 2012 The GypsyNester What the ?!
49. Oct 2012 Runaway Juno Sweet
50. Nov 2012 GQ Trippin Play
51. Nov 2012 Life's Little Victories Friendship
52. Dec 2012 Breakaway Backpacker Face
53. Jan 2013 Fly, Icarus, Fly Serendipity
54. Feb 2013 Travel Transmissions Lost in Thought
55. Feb 2013 Wanderlusters The Natural World
56. Mar 2013 Travel Junkies Patterns
57. Apr 2013 Living the Dream Your First Time
58. May 2013 Getting Stamped The Sun Goes Down
59. Jun 2013 The GypsyNester Cheesy Tourist Diversions
60. Jun 2013 Boomeresque Revolution
61. Jul 2013 Breakaway Backpacker Colorful
62. Aug 2013 Around This World Mountains
63. Aug 2013 Passports and Pamplemousse Hands at Work
64. Sep 2013 TurtlesTravel Dance
65.Sep 2013 Keep calm and travel The Sea
66 Sep 2013 Travel Photo Discovery The Market
67. Oct 2013 Am I Nearly There Yet? Travel Fails
68. Oct 2013 The GypsyNester Weird Regional Foods
69. Nov 2013 Sophie's World Trees
70. Nov 2013 SHOuTography Party
71. Dec 2013 Adventures of a Goodman Ruin
72. Dec 2013 Have Blog Will Travel Light
73. Jan, 2014 This World Rocks Crowds
74. Jan, 2014 Travel Past 50 Competition
75. Feb 2014 The Working Traveller Working
76. Mar 2014 Travels with Carole Umbrellas
77. Apr 2014 Independent Travel Help Quirky
78. Apr 2014 Quit Job Travel World Statues
79. May 2014 Nomad is Beautiful People Sleeping