Traveling to Italy? Read what to eat in Puglia to get inspired and plan your menu ahead. 
Before we list here some of the best food in Italy, let's start with a quick question. How many countries have you visited? Two? Fifteen? Forty? Okay, let's say ten is the average of visited countries of a person who's reading this article. Now, out of these ten countries, do you remember where did you NOT see an Italian restaurant or a pizzeria? One? Two? Maybe none?
I'm sure you cannot recall a single country where you wouldn't have got a chance to sample a local version of Italian food (instead of all of the Asian specialties we had been eating for a while.) Now, let's jump onto the food and see what to eat in Puglia on your next trip to Europe
Some of the best food in Italy
One cuisine with many influences
We can contemplate why is it so common to open an Italian restaurant in a small sea village in Asia or in the Nordic capitals, but I feel there would be only one answer in the end of the discussion: because Italian food is super appetizing, and loved by the majority of travellers, many of whom have actually never visited the country.
I hope you'll agree if I say the best of any cuisine can be found in its homeland and the same works for the best food of Italy. It can be found only in the country of la dolce vita.
Due to the Puglia's history and location, its dishes have been influenced by Greek, Spanish, Arabic and French cuisines, which resulted in some of the best food in Italy, and dishes that you don't usually find in northern regions of the country.
Puglia has been an agricultural region for hundreds of years and one of the main producers of olive oil in Italy. You'll feel it straight upon your arrival; a bottle of olive oil with a strong taste and aroma stands on a table in every trattoria or pizzeria and in everyone's kitchen, too. Oh, did I mention that olive oil in Italy is far too different than the one you might be used to back home? (Unless you are Spanish or Greek.)
What to eat in Puglia
The main ingredients of the meals in Puglia are durum wheat, vegetables (aubergine, tomatoes, chicory, fennel, pepper), mushrooms, and lots of fresh herbs (thyme, rosemary, sage), as well as fave beans and beef.
Cheese lovers, get ready! In Puglia you'll discover the taste of burrata (fresh cheese made of mozzarella & cream), [ricotta forte] or [ricotta pecorina] which you'll want to add everywhere and stracciatella cheese.
Snacks, appetizers in Puglia
You will find a lot of street food in Puglia, but every town has also a café, a pasticceria (pastry shop), a panificio (bakery) or a salumeria (grocery) where you can grab some fresh snacks and appetizers that will fill your empty stomach.
Focaccia
Italian flat bread typically topped with olive oil, tomatoes and rosemary. One of the most popular varieties in Puglia is filled with black olives and onion called pizzitello Pugliese.
Pizzo Leccese
Usually round shaped bread popular in Lecce, with black olives, onions, tomatoes, chilli and sometimes they add zucchini and capers to it.
Rustico
A puffed pastry filled with mozzarella, tomato sauce, béchamel and pepper. It's better if you eat it straight after you buy it, when the cheese is melted and warm.
Join some of the food tours in Puglia:
Puccia
This wood oven sandwich is made of the same dough as pizza, and is more a brunch thing. You order bread and fill it with whatever you fancy. There's less crumb inside so that you can add more ingredients than inside a bread bun. Some of the typical stuffing options are: grilled vegetables, cheese, ham and fresh salad rocket.
Panzerotto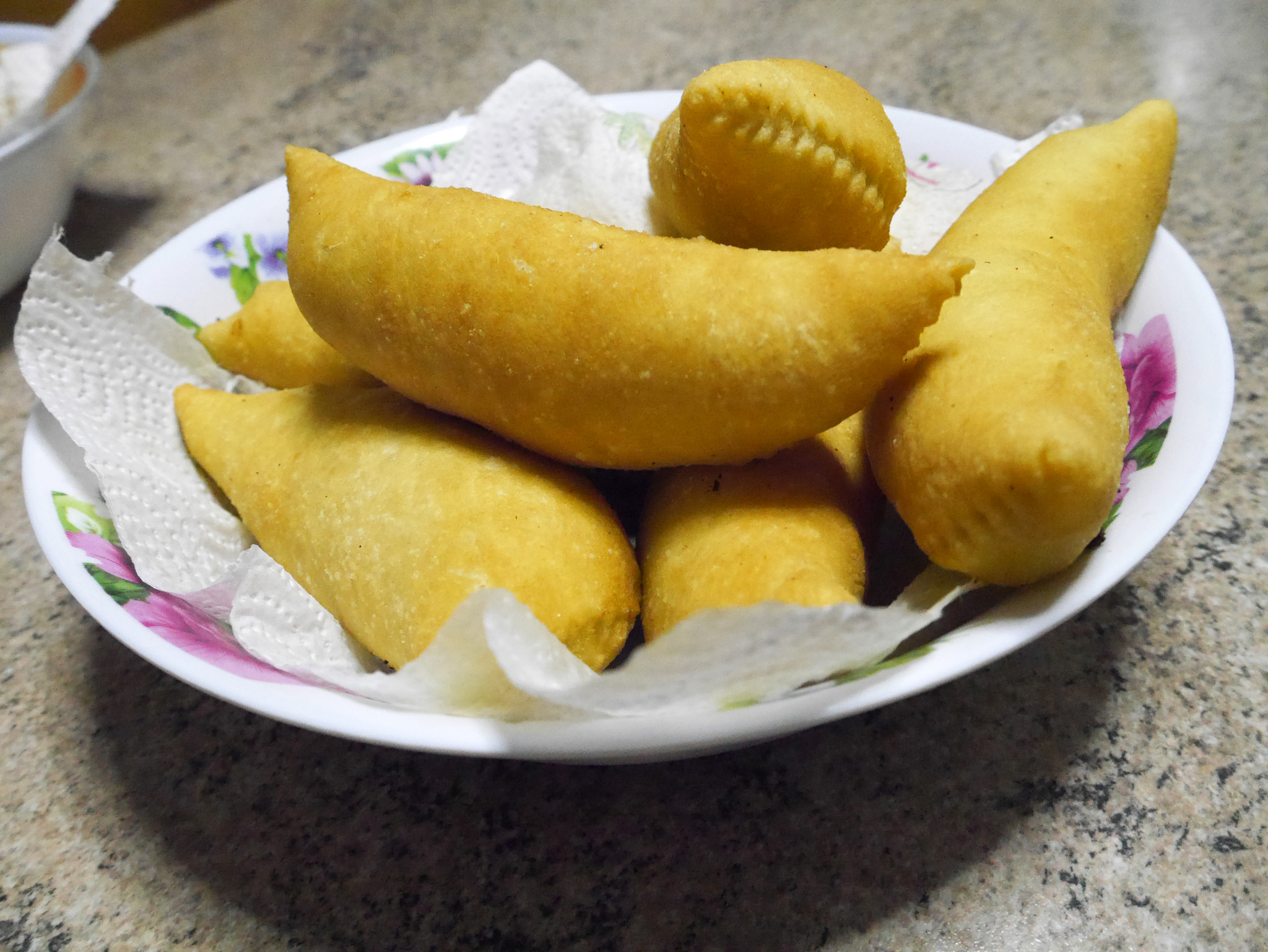 This is a super filling fried pastry with melted mozzarella and tomatoes inside.
Taralli
Savoury round shaped crackers which taste is similar to breadsticks. Recommended: taralli with fennel flavour.
Gelato!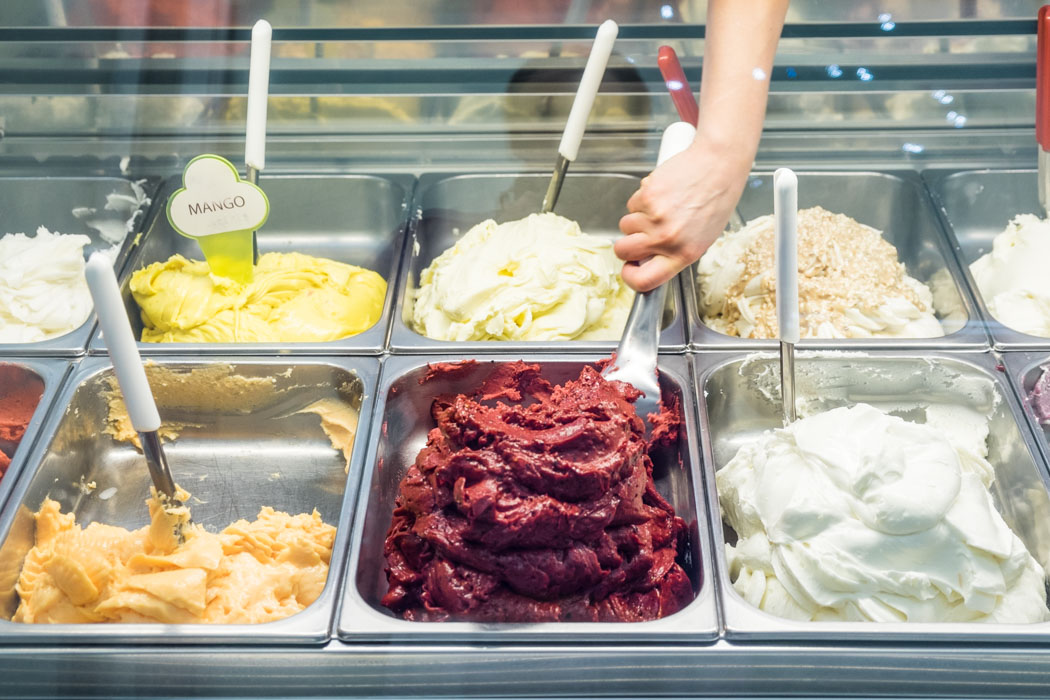 Italian frozen delicacy is what you call THE ice cream. When you buy raspberry flavour, you taste raspberry, chocolate is more than just powder taste of chocolate, and a scoop of nut flavour is crunchy, creamy and not just a melting mass leaking out of a cone.
Plan your trip to Italy and Europe:
Main dishes in Puglia, Italy
If you've never been in Puglia before, let me warn you: you'll enter a food monarchy that will tempt you solidly to sample, sample & sample something new again. There will be always something new! Puglia is truly a place with some of the best food in Italy; so get ready for that.
Like in other regions of the country, Italians in Puglia love their food, and are proud to prepare their traditional dishes that are part of the world famous cuisine. (Remember the number of Italian restaurants you've seen around the globe?)
Aperitivo, antipasto, primo, secondo, contorno, formaggi and frutta, dolce, caffè, digestive and… coma!
It took me a while to get used to the concept of a full Italian meal.
You open your stomach with aperitivo which is a small snack (nuts, cheese, olives) and alcoholic or non-alcoholic drinks. You continue with antipasto which is usually cold cuts like salami, prosciutto, cheese and bruschetta.
Then follows an Italian primo (first course, after which you'll be already full) that is usually pasta, rice or a soup and secondo (second course) that is meat or fish and is served with contorno, which is typically raw or cooked veggies or potatoes (French fries or roasted).
After that, you'll be offered cheese and fruits that are abundant in Puglia (figs, grapes, oranges, dates etc.) and dolce (sweets). You cannot leave a table without having a real Italian espresso AND digestive (called also ammazzacafè, which means 'kill the coffe'!), that is usually a liquor like grappa, limoncello or amaro!).
Once you're done with this, you fall into a food-coma, and good luck with recovering because the next day and the day after you're going to eat the same amount.
So, what are traditional meals you should look for when visiting Puglia?
Fave e cicorie (Broad beans with chicory)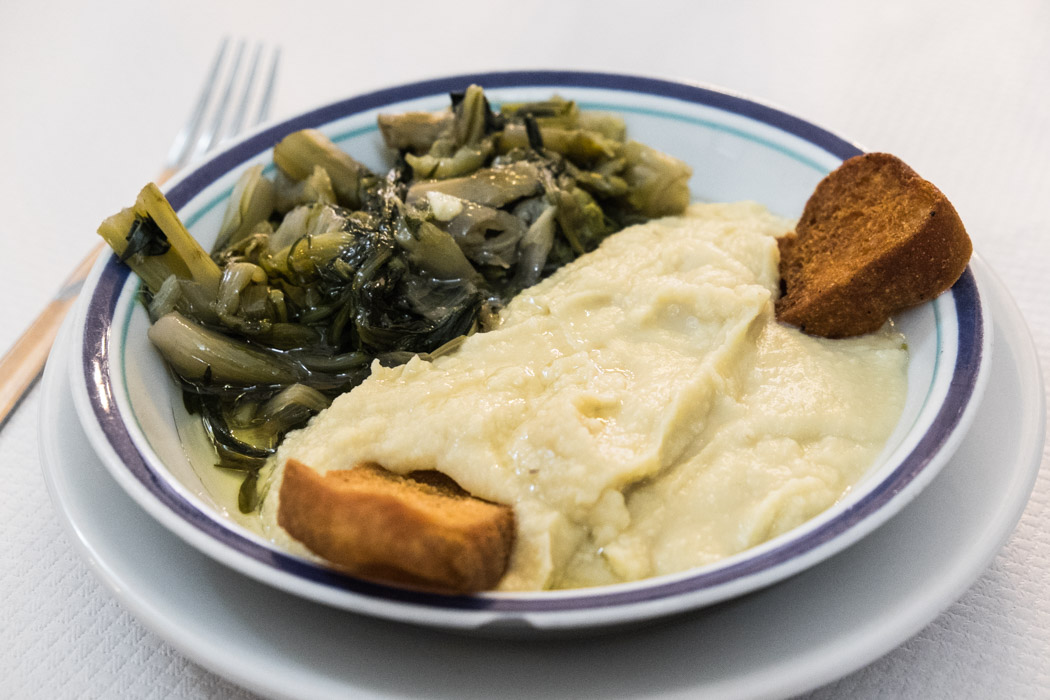 Mashed broad beans with chicory topped with olive oil, can be served with other grilled veggies like aubergines and peppers. Filling and rich in taste, slow cooked for 2/3 hours . That's why a patient cook with a warm heart is needed to prepare a decent bowl of fave.
Orecchiette al pomodoro (Orecchiette pasta with tomato sauce)
Typical "ear shaped" pasta from Puglia that usually comes with tomato sauce, parmesan or stronger ricotta cheese. I could live without pasta in general (just give me a plate of boiled potatoes with sauerkraut!), but honestly, the world wouldn't be the same without orecchiette.
Also recommended: orecchiette with cime di rapa (pasta with rapine, which is kind of softer broccoli) with a mildly bitter taste.
Ciceri e Tria (Pasta with chickpeas)
Typical pasta from southern Italy with Arabic influence. It's served with fried noodles and chickpeas.
Join some of food tours in Puglia:
Pignata con pezzetti di cavallo (pieces of horse meat in a pot)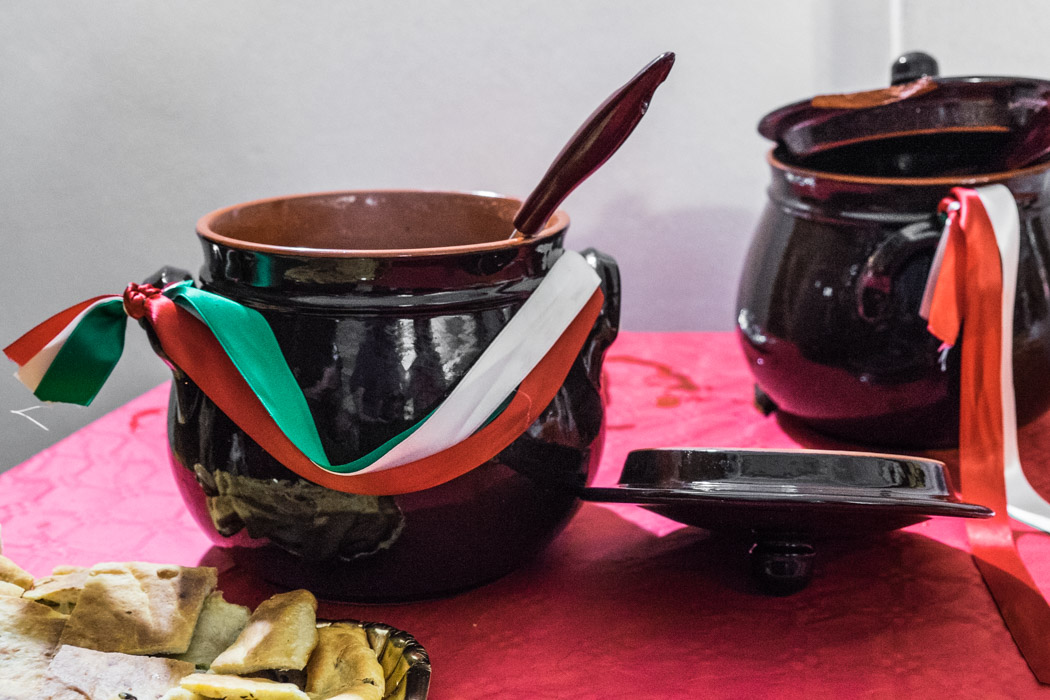 Pignata is a terracotta pot that is used for slow cooking of meat, fish & vegetables. Horse meat is quite popular in the south of Italy and this dish in particular is often served on special occasions like birthday parties, family or friends' gatherings, when the host cooks the meat for three/four hours.
Pack & travel:
Heading to Napoli after visiting Puglia? Check this yummy guide about Naples pizza.
Like it? Pin it!