Ljubljana is probably one of the most underrated European capital, even though it has been on travel itinerary of lots of visitors. If you plan your trip to Slovenia, here are some useful tips on things to do in Ljubljana so you have a better idea where to start upon your arrival. 
When we travel, we book our hotels through Booking.com or TripAdvisor, one of the best websites to compare prices.
If you love animals and you prefer going local during your travels, try housesitting, which is an amazing way to travel the world while taking care of the pets whose owners are on vacation. If you use TrustedHousesitters with this link you'll get 25% off  on annual membership. Do you want to know more about house sittting and become a professional house sitter to travel the world with free accommodation? Check out our Ultimate Guide to House Sitting!
Always make sure you travel with travel insurance! Be adventurous, but not careless. Check out some of the most reliable insurance companies out there: True Traveller if you're European and World Nomads if you're from elsewhere.
Keen on exploring Italy and Europe via train? Get an Interrail or Eurail pass (for non-European citizens) with convenient deals either you travel around one or multiple countries in Europe. 
Things to do in Ljubljana
Bike tour in Ljubljana
"We don't melt cycling in the rain like sugar does in a cup of tea", says Tevz.[/caption]
Alright, it wasn't as colourful as it would have been on a clear day, but the route we did in Ljubljana introduced us to both the central and suburb parts of the city. We took a two-hour tour with Watermelon bike tours and our guide Tevz literally made our day.
With his informative and funny stories we passed important sites in the city, ventured out of the centre, explored the quiet parts of town, saw abandoned buildings, works of influential architect Jože Plečnik, and took enough breaks to listen to the sounds of the places and the stories that Ljubljana hides in her walls and monuments.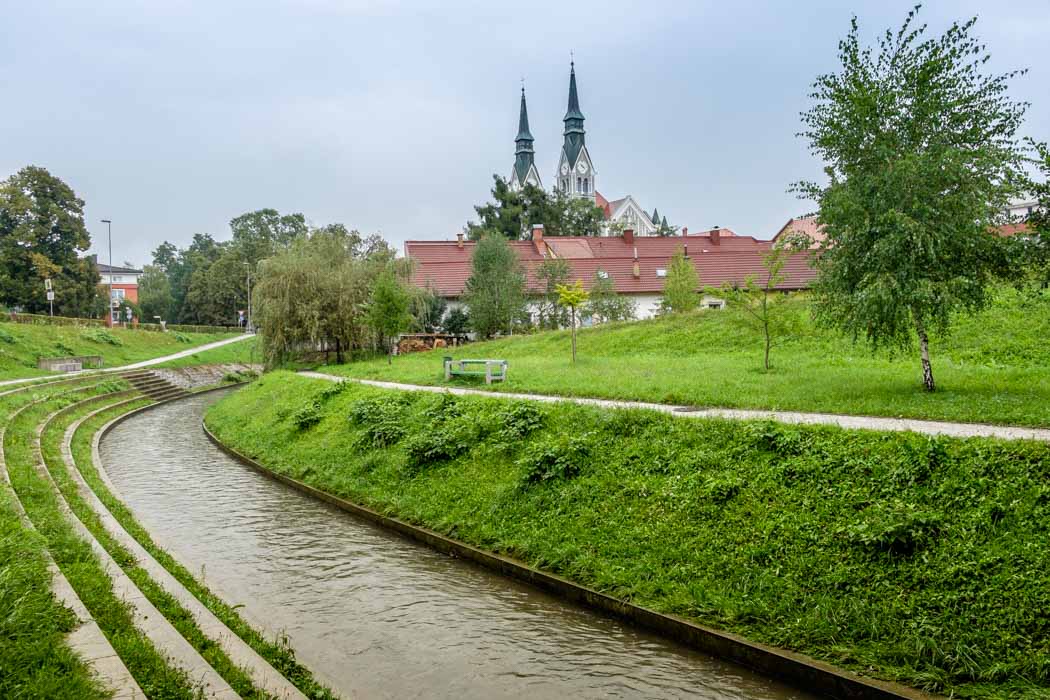 One of the picturesque views we got on the bike trip.[/caption]
The city is pretty flat and most of it is super bike friendly. You can choose a long trip that lasts about four hours and costs $29 or a short one that takes half of the time and costs $23. Bikes, helmets and rain jackets are provided. This is one of our most recommended activities in Ljubljana.
Visit Metelkova city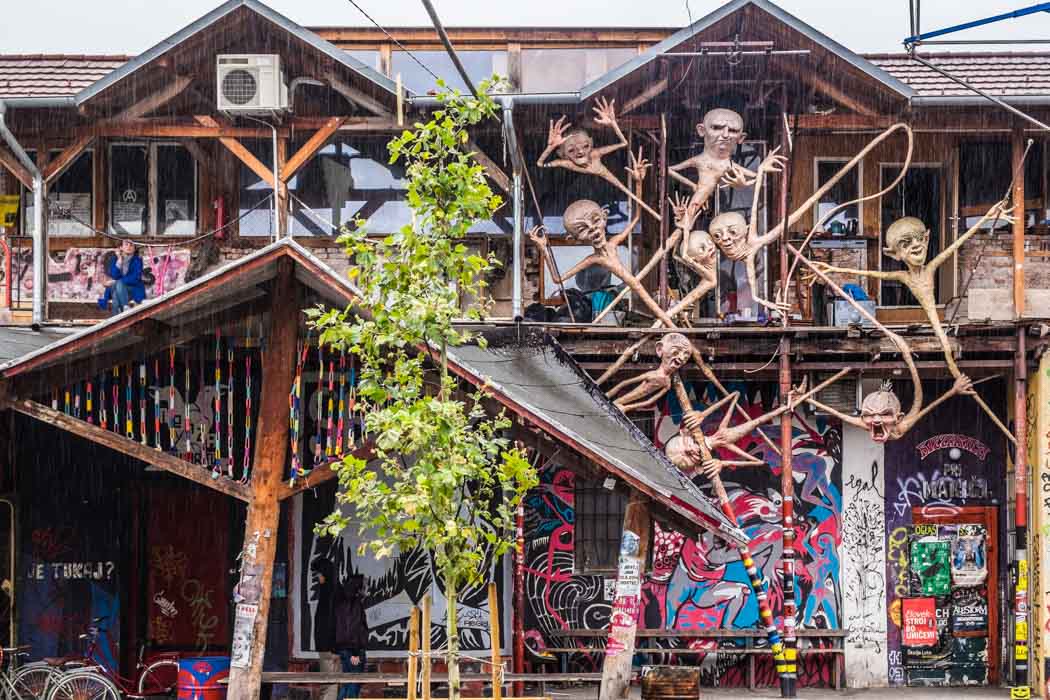 Scary? Not during the daylight![/caption]
This autonomous alternative culture zone is a place that lives vibrantly after the sunset, but you might be impressed (as we were) when you visit during the daylight, and watch rain pouring from painted roofs. Seven buildings that used to be barracks and a prison (now it's a famous Celica hostel) in the late 19th and early 20th centuries are a great place where artists and art lovers come to socialize.
Colours, colours and more colours in Metelkova City.[/caption]
Concerts and events happen regularly here, and sexual and ethnic minorities can meet openly. Quirky, vibrant and hued; a must visit when in Ljubljana. Watch this video to learn more about the story of Metelkova.
Join some of the local tours in Ljubljana: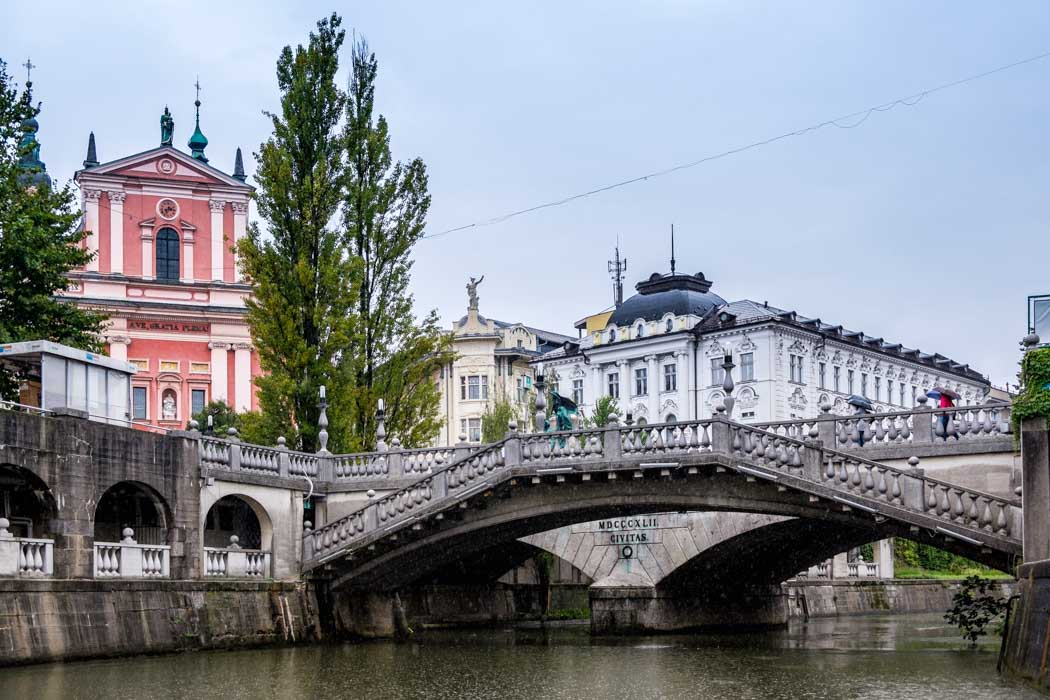 Ljubljana's three bridges from a different angle.[/caption]
You're sitting on a beautiful handmade wooden boat, with a roof above your head, blanket on your knees, and a cup of hot tea warming your shaking wet palms. The boat takes you to some of the bridges in Ljubljana (Cobblers' Bridge, Triple Bridge, Butchers' Bridge, Grain Bridge & Dragon Bridge) and you pass the Ljubljana Castle and some baroque houses along the way. You pay $9 for 45 minutes ride. For booking and more details about the boat trip, please head over to the official website of Barka Ljubljanica: www.barka-ljubljanica.si
Check out the ruins of Roman Emona in Ljubljana
Going back about 50 BC, the territory of Ljubljana used to be a Roman settlement called Iulia Aemona, or Emona and was fortified with strong walls. These ruins you now can see are not far from the city centre. The ruins are now surrounded by more modern architecture, and a nearby university, which in a way might take away their charm and historical significance.
Cukrarna Factory
A former sugar factory that you can see from Fabiani Bridge is indeed one of the most spectacular industrial building in Europe. Lots of stories lay behind the building and currently there are some attempts to create an art factory there.
Have a break at Špica
Špica means "spike" in Slovenian. This green spot near the Ljubljanica river is best to visit on a sunny day, and it's interesting to see how the river splits in two via an artificial channel built to avoid floods in the city. From above, the point where the river divides looks like a spike, a piece of land pointing into the river, which is where the name of the place comes from.
Here you can just chill out on wooden platforms and grab a drink from a bar on the boat nearby. You'll get there in about 15 minutes walking from the centre, just head south.
Get your groceries and local snacks at the Central market 
This public market designed by Jože Plečnik stretches from the Dragon Bridge to Triple Bridge, between Vodnikov trg and Pogačarnev trg squares. It's open daily till 6 pm (till 4 pm in winter time) and you can find there plenty of fresh organic veggies, fruits, mushrooms, herbs, spices and scrumptious local dishes.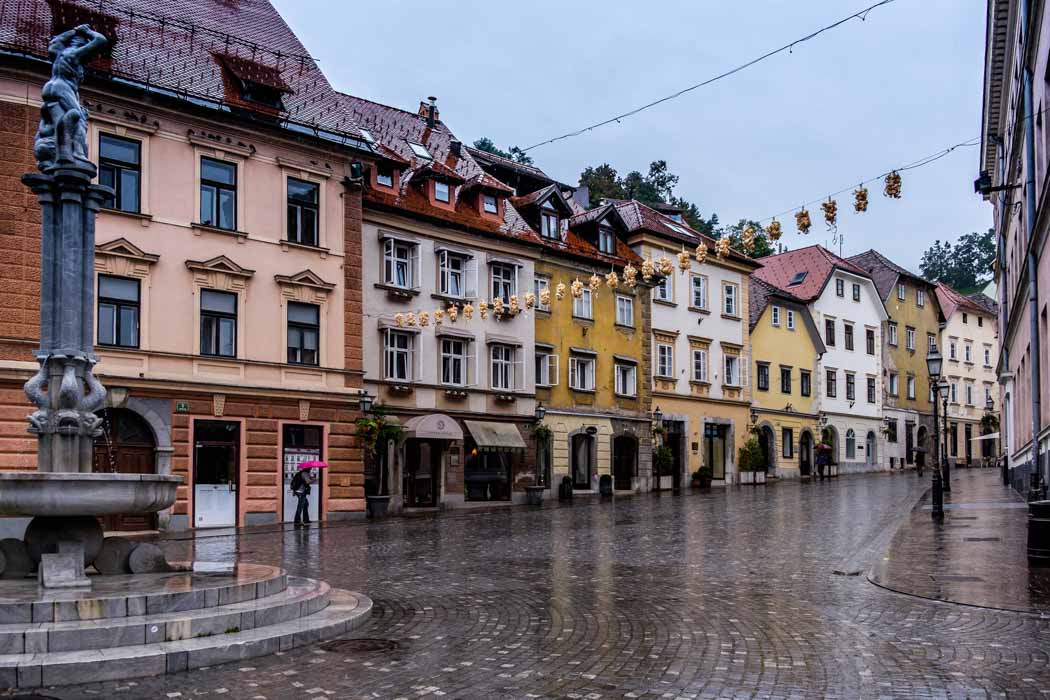 Now that you know what to do in Ljubljana, we'd like to suggest where to stay in Ljubljana and where to grab some food & delicacies. While escaping the rain for two days, we found some pretty good spots to dry our jumpers and take a breath before we got wet again.
Where to stay in Ljubljana
Address: Čopova 38, 1000 Ljubljana
This former bank transformed into an original money-themed hostel is centrally located, and within walking distance from the bus & train stations. You can stay either in a cool "bank dormitory" or in a double room with a view of the castle and the street. The rooms are decorated with money related quotes, and are quite spacious, clean, and come with a simple breakfast and a shared bathroom. Free wifi.
A single bed in 10-bed dormitory room: $10.
A twin room with shared bathroom: $52
Book your room on Booking.com or Tripadvisor.
Address: Metelkova 8, 1000 Ljubljana
As mentioned above, this hostel is a part of alternative Metelkova City. The rooms are designed with a prison theme, with iron and wooden furniture and bars on the windows. Walking distance to the centre and main bus & train stations. Wifi available.
A bed in 12-bed dormitory room: $16
A double or twin room with shared bathroom: $38
Book your room on Booking.com or Tripadvisor.
Address: Poljanska cesta 6, 1000 Ljubljana
Centrally located, this new cozy hotel has a/c, free wifi, and private bathrooms in some rooms. Simple and modernly furnished.
Twin room: from $38
Double room: from $49
Book your room on Tripadvisor.
Where to eat in Ljubljana
Address: Stari Trg 21
Homemade traditional dishes, nice atmosphere and at a very reasonable price. We got a typical Slovenian "strukli" made of cooked dough with different fillings. Some of the staff in the restaurant have mental disabilities, so by dining there you'll also support a good cause and help to establish an equal employment policy.
Address: Stari Trg 3
After two hours in the rain, we couldn't be happier ending up in this cozy & warm place where they serve a good cup of rooibos and pu-erh tea!
Address:  Petkovškovo nabrežje 3
If you are an ice-cream lover (as we are!), then head straight to Cacao. We were told to taste this delicacy by our dear Couchsurfing host Lena. And… man, she was so right! Heavenly good taste and we got a beautiful sunny day so we could enjoy it on the river bank in the centre.
Scrumptious burek at Ajda
This traditional leafy dough pie is filled with minced meat, cheese or spinach and is really addictive. We had a few of them while waiting for a bus at the main bus station. A bistro is located just across the road from the station. Look for a green sign "Ajda". Recommended: cheese version.
A very unique restaurant where you can taste Asian, Africa, and South American cuisines thanks to their diverse team in the kitchen. They also organize cooking workshops and concerts, so make sure you check out the place when visiting Ljubljana. 
These are the places that we would like you to experience. Whether in the rain, mist, snow or heat, Ljubljana will show you how independent and less explored in terms of tourism she is. This makes her even more attractive. Her cobblestone streets, terracotta roofs and cozy feelings amidst varied architectural styles will put you at ease.
Maybe it's not a city for those who look for a typical western metropolitan experience but we hope she will continue to keep her wild innocence and tranquil homey feeling.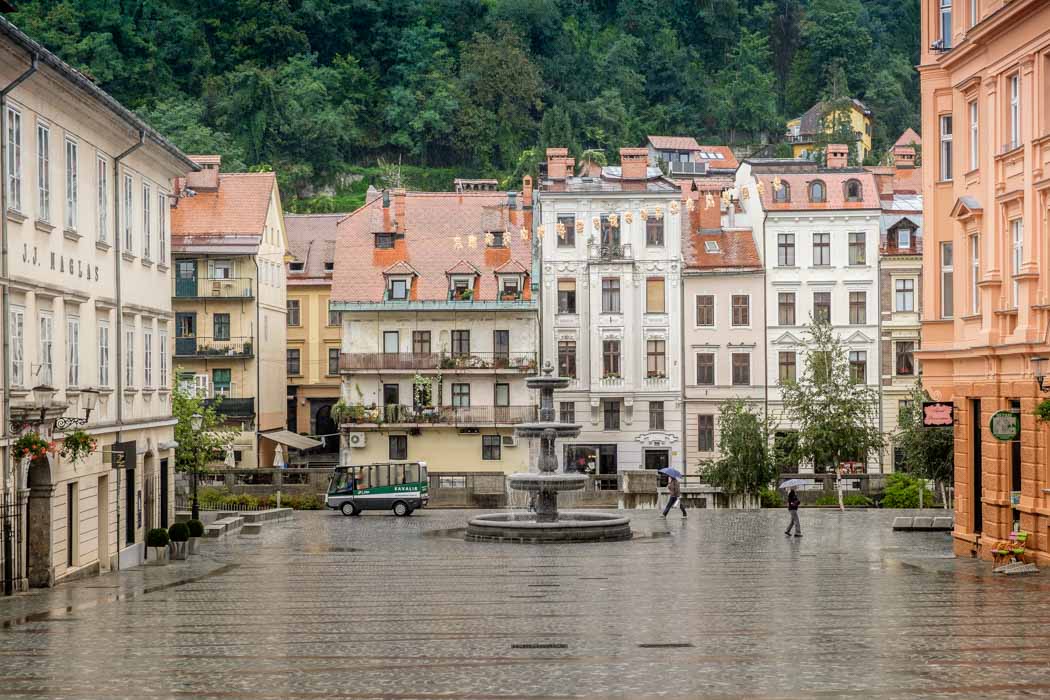 Hopefully you've got inspired to visit Ljubljana and make your way throughout the city's major monuments on foot or on two wheels. Enjoy!
Note: A big thanks goes to Tevz Cernigoj from Watermelone bike tours. The boat trip and our stay in Tresor hostel was provided by Visit Ljubljana. All opinions, suggestions and cravings for ice-cream in Cacao are our own.