Planning a trip to Colombia and heading to Medellín for a few days? We are often asked where to stay in Medellín. Whichever area you choose offers a different experience for visitors. Our initial visit to this city lasted three weeks, and two years later, we spend at least four months living and working here every year.
We've stayed in many Medellín hotels to give you a good overall representation of ideal spots and neighborhoods according to your needs and budget. Medellín has also become a popular location for digital nomads and those who do remote working and Spanish lessons, so we've made some considerations here if you plan to stay longer.
In this post, we share our preferred hotels in Medellín, especially our top picks for budget, mid-range, and luxury. Accommodations in Medellín are typically budget and mid-range, there are some luxury options, but they are limited. We have indicated some of these stays. We use Booking.com as the primary source to booking stays because it's fast, efficient with ample locations to choose from.
Where to Stay in Medellín
The average pricing ranges of pricing for hotels in Medellín,Colombia are as follows: Hostels: Dorm Bed: US$10-$15; double private room: US$30-40, Budget Hotels: US$40-50, Midrange: US$60-70. Pricing will vary depending on the neighborhood and time of year you choose.
El Poblado
With Medellín tourism on the rise, more people are traveling here to explore the city. This is the most popular neighborhood for expats and foreigners because it is filled with western style restaurants, malls, cafes, and nightlife and most of the best hotels in Medellín Colombia are located here.
There are more options to stay here than anywhere else in the city. Due to the price of real estate and the influx of tourism, it is also a more expensive place to stay by Medellín standards; but by Western pricing, it is reasonable. Other areas near El Poblado with more of a neighborhood feel are Provenza and Manila. El Poblado is ideal for shopping as it has good western-style shopping malls where you can buy any brand you can imagine. Top malls include Santa Fé, El Tesoro, and Oviedo Mall.
Luxury>  The Art Hotel
This is a beautifully decorated hotel, close to Parque Lleras and the Metro Medellin, with excellent restaurant, hearty breakfast, and comfortable beds. This hotel is quickly becoming considered as one of the best hotels in Medellín.
Mid-range> Hotel Boutique las rosas
It is located in a quiet cul de sac and walking distance to restaurants. The place features an outdoor pool sauna, and they have very helpful staff.
Budget> Medellín Vibes Hostel

This modern, superb hostel creates a friendly, open atmosphere. Private single, double, king rooms with spa rooms and dorm rooms are available. There is anoutdoor pool, sun terrace to relax. Excellent value for luxurious hostel!
Get inspired by more travel articles:
Laureles – Estadio
This is a great neighborhood that is primarily a residential area. It is a quieter area, with more parks and quiet streets, and typical one-, two- and three-story attached homes converted into small guesthouses. The appeal of this area is the proximity to the University as well as to the Estadio Atansio Girardot – an impressive sports complex equipped with tennis courts, swimming pools and places to play basketball and volleyball.
Also, the two Medellín Colombian Football (soccer) teams- Atlético Nacional and Independiente Medellín play in this stadium. You don't want to miss watching Colombian culture at its finest, by watching a game here. Transportation in the city is reasonably priced (Uber and taxis), and the Medellín Metro is so accessible that it is so easy to travel to and from Laureles to any neighborhood.
There are some great restaurants and bar areas in Laureles-Estadio including the street called La 70 (or La Setenta) and also Calle 33.
Luxury >  Inntu
It has clean, modern rooms, with great showers, good rooftop views, and equipped with a great spa. It has excellent location close to restaurants.
Mid-Range > Hotel Asturias
This place is a little gem. Nestled on a tree-lined street, the rooms are bright, clean and modern. Staff is excellent, and you feel all your needs are attended to. It is walking distance to the Stadium and Estadio Metro Station.
Budget> Gastón Coliving
Perfect budget option in the neighborhood. The place offers a terrace, shared kitchen and a lounge. There are dorm and double rooms available. Super clean, with free brekfast.
Check more activities and tours to do in Medellín.
Belén
Belén is the neighborhood beside Laureles/Estadio where you will find lots of quiet streets with a local vibe and a more working class feel. It has several inexpensive accommodations. There are fewer options to stay in this area, yet there are some exciting selections.
Luxury> The LQ Hotel (La Quinta Belén)
This is a new hotel with all the modern conveniences and comfortable beds. It includes an excellent breakfast. Its location is in Avenida Las Palmas.
Mid-Range>  Hotel Zona Verde
This hotel is run by a local family with a very comfortable and laid-back feel. The service is excellent and they have clean, new rooms and views of the city from the rooftop.
Budget> Spring Hostel 
Absolutely cosy,  very clean hostel with plenty of shared space: lounge, kitchen, terrace.  There dorms, triple and double rooms available. Opened in January 2023.
Medellin attractions include Pueblito Paisa, where you can hike up to the Cerro Nutibara hill and find a small Antioquian traditional town at the top of the hill. The views of Medellín alone are a great reason to hike up the summit.
Medellín has excellent access to parks and places to exercise. If the Paisa food is a little too heavy, you can visit the Unidad Deportiva de Belén sports complex, which is equipped with an outdoor gym, basketball, track and a pool.
Centro – Downtown-Candelaria
If you are looking to stay in the more central part of the city, there are some great options for you, with easy access to the cool neighborhoods – thanks to the Metro Medellín – near the stations of Cisneros, San Antonio, and Alpujarra.
Mid-range>  Nutibara Hotel
It is one of the long-standing 70-year hotels in the area and is considered a reliable hotel in Medellín. This is a hotel that is good value for money, with western conveniences for a hotel. It has simple, tasteful rooms, and offers great breakfasts. It has great location with mid-range pricing and it is close to banks, restaurants and Medellín attractions.
Mid-range> Edificio Helena
It is an accommodation with good value for money, with tastefully decorated, superb modern rooms which include a kitchen, private bathrooms and sauna.
Budget> Villa del Prado
This gorgeously designed villa will make your stay in Medellín special.  It's a great find. There is an amzing terrace with the mountain view, original patio to dine, and each room comes with a private bathroom.
All these locations are close to the top Medellín attractions such as Parque Berrio, The Museum of Antioquia, Cisneros Square and the El Centro shopping district.
Check more activities and tours to do in Medellín.
Envigado
Envigado is technically a different city right beside Medellín. It is our personal favorite because of its small, local neighborhood feel and character. There are significantly fewer places to stay here, and no high-end type of accommodation. There are more Airbnb locations in Envigado than hotels.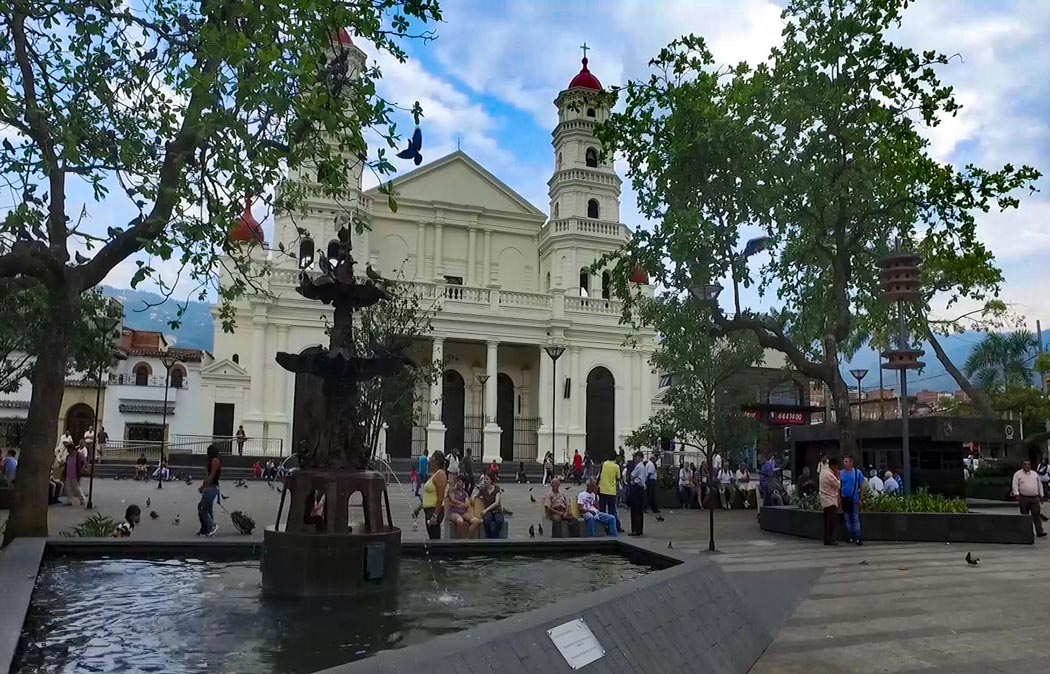 Mid-Range> Hermoso Apartamento Envigado
If you plan to come as a family or a group of friends, this place is ideal. It's a three bedroom apartment with a fully equipprd kitchen lounged, three bathrooms, and a mountain view.
Budget> Titania Recinto Natural Hospedaje de Montaña y Eventos Mágicos
There are not many budget options in Envigado, but this place will soothe your mind after busy days in the city center. A lodge with a beautiful organic garden. Simple rooms come with a private bathroom.
Things to do in Envigado include the Cyclovia on Sundays where the main street around the Parque Central (central park) is closed off to traffic from 7am-1pm, and people can walk or rent a bike to travel all the way to El Poblado and Central Medellín. It's an excellent way to see the city.
There are classic Colombian restaurants all over Envigado as well as western style cafes, ice cream shops and restaurants around Calle 30 (close to the border between Envigado and Medellín).
We hope you enjoy your stay in Medellín!
Liked it? Pin it!