Are you looking for a place where to stay in Rome, Italy? Whether it is the first or the tenth time visiting the eternal city, I dare you not to fall in love with its endless beauty.
There are a few places in the world capable of carrying the same charme of Rome.
Stroll around its cobbled narrow streets and feel like being the protagonist of a movie from the Fifties.
Eat gelato all day, fill your eyes with so much beauty – it's basically all around you, you can't miss – and treat your belly with some of the yummiest food you will ever have.
And don't forget to keep your heart open; I don't know if you heard about it, but Rome has an irresistible romantic vibe that will conquer you the moment you walk into this city.
It is a place where the past melts with the present, shaping one of the most intriguing, charming and chaotic cities in the world.
And you know what they say: Rome wasn't built in a day. If it takes time to give birth to so much beauty… and it takes time also to arrange a trip to Rome.
Where to stay in Rome, Italy
Like it? Pin it!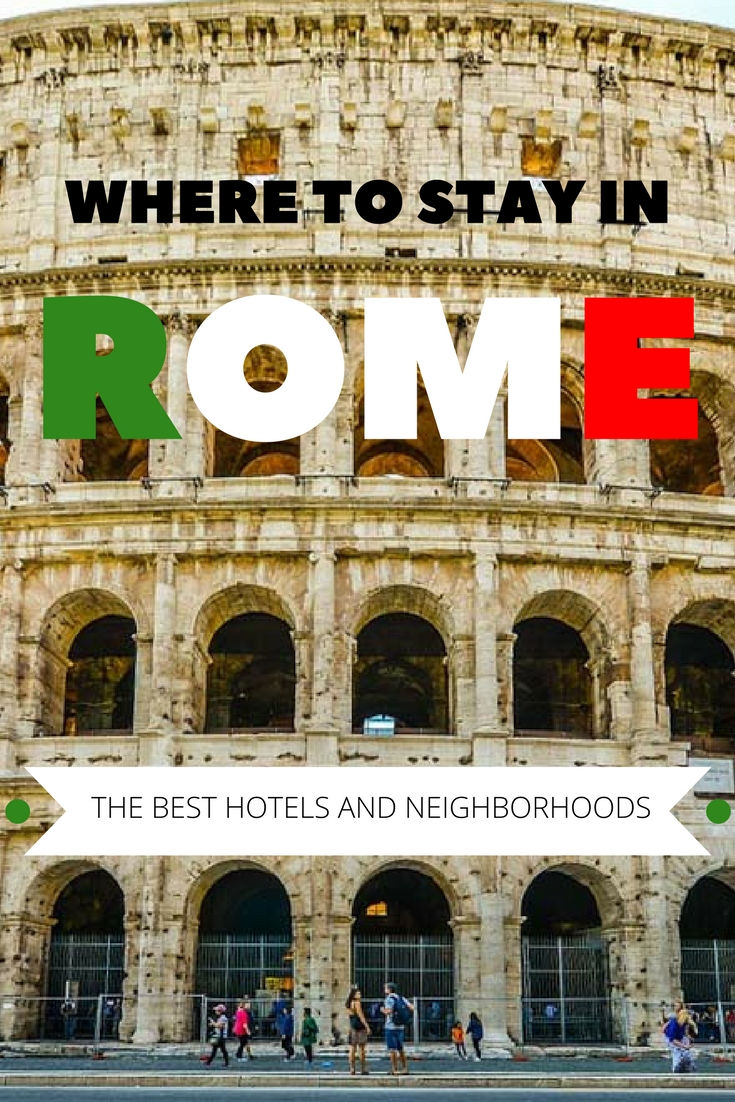 During your stay you want to make sure to take the most out of it and make your experience even more special.
Keep reading this post filled with tips on where to stay in Rome and find the best area that suits your needs. And don't forget to smile: you are in Rome, darling!
If you are interested to know where to stay in Rome, we recommend some of the best hotels for different budgets.
When we travel, we book our hotels through TripAdvisor, one of the best websites to compare prices.
We also use a lot AirBnB to book local apartments. If you have never used AirBnB before, you can have a $40 discount for your first booking through this link.
Always make sure you travel with travel insurance! Be adventurous, but not careless.
Check out some of the most reliable insurance companies out there: True Traveller if you're European and World Nomads if you're from elsewhere.
If you love animals and you prefer going local during your travels, try housesitting, which is an amazing way to travel the world while taking care of the pets whose owners are on vacation. If you use TrustedHousesitters with this link you'll get $20 discount on annual membership.
Where to stay in the Historical Center
The historical center is by far the best location to stay in Rome. Although the city itself is big and you will need to take public transports or a cab to move around and see its main attractions, sleeping in the center gives you the opportunity to be stay within walking distance to some of the most beautiful points of interest of the city.
The whole center is like an open air museum and you will literally stop every second to admire its beauty.
The good news is that the are so many places to stay in Rome, and here come some of ours suggestions: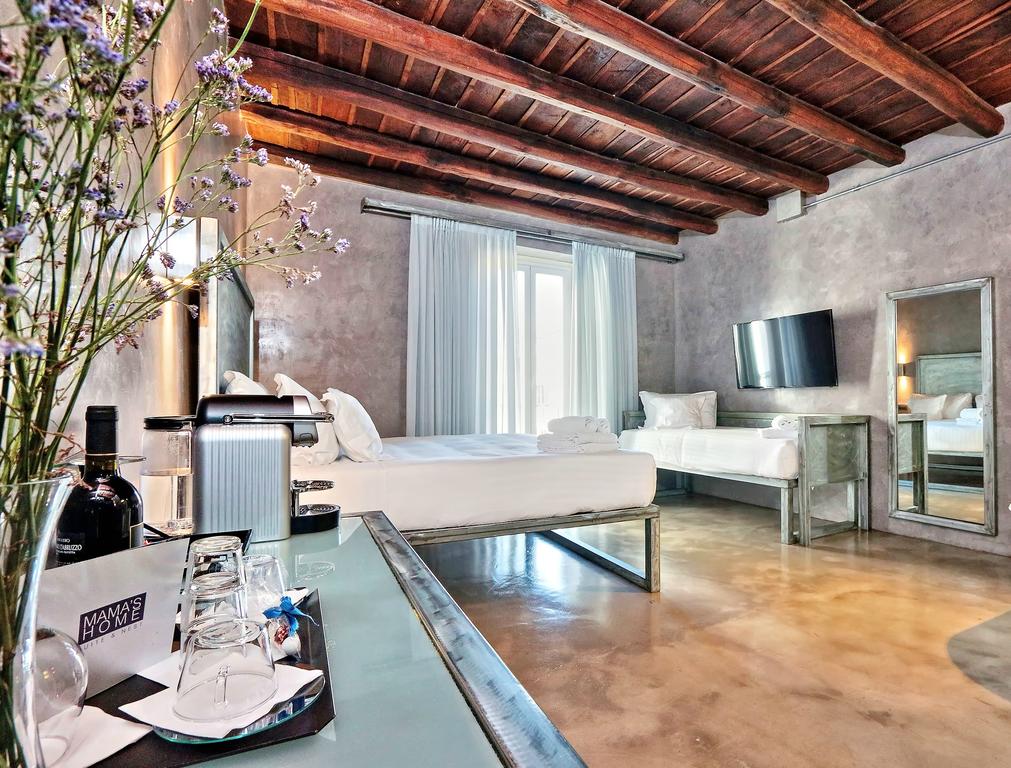 Located near Campo de' Fiori, Mama's Home Rome offers modern and comfortable rooms and suites.
Beautifully furnished, the structure is just 100 metres from Corso Vittorio Emanuele and 3 minutes away from the famous Piazza Navona.
Free wifi, flat screen satellite TV, en suite bathroom and hairdryer. Check the latest price.
Luxury > Margutta 19
Treat yourself to a real luxury experience right in the heart of the city while sleeping at one of the most exclusive hotels near the Spanish steps – which are located just 10 minutes away.
This luxury accommodation offers a solarium terrace, a restaurant, and elegant air conditioned rooms featuring flat screen TV, mini bar, and iPad. Check the latest price.
Mid-Range > Hotel Museum
A great solution for whomever is looking for the best hotels in central Rome. This family-run hotel has a solarium terrace overlooking the San Pietro basilica. It is located just in front of the Vatican Museum.
Spacious, comfortable rooms located near several restaurants and just 300 metres from the Cipro train stop. Check the latest price.
Budget > Locanda di Piazza del Popolo
One of the best hotels in Rome if you are looking for a budget accommodation.
Located just 3 minutes walk from Piazza del Popolo, the Locanda di Piazza del Popolo offers modern rooms with flat screen TV, free internet WiFi connection available within the whole structure. En suite bathroom and hair dryer provided. Check the latest price.
Traveling in Europe? Read more related articles!
Where to stay in Trastevere
I am sure you have seen pictures of this area of Rome. And if you haven't, I am sure that you have heard about it. Welcome to Trastevere, one of the nightlife souls of the capital city.
Characterised by cobbled streets and picturesque alleys, this is the best area to stay in Rome if you are looking forward to enjoying some night life.
The whole district is filled with bars that get crowded by locals and tourists.
Due to warm weather conditions, Italians love drinking in the street. So do not be surprised by the quantity of people you will find around.
Have a glass of wine and enjoy your time at one of the best places in Rome!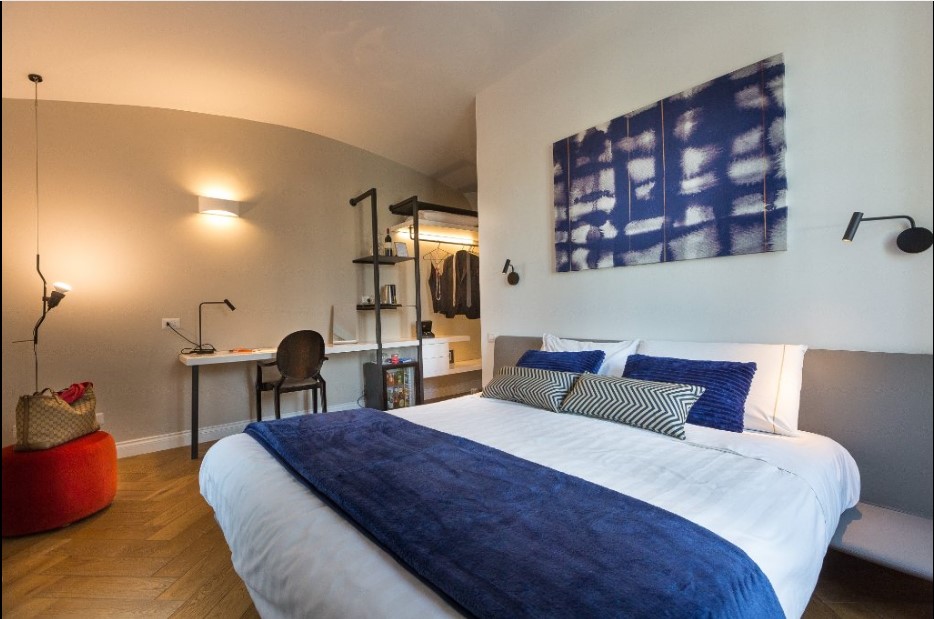 Looking for a unique accommodation in Rome? A great choice for travelers interested in the city and the culture. Beautifully designed hotel situated in a very convenient location. Each of their rooms is fully air conditioned, has their own private bathroom. A gluten-free breakfast is also provided daily. Check the latest price.
Luxury > Gran Melia Rome
Melia hotels are famous worldwide for their great service. If you are looking for a place where to stay in Rome and you want to enjoy the best that city has to offer, then Gran Melia Rome is by far a great choice.
This 5 stars hotel features the My Blend by Clarins wellness center, an outdoor pool, and design rooms. The 7.500 m² garden features a pool and a jacuzzi. Check the latest price.
Mid-range > Tree Charme
A great solution in one of the best neighborhoods in Rome! Enjoy the atmosphere of a house with all the comforts of a hotel.
Elegant rooms, free Wi-Fi and a beautiful terrace where to enjoy the view over Rome. Delicious breakfast served every morning. Check the latest price.
Budget > B&B St. Angel
A great solution for those who are looking for a room in Rome at affordable rates. The B&B St. Angel offers comfortable and cozy rooms. Great location for a simple yet fully equipped stay. Check the latest price.
Where to stay near Stazione Termini
There are plenty of hotels in Rome that are located not too far from Stazione Termini, the main train station that connects the capital city to its two airports and to a number of other destinations across Italy.
Although there are several affordable accommodations around this area, this is probably not the best neighbourhood where to stay in Rome unless you need to catch an early train.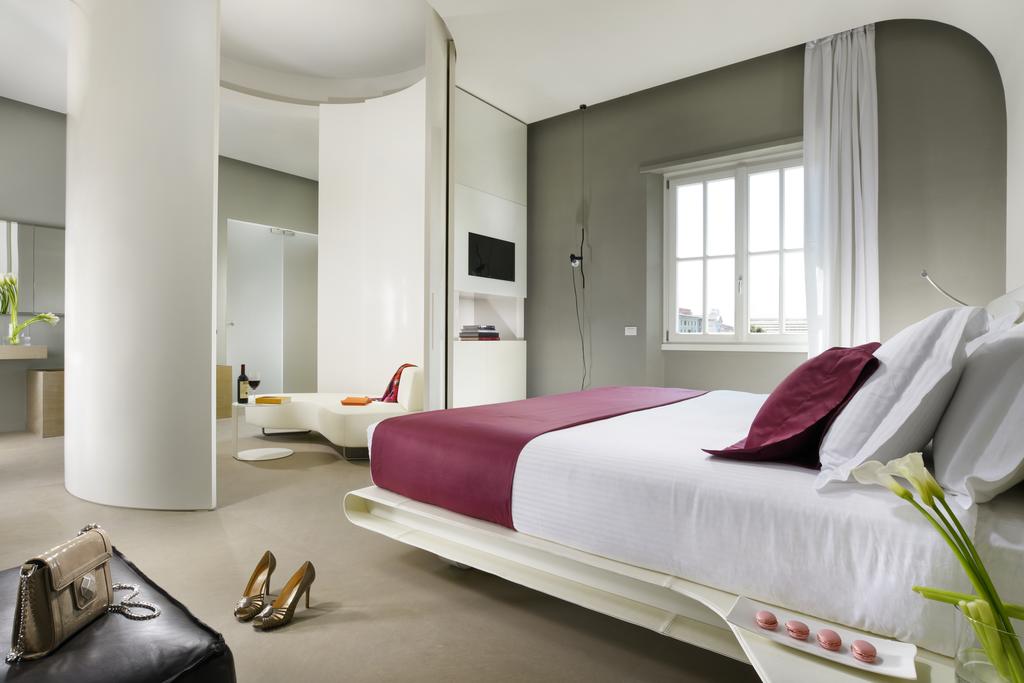 A modern and elegant solution featuring a 600 m² wellness center, a restaurant offering Italian and international dishes, free Wi-Fi connection within the whole structure and a garden.
The hotel is located about 400 metres from Stazione Termini and about 20 minutes walk from the Colosseum. Check the latest price.
Luxury > Boscolo Exedra Roma
The luxurious 5 starts Boscolo Exedra Roma is located near Piazza della Repubblica, within a white marble palace from the XIX century.
Spacious, modern, and elegant rooms with ensuite marble toilets with mahogany details.
By far one of the best hotels to stay in Rome for those who are looking for a luxury experience. Check the latest price.
Mid-range > Starhotels Metropole
All rooms are air conditioned, modern and comfortable, featuring coffe and tea maker, flat screen TV, comfortable be, and WI-FI connection.
The structure serves a buffet breakfast, while the en suite Apicio restaurant offers traditional Roman dishes prepared using Eataly products. Check the latest price.
Budget > B&B Relax
This B&B is perfect for those looking for a budget accommodation near Stazione Termini.
The structure is located inside a building from the 19th century.
Enjoy some relax on its terrace and feel just like you were at home. The B&B is located less than 20 minutes walking from Piazza di Spagna. Check the latest price.
Where to stay near the Vatican City
The Vatican City represents one of the main attractions of Rome. I mean, think about it: even if you put the religious side apart, isn't it just incredible that one gets to "travel" to another country without even traveling?
Once in Rome you can't miss a visit to the Vatican Museums. Fill your eyes with some of the finest and most extraordinary works of art that have ever been shaped.
This is a great area where to stay in Rome if you are interested in culture and if you want to stay near the city center.
The Vatican City and Prati district have plenty of hotels and apartments where to spend your holidays in Rome.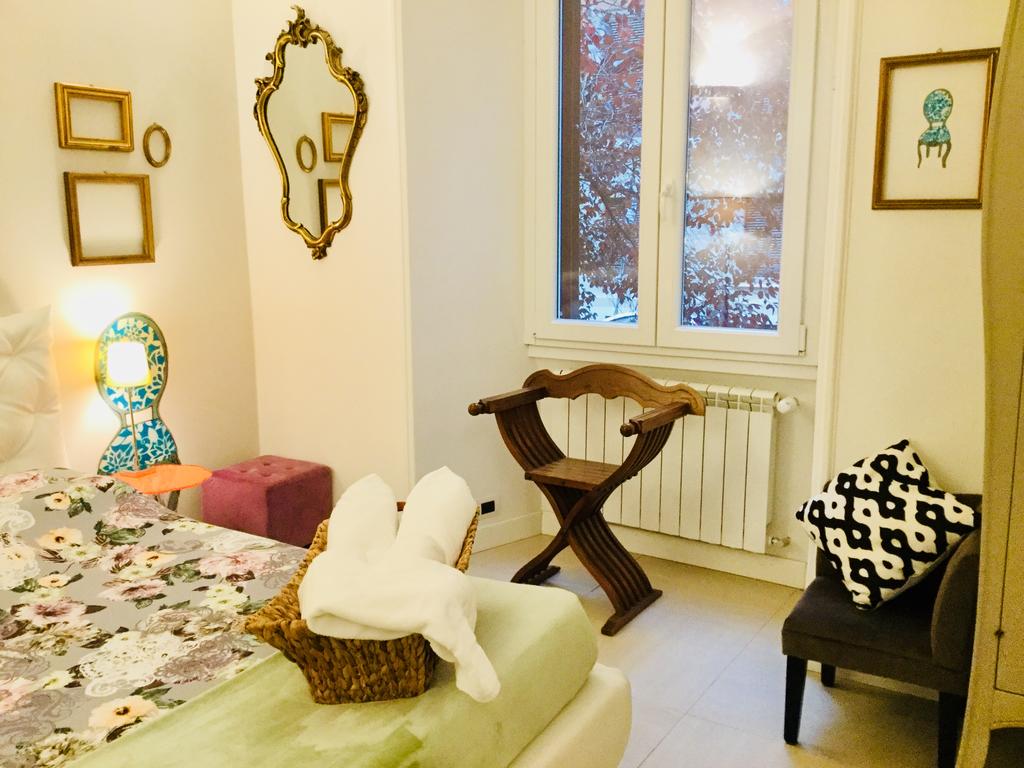 Although there are many hotel deals in Rome, choosing the comfort of an apartment can be the best solution to make the most out of your experience.
The modern Festina Lente is located 500 metres from the Vatican Museums and 50 metres form the Ottaviano metro stop. The apartment is fully equipped with all the comforts including towels, toaster, bed sheets, and two private toilets. Check the latest price.
Luxury > Le Meridien Visconti Rome
Located halfway between the Vatican City and Piazza di Spagna, Le Meridien Visconti Rome offers comfortable and design rooms featuring an impressive collection of pieces of art.
Buffet breakfast is served every morning in the hall. Free Wi-Fi and access to the gym. Check the latest price.
Mid-range > Brunelleschi Luxury Holidays Hostel
Choose a solution halfway between a hostel and a hotel. Brunelleschi Luxury Holidays Hostel offers to its customers all the comforts a traveller may need.
Located just 400 metres from Piazza San Pietro and 10 minutes walk from Ottaviano metro station, the structure offers air conditioned rooms with flat screen TV, a kettle, and private bathroom with courtesy set and hair dryer. Breakfast served every morning. Gym and wellness center available all day. Check the latest price.
Budget > Vatican Space
Comfortable and modern rooms located just 600 metres from the Vatican. All rooms feature a coffee maker machine and flat TV. The perfect solution if you are looking for a budget accommodation in Rome. Check the latest price.
I hope that these tips on where to stay in Rome, Italy will help you finding the best accommodation for your needs. Enjoy your stay in the eternal city and don't forget to throw a coin into the Trevi Fountain and make the wish to come back soon. It works!