Heading to Sweden? Read our ultimate guide to where to stay in Sweden with some of the best hotels for different budgets in various neighborhoods.
Stockholm is undeniably one of the most beautiful cities in Europe. Often called the "Venice of the North" as it's made up of 14 islands in an archipelago of over 30,000.
Unlike Venice, you don't need to take any gondolas to get around because the public transportation system is excellent. Anywhere you stay, you can easily access the city's metro, bus and tram network and cross bridges and walkways.
It's a buzzing city rich in history yet modern and innovative. It welcomes people of all backgrounds and has many attractions to please all. One can wander through the city's many neighborhoods, visit museums and local parks or take a boat cruise around the scenic archipelago. The city offers amazing views, a variety of bars and restaurants and a great nightlife scene.
Stockholm is a lovely city to visit and well worth exploring. Do 'fika' while you're there! It's the Swedish custom of taking a break and going for a coffee and pastry.
Like any Scandinavian city, Stockholm is expensive, but we have found accommodations for different budgets.
Here's a guide to help you plan your future stay in Stockholm. The city is waiting for you!
When we travel, we book our hotels through TripAdvisor, one of the best websites to compare prices.
We also use a lot AirBnB to book local apartments. If you have never used AirBnB before, you can have a $40 discount for your first booking through this link.
Always make sure you travel with travel insurance! Be adventurous, but not careless.
Check out some of the most reliable insurance companies out there: True Traveller if you're European and World Nomads if you're from elsewhere.
If you love animals and you prefer going local during your travels, try housesitting, which is an amazing way to travel the world while taking care of the pets whose owners are on vacation. If you use TrustedHousesitters with this link you'll get $20 discount on annual membership.
Like it? Pin it!

Where to stay in Stockholm
Gamla Stan
Gamla Stan literally means 'Old Town,' and it's considered one of the best preserved medieval neighborhoods in Europe. Founded in 1252, it remains a bright and charming central part of Stockholm with narrow and cobbled streets.
Gamla Stan is great for those interested in medieval architecture and easy access to landmarks and tourist activities, such as the Royal Palace and the Swedish Parliament. Here you'll enjoy a wide selection of restaurants, pubs, shops, and harbor views.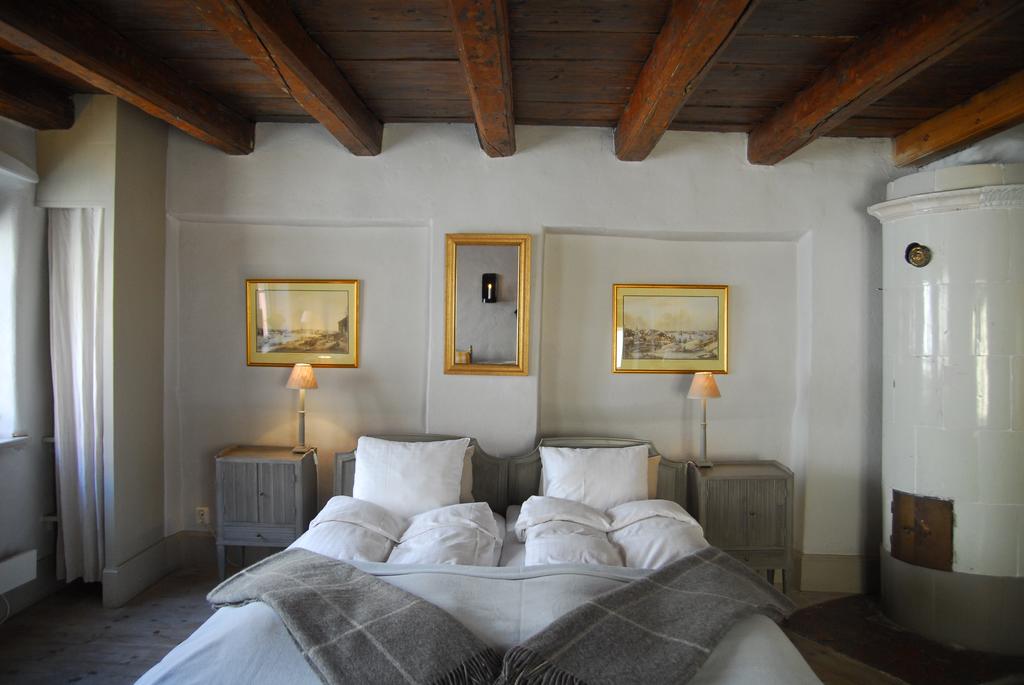 Hotel Sven Vintappare is a beautiful hotel located in Stockholm's Old Town. It is housed in an early 17th-century building and features traditional and charming decor. Rooms each have a private bath with shower, flat-screen TVs, heated marble floors, and free breakfast and WiFi. Check the latest price.
Luxury > Collector's Victory Hotel
Collector's Victory Hotel is a charming hotel full of unique maritime antiques. Guests can enjoy free WiFi, complimentary breakfast and access to the sauna and plunge pool. The staff is very friendly and helpful. Rooms are nautical themed and feature flat-screen TVs and private bathrooms with heated floors. Check the latest price.
Mid-range > Hotell Skeppsbron
Set in the Old Town, Hotell Skeppsbron is a cozy hotel just a short minute walk from many activities. Rooms include flat-screen TVs, free WiFi, and either private or shared bathrooms. Check the latest price.
Budget > Castanea Old Town Hostel
If you're looking for a cheap hostel in Stockholm, check this out. Centrally located in the Old Town, this cozy and clean hostel offers private and dormitory room options with shared bathroom facilities. Guests are welcome to use the guest computers, the fully-equipped communal kitchen and access free WiFi. Check the latest price.
Get inspired by more articles:
Södermalm
Södermalm is a hip and trendy neighborhood south of Gamla Stan. It has an array of cafes, bars, restaurants, art galleries and independent shops. Södermalm is comparably more affordable than other neighborhoods in Stockholm.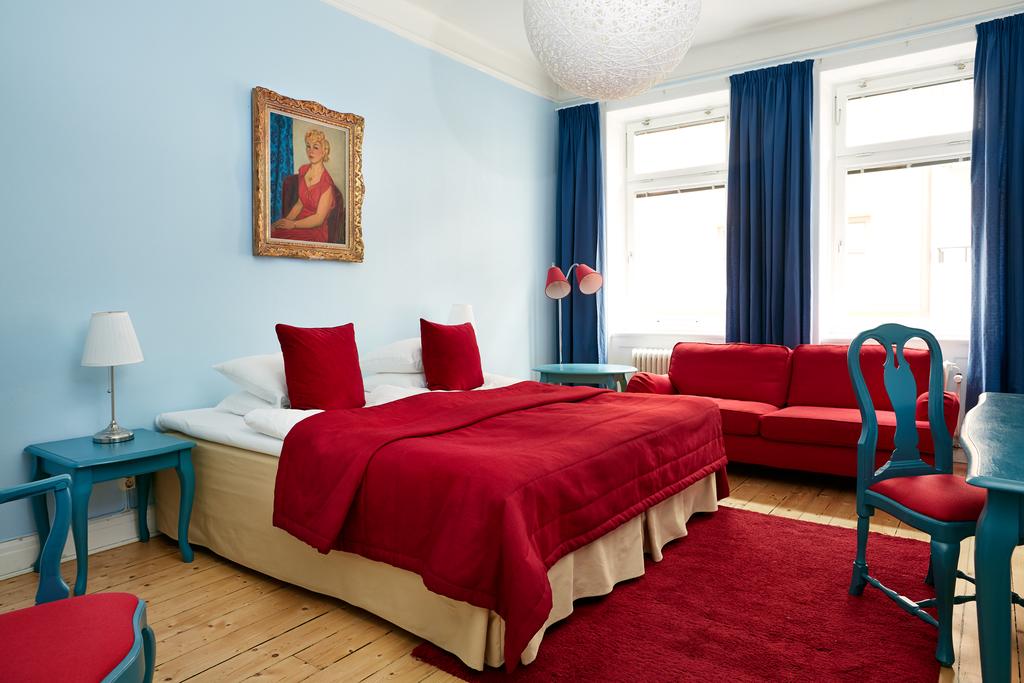 Hotel Hornsgatan is a family-owned hotel offering a comfortable stay with amazing hosts. Guests can enjoy free WiFi, free breakfast and easy access to many of the city's attractions. Check the latest price.
Luxury > Hotel Rival
A beautiful hotel housed in a 1930s art deco building. Rooms are decorated with a scene from a classic Swedish film, and each feature flat-screen TVs, luxury beds, free WiFi, and free tea/coffee and biscuits. Check the latest price.
Mid-range > Hotel Hellstens Malmgård
A unique hotel set in a charming building from the 18th century. Each room is individually decorated with beautiful furniture pieces from the Gustavian era. Check the latest price.
The spacious rooms all include a TV, private bathroom, and free WiFi. Delicious breakfast is available for guests.
Budget > Hellstens Glashus
Perfectly located within a short walk from the beach and many bars and restaurants. A modern and clean hotel that features an on-site restaurant and bar and spacious rooms.
Each room is brightly-colored and comes with a flat-screen TV, free WiFi, and private bathrooms. Check the latest price.
Vasastan
Also known as the "Stone City," Vasatan is a lively area of the city where locals live. It has a mix of German-style architecture and a bustling bar and restaurant scene.
You may admire the neighborhood's buildings along the Rörstrandsgata and visit a few cultural attractions, like the Gustav Vasa Church and the Stockholm Public Library.
Forenom is an apartment hotel with multiple locations throughout Stockholm. While Gianni and Ivana were in the city, they enjoyed a wonderful stay in one of its apartments located in Kungsholmen.
This is a great place to stay as it is close to a variety of restaurants, bars, cafés, the City Hall and Stockholm Central Station.
The apartment is spacious and includes two bedrooms, one bathroom, a living room, a fully equipped kitchen, a TV and free WiFi. Gianni and Ivana loved their stay here as the place felt super homey and comfortable. Check the latest price.
Luxury > Hotell Värdshuset Clas På Hörnet
An elegant, Gustavian-style hotel. Guests can enjoy free breakfast and/or dine at the on-site restaurant. The rooms include free WiFi, private bathrooms, and comfortable beds. Check the latest price.
Mid-range > Elite Palace Hotel
Elite Palace Hotel is a beautiful, modern hotel with bright and spacious rooms. Each room includes a private bathroom, flat-screen TV, and free WiFi.
It offers a free and delicious breakfast buffet and on-site massage treatments, gym, restaurant and pub. Check the latest price.
Budget > Pensionat Odengatan 38
A charming guesthouse with fantastic hosts. Guests can enjoy free WiFi and free breakfast in this cozy property. Check the latest price.
Pack and travel:
Djurgården
A peaceful island neighborhood perfect for a family vacation. Djurgården has been royal land since the 15th century, and it is in close proximity to the ABBA Museum, Skansen, and the Nordic Museum.
Djurgården has great open green spaces ideal for leisurely walks and picnics.
A lovely hotel located on Djurgården Island in the same building as ABBA The Museum. Guests can enjoy delicious breakfast, the fitness center, and WiFi. Rooms are comfortable and feature private bathrooms and flat-screen TVs. Check the latest price.
Luxury > Scandic Hasselbacken
Scandic Hasselbacken is a luxury hotel in a great location and with amazing personnel. It is close to various museums and art galleries.
Guests can enjoy free breakfast, free WiFi and access to the gym, sauna and pool. Rooms are comfortable and clean, and they include private bathrooms and flat-screen TVs. Check the latest price.
Mid-range > N/A in this area
Budget > N/A in this area
Östermalm
If you're looking for fine dining and a posh stay, then the business district of Östermalm is the place for you. It is a welcoming neighborhood with impressive buildings, restaurants, bars, nightclubs and high-end stores.
It also has many parks and museums to explore. The Östermalmshallen food market is also great to visit with its variety of Swedish delicacies.
Villa Källhagen is a cozy hotel located near to Djurgården Canal. Guests can enjoy a fully relaxing stay. The hotel is surrounded by beautiful nature, has an outdoor terrace overlooking the water, a sauna and bright and comfortable rooms. Check the latest price.
Luxury > Hotel Drottning Kristina
Beautiful hotel with a historical, yet contemporary, atmosphere. Rooms feature free WiFi, flat-screen TVs, tea and coffee, and great views. Breakfast is included, and the in-house restaurants offers all meals. Check the latest price.
Mid-range > STF Gärdet Hotel & Hostel
A comfortable and clean hotel and hostel offering private and shared rooms. Rooms offer free WiFi, TV, and private bathrooms.
Guests can enjoy free breakfast options and also make their own meals in the shared kitchen. Check the latest price.
Budget > Bizapartment Gärdet
Spacious, stylish, and clean. Apartment options include suites, kitchenettes, and non-smoking rooms. All feature free WiFi in public areas, cable TV, and access to communal laundry rooms and the gym. Check the latest price.
Norrmalm
Norrmalm is a bustling, modern and commercial area. It is centrally located on mainland Stockholm, so getting in and out of the city is very easy.
Norrmalm is great for those who love to shop, and it also has plenty of attractions, like the Kristallvertikalaccent, the Hötorget buildings, the Royal Opera, the National Museum of Sweden and St. Jacobs Church.

Perfectly located near the Stockholm City Hall and the Central Station. This luxury, environmentally-friendly hotel has a fireplace in the lobby bar, and in-house restaurant, gym access, and panoramic city views. Gianni and Ivana loved watching the sunset from the rooftop.
The modern rooms feature soundproofing, tile/marble floors, free WiFI, tea/coffee maker, and satellite TVs. They serve an unbelievable buffet breakfast. Truly one of the best hotels in Stockholm. Check the latest price.
Luxury > Downtown Camper by Scandic
Downtown Camper is a cool and modern hotel centrally located in Stockholm. It's great for the urban explorer looking to discover the city. Guests can enjoy the awesome rooftop pool, the wellness center and a variety of daily activities hosted by hotel staff.
It also has bicycles, longboards, skateboards and kayaks for rent. The hotel offers many room types ranging from sleep cabins to classic double rooms. Each room features a private bathroom, free WiFi and a flat-screen TV. Check the latest price.
Mid-range > First Hotel Kungsbron
A good-value hotel in a great location and with very helpful staff. Rooms feature soundproofing, free WiFi and flat-screen TVs. Breakfast, coffee and tea are included. Check the latest price.
Budget > City Backpackers Hostel
A great basecamp for travelers. City Backpackers is conveniently located near many attractions and includes free WiFi, evening sauna and pasta. It offers staff-guided tours, an on-site cafe, a lounge with Mac and PC computers and a library.
Room types include shared and private options. There is a wonderful restaurant with a lovely yard on the premises—Gianni and Ivana dined there once, and they recommend it. Check the latest price.
Solna
Just north of Stockholm, Solna is a great neighborhood to stay in. It is really close to the capital and has many attractions right in the neighborhood, such as the Friends Arena, three former royal palaces and the Mall of Scandinavia.
Visitors can take a peaceful stroll through Hagaparken, an English-style park with monuments and gazebos.

Forenom is an apartment hotel with multiple locations in Solna and Sundbyberg. Each apartment comes with a fully equipped kitchen, a private bath, free WiFi and a flat-screen TV.
These apartments are perfect for commuters or families, or long-term travelers who prefer to stay in a local neighborhood. There's a great park nearby that's perfect for a morning jog or walk.
On the ground floor of the building, there is a big grocery store where you can shop for fresh groceries and prepared meals. Check the latest price.
Luxury > The Winery Hotel
A beautiful and unique boutique hotel featuring an on-site winery. As a guest, you can experience the production of wine and indulge in delicious meals in the Terreno Deli and the Winery Kitchen.
The comfortable and clean rooms feature a minibar, flat-screen TV, private bathroom and free Wifi. The hotel has an amazing terrace with a great pool. Check the latest price.
Mid-Range > Biz Apartment Solna
Biz Apartment Solna is a great option if you're in town for a short or longer period of time. It is an apartment hotel with differently-sized and clean studios.
Each studio offers free WiFi, a private bathroom, a flat-screen TV and a kitchenette with a microwave, toaster, fridge and kettle. Check the latest price.
Budget > N/A
We hope that this brief guide will help you plan your future stay in Stockholm.
Safe travels!
Get inspired by more travel articles:
Do you have a burning travel question? Join our Nomad is Beautiful travel community on Facebook and ask experienced travelers!