When our car finally stopped after almost four hours of intense curvy roads from Marrakech, and we got out to breathe the fresh air near an almost invisible stream behind the terracotta Atlas mountains protecting a vulnerable dry valley with no human soul around, we thought we would just have a break and then continue on.
The only sign that the area was inhabited was a tiny bar only accessible by climbing a few dusty steps.
We arrived with four other local photographers in the tiny Ait Mechkour village hidden in the mountains so we could experience true rural Morocco.
It was Gianni's and my very first trip abroad together, and we knew barely anything about tourism, our impact as travellers, on local communities, and were unaware how we could help or even worse, harm them. With time, we could see a lot of different ways a traveller could interact or disrespect a local.
While we're still currently learning how to be responsible on the road, we'd love to share some thoughts on helping locals while travelling, and some tips on how to do it. The impact of visiting a foreign country is tremendous and it's far beyond simply financial support or boasting about our altruistic "self."
(If you travel to Marrakesh you might find this guide useful.)
Why to Help Locals?
1. The money you spend ends up in the right pocket
It's not always a rule, but in most cases, if you stay in a local guest house, smaller boutique hotel, or an Airbnb apartment run by a native, the chances your money will arrive in the hands of a local owner are considerably higher than if your accommodation is booked via travel agent in your home country, or if you stay in a big famous chain hotel run by a foreigner with imported staff.
The money you pay for your lunch cooked by an experienced street vendor or for your breakfast in an artisan bakery will not get lost in a corporate chain store; where employees work for less cents per hour (in some cases per day) than you might pay for one soft drink.
Now, the downside to this supportive act, is the fact that more locals misuse the constant growth of tourists in their area. That's why rice fields in Ubud are being replaced by bungalows with outdoor swimming pools, Prague's historical center is transforming into a "luxury hotel jungle," and the small islands near Kota Kinabalu are slowly turning into resort "paradise." The money keeps calling.
2. You'll make locals feel unique, not exotic
In developing countries particularly, we travellers tend to feel we can "occupy" the territory we visit simply because we come from a country where we use a flush toilette; More digits on our bank accounts make us feel more superior.
Also, in countries where locals see cameras as a "powerful weapon," it's easy to treat people as if they were just some phenomenal object needed for documenting our social media lives.
There is nothing wrong with taking a photo of a local, if he/she is fine with that. The problem is how to do it and why we're doing it in the first place. Asking permission is a basic rule, and even if you don't speak the same language, pointing your finger to your camera with a question mark in your eyes can be easily understood.
We travellers, often behave too nice (tipping too much) or becoming irritated ("I can't believe you don't speak English?!") which only widen the communication barrier we might have anyway. At the end of the day natives might have more reasons to get annoyed because we speak only English or that we give them more money for the service (e.g. in some countries in South-east Asia to giving tips is offensive and very inappropriate.)
Approaching locals with an honest intention of curiosity is what breaks the social ice.
3. You'll get to places that guidebooks don't tell you about
Secret gems are secret for a reason: hiking via less walked paths, finding places where only locals eat, walking empty streets in an otherwise overwhelmingly crowded city is much easier with a person who has grown up in the area or has lived there long enough to know about less known local "jewels."
Guidebooks can give you some helpful tips, but they can rarely guarantee you'll end up in a meadow with a rough tanned shepherd in the Carpathian mountains; in a packed bar in Sevilla where they still write your bill with white chalk on a wooden desk while you devour your portion of tapas; in a tiny village in Morocco facing the peaks of the Atlas, where local kids rave about touching a white skinned man; Or at a fado concert where only locals come to listen to music and sip their wine on the stairs of Lisbon… for free.
4. You'll learn about new culture (if you are lucky, also about politics) first hand
It's possible to get lots of information from online articles, videos or podcasts, but experiencing a sacred Hindu ritual in Indonesia; watching the way people dine in the Mediterranean; or understanding why Finns like drinking a beer while litres of sweat pour down their bodies in a sauna… these things you can do only with a native who is willing to show you the process, explain the details and encourage you to try it yourself.
Note: Finns didn't persuade us to drink alcohol in sauna, but we did learn a lot about their sauna culture anyway.
5. You'll get home from your trip with not just souvenirs, but memories
What would you remember more…? Singing & drumming with Moroccan Bedouins in the middle of a desert, watching an Ukrainian lumberjack in action, seeing the working tools of a Romanian blacksmith hidden in the steam while they change a horseshoe, Cambodian young artists performing one of the best shows of your life… or three similar t-shirts you'll never wear, ceramic magnets that will break in your luggage, and several bracelets your friends will be ashamed to wear anyway?
Make your trip valuable through things you learn and experience within local communities, not only by objects you purchase in touristy alleys built to make your wallet thinner.
6. Language exchange
Locals are always pleased when they hear you speak some basic phrases in their language. There are many of them however, who would love to practice English (or any other language you're good at) when visiting them.
We experienced this when a bus driver in Coimbra, Portugal, was so happy to see foreigners and dust off his English, that he almost missed his departure while speaking to us about his change of career from a university teacher to a driver just because there was a bus that nobody used in his father's company.
We also met a Buddhist monk in Luang Prabang, Laos, who studied English with a goal to become a top manager and earn a lot of money in America.
Having a friendly chat with locals eager to practice the language you speak fluently is the minimum we can give back for learning about their native country.
Besides, many times a patient foreigner who knows how to listen and correct in a friendly way, can make a big difference and support a local in speaking the language he/she is afraid of to use.
7. You spend less
This is a bit tricky. We experienced many times that going local was more budget friendly than booking an overpriced full package tour (you really don't want to pay $300-400 USD instead of $70 for a combination hiking tour, boat trip and one night accommodation in the Bornean jungle.)
Eating street food and doing your shopping from local farmers in Southeast Asia can be cheaper than dining in restaurants, but it might be the opposite in Europe, where small local groceries have higher prices compared to big supermarkets.
On the other hand, products from a local bakery, a veggie shop or a small bistro where they prepare only a few dishes, are very often tastier and contain fresher and higher quality ingredients.
We do consider our daily budget while travelling, but we prefer to spend a bit more in a cozy shop rather than queuing in an anonymous supermarket whenever possible.
8. Kids studying instead of working/begging
The ability to learn to read and write is still more a privilege than a right in many countries. It is estimated that 168 million children are involved in child labour, even if the global number may vary, considering that not all countries provide statistics.
There's a great article written by Audrey Scott from Uncornered Market explaining why we shouldn't support begging kids and what are other effective options if you still want to help them.
Paying locals for their services (accommodation, transport, food), doesn't only support adults, but also their children, who often don't attend school because the parents simply cannot afford it. Please, be mindful when giving cash to adults.
9. Help other travellers
By giving back to locals when on the road, you'll encourage other fellow travellers to do the same. Many independent travellers like to explore the world in their own way but, there are a lot of people who don't know where to start when visiting a new country.
We were a bit confused ourselves when we hit the road, and it helped us a lot when we started reading more travel blogs, talking to other travellers, asking them about their favourite smoothie bar, a yoga studio, or a good guest house.
It's not about hunting for a cheap place to sleep and eat for almost nothing; it's more about looking for unique places where locals run their own business, and you can support them by paying for their services and spreading the word to fellow to others who might be interested.
How to Help Locals?
1. Do research
Use Google to find local food, responsible tour operators in your holiday destination, the best way to use local transport, and discover national festivals happening in town. Read the about section of the hotels/guest houses/travel agencies/restaurants to learn the stories of the owners, as well as the history of your potential accommodation.
There's plenty of travel bloggers who LOVE to go local and you'll find some cool travel tips on their website.
Among many of them, we highly recommend Anglo-Italian, Follow Us! We really like their well-researched articles. Uncornered Market and their mindful and comprehensive blogs. The Breathing Forest who love to engage with local NGOs, or follow NOMADasaurus and learn all about their crazy adventures.
2. Buy local food
This means looking for local food markets where locals do shopping. Don't forget to choose local products instead of imported ones. That way, you support both the shop, and the producer.
3. Use local transport
Renting a car when travelling might be comfortable and getting on hop-on hop-off buses might be popular too, but experiencing local means of transportation or renting a bike can also be more fun. Amusing moments learning a new system of buying and validating tickets are guaranteed.
In Ukraine, for example, you hop on a marshrutka (a kind of a minibus) sit at the back and pay the bus driver by giving cash to the other passengers who pass the money to the driver, and eventually pass back the change via the other commuters.
4. Look for a local guide
There's nothing bad about having a walk alone in the quiet forest, wondering around busy streets of a metropolis and just observing and perceiving everything with your eyes, but what if you had someone next to you explaining why the forest is so quiet and what there used to be before, or maybe that the woods you're walking through now will be destroyed because someone decided to build a parking lot there?
What if someone local would take you to a cosy teahouse & bakery where only local people come to listen to jazz music and sip their afternoon tea and chat with friends? Maybe you would appreciate a person who knows the area and takes you to a local healer or shows you where some old crafts of the villagers you'd never see in the town are still are preserved?
What would you say about going for an alternative tour with a former homeless person who could show you some of the unknown parts of Barcelona?
Most locals know their cities better than any guide book.
5. Stay with locals
Couchsurfing, Airbnb, GoCambio, TrustedHousesitters, Homestay, HomeAway, BeWelcome, you name it. If you travel short-term and you'd love to spend more time with local people, learn to cook a traditional meal, go with your host for a salsa lesson, or spend a weekend teaching a martial arts course in exchange for a couch… there's plenty of options for you to do so.
In case you travel for a longer period and you need just "to crash" somewhere, have a rest, cook for yourself and tick off all landmarks alone, you can do that with a help of locals who rent their rooms/apartments while away from home.
Again, supporting locals by paying them for accommodation is a win-win situation. You'll get a chance to have a glimpse of family life in another country, and if you pay for it, your host will also financially benefit from your stay.
Even if you aren't supposed to pay, please bear in mind nothing is for free; even if you're welcomed in someone's house with no technical obligation to leave money. A great explanation is given by Dale Davies in his article "Why 'Couchsurfing is free' Is a Myth?"
6. Ask locals what they need
You'll never know if you never ask. Not all people you meet on the road would be willing to accept your help and not everybody who will ask you for something will be satisfied with your response.
But, if you feel the need to help a local community you made a bond with, ask them what they need, and how you can help them.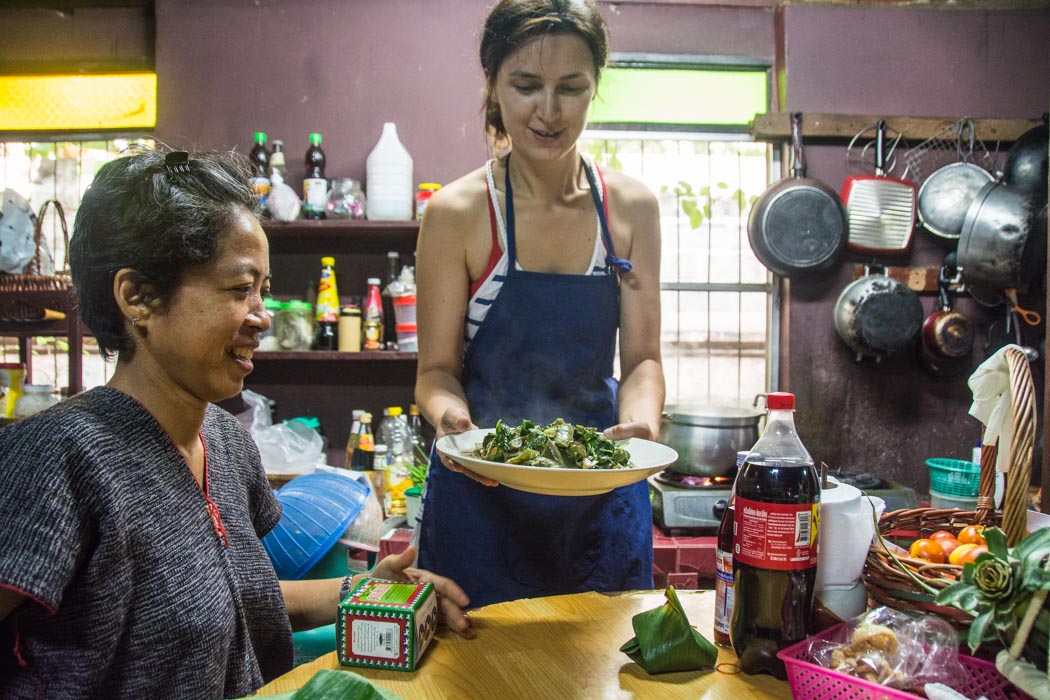 Maybe you can support them with a bit of money, or maybe they just need someone strong or tall like you to fix their roof or window, or maybe they need to help bringing some supplies from a nearby town or taking care of a kid while they run to visit their old grandparents.
7. Volunteer and help local NGOs
If you've decided to be helpful on the road and you consider volunteering an option, do it mindfully and do your research properly. Voluntourism has become too popular recently and similarly to any job, ask yourself why do you want to go to Kenya to support abused women, help orphans in Cambodia or teach English in the far-flung mountains of Tibet? Read this brilliant piece of Audrey Scott about volunteering & voluntourism and all what you need to know before taking the first step to apply for your volunteer programme.
Do you want to help others because you feel deeply inside that you have something you can share/teach/train others to do, or is it just the other 'you' that wants to be praised for a "good job" and have a "cool" experience in your life?
Read, read and read more about the organisations you want to work with. Ask them all possible questions to make sure you support the right community without taking jobs from locals.
Here's a helpful article from Michael Huxley where he explains negative aspects voluntourism.
8. Speak English (or other foreign languages)
When you talk to a host who wants to practice English then you're in the right place at the right time.
There are some other language exchange options, like joining chats where locals come to practice a language willingly and enthusiastically like at Big Brother Mouse in Luang Prabang in Laos, where you can spend a few hours every day chatting with local monks and young boys in English.
If you're a member of the Couchsurfing community, make sure to check weekly meetings in any town you visit. There are chances you'll find locals who would love to practise "your" language.
9. Attend local workshops or learn from your host
Are you in Slovenia where you admired comfortable woollen shoes in a souvenir shop? Or maybe you are in Indonesia and you love their nasi goreng so much you want to be able to prepare it yourself? Or maybe you liked those paper lanterns hanging in the streets in Vietnam and you want to create one too?
Nowadays, locals know there are more and more travellers who are keen to spend a half or a full day learning a craft. By participating in this you can support the disabled, the unprivileged and return home with a fantastic souvenir: a new skill.
For more tips about foundations that offer such workshops, check out our dear friends' blog The Breathing Forest, who've been travelling with a simple mission: to learn, to help, and to share their tips on places where you can be productive and supportive.
10. Be curious
Ask. Listen. Filter your prejudices and avoid judging people. Very often, what they teach us about some nations at school and how they present some countries in TV, look like just bad fiction.
When in town or in a jungle, put your camera down, stop, observe, and absorb the atmosphere. Be curious and ask people you meet on the road about the place where you are, customs that are new to you, and inquire about the dishes they serve you or morning rituals they perform.
Carry some postcards from your home country and give them to locals who ask about your land. Mutual curiosity can lead to memorable discussions and life bonds.
11. Spread the word
Talk about your experience with locals, spread the word about a guest house in Inle Lake where they welcomed you warmly, share about a street vendor with the best vanilla ice-cream in a small beach in the Philippines or the best smoothie in Chiang Mai.
Talk to other travellers you meet, share your experience in Facebook travel/expats groups, describe vividly your experience to your friends.
To travel the world and not interact with locals is possible. To come back home from a trip abroad and remember only the low/high prices and your receptionist is common. To rely on familiar flavours we taste daily back home is comfortable, safe, yet after a while… boring.
In most cases, we pick freely the way we want to travel. We can arrange our itinerary as we wish. Everybody can decide if he/she wants to go back to a place or not. It's easy to say why you like or dislike a country and its people. Let's just remember that without the local people that we meet once we cross a border, we could barely create our itineraries, or even cross those borders.
Disclosure: Some of the links above are affiliate links, which at no extra cost to you, will earn us a small commission and reduce the costs of running this site.
Did we miss anything? What else would you add to help locals and improve communication with them when travelling? Please, leave a comment below.