"Soft or hard, madam?" I really do love this question from a masseuse. Not because I'd be worried about her strength and potential cruelty, but because it just makes me feel that the masseuse is well-trained and knows exactly what she is doing.
There are things in Southeast Asia that we love not only to learn about, but also to experiment with ourselves: alternative medicine and different techniques of massages in particular. When we attended the healing rituals of a medicine woman in the Philippines, we remained observers, and watched the procedures from a distance with high respect. However, when it comes to stretching, twisting, cracking, stroking, pressing and the blissful feeling of a massage, we are always in!
Having been living and travelling across Southeast Asia for more than a year in total, we've only scratched the surface of different massages and techniques of alternative medicine. After our intensive experience with Thai massages in Thailand, we were excited to try a traditional Balinese massage and see the differences and similarities between the two of them.
Prior to our trip to Ubud, Bali, we had an adventurous time in Borneo, where we spent lots of time outdoors (in a jungle, in the sea and in the mountains). Ubud seemed to be a serene place where we indulged in some organic vegetarian meals and eventually had a great time with our hosting family.
Moreover, Ubud as a growing Balinese "capital of wellness" (maybe also growing too fast?), is the right place to get the best of traditional holistic treatments.
If you are interested to know where to stay in Ubud, we recommend some of the best hotels for different budgets.
When we travel, we book our hotels through TripAdvisor, one of the best websites to compare prices.
We also use a lot AirBnB to book local apartments. If you have never used AirBnB before, you can have a $40 discount for your first booking through this link.
Always make sure you travel with travel insurance! Be adventurous, but not careless.
Check out some of the most reliable insurance companies out there: True Traveller if you're European and World Nomads if you're from elsewhere.
If you love animals and you prefer going local during your travels, try housesitting, which is an amazing way to travel the world while taking care of the pets whose owners are on vacation. If you use TrustedHousesitters with this link you'll get $20 discount on annual membership.
Like it? Pin it!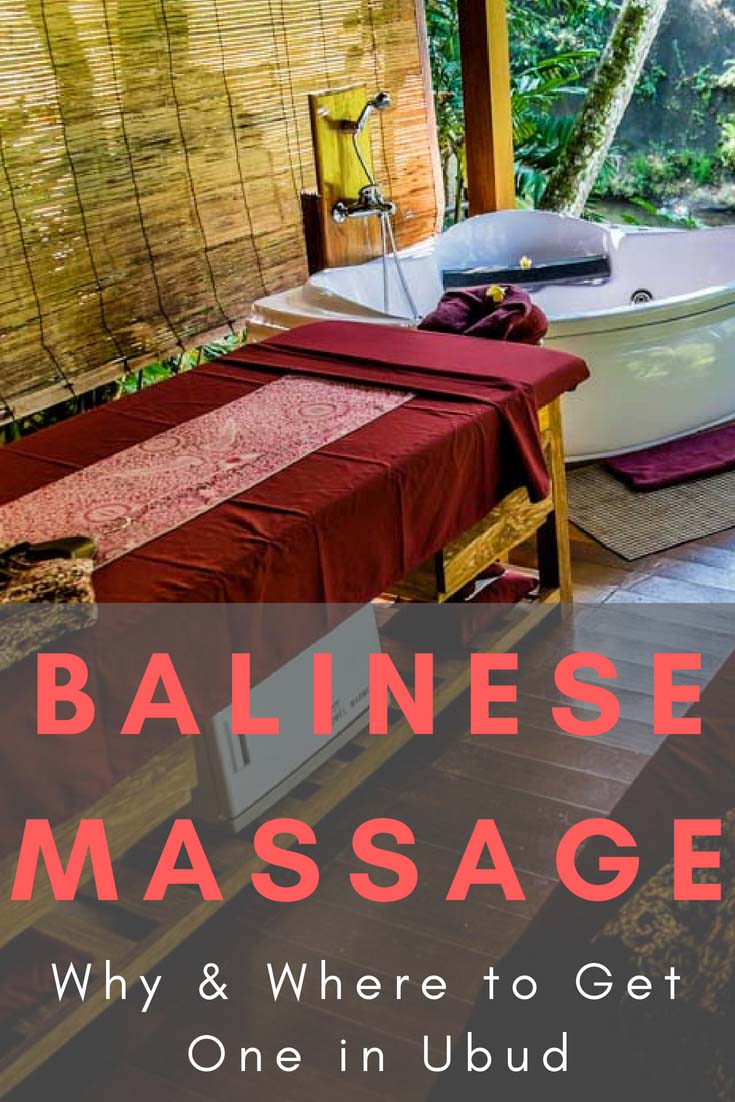 What is a Balinese massage?
Similar to Thai massage, a Balinese one is strongly influenced by traditional Chinese and Ayurvedic medicines.
In a Balinese massage, you'll find techniques of acupressure, reflexology, aromatherapy and even some methods of classic Swedish massage (kneading strokes). Your skin will be rolled and flicked by a masseuse during the procedure, while some essential oils will be applied to stimulate the flow of your blood and chi energy in your body.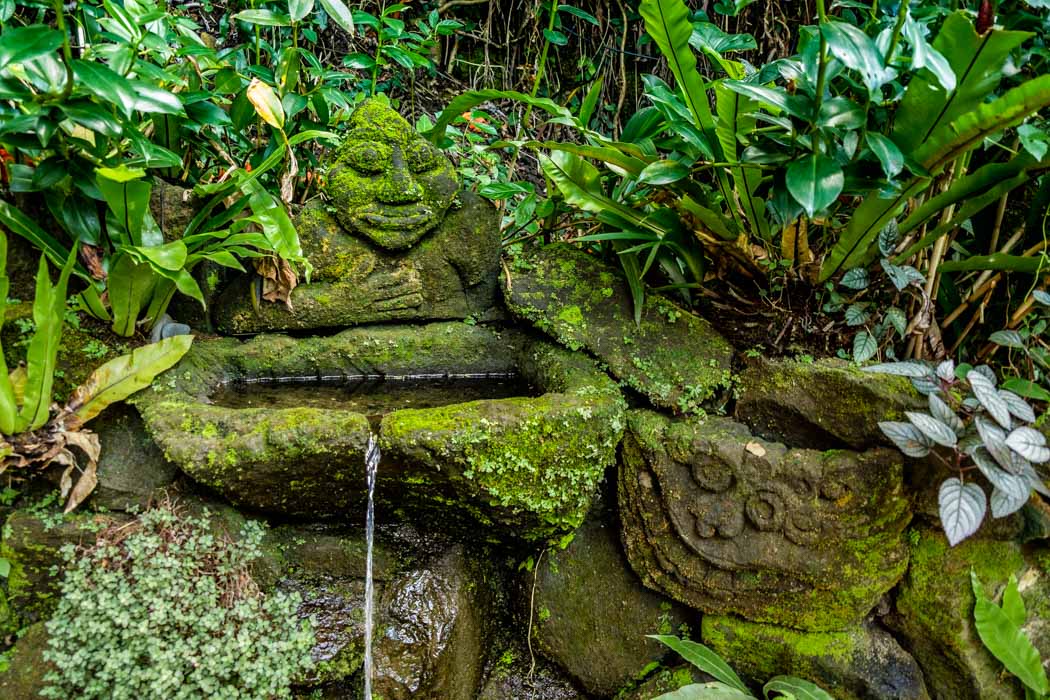 So what's the main difference between a Balinese and Thai massage?
* A Balinese massage is more relaxing. During Thai massage your body is twisted and moved into different positions, while during a Balinese massage nobody will test your flexibility. You'll lie down the whole time and the only physical effort you'll make will be turning from your stomach onto your back.
* In a Balinese massage, the movements of a tukang pijit (a local masseuse) are smooth and firm, but there is no strong pressure of stopping and releasing the blood flow applied as in a Thai massage.
* Unlike in Thai massage, where you need to wear loose clothes, a Balinese massage requires you to undress and stay only in your underwear (no bras for women.) Afterwards, you'll be fully covered with warm towels during the massage. That said, Balinese massage requires more private space and is more suitable for spas rather than massage shops.
* In Balinese massage essential oil is used, while in a traditional Thai massage it isn't.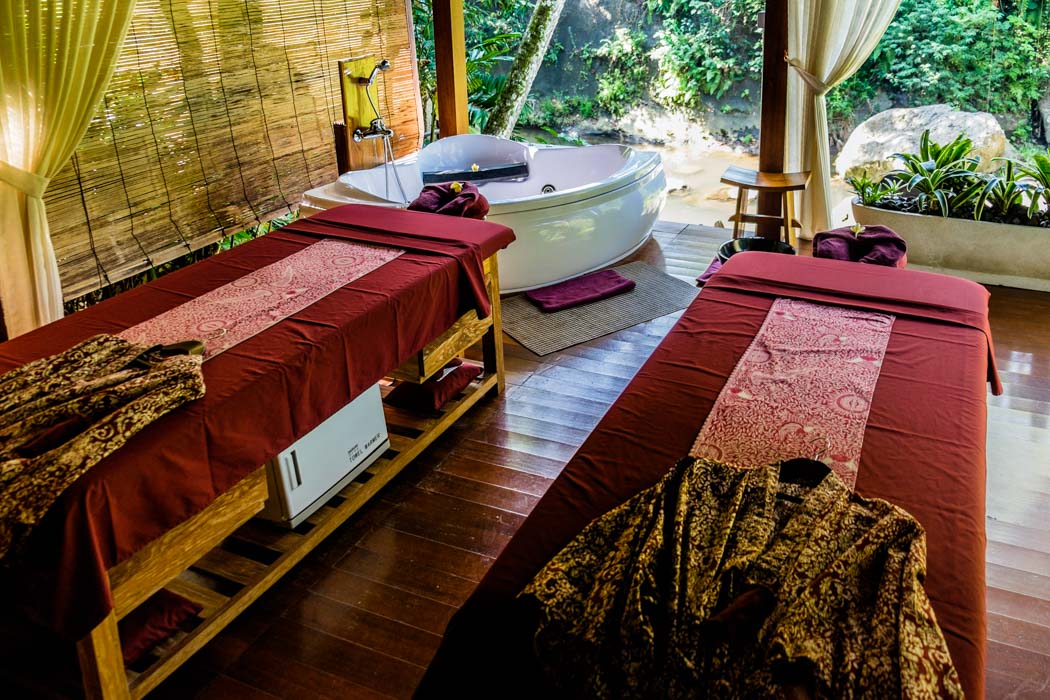 Check more activities and tours to do in Ubud.
* While Thai massage is usually done on a floor mat, in Bali you'll be treated on a comfortable padded table.
* However, both types of massages help to relieve pain in your body as well as reduce stress and bring your body back into balance, just via different techniques.
Apart from a Balinese massage, you can find other types of massage treatments in Indonesia: Javanese massage (rougher and sometimes focuses only on a certain part of the body; (Javanese Lulur Ritual which is performed on brides when getting them ready for a marriage), Sasak, Lombok or Urat massage.
Read more:
Where can you get the best Balinese massage in Ubud?
No worries about finding a good place to fix your backache, relax your muscles and get rid of stress in Ubud. Although, if you care about the environment and responsible travel, you'll be more picky when choosing an environmentally conscious spa. After having done our research, we found a gorgeous, very mindful and eco-friendly spa in the Penestenan area, which is only a few minutes' drive (about 15 minutes walking) from Ubud: Ayusha Wellness spa.
Eco-friendly Ayusha Wellness spa in Ubud
'Ayusha' in Sanskrit means "a long life" and this is the main principle that the spa follows. Not only do they provide excellent holistic treatments that might contribute to your longevity, but Ayusha works to provide a long life for the surrounding nature too. The facility is built right in the middle of a lush forest near the Campuhan river and not a single tree was cut while building the spa.
In Ayusha, they follow Boreh Balinese tradition, which is basically a massage technique created by rice farmers who used it to relieve their pain using natural ingredients (clove, ginger, turmeric, galangal, cinnamon, coriander.) Essential oils used in Ayusha Wellness Spa are prepared by local herbalists from organic herbs and spices. In addition Ayusha also uses Australian organic cosmetics, Mukti.
The spa has only three rooms and six massage tables, one infrared sauna and an absolutely fantastic stone bathtub just near the river. All of the rooms are actually in open-air space and in the couples rooms you'll get a stunning view of the river and into the lush green forest.
Check more activities and tours to do in Ubud.
Let's get the treatment started
Ayusha pays a lot of attention to your medical history, previous injuries and your actual physical condition so that a masseuse can choose the right Ayurvedic oil for you and avoid possible parts of your body that can still cause you pain. To warm up your tissues and make your body more relaxed, you'll spend a maximum of 30 minutes in the "far infrared sauna." This sauna is supposed to be more effective than a traditional Finnish sauna, since the infrared rays speed up your blood circulation and allow more oxygen to arrive to injured areas (so the recovery of wounds is faster.)
To enhance the warming up procedure and to follow the Ayurvedic tradition, you'll be served a ginger-lemon tea.
And then, an hour or an hour and a half of pure bliss awaits you. You'll lie on a padded table, covered with warm towels and the masseuse starts the massage by touching your back for a minute so that she can get more in touch with the natural flow of your body."
Our masseuses Puri & Sari were very well-trained specialists and the whole Boreh Balinese massage at Ayusha Wellness spa was beyond a simple treatment. It was like a symphony of nature where you can experience all elements: the air from the breeze of the nearby forest, the water from the sound of the river below, the fire from the warm towels and the kneading of the masseuse and the earth from the touch of your therapist that leaves you feeling "grounded".
I can highly recommend going for a body scrub, after which you'll be wrapped in warm towels for about 15 minutes. Oh, and the head massage at the very end: this will make you feel like a new person, indeed.
Ayusha Wellness cares a lot about the details of their interior, too. You'll find that there are beautiful bowls of white stones and purple flowers on the floor so you will get a great view while laying on the bed face down for about an hour. Delicate decorations, calm colours and the wooden structures of the space makes you feel very comfortable and relaxed even before your massage starts.
At Ayusha, you'll finish your treatment by relaxing on the table for a few minutes and will receive a cold drink afterwards so that your body can cool down.
Once you finish your massage therapy at Ayusha, you feel rejuvenated and will want to visit there more often to meet their great and knowledgeable staff, be in the care of professionals, spend quality time amongst nature and leave from there feeling refreshed and relaxed.
If you are looking for a deeper experience you might want to check the retreats organized by OneWorld Kumara just few minutes out of Ubud.
You might want to check this article if you want to know where to stay in Bali.
Have you ever tried a Balinese massage? If not, do you have a favourite type of massage you do regularly? We'd love to hear from you!
Disclosure: Our 90 minute massage at Ayusha Wellness Spa was complimentary. As always, our opinions, relaxed muscles and balanced bodies afterwards are our own.