The Philippines has long been revered as an idyllic tourist destination, perfect for spending a few weeks lying on beaches, diving reefs, exploring jungles–but it has more recently become a great location for digital nomads to settle in and work from one of the most picturesque locations in Southeast Asia.
It is important to keep in mind if you decide to work remotely from the Philippines, you will need to have a proper visa and documentation from your home country. You can find more information regarding visas here.
If you are in Europe and you are looking for flights with great rates, we suggest flying first to Saudi Arabia and then taking a flight from Jeddah to Manila.
There are certainly a myriad of reasons why you should visit the Philippines as a digital nomad, but here are some of the best: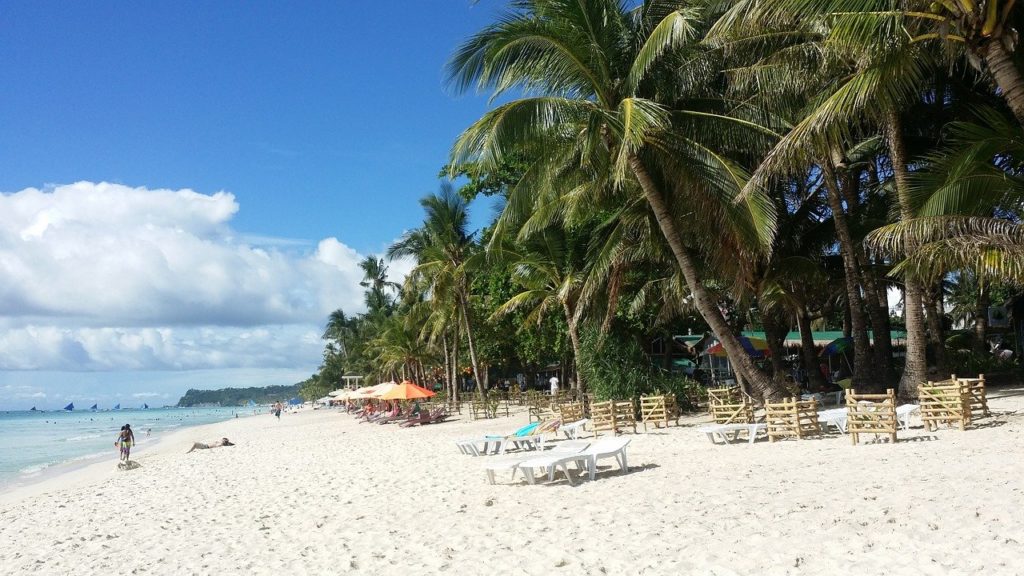 Affordable Cost-of-Living

The current exchange rate from USD to the Philippine Peso is about 52 Pesos to 1 USD, which means that your money will go much further overall.
The average nightly stay in a hotel is about $50USD, but if you are planning on staying for an extended period of time there are additional discounts for monthly stays in certain areas.
Additionally, food, transportation, and entertainment costs significantly less– which means you can be sure you'll enjoy any time you have off-the-clock. Keep in mind that cooking your own food is always an option. Most cities have great supermarkets for grabbing staples, and it's always worth a visit to the local marketplace for fresh produce and seafood.
If you're looking for more information about the best ways to manage your finances as a digital nomad, you can find more support in this article, Useful Financial Tips for Digital Nomads.
Great people

While the most widely spoken language in the Philippines is Tagalog, the vast majority of people also speak conversational English. Getting around, asking for directions, and ordering food is a breeze. Ask anyone who has spent any time in this country, and they can surely confirm that Filipinos are some of the most friendly people ever.
While aspects of the political system in the Philippines remain tumultuous–the majority of the conflict is relegated to the island of Mindanao and certain zones in major cities. Pickpocketing, tourist scams, and petty crime do occur–so simply exercise the normal amount of caution that you would in any heavily populated area.
Coworking Spaces

Remote work has become increasingly popular and the Philippines has recently begun increasing their availability of coworking spaces in cities throughout the country.
Depending on what you are looking for–there is certainly an island for everyone! Some of the best places to find digital nomad communities and coworking spaces are:
Manila: If you are looking for a busy and exciting city with most of the comforts of home, the capital city of Manila is a great option. Temperatures can become fairly extreme, especially in the summer months, but rest assured there are a decent amount of coworking spaces that range from $5-$15 x day–and they come with AC.
Cebu: Cebu is a great place to stay if you want access to incredible islands but also need a quiet place to get work done. In addition to a plethora of work-friendly coffee shops, many new coworking spots have popped up on the island. Some of the highest rated include: Nomad's Hub, Cebu IT Park, and Desko Cebu which is open 24/7.
Palawan: For the weekend warriors, with a desire to be beachside, Palawan has opened up a number of places dedicated specifically to coworking. In addition to coworking sites, you can also find many cafes that have decently connected internet, if you need to squeeze in an afternoon work-sesh before your open-water dive.
Travel Opportunities

One of the most enticing reasons for living as a digital nomad in the Philippines is that you're hardly ever far from a picturesque beach, lush jungle, or glittering skyline. With more that 7,100 islands in the archipelago, there is certainly something for everyone. Getting around is quite easy with most Filipinos speaking at least some English and being extremely welcoming of tourists. When you can take a break from your work, some of the most popular destinations for traveling around the islands are:
Bohol: Home to the Chocolate Hills, a series of undulating hills that turn a soft brown in the drier months of the year. A perfect weekend retreat for nature lovers–hike, swim, kayak, or paddle-board your way around this small island, only a 90 minute flight from the hustle and bustle of Manila.
Moalboal: A scuba diver's paradise. This town is located on the island of Cebu and known for calm beaches, cheap prices, and vibrant ocean reefs. Most visitors come to Moalboal to dive with whale sharks or sea turtles, as the area serves as a protective sanctuary for these animals, but you can also see massive schools of literally millions of sardines swimming freely just off the coast.
Zambales: A 5 hour drive from Manila, Zambales is known for its absolute picturesque beaches. This is a perfect weekend trip for digital nomads looking to spend some time in nature enjoying the clear blue skies instead of computer screens. There are also a number of epic hikes on this island–check out the trek up Mount Pinatubo to soak up 360 degree views of the surrounding area.
Visas

Most countries are exempt from obtaining a visa for stays under 30 days. You can also pay for a visa-on-arrival for stays up to 59 days. If you need to extend your stay and are unable to leave the country, you can travel to any Borough of Immigration office (BOI) for an additional 30 day extension. The cost of a tourist visa is about $50USD.
It is also advised to research current COVID-19 travel policies, as they can change and update regularly. If you need additional information about how COVID-19 has impacted travel, you can find additional resources here.
There can also be some cons in choosing the Philippines as a digital nomad. The Internet is notoriously slow and currently ranks 103 out of 176 countries. It is probably a good idea to get a SIM card with an added hotspot in case you need internet in a pinch.
You will also need to have a steady supply of fresh water, as it is not advised to consume local tap water. Finally, if you plan to spend an extended amount of time in cities, be prepared for regular traffic and other delays in getting around.
If you can handle these things, then you're in for an amazing country that is a blossoming destination for digital nomads.