Whether you're on a quick weekend pit-stop, or you're a long haul distance traveler… you absolutely need the best carry on travel backpack to ensure your belongings are safe, organized, and in your possession at all times.
The quickest and easiest way to transition while traveling is with minimal luggage; small backpacks keep you mobile and save you cash on baggage fees!
If you're looking into some hot deals of accommodation, we suggest to check out TripAdvisor, Booking.com or Hotelscombined. If you prefer more local stays, consider to book a room or an apartment via AirBnB. If you've never used AirBnB before, you can have a $60 discount for your first booking through this link.
Always make sure you travel with travel insurance! Be adventurous, but not careless. Check out some of the most reliable insurance companies out there: True Traveller if you're European and World Nomads if you're from elsewhere. If you're a fan of train travel, consider getting an Interrail pass (for European citizens) or Eurail pass (for non-European citizens).
If you love animals and you prefer going local during your travels, try housesitting, which is an amazing way to travel the world while taking care of the pets whose owners are on vacation. If you use TrustedHousesitters with this link you'll get 25% off  the annual membership.
Like it? Pin it!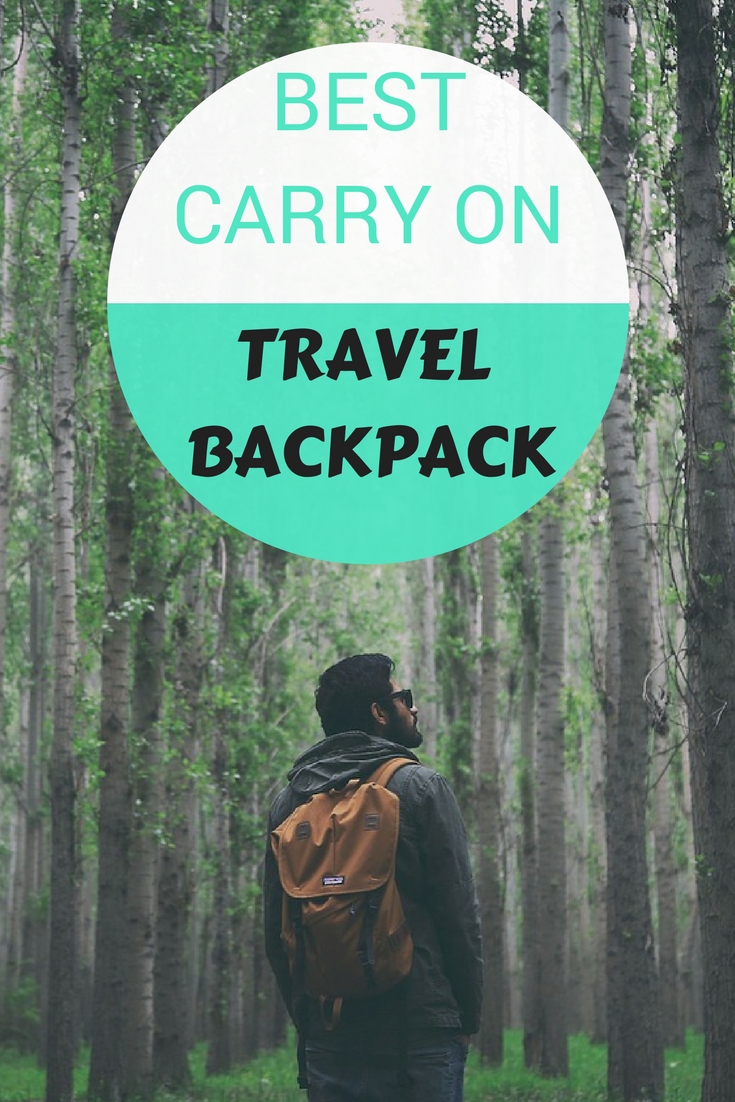 The Best Carry On Travel Backpack
There are so many styles, brands, and possibilities available on the market now, so here is a concise list of the best carry on backpacks to help you get started with your selection and choose the perfect small travel backpack for you!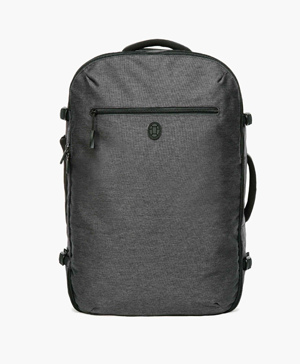 Created by a team of world travelers, and designed with a nomadic soul in mind, the Tortuga Setout is an incredible option for a sleek and easy to pack travel bag.
One of the best backpack brands in terms of ingenuity and organization, this bag has an advanced internal organization system that will make packing a breeze, as well as keep you under airline weight and size requirements.
Easily tuck the shoulder straps away and carry the pack like a duffle bag, slide your laptop in, and even add TSA approved locks for extra security.
This pack is also seriously comfortable and distributes 80 percent of its weight to your hips to alleviate any travel strain and stress from your back and shoulders.
An amazing investment from a team of travelers, this travel backpack gives you all the specs you need, and even some you didn't know you were missing.
Be sure you check out their website for more of the best carry on travel backpacks around!
This classic small backpack is one of the best-reviewed and appreciated packs on the market. Take it for a weekend, or stuff it full for a summer voyage; the Porter will survive even the stingiest of carry-on requirements.
Featuring a front-loading zippered pocket, this great backpack will keep your things organized, and the compression straps on the front will secure any extra gear or goodies in place.
One of the best features on this 30 litre pack is the option to store the outer straps and carry it like a duffel bag. This is great if you need to squeeze the bag under your seat on a flight, or just want to add a bit of class to your travel look.
Finally, the padded hip-straps keep you comfortable even on long treks, and the adjustable shoulder pulls ensure that the pack sits comfortably along your spine, rather than pulling on your neck and shoulders as you explore. Buy on Amazon.

This pack is just about the best carry on luggage that still meets the maximum size requirements. The 44 litre pack has multiple outer pockets for easy access to documents, electronics, and also has one water bottle pocket on either side.
One of the best features of this pack is its fit. The hip belt is impressively padded, yet still remains incredibly breathable and great for long hikes, city strolls, or those times when you're accidently wandering aimlessly around a new enchanting city.
You can load this pack from the top or the front, which means your gear stays organized and packed in like a suitcase. There is also a laptop sleeve that can also be converted into a hydration pack (and can additionally be secretly used to tuck away stinky laundry, while you pretend to be a miraculously clean traveler)… Buy on Amazon.
Check out other travel gears:
The Neekfox 35L is one of the lightest and most durable travel backpacks on the market. If you want to buy a backpack for the essentials that will stand the test of the elements, then this is the pack for you.
Its outer shell is covered with a water resistant coating that will also prevent wear and tear along your journey.
Additionally, the plethora of pockets make these durable backpacks easy to use and quick to organize inside and out! There are also reinforced straps on both sides for water bottles, so can rest assured that yours won't slip out during a hike or bike ride.
Its compact size also means you'll never have to worry about checking your baggage on any airline! Buy on Amazon.
Do you want to travel the world, take care of someone's pets & stay in classy places while the owners are away? Read our Ultimate Guide To House Sitting to become a professional house sitter.
A great buy backpack, the Gregory Zulu is a massively well-featured option, from a brand name that you can always trust.
Some of the best features of this bag are the attached rainfly for a sudden downpour, a surplus of interior and exterior compartments, and waist belt pockets for quick access to valuables and essential documents.
Truly ideal for hiking, because of its ability to distribute weight in a way that will keep you extremely comfortable for long periods of trekking time, but this great backpack is also the perfect size for pushing under the seat in an airplane, or tucking away for a long train journey.
Whatever purpose you have in mind for this pack, know that it is truly built to last, and will make even the longest of journeys more comfortable and enjoyable. Buy on Amazon.
This 40 litre backpack is a great option for those who want the most bang for their buck in terms of space in a carry on bag.
The Deuter Fox has both top and bottom loading compartments, meaning you can stuff in your gear in from the top, or unzip from the bottom, instead of unpacking everything each time you need to get inside of your travel backpack.
Deuter packs are also known for their comfort and breathability on hikes and long city treks. Reinforced hip belts and padded shoulder straps are fully adjustable and paired with a ventilated back pad, the only thing more comfortable is wearing no backpack at all.
This bag also has a separate storage pouch for wet clothes, and a small pocket under the top flap for storing valuable documents and items.
At 40 litres, you can also be assured that this will fit under the small carry on luggage requirements of most airlines. Buy on Amazon.

Simplicity and packability are two wonderful features of this small travel backpack. It loads like a wheeled suitcase, yet wears like a backpack, so your belongings stay organized throughout your journey.
It also can fully convert from a carry on travel backpack into a duffle bag in a matter of seconds, making it a great option for a diverse range of traveling needs.
This pack additionally has a padded space for a laptop, as well as multiple mesh pockets for items that may need to breathe a bit on your journey. Buy on Amazon.
If you are still a strong proponent of wheeled bags, but crave the accessibility of a backpack, then this 38 litre pack is a great option for you. Not only is it one of the most stylish travel backpacks on the market, this pack is also built to last.
A sturdy handle, two rugged wheels, and reinforced zippers make this a great choice for more "official travel," or if you want to look good anywhere in the world on your adventures.
Water resistant fabric means that you can rest easy placing electronics inside, and its size ensures that you can always keep your bag with you.
A great option for business travelers, digital nomads, or those of us who might appreciate a surprise first class upgrade. Buy on Amazon.
For the true minimalist traveler, this pack is a perfect fit for the handful of items that you'll need for your journey. At 26 litres it is one of the smallest travel backpacks that still has all of the best features you want in the best carry on travel backpack!
It comes in a variety of wonderful color combinations and is crafted from a thick durable nylon to keep your things protected no matter how rugged the adventure.
It also boasts a multiple suspension system that aids in weight distribution, so even at its maximum capacity, you'll still be able to comfortably transport your bag.
And finally, it's chock full of pockets, zippers, and pouches to keep you organized and efficient during your travels. If you don't need the extra space, then this is a great bag that does exactly what it's intended for…and even a little bit more. Buy on Amazon.
Carry on travel backpacks are truly changing the way people travel and will give you the freedom, flexibility, and options that you need. Never again worry about lost luggage, checked baggage fees, or hauling a massive pack around a city that you just want to explore.
If you've used any of these backpacks or have an awesome suggestion for a different one you've experienced, leave us a comment below!
Liked it? Pin it!