Finding the best hiking backpack for you is an extremely important decision, whether you're doing a multiple day mountain summit, or just going for a backcountry camping adventure, you need to have the best fitting, lightweight, and fully-outfitted pack.
Before you buy your hiking backpack, it's best to understand how you will use it, and how it can differ from a standard travel backpack.
If you are hiking for long periods of time over uneven terrain, make sure that the fit of the pack is an absolute priority for you. If distance and minimalism are important to you, opt for an ultra lightweight bag or perhaps a frameless model.
It's also important to keep in mind specific features in your hiking bag. Are ice ax loops important to you? Will you need it to be hydration pack adaptable? Is a removable brain portion necessary for shorter day trips? Consider all of these things while exploring all the options for your best hiking backpack.
Like it? Pin it!
Best Hiking Backpack
Here are the best hiking backpacks on the market right now; they have been tested, reviewed, and insured to make each and every one of your trips into nature more efficient, enjoyable, and easy!

This 65 litre pack is one of the largest recommended options on this list, which means if you're traveling with massive amount of gear for an extended period of time and still won't compromise on comfort and fit… this pack is for you!
Fully adjustable straps and a ridiculously breathable hip belt mean that you will be basically tucked into this sweet pack as soon as you hit the trail. It also comes in a wide range of sizes and is compatible with additional harnesses and moldable hip belts for an even more precise fit.
This hiking bag also has a removable brain for shorter trips, or for storing items for immediate and quick access. Deep pockets, mesh dividers, and outer adjustable straps are also some of the amazing key features on this bag.
Highly recommended for long treks, extra gear storage, and a comfortable outdoor backpack. Check the latest price on Amazon.
Gregory Baltoro 65

Another 65 litre bag that stands the tests of wear, tear, and weight. If you're looking into multi-day hikes through rough terrain, questionable weather, with plenty of gear, then this is a great option for the best hiking backpacks on the market.
Designed with the avid hiker in mind, this pack has a built-in hydration sleeve, as well as side water bottle holsters for easy access to your water without having to remove the pack. It also has a sleeping bag compartment and a rainfly pocket for sudden changes in weather.
You can easily attach ice axes or trekking poles to this hiking pack while in-transition from trailhead to trailhead.
As with many Gregory packs (being one of the best backpack brands out there) this bag is built with your comfort in mind. Multiple sizes and a male and female version ensure an excellent fit, and a removable lumbar tube acts as the perfect adjustment for each individual wearer. Check the latest price on Amazon.
The Deuter hiking rucksack of your dreams comes in three sizes depending on your backpacking needs: 45+10, 50+10, and 65+10. This means you even if you purchase the smallest model, you still have the available expansion room just in case.
They have revamped this top loading pack into a streamlined and sleek backcountry pack that also comes in a great array of colors, because yes, that still kind of matters in the middle of nowhere.
In all seriousness though, this is one of the best loading packs on the market, and offers a brilliant settling of weight and easily transfers from your back to the forest floor with ease.
One of the best specs on this pack is the massive amount of exterior pockets. You can easily access smaller items that you may be carrying, or stow valuables within reach.
This bag is also fully equipped for any backcountry emergency! It comes with a rainfly stored in a special pocket, an SOS label with tips for in case of emergency, and straps for hiking poles and ice axes.
This pack is an excellent choice if you're looking to lighten heavy loads, travel long distances, and carry large amounts of outdoor gear. Check the latest price on Amazon.
Looking for more packing tips? Get inspired by these posts:
One of my personal favorite top hiking backpacks. The fit on this bag is seriously unreal. The hip straps are some of the most padded, ventilated, and adjustable straps on the market, and the back frame both conforms to your figure, and simultaneous allows the perfect amount of airflow to keep you cool and dry.
This is also a front loading pack, so you can stay even more organized than with a traditional top-loading hiking bag. It has an interior hydration pocket (that I've used perfectly as a laptop pouch) and also boasts this handy outer pouch perfect for travel documents, snacks, smaller electronics, or writing supplies.
The Redwing also comes with 2 water bottle pouches, a front carry strap, and a brain pocket with multiple sections for valuables.
This is a great bag for true backcountry backpacking, but also does amazingly well on city streets and urban backpacking adventures. Check the latest price on Amazon.
An Osprey hiking backpack with all of the bells and whistles that you'd expect from this legendary outdoor gear company. At 50 litres, this pack can also travel well on trains, airplanes, and long bus rides, as well as brave the mountains, elements, and multi-day excursions.
This is another top-loading hiking backpack, but it also comes with a smaller bottom pocket, so you can access your gear without spilling out everything through the main opening. The base of the pack also contains a sleeping bag pocket to keep your gear clean and seperated.
Another great example of an Osprey hiking backpack pack designed with comfort, hiking, and durability in mind. Check the latest price on Amazon.
Hyperlite Mountain Gear 2400 Southwest
If you truly are a minimalist and are looking for the absolute lightest and best hiking backpack on the market, then this bag is for you. Engineered with some of the most durable, waterproof, and tear-resistant material around, this pack can really take a beating outdoors.
It also comes in four sizes and contains removable aluminium stays, so you can adjust the comfort level in multiple ways. There are also three levels of compression systems, so once this bag is packed and adjusted, it will strongly maintain its shape.
Honestly the highlight of this pack is just how tough it is. Dynema Hardline pockets, straps, and hip-belts ensure that this investment is built to last, and with a waterproof outer layer, the intensity of this bag can't really be topped. Check the latest price on Amazon.
ULA Circuit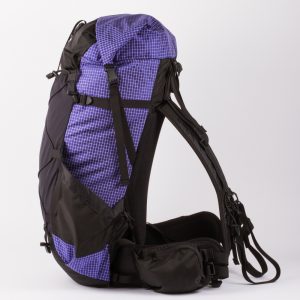 ULA hiking equipment is produced in small batches out of Logan, Utah. Each pack is hand reviewed for quality, durability, and comfort. An investment in the ULA Circuit, is an investment in one of the best hiking backpacks for intense adventure seekers.
It can be considered an extremely lightweight pack, that doesn't compromise on bells and whistles. It has been one of the most popular packs on the Pacific Crest Trail in the Western United States for the past three years, meaning this bag has been put to the ultimate backpacking test–and flourished.
Some of its specs include: a padded back panel, bear canister compatible, adjustable side pockets, front mesh pockets, hydration sleeve, internal smaller stash pockets, water bottle holsters, and hand loops for extra comfortable trekking. Check the latest price on their website.
ULA is an excellent company to support, and this is by far our favorite pack of theirs!

If you're looking for a one of a kind pack, built for you, fitted for you, and designed with only you in mind, then consider a custom pack from Zummerbuild. They have a massive array of types of backpacks, materials, and customizations.
A custom pack is not for a first time hiker, but if you're someone who can dream of the best hiking backpack possible, then this place is worth the visit.
Owner, Chris, sews each of his packs to your exact specifications and then ships the bag right to your front door. He has options and ideas for previously built packs, but will always create with you in mind.
Backpacks are reasonably priced and absolutely built to last and withstand a myriad of elements. Check the latest price and more variations on their website.
If you're in the market for a new hiking backpack, take the time to find the perfect bag for you. Whether you're out for a short weekend jaunt, or trekking through the mountains for weeks on end, a great fitting, well built pack is always worth it.
If you've used any of these hiking backpacks and loved them, let us know! Or if you have any other amazing recommendations for the best hiking backpack around, leave us a comment!
Liked it? Pin it!