8 Reasons Why Not ALL Orlando Resorts Are Created Equal
According to Visit Orlando, there are more than 450 hotels, resorts, and inns in O-Town. Due to the significant number of accommodation options available, you might feel tempted to pick the first resort you find that matches your budget.
Yet, it is vital you don't rush in, as the option you select will shape your comfort, convenience, fun, and flexibility. Here are eight reasons why not all Orlando resorts are created equal.
Reason #1: The Location
Don't underestimate the importance of location when booking an Orlando vacation, as it will determine your travel time to various theme parks, entertainment complexes, and attractions.
Most Orlando resorts are near at least one popular theme park. Yet, some are much closer than others, which is why you must do your homework. Staying inside a theme park is one of the best ways to decrease your travel time. However, you don't need to stay on-site to be a stone's throw from the best theme parks Orlando has to offer.
For example, Westgate Lakes Resort & Spa is a seven-minute drive from Walt Disney World Resort or SeaWorld Orlando, and Universal Orlando Resort is four minutes away, and you can reach International Drive within five minutes. You can check out more of their Orlando resorts HERE.
Reason #2: The Price
Most off-site resorts are cheaper than Disney-owned options and may provide better amenities, activities, and accommodation options.
On-site hotels and resorts might take you closer to the theme parks, but they often have an unjustifiable price tag. If you are looking for a value-for-money break in Orlando, don't overlook the various off-site resorts available. In addition to offering a more affordable rate per night, they may feature many more luxurious suites, amenities, and activities for all ages.
If you have your heart set on a Disney World resort, you must carefully review the room rate for each hotel, as some are more expensive than others, which is similar to off-site hotels. For example, you could save money by checking in to Disney's Pop Century Resort or Disney's All-Star Sports Resort. Bear in mind that they might not provide the magical experience you would expect, especially compared to the likes of Disney's Animal Kingdom Lodge or Disney's Grand Floridian Resort & Spa.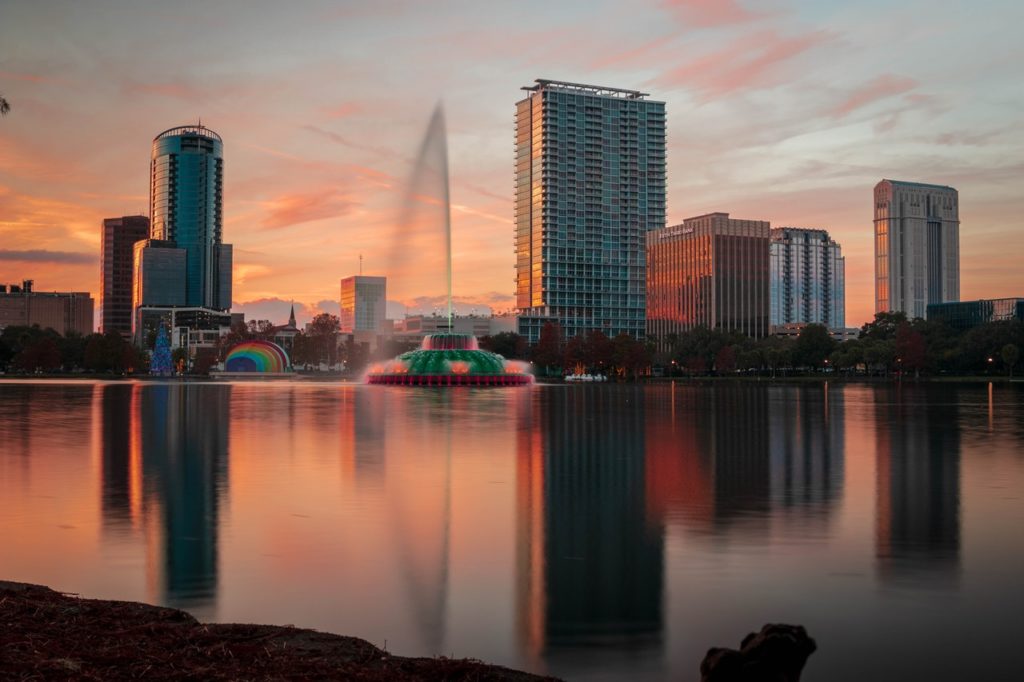 Reason #3: The Perks
Both on-site and off-site hotels provide fantastic perks, which differ from each other, from early theme park entry to handy gift cards.
The resort you pick will determine the perks you will receive during your trip to O-Town. As Walt Disney World Resort and Universal Orlando Resort want you to choose their accommodation over off-site options, they provide various perks some resorts will struggle to rival. For instance, you could receive early theme park entry, extended evening theme park hours, or advanced dining reservations.
However, don't overlook off-site hotels, as they can provide different perks that are just as good as their theme park rivals, such as a $100 gift card, a resort credit, dining credits, and much more. Research the different perks available at many off-site hotels to choose the perfect accommodation for your wants and needs.
More travel inspiration
Reason #4: The Pools
Despite Orlando's sunny temperatures, not all off-site and on-site hotels provide much water fun. Research each resort to ensure it provides plenty of pools and maybe even a cool water park, a relaxing lazy river, and thrilling water slides to avoid disappointment.
Orlando experiences warm temperatures year-round, as its summers are hot and long, and winters are short and mild. As the sun shines throughout the seasons, you will likely want to swim and splash until your heart's content at a resort. For this reason, you might need to find a hotel that provides exceptional pool options.
For example, Westgate Lakes Resort & Spa features seven outdoor heated pools, seven children's pools, dual 30-foot waterslides, a Castaway Creek Lazy River, a splash pad, and much more. It will provide you and your loved ones with many fun days in the glorious Florida sunshine.
If you wish to stay in a Disney resort that provides a fun water park, Stormalong Bay at Disney's Yacht Club Resort is the closest option you will find. It contains three acres of water fun and includes a sand-bottom pool, a waterslide, and a lazy river.
Reason #5: Family-Friendly Activities
Banish boredom by picking a resort with an endless array of family-friendly activities to suit all ages, from game rooms and playgrounds to shuffleboard and fishing experiences.
Nothing can ruin a vacation quite like boredom. A resort might appear beautiful and stylish, but it might offer minimal activities throughout your stay. Keep boredom at bay by booking a break that provides more family-friendly activities than you can complete.
The hours will quickly pass your loved ones by when playing tennis, basketball, miniature golf, or horseshoes. Plus, adults and children will not stop smiling after spending an evening in an extensive game room, tackling an outdoor playground, or renting a boat on a sunny day in the Sunshine State.
Reason #6: Dining Options
Great food and drinks will make your vacation complete. Don't settle for limited options or poor-quality dishes, and find a resort with many dining options that cater to your needs.
Tourists are never short of fantastic dinner options in Orlando, as it is home to more than 5,000 restaurants, which can vary from cheap eats to fine dining. Despite the many dining options available across the city, you might want to stay in the comfort of your resort for one or more days during your stay.
If you suspect this might be the case, you must choose a resort that will provide plenty of restaurant options to cater to your taste, preference, and diet. Bear in mind that some resorts might provide one or two dining options while others might feature many. Also, each will feature different cuisines, atmospheres, and standards you must take into account before booking a vacation.
Reason #7: Transportation Options
From complimentary shuttle services to affordable I-Ride trolley bus stops, learn about the different transportation options at your resort for a convenient, flexible stay.
If you do not plan to rent a car during your trip to Orlando, consider the transportation services available at a resort. If you are driving into the city via electric vehicle, ensure the resort you choose provides access to an EV charging station.
Also, some resorts are happy to provide complimentary shuttle services to guests, or they might feature an I-Ride Trolley bus stop. It will provide quick transportation to some of the best theme parks Orlando has to offer, but you may need to reserve them 24 hours in advance, as seats can quickly fill up.
If your resort is inside or near International Drive, you can take the green and red ferry up and down the complex every 20 minutes. It will cost between $1 to $2, depending on your destination.
Reason #8: Pet-Friendly
Don't leave your pet pooch at home and bring them along to one of the few pet-friendly resorts in Orlando.
A family-friendly vacation might not feel complete without your pet by your side. Yet, most Orlando resorts do not allow pets to stay at their accommodation. Before you cancel your trip to O-Town, you will be happy to learn some on-site, and off-site resorts are pet-friendly, such as:
Floridays Resort Orlando
Loews Sapphire Falls Resort at Universal Orlando
Westgate Lakes Resort & Spa
Vista Cay by Millennium
Rosen Inn at Pointe Orlando
Westgate Town Center Resort
Hyatt Regency Grand Cypress
Of course, some resorts have various rules guests must follow during a trip to protect the accommodation and their pets. If you are staying in a Disney-owned resort, learn about its Best Friends Pet Care, as it will care for your animal when they can't be by your side.
Conclusion
Different factors can determine if you have a vacation of a lifetime or a getaway you will remember for many negative reasons. Ensure it is the former by considering the above reasons when booking a trip to O-Town this year.
Remember, you don't need to spend a substantial sum on accommodation for an unforgettable break with your family or friends. Also, consider your wants and needs when choosing a resort, such as its pool options, family-friendly activities, or vacation perks. Check a resort ticks every box to plan a fun, flexible, and fabulous getaway in Orlando.