In 2013, Gianni and I packed our lives into two 10kg backpacks and started our nomadic journey. Prior to our life change, we enjoyed running, but after it, we just stopped. There was always an excuse as to why we didn't run.
The shoes.
Yup. We travel and pack minimalistically, and we're more hikers than runners. So, one solid pair of hiking sandals were always more than enough for us. An extra pair of shoes just didn't fit into our carry-ons.
We considered trying barefoot running shoes. We knew that they might be a solution for our light travels. However, we weren't 100% sure if we could cope with the sensation of feeling every little stone while running or walking (that's what we thought we would feel with the shoes on).
Nevertheless, as we slowed down our travels and stayed in one place longer, we started craving exercise and – running. We decided to give barefoot running shoes a try and see how lightweight Vivobarefoot Stealth II.
Like it? Pin it!
It has now been seven months since our first try, and we have been using our shoes for urban walking, hiking, street running and exercising in indoor gyms.
We've each had quite different experiences with the shoes, which proves that we all need some time to get used to barefoot walking and running and, more importantly, we need to be ready to adjust the way we walk and run. Watch a short video of the tips on how to run with barefoot shoes.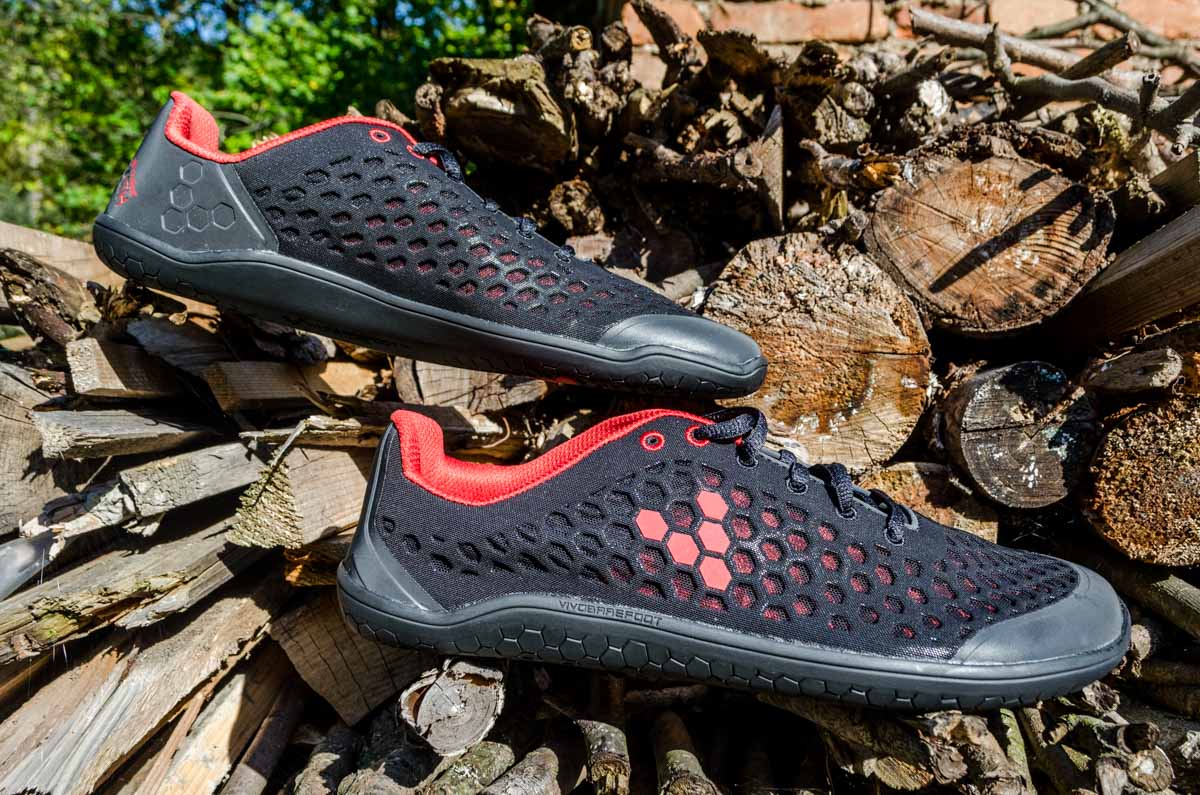 Before our detailed Vivobarefoot Stealth II review, let's see the terrains and activities the shoes are suitable for and how it feels wearing them in different environments.
indoor gym
I believe this is the best environment where your feet will feel perfectly comfortable with Stealth II shoes. They are great for indoor workouts and suitable for treadmill use.
urban walking
When I started wearing Stealth II, I was able to walk for hours without having any ankle or lower back pains. The shoes feel super light and help boost energy in my feet and legs.
I am used to yoga positions where I fully place my soles and toes on the ground, which activate and spread them equally. My feet positioning while wearing "barefoots" possibly prevents me from stepping only on my heels or stepping on one side of my soles.
Gianni had a completely opposite experience. The first few times he wore the shoes, he felt pain in his ankles and felt a bit unstable when walking on rugged ground. He wasn't used to placing his soles and toes on the ground like how I learned to do in yoga.
Word of advice: when wearing these shoes, it's important to adjust your feet in order to prevent you from stepping on your heels or one side of your soles.
It took Gianni a few months to adjust his feet positioning with the shoes. He recently hiked 40 km in the hills of the Czech Switzerland mountain range without any discomfort.
running on paved surface
I've never had any problems while running 2 or 10 km with the shoes on. Although, I've heard some people have had problems.
If you're used to running with neutrally cushioned running shoes, as we were, then you'll need to adjust your running technique, i.e. switching from the heel strike to forefoot and engaging all your toes.
Personally, I found it easy to engage my toes thanks to the big toe box in the frontal part of the shoes.
If you're prone to twisting your ankles, then you will need to carefully mind your technique.
going off-road
We haven't tried running off-road with the shoes, but we hiked with them in Thailand and the Czech Republic and were quite happy with the traction. They might look not very supportive, but they worked for us in mildly steep hills.
Vivobarefoot Stealth II review
Specs of Vivobarefoot Stealth II
Upper part
Honeycomb pattern is made of durable, breathable and stretchy hex-mesh material. After six months of wearing the shoes, the upper part has held tightly without any significant damages.
There are reflective parts on the top, sides and heel, so they are great for nighttime runners. If you wear them leisurely at night, let's say to go to a pub, then be aware that you might get some funny looks as your shoes will shine bright white.
Inner part
The inner part is made of super soft dri-lex fiber that manages the moisture and controls the sweat.
Unfortunately, the padded upper inner part of the heel started abrading after a couple of months.
The shoes come with insoles that function with Outlast® technology. Originally, this technology was developed for NASA and regulates thermal heat; the material absorbs heat from the feet, stores it and releases the heat after the feet cool down.
I found it quite warm to walk with the insoles when the outside temperature was above 30°C / 86 °F. On the other hand, I felt comfortably warm when the temperature dropped to 15°C / 59°F.
The insoles also create a protection layer, but you'll still feel some hard gravel.
Lower part
The 3mm TPU Sole of the Stealth II model is the thinnest signature sole of Vivobarefoot. Being made of pro 5 material makes it five times stronger and resistant compared to other rubber material.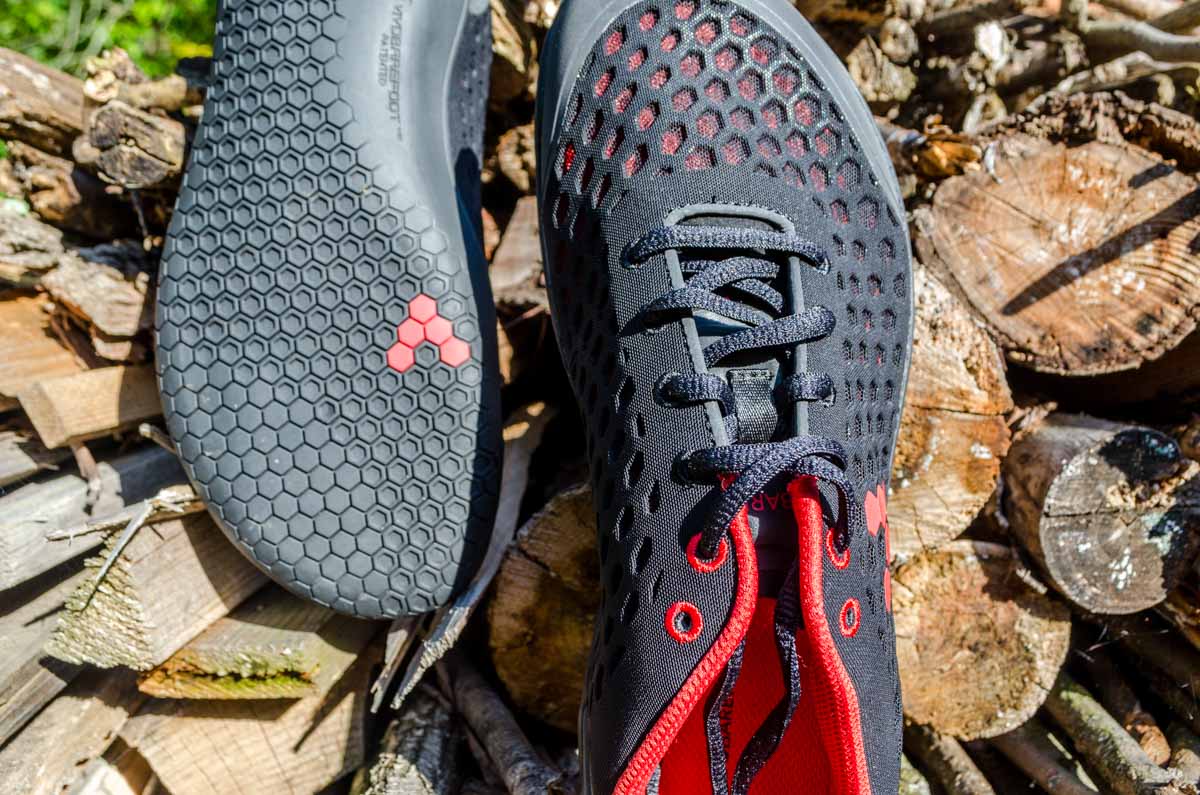 It's extremely flexible, so you can move and bend your feet freely. A great feature when it comes to packing as you can just literally roll your shoes and off you go.
Get inspired by more articles:
Standard lacing system
Shape and size
Let's be honest. The shape of the majority of barefoot shoes is a bit unusual, but for a very good reason. Thanks to the wider frontal part of the shoes, you can stretch your toes and give them space to move freely or let them rest naturally.
I loved the fact that I could stretch my toes without taking off the shoes and while standing or sitting in a bus or train.
Regarding sizing, mine fit just perfectly. I still have enough room for my toes to move up when hiking or running. Gianni's model felt a bit bigger even though he got his regular size. We suggest trying on the shoes in a store before purchasing or using the official website's sizing tips.
Pros of Vivobarefoot Stealth II
Lightweight: 200-250g, depending on the size
Super resistant sole
Durable upper
Reflective parts
Extra protection rubber layer on the top of the shoes and heels
Walking feels very flexible and light. You don't really feel like you are wearing shoes.
They are 100% vegan.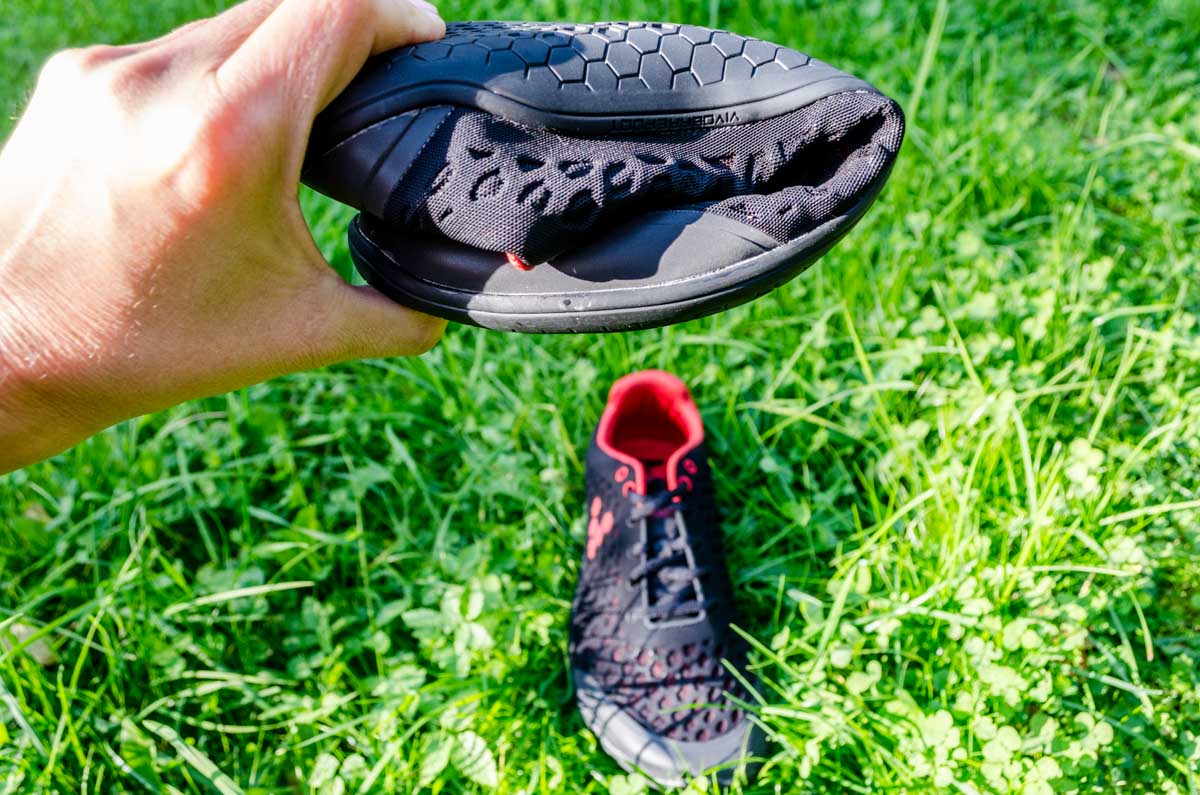 Cons of Vivobarefoot Stealth II
Insoles tend to slide out.
Inner part of the heel rubbed off after a few months.
Absence of good debris protection
A short tongue
Conclusion
Overall, we've been more than happy with the Vivobarefoot Stealth II. At first we were worried that the shoes would cause muscular discomfort, but we've been positively surprised that they haven't.
We mostly use them for urban walking, indoor workouts and outdoor running. For running, you might need more time to "become friends" with the shoes if you have never worn barefoot shoes.
Hope this detailed review helps you to get a better overview of Vivobarefoot Stealth II shoes. For price details and shipping, check Vivobarefoot's website.
Happy barefoot walking or running, friends!
Do you have a burning travel question? Join our Nomad is Beautiful travel community on Facebook and ask experienced travelers!