How to find the perfect bag for you
Ladies, when looking for the best travel backpack for women, the amount of choices, options, specs, and prices on the market can be daunting. Here is a concise list of the best packs around and a guide on how to find the perfect one for you!
Luckily, travel backpacks have evolved and are now created in models specific for a woman's body! This means a more precise fit, better packability, and adjustments in all the right places.
It's important to also be aware of these key travel backpack features:
Fit
Women's backpacks will fit differently from a men's pack or even a standard backpack model. They are generally smaller, with shorter straps, and have more petite frames. Make sure you try a new pack on if you have the option, to ensure that these features work for you!
Size
Standard sizes of women's packs are the same as most travel bags (measured generally in litre capacity). Depending if you're using your bag for long term travel, minimalist backpacking, or backcountry hiking will dictate the size of the bag you'll want to choose.
For example, a standard 45L pack will fit most overhead requirements, while a 60L is great for carrying hiking, camping, and cooking gear for extended periods of time.
Packability
Some packs open from the top, which can be great for backpacking, but can be a hassle if you're trying to keep your clothes from ending up a wrinkled mess at the bottom of your bag. If you're looking for more of a suitcase style bag, check for fully unzipable options that will keep you neat and organized throughout your journey.
Durability
All of the packs on this list have been vetted for their durability, but as always, it's important to make sure you're purchasing a quality pack, with a warranty if that's an option.
Keeping all of these specifications in mind, here is the complete list for the best travel backpacks for women.
If you are interested to know where to stay when travelling, we recommend some of the best hotels for different budgets.
When we travel, we book our hotels through TripAdvisor, one of the best websites to compare prices.
We also use a lot AirBnB to book local apartments. If you have never used AirBnB before, you can have a $40 discount for your first booking through this link.
Always make sure you travel with travel insurance! Be adventurous, but not careless.
Check out some of the most reliable insurance companies out there: True Traveller if you're European and World Nomads if you're from elsewhere.
If you love animals and you prefer going local during your travels, try housesitting, which is an amazing way to travel the world while taking care of the pets whose owners are on vacation. If you use TrustedHousesitters with this link you'll get $20 discount on annual membership.
Like it? Pin it!

Best travel backpack for women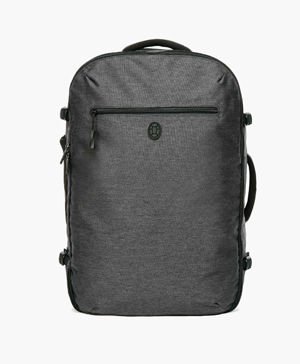 This pack is one of the best travel backpacks for women around. It is one of the easiest bags to pack, and keeps your things organized, folded and always ready for your next adventure.
It also has one of the nicest fits I've ever found in a pack. Extremely adjustable straps, cushioned back panel, and padded shoulder straps, mean that this pack actually fits almost instantly.
An awesome travel backpack for any style of travel, this pack is highly recommended and personally vetted. It is simplistic and stylish and would work great for business travel, digital nomads, or casual summer backpacking adventures. Check the latest price.
A great overall pack for the adventurous outdoorsy traveler.
This rugged classic is perfect for the adventurer looking to spend extended periods of time outdoors braving the natural elements. The best feature of this pack is its durability, it will truly withstand heavy lifting and extended travel and usage.
It also is outfitted with sleeping bag compatible bottom zippers, as well as a top-loading zipper to allow multiple entry points while you're on the road.
The fit system allows for tremendous amounts of breathability which will keep you cool on long treks, and on steamy city streets. Check the latest price on Amazon.
Get inspired by more articles:
A truly great travel backpack for women, this Osprey model is specifically designed for ladies. Incredible suspension system assures that the weight of this bag falls on your hips, eliminating strain on your back and shoulders.
Its sides are complete with mesh pockets for a water bottle or other items for easy accessibility, and it comes with a plethora of loops, clips, and smaller stash pockets on the exterior to make sure you can fit everything perfectly in its place for your journey.
A top loading pack also means you can increase the packability of this bag with packing cubes or compression sacks, if you need to truly maximize the space.
This is a wonderful pack for city or backcountry adventures in a fully-outfitted and feature rich women's backpack. Check the latest price on Amazon.
If you're looking for the best travel backpack for women that will absolutely fit even the most strict guidelines for carry-on luggage, this bag is for you.
Designed with travel simplicity in mind, this pack comes in an array of fun as well as neutral colors, and fits a massive 44 litres of gear, while still keeping you incredibly mobile.
It is also so packable! With so many item specific pockets, panels, and adjusting pouches, this bag will keep you extremely organized and ready to access any of your belongings quickly.
A great bag for the minimalist traveler, or someone looking to cut down on excess in their travel life. Check the latest price.
Pack and travel:
Pacsafe has an amazing reputation for crafting safe and secure travel backpacks, and this version is no exception…yet it is also delightfully stylish! In a minimalist grey, with only a few exterior pockets, this pack is extremely underrated, yet can be everything you need on a short journey.
Mesh embedded fabric protects against any type of slashing, and RFIDsafe blocking material ensures that your documents and credit cards are safe from hacking scanners.
If you're looking for safety and simplicity, then look no further than the PacSafe Slingsafe. Check the latest price on Amazon.
A classic women's backpack. Great for exploring new trails or crowded city streets, this pack is built for it all. The fit is balanced and created for a woman, distributing weight and hugging around your hips instead of straining your back.
Its hipbelt also boasts extra padding and multiple pockets, perfect for important items…like snacks or your passport, wherever your priorities happen to be.
This is also a great bag for longer term travel as it opens both from the top and the front. It is a great bag to keep you organized, and the 60 litre version makes room for those few extra items that you just can't deal without.
Additionally, the fit on this bag is excellent, and great for a vast range of body types. Lugging around a bulky bad won't be a worry of yours at all! Check the latest price on Amazon.
This women's backpack is great for the traveler looking to travel light, with minimal pack weighing her down. The Maven bag is crafted with lightweight fabric that still maintains its durability over time.
You can also open this pack from a top loading pocket, or a bottom zipper, which will help to keep you organized over time. There are also multiple exterior pockets for valuables, and even a specially coated sunglass pouch to keep your shades safe and scratch-free.
Gregory has a wonderful reputation of creating a durable and well crafted bag, and the Maven is no exception. This is a great bag for adventures, exploring, and even casual city cruising. Check the latest price on Amazon.
If you're looking for a women's backpack with a bit more versatility, then the High Sierra Wheeled Backpack might be just the alternative that you're looking for. This pack has all the perks and carrying ability of a regular pack, but also gives you the option of a rolling back, if you need to remove a bit of the weight off your back, appear a bit more professional, or are standing or waiting for long periods of time.
High Sierra also makes extremely affordable packs, that are built to travel in many different settings and continually maintain their quality.
This pack does all that, and gives many different transport and packing options; a great option for long term travel, or for anyone who knows how to pack a small pack for their time on the road. Check the latest price on Amazon.
* Not all female travelers feel that a backpack is the perfect travel option for them, so here is a suggestion if you're still loyal to your wheeled luggage. It's a great quality women's travel bag, but with a little more comfort than a backpack!
Sometimes the best ladies' backpack isn't quite a backpack at all. This rolling backpack offers a great alternative for travelers looking to take the weight off their backs, and still have a convenient bag, that offers all of the perks of a well designed pack.
This roller bag moves on 360 degree wheels and can be carried with a multi-step adjustable handle depending on your needs. Its hard outer shell means your belongings are safe inside, and they are even protected from rain!
It is also a great size for extended travel and allows smooth passage on airplanes, tightly packed trains, and slides easily under almost any seat. Check the latest price on Amazon.
While female travelers can truly use any backpack they desire, not all packs are truly designed with their frame in mind. Purchasing a bag specifically designed for your body will ease travel tensions, increase your speed during quick transitions, and eliminate travel stresses of lugging heavy, ill-fitting bags all over the world.