While staying in Chiang Mai for the last few weeks, we wished to find a place to relax from the busy life we had in town. We found more than we were looking for: Ban Sabai Village Resort and Spa is a truly tranquil place where you can not only slow down, but also take care of your body, mind and soul.
The resort is located in a calm countryside, 5 km east of Chiang Mai. It was opened on 3 March 2003, as a second branch of the company (the other one you can find on Ko Samui beach). Mrs. Chitra, the owner, is a very kind, friendly and helpful lady. She also practices yoga, follows a vegan diet and has a great knowledge of herbal medicine. Mrs. Chitra was brought up in a family where giving a massage to an elder family member was a daily ritual and you can see that she applies this experience in her current business.
Ban Sabai (meaning "calm, relaxing house" in Thai) has 20 rooms with different standards but the unique Lanna style of architecture remains in all of them.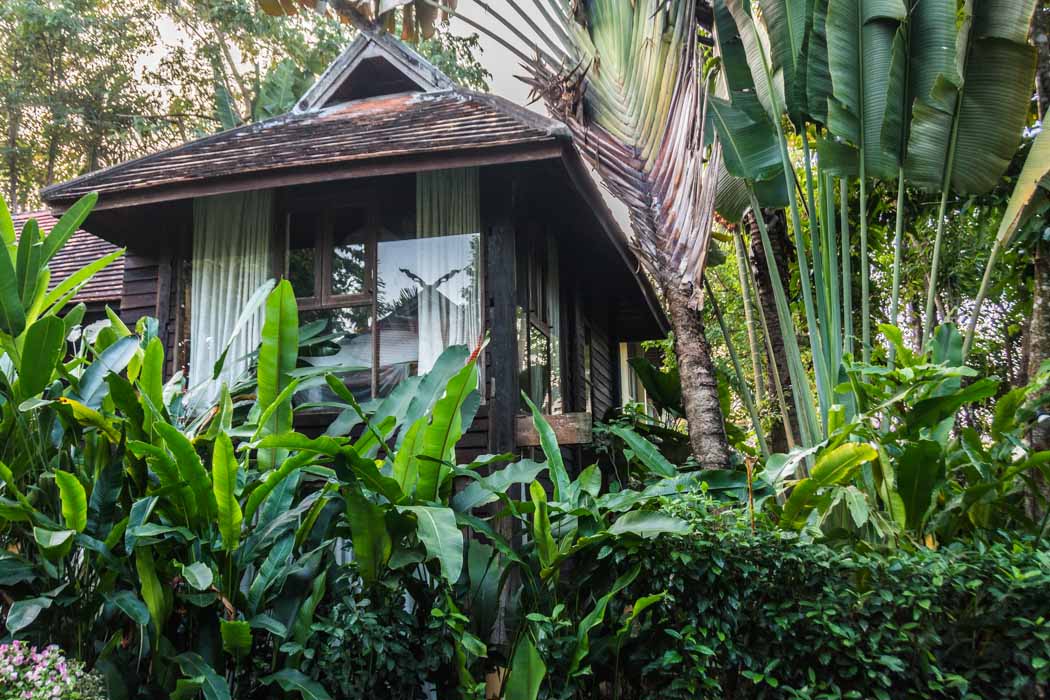 The resort is set in a lush, green nest of bamboo and banana trees, bushes and beautiful flowers. You can have a meditative walk around the complex on a stone path. There are three pavilions in the area. One they use for candle-lit dinners, but during the day and in the case that there is no dinner booked, you can use the space to chill out on comfortable mattresses, surrounded by trees and chirping birds.
The other two pavilions are used for massages and yoga classes. There is also a small pond with a fountain in the middle of the resort.
We stayed in the Topaz IV room, which was bright, clean, cozy and decorated in the traditional Thai style. Thanks to three big windows in the room we woke up with a wonderful view of the trees, pond and swimming pool. We also had a working table in the room, but the weather was too awesome to stay inside so we used the high speed internet connection in the pavilions or near the resort's swimming pool.
What to do in Ban Sabai?
Swimming Pool
It is hidden among the trees, which gives you a comfortable feeling when you swim there. The wooden adjustable beds and mattresses are ideal for relaxation near the pool, even when the sun is below the horizon.
Therapies
Ban Sabai Village offers different kinds of spa therapies. We tried a herbal steam bath in a tent, which they recommended us to do before a Thai massage.
The bath was absolutely refreshing and surprisingly relaxing. A cotton tent that they use for the therapy hangs from the ceiling above. Inside, you can sit on a large, comfortable chair, big enough to sit on with crossed legs, and concentrate on your breathe while inhaling the herbal steam. The steam actually comes from below your chair, where a big pot of boiling water sits, filled with a special mixture of herbs: kaffir lime, eucalyptus, camphor, bergamot, lemon grass, turmeric, and tamarind leaf.
You enter the tent undressed or covered with a cotton sheet. We did two baths of ten minutes, long enough to relax the muscles for the following traditional Thai massage.
Our masseuse, Mrs. Amornrat, was just amazing and apart from basic English, she could speak a bit of Italian! Her pressure and twists were so accurate and easeful that we wished the massage had lasted longer. Mrs. Amornrat is a warm-hearted woman who works very precisely; the whole time we felt she knew exactly what she was doing. Moreover, she put us into positions we could never imagine our bodies could twist. This treatment simply made our stay in Ban Sabai genuinely memorable.
Yoga
Another thing we were happy to do at Ban Sabai was yoga practice. Ivana took Vinyasa Flow lessons in the morning and afternoon in the pavilion. Even though she had been practicing some yoga before, the lessons were a bit challenging, full of stretching and balance positions that are always good to improve.
The pavilion was next to the pond with the fountain, which only added to the peaceful atmosphere during the practice.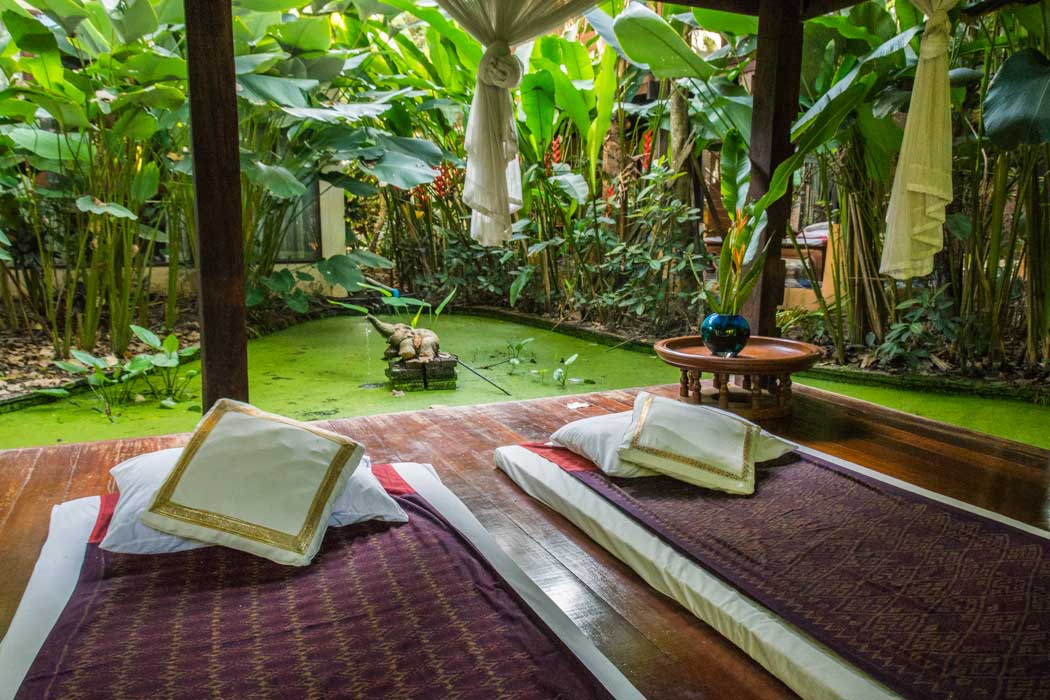 Gym
If you do not fancy yoga, massages, a steam bath or meditation, you can still use a small gym in the resort to have a traditional workout.
Food
The restaurant that is above the reception in the main building is built and decorated in Lanna style, with dark wood and massive, comfortable chairs.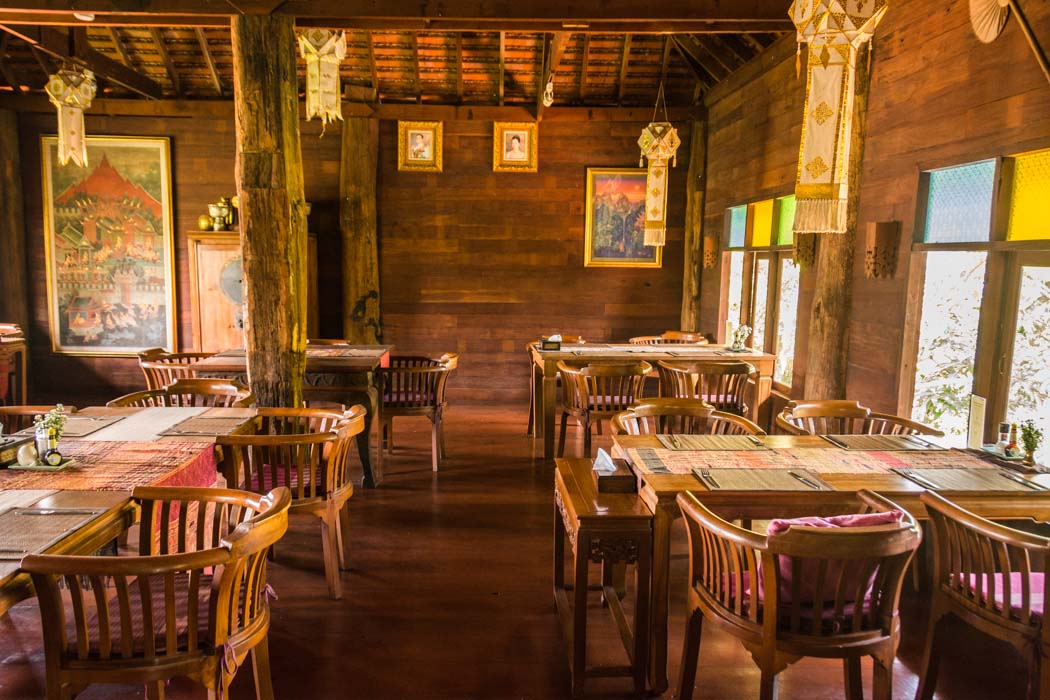 If you like to start your day in a healthy way, then breakfast in Ban Sabai will be perfect for you. The food there is always fresh, tasty and very nutritious. You can choose from a large variety of fresh juices, muesli, goat yoghurt, milk, jams, toasts and fruits, as well as whole wheat pancakes with honey and scrambled or boiled eggs, too.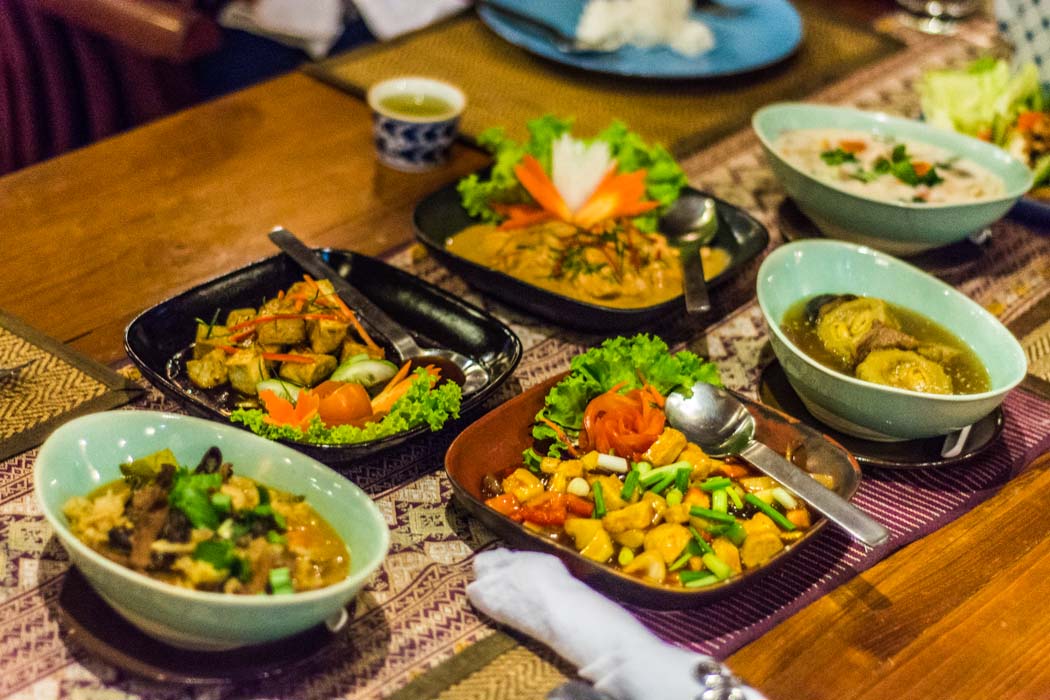 Since Ban Sabai is in a rather remote part, away from the neighbouring village and town, you might prefer to stay for lunch or dinner in the resort. The dishes are prepared very mindfully, without any additional sugar, spices or oil. We tried panang tofu, papaya salad, fried tofu with tamarind sauce and vegetarian soup (honestly one of the best dishes that we tasted in Thailand).
The other option to have a late lunch or dinner is to take a bike that the resort provides and to ride for about 15 minutes to the village where you find a food market with freshly prepared local meals.
Apart from comfortable accommodation, Ban Sabai offers also detox, yoga and rejuvenation packages that last from 4 to 12 days.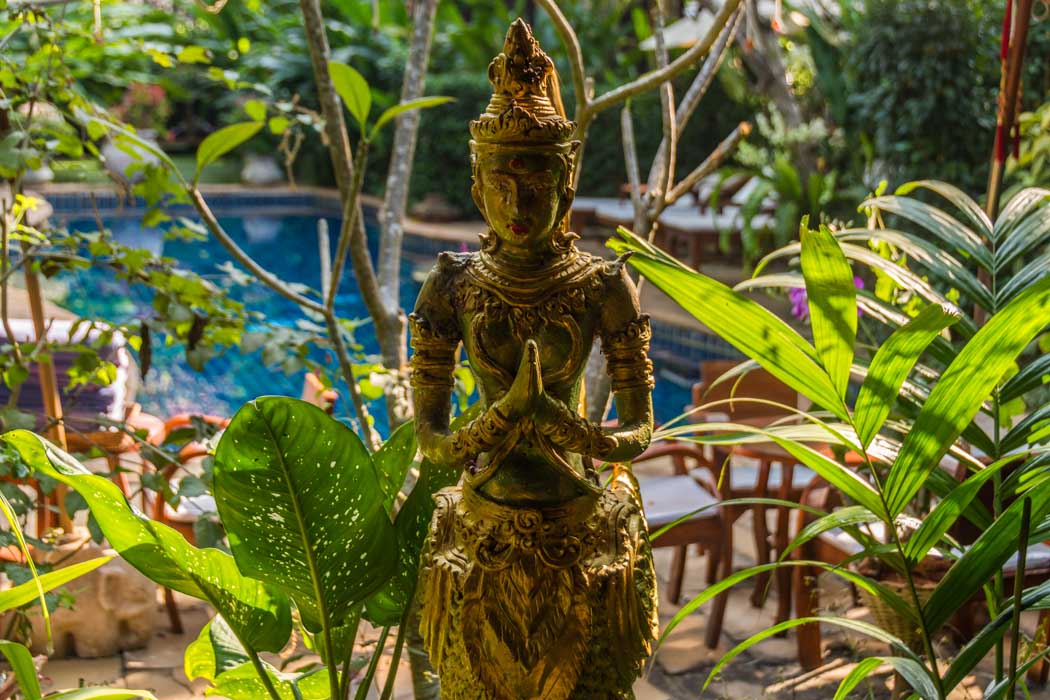 If you are looking for a restful place to stay near Chiang Mai, we can assure you that the meaning of Ban Sabai absolutely matches with what you would find there: it is the house of calm and peace.
Note: A big thank you goes to Ban Sabai Village Resort and Spa for their professional care and hospitality. All opinions and experiences mentioned above are our own.