In in this post you can read about the best Thai massage in Chiang Mai, where the massage is definitely something that everyone's pocket can afford.
What is a Thai massage?
It is a rhythmic, energising, flowing and a pleasurably "painful" therapy, where, together with acupressure and reflexology techniques, the parts of your body are stretched, compressed, cracked, arched, twisted and loosened by a therapist.
In the west, Thai massage is known mostly as an exotic way to relax or experience something different, but moving east, Thai massage is considered to be a spiritual practice, since it involves some of the major Buddhist principles like the mindful breathing of the client and the kind compassion of the therapist.
Why is the Thai massage so good?
The simple answer: the masseuse helps your body to be more flexible by massaging the part that hurts you in a special manner that actually makes you feel better.
If you are more curious about alternative medicine, then imagine 10 channels, or energy lines called sen, through which the energy lom runs (or is blocked). The terms are equivalent to the meridians and the qi/chi life-energy of Chinese medicine.
In Thai massage, the therapist presses the right points on the sen lines, massages and stretches the muscles in an appropriate way, puts your body into yoga-like positions and thus helps the lom energy to flow through sen lines. The good news: you do not need to be a yogi to go for Thai massage at all.
Heading to Asia? Read more related articles:
A bit of history of Thai massage
The beginning of the Thai massage tradition dates back to 2500 years ago. Now, if you consider that the Indian Ayurveda and Chinese medicine are 5000 and 3500-year-old systems, naturally Thai massage took a lot from both of them.
The technique of the massage was developed by an uncountable number of practitioners, healers and doctors, but still, the big credit goes to the Indian Ayurvedic doctor Shivago Komarpaj or Father Doctor, as they call him in Thailand. He was a friend and a physician of Buddha, and he practiced the massage at Thai Sangha (a monastic community) to relieve the pain for monks after long hours of Vipassana meditation.
Apart from the soothing the physical pain, they used the massage within the community as a healing treatment for many diseases. At the beginning, the monks who appreciated the technique of Shivago transmitted his knowledge orally.
Later on, his medical texts were written on palm leaves, later to be destroyed by the Burmese invasion of Ayutthaya in the 18th century. Luckily, King Rama III preserved the remained fragments on the stone, so nowadays you can find 60 etched depictions of the human body with its sen lines and the therapeutic points at Wat Pho in Bangkok.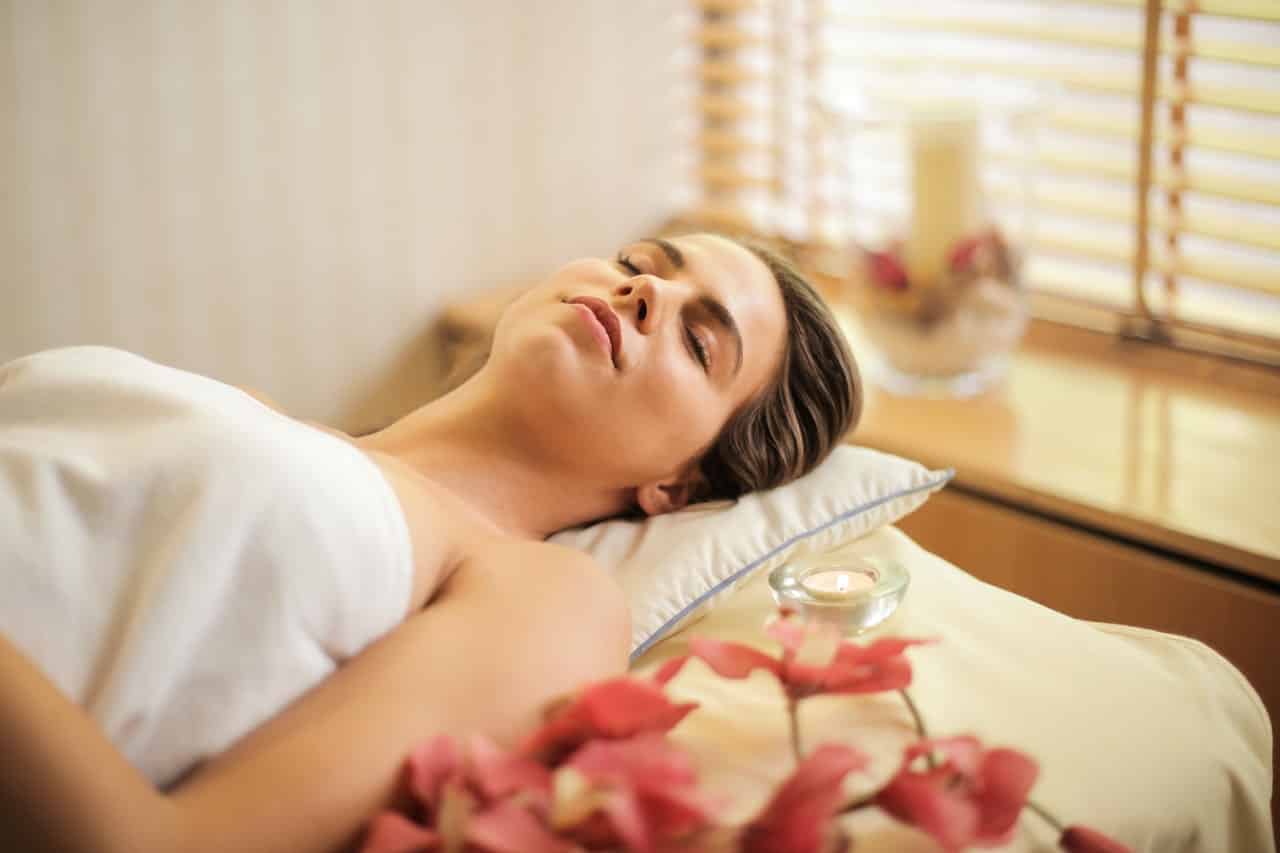 Join one of the tours in Chiang Mai:
Best Massage in Chiang Mai
These are the places for the best massage in Chiang Mai we tried personally and we highly recommend each of them!
Fah Lanna Spa
Address: 57,57/1 Wiang Kaew Road, near corner of Jabhan Road, Sripoom, Ampur Muang, Chiang Mai 50200
Email: [email protected], [email protected]
Phone: +66 53 416191 or 088 804 9984
Open hours: 
10 am – 10 pm
Oasis Spa, Lanna Experience
Address: 4 Samlan Road, Prasing, Muang, Chiang Mai
Email: [email protected]
Phone: +66 5392 0111
Open hours: 10 am – 10 pm
Zabai Thai Spa & Massage
Address: Thapae Rd Lane 1, Mueang Chiang Mai District, Chiang Mai 50100
Email: [email protected]
Phone: +66 86 921 9149
Open hours: 10 am – 10 pm
Note: Check out their absolutely fabulous newly opened Zira Spa in the town!
Ping Nakara: Ayurvedic Spa
Address: 135/9 Charoenprathet Road, T. Changklan, A. Muang,Chiang Mai 50100
Email: [email protected]
Phone: +66 53-252101, +66 5325 2999
Open hours: 10 am – 10 pm
Ban Sabai Village Resort & Spa
Address: 219 Moo 9, San Pee Sua, Chiang Mai 50300
Email: [email protected]
Phone: +66 53 854 778 – 9
Mobile: 082-762 8310 | 082-762 8311 | 081-5377 154 | 077-4275 45
Planning your trip to Thailand? Grab our Thailand Travel Guide with you!
What happens when you have a Thai massage?
Before
They'll usually ask you about your health history. Be precise and honest, for your own sake.
Wear loose pants and a top, preferably from natural materials. Some of the Chiang Mai spas and massage parlours provide their own outfits. In most cases you lie down on a futon mat placed on the floor or on the special massage table. In all massage facilities they should ask you which level of pressure you prefer: soft, medium or hard.
And of course, they should respect your wishes. Degree of pressure is always subjective and the therapists in most cases ask you after a couple of minutes if the pressure is okay for you. Again, be honest, for your own comfort's sake.
Usually you start your visit with a cool tea as a refreshment. At the Fah Lanna Spa they welcomed us in an elegant and serene open hall, where we enjoyed a beautiful view into the garden with small ponds and relaxing music in the background.
They also gave us more detailed information about the treatments we chose. Similarly to this, at the Oasis Spa we could drink our tea and relax on the bench in their well-maintained garden before we entered the massage room.
During
The masseuse that takes care of you uses her fingers, thumbs, palms, elbows, forearms, knees and feet to give you a proper treatment. They will move you into yoga asanas subtly, following your breath. That's why it is important to breathe naturally, without stopping or speeding up your breath.
The massage begins with warming up your feet, mostly in a warm bath. Even if you go for a back or whole body massage, to start from your feet is essential, as according to the eastern medicine, all the important points linked to your body are placed there. By warming up your feet, the masseuse wakes up your body before the massage.
Each spa and shop is different and uses its own method and ingredients for the footbaths. At the Zabai Thai Spa and Massage, they use spring water from Mae Onn in their products and put kaffir lime, pandan leaves, rose petals and use a natural salt scrub for a foot bath. They serve you a cup of tea to relax and you can choose your favourite fragrance for your treatment that follows.
We also experienced another kind of warm-up, at the Oasis Spa, where they put a warm wet towel on our feet while we were already lying on the table, a perfect way to start the massage.
Then, following your request for the level of pressure, the Thai massage starts with your back or feet. The first touches, movements and pressures of the therapist might be gentle, but are very precise and rigorous in terms of acupressure technique.
After the masseuse presses the points from different angles, with different strength and she sees your muscles are soft enough, she will start to stretch them and adjust them into the yoga-like positions while sitting or standing above you, always assisting you and following your breath.
Your arms, legs, upper torso and legs are slowly moved into the positions that help to massage your muscles, unblock possibly stuck energy, and relieve the ailment you have been suffering from.
After the therapist finishes working on your backside, you lie on your back and your front part is massaged the same way. In most cases, after massaging your body, the masseuse will give you a short head, neck and shoulders massage.
The therapy finishes in a sitting position, where the therapist leans on your back, stretches your arms or twists your body for the final position.
We tried one hour of traditional Thai massage at the Fah Lanna Spa, where the masseuse worked on the muscles with appropriate pressure and smooth movements. The final head, neck and shoulders massage was amazingly delightful.
Be ready that in some cases the masseuse might walk on your back. No oil is applied in the traditional Thai massage.
Usually the therapy takes one hour, but in our experience, it is definitely worth it to go for a 90-minute treatment, as you can gain really much more from it.
Get inspired by more travel articles:
After
Again, all depends on the masseuse. Usually they finish the treatment and let you rest for a few minutes in the room, where you change your clothes and are offered a warm cup of tea or small snack. We had a good experience at the Zabai Thai Spa, when the therapist suggested an exercise suitable for us. Also, they informed us about possible contraindications such as a cold or feverish feeling.
At the Fah Lanna Spa they served us some sweet rice snacks and a cup of homemade hot tea that was a brilliant way to relax after the therapies.
At the Oasis Spa they offered us tea, too, and we took a chance to enjoy their calm and green garden after our treatments.
It is always good to take it all easy and not rush home once you finish the massage, so your body can come back into the active life slowly and in a safe way.
Because the Thai massage has also detoxifying effect, you should drink a lot of water to help your body to flush out the toxins released during the massage.
Unfortunately, none of the therapists in the spas we visited mentioned this, but nevertheless they were all trained professionals and the massages were performed excellently.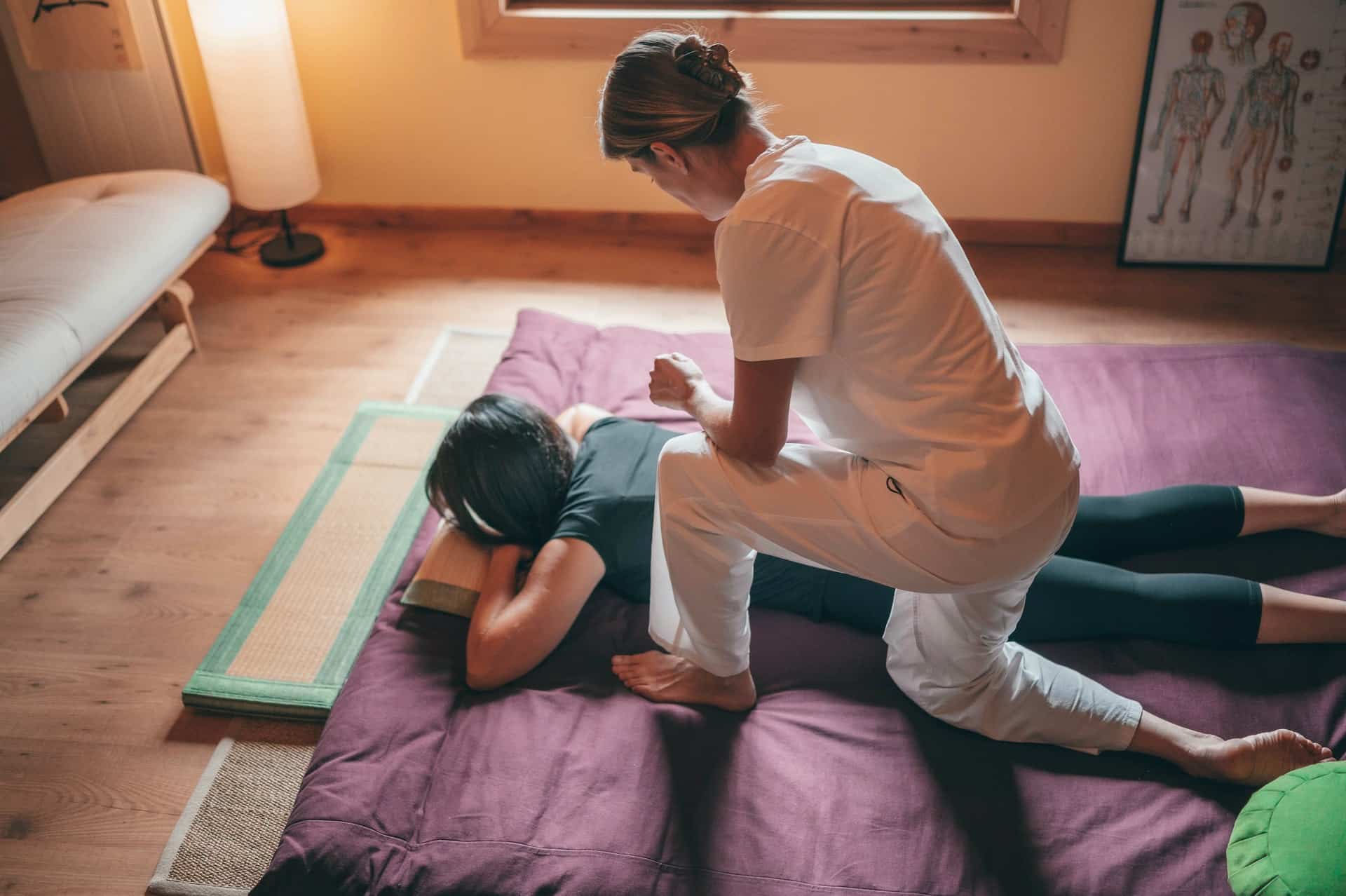 What are the benefits of Thai massage?
If you have been suffering from a chronic pain or you just feel worn-out, give a chance to this alternative way to cure your ailment.
Thai massage helps to:
* relieve the muscles pain
* improve blood circulation
* relieve insomnia, migraine and chronic fatigue
* cope with PMS
* strengthen your immune system
* detoxify your body
* relieve diabetes and digestive disorders
* reduce stress and anxiety
* improve flexibility of your body
* restore energy
* relieve asthma symptoms
* improve your breathing and concentration
* slow aging
When is Thai massage bad for you?
You should not have a Thai massage when you are pregnant, after chemotherapy, surgery, if you have any serious skin disease or unhealed wounds. Is also not recommended for those who have heart problems, cancer, artificial joints or those who suffer from osteoporosis.
Thai herbal compress ball massage
If the Thai massage is too much for you, then you might enjoy the combination of the Thai herbal compress therapy. A ball made of cotton and filled with different herbs (the most common of which are lemon grass, kaffir lime, ginger, galangal, eucalyptus, tamarind, and cloves) is used.
This combination of herbs is often customised according to the ailment you wish to treat or whether you choose the massage only for a relaxing reason. The ball is steamed in a bamboo steamer or rice cooker for about 10-15 minutes before applying it on the skin.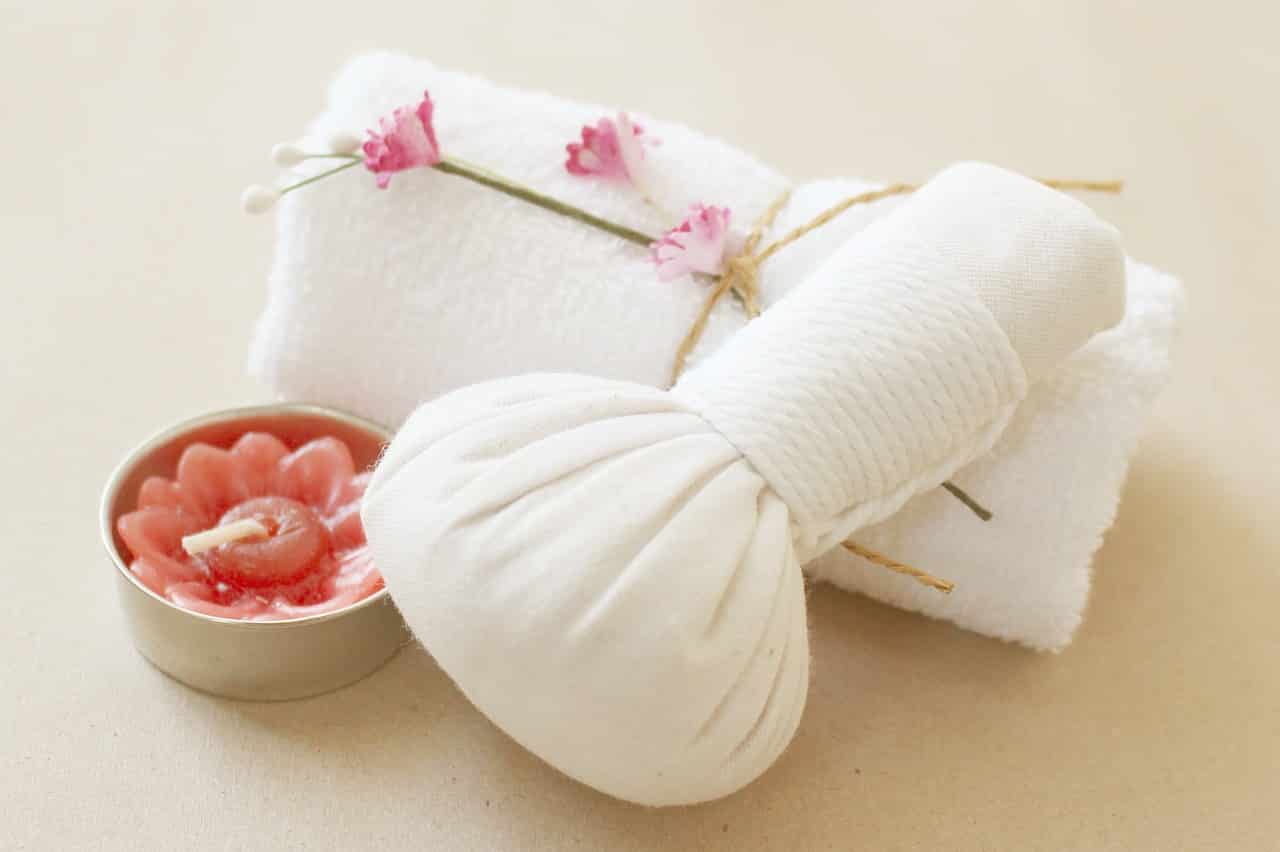 The therapist uses usually one ball, while the other one is in the steamer ready to be used after the first ball cools down during the massage. A masseuse rolls the ball on your skin with slightly pressing it with her palm on the spots where you feel the pain, or she follows the same sen lines as when performing a Thai massage. Steaming the balls helps to release the medicinal properties of the herbs and is an absolutely amazing form of aromatherapy.
We tried the combination of the Thai massage and the herbal ball at the Oasis Spa, where the masseuse checked the temperature of the ball carefully before applying it with the right pressure on the skin. She also worked with her hands and elbows to adjust us into the right yoga-like position, gently but accurately at the same time.
All the herbs used in the ball were organic, grown in the local village San Kamphaeng, attentively mixed by the therapists at the spa.
Originally, the herbal compress technique was used to heal the inflammation and pain of the soldiers in the past. Nowadays it is also used for more relaxing and energising purposes.
It is effective with curing asthma, bronchitis or chronic headaches, backaches and anxiety. No oil is applied in this technique.
Hot aromatherapy oil massage
The other way that you can take the herbal compress ball treatment is to combine it with hot aroma oil. So instead of Thai massage, the masseuse applies hot oil and the steamed herbal ball.
At Zabai Thai, where we could choose the type of oil, we went for coconut and rachawadee flower oils, the perfect combination with Thai herbs in the hot ball. Between the hot oil and the hot ball, some of the acupuncture techniques were used, which helped us to loosen up tough backs and necks.
The whole procedure is relaxing, but do not mistake it for a sensual massage.
Tok Sen
Tok Sen is an ancient technique using a tok (hammer) to tap rhythmically on a wooden stick along the sen (energy lines).
The therapist follows the same trigger points as in Thai massage, and by tapping the tok s/he can say which sen line is blocked as it makes a different sound from the "healthy" sound. S/he can focus on those blocked parts later, while massaging you with her hands.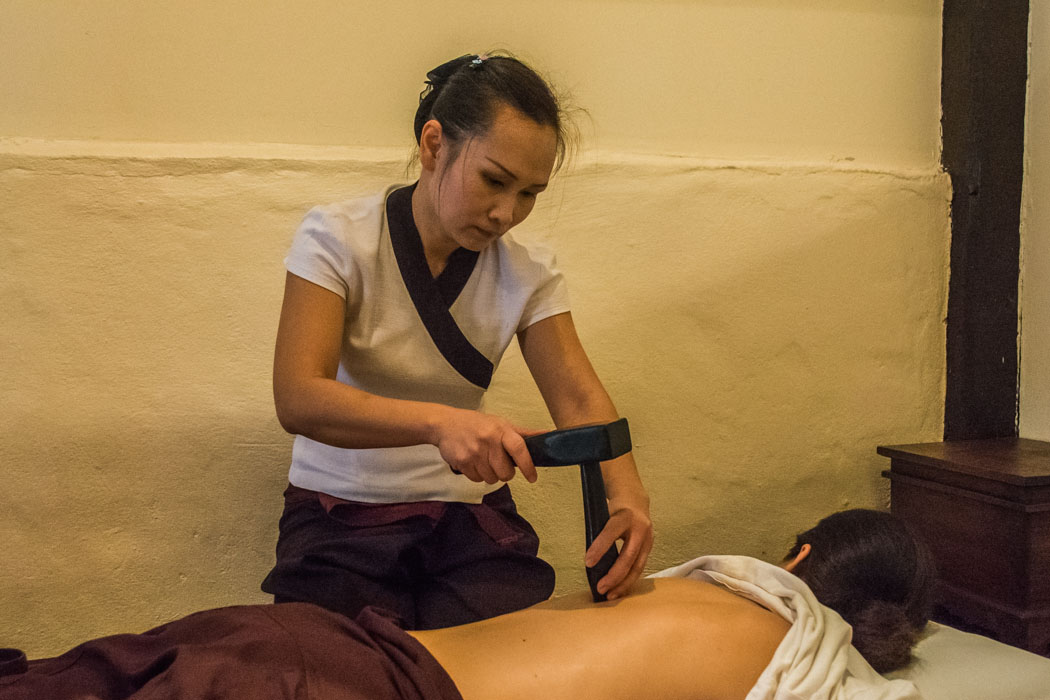 Both wooden parts of the set are made from a tamarind tree. The combination of the sound of wooden instruments and their natural material make the experience unforgettable. As with all the Thai medicine treatments, you can choose the level of strength. We got a great chance to try Tok Sen at the Fah Lanna Spa. The ambience of this spa is truly relaxing. Small ponds with koi fish are surrounded by wood platforms and vegetation is all around.
The Tok Sen technique quickly became one of our favourites. The masseuse starts to tap the hammer on the left foot, while you are lying on your stomach, and slowly moves to the back of your knee. Then she works on the right side and finishes on the spine and neck.
Every time she finishes tapping the hammer on one part of the body, she massages it with her hands, a very pleasant combination. The therapy continues with a head and neck massage, then you sit and the therapist completes the massage by stretching your limbs.
Usually no oil is used during the procedure, but in some cases a tiger balm can be applied to refresh your skin. Tok Sen is used to relieve the pain in your muscles, to improve your body posture, all by unblocking the energy in the sen lines. One of the best massage in Chiang Mai.
A Body Scrub
A body scrub is a treatment done with different abrasive materials (sugar, salt, coffee grounds, etc.) mixed with cream, yoghurt, massage oil and aromatic oil. We tried one at Zabai Thai. It was prepared from yoghurt, salt and rachawadee flower fragrance and consistency was just perfect to smooth your body before a Thai massage.
We started the procedure facing down, then we turned over and after the mixture was applied and massaged over the body. We relaxed for 10-15 minutes and then rinsed it off. It's a sublime way to relax and get your muscles ready to be stretched in the Thai massage.
A Body Wrap
If you have a skin problem or you are sensitive to abrasive ingredients, you have the option to have a body wrap. We tried one also at Zabai Thai, with white yoghurt and coconut massage oil.
You are covered with the prepared mixture and are literally wrapped into a plastic foil and covered with a blanket. You relax for 15 minutes, lying on your back, after which you rinse off the mixture so the massage can start. Definitely something to try.
Does it all hurt?
Yes and no. As they say, "no pain, no gain" and in the case of Thai massage it counts double. If you can stand a bit of pressure, go for it. If you feel discomfort, try to combine it with more "muscle-friendly" treatments like the herbal compress ball or hot oil massage, or just ask your masseuse for very soft pressure. It should work well.
Hope you've found this post useful, and we make it easier for you to pick the best massage in Chiang Mai.
Pack & travel:
Note: A big thank you goes to Fah Lanna Spa, Oasis Spa and Zabai Thai Spa and Massage for their professional care and hospitality. All opinions and experiences mentioned above are our own.