Singapore's Changi Airport has taken the top spot in the list of the World's Best Airports several times, and for good reason. The aviation hub leverages forward-looking design, state-of-the-art technologies, and a people-centred approach to ensure the safety, comfort, and enjoyment of every traveller that goes through the facility.
But more than just aiming for the airport to exceptionally fulfil its role as one of the most important aviation hubs in Asia, the team behind Changi Airport strives to provide tourists and locals alike with an exemplary experience during their stay. This has enabled them to build the airport's reputation as one of the best in the world and as a bona fide tourist destination in itself.
Jewel Changi Airport is one of the newest and biggest additions to Changi. Much like the airport itself, the lifestyle hub where nature meets commerce offers consumers an experience like no other. If it's your first time at the Jewel Changi Airport, here's a sample plan that will help you make the most of your visit.
Before you visit the Jewel Changi Airport, please see this resource made by Traveloka for Updated Travel Entry Requirements in Singapore. Find the latest news, restrictions, quarantine protocols, and other important information for local and international tourists visiting Singapore.
Before Your Visit to Jewel Changi Airport
If you have a day or two that you can spend in leisure in Singapore, then going in blind is probably a great way to discover and be delighted by what Jewel Changi Airport has to offer. But if you're pressed for time and you want to maximize the discounts that you can use during your visit, then it's a good idea to peruse the lifestyle centre's upcoming events, activities, and promos.
Among the things to do in Changi are shopping and dining, and you can find discount vouchers on Jewel's website if you're in for some retail therapy or an unforgettable Changi Airport dining experience.
If you're flying in, then you won't have a hard time getting to the retail centre as it's directly connected to Terminals 1, 2, and 3. If you're already staying in Singapore, then you can use a taxi or take the train or a bus to get to your destination.
Take note that while Jewel is open 24 hours, the stores in the complex typically operate between 10 AM and 10 PM.
While at Jewel Changi Airport
A guided tour of Jewel is available if you want to get a good look at all the amenities and facilities that the retail hub has to offer. The tour lasts for about 1.5 hours, and each tour can accommodate 10 to 20 people at 45 SGD per person. If you're travelling with kids aged 7 to 12, they can join a similar program that will take them through 6 different learning stations in the complex.
However, it's always an option to explore Jewel on your own. A good place to start is at the heart of the hub: the HSBC Rain Vortex, the tallest indoor waterfall in the world. By day, the waterfall catches and reflects sunlight; by night, it projects lights and sounds. Surrounding this mesmerising view is a terrace garden called Shiseido Forest Valley, and it features lush greenery, nature-inspired trails, resting spots, a cacophony of sounds, and playful lights.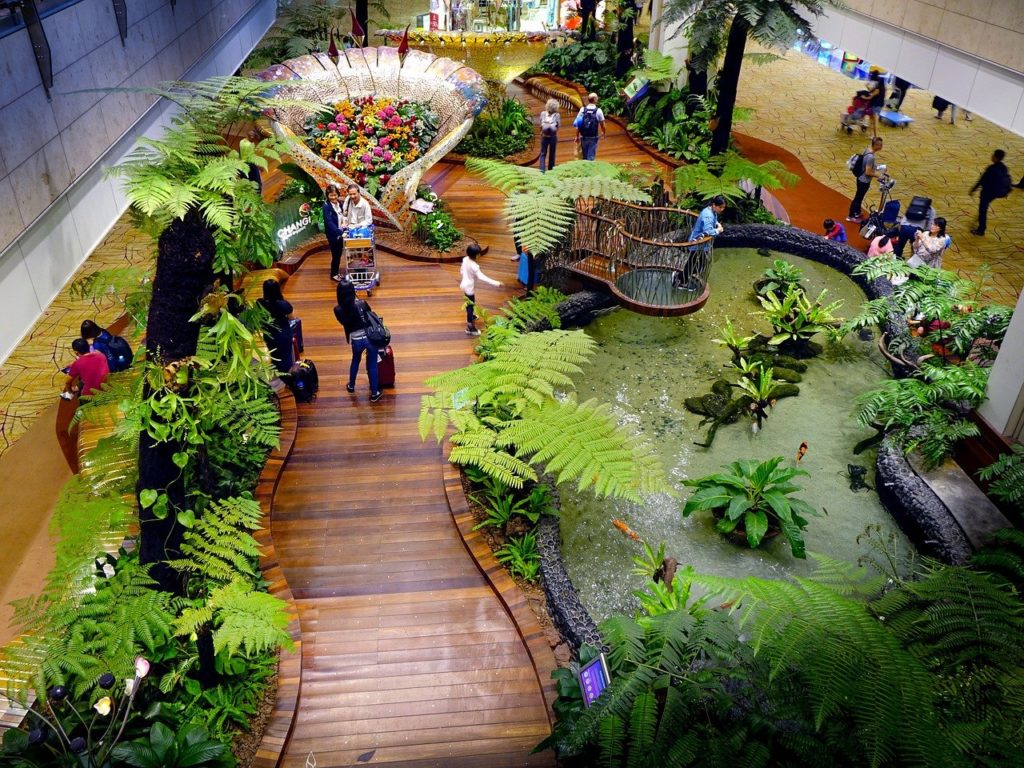 At the topmost level of Jewel is the Canopy Park, a section that offers plenty of new experiences to people of all ages and an attraction that many locals come back to now and again. The park's facilities include a canopy bridge and large bowls that can accommodate 4 people and release mist, giving you a taste of what it's like to play in the clouds.
In addition, you can check out the Manulife Sky Nets, where you can walk or bounce above the treeline; the Discovery Slides, which is a set of slides that will take you through the waterfall and the surrounding forest; and the Hedge Maze and the Mirror Maze, which will challenge your sense of direction. Make sure to wear comfy shoes if you're planning to spend a good portion of the day checking out these attractions.
More travel inspiration:
If you're more comfortable interacting with technology, then you should drop by the Changi Experience Studio. Covering an area of over 3,000 square meters, the studio has 20 interactive touchpoints and 10 content zones that will give you a glimpse of how the aviation complex was developed and the processes that are responsible for the smooth operation of Changi Airport.
At times, the studio also offers overnight programs, day camps, and workshops where entire families can enjoy fun and interactive activities that are based on how an airport operates.
Should you need retail therapy or if you want to check out the restaurants in the complex, you can easily do so outside the activity areas. Don't forget to use the vouchers you obtained from the website to enjoy discounts. Should you get lost, there are also concierge services that can point you to the right facilities near your location. There are plenty of things to do while you're in Jewel, so you need to be strategic about the activities that you want to include in your itinerary. No matter which of these facilities you choose, though, you can be sure that you'll have a great time at Jewel Changi Airport.