There are so many things to do in Penang but here is my list to get you started on your island tour. I've been living here for four years and know the island's ins and outs; this list of highlights will make you want to stay just a little longer than planned.
When most people travel to Southeast Asia, they go to Thailand, Bali, maybe Vietnam or Cambodia. Each country is impressive in its own right. Few make the quick journey to Malaysia and if they do it's to the capital, Kuala Lumpur, for a few days and then off to Borneo for orangutans, scuba diving, and hiking.
Fewer still make it to the island of Penang but those that do, know what everyone else is missing and just how incredible it is.
Some places in Penang are part of the touristy areas while others you just stumble upon. In 2008, an area of George Town, the capital, became a UNESCO heritage zone meaning the architecture and cultural landscape must remain as it was in the olden days. Wandering around town is like stepping back in history. So, get lost, meander down the narrow streets, talk to the locals, and you'll be treated to a feast for the senses.
Things to do in Penang, Malaysia
Like it? Pin it!

For the culture craver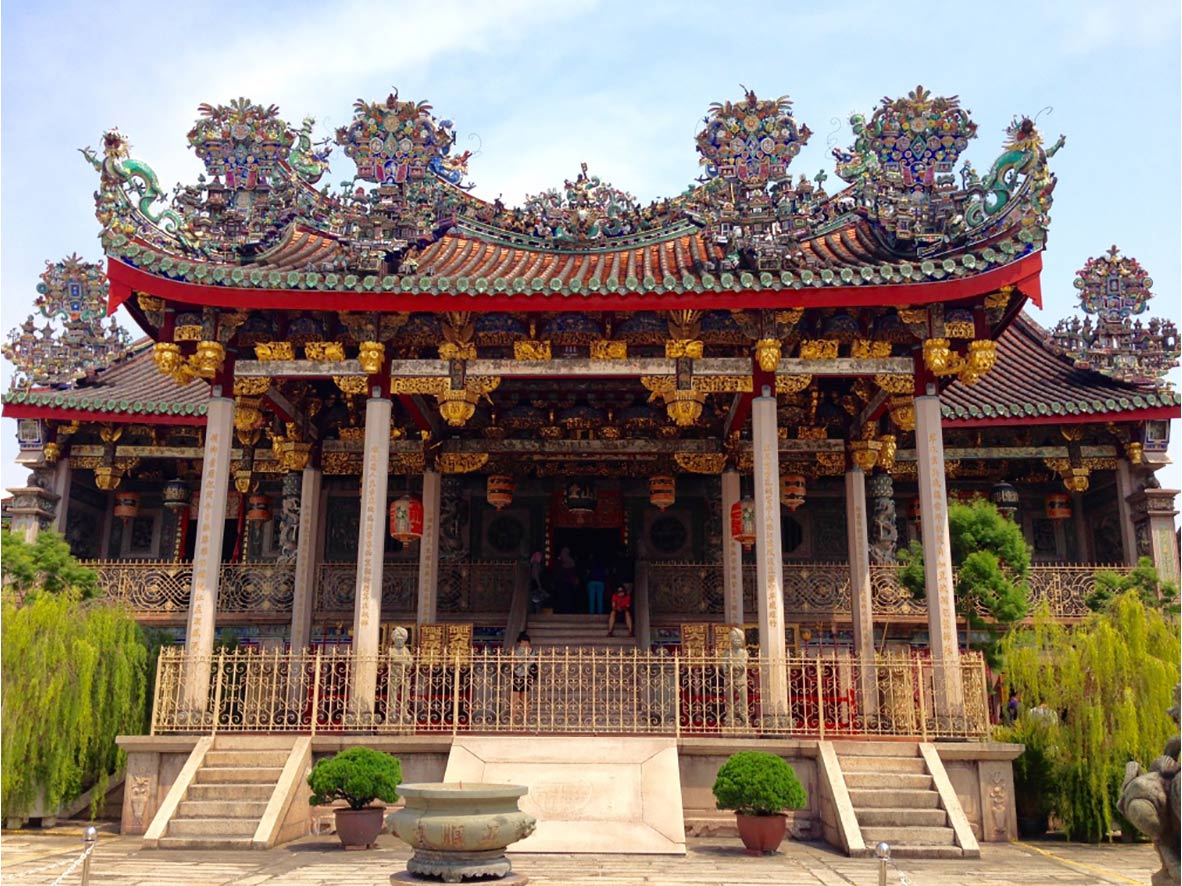 Temple touring
What many people don't realize about Malaysia is that it is made up of three major ethnic groups; Malays, Chinese and Indians. It's this blend that makes Penang such a visually stunning and culturally vibrant place to visit.
There are Buddhist and Hindu temples, mosques, and various denominations of Christian churches scattered throughout the island and you can go inside all of them as long as you are appropriately dressed. If you walk down the "street of harmony" (Jalan Masjid Kapitan Keling), you'll see each of these within a 10-minute walk. Few other places in the world can boast this kind of diversity.
A Penang famous place to visit is Kek Lok Si, one of the largest Buddhist temples in Southeast Asia. Construction of the first building started in the late 19th century, and it is still being added to today.
It isn't just a massive temple complex it's also a center for Chinese culture and Buddhist teaching. It is said to have more than a million images of Buddha throughout the complex alongside hundreds of carvings, sculptures, and murals adorning the rest of the halls.
Step inside a Chinese clanhouse
One of my very favorite Penang attractions is the Khoo Kongsi, a Chinese clanhouse dating back to the mid 19th century. Historically a clanhouse is a place where anyone within the same clan or having the same last name, could come, be employed and live.
As the clanhouse was built, hundreds of Chinese men with the last name Khoo, came to start a new life. As more arrived, they created a mini-enclave with shophouses, a theater, and a temple, all within the confines of George Town. A visit here is a must; it's a top attraction in Penang and one that shouldn't be missed.
Follow your senses through Little India
One of the coolest places to go in Penang is Little India. With its blaring Bollywood music and sandalwood incense wafting out of the shops, it transports you to another place and time.
Wander through the maze of streets, taste a traditional pakora from a street-side stand, buy bulk spices from the colorful triangular mounds the shop owners create each day and have a saree made.
Traveling to Asia? Get inspired by more articles!
For the gourmand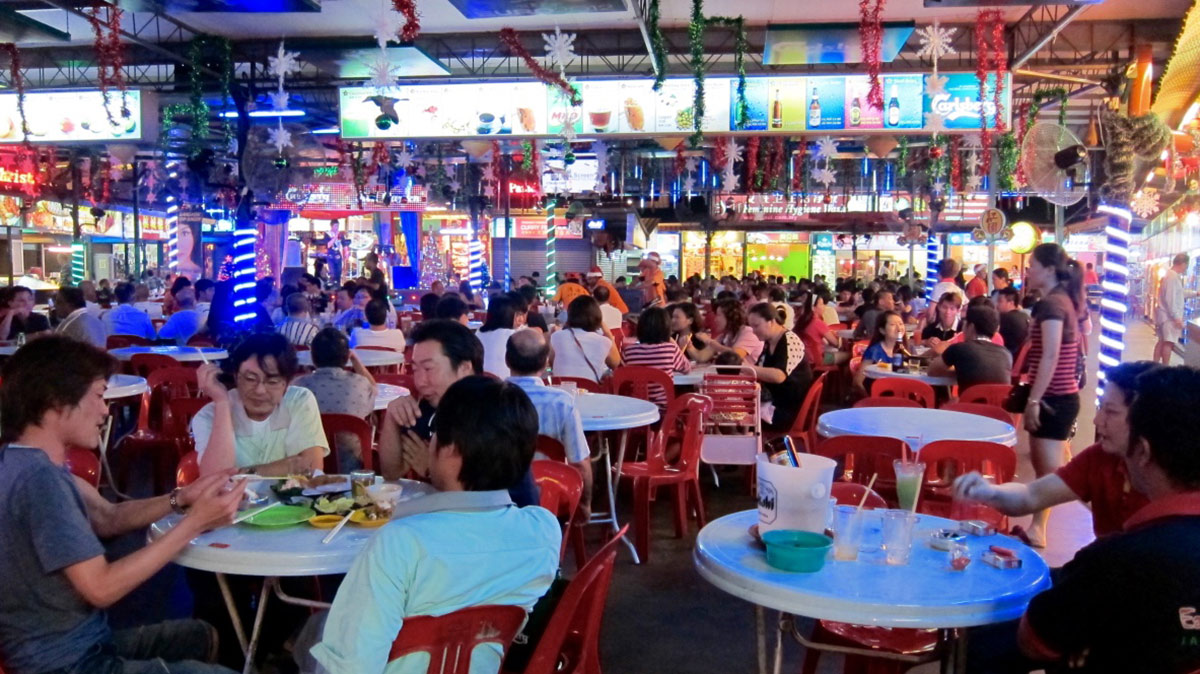 Feed your face
One of the best places to visit in Penang for the food lover is the hawker stall – it's foodie heaven. Imagine a massive open-air food court, but not the crappy kind of food court you find in an American mall with fast greasy food; the Malaysian food court is entirely different.
Each stall only has a few different choices; they focus on one thing, and they do it well. Most of the time the recipes have been handed down through the generations, so it's local food at its finest and cheapest.
It's not just a Penang tourist spot, it's where the locals eat, and its where you should eat too. Since there are more than fifty stalls to choose from it is easy to get overwhelmed.
I suggest walking around to see what the locals are eating, if it looks tasty, ask them what it is, and you will end up having a major convo about the local fare and might just end up joining their table for dinner. And since nothing costs more than a few bucks, it's easy to try a lot of dishes.
Food is everything here, and when you visit Penang you must eat a lot, about five times a day, like the locals. It is so important that one of the local greetings is "Sudah makan?" which basically translates to "have you eaten?"
It is usually asked just after "how are you?" but even more important. So, go ahead, ask a local what to eat, you might just end up on a food tour.
Hawker stalls are all over the city, but my faves are Red Garden, Northam Beach, and Weld Quay. Each has over fifty stalls selling different dishes, and it is seriously one of my favorite things to do in Penang. When people ask me what to do in Penang, my first answer is "eat!"
You can't even get in a cab without talking about food, it's a significant part of the culture and to not eat the local fare is like going to Rome as asking for a cheeseburger, it simply isn't done.
These hawker stalls also have nightly entertainment which allows you to peek inside the culture even more. Some bands are cheesy, dressed in matching sequin vests and cowboy hats, some are ladyboys, and there is even an Elvis impersonator. If you're lucky, you'll get to witness local Chinese couples, dressed to the nines, ballroom dancing to John Denver tunes. Entertaining, yes. Surreal, absolutely.
Not sure what to eat? Try Penang's famous char kway teow (a traditional rice noodle dish), spicy tamarind grilled stingray, rotisserie chicken wings, and xiao long bao (dumplings filled with hot soup). Your stomach will thank me.
For the shopaholic
Blow your budget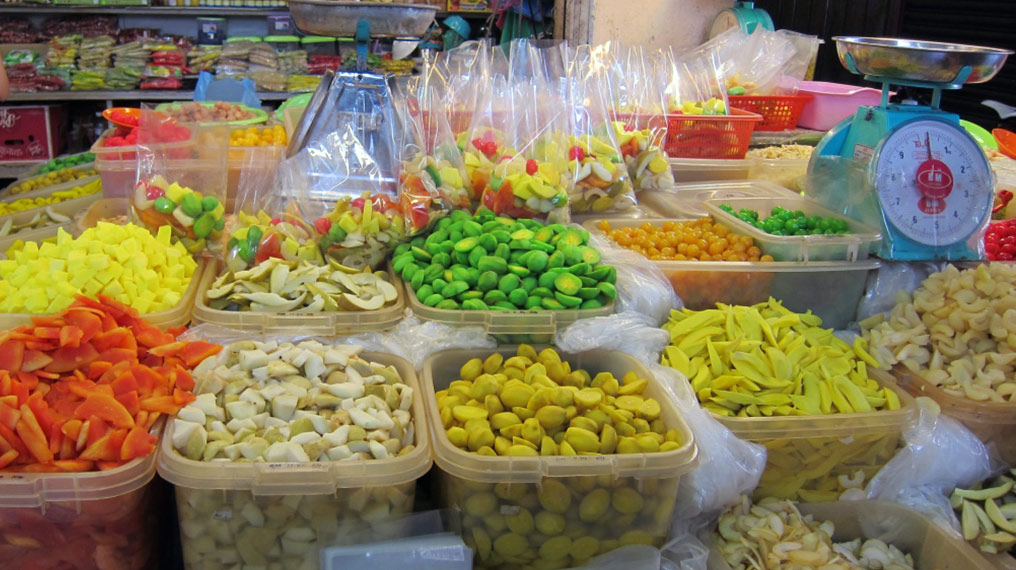 Most people don't think of shopping malls as places of interest in Penang, but if you think about it as a window into the culture, you might disagree. It's where you'll see Muslim school girls dressed in their hijabs with their Chinese friends in short shorts shopping at a Korean beauty store. It's where four generations of family sit down for meals.
Chowrasta picked fruits.Malaysians love a good mall, and there are plenty to choose from on this island. Penang is a place where you could spend tens of thousands of dollars in a high-end mall and then go out and buy a fake Rolex or slurp down a plate of silky noodles for a buck. It's an island that has everything for everyone including the avid shopper.
If you're a name brand fanatic, then Gurney Plaza and Gurney Paragon are where to go in Penang. With stores like Kate Spade, Coach, Michael Kors, Mac, Sephora, and Montblanc it's easy to spend. There are also floors of small boutiques, housewares, shoes, electronics, and food. They are both lifestyle malls so you can find everything from a grocery store or key maker to spas and medi-centers for Botox.
There are a few incredibly talented local artists that have their own shops in George Town. My first stop with guests is always Jonathan Yun, a jeweler that makes very cool sculptural jewelry, much of it inspired by nature and coral.
Right next door is Shop Howard, a local photographer that captures the enchanting scenery of Penang-great souvenirs and gifts. And lastly, Fuan Wong's glass studio where you'll find bowls and sculptures in every size and shape.
If you aren't a mall goer, then the local markets might be more your speed. In George Town, Chowrasta is the biggest morning market (6-11am.) and where locals and expats go to buy the freshest produce, fish, chicken, and pork. For a local treat, try some of the brightly and unnaturally colored pickled fruit, Malaysians love it, I, however, do not.
Before shopping many take their breakfast there so find a stall that looks good and get yourself some Hokkien mee, a rich prawn based noodle soup or roti canai, a homemade grilled flatbread dipped in mouth-watering curry.
Unlike most markets on the island, there are also shoe shops and second-hand books stores. By no means is this a shopper's paradise but it is a look into the lifestyle and a great way to learn about local food.
The Batu Ferringhi night market starts at 7 pm and goes until about 11 depending on the night. It is where you can find those fake Rolexes, pirated DVDs, fairy lights and tons of t-shirts. It's mostly souvenirs for tourists, but in the last four years some locally made lanterns and paintings have popped up. It's worth a look if you're in the area and need stuff to take home.
Whether you're a budget shopper or happy to splurge, Penang shopping doesn't disappoint!
For the beachgoer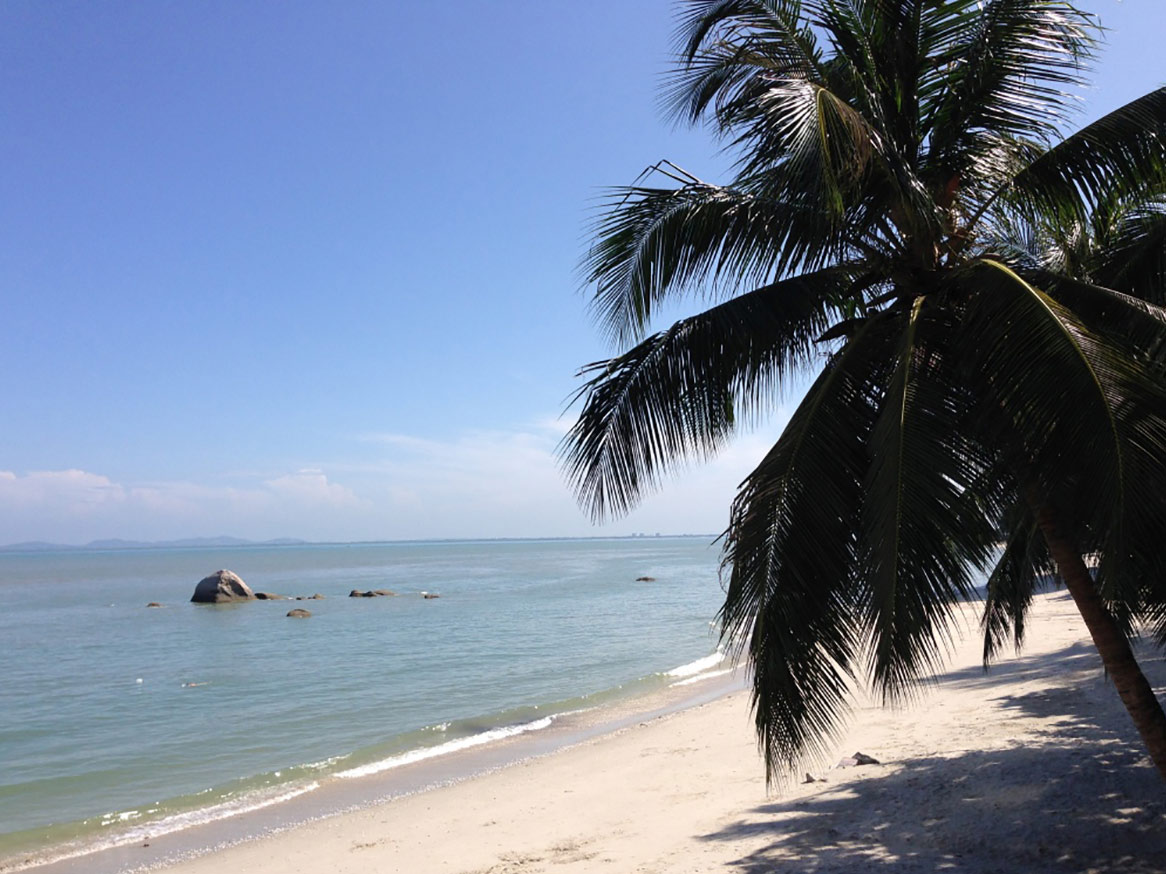 Sand and sundowners
Most beaches in Penang are secluded and empty. You might find a few locals swimming or fishing from the shore, but generally, the Malaysians aren't big beachgoers. If you want a quiet beach to yourself then hire a scooter and ride the main route around the island, it will take you two hours if you don't stop so plan at least a half a day. There are no private beaches so you can pull over anywhere and find a beach.
The best beach in Penang to get a drink and watch the sunset at is the Batu Ferringhi beach. My favorite spots are Bora Bora and Frandy's-both are low-key, feet in the sand kind of places. If you want a more upscale experience head over to the swanky Shangri-La's Rasa Sayang Hotel for a more luxurious spot.
The beaches aren't as clean as they used to be so if you are looking for crystal clear waters head over to Borneo, sadly Penang just isn't that place anymore.
For the art aficionado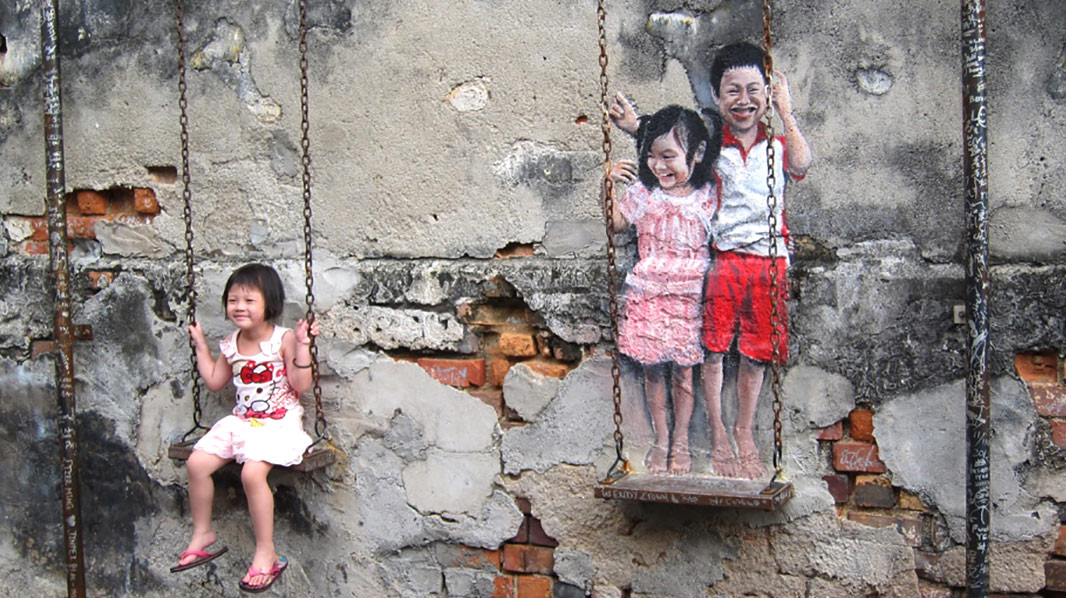 Art hunting
No Penang trip would be complete without a street art tour of the painted murals and welded iron wall caricatures and scenes. Many of the murals have been painted by Lithuanian artist Ernest Zacharevic. In 2012, he was commissioned to breathe new life into the old shophouses and crumbling walls around George Town. He incorporates objects like bicycles and motorcycles into the scene making some of the murals interactive.
The welded iron sculptures depict stories of days' past and they too are scattered throughout George Town. Stumble upon one, and you'll read the history of that area with a scene explaining it. One shows a hand-pulled rickshaw, the most common form of transportation in the olden days, making its way through a narrow alley.
Another shows a man firing a cannon during the Penang Riots in 1867, which explains why the street is called Cannon Street.
Hire a trishaw for an hour and they will take you on a Penang sightseeing tour to visit all the street art your heart desires. The street art is so popular that there are maps in the airport showing where to find each piece.
When you travel to Penang, be sure to plan at least three days. There are far more things to do in Penang then I've mentioned here, but it's a start. There's more than meets the eye here on this little island and even after four years, I'm still discovering new places and corners that I haven't seen before.