Planning your trip to SE Asia and looking for the best places to visit in Malaysia? Read on!
Malaysia was one the Southeast Asian countries I didn't know much about, but it turned to be one of my favorites. I fell in love with it the first time I visited, so I returned for a second trip and will go back to explore more of it. Malaysia is a multiculturally rich country with a mix of Malays, Chinese and Indian influences.
The country is divided into two main landmasses, West Malaysia and East Malaysia. West Malaysia is part of the peninsula bordering southern Thailand and northern Singapore. East Malaysia includes Sabah and Sarawak on the island of Borneo.
There are so many places to visit in Malaysia, including the bustling capital city of Kuala Lumpur (KL), the mountainous scenery of the Cameron Highlands, the idyllic beaches of the Perhentian Islands and the mouthwatering food stalls in Penang.
Malaysia is an amazing country that is sure to take your breath away. Its variety in cultures, cuisines, regions and activities is immense and beautiful!
I've compiled a list of some of the best places to visit in Malaysia to help you plan your trip.
If you are interested to know where to stay in Malaysia, we recommend some of the best hotels for different budgets.
When we travel, we book our hotels through TripAdvisor, one of the best websites to compare prices.
We also use a lot AirBnB to book local apartments. If you have never used AirBnB before, you can have a $40 discount for your first booking through this link.
Always make sure you travel with travel insurance! Be adventurous, but not careless.
Check out some of the most reliable insurance companies out there: True Traveller if you're European and World Nomads if you're from elsewhere.
If you love animals and you prefer going local during your travels, try housesitting, which is an amazing way to travel the world while taking care of the pets whose owners are on vacation. If you use TrustedHousesitters with this link you'll get $20 discount on annual membership.
Like it? Pin it!
Getting around Malaysia
People will either enter Malaysia via Kuala Lumpur, Thailand or Singapore. Getting around the country is relatively easy as it is mostly well-connected by flights, buses, trains and ferries. It also helps that many signs are in English, and the majority of the population speaks English.
Best time to visit Malaysia
Malaysia doesn't experience much seasonal variation aside from rainy season and dry season. It's hot and humid weather almost all year round, so it's recommended to pack comfortable and airy clothes to get around. However, be mindful that the most prominent religion in the country is Islam, and it's advisable to dress more conservatively in certain areas.
The east and west coasts experience different weather patterns. It's best to visit the east coast between March to October, and the west coast from October to March. Many of the islands will shut down during the rainy season, so definitely plan ahead if you would like to visit any of them.
Places to visit in Malaysia
Kuala Lumpur
Most people start off their Malaysian adventures in the capital city of Kuala Lumpur. It's a diverse and modern city with a great transportation system that can get you to any of the city's attractions. KL reminded me of the melting pot that is my home of New York City.
Kuala Lumpur is a sprawling city filled with many sights and things to do. As one gets around, one can marvel at mosques, Chinese and Hindu temples, the Petronas Towers, the Batu Caves and the many, many, many shopping centers in the city.
Getting around KL is easy via the metro, the monorail, the Go KL free buses and taxis. As a budget backpacker, I took advantage of the Go KL buses and walked to get to most places.
Batu Caves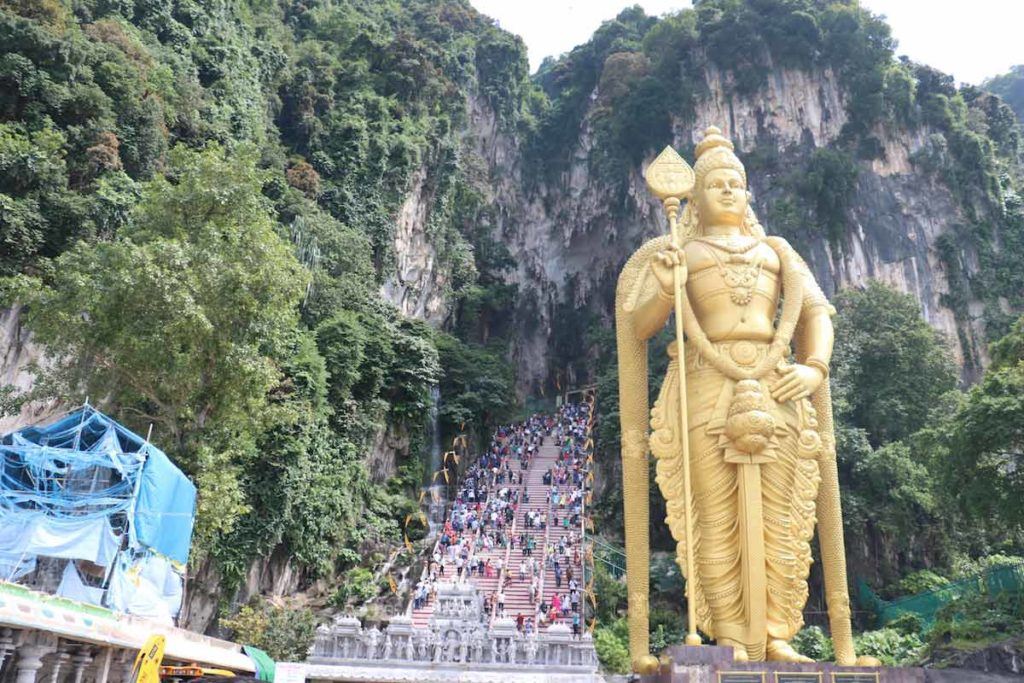 The Batu Caves represent Hindu shrines and a pilgrimage for Hindus. They are located just outside of KL and are easily accessible via public transportation. Entrance is free to enter the main temple, which is just at the top of the long staircase behind the massive statue of Lord Murugan.
The Dark Cave is about halfway up the staircase. Visitors can take a 45 minute tour for around 35 MYR and learn about limestone formations and the animals and plants that live in the cave. I love exploring caves and enjoyed learning more about them from my very knowledgeable guide.
Be cautious with the monkeys outside of the caves–they will take things away from you if you're not careful.
KLCC & The Petronas Towers
Hanging out in KLCC is one of the best things to do in Kuala Lumpur. I recommend going during the afternoon to give you time to admire and take photos of the Petronas Towers, stroll through KLCC Park, shop and/or eat inside Suria KLCC and admire the lights and sound show at Lake Symphony, located on the esplanade outside of Suria KLCC.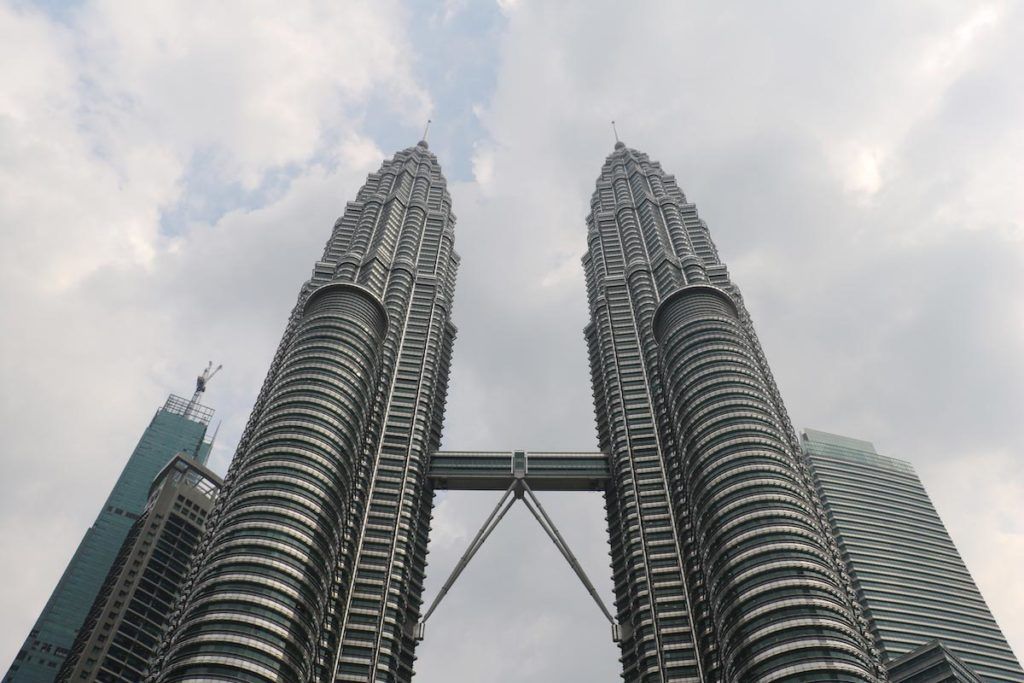 Get inspired by more articles:
Heli Lounge Bar
Instead of going up to the Petronas Towers observation deck, my friends and I opted to go up to the Heli Lounge Bar to get open-air panoramic views of the KL skyline. We wanted to enjoy amazing views of the city skyline (including the towers) while sipping on cocktails and beer (in an actual helipad!).
The Heli Lounge is located on the 34th floor of the Menara KH building. Once drinks are ordered at the bar, guests are given access to the outdoor lounge.
Shopping and eating on Jalan Alor and Petaling Street
The cuisine in Malaysia is as diverse as its people, and Southeast Asia as a whole is well-known for its incredible street markets.
You won't be disappointed with the ones in Malaysia, especially on Jalan Alor and Petaling Street (Chinatown) in KL. These two streets are lined with plenty of restaurants and shopping and food vendors.
Cameron Highlands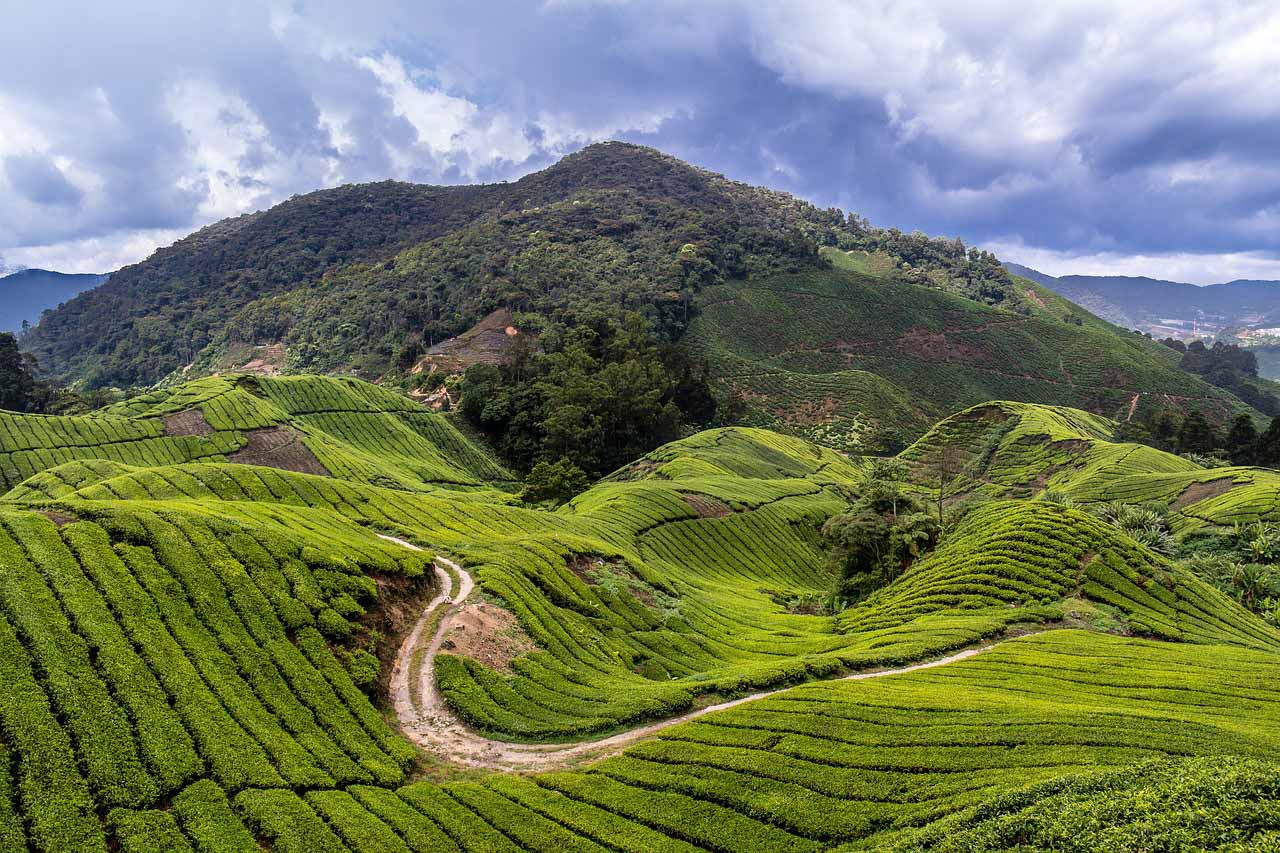 The hill stations of the Cameron Highlands are a cool escape from Kuala Lumpur. Visitors can plan trekking trips throughout the lush green hills, breathe in fresh mountain air, enjoy the scenery and stop by coffee and tea plantations and fruit farms.
Georgetown on Penang Island
Georgetown is a UNESCO World Heritage site on Penang island, located off West Malaysia's northwestern coast. Penang was once a major trading port because of its location. As a result, the island has a blend of Asian, European and Middle Eastern influences.
Penang is very easy to get to via bus or plane. I took a bus from Kuala Lumpur to Butterworth and then caught a ferry to cross over to Penang.
I spent more days in Penang than I had planned, and it was due to the relaxing and calm vibes in Georgetown and the amazing food there. Thirty minutes didn't pass before I stopped somewhere to try something different, like char koay teow, oyster omelette, asam laksa, wanton mee and curry mee. I enjoyed countless cendols from the famous Teochew Cendol and delicious baked goods at ChinaHouse.
Aside from eating, there are many other things to do in the town. The second best thing to do here is to grab a map and go in search of the famous street art by Ernest Zacharevic. Once you've gotten your pictures with the art, plan visits to Kek Lok Si Temple, Batu Ferringhi Beach and Penang National Park.
For more tips on things to do in Penang, please read Things To Do In Penang.
Langkawi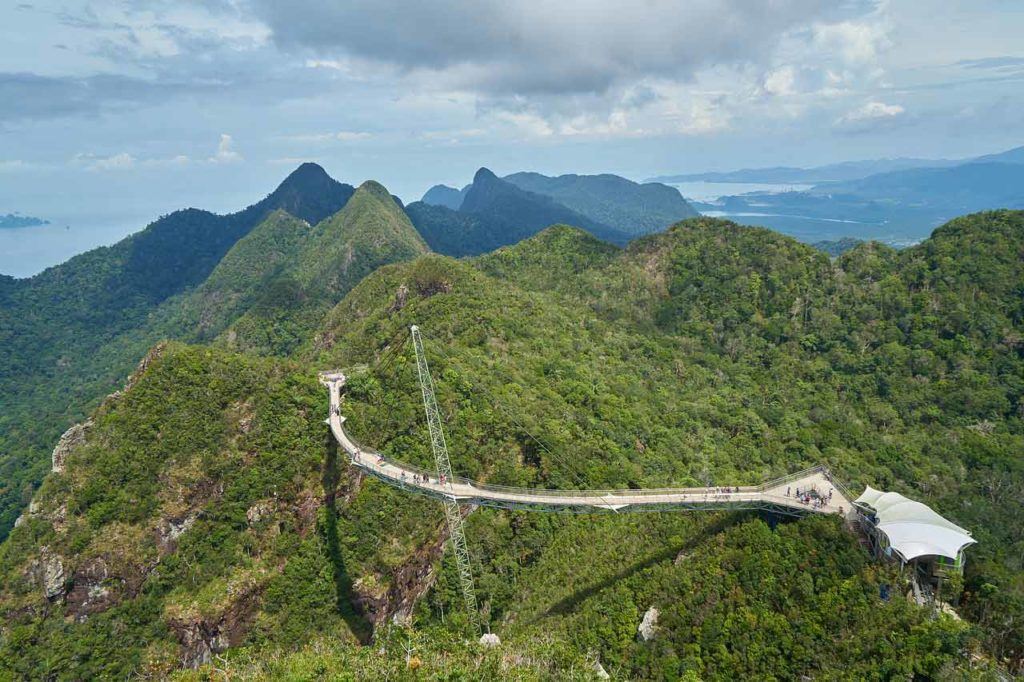 Langkawi is located in the northwestern point of the country (a ferry ride away from Thailand). It's a peaceful island within an archipelago of 99 islands in the Andaman sea. Visitors can choose to do nothing but relax on a beautiful beach and/or venture on a trek.
Visitors can also enjoy awesome panoramic views over Langkawi while on the SkyBridge and on the SkyCab.
Pack and travel:
Redang Island
A visit to Redang Island was highly recommend by a lovely couple, and the island did not disappoint. Redang belongs to an island group in the South China Sea and is accessible via a 7-8 hour bus ride or a short flight from Kuala Lumpur and a ferry ride from the harbor city, Terengganu.
As one nears the island while on the ferry, one is overcome by the feeling that the island is tropical paradise. The island is surrounded by crystalline blue water and beautiful scenery. Once settled in at a resort, there are only a few things to do: kick back, relax on the beach, go for a swim, snorkel and/or go scuba diving.
The best time to visit Redang Island is during the dry season between March and October.
Please note that there are no ATMs on the island, so do make sure to bring enough cash for your stay.
Perhentian Islands
The Perhentian Islands are an incredibly beautiful archipelago located on the east coast in the South China Sea. They consist of two main islands, Besar and Kecil, the former being bigger than the latter. Besar is more isolated and has fewer accommodations, while Kecil is more popular with backpackers. Both islands are accessible by boat from Kuala Besut on the mainland.
The crystal clear turquoise waters, lively coral reefs and white sandy beaches are paradisiacal.
Besides a relaxing time soaking up the sun, the islands offer many water activities, including snorkeling, kayaking and scuba diving. The marine life around the islands make diving and snorkeling there an absolute delight.
If you are considering scuba diving or getting PADI certified, then please check out OctoDiver Dive Center on Besar. My friend loved his PADI Open Water course experience and highly recommends his patient, knowledgeable and English-speaking instructor, Hafiz.
Those interested in visiting the Perhentian Islands should plan to visit during the dry season between March and October as the islands are nearly shut down during the eastern monsoon. It should also be noted that there are no ATMs on the islands, so definitely bring enough cash for your stay.
Malacca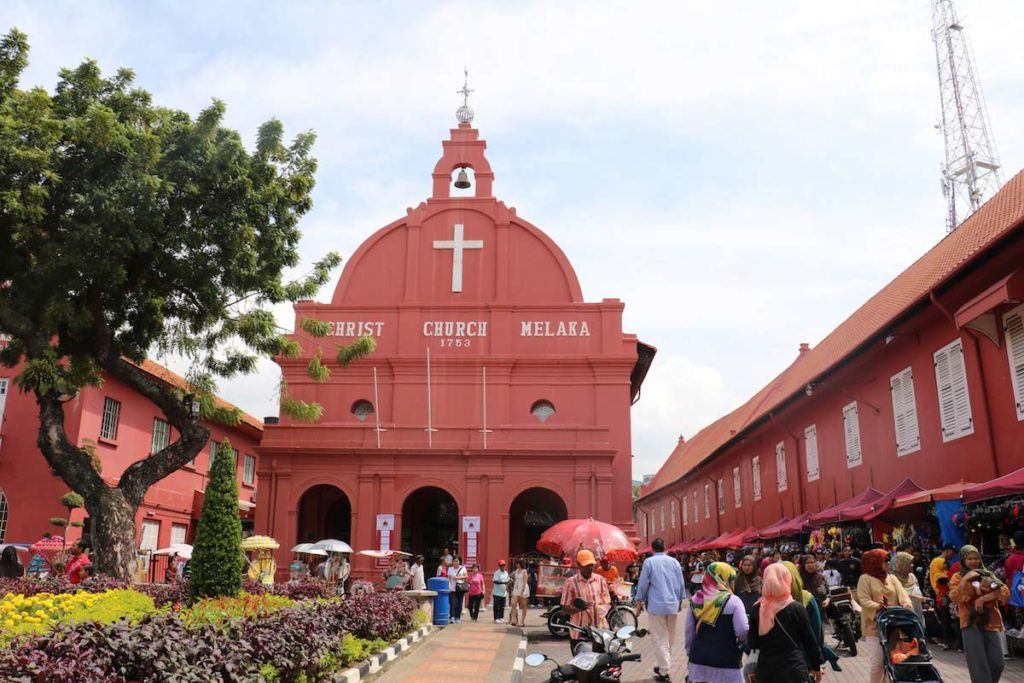 Malacca (locally known as Melaka) is a small city south of Kuala Lumpur. It was once a vital port on the sea route between India and China. Over the years, it was colonized by the Dutch, Portuguese, British and Indians. Because of this, Malacca is full of architecture and culture that reflect its colonial heritage.
Malacca has many quirks and is easily navigable by foot or bicycle. Visitors can head down Jonker Street and encounter cartoon-themed trishaws, museums, colonial buildings, shopping stores, restaurants and food stalls.
From Malacca, one can take a four hour bus ride down to Singapore or head up three hours to Kuala Lumpur for onwards travel.
If you're interested in visiting East Malaysia, I suggest reading
Kota Kinabalu: A City Of Seafood, Beaches And Durian
Mount Kinabalu: To Climb Or Not To Climb
How To See Orangutans In Borneo Independently
The variation in everything I experienced in Malaysia left me with an urge to see and do more throughout the country. Malaysia is a feast for one's senses!
I hope this article encourages you to plan a visit to Malaysia and embrace its diversity.
Get inspired by more travel articles:
Do you have a burning travel question? Join our Nomad is Beautiful travel community on Facebook and ask experienced travelers!