Oh meu Deus, I love Porto so much! Its Mediterranean vibes, its azulejo tiles and its incredible wine… there are million reasons to visit Porto, so let's start our exploration by making sure to find a great place where to stay in Porto.
Although the city is not as big as Lisbon, it represents one of the main tourist destinations of the country, therefore there are heaps of hotels in Oporto and I am sure that you will find the one that better meets your needs.
Do you feel more like staying in a riverside accommodation or in the city center? Or how about staying away from the chaos of downtown Porto and finding a nice accommodation in Vilanova de Gaia? Or maybe it is better to get straight into the game and choose an accommodation located in the main shopping district?
There are so many places where to stay in Oporto and the best one for you is just one click away.
Have the greatest time of your life and don't forget to bring me a bottle of Porto wine on your way back. Cheers!
If you are interested to know where to stay in Porto, we recommend some of the best hotels for different budgets.
When we travel, we book our hotels through TripAdvisor, one of the best websites to compare prices.
We also use a lot AirBnB to book local apartments. If you have never used AirBnB before, you can have a $40 discount for your first booking through this link.
Always make sure you travel with travel insurance! Be adventurous, but not careless.
Check out some of the most reliable insurance companies out there: True Traveller if you're European and World Nomads if you're from elsewhere.
If you love animals and you prefer going local during your travels, try housesitting, which is an amazing way to travel the world while taking care of the pets whose owners are on vacation. If you use TrustedHousesitters with this link you'll get $20 discount on annual membership.
Like it? Pin it!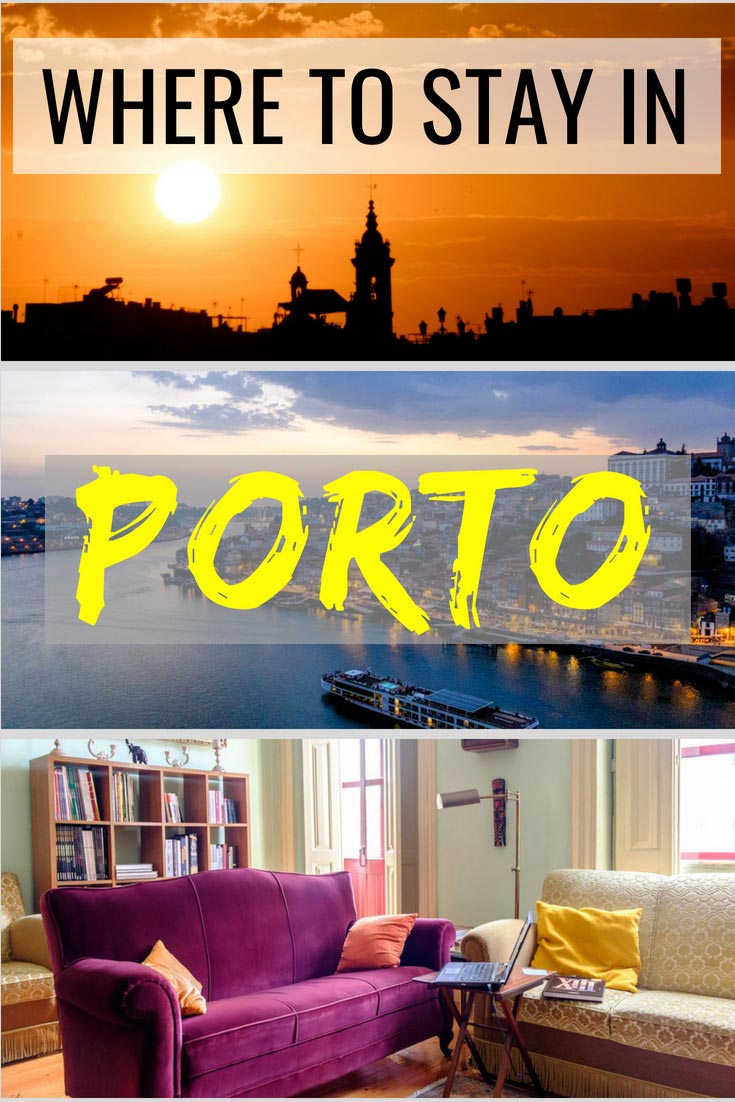 Where to stay in Porto
Ribeira
Listed as UNESCO World Heritage Site, walking around the streets of the Ribeira district will make you feel like being inside a painting.
Filled with colourful houses, bars, restaurants, and shops, Ribeira represents the riverside area of the city. Don't forget to walk around its backstreets and maybe find some time to indulge yourself with a short river cruise.
Located in an 18th century building, the Flores Village Hotel & Spa is by far one of the best hotels in Porto. Each room and apartment is equipped with air conditioning, soundproofing, telephone, flat-screen cable TV, mini-bar, and private toilet, often with a bidet. Enjoy some sunbathing on its terrace or indulge yourself with a treatment at its spa and wellness center. Check the latest price.
Luxury > Infante Sagres – Luxury Historic Hotel
Feeling like staying at one of the best luxury hotels in Porto, Portugal? Well, I am pretty sure that Infante Sagres will meet your needs. Member of the Small Luxury Hotels of the World, this 5 stars hotel was recently renovated in 2018 and now it is ready to great its guest with an unforgettable staying.
Its rooms and suites are decorated with Neo-Baroque and custom-made furnishings that will make you feel like the protagonist of a movie. Check the latest price.
Mid-range > Eurostars Porto Douro
Located just 3 minutes away from the Ribeira area and just across the Douro river, this Porto hotel offers elegant river view rooms equipped with all the comforts one may need, such as flat-screen TV, minibar, a safety deposit box, a telephone and a private bathroom with shower, hairdryer and free toiletries.
Enjoy the breakfast buffet served every morning and take a walk to stroll around the area; you will find plenty of bars and restaurants within walking distance from the hotel. Check the latest price.
Budget > Tattva Design Hostel
A great option if you are looking for a cheap accommodation in Porto. This design hostel features brightly decorated rooms with private bathrooms, as well as as a terrace with barbecue facilities.
Breakfast is served everyday and the hostel, and guests have access to the fully equipped kitchen. We love it also because it is located a few minutes away from several bars and restaurants. Check the latest price.
Get inspired by more articles:
Baixa
Lively and filled with bars, restaurants, and shops, the Baixa district represents one of the best areas where to stay in Porto.
Located just above Ribeira, this area is home to many interesting monuments and landmarks, such as the stunning Sao Bento Train Station, Praça da Liberdade, the Clérigos Tower and the world's famous Harry Potter's Library, the Lello Bookshop. Not to mention all the cafes and boutique housed inside historical buildings.
Let's take a look at the best places to stay in Porto if you want to enjoy a full Baixa experience, shall we?
One of our favourite Porto accommodation where you can enjoy the coziness of being in an apartment and all the benefits of staying right in the heart of the city.
Located near the famous City Market Bolhao, this modern furnished apartment features free wi-fi, a fully equipped kitchen, one bedroom and a bathroom with shower and free toiletries. Oh, did I mention that bike rental service is also available? Check the latest price.
Luxury > Intercontinental Porto – Palacio das Cardosas
This 5 stars hotel in Porto is a real dream came true. Located within a renovated 18th-century palace, this structure features rooms facing Porto's historic center equipped with flat-screen TV, marble bathrooms with bathtub and a separate shower.
A 24 hours fitness center will make you sweat away all the food you have been eating while staying in Porto, and the on-site spa and sauna will take away all the fatigue from too much strolling around. Among the several hotels in central Porto, this is by far one of the best ones. Check the latest price.
Mid-range > Studios Baixa Downtown Porto
Among the several places to stay in Porto Portugal, the Studios Baixa Downtown Porto are a great solution if you are looking for a central area and a place where to feel at home.
Each apartment is fully equipped with a sofa, a flat-screen TV, a kitchenette, a private bathroom with bath or shower, as well as free wi-fi. Check the latest price.
Budget > Gallery Hostel
A great option for those looking for a cheap accommodation in Porto Portugal. Located within a 19th-century building, Gallery Hostel offers air-conditioned private and shared room.
Enjoy free Wi-Fi within the structure and a lovely city view from your room. Breakfast is served everyday and guests can also enjoy homemade thematic dinners and play games in the playroom. Not too bad for a budget accommodation in Porto Portugal, right? Check the latest price.
Vila Nova De Gaia
I am sure that tasting some Porto wine is one of those activities at the top of your "Things to Do in Porto" list. And so be it, considering that Porto wine is highly appreciated all over the world. And guess what? Vila Nova de Gaia is the birthplace of this nectar of taste and pleasure.
If you feel like combining some wine tasting and cellar visits with some of the best hotels in Porto Portugal, then I would say that this riverside district will just do.
If you are looking for a place where to stay in Porto Portugal, well… I am pretty sure you have just found an amazing one. Located in Vila Nova de Gaia, within just 1.4 km of Port Wine Cellars and 1.8 km of Gaia Cable Car, this incredible apartment features 3 bedrooms, a living room, a kitchen with dining area and dishwasher.
Free Wi-Fi and flat screen TV are provided in the structure. Also, if you would like to discover the area you can enjoy the bike rental service available at the apartment. Check the latest price.
Luxury > The Yeatman
Among the main Porto luxury hotels, the Yeatman deserves a special mention. Classified as a wine hotel's luxury spa, this structure features an indoor pool and a hot tub where you can enjoy the stunning view of Oporto.
Each rooms is equipped with elegant, dark wood headboards and ottomans, while bathrooms feature 5 stars skin products by Caudalie.
And if you get hungry during your stay, your belly will be rewarded with the cuisine of the 2-Michelin stars awarded Yeatman Restaurant, where you will enjoy some tasty and fresh Portuguese recipes.
The Yeatman is a great solution for those looking for Porto hotels with pool and a touch of incredible style and beauty. Check the latest price.
Mid-range > Hotel Mercure Porto Gaia
Looking for some of the best places to stay in Porto? Well, I think I have just found one for you.
Located next to the Arrábida Bridge, this hotel provides a 24 hour-reception service that will be happy to assist you with anything you may need.
Rooms feature modern wooden furniture and have a work desk, a minibar, and a private bathroom. Enjoy the free wi-fi available within the whole structure.
The hotel houses two restaurants; the O Porto Restaurant serves traditional Portuguese cuisine, while the Ports & Co restaurant offers some international dishes. Feeling lazy? Order some room service! Check the latest price.
Budget > Hotel Ibis Budget Porto Gaia
A great option if you are traveling on a budget and you are looking for cheap hotels in Porto.
The Ibis Budget Porto Gaia is located 500 m from the Douro River and about 10 minutes drive from the international airport, offering modern and comfortable budget rooms. Each accommodation features free wi-fi and LCD TV. Breakfast buffet is served everyday. Check the latest price.
Pack and travel:
Faz do Douro
If you are a beach lover and you can't stay away from the sound of the waves and vitamin C, then combine your visit to Porto with some quality beach time.
In that case, the best location to stay in Porto is by far Faz Do Douro, where you can have some fun along its long sandy beach and its several bars and cafes. Luckily for you there are many hotels in Porto Portugal near the beach, so take a moment to keep reading the next paragraph and get ready to find the best places to stay in Porto.
Besides the fact that the name of this hotel in Porto is just great, this structure offers self-contained apartments located within an attractive historical building, just in front of Foz do Douro.
All apartments are characterised by modern interior design and have all the comforts you may need while traveling away from home, such as with an iPod docking station, a satellite flat-screen TV, and a CD/DVD player.
If you feel like making your own meal, help yourself in the fully equipped kitchenette, otherwise go crazy at one of the several restaurants located nearby. Check the latest price.
Luxury > Hotel Boa Vista
Located just 3 minutes walk from the beach, this structure featuring 19th-century architecture is among the favorite hotels in Porto Portugal for those who are looking for an accommodation near the beach.
The structure overlooks the mouth of the Douro River and the Atlantic Ocean, and it also features a indoor pool and a panoramic outdoor cafe. All rooms are air-conditioned and feature a mini bar and cable TV. Check the latest price.
Mid-range > Foz Home Turismo Oporto
Among the many places to stay in Oporto, For Home Turismo Oporto is a great choice if you have a mid budget and you want to stay near the beach, which is located just 10 minutes walk from the structure.
This homestay provides a flat screen TV, private bathroom with free toiletries, hair dryer, a microwave, a toaster as well as a coffee machine. Check the latest price.
Budget > Casa Parque da Cidade
One of the top hotels in Porto for those who are traveling on a budget. Enjoy your trip to Portugal in this clean and cozy homestay which features a terrace and a lounge. Healthy breakfast available. Check the latest price.
We hope that this article filled with tips about the best places where to stay in Porto will help you planning your next trip to Portugal. Have lots of fun, eats lots of food, and drink lots of Port wine – and yes, if you drink, take a taxi to go back to your accommodation in Porto. Adeus!
Get inspired by more travel articles:
Do you have a burning travel question? Join our Nomad is Beautiful travel community on Facebook and ask experienced travelers!