Mexico City spreads like an artery across the chest of the Sierra Madre mountain range in central Mexico. Its waterways, side streets and carreterras travel like unending veins through the thick darkness around the city at night.
Major intersections are illuminated red, filled with flowing traffic congestion, and favela lights flicker far from the city center, a reminder of the vast diversity that comprises the second largest metropolis in the Americas.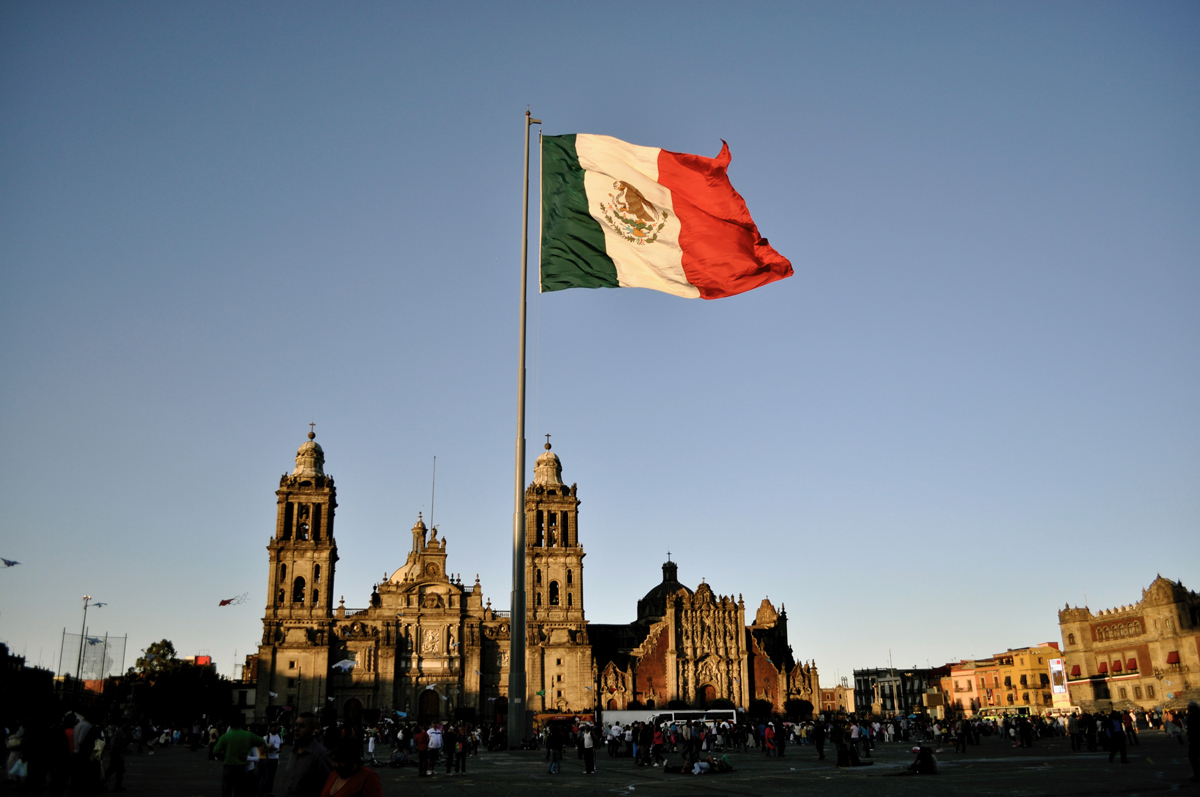 But seeing Mexico City from above, is nothing compared to riding its ancient Aztec waterways in trajineras, or stumbling down its quiet alleyways, feeling your way towards the mariachis. The country's capital has an extravagant plethora of things to do; the only difficulty is maintaining your energy for this urban adventure.
Here's a list to help you get started, however you wish to begin your journey.
The Best Things to Do in Mexico City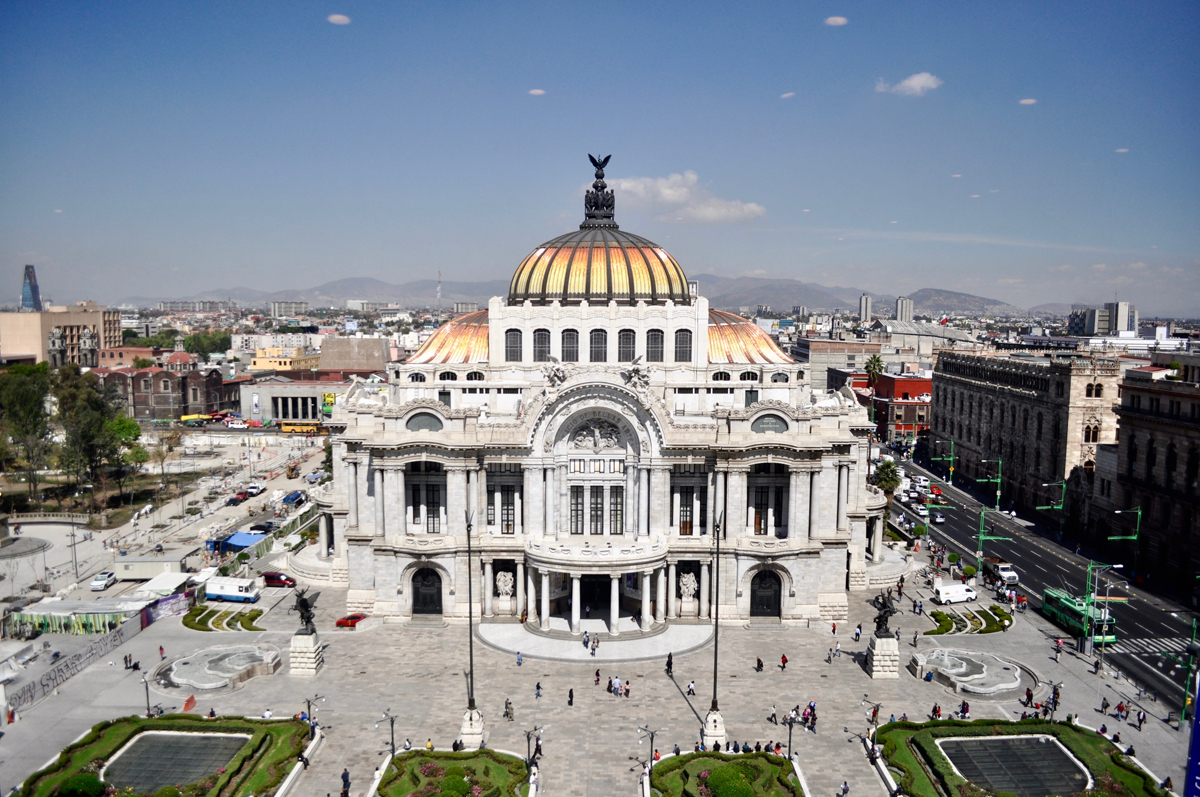 Experience live baile folklorico at El Palacio de Bellas Artes
If perhaps you don't consider yourself a dancer…yet, then take your first steps towards El Palacio de Bellas Artes (one of the best museums in Mexico City) and experience a folklorico performance, sure to inspire even the most timid of hips.
Arrive early and take some time to enjoy the massive murals of Diego Rivera that cover the walls in the upper levels of the El Palacio. Purchase your tickets to an evening performance, and try to remember to breathe as you witness the history of Mexico, as told through music and dance.
Traditional baile folkorico is used as a medium for storytelling; love stories, revolution, and histories manifest themselves through this eccentric medium. The colors and live instruments truly create a one of a kind experience that is worth every peso.
Planning your trip to Cancun after you explore Mexico City? Check out Cancun Airport Transfer!
To make your trip around Mexico more comfortable and safe, make sure to use the service Cancun to Tulum Shuttle! 
Indulge in Mexican vegan dishes on a food tour!
Who said Mexican cuisine is strictly meat oriented? Mexico City is catching up. They are opening new healthy food shops, meet-free street stalls and restaurants, so if you're a vegan, or just looking for more culinary variety, there's a lot to look forward to when visiting the Mexican capital!
Watch our video from the vegan food tour:
This city will spoil you! The very first thing we did was take a vegan food tour in Mexico City to get a better overview of the plant-based scene and to learn more about the history of some neighborhoods.
The tour took about 3 hours and we sampled our way through vegan tacos, burgers, hot-dogs, vegan ceviche, refreshing beverages, more tacos and a fabulous dessert!
Rob, our guide, had been living in the city for years, and we couldn't have asked for a more knowledgeable and witty guide. He educated us so much about local cuisine, as well as Mexican culture in general. We definitely learned about Mexico City more than expected!
Oh, and the food! We kept going back to the places we visited on the tour because we just loved the flavorful dishes at the stalls and restaurants we tried with Rob. Check out the other awesome Tasty Bites Food Tours in Mexico City!
Treat yourself to a magical brunch at El Cardenal
This classic Mexican restaurant will spoil you into thinking that perhaps you're unaware of some kind of royal bloodline in your family. I started here for breakfast, and was greeted by a line of eager patrons. Immediately you're met with fresh coffee, homemade cheeses, chocolates, and cookies.
Once inside the classic dining area, just steps from the central Zocalo square, our waiter placed napkins on our laps and delivered a fresh plate of pan dulce, or sweetbreads, fresh coffee, and the option of house made hot chocolate. Their menu features cuisine from all over the country including moles, cheeses, and hand pressed tortillas. The atmosphere, service, and careful consideration of the food, makes this a top recommendation for a local breakfast, and a great start to your day in the capital.
Read more related articles:
Put a mask on and cheer for your favorite fighter at Lucha Libre Night
If you feel like taking a break from the museums and fancy some fun, go watch some Lucha Libre with mezcal tasting. There are high chances it's going to be your most memorable night in Mexico City!
Despite the fact that it's easy to enter the arena and buy a regular ticket independently, we highly recommend experiencing Lucha Libre Night with a guide who will explain the history of the sport, get you better seats, and if you're lucky, you might find out some secrets about the life of the fighters.
We did it with Mexico a Pie (Mexico on foot!), a highly recommendable company!
Our guide, Arturo was a former fighter and had a great sense of humor and perfect English. We had so much fun with the other members of the tour that we ended up chatting and munching on tacos at a street stall late into the night. .
In addition to the souvenir mask you'll get during the tour, there is also one more bonus: mezcal sampling in a local mezcaleria. You'll learn about mezcal production, sample several shots (7!!) and then try to stand steady and make your way to the arena.
Lucha Libre is an important part of modern Mexican history, and it's much more than a silly acrobatic performance. Don't miss this experience in Mexico City.
Take a ride through Aztec waterways on a trajinera in Xochimilco
The "neighborhood" of Xochimilco (pronounced so-chi-mill-co) is accessible by metro, and transports you to another peaceful world, far from the sights and sounds of downtown. Of all the adventures here, this may be one of the most unique things to do in Mexico City.
Head to an embarcadero or dock, and decide how long you would like to enjoy your own private boat ride through the tranquil rivers of Xochimilco. After you've picked your boat and your time, make a pit stop at one of the many food stands and grab fresh tacos, sliced local fruits covered in a sweet-spicy chili sauce, a few cold beers, or fresh juice, and get ready to relax.
If you still find yourself hungry along the way, watch out for boats floating by with full "kitchens" aboard. Locals can cook up steaming quesadillas, micheladas, and even sizzle fajitas for you. If music is what your journey is missing, wait long enough, and you're sure to see a mariachi boat. Make your song request, or let them choose a favorite, and lay back to the tunes of the city.
If you have time, ask your captain to head to the Island of the Dolls or La Isla de Las Munecas to experience one of the most haunting destinations in the area. Legend has it that after a father lost his daughter to the waters of the area, he placed dolls in the trees around his property to quiet her spirit; now the area is covered with decaying dolls and it is said you can still hear the young girl when the wind blows.
Regardless of ghosts or not, Xochimilco is the perfect weekend destination for relaxing, exploring, and taking in the outdoor magic of one of the most unique areas of Mexico City.
Explore one of the most delicious things to do in Mexico City: El Mercado Roma
El Mercado Roma is an excellent choice if you can't quite decide what you want to eat…or you'd rather try a bit of everything! The marketplace houses food options from burgers, to empanadas, to desserts, to imaginative vegan delights.
I started with a locally brewed beer on their rooftop terrace, and continued with a tamale sampler smothered in queso fresco and pomegranate seeds, and finished at a local gelato stand—dulce de leche, or caramel flavor, of course. The vendors are local, and the food is fresh from the area, so not only are you filling your tummy with amazing eats, you're also supporting local agriculture and delighting in in-season delicacies. You can spend the entire day here shopping around, or just grab something unique and continue on your way exploring the surrounding neighborhoods.
Take a stroll through Chapultepec Park
It can be easy to become overwhelmed in a city this size, yet El Districto Federal (or simply D.F as locals call it) offers many escapes from the rapid pace around the capital. Chapultepec Park is the perfect place to have a morning run, as you begin your day surrounded by lush greenery, ponds, and pools.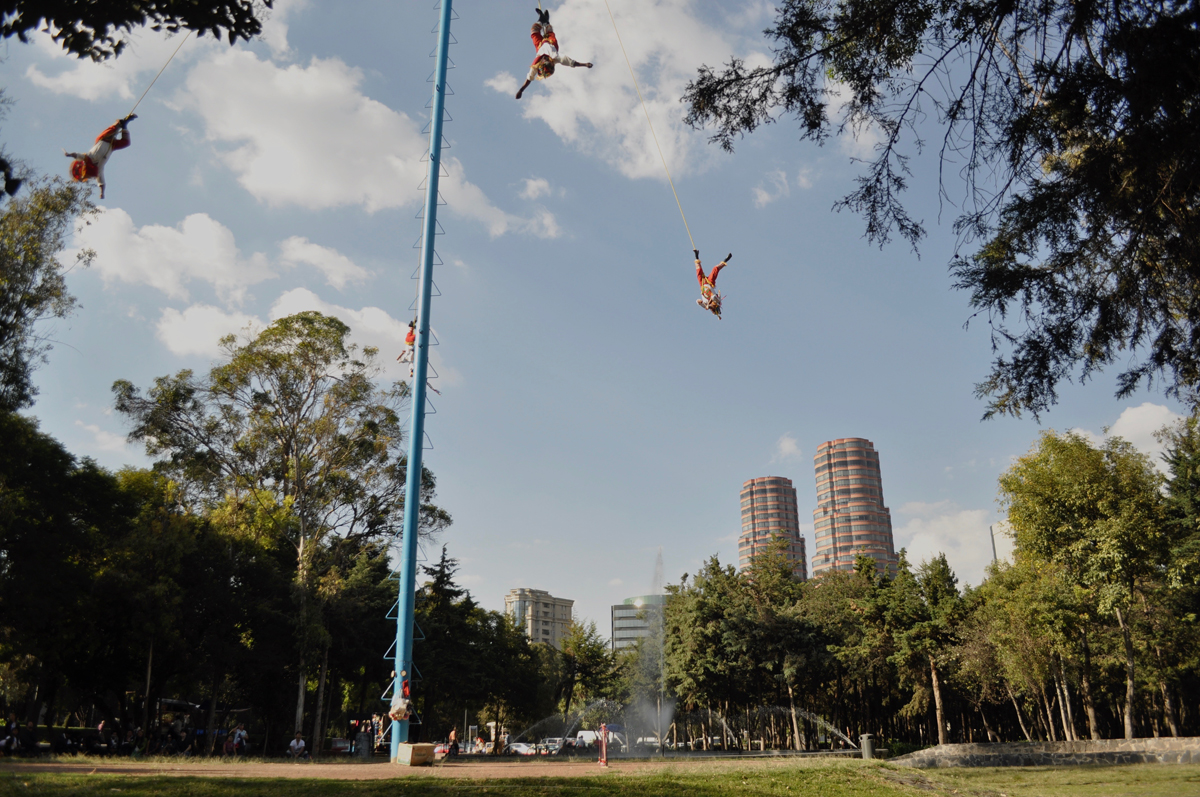 You can also visit in the afternoon, bring your own picnic, a michelada preparada, and enjoy the outdoors during almost any time of year. Don't miss a visit to the famous Chapultepec castle nestled inside the park, which offers mind blowing 360-degree views of the entire city.
Wander in awe at the National Anthropology Museum
Take an entire day (if you can) to truly invest yourself in one of the largest and most prolific museums in Latin America. The National Anthropology Museum is one of the most engaging things to do in Mexico City, and will take you on a journey through each facet of Mexican culture, history, and heritage. Wander the halls of artifacts, explore the underbelly of the museum decorated with remains of the past, and take a few breaths outside in the surrounding Chapultepec Park.
A guide is extremely worth the extra pesos for an in-depth understanding to the immense amount of history comprised in this museum, or alternatively you can opt to explore on your own, and let your personal drive guide you through this experience.
Delight in Sunday Zumba at El Ángel de La Revolución
Every Sunday morning, a giant crowd of all ages gathers at huge stages and tents set up in the plaza surrounding the famous Angel of the Revolution. Local dancers will guide you through a sweat drenched, heart pumping Zumba class that is sure to jumpstart your morning. Music ranges from hiphop-esque reggaeton, to traditional salsa beats. Enjoy the fresh air and take in the chaos of the city, as you jive your way into a new day.
Spend a night out dancing to local beats at La Pata Negra
La Pata Negra has gained popularity for its live music, as well as its up-and-coming DJs who spin anything from 70s disco, to old school Mexican rock. Climb the dark staircase and order a Tecate "dressed" with salt and fresh lime at the bar.
This place plays music until your feet hurt, and is conveniently located across the street from an empanada vendor, who will help curb those late night cravings with a hearty breaded pocket filled with pork and spices, potatoes and corn, or even sweet potatoes and cinnamon.
Explore the mysterious pyramids of Teotihuacan
50 kilometers from the Mexico City you'll find the most mysterious and overwhelming pyramids in the western hemisphere. We went with local guides from Charly Tours who picked us up directly from our hostel downtown. Our guide was bilingual and offered a local perspective on the city, as well as its relationship to the pyramids.
I recommend a half-day trip, so you can appreciate the morning quiet. Going with a guide also offers the opportunity to explore the vast city with a greater understanding of history, architecture, and culture of the area. Make sure to bring cash, and check out the local vendors in the park selling their crafts.
Immerse yourself at La Casa de Frida Kahlo and the neighborhood of Coyoacán
A modern revolutionary, feminist, painter, and political activist; Frida Kahlo's mysterious life holds much to be explored. Her house, (as well as that of Diego Rivera) has been turned into a museum. Spend an afternoon here exploring her rooms, musing at her paintings, and reading about the vast grief and tragedy that inspired her work.
There is a courtyard and café situated in the center of it all; stop here and enjoy a coffee while taking in the greenery, music, and sculptures peaking out of every corner. Her art flooded each inch of her house; so take your time on your adventure through La Casa Azul.
After your visit, spend some time exploring the neighborhood that inspired the artist. The area of Coyoacán is home to one of the largest festivals during Los Dias de Los Muertos which is one of the best things to do in Mexico City, but if you're visiting at any other time, there is still plenty to explore.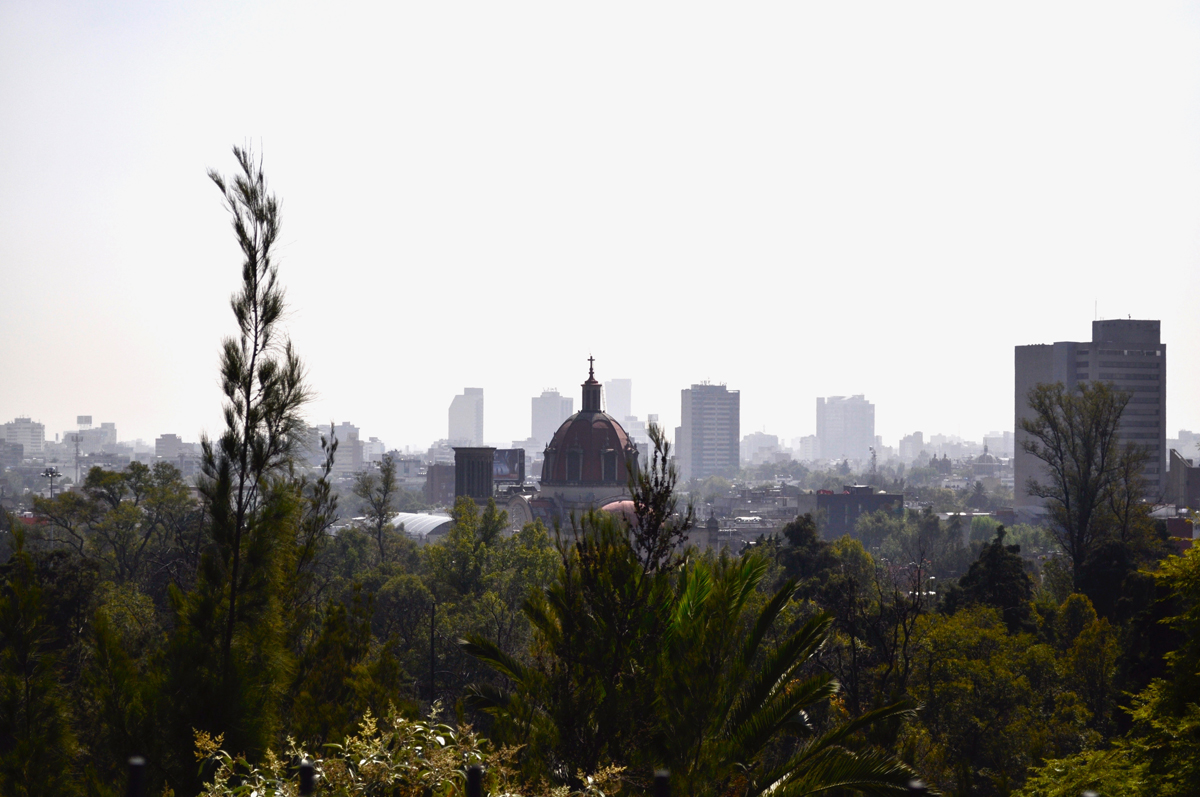 Whichever way you choose to explore, take in Mexico City slowly, as the music, the movements, and the aromas can overwhelm even a seasoned travellers soul. The best things to do in Mexico City take an open heart, careful planning, and a willingness to surrender to the chaos. Enjoy!