Montreal (officially Montréal) is a beautiful French-speaking city in Quebec, Canada with many cultural, historical and architectural charms and a cosmopolitan energy. There are many things to do in Montreal during all of the seasons and for all kinds of travelers.
Montreal experiences all four seasons, but summers are particularly warm and humid and the winters are very cold and long. I visited in the fall, and the weather was chilly but still comfortable, and the foliage throughout the city was stunning.
No matter the time of year, there are plenty of indoor and outdoor activities to enjoy. This sprawling city is home to many museums, parks, festivals, world-class restaurants, shopping districts and fun nightlife activities.
Read on to help you plan your visit. Go, you won't regret it!
If you are interested to know where to stay in Montreal, we recommend some of the best hotels for different budgets.
When we travel, we book our hotels through TripAdvisor, one of the best websites to compare prices.
We also use a lot AirBnB to book local apartments. If you have never used AirBnB before, you can have a $40 discount for your first booking through this link.
Always make sure you travel with travel insurance! Be adventurous, but not careless.
Check out some of the most reliable insurance companies out there: True Traveller if you're European and World Nomads if you're from elsewhere.
If you love animals and you prefer going local during your travels, try housesitting, which is an amazing way to travel the world while taking care of the pets whose owners are on vacation. If you use TrustedHousesitters with this link you'll get $20 discount on annual membership.
Like it? Pin it!

Getting around Montreal
Montreal is a pedestrian-friendly city. Many of Montreal's attractions are within easy walking and cycling distances and also easily accessible by the city's transit system, la Société de transport de Montreal (STM). For more information on metro and bus fares and directions, please visit STM's official website.
Things to do in Montreal
Montreal has something to see and do for everyone whether you are going for a quick weekend trip or a longer stay. Here are some of the best things to do in Montreal.
Stroll around Old Montreal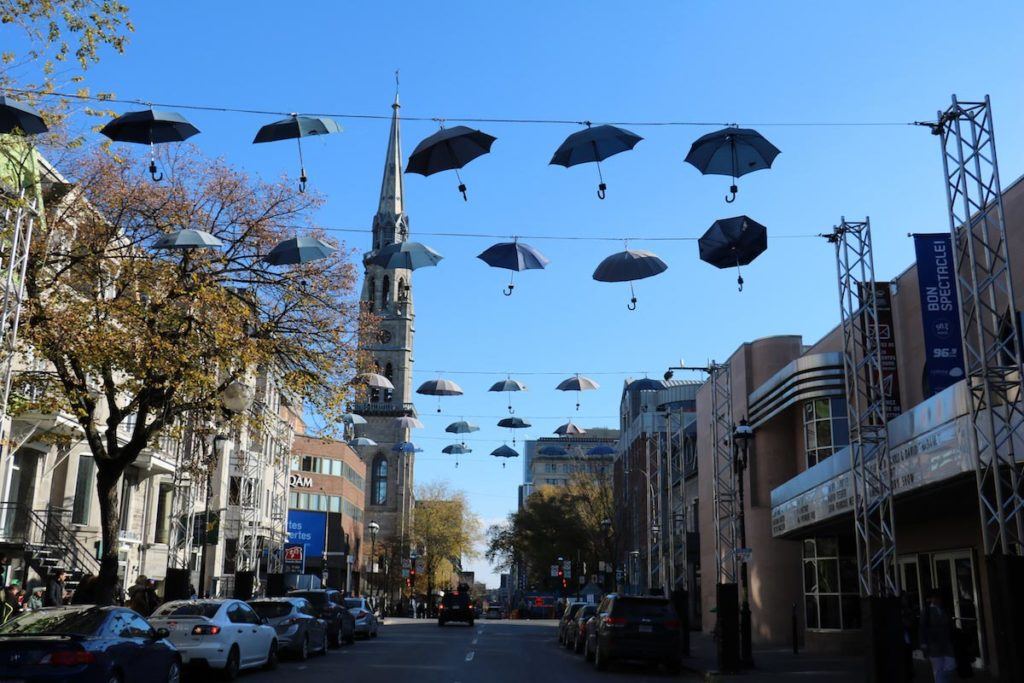 Montreal is sometimes referred to as the Paris of Canada, and Old Montreal is where you would see and get the most European feels. Its charming cobblestone streets and European architecture give you glimpses of the city's rich history.
A leisurely stroll through Old Montreal will bring you past Saint-Paul Street, Notre Dame Basilica (Basilique Notre Dame), the Old Port (Vieux Port) and the Bonsecours Market (Marché Bonsecours). Everywhere you turn, you'll find trendy cafes and restaurants, art galleries and shops.
Visit Notre-Dame Basilica (Basilique Notre Dame)
Notre-Dame Basilica is located in the heart of Old Montreal and is Montreal's oldest Gothic Revival church. It is a symbol of Quebec's religious history, and this history is depicted in the intricate stained glass windows inside.
Visitors can enjoy AURA, a mesmerizing sound and light show that celebrates the orante beauty and history of the basilica.
The basilica is open to visitors for a fee when it is not holding mass.
Get inspired by more articles:
Spend time at the Old Port (Vieux Port)
The Old Port was once the city's main commercial harbor and is now used as a recreation area for both visitors and locals. It's a lovely area to spend the day and/or evening eating, drinking, shopping or just people-watching.
You can also relax and enjoy a panoramic view 60 metres high of Old Montreal while on the Observation Wheel (La Grande Roue de Montreal).
Shop at Bonsecours market
As you walk around Old Montreal, you'll come across a neoclassical style building with a silver dome. This is Montreal's oldest and largest public market, Bonsecours Market. Its purpose has changed throughout the years, but today, the market houses dozens of boutiques and restaurants.
Admire the arts scene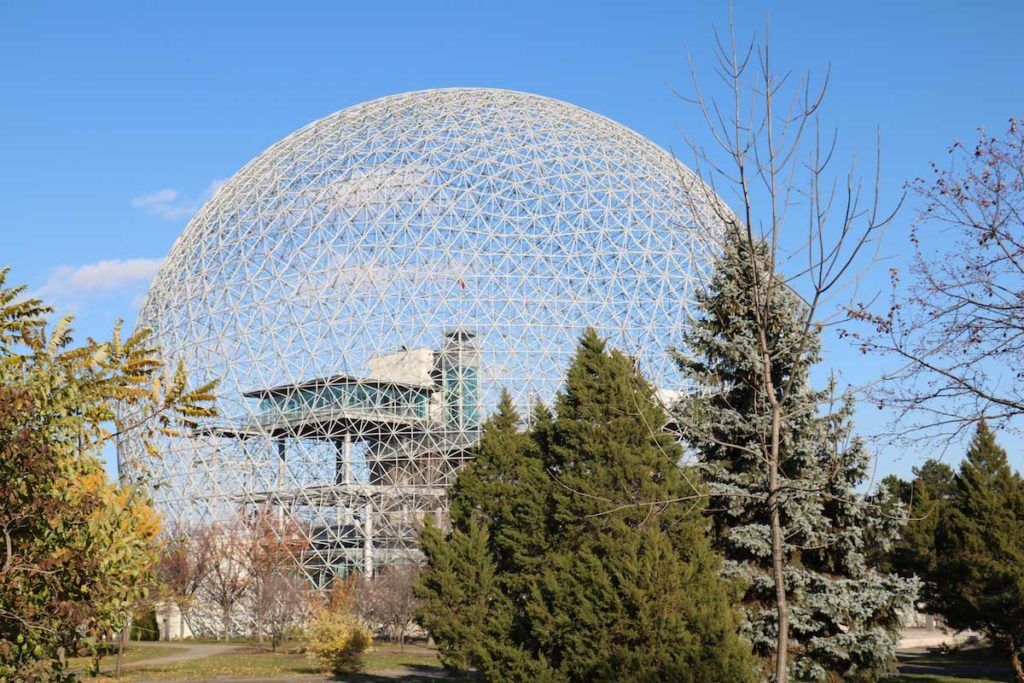 Montreal has an eclectic arts scene, including internationally-renowned museums and cool street art. You can wander through the city streets and stumble upon amazing street art, like those in the trendy neighborhood of Mile End. You can also enjoy a couple of hours in the below museums:
The Montreal Museum of Fine Arts (MMFA) has an outstanding collection and exhibitions with over 43,000 works spanning from Antiquity to present day.
The Musée D'art Contemporain De Montreal, otherwise known as the MAC, is Canada's first museum dedicated to contemporary art. It showcases a lively collection of works created by local and international artists.
The Biosphère is a museum dedicated to the environment. It has a very cool geodesic dome, and inside of it, visitors will find educational and interactive exhibitions on environmental issues. Visitors can learn about climate change, biodiversity, water, air quality and more. My friends and I had so much fun learning in the Biosphère.
FYI- Every year, the city has a Museums Day, 24-hours where everyone is welcome to enjoy free admission into many of the city's major museums. The city provides free shuttle buses between the museums to make it easier for people to get to each of the museums.
Pack and travel:
Take a stroll through Mount Royal park (Parc Du Mont-Royal)
Mount Royal Park is a refreshing nature escape just a walk, bicycle, bus or Metro ride away in downtown Montreal. The park is set on a 761-ft hill, and it offers amazing towering views over the city, perfect for photo opportunities. This green space oasis also provides visitors with a network of trails to run, walk or cycle through, a forested area with a lake and picnic spots to enjoy. During the winter, visitors can toboggan on the hill overlooking the lake.
There is no fee to enter, and it's open from sunrise to sunset.
Eat poutine
There is so much good food to be eaten in Montreal, and poutine is an absolute must. Poutine is a Quebecois dish traditionally made with French fries drenched in cheese curds and topped with gravy. It's gooey and greasy and absolutely delicious. There are many places to a grab good poutine in Montreal. I had tasty poutines at Mange-Moi and Mache!
Attend a festival
Montreal brims of diverse festivals all year round. It hosts over 100 festivals and cultural events that celebrate music, cinema, art, gastronomy and so much more! Some of the more popular annual festivals include the following:
Montreal is a vibrant and fantastique city with a variety of things to do for all. I will definitely return soon to experience more of what the city has to offer. I hope you get a chance to explore the city, too!
If you have any suggestions on other things to do in Montreal or would like to share your experiences in the city, please leave a comment below.
Get inspired by more travel articles:
Do you have a burning travel question? Join our Nomad is Beautiful travel community on Facebook and ask experienced travelers!